This Spicy Mango Asian Slaw is a great side dish or salad that you can throw together in no time! With chopped mango and a little Sriracha, it's the ultimate mix of sweet and spicy.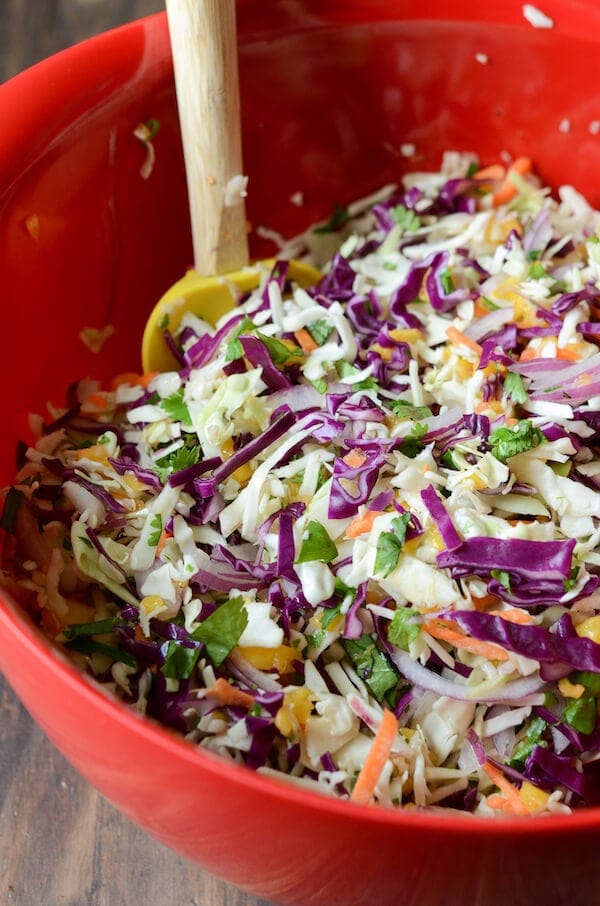 I don't know what to talk to you guys about today. I usually try to talk about something going on in my life and then tie it into talking about the recipe I am sharing. I think I do a decent job of doing that usually, but today it's just not coming to me. I have written numerous paragraphs just to hit delete and start over again.
To be honest, this whole weekend was a little strange. It started off with me catching a lovely stomach bug on Thursday/Friday. I also dyed my hair, which is kind of a big deal. I used to color my hair constantly. You could easily see me as a blonde, brunette, red head or a mix of the three in any given 6 month span. About three years ago, I decided it was time I stop doing all that damage to my hair and instead let it be a more natural color.
I started just adding a little light brown color to warm up my naturally light ashy brown hair…and every few months I would go get some ombré looking highlights. Well this weekend I finally wanted to do something different again. So I dyed it a dark reddish brown and I don't know how I feel about it yet. So maybe that's why I can't find my writing juice? Maybe the hair dye sucked it right outta me.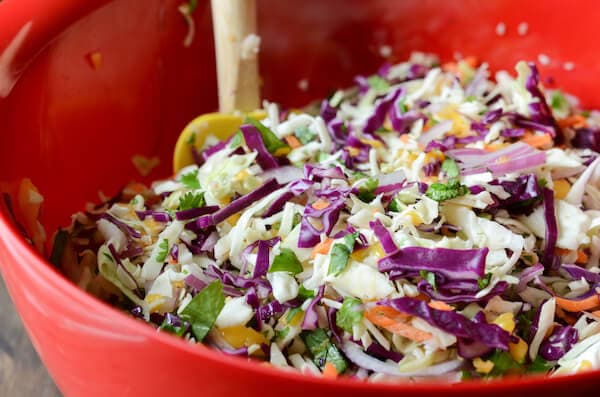 Either way, my new hair and I were off to a slow start of a weekend, but Saturday started looking up when we were invited over to a friends house for dinner and pool volleyball. They were serving up wings (but because of my aversion to meat on the bone, I brought my own boneless wings — LAME I know.) and I wanted to bring over some slaw to go with.
I remembered a recipe I had loved before that had mango and Sriracha sauce in it…and after a little googling I found the recipe. I changed it up some by adding fat free plain greek yogurt instead of all mayo and a few other changes, but the flavors are mostly the same. I love that it has mango, cilantro, lime and Sriracha all in one slaw! It's like a delicious party in a bowl!
Sriracha: just in case you somehow missed the bus, Sriracha is an awesome hot chili sauce with tons of flavor. It's a staple in my kitchen for spicing up simple things like fried eggs! You can find it in pretty much any grocery store, including Walmart and Target.
Spicy Mango Asian Slaw
This Spicy Mango Asian Slaw is a great side dish/salad that you can throw together in no time! With chopped mango and a little Sriracha, it's the ultimate mix of sweet and spicy.
Ingredients
3

tablespoons

fat free plain greek yogurt

3

tablespoons

light mayo

1

– 2 teaspoons Sriracha

,

depending on how spicy you like it

2

limes

,

juiced

½

teaspoon

kosher salt

1 16-

ounce

package coleslaw mix

1

heaping cup shredded purple cabbage

1

cup

fresh cilantro

½

small red onion

,

thinly sliced

2

mangos

,

peeled and finely chopped
Instructions
In a small bowl, whisk together greek yogurt, mayo, Sriracha, lime juice and kosher salt. Set aside.

In a large bowl, toss together coleslaw mix, purple cabbage, cilantro, red onion and mango.

When ready to serve, toss coleslaw mix with dressing until evenly coated. Serve immediately!
Notes
Recipe Note: I like this slaw best when it's fresh — I don't like soggy slaw! — but it's still perfect to make ahead. Just keep the dressing & slaw separate until you are ready to serve!
inspired by foodnetwork.com
Nutrition
Serving:
1
,
Calories:
227
kcal
,
Carbohydrates:
32
g
,
Protein:
3
g
,
Fat:
11
g
,
Saturated Fat:
2
g
,
Polyunsaturated Fat:
9
g
,
Cholesterol:
8
mg
,
Sodium:
459
mg
,
Fiber:
5
g
,
Sugar:
25
g
Categories:
This post may contain affiliate links. Read my disclosure policy.