The Best Blackened Fish Tacos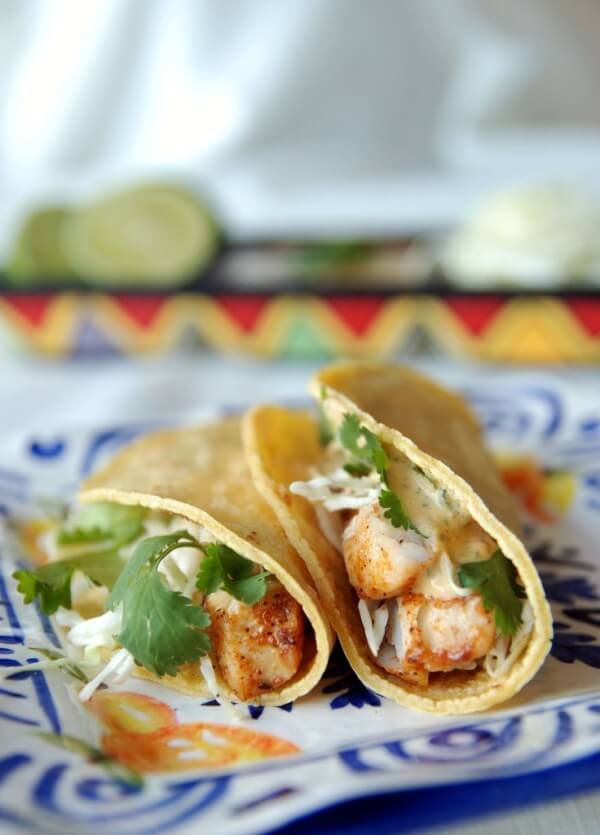 My parents make these fish tacos all the time and I am finally getting around to share the greatness that is Blackened Fish Tacos with all of you. Gotta love those good family recipes!
I wish I could share a taco with each of you to show all of you how amazing they are – but the technology isn't there yet. I'm hoping scratch & sniff screens are in the near future!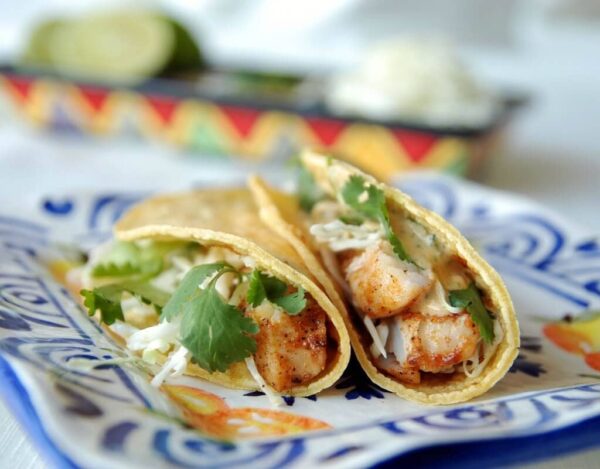 These fish tacos are absolutely divine and I don't say that lightly. I am always on the hunt for a good fish taco and try them at restaurants all the time…and these are better than 98% of them.
The method of cooking your fish in a cast iron skillet with a bunch of butter is brilliant and gives it that perfect texture and crispy outside. You want to find a good blackening seasoning – I personally really like this one. It says it's for red fish – but it's great on all fish, I promise.
And the sauce on these, oh I could write a song about this sauce. It seriously has all my favorite flavors in it and I love that you get creamy and slightly spicy all in one yummy sauce. Oh and it has lime and cilantro in it. BEST EVER.
The Best Blackened Fish Tacos
Recipe Note: If you do not have a grill, you can cook these completely in the oven. Just heat your oven to 400°F and watch closely as the fish cooks quickly!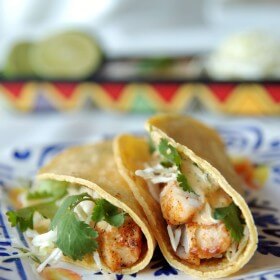 Ingredients:
Juice of 1/2 lime
1/2 cup light sour cream
1/2 cup light mayo
1 tablespoon Garlic Salt
1-2 chipotle pepper in adobo sauce, to taste
1/2 cup roughly chopped cilantro, or to taste
2 lbs sea trout fillets (or any white fish you like), cut into 1 inch thick fillets
1 stick butter, melted
1/3 cup seafood blackening seasoning
2 tablespoon olive oil
Corn Tortillas, heated
Cabbage, Shredded
Limes, quartered (for serving)
Directions:
Fish Taco Sauce: Using your food processor or blender, purée all ingredients together. Refrigerate until ready to use.
Preheat oven to 350°F. Heat grill to 4000°F.
Coat cast iron skillet with olive oil. Place cast iron skillet in oven for 10 minutes to heat it up. Once heated, move to grill that has been preheated.
Toss fish in melted butter. Using half of blackening seasoning ,cover one side of fish. Place seasoning side down in cast iron skillet. Allow to cook for 2 minutes. During this time coat the side of fish facing up with the remaining blackening seasonings. Flip fish and allow to cook another 2 minutes, or until cooked thoroughly.
Fill tortillas with fish, cabbage, squeeze on a little fresh lime juice and finish them off with a drizzle of the fish taco sauce and enjoy!