Salsa Verde Chicken Tacos in the Crockpot are an easy Taco Tuesday recipe! Tender shredded chicken tacos are perfect for busy weeknight dinners.
I know crockpot meals are supposed to be easy. They are supposed to be the workin' girls way to an easy meal on the table. And when I worked outside of my house, they were…but these days they are quite a pain in the ass.
First, I have to get my life together before 9 am to get dinner into the crockpot. That doesn't work for me. I am not a morning person…never have been, never will be. I like to sleep in and stay up late, which makes getting dinner cooking before 9am really hard. Sure I may be up before 9am…but that doesn't mean I am being productive. Usually I am sipping something with caffeine, reading some of my favorite blogs and playing on pinterest until 10am. While most of you probably want to stab me or sabotage my diet with cookies right about now…I am up working till around 11pm, so it all evens out.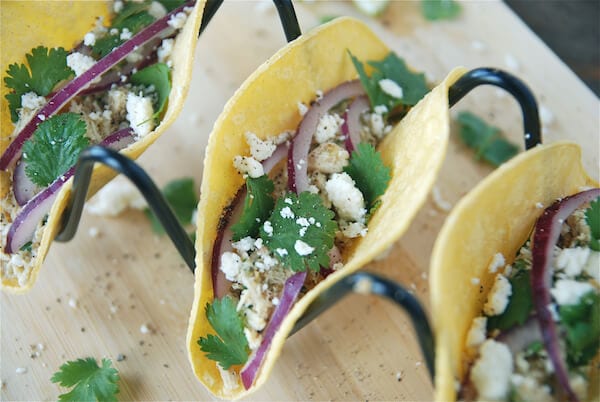 Second, staying home with that smell?! You know the smell I am talking about…that one that hits you as soon as you walk in the door. Well, guess what! That smell doesn't just magically show up just in time for you to come home. No, that smell has been there all.freakin.day. Which means if I make a crockpot meal, I have to fight off that delicious smell the entire day. And do you know what that delicious smell leads to? Snacking. Grazing. Stuffing my face with chips. It's not pretty people…not pretty at all.
So why do we have a crockpot recipe today? Because I have gotten a bunch of emails lately asking for crockpot recipes that don't have tons of cream of crap in them. So to make you guys happy, I braved the dreaded magic crockpot's cooking smells. I barely survived…and somehow an entire bag of Salt & Vinegar chips disappeared. It's a total mystery where they went.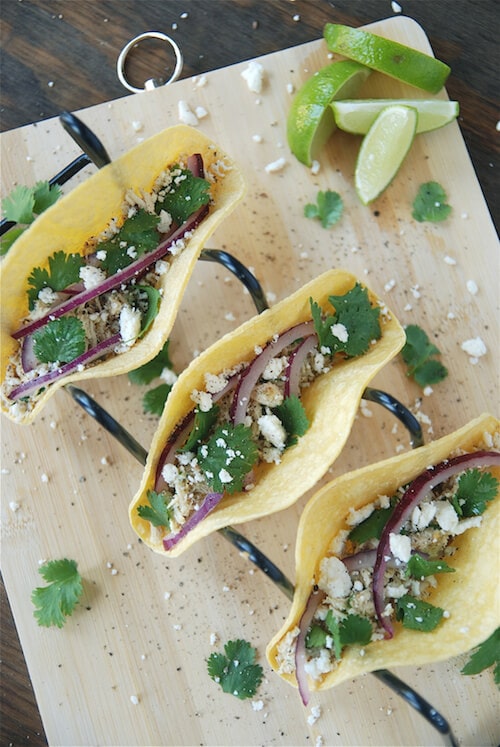 These Salsa Verde Chicken Tacos are awesome for many reasons. The biggest reason being they are delicious. The second biggest reason, they are easy. You can buy store bought salsa verde (or you can make your own if you have the time), leaving you with only about 5 minutes of work. You mix a few things together, toss in the chicken, turn on the crockpot and leave for 4 or 8 hours. Come home, shred the chicken, chop up some taco toppings…and eat. Ya, it's really that easy.
Yield: 4 servings
Salsa Verde Chicken Tacos in the Crockpot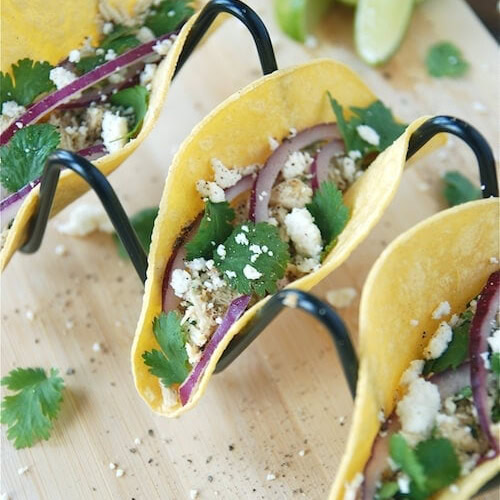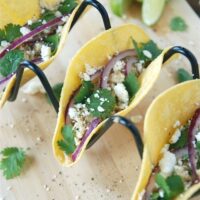 Salsa Verde Chicken Tacos in the Crockpot are an easy taco tuesday dinner recipe! If you've got a few busy weeknights ahead, these crockpot shredded chicken tacos are a great option for you.
Total Time
4 hours
10 minutes
Ingredients
2 pounds chicken breasts
3 cups medium salsa verde, divided
1 1/2 cups chicken broth
1 teaspoon garlic salt
1/2 cup chopped fresh cilantro
8-10 flour (or corn for gluten free) tortillas
1 small red onion, sliced
1/2 cup crumbled cotija cheese
lime, for squeezing on top
Instructions
Whisk together 1 cup salsa verde, chicken broth and garlic salt in crockpot. Add chicken breasts and cook for 4 hours on high or 8 hours on low.
Remove chicken from crockpot and discard remaining liquid. Shred chicken with two forks and place in a medium bowl. Add remaining 2 cups salsa verde and chopped cilantro to chicken. Mix to combine.
Fill tortillas with a scoop of chicken, a few slices of red onion, a healthy scoop of crumbled cotija cheese and a squeeze of lime! Serve with rice, black beans, and pan fried plantains.
Notes
TNCB
Recipe Note: The Salsa Verde is the most important part of this recipe. You want to get one that has a lot of flavor and a little heat too it. If I am buying it, I always look for one that still has seeds in it. But if you have time, make your own. I love the Salsa Verde from this recipe…it is so easy and flavorful!
Nutrition Information:
Yield:
4
Serving Size:
1
Amount Per Serving:
Calories:

504
Total Fat:

13g
Saturated Fat:

5g
Trans Fat:

0g
Unsaturated Fat:

6g
Cholesterol:

210mg
Sodium:

2506mg
Carbohydrates:

18g
Fiber:

4g
Sugar:

9g
Protein:

77g
Categories
Looking for more Spanish recipes?
We love latin food around here, seeing as my husband is Puerto Rican! Plus, I am originally from Houston, Texas and I know my way around good Mexican food. The blend in our house is a lot of fun and it leads to some great inspired recipes! Here are a few of our favorites:
This post may contain affiliate links. Read my disclosure policy.