A lighter take on classic Mississippi pot roast, this Crockpot Mississippi Chicken is a dump-and-go slow cooker meal with tons of flavor. You'll love the combination of tender white-meat shredded chicken, ranch seasoning, butter, and tangy peppers.
A Zesty Set-It and Forget-It Chicken Recipe!
Have you ever tried Mississippi pot roast? If so, you already know how good it is! Slow-cooked chuck roast in a tangy herb sauce is one of my family's favorite meals. And it is so simple to make. Well, get ready, because you can make a light and zingy version that's just as delicious and just as simple, with chicken!
Crockpot Mississippi Chicken is made with juicy, tender chicken breast instead of beef. Cooked in your slow cooker with butter, ranch, and pepperoncini, it fills the house with a homey and mouthwatering fragrance that lets everyone know dinner is going to be awesome.
Crockpot Mississippi Chicken Is…
Bold
Flavorful
Balanced
Tangy
Easy to Make
Versatile
With the mouthwatering flavor of ranch dressing and tangy pepperoncini, this chicken is addictively delicious and perfect for serving on sandwiches, over mashed potatoes, or however you like!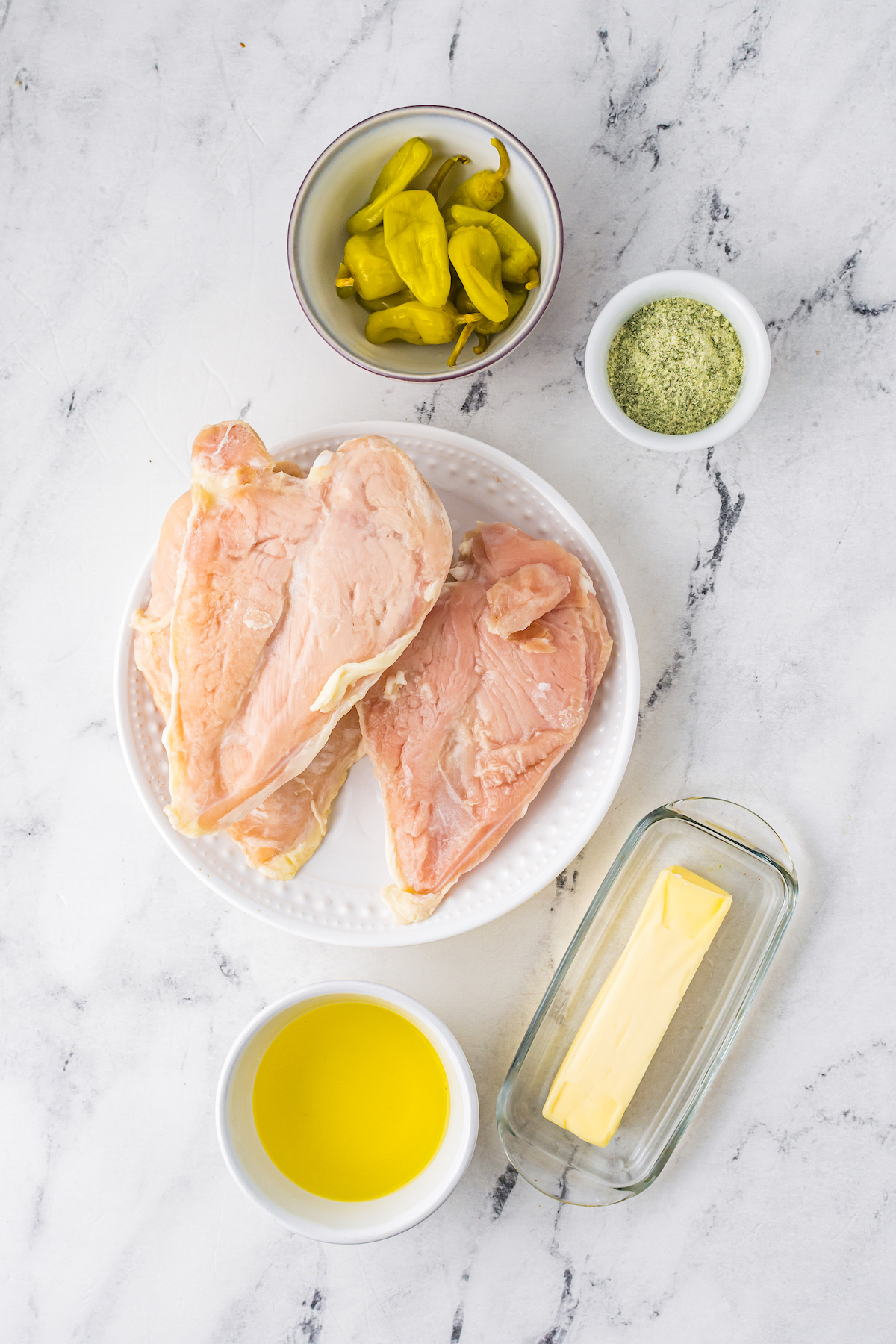 What Ingredients Do You Need?
So just what is in this easy recipe? Just a few simple ingredients that you probably have right now in your freezer and pantry! Let's take a closer look at each one:
Chicken: Boneless, skinless chicken breasts make great Mississippi chicken!
Ranch: You need the dry ranch seasoning mix here, the kind you can use to make ranch dressing at home.
Butter: I use salted butter in this recipe, but you can also use unsalted. It doesn't have to be softened.
Pepperoncini: These sour and flavorful jarred peppers are available near the pickles and olives in most grocery stores. I put about ten in my crockpot, but you can use as many as you like.
Pepperoncini Juice: A little bit of the juice from the pepperoncini jar adds a nice kick without being too spicy.
Can I Use Chicken Thighs Instead?
Definitely! This dish works equally well with dark or light meat, or you can do a mix of both for variety. If you do choose to use dark meat, you can cut the butter in half or even leave it out. Dark meat is typically richer and higher in fat than white meat.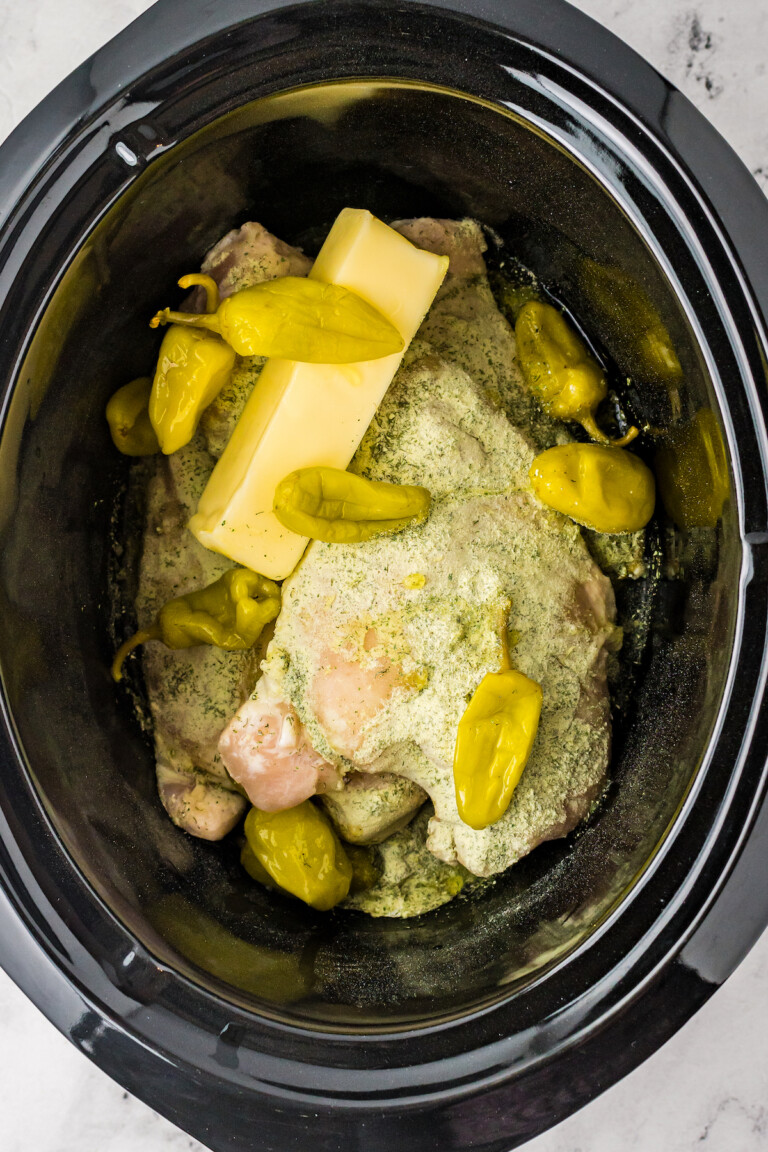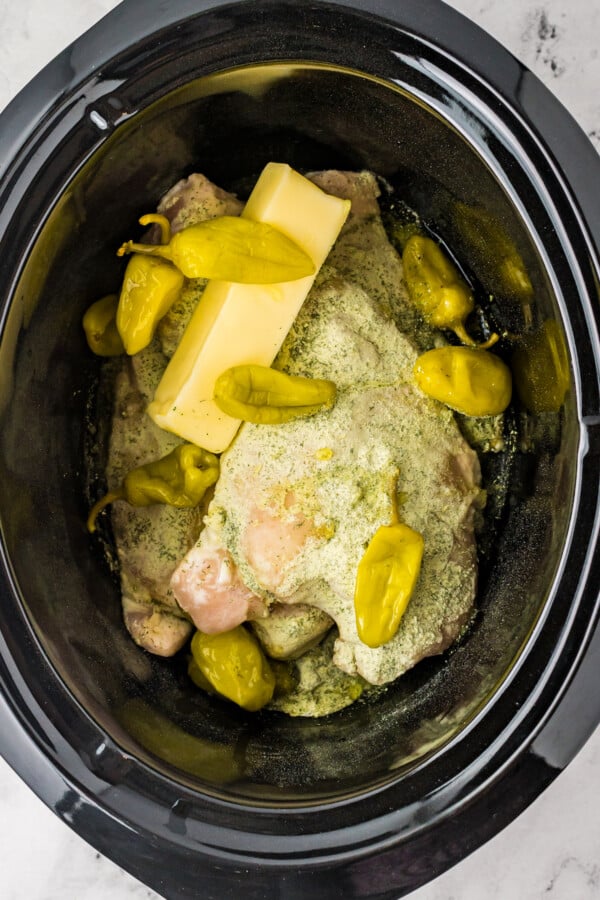 How to Make It
This dish is as easy as one, two, three! But seriously, it is so simple, perfect for a busy day when you just need to throw the ingredients in there and let it go. Here's how you do it:
Place the Ingredients in the Crockpot. Layer the chicken pieces in the bottom of your crockpot insert. Open the ranch seasoning packet, and sprinkle it over the chicken. Lay the stick of butter on top, and then add the pepperoncini peppers and juice.
Slow Cook the Chicken. Cover the crockpot with the lid, and set it to cook. It should cook on HIGH for four hours, or on LOW for eight hours.
Shred the Chicken and Serve. Once the chicken is fully cooked and tender, uncover it and use two forks to shred it. Enjoy!
Can You Put Frozen Chicken in the Crockpot?
It depends on who you ask! In recent years, the USDA has recommended against cooking frozen chicken in the crockpot, warning consumers that the raw chicken may not heat up quickly enough to be safe.
However, many home cooks swear by cooking frozen chicken in the crockpot, and even the Crockpot company itself has called the practice safe.
So it's up to you! Out of an abundance of caution, it's probably best to thaw your chicken before cooking it in your slow cooker. But however you choose to cook your meat, I recommend using a good meat thermometer to check for doneness.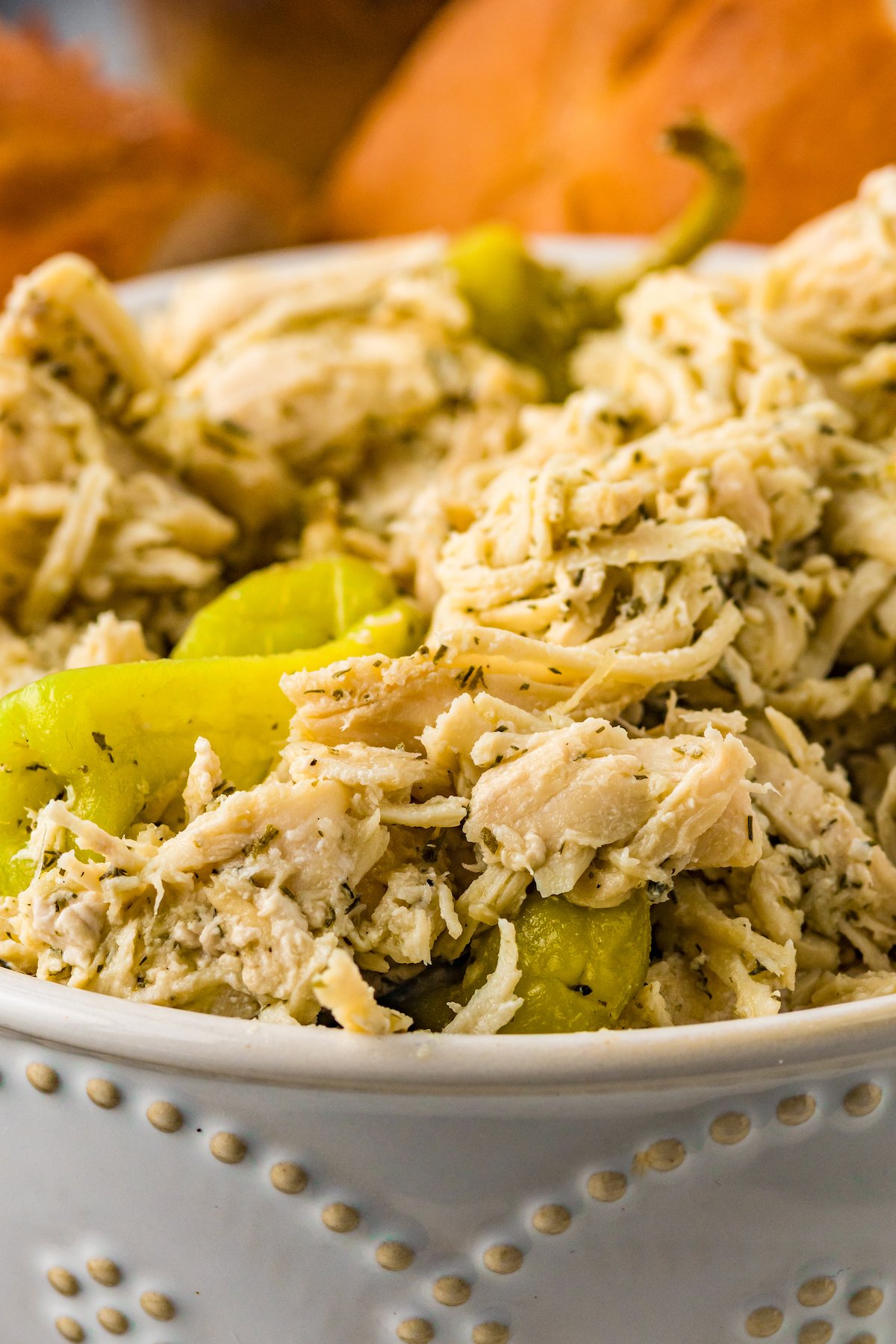 My Favorite Tips and Variations
Want to know more about Mississippi chicken? There's so much you can do with it to make it fabulous! Here are some of my top tips for the perfect main course.
Check Early: As always, the times given here are approximate. Depending on the size of your chicken pieces and the heat of your slow cooker (some cook hotter than others), you may find that your chicken is done sooner or later. Check early to prevent the chicken from drying out.
Shred Easy: If you find shredding meat tiresome (understandable!), you can actually use a handheld mixer to do it. The metal beater attachments are great for shredding meat easily
Use Turkey: Switch things up by using turkey breast or legs in this recipe! They are often easy to find at grocery stores, and make a nice change from chicken.
Add Gravy: Swap half the ranch for half a packet of chicken gravy mix for a fabulous, creamy twist.
Double Up: This is so easy to make that it only makes sense to double it! Serve half, and save the other half for another day.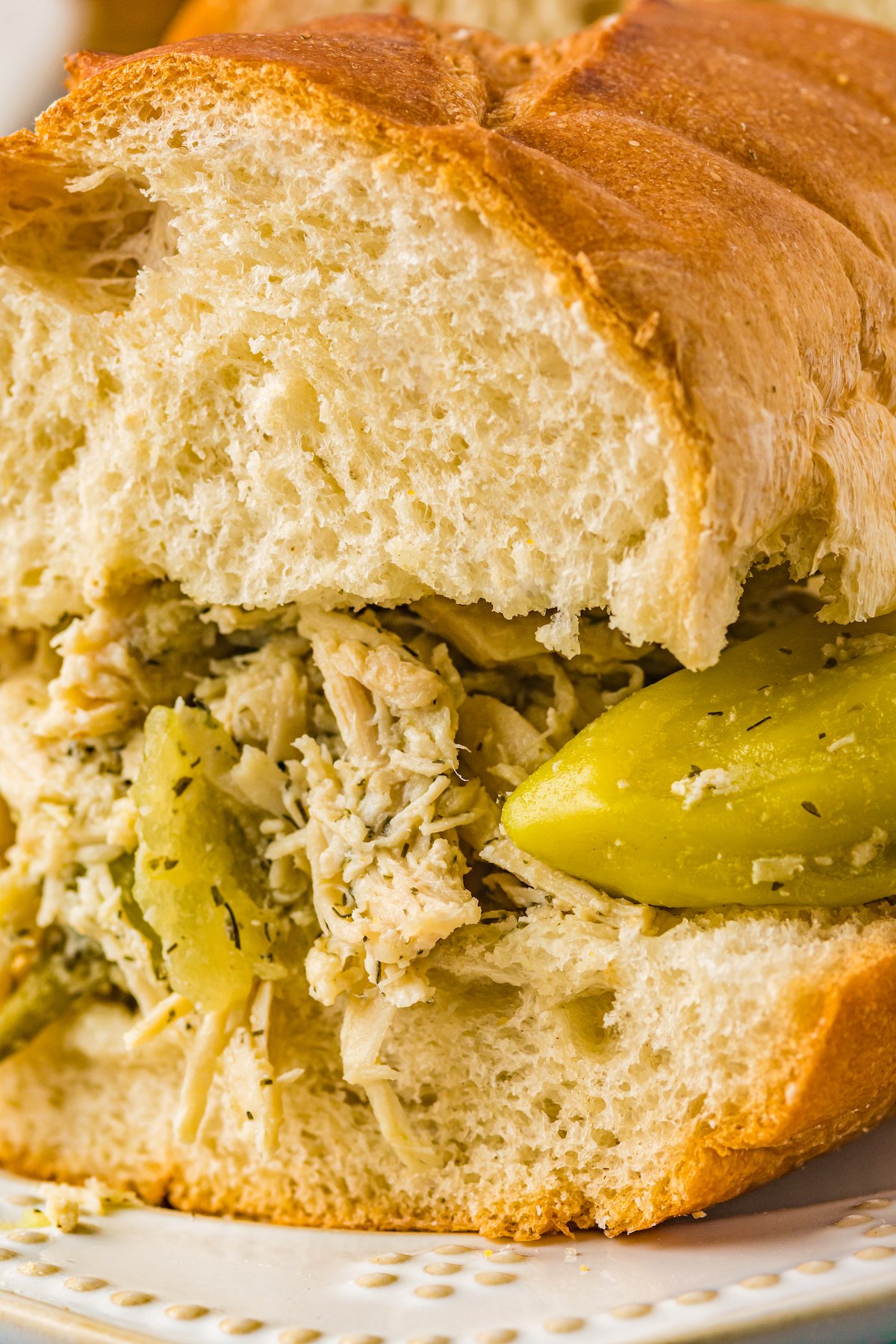 Yummy Serving Ideas
There are lots of ways to serve Mississippi Chicken, but we love it best served as a sandwich on thick French bread. However, if you're looking for more easy sides that go perfectly with this savory pulled chicken, how about…
Cornbread: A square of Cheddar Jalapeno Cornbread is just right for soaking up the amazing jus in this recipe!
Plantains: Puerto Rican Fried Plantains have a superbly sweet flavor that's amazing with the mouthwatering ranch seasoning and butter in this chicken. Pile the chicken right on top for a dish you'll crave, again and again.
Salad: Round out the menu with a perfect Greek Salad. So fresh!
Storing the Leftovers
To refrigerate, place leftover chicken with juices in an airtight container, and store for up to 5 days.
To freeze, place cooled leftovers in an airtight container or freezer bag, mark with the date, and freeze for up to 3 months.
Yield: 4 Servings
Crockpot Mississippi Chicken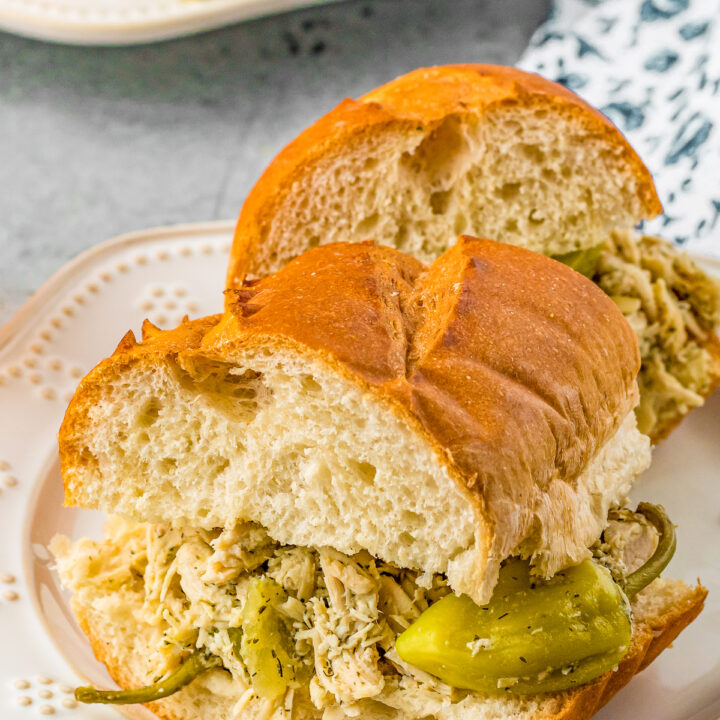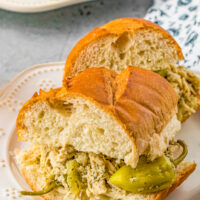 A lighter take on classic Mississippi pot roast, this Crockpot Mississippi Chicken is a dump-and-go slow cooker meal with tons of flavor. You'll love the combination of tender white-meat shredded chicken, ranch seasoning, butter, and tangy peppers.
Cook Time
8 hours
4 seconds
Total Time
8 hours
5 minutes
4 seconds
Ingredients
2 pounds boneless, skinless chicken breasts
1 packet (1 ounce) ranch seasoning mix
⅓ cup butter (salted)
10 pepperoncini peppers
3 tablespoons pepperoncini juice
Instructions
Place the chicken in the crockpot.
Sprinkle the ranch seasoning over the chicken and place the stick of butter on top. Add the pepperoncini peppers and the pepperoncini juice.
Place the lid on the crockpot and cook on high for 4 hours, or on low for 8 hours.
Remove the lid, and shred the chicken in the juice with 2 forks. Serve as desired.
Notes
Store in an airtight container in the refrigerator for up to 5 days.
This can be frozen in an airtight container for up to 3 months.
Nutrition Information:
Yield:
4
Serving Size:
1
Amount Per Serving:
Calories:

588
Total Fat:

24g
Saturated Fat:

12g
Trans Fat:

1g
Unsaturated Fat:

9g
Cholesterol:

192mg
Sodium:

831mg
Carbohydrates:

16g
Fiber:

3g
Sugar:

14g
Protein:

73g
Categories
More Easy Crockpot Favorites
Looking for more easy crockpot dinner recipes? Here are a few of my favorites:
This post may contain affiliate links. Read my disclosure policy.