Jalapeno Cheddar Cornbread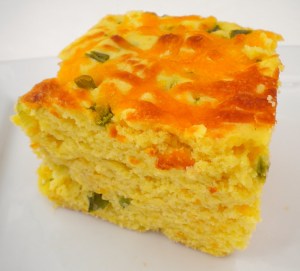 IT'S CHILI TIME! Yay! Last weekend it finally got cold enough for me to make and enjoy some chili. Usually I make a box of Jiffy Cornbread and its good and all…but now I don't think there is going to be any turning back! I loved this cornbread! And so did Jorge and my friend Laura. It was perfect! Only thing I will change next time is to add a more jalapeno because I would like a little more spice/flavor from the jalapenos. Next time you make Chili, I really suggest you give this Cornbread a try!
You will need:
3 cups all-purpose flour
1 cup yellow cornmeal
1/4 cup sugar
2 Tablespoons baking powder
2 teaspoons kosher salt
2 cups buttermilk
3 large eggs, slightly beaten
1/2 pound (2 sticks) unsalted butter, melted, plus extra to grease the pan
8 ounces extra-sharp cheddar, grated
1/3 cup chopped scallions, plus extra for garnish (3-4 scallions)
3 Tablespoons seeded and minced fresh jalapeno peppers (2-3 peppers)Sift together the flour, cornmeal, sugar, baking powder, and salt. Combine the buttermilk, eggs, and butter. Make a well in the center of the dry ingredients, and pour in the wet ingredients. Stir until just combined. Mix in 2 cups of the cheddar, the scallions, and jalapenos and stir until just combined. Do not overmix!Allow the mixture to sit at room temperature for 20 minutes. Meanwhile, preheat the oven to 350, and grease a 9 x 13 x 2 inch baking dish. Spread the batter into the baking dish, and sprinkle the top with the remaining cheddar and scallions.Bake for 30-35 minutes, or until a toothpick inserted in the center comes out clean. Cool slightly and cut into squares to serve.Source: Found on
Pink Parsley
adapted from
Barefoot Contessa at Home
This post may contain affiliate links. Read my disclosure policy.