Best Corn Casserole Recipe
This sweet and savory Corn Casserole recipe is a delicious cross between corn soufflé and a sweet corn pudding! It's easy to make and pairs great with any meal!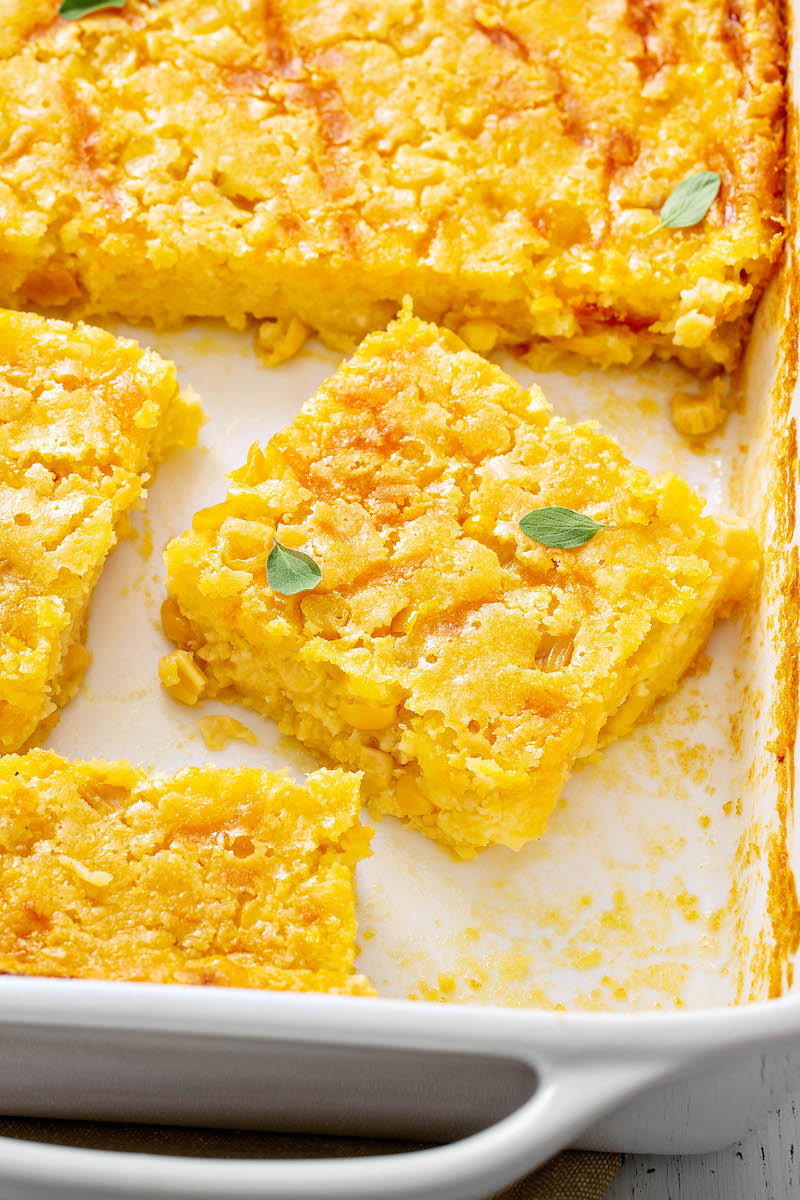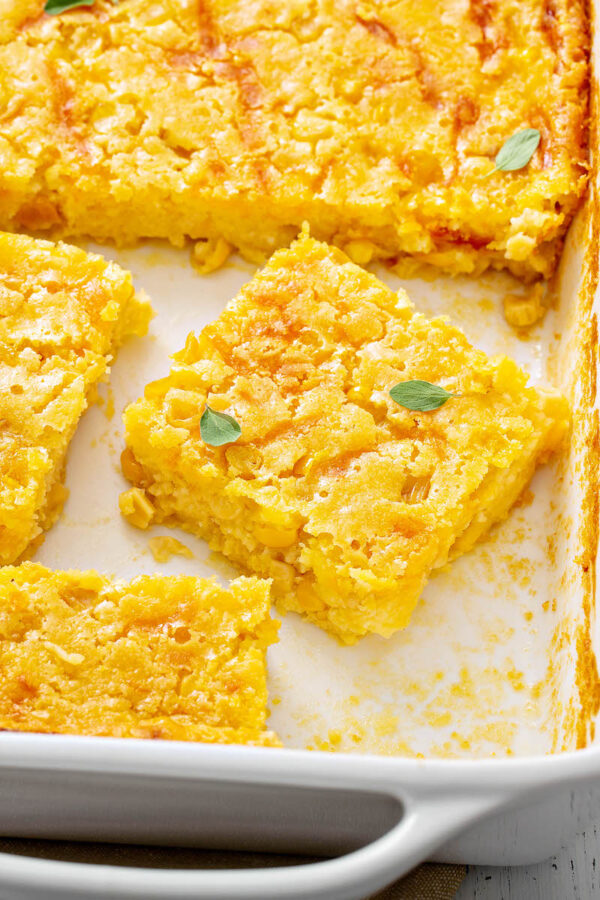 This casserole goes by many names, but I know it best as Corn Casserole. Some of you may know it as Corn Pudding and a few of you may even call it Jiffy corn casserole.
No matter what you call it, Corn Casserole is always absolutely delicious and a stable at any holiday gathering here in the South.
It's a super EASY recipe with just 6 ingredients we mix together and bake in a casserole dish.
If you love this Corn Casserole recipe, make sure and and also check out my other family favorite Thanksgiving recipes: Best Thanksgiving Turkey, Best Green Bean Casserole, Sweet Potato Casserole and Cranberry Relish!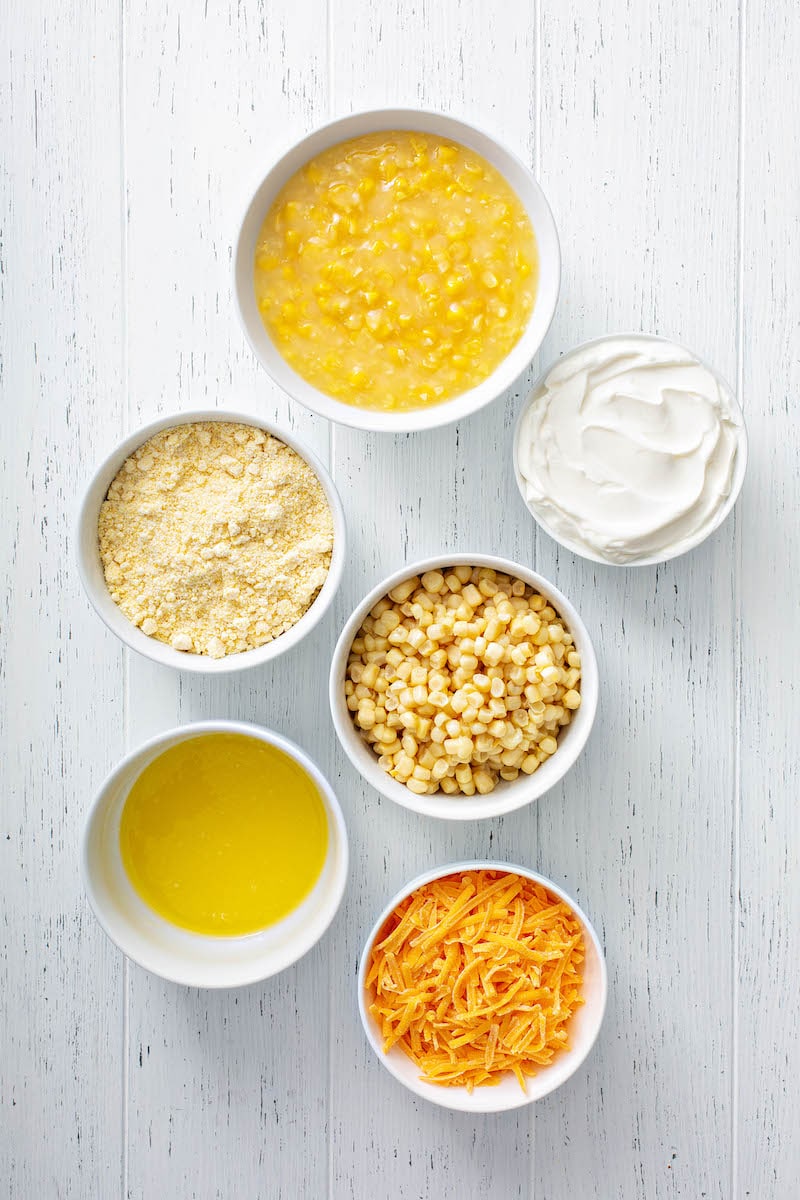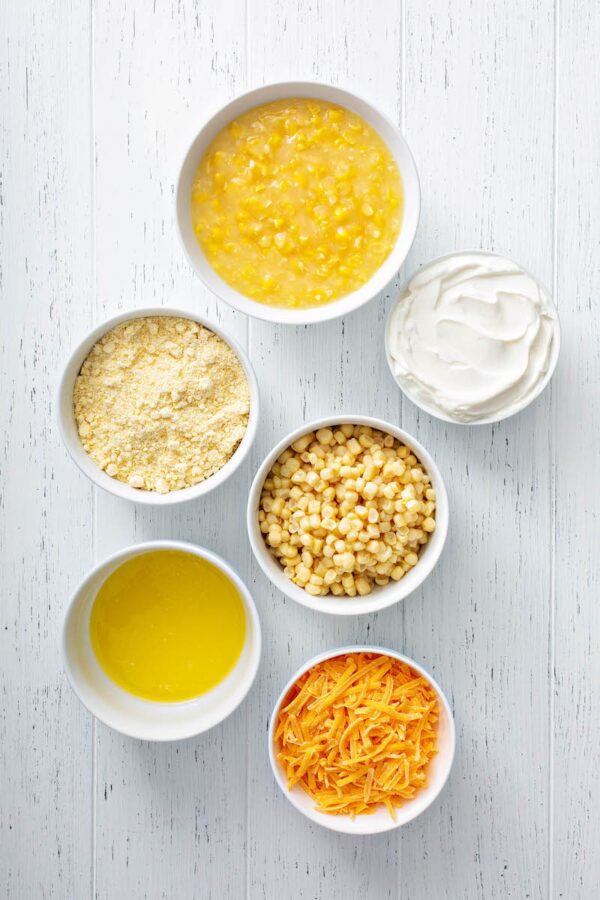 Jiffy Corn Casserole Recipe Ingredients
This corn casserole is incredibly easy to whip together with the use of Jiffy corn muffin mix.
You will also need a can of cream style corn, a can of corn kernels, sour cream, melted butter and cheddar cheese.
Using a mixture of cream style corn and corn kernels creates the perfect texture. It keeps the corn casserole creamy with actual bites of corn mixed in.
You can use a few types of shredded cheese, but I most recommend a mild or sharp cheddar cheese for the best flavor.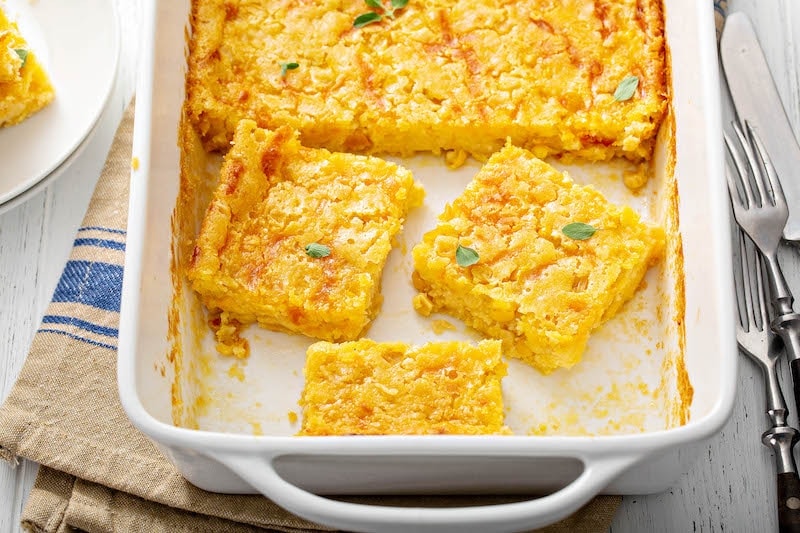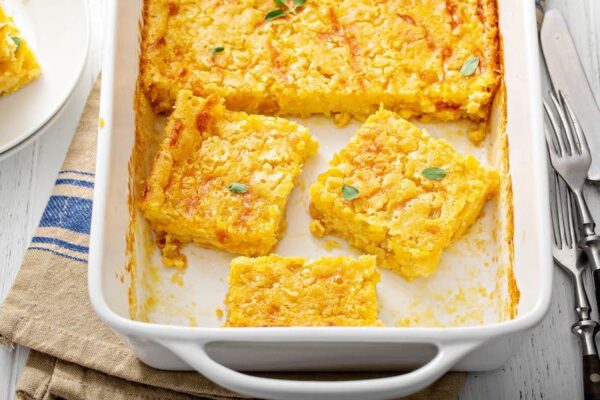 How to make corn casserole?
This casserole recipe couldn't be any easier to make! I promise! Even the kids could make this recipe!
All you have to do is stir together all the ingredients and spread it into an even layer in a greased casserole dish.
Bake it for 45 to 50 minutes and let it stand for 10 minutes before serving. This corn casserole will continue to get firmer the more it cools.
You can also make this recipe in a slow cooker if you need oven space. The final product is a little different — more scoopable — but delicious all the same!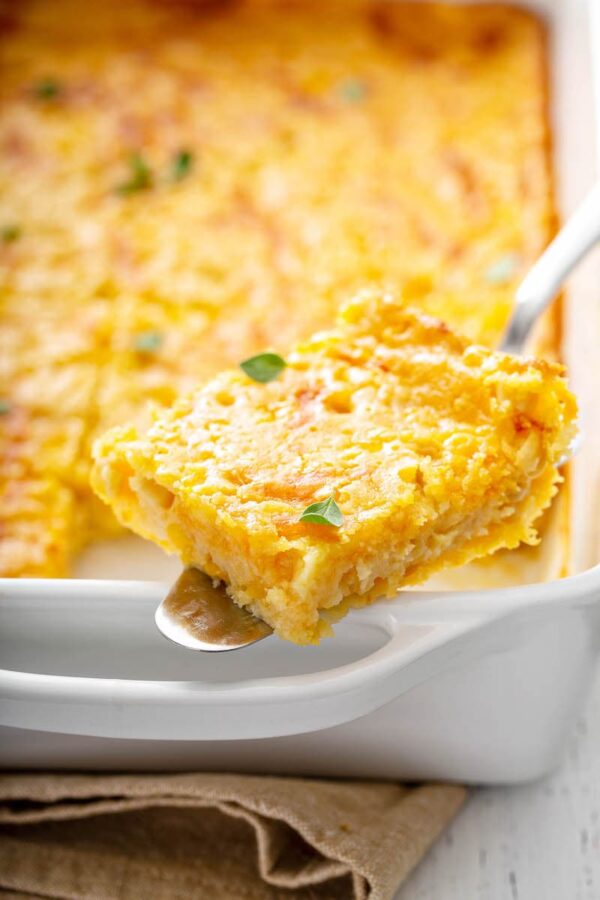 How to make Crockpot Corn Casserole?
If you are cramped for oven space, you can pop this corn casserole into the crockpot early in the day and let it go!
Crockpot Corn Casserole:
Lightly spray a large crock pot bowl with non stick spray.

Mix all ingredients in a large bowl and pour into crockpot.

Cover and cook on low for 3-4 hours, stirring once halfway through.

Serve warm right from the crock pot!
The ingredients for the casserole recipe all stay the same, just the method changes a little!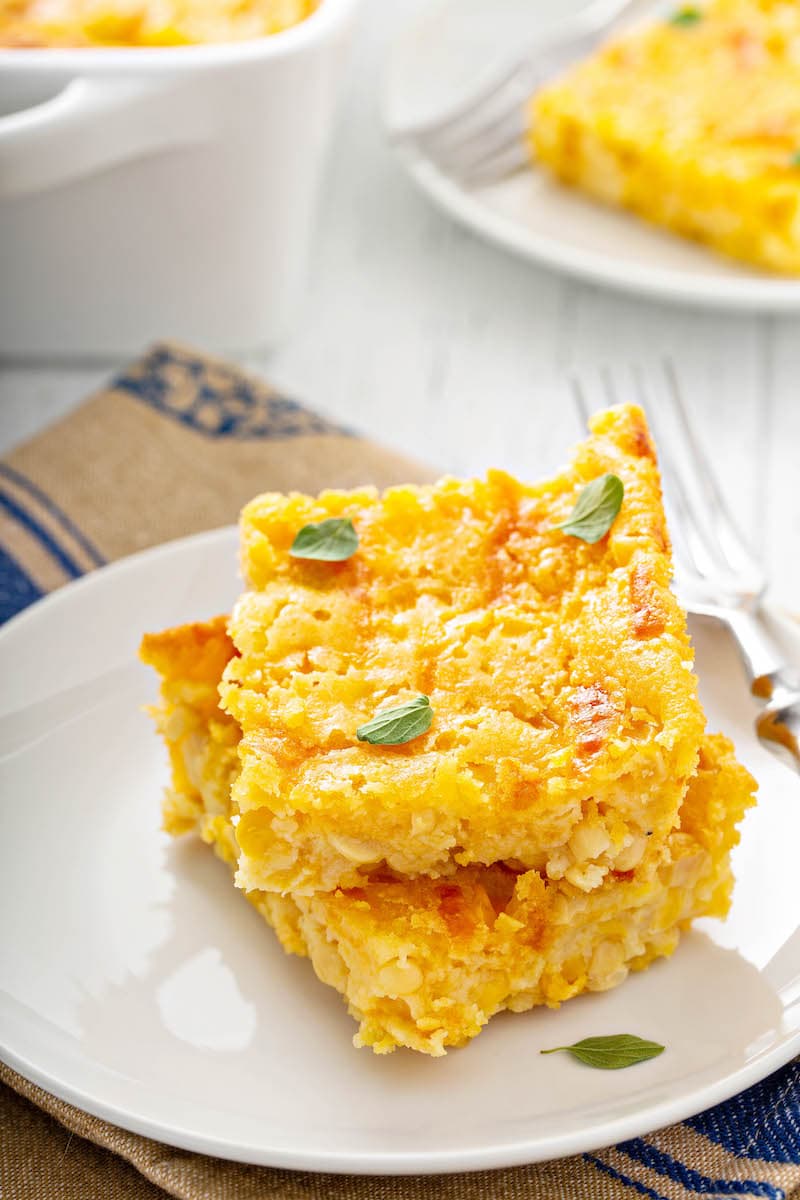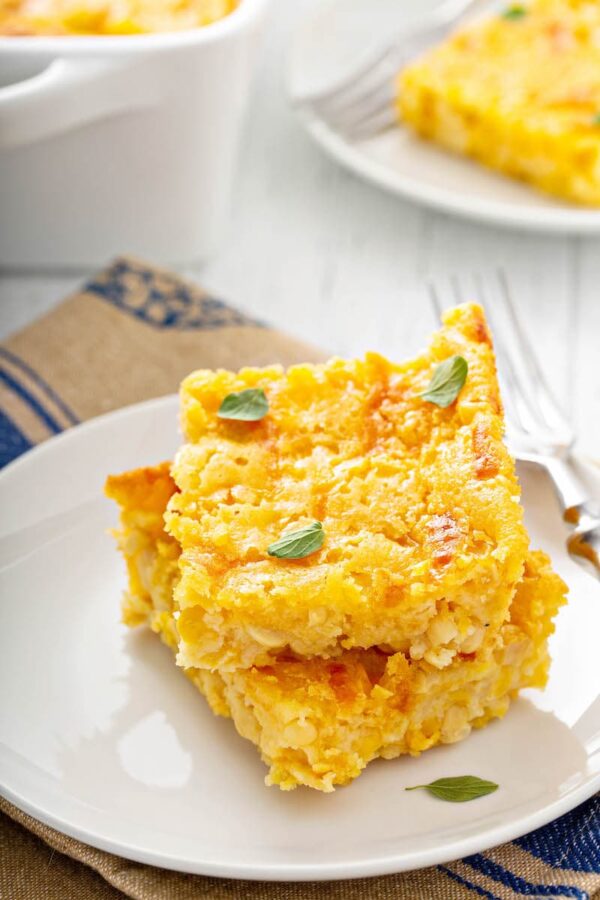 This Corn Casserole, or Corn Pudding depending on where you are from, is an absolutely delicious side dish.
It's the perfect addition to any meal, but especially for that grand holiday dinner spread! No Thanksgiving or Christmas is complete in our family without our favorite Corn Casserole recipe!
When you try this casserole recipe, please make sure and come back and leave a comment or review letting me know how it turned out for you!
Yield: 12 servings
Corn Casserole Recipe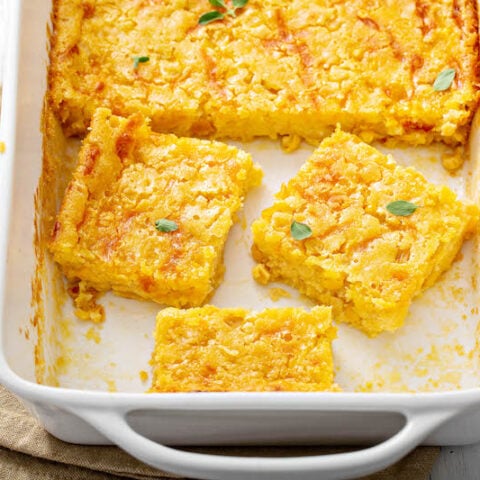 This sweet and savory Corn Casserole recipe is a delicious cross between corn soufflé and a sweet corn pudding! It's easy to make and pairs great with any meal!
Ingredients
1 package (8.5 oz) corn muffin mix
1 can (14.75 oz) cream-style corn
1 can (15.25 oz) whole kernel corn, drained
1 cup sour cream
6 tablespoons butter, melted
1 cup shredded cheddar cheese
Instructions
Preheat oven to 350°F. Grease a 9x13 casserole dish.
In a large bowl, combine all ingredients. Pour into prepared dish.
Bake for 45-50 minutes, or until center is no longer jiggly and top is turning golden brown.
Remove from oven and let stand for 10 minutes. Serve warm.

Nutrition Information:
Yield:
12 servings
Serving Size:
1
Amount Per Serving:
Calories:

179
Total Fat:

14g
Saturated Fat:

8g
Trans Fat:

0g
Unsaturated Fat:

5g
Cholesterol:

39mg
Sodium:

145mg
Carbohydrates:

10g
Fiber:

1g
Sugar:

4g
Protein:

4g
Want to Save This Recipe?
More Thanksgiving Recipes!
Want to Save This Recipe?
This post may contain affiliate links. Read my disclosure policy.