Green Bean Casserole, made from scratch, is a classic holiday side dish! Fresh green beans are tossed in a homemade cream of mushroom soup and then topped with crispy French's fried onions.
Best Green Bean Casserole From Scratch
This green bean casserole is one of my family's favorite Thanksgiving side dish recipes. If you read all the 5-star reviews below, you'll find that this is also a reader favorite as well! I make it every year and our holiday table just wouldn't be the same without it. With all the fresh flavors, it beats out a casserole made with canned ingredients by 100 miles.
I don't say this recipe is "THE BEST" lightly. So many people have made and loved this recipe, year after year, and have now added it to their must-make Thanksgiving side dishes line up!
However, if you are looking to save time, I also have a recipe for the classic Easy Green Bean Casserole made with canned ingredients. Or, save space in the oven with this Crockpot Green Bean Casserole!
99% Made from Scratch!
Aside from the French's fried onions, this green bean casserole is made completely from scratch with fresh ingredients. Instead of canned ingredients, you whip up a homemade cream of mushroom soup. (This sounds more complicated than it is, I promise it's super easy!) Then we toss tender, freshly cooked green beans in the cream of mushroom sauce and finish it off with a thin layer of bread crumbs and crispy French's fried onions.
I have tried making my own fried onions in the oven, but every time I try it, it's a big waste of time. The onions are never as crispy and the flavor is just not the same. In my humble opinion, store-bought French fried onions cannot be replaced and are the best topper for this classic casserole!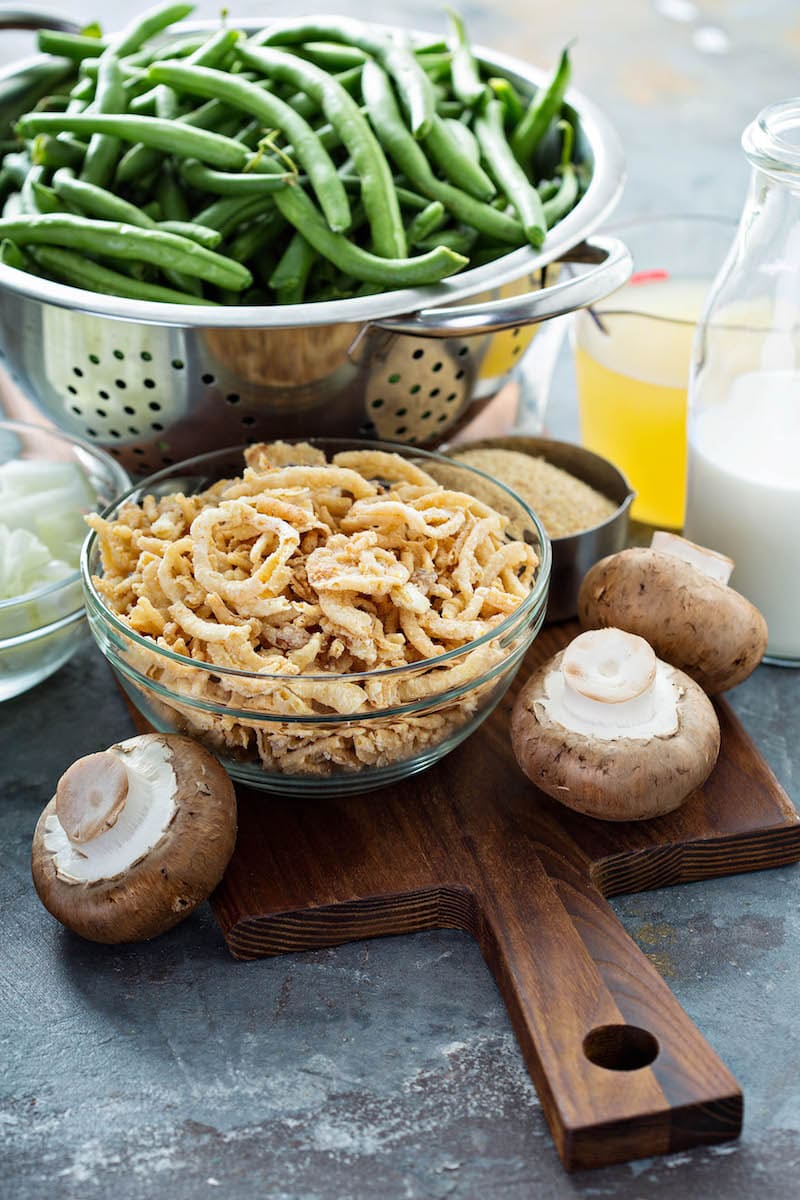 What You'll Need
The ingredients are simple and make the best green bean casserole ever. Seriously! Here's a quick overview of what you'll need. Be sure to scroll to the recipe card at the bottom of the post for specific amounts.
Fresh Green Beans: I love using fresh green beans because they have the most flavor and a bit more texture. If you can't find fresh green beans, then frozen will do a pinch. I also have included directions in the recipe card (at the bottom of the post) to use canned green beans, if you prefer.
Homemade Cream of Mushroom Soup: By making your own homemade cream of mushroom soup, the flavor instantly jumps to an insane new level. It's easy, I promise! Check out the recipe card for how to make mushroom soup from scratch.

Butter: You could also use oil, if you prefer.
Onion: I recommend using a yellow onion for the slight sweetness they bring, but a white onion works fine too.
Garlic: Freshly minced garlic will add the most flavor.
Portobello Mushrooms: You can use large mushrooms that you chop, or sliced baby portobello mushrooms. I personally like to chop the mushrooms finely into small pieces. And if you do not like mushrooms, you can skip them completely and the gravy will still be delicious.
Seasonings: Salt and freshly cracked black pepper.
All Purpose Flour
Chicken Broth: Or you can also use vegetable broth to keep this dish vegetarian.
Half And Half: Heavy cream will also work! Many vegan readers have commented over the years that they have successfully used almond milk or oat milk in place of the half and half.

Breadcrumbs: I love to add a thin layer of breadcrumbs on top of the casserole before adding the crispy fried onions. The breadcrumbs are optional, but I think they add a little extra something special.
French's Fried Onions: This is the only ingredient in this recipe that is not 100% homemade, but you just can't beat the crispy onion topping in Green Bean Casserole. I have tried making these homemade many times and many different ways, but French's Fried Onions really are the best ones.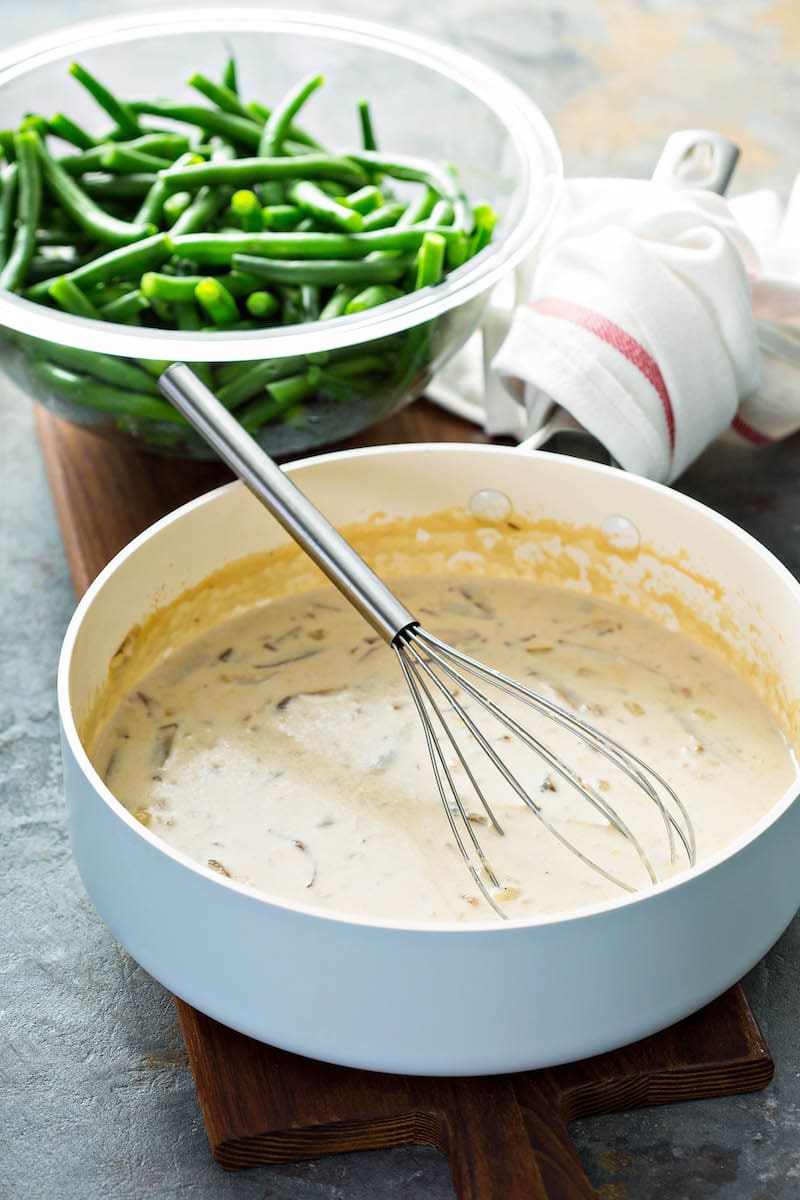 How To Make Green Bean Casserole
Wondering how to make this casserole? Here's a quick recap. You literally make this casserole in 4 easy steps.
Blanch the green beans: The first step is boiling the green beans in water until just starting to become tender, then quickly cooling them down in ice water to stop the cooking process. This gives your green beans the perfect texture without becoming soft! However, if you personally prefer softer green beans, you can skip the ice step.
Make the cream of mushroom soup: Sauté onions and garlic in butter till softened, then add mushrooms and salt and pepper. Sauté a few minutes more and add flour, stirring to combine. Add chicken broth and half and half and cook until thickened.
Combine: Toss the blanched green beans in the mushroom sauce and transfer to a large casserole dish. Top with bread crumbs and french fried onions.
Bake: Bake at 375°F for 20 minutes, until bubbly.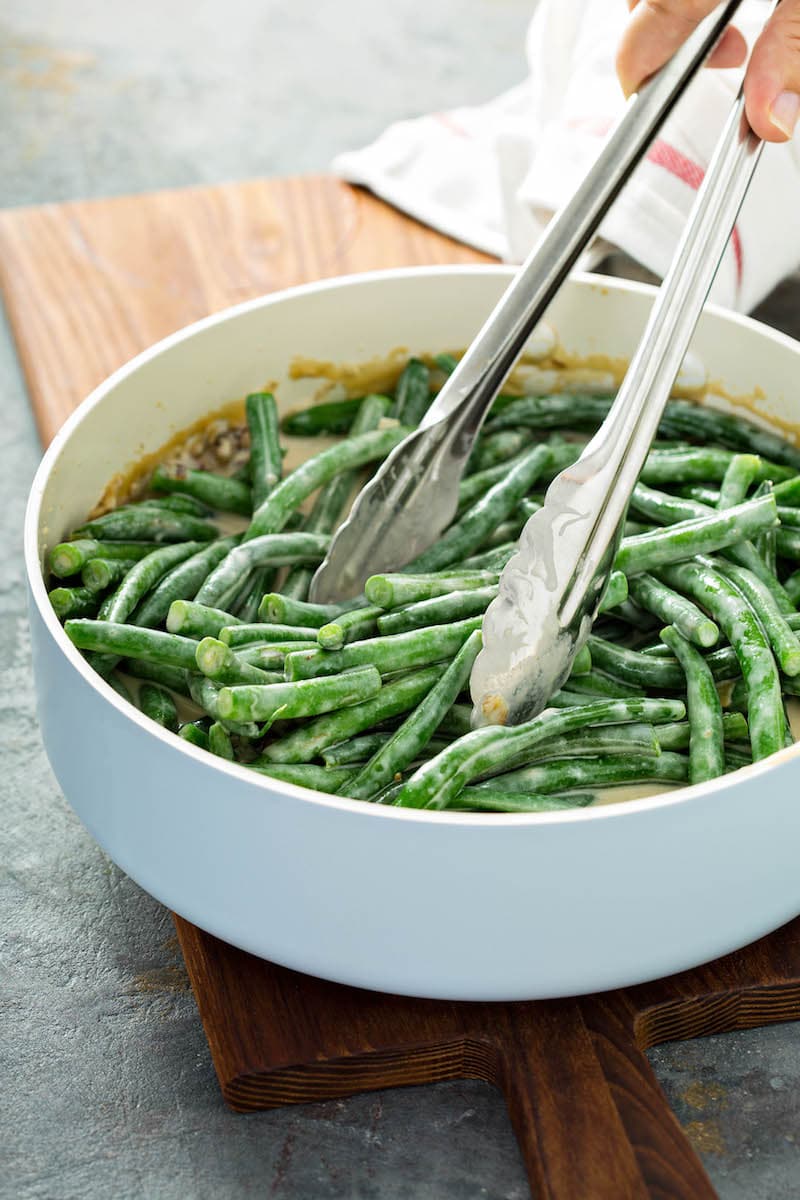 Tips for Success
Overall this is an incredibly easy recipe, but if you're making it for a big holiday like Thanksgiving there is no room for error. You need the best green bean casserole, guaranteed! Here are some quick tips to make that happen:
Use fresh green beans. They have the best overall flavor and texture and make your green bean casserole a stand out on your Thanksgiving table. Aunt Sharon's canned green bean casserole will pail in comparison to your show stopper!
Use homemade cream of mushroom soup. That might sound daunting, but I promise it's very easy to do and makes the flavor out of this world delicious. It's absolutely worth the extra 15 minutes of work.
Use French's fried onions. Even if you are a die-hard make everything from scratch person! Trust me, those crispy friend onions are almost impossible to make at home without a serious amount of effort and that's the last thing you need on Thanksgiving. We want easy and delicious!
What if you don't like mushroom soup? If you aren't a mushroom fan, you can double the onion in the mushroom soup recipe and make a cream of onion soup to use in your casserole. A lot of non-mushroom lovers do this and have left comments below on how delicious it still is! However, if it's just a texture thing, chop the mushrooms extra finely and you won't even know they are there! I personally don't like big chunks of mushrooms (it's a texture thing for me!), so I dice up my mushrooms fine!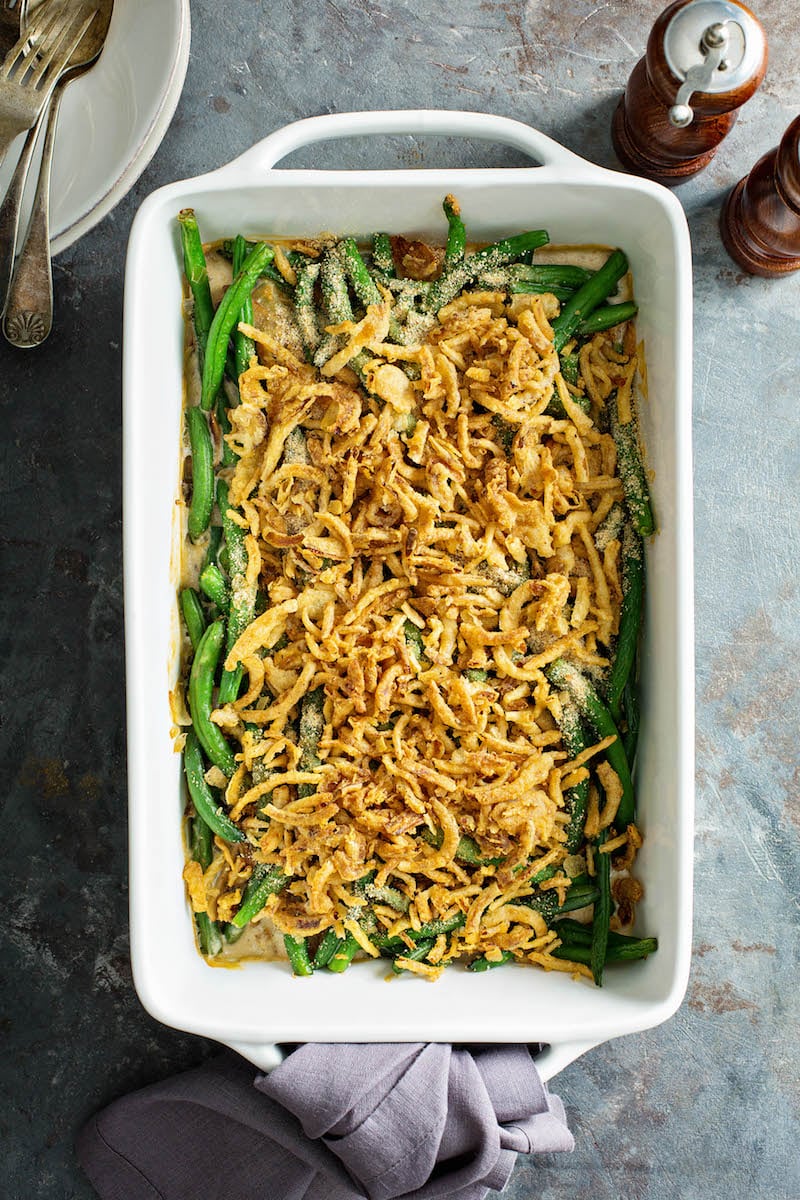 Recipe Variations
This recipe for Green Bean Casserole really is perfect just as it is. However, if you are looking for some ways to change it up this year, here are a few suggestions:
Nutmeg: Adding a pinch of ground nutmeg is a secret some chefs use in cream sauces to give them just a little added warmth. Freshly ground nutmeg will give the most flavor. I recommend using anywhere from 1/4 to 1/2 teaspoon ground nutmeg.
Cheese: Some people love a cheesy green bean casserole! Add up to 2 cups of shredded cheddar cheese to the green bean mixture. You can stir the cheese into the green beans or add the cheese on top of the casserole before baking. If adding the cheese on top, I recommend adding the shredded cheese on top of the casserole, then adding the bread crumbs and onions on top of the shredded cheese layer.
Bacon: Add some crispy bacon for a fun salty twist! You can add cooked and chopped bacon to the green bean mixture.
No Mushrooms: Not a fan of mushrooms? Skip them! Instead of mushrooms, double the onions in your sauce. You could also add diced celery.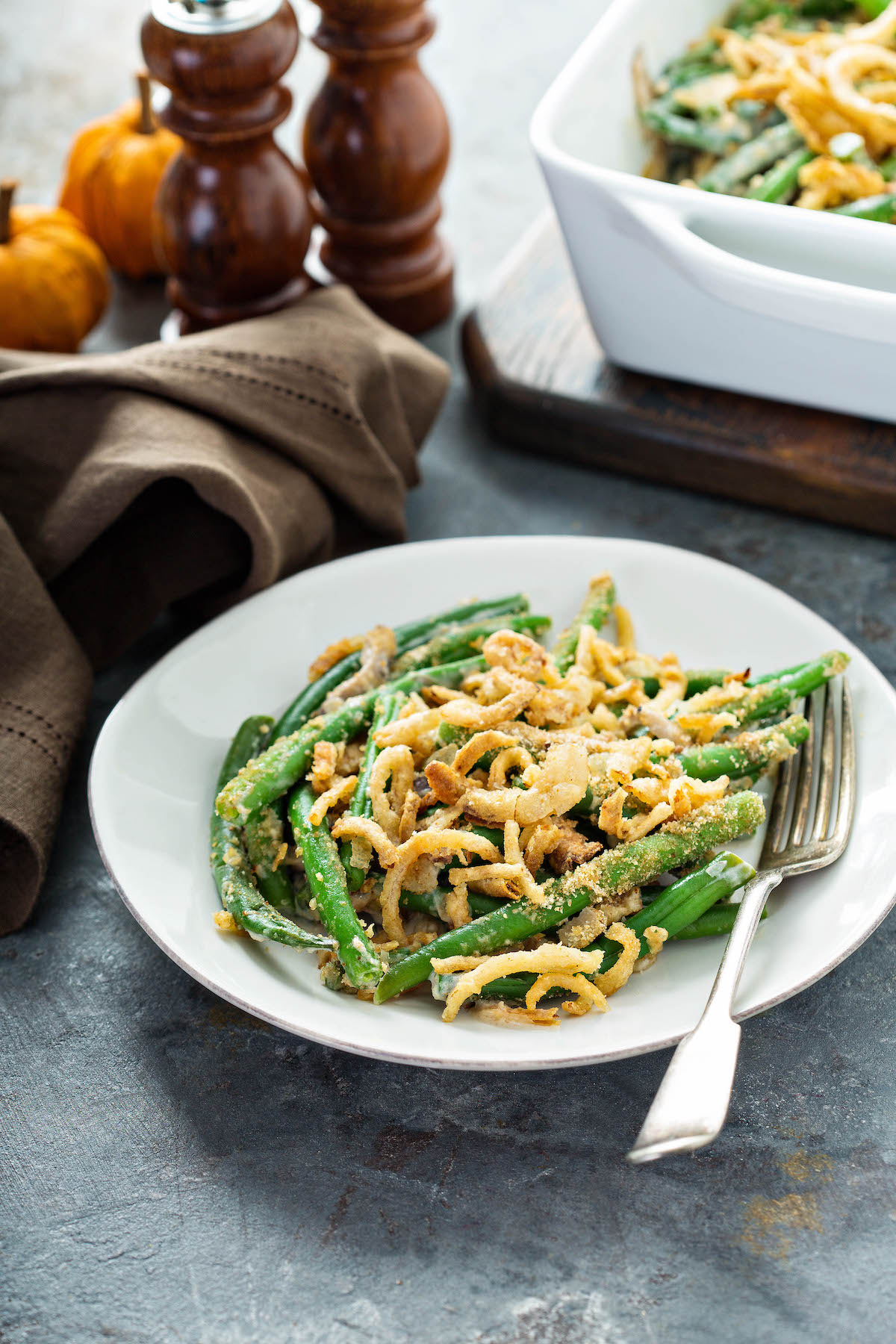 What To Serve With Green Bean Casserole
This classic holiday side dish recipe is great with almost any main dish, like roast chicken or even meatloaf. But it really shines as part of a big holiday spread! Here are some of my best holiday recipes:
Turkey: Can't have the holidays without the star dish! Follow my easy directions for How To Cook A Perfect Thanksgiving Turkey, or make a smaller turkey breast with my recipes for Air Fryer Turkey Breast, Crockpot Turkey Breast, or Instant Pot Turkey Breast.
Ham: If you aren't a turkey fan, a holiday ham is always delicious. I like to make a Crockpot Ham to keep it easy, but this Air Fryer Ham is also quick to make. This easy recipe for Dijon Brown Sugar Ham Glaze is also amazing if you are planning on baking your ham in the oven.
Sweet Potatoes: My homemade Sweet Potato Casserole with Marshmallows are what I grew up with, but you also will love this easy version for Crockpot Sweet Potatoes with Marshmallows! If you aren't a marshmallow fan, you will love this Sweet Potato Casserole with a crunchy brown sugar and pecan topping. Or skip the casseroles and whip up some Instant Pot Mashed Sweet Potatoes that are sweetened with maple syrup!
Casseroles/Side Dishes: It's not the holidays without a few amazing casserole dishes! Here are some reader favorites that I know you will love:
Dessert: And of course, to finish off a perfect holiday dinner, we need dessert! If you are planning to bake pies, make sure to check out my easy recipe for homemade pie crust.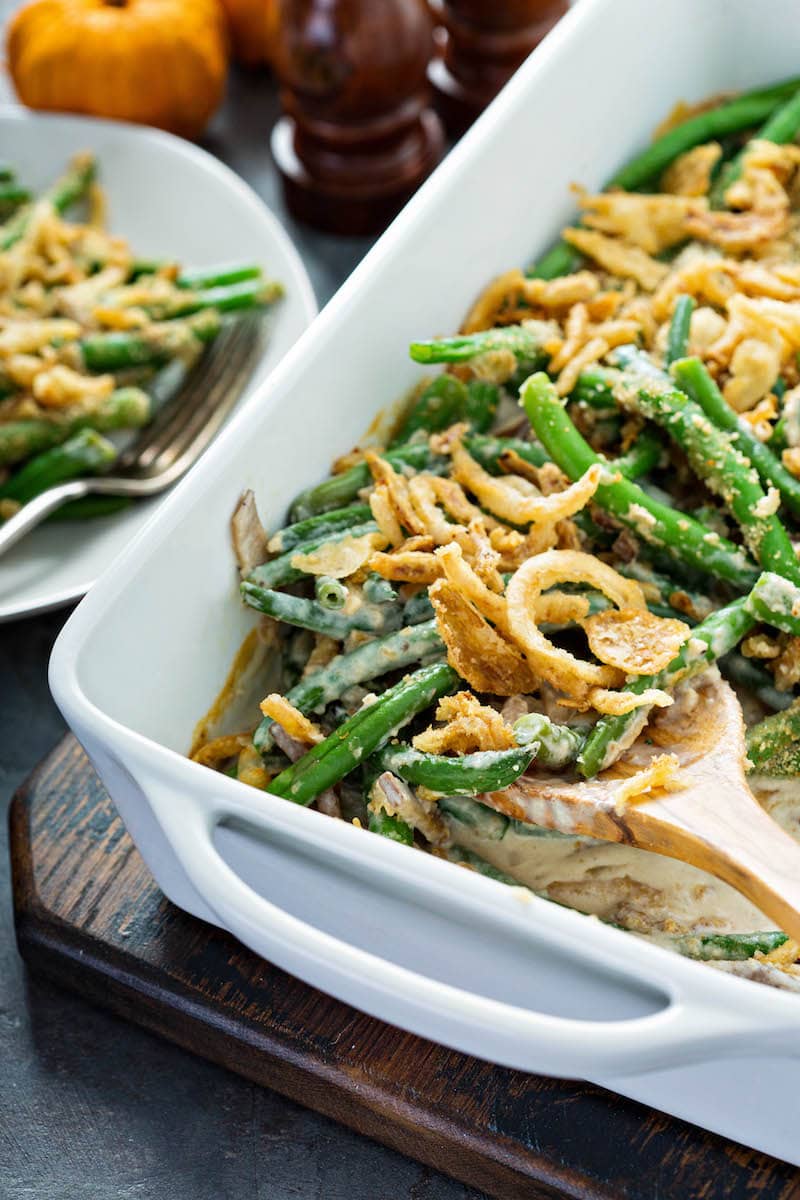 How Long to Cook Green Bean Casserole
This recipe only needs 20 minutes to bake. If you are planning to serve it for a holiday like Thanksgiving or Christmas, then this quick baking side dish saves you tons of time. You can also make it a day or two before you plan on serving it!
Can You Make Green Bean Casserole Ahead Of Time?
Yes! This recipe is a wonderful make-ahead side dish and it also travels well! I usually prepare it a day or two before Thanksgiving to save me time on the actual holiday. Green bean casserole stores perfectly in the fridge for up to 48 hours before baking.
To prep this casserole ahead:
Complete all steps until it's time to put the bread crumbs and french fried onions on top. Save those to be added fresh, so they do not get soggy.
Store the prepared casserole in the fridge, wrapped tightly with saran wrap or foil, for up to 48 hours before baking.
About 30 minutes (or up to an hour) before you're ready to bake the green bean casserole, allow the casserole to sit at room temperature to warm up some. This helps keep the baking time short, but is also a safety step. If you take a glass casserole dish from a cold refrigerator and then move it directly to a hot oven, there is a chance it can shatter or crack!
Before baking, top casserole with the bread crumbs and the layer of french fried onions on top. Bake according to recipe directions!
Easy Green Bean Casserole Recipe
This Green Bean Casserole is made from scratch with fresh green beans and homemade cream of mushroom soup! It's easy and delicious!
Ingredients
2

tablespoons

kosher salt

1.5

pounds

fresh green beans

,

rinsed and ends trimmed

2

tablespoons

unsalted butter

1

medium yellow onion

,

diced

2

cloves

garlic

,

minced

2

large portobello mushrooms

,

sliced or diced

1

teaspoon

kosher salt

,

to taste

½ – 1

teaspoon

freshly ground black pepper

,

to taste

2

tablespoons

all-purpose flour

1

cup

chicken broth

,

or vegetable stock

1

cup

half-and-half

,

or heavy cream

½

cup

breadcrumbs

10

oz

French Fried Onions
Instructions
Preheat oven to 375°F. Grease a 9×13 casserole dish, set aside.

Blanch the beans: In a large pot, bring about a gallon of water and 2 tablespoons of salt to a boil. Add the green beans and boil for 8 minutes. Drain in a colander and immediately plunge the beans into a large bowl of ice water to stop the cooking process. Drain and set aside.

Canned Green Beans: If using canned green beans instead, drain green beans completely and set aside.

Melt butter in a large skillet set over medium-high heat. Add the garlic and onions, stirring occasionally, until the onions begin to soften, about 4 to 5 minutes. Add the mushrooms, salt and pepper and continue to cook for another 1 to 2 minutes.

Sprinkle in the flour and stir to combine. Cook for 2 minutes. Add the chicken broth and stir to combine. Then add the half and half and simmer until the mixture thickens, stirring occasionally, approximately 6 to 8 minutes.

Remove from the heat and stir in all of the green beans. Transfer green bean mixture to prepared casserole dish.

Top with the bread crumbs and then layer the french fried onions on top. Place casserole in the oven and bake until bubbly, about 20 minutes. If your onions start to brown too quickly, cover the casserole with foil. Serve immediately!
Notes
PREP AHEAD DIRECTIONS: You can prepare the casserole up to 48 hours ahead of time. STOP at step 7 in the directions above. Do not top casserole with the bread crumbs and french fired onions. Instead, wrap cooled casserole tightly with foil, or saran wrap, and store in refrigerator.
When ready to bake, remove from the refrigerator and let casserole rest at room temperature for 30 minutes (or up to 1 hour) before baking. Then continue on with the recipe directions from step 7.
Nutrition
Serving:
1
,
Calories:
209
kcal
,
Carbohydrates:
24
g
,
Protein:
5
g
,
Fat:
11
g
,
Saturated Fat:
5
g
,
Polyunsaturated Fat:
5
g
,
Cholesterol:
19
mg
,
Sodium:
2188
mg
,
Fiber:
4
g
,
Sugar:
6
g
Categories:
More Delicious Green Bean Recipes
This post may contain affiliate links. Read my disclosure policy.