Best Green Bean Casserole Recipe
Best Green Bean Casserole Recipe Ever: this 5 star recipe is made from scratch with fresh green beans, mushrooms, real cream and no cans of cream of anything!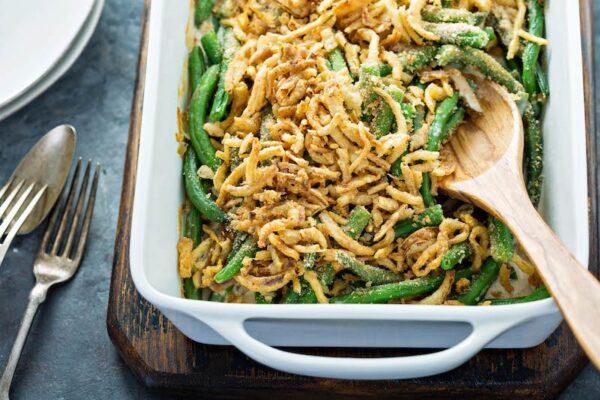 The Best French's Green Been Casserole Recipe
This is officially the best Green Bean Casserole recipe you will ever make! And it for sure beats out the classic Green Bean Casserole recipe made with canned ingredients, by a mile.
I promise, I don't say it's "THE BEST" lightly. Just read all the reviews below if you don't believe me.
So many people have made and loved this recipe, year after year, and have now added it to their must make Thanksgiving side dishes line up!
This casserole, as a whole, really doesn't take long to put together (maybe about 25 minutes). Plus, it is a perfect make ahead classic Thanksgiving side dish.
It's made 100% from scratch, with no cans of anything, but is still super easy to make!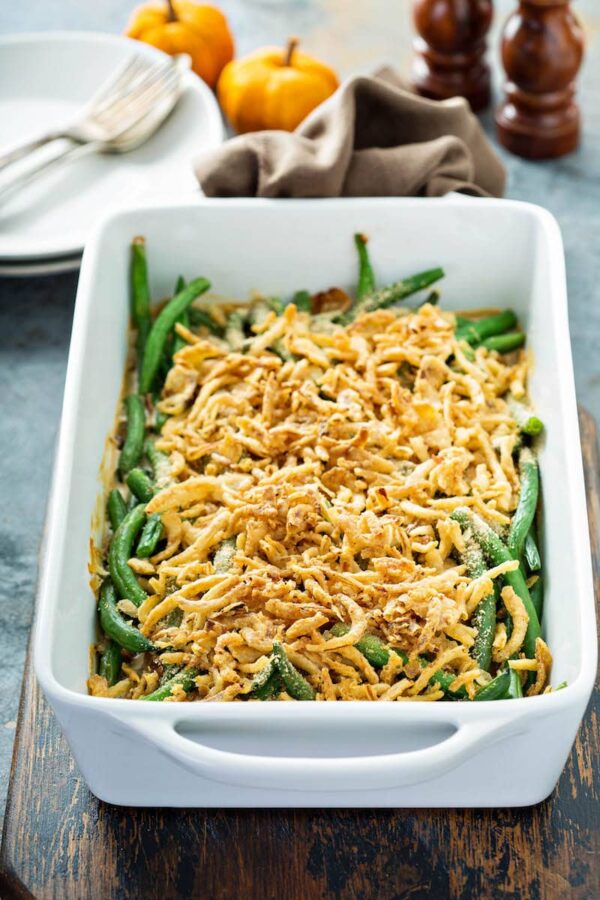 Thanksgiving Side Dish Recipes
If you are looking for a few more perfect Thanksgiving side dishes, I also highly recommend you check out my Mama's recipe for Sweet Potato Casserole — it's perfection!
And don't forget the Corn Casserole, it's a Southern tradition that no Thanksgiving meal is complete without.
I also have an amazing Cranberry Orange Relish that is requested year after year at our Thanksgiving. This is another great make ahead Thanksgiving side dish that only get's better with time!
For dessert, I have so many…but I will recommend these top rated Thanksgiving desserts: Pumpkin Pie Cheesecake, Best Pumpkin Cake, Pumpkin Pie Crisp, Sweet Potato Pie and Caramel Apple Dump Cake.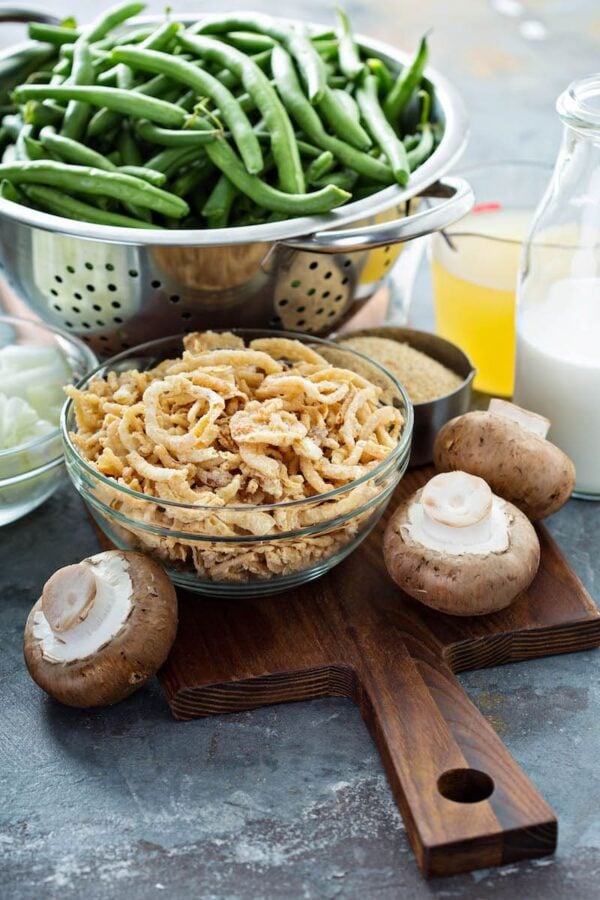 Green Bean Casserole Made From Scratch
This Green Bean Casserole Recipe is made fully from scratch with no ingredients that come from cans.
We use flour and fresh ingredients to create an easy homemade cream of mushroom soup.
Then we toss the tender cooked fresh green beans in the homemade sauce and arrange them in your casserole dish.
To finish it off, we top it with a little layer of bread crumbs and French's Fried Onions.
Everything is homemade and from scratch except the French's Fried Onions.
I have tired making my own fried onions in the oven, but every time I try it, it's a big waste of time. The onions are never as crispy and the flavor is just not correct.
Store bought French's fried onions are perfect to me and are the best topper for this green bean casserole recipe.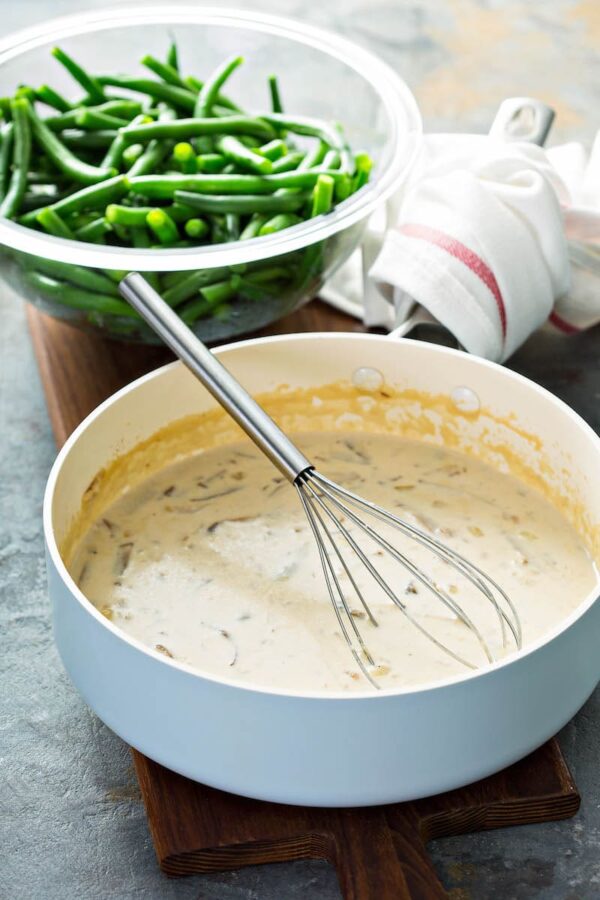 Homemade Cream Of Mushroom Soup
We make our own cream of mushroom (and onion!) soup. That might sound daunting, but I promise it's very easy to do and only takes 15 minutes!
By making your own homemade cream of mushroom soup, the flavor instantly jumps to an insane new level.
Homemade Cream Of Mushroom Soup Ingredients:
portobello mushrooms
onion
garlic
half and half
chicken broth
flour
salt and pepper
You can swap the portobello mushrooms for any other meaty mushroom that you prefer, however portobellos have a classic flavor.
If you aren't a mushroom fan, you can double the onion in this recipe and make a cream of onion soup to use in your green bean casserole.
A lot of non-mushroom lovers do this and have left comments below on how delicious it still is!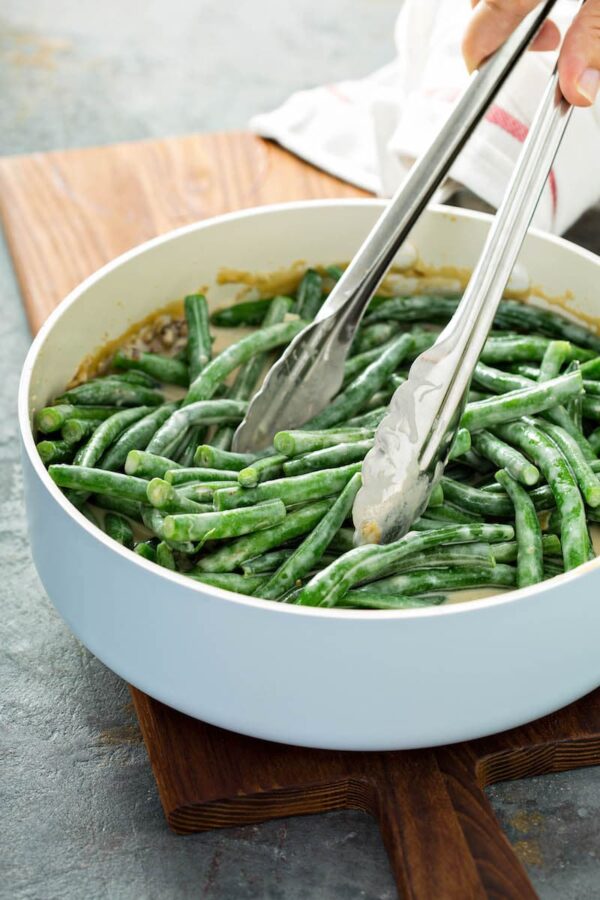 Green Bean Casserole with Fresh Green Beans
YES. I know, I know, it's more work. But fresh green beans are a must in this Green Bean Casserole Recipe from scratch.
We blanch the fresh green beans in a large pot of salted boiling water. You can cook them till tender-crisp, or just a little longer if you like them softer.
Remember though, they will cook a little more once they are prepared in the casserole dish and cooked in the oven.
However, if you really want to use canned green beans, that's totally ok! I included directions for both ways!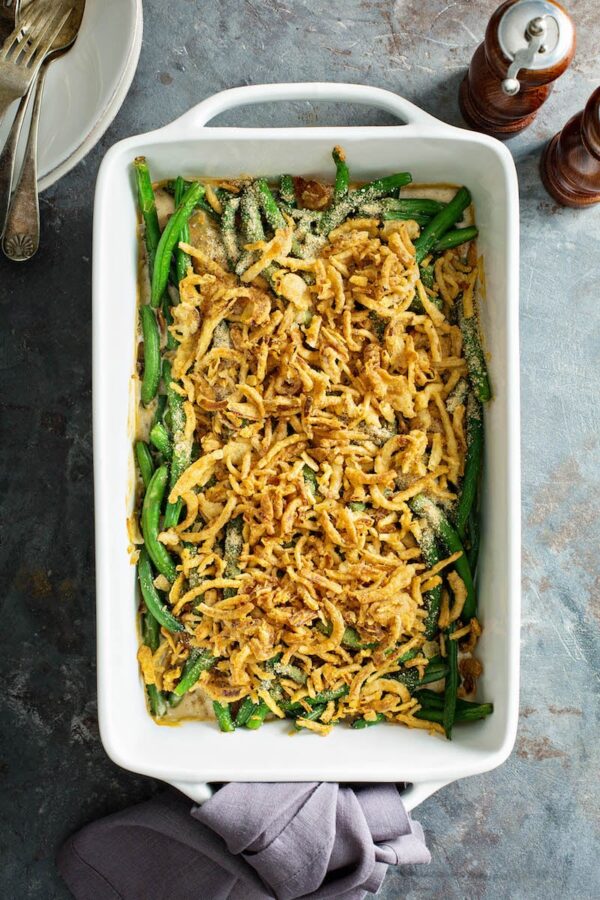 Can you make this Green Bean Casserole recipe ahead?
Yes, absolutely, it's a wonderful make ahead Thanksgiving side dish and it also travels well! I usually prepare it the day before Thanksgiving.
I make the casserole completely, except I do not add the fried onions on top until right before baking. Otherwise they get soggy.
I store the casserole in the fridge, wrapped tightly with saran wrap or foil. Then about 20 minutes before I am ready to bake it, I allow it to sit at room temperature.
This is not necessary if you are using a foil throwaway casserole dish. However, if your casserole dish is glass, it's a safety precaution to make sure your glass doesn't crack from the sudden temperature change.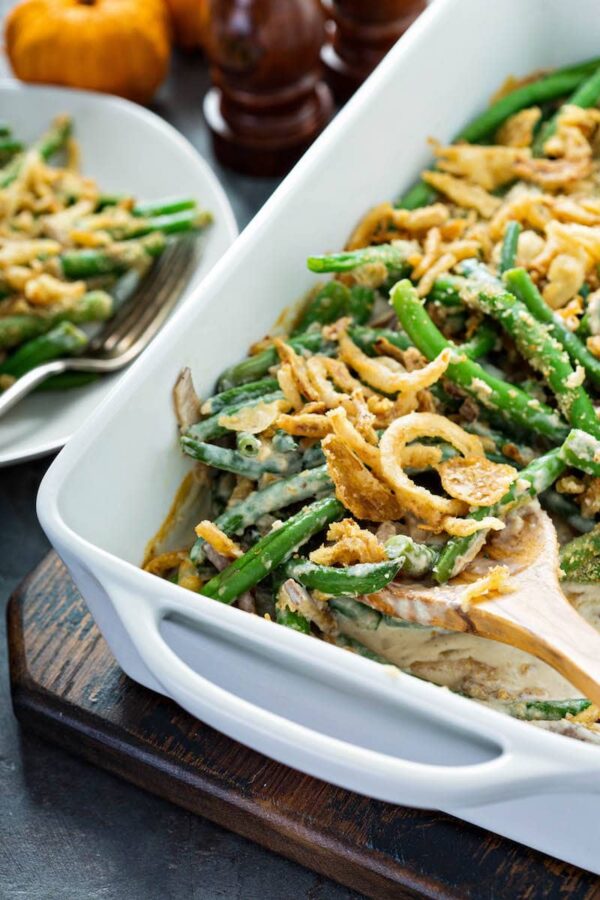 As the years have gone by, this Green Bean Casserole recipe has changed a lot.
I have experimented with different ingredients and different styles of making it many times.
After all those years of experimenting, I now can say, this is the best green bean casserole recipe!
And it is the ONLY recipe we have made at my families' Thanksgiving since 2010! It is tried and true and always perfection.
This Green Bean Casserole recipe has a few more steps than the classic green bean casserole recipe, that is on the back of the can, but I promise it is SO worth it.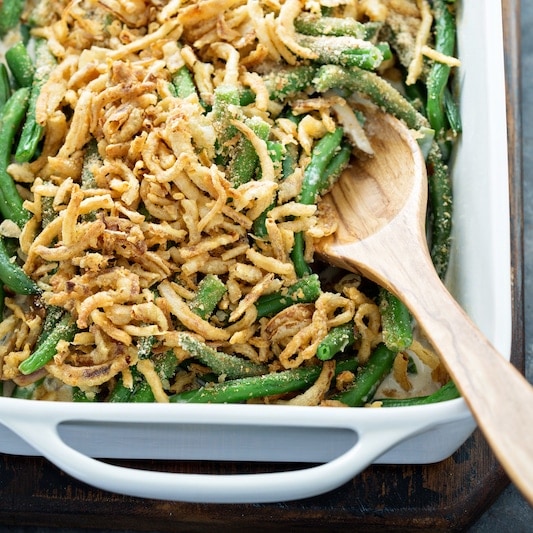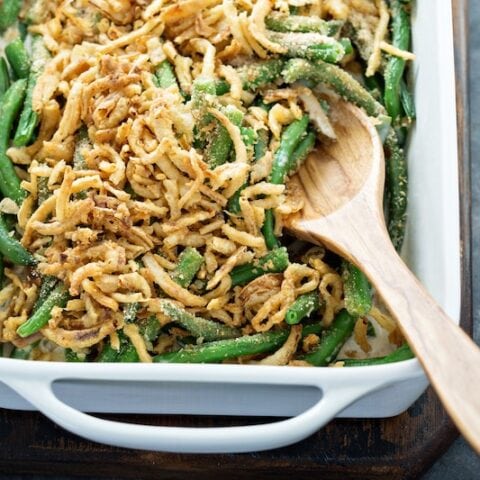 Best Green Bean Casserole Recipe
Yield: 9x13 casserole
Prep Time: 15 minutes
Cook Time: 20 minutes
Total Time: 35 minutes
The Best Green Bean Casserole Ever: this winning recipe is made from scratch with fresh green beans, mushrooms, half and half and no cans of cream of anything!
Ingredients
2 tablespoons kosher salt
1.5 pounds fresh green beans, rinsed and ends trimmed
2 tablespoons unsalted butter
1 small onion, chopped
2 cloves garlic, minced
2 large portobello mushrooms, chopped
1 teaspoon kosher salt, to taste
1/2 - 1 teaspoon freshly ground black pepper, to taste
2 tablespoons all-purpose flour
1 cup chicken broth (or vegetable stock)
1 cup half-and-half
1/2 cup breadcrumbs
6 oz french fried onions
Instructions
Preheat oven to 375°F. Grease a 9x13 casserole dish, set aside.
Blanch the beans: In a large pot, bring about a gallon of water and 2 tablespoons of salt to a boil. Add the green beans and boil for 8 minutes. Drain in a colander and immediately plunge the beans into a large bowl of ice water to stop the cooking process. Drain and set aside.
Canned Green Beans: If using canned green beans instead, drain green beans completely and set aside.
Melt butter in a large skillet set over medium-high heat. Add the garlic and onions, stirring occasionally, until the onions begin to soften, about 4 to 5 minutes. Add the mushrooms, salt and pepper and continue to cook for another 1 to 2 minutes.
Sprinkle in the flour and stir to combine. Cook for 2 minutes. Add the chicken broth and stir to combine. Then add the half and half and simmer until the mixture thickens, stirring occasionally, approximately 6 to 8 minutes.
Remove from the heat and stir in all of the green beans. Transfer green bean mixture to prepared casserole dish. Top with the bread crumbs and then layer the french fried onions on top.
Place casserole in the oven and bake until bubbly, about 20 minutes. If your onions start to brown too quickly, cover the casserole with foil. Serve immediately!
Notes
MAKE AHEAD: Many people over the years have asked how to prepare this recipe ahead of time. I usually prepare it the day before Thanksgiving and refrigerate it (wrapped tightly with foil/saran wrap or a snap on lid) until I am ready to bake it. However, I do not put the breadcrumbs or french fried onions on until right before I bake it so they stay crispy!
Recommended Products
I am an Amazon affiliate member and I earn a small percentage from qualifying purchases. Thank you!
Nutrition Information:
Yield: 8 servings
Serving Size: 1
Amount Per Serving:
Calories: 209
Total Fat: 11g
Saturated Fat: 5g
Trans Fat: 0g
Unsaturated Fat: 5g
Cholesterol: 19mg
Sodium: 2188mg
Carbohydrates: 24g
Fiber: 4g
Sugar: 6g
Protein: 5g
After you try this recipe, please make sure and leave a comment/review below on how it turns out for you!
More Thanksgiving Recipes!