This sweet and simple Candied Carrots Recipe will easily become your new favorite side dish! Just a few ordinary ingredients transform basic carrots into a special addition to any meal.
(Psst: these carrots make the perfect side dish for my Slow Cooker Pot Roast. You've got to try it!)
This Recipe For Candied Carrots Is A Family Favorite
Recently a friend of mine asked me for my recipes for carrots and green beans. It took me by surprise a little bit, because I didn't even have those written down! And I definitely never thought about sharing them on the blog. Usually, the recipes I share here are new ideas or twists on old favorites.
Still, there really is something to be said for the standbys that have been handed down for years. o in honor of the classics, I'm sharing a few of the recipes I've been making (and eating) for longer than I can remember. These candied carrots show up on my table often – the method is simple, and so are the ingredients.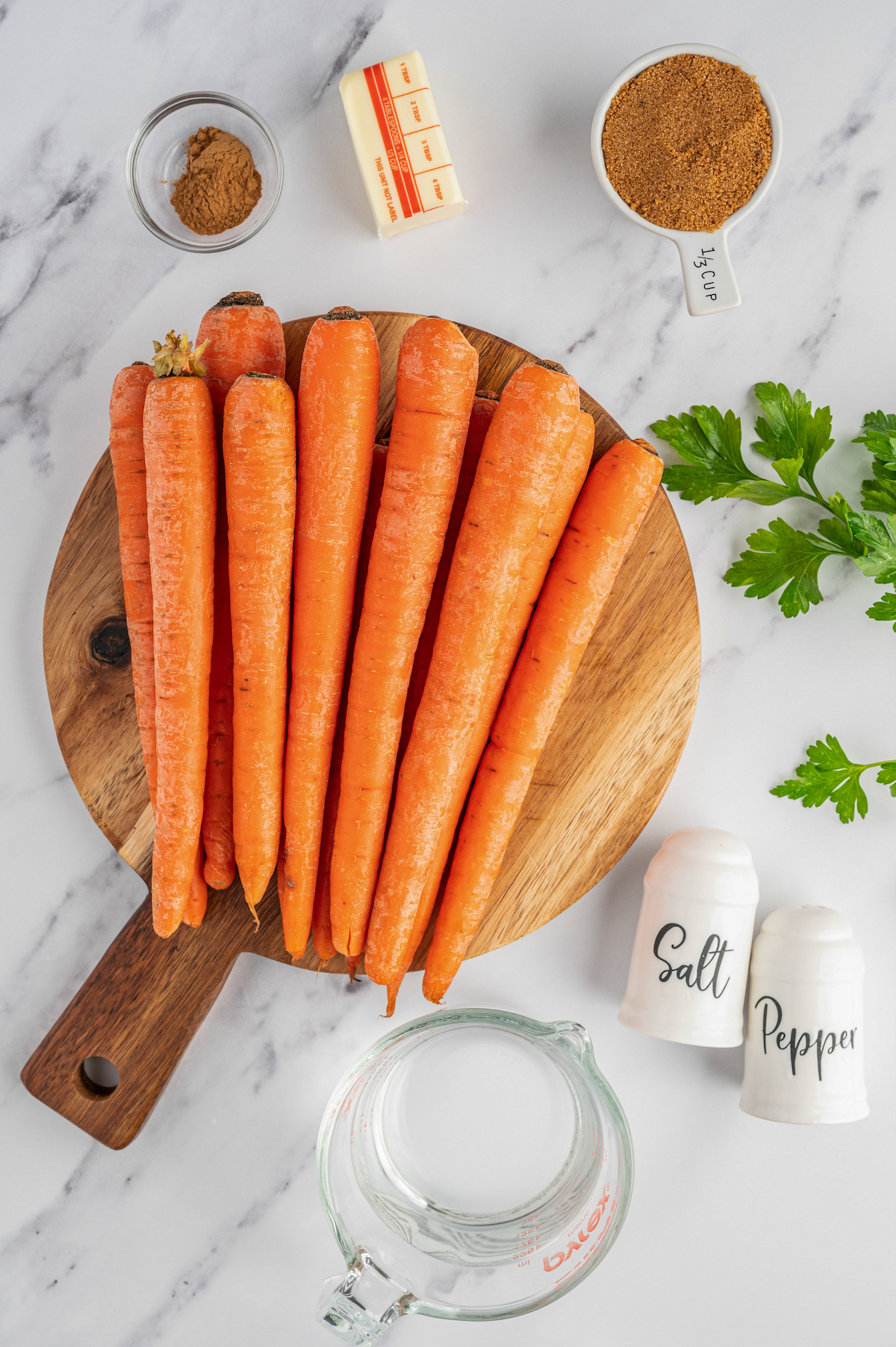 What Ingredients Will I Need?
Candied carrots are also known as glazed carrots, but don't let that intimidate you. There's no caramel-making, no candy thermometers, and no fancy equipment here. Just a few simple ingredients that you probably already have on hand:
Carrots: Peeled and cut into chunks.
Brown Sugar: You can use light or dark brown sugar. Light brown sugar has a milder flavor, while dark brown sugar has a stronger molasses flavor.
Butter: This makes the carrots shiny and gives them a beautiful taste.
Seasonings: Cinnamon, salt, and pepper.
Water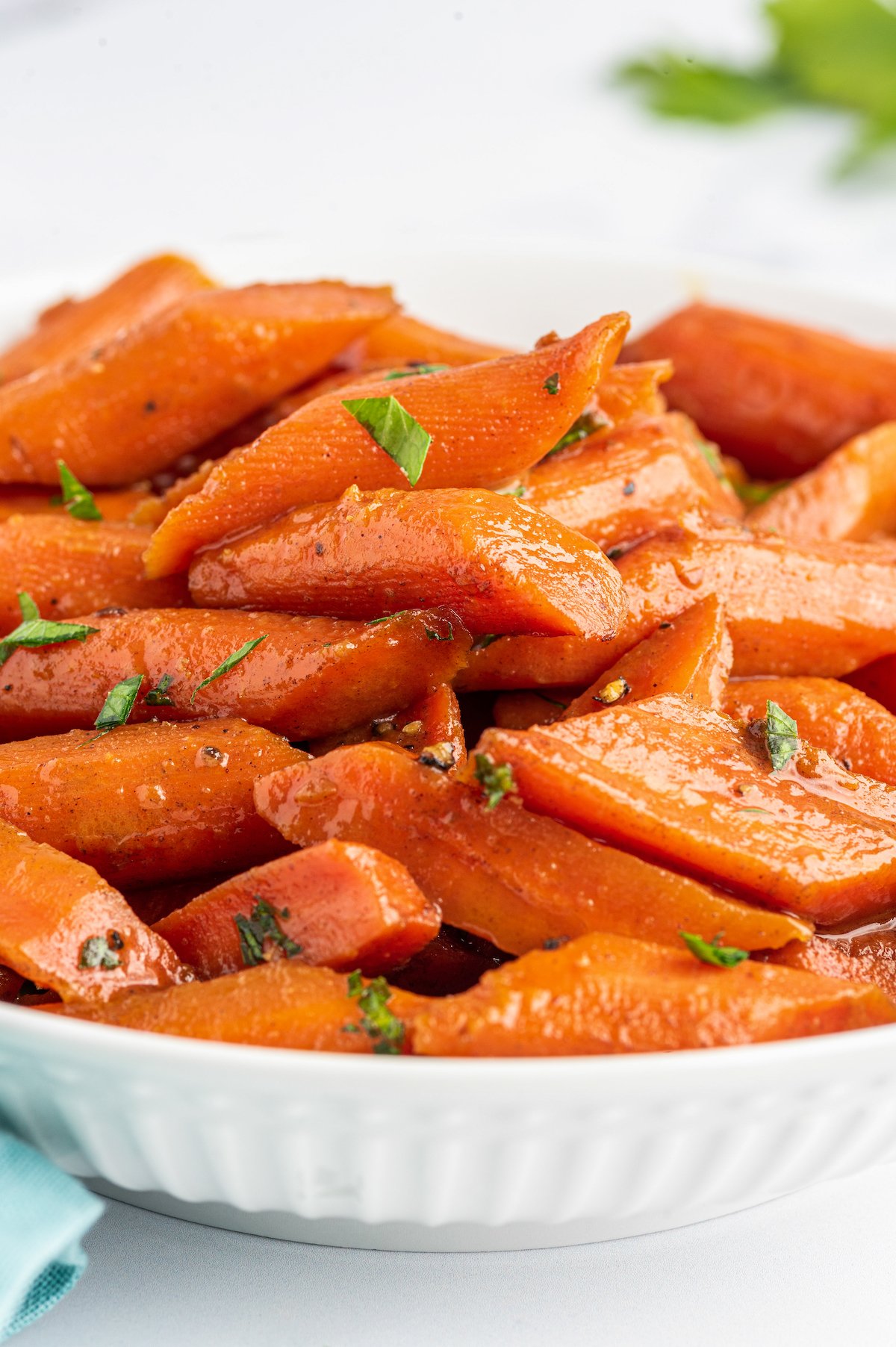 How to Make Candied Carrots
It doesn't get much easier than this – seriously, you hardly even need directions for this recipe! Here's the hassle-free cooking method:
Add the Ingredients to a Saucepan. Get out a fairly large saucepan with a lid. Dump all of your ingredients into it: carrots, brown sugar, butter, seasonings, and water.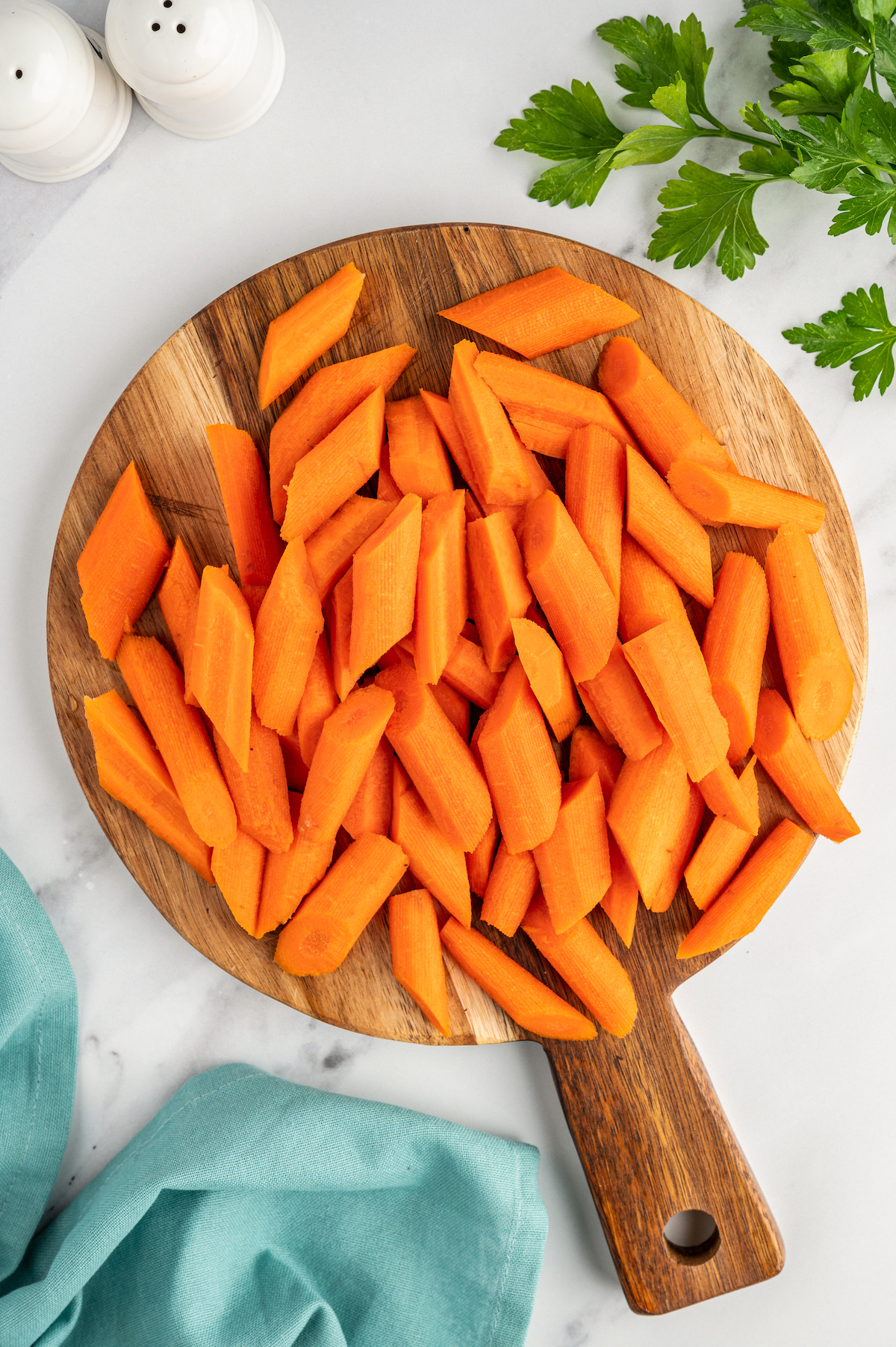 Simmer, Covered, for Ten Minutes. Bring the ingredients to a boil, and then turn the heat down a bit to a steady simmer. Cover with the lid, and let the carrots simmer for ten minutes.
Simmer, Uncovered, for Ten More Minutes. Uncover the saucepan, and turn up the heat to medium-high. Continue cooking, stirring often, until liquid is reduced to a glaze and carrots are tender. This should take about 10 minutes.
Enjoy! Serve immediately with your favorite main course.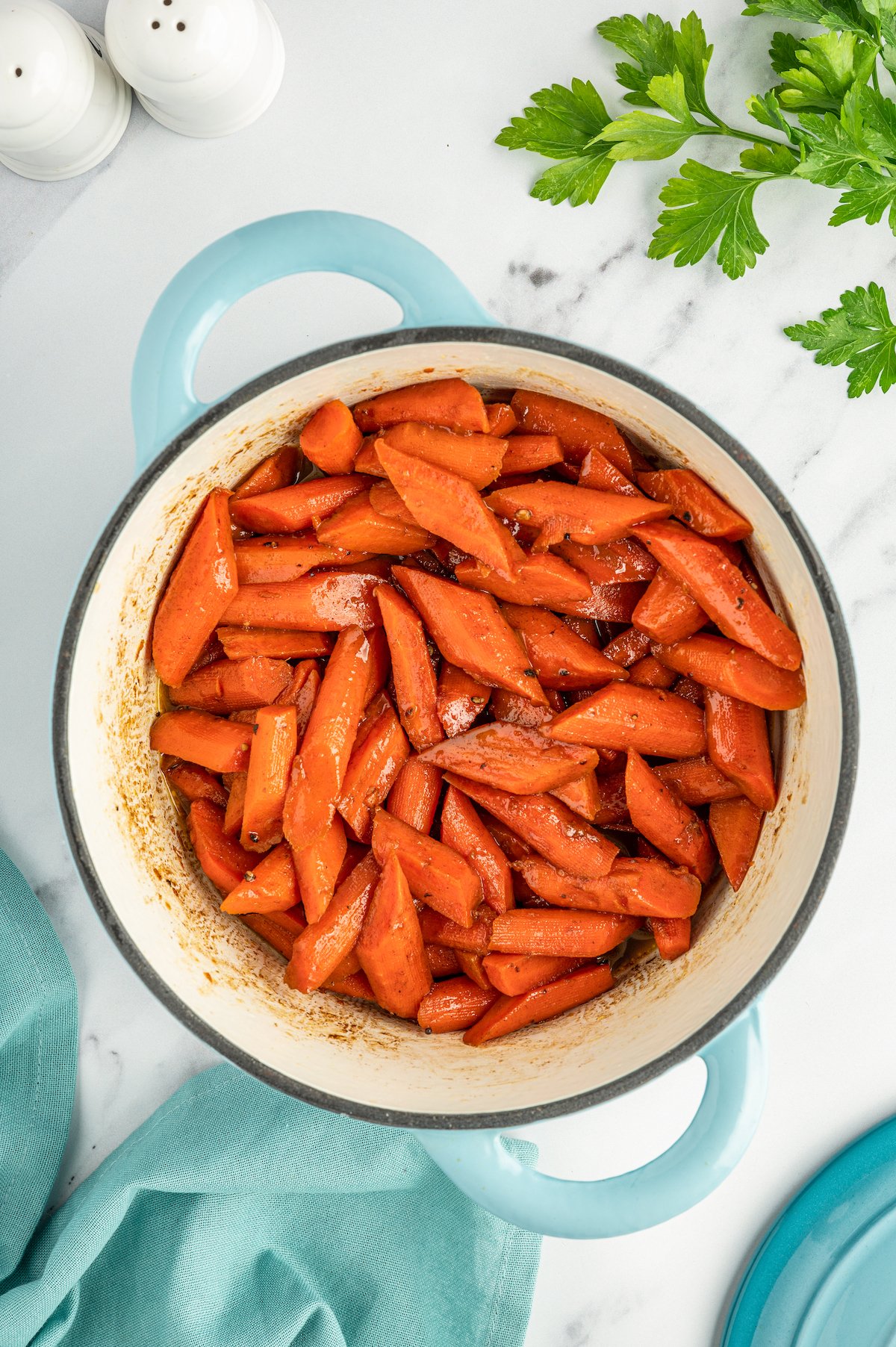 Tips for Success
Now I'd like to share a few helpful recipe notes and tips for success. Enjoy, and I hope your family loves this quick side dish as much as mine does!
Use Similar-Sized Carrots: Make sure to cut your carrots to roughly the same size for even cooking. It's okay if some of them are a little small – there's not much you can do about that! But cut larger chunks in half as needed, so they get tender along with the others.
Substitute Baby Carrots: Alternatively, you can make this recipe even faster and easier by using baby carrots, which are usually very even in size (not to mention they're already peeled and washed). Rinse them and dry them before adding them to the recipe.
Candied Carrots with Garlic: For extra oomph, try mincing or pressing a few garlic cloves and throwing them into the recipe as well. Yum.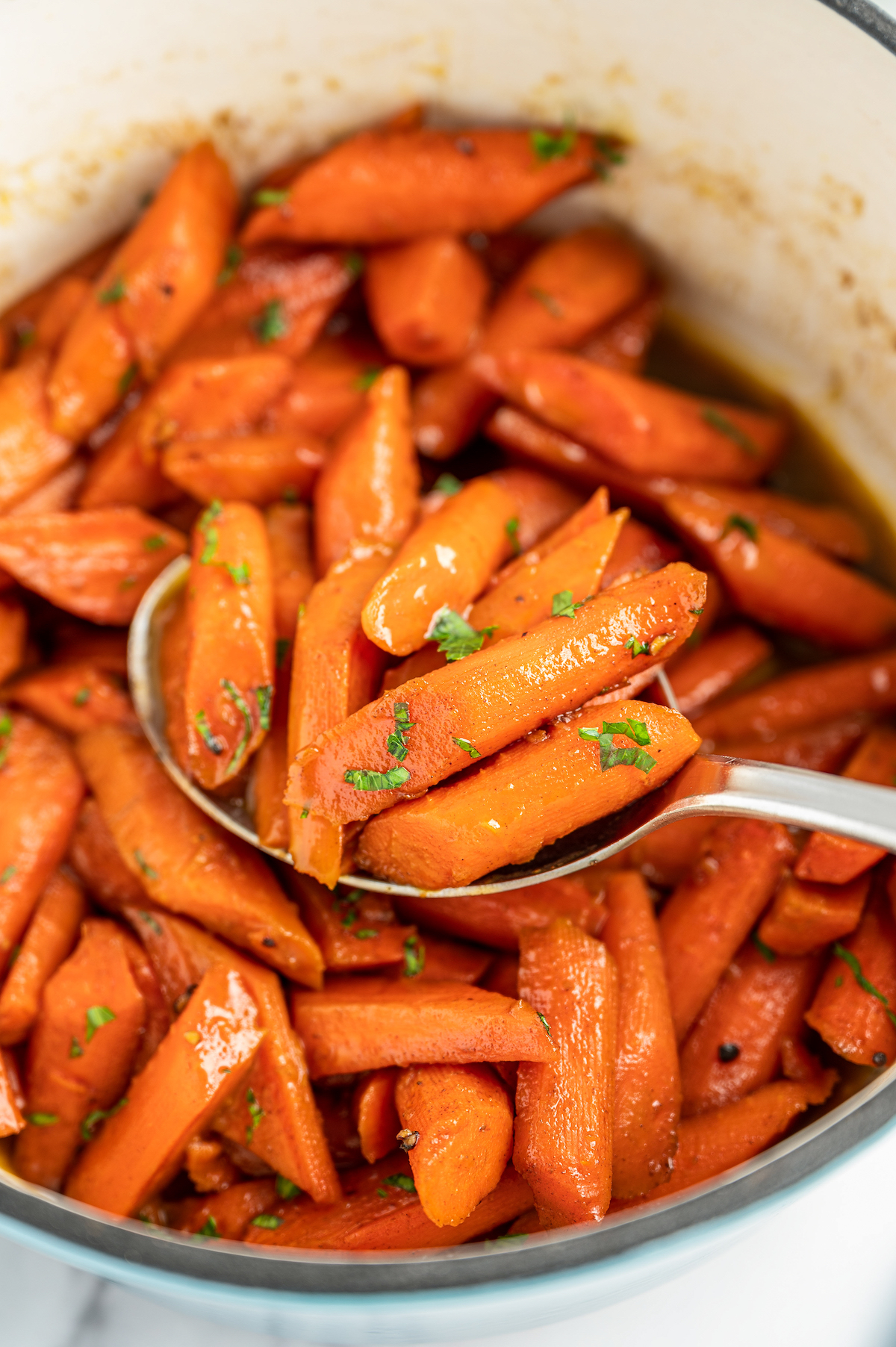 Frequently Asked Questions
What Are Some Benefits of Eating Carrots?

Carrots are definitely a nutrition-packed veggie. First, they're a good source of healthy fiber, which helps keep your digestive system working among other things. And they're an excellent source of vitamin A and Beta-carotene, which are good for your eyes, immune system, and more. Plus, they add vitamin C and calcium to your diet. All in all, it's hard to go wrong with adding carrots to your menu.
Can I Prep My Carrots the Day Before?
Sure! Just like you can make carrot sticks and store them in the fridge for lunches, you can prep carrots for cooking and store them for up to two weeks! Just keep them in an airtight container or food storage bag.
Can Honey Be Used in Place of Brown Sugar?
Yes, you can definitely use honey instead of brown sugar. You can also use maple syrup, coconut sugar, or another sweetener of your choice. (Pro tip: tweak the amount of sweetener for best results. You may find that you only need about 2/3 the amount if you're using honey, for example, while coconut sugar is usually a 1:1 substitute.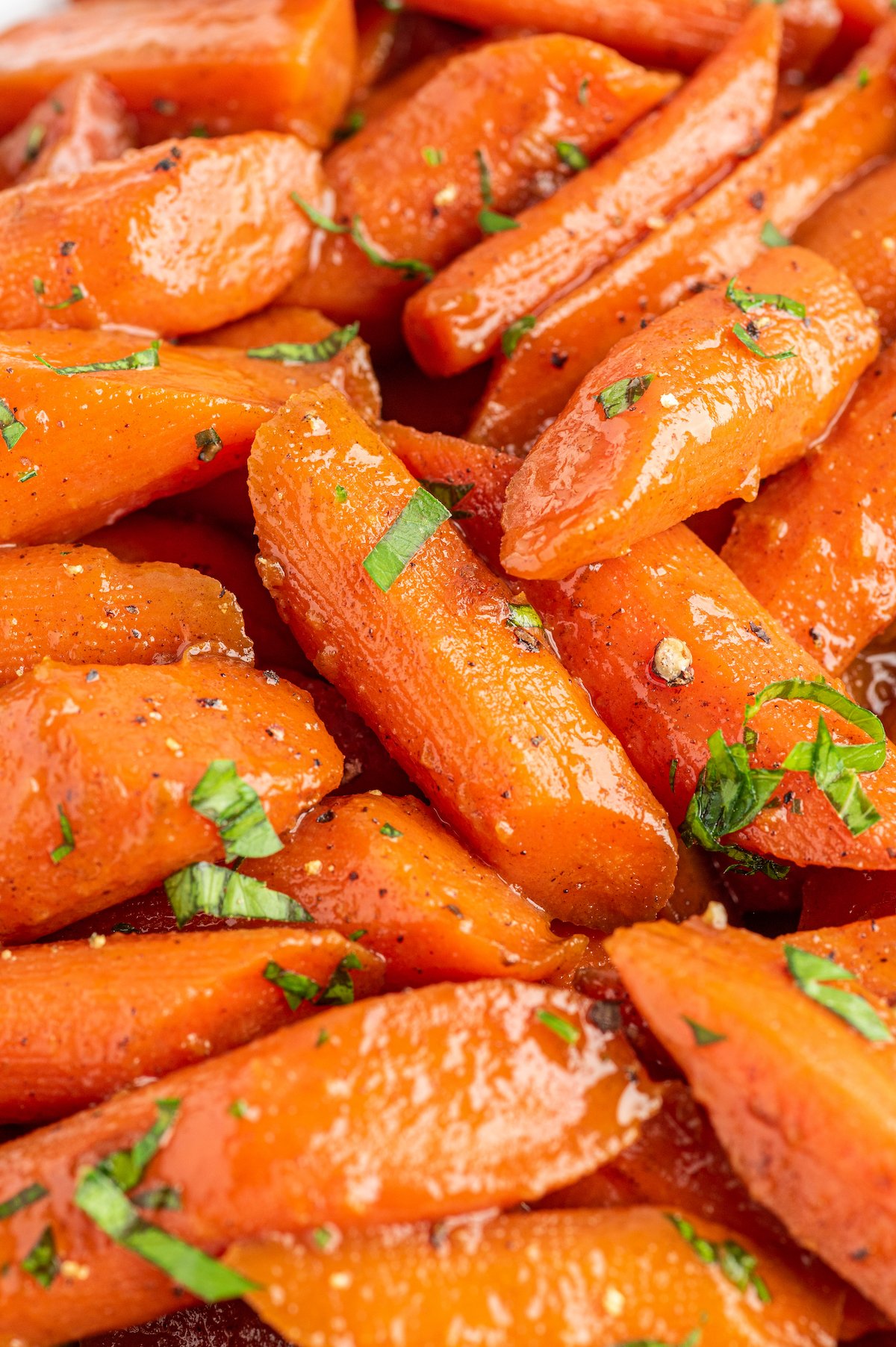 Yummy Serving Suggestions
For a sweet side like this, I often serve pork or chicken. The natural flavors of these lighter proteins seem to go perfectly with candied carrots. Here are a few recipes to try…
Ham: A big, bone-in ham is great – or you could go with a smaller boneless ham, like I do when I make Air Fryer Ham. So easy and juicy!
Swedish Meatballs: A comfort-food favorite, these tender, mild meatballs are perfect over egg noodles. If you've never made Swedish Meatballs with Creamy Sauce, you've gotta try them – they are sure to become a staple in your monthly menu rotation.
Chicken: Looking for a classic pairing? This is my very favorite way to make Oven Baked Chicken and it goes wonderfully with these candied carrots.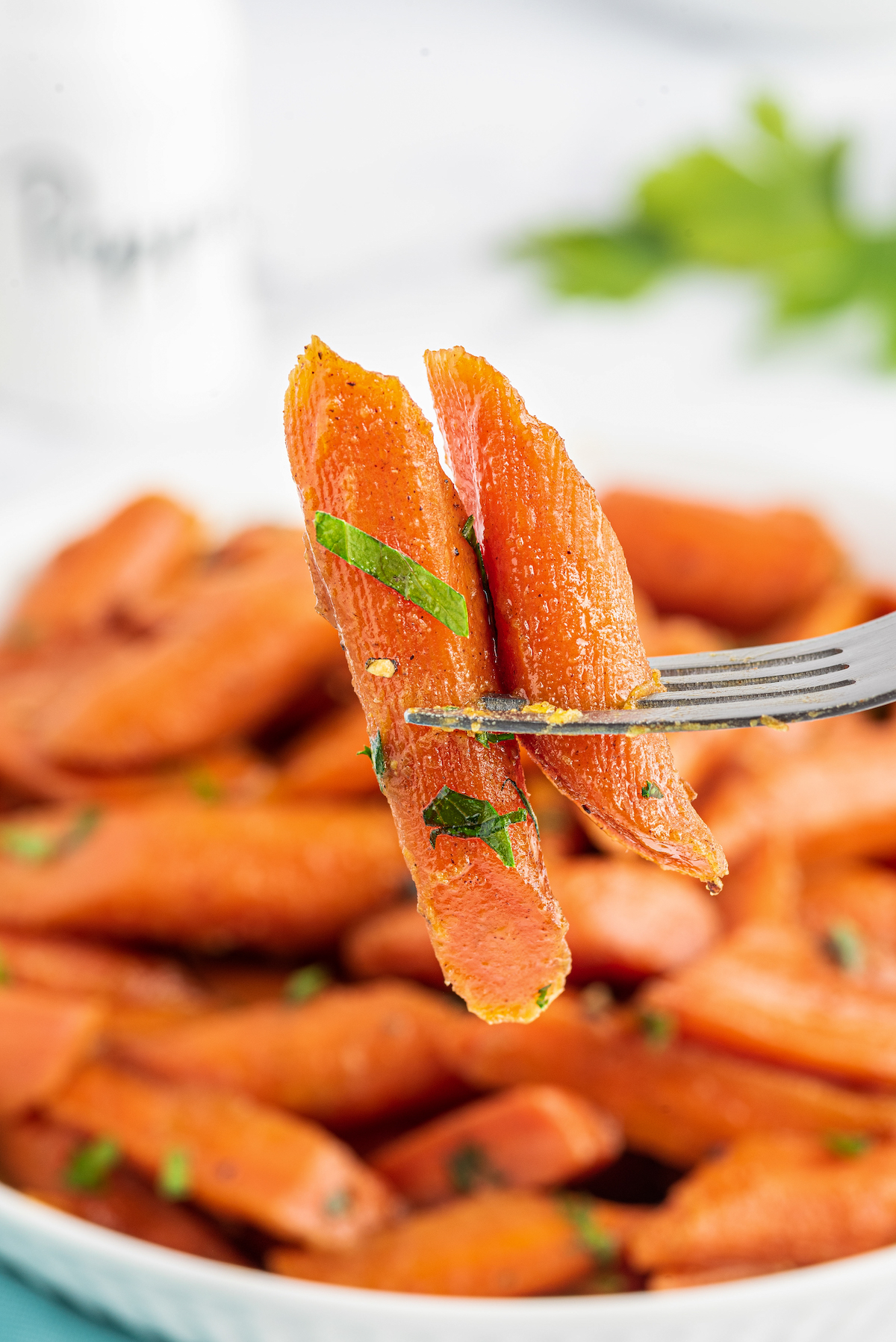 How to Store and Reheat Leftovers
Store leftover candied carrots in an airtight container in the refrigerator for up to 5 days.
Reheat on the stove, stirring occasionally, or in the microwave.
Do Candied Carrots Freeze Well?
Yes, carrots are usually a good choice for freezing, so go ahead and double this recipe to freeze extras for another time. To freeze them, just let them cool down to about room temperature (don't leave them sitting out for more than an hour or so, though). Then transfer the candied carrots to a freezer bag or container, and freeze for up to 3 months. Thaw in the fridge before reheating.
Candied Carrots
Candied Carrots is a classic recipe that will easily become your new favorite side dish! Just a few simple ingredients make these carrots a sweet and delicious addition to any meal. 
Ingredients
2

lbs

carrots

,

peeled and cut into 2 inch pieces

1

cup

water

⅓

cup

packed brown sugar

4

tablespoons

unsalted butter

1

teaspoon

cinnamon

1

teaspoons

salt

freshly ground black pepper

,

to taste
Instructions
In a large saucepan, bring all ingredients to a boil. Lower heat to a simmer and cover. Cook for 10 minutes, stirring as needed.

Uncover and increase heat to med-high. Cook, stirring often, until liquid is reduced to a glaze and carrots are tender, about 10 minutes.

Serve immediately!
Notes
Storage:
Store leftover candied carrots in an airtight container in the refrigerator for up to 5 days.
Reheat on the stove, stirring occasionally, or in the microwave.
Nutrition
Serving:
1
,
Calories:
193
kcal
,
Carbohydrates:
27
g
,
Protein:
2
g
,
Fat:
10
g
,
Saturated Fat:
6
g
,
Polyunsaturated Fat:
3
g
,
Cholesterol:
24
mg
,
Sodium:
535
mg
,
Fiber:
6
g
,
Sugar:
18
g
Categories:
More Wholesome Side Dishes
This post may contain affiliate links. Read my disclosure policy.