Classics: Candied Carrots
Recently a friend of mine asked me for my recipe for my carrots and green beans. It was so foreign to me, because I just figured that everyone had the same recipes for the classics — I never thought about sharing them on the blog.
Usually the recipes I share on the blog are new ideas or twists on an old recipe, but there really is something to be said for the recipes that have been handed down for years. So in honor of the classics, I am going to start sharing some of the recipes that I have been making (and eating) for longer than I can remember.
It might take me a while to share all of the classic recipes I use, because I don't have any of them measured out and written down. They are all by looks/feel — like a pinch of this or a handful of that — so it will take some time. I actually had to make these carrots twice to make sure I had it right!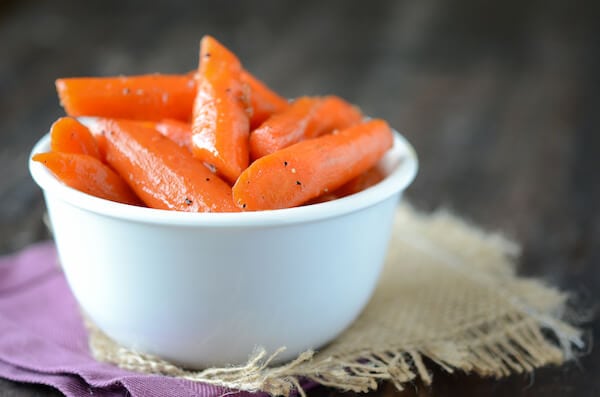 In spite of all the cool ways I have made carrots, my favorite way is to candy them in a little butter and brown sugar. It's perfectly simple…and like a sweet treat with dinner. They take only a few minutes of your time as is, however the process can be sped up if you would rather use baby carrots instead of peeling and chopping whole carrots.
Candied Carrots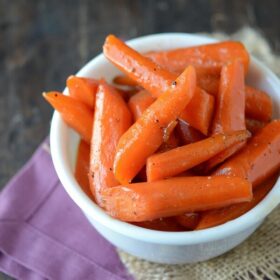 Ingredients:
2 lbs carrots, peeled and cut into 2 inch pieces
1 cup water
1/3 cup packed brown sugar
4 tablespoons unsalted butter
1 teaspoon cinnamon
1 teaspoons salt
freshly ground black pepper, to taste
Directions:
In a large saucepan, bring all ingredients to a boil. Lower heat to a simmer and cover. Cook for 10 minutes, stirring as needed.
Uncover and increase heat to med-high. Cook, stirring often, until liquid is reduced to a glaze and carrots are tender, about 10 minutes.
Serve immediately!
Subscribe by email and never miss out on a new recipe again!