Roasted Potatoes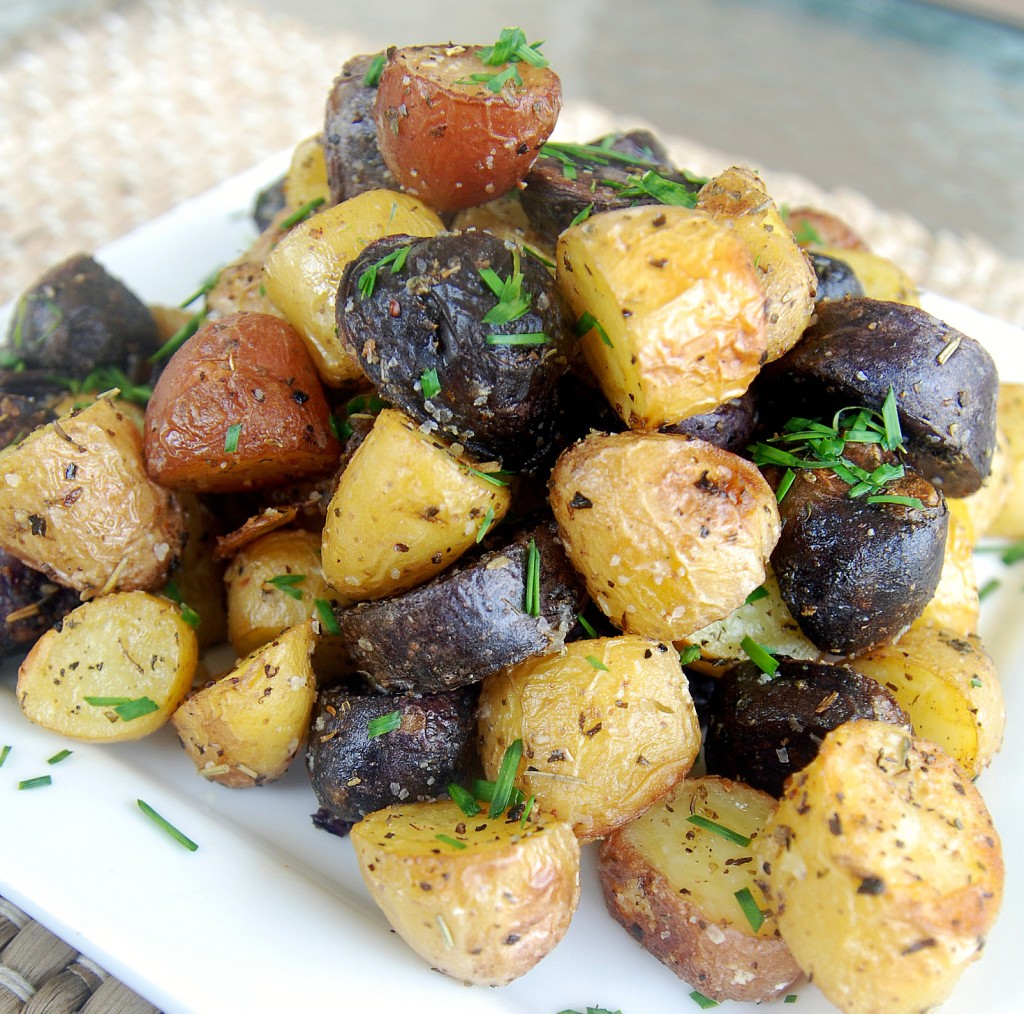 Have I told y'all about my groupie obesession love of Jamie Oliver? Cause I have some serious, hard core love for him (even the husband knows and says it's ok). The man can do no wrong in my eyes. I first fell in love with him when he was The Naked Chef…even though I was always thoroughly disappointed when I would tune into his show and he was fully dressed. And then he had his show Jamie At Home…which is by far one of my favorite cooking shows, EVER. And now they are playing it daily on The Cooking Channel! I love how almost everything he cooks in Jamie At Home comes from that beautiful, lush garden. And besides his good looks, I love the way he talks. What can I say? I am a sucker for an accent! Every time he says Basil (Baaa-sil) or Oregano (Or-AA-gano), I can't help but fall deeper in groupie love. Anyways, recently I saw this recipe and when I saw these beautiful potatoes in the grocery store, I knew I had to give this recipe a shot! I loved it! Truly loved it! Jamie's dishes are always perfectly seasoned and centered on showing off the fresh produce…and this recipe is a perfect example of that.
Roasted Potatoes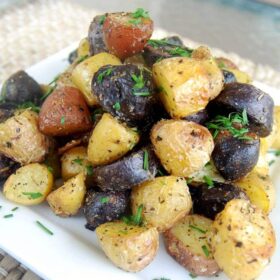 Ingredients:
1 lb fingerling potatoes, halved (or quarter for the larger ones)
4 garlic cloves, crushed
3 sprigs of fresh rosemary, chopped
sea salt and freshly ground black pepper
3-4 tablespoons olive oil
water
Directions:
Preheat oven to 400 degrees.
In a large stock pot, bring water and a dash of salt (enough to cover the potatoes) to a boil. Once boiling, add potatoes and boil for 8 minutes. Then drain potatoes in a colander and allow to dry (about 5 minutes). While the potatoes are still in the colander, toss them around a bit to ensure you got all the water out and to as Jamie says "fluff them up a bit".
Then combine potatoes, garlic, rosemary, salt, pepper, and olive oil in a roasting pan. Make sure the potatoes are well mixed in the seasonings and that the potatoes are spread out in a single layer. Cook at 400 degrees for about 35-45 minutes. Check them mid way through and stir them up a bit. You will know they are done once the edges are perfectly browned and crisp! Serve immediately!