Sharing my easy method for the BEST Oven Roasted Potatoes with tons of flavor, a crisp outside and soft, fluffy inside!
Roasted Potatoes
When I am looking for an easy simple side dish, I usually count on my favorite roasted potato recipe. It is a hit with the kids, and it is quick and easy to make. 
Potatoes are one of those comfort foods that tend to set off just about any main dish. They are one of the most versatile vegetables. They can tolerate just about any preparation. You can experiment to your hearts content to find what works best for your family to make this recipe your own!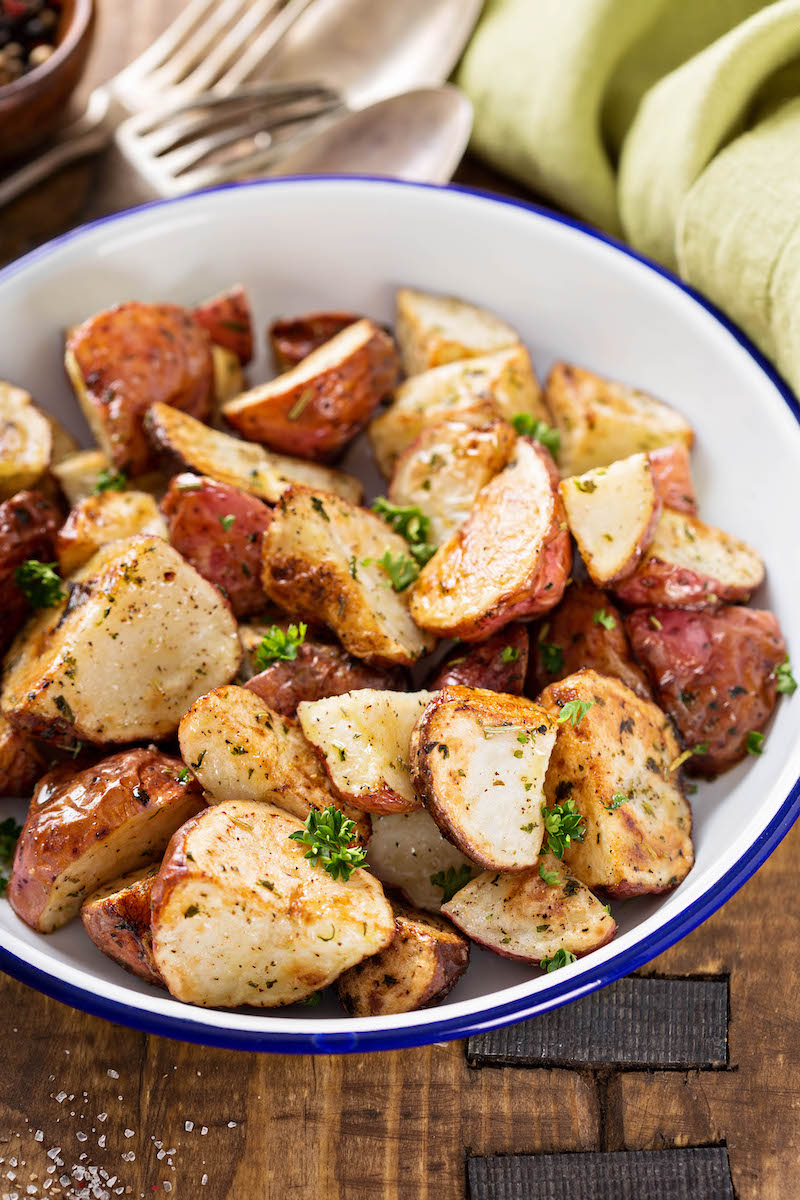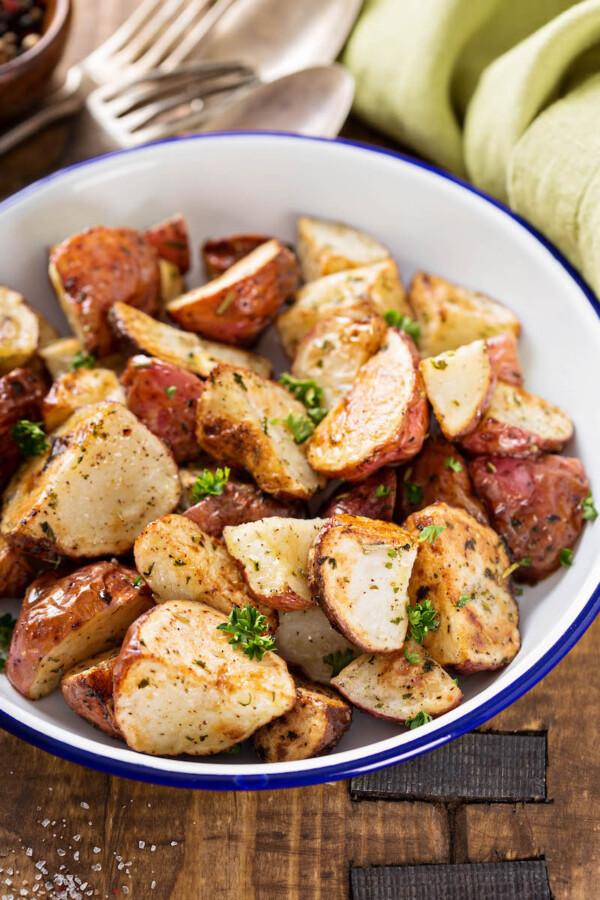 What type of potatoes should I roast?
There are so many options you can try! Our favorites are small yellow – like Yukon Gold – and small red potatoes. They will have a soft buttery texture and will be very tender with a nice crispy edge. You can also these exact same recipe method with fingerling and sweet potatoes as well! 
Oven Roasted Potatoes Ingredients
Potatoes, of your choice
Sea Salt
Black Pepper
Olive Oil
There are so many different herbs and spices that are great flavorful additions: 
Garlic
Rosemary
Basil
Oregano
Thyme
Parsley
Paprika
Crushed Red Pepper
Or even a drizzle of truffle oil after roasting!
Since this recipe is very easy to customize, you can even top them with any of the following to make them loaded potatoes:
Cheese (shredded cheddar or a sprinkle of parmesan at the end of cooking)
Bacon
Chives
Sour Cream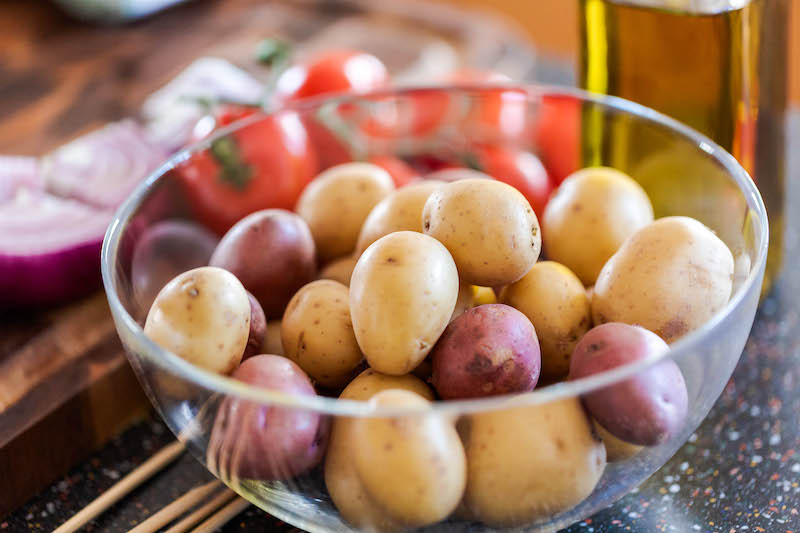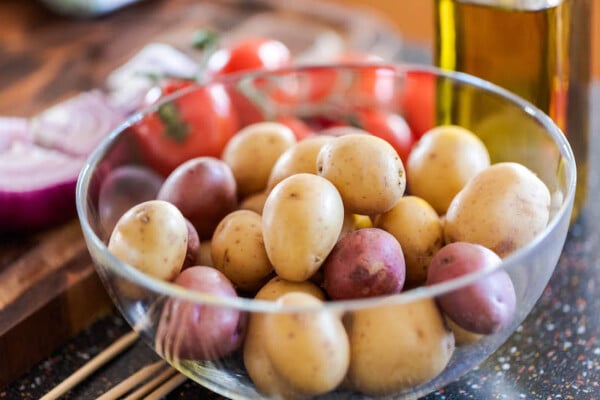 How to roast potatoes
There are a couple of tricks to the best roasted potatoes. First, wash your potatoes well and cut into 1-inch cubes. It is important to make sure you evenly cube the potatoes This will help achieve a more even cook.
If you have the time to spare allow the potatoes to soak in cold water for approximately 15 minutes. While this is not mandatory, it helps draw out some of the starch and leads them being crisp yet fluffy on the inside. After soaking, drain the potatoes and pat dry. This will ensure they roast as opposed to being steamed.
Make sure that you allow the oven to properly preheat before roasting. Below is my go-to chart for oven temps and roasting time.
Bake at 350°F for 40-45 minutes.
Bake at 375°F for 30-45 minutes.
Bake at 400°F for 25 to 30 minutes.
Bake at 425°F for 22 to 25 minutes.
Please note I don't recommend going any higher than 425°F.
If your potatoes are cut into larger size squares or pieces, they may need to roast a few minutes longer. Your potatoes are done when they are nice even golden brown with crispy edges and a tender center.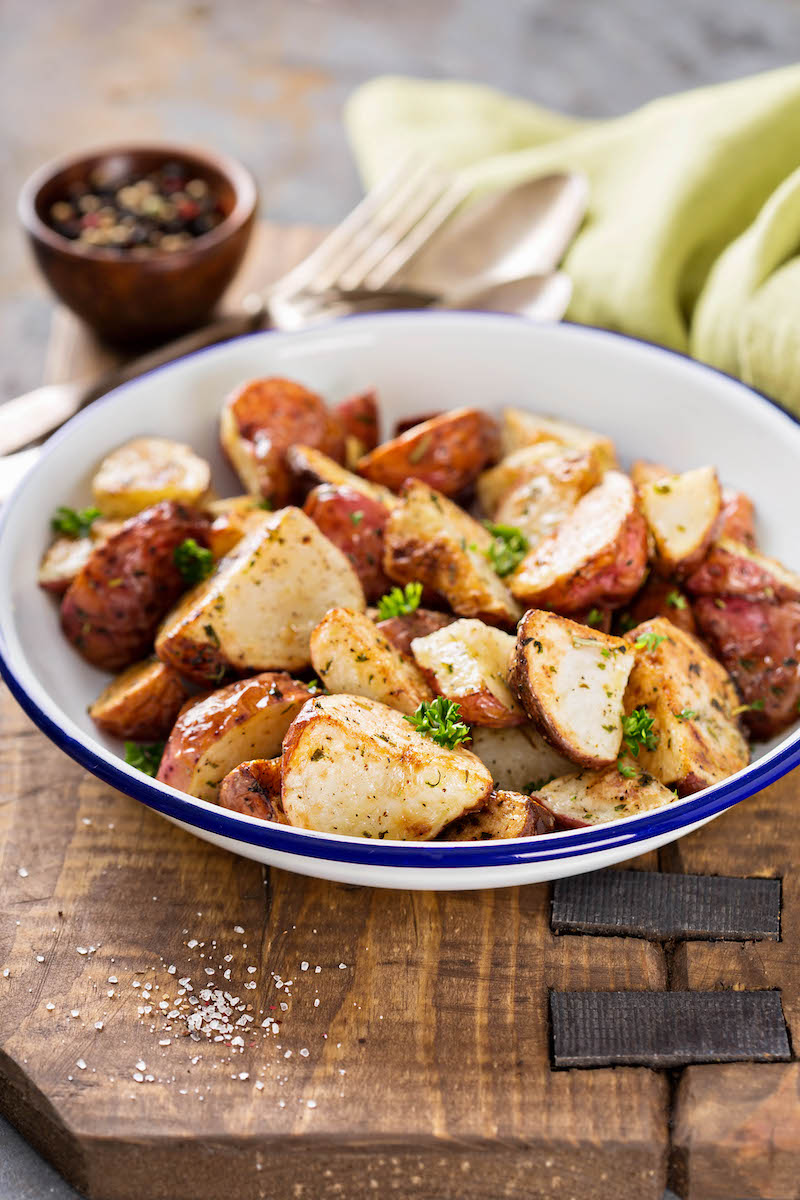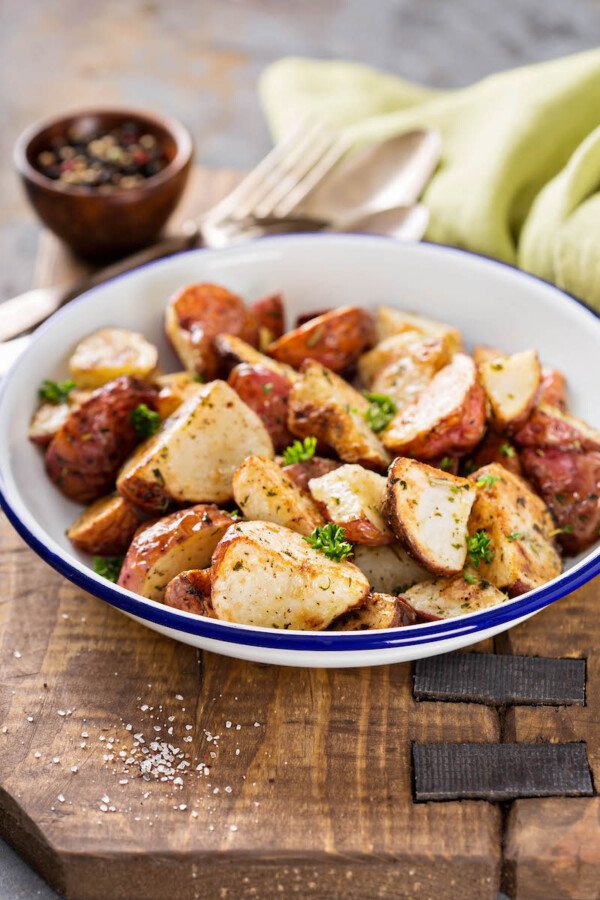 Tips and Tricks for the best roasted potatoes:
Fresh herbs will yield the most flavorful results.

Higher temperatures typically produce a crispier outside.

Do not over crowd the pan, they should not overlap otherwise they will not roast evenly.

Be sure to line your backing sheet with parchment paper or a silicone baking mat to prevent your potatoes from sticking.

Flip about midway through roasting, this will provide the best results and most even cook.

Allow your potatoes to rest for approximately 5 minutes after removing from the oven, this will finish crisping while cooling down enough to enjoy without burning your mouth!
How to store roasted potatoes?
You can store your leftovers in an airtight container. They can be reheated in the microwave, a skillet or the oven. However, they are best enjoyed fresh as they will not retain their crispiness.
If we happen to have leftovers, I love to use them in the morning for breakfast potatoes. I refry them in a small amount of oil and serve them with eggs.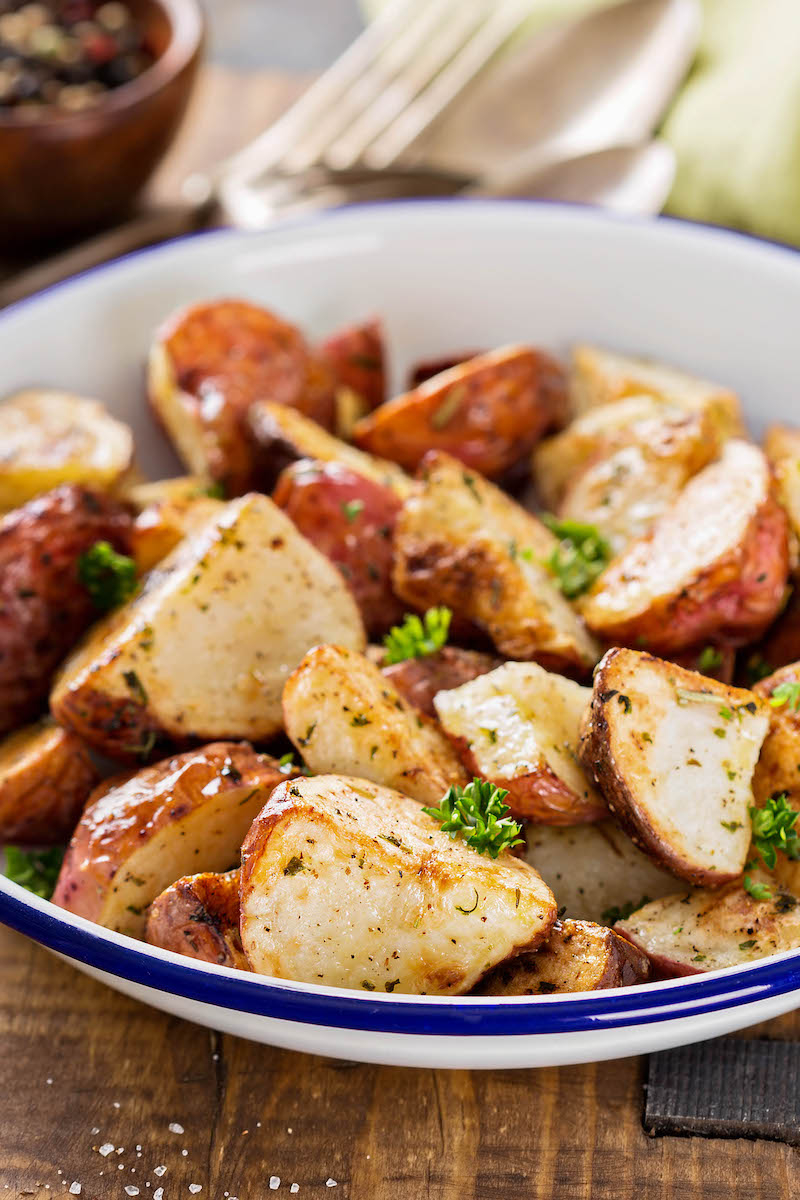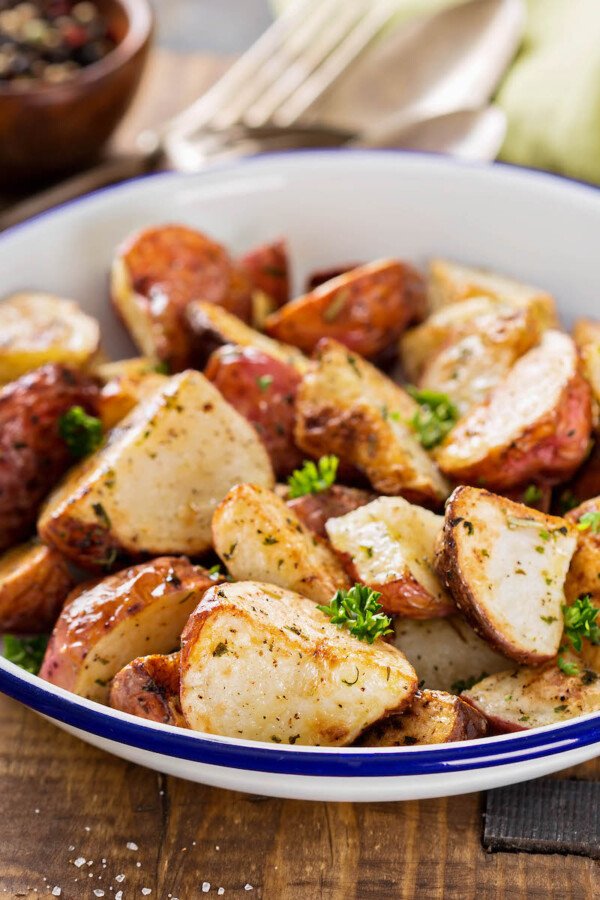 These Oven Roasted Potatoes are so versatile. You can make them as one big batch, or if you are feeling a little bit more variety, feel free to make several different flavored versions on the same pan!
We love to try different flavor profiles and change up our recipe quite frequently. You really can't go wrong with however you choose to make these, they will be delicious every time!
Yield: 4 servings
Oven Roasted Potatoes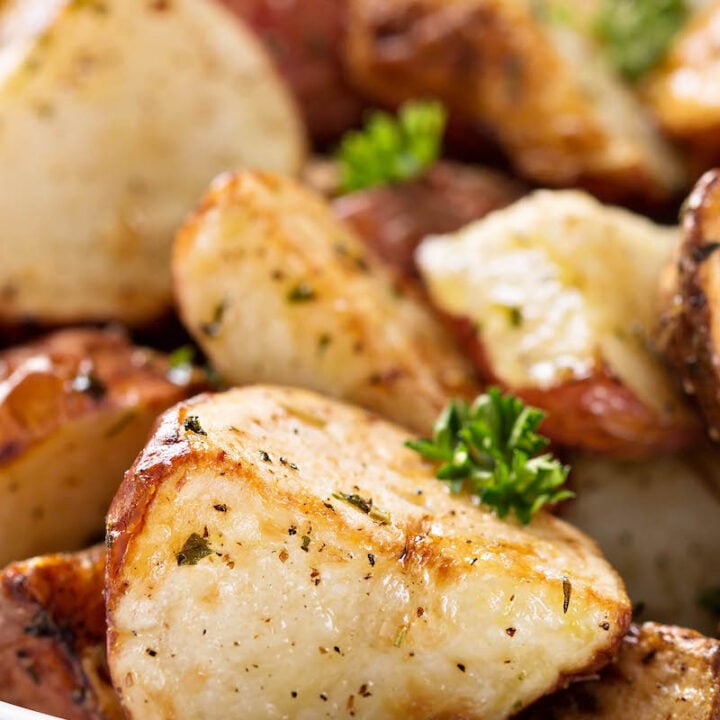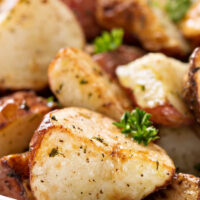 Sharing my easy method for the BEST Oven Roasted Potatoes with tons of flavor, a crisp outside and soft, fluffy inside!
Ingredients
1 lb potatoes, halved (or quarter for the larger ones)
3 tablespoons olive oil
4 garlic cloves, minced
1 tablespoons minced fresh rosemary
1 teaspoon kosher salt
1 teaspoon freshly ground black pepper
Instructions
Preheat oven to 400°F. Line a baking sheet with parchment paper and set aside.
Toss potatoes with olive oil, garlic, rosemary, salt and pepper.
Roast potatoes in oven for 25 to 30 minutes, until outsides are lightly browned and potatoes are fork tender. Serve immediately!
Nutrition Information:
Yield:
4 servings
Serving Size:
1
Amount Per Serving:
Calories:

201
Total Fat:

10g
Saturated Fat:

1g
Trans Fat:

0g
Unsaturated Fat:

9g
Cholesterol:

0mg
Sodium:

541mg
Carbohydrates:

25g
Fiber:

3g
Sugar:

1g
Protein:

3g
Categories
This post may contain affiliate links. Read my disclosure policy.