This impressive Sweet Potato Casserole with Marshmallows is a secret family recipe that is easy to make with just a few simple ingredients! Can you guess what we use to make it extra creamy with the perfect amount of sweetness?
My Mom's Famous Sweet Potato Casserole!
If you ask me, there is only one Sweet Potato Casserole recipe that matters and that is my Mama's homemade sweet potato casserole with marshmallows! This old-fashioned casserole is easy to make, and can be made a day ahead, making it one of the best Thanksgiving side dishes.
I make it every year and our holiday table just wouldn't be the same without it. Over the years, I have tried many different recipes and this one is by far the best version I have ever tasted. The perfectly spiced and sweetened sweet potatoes are topped with marshmallows that are toasted until perfectly browned. Keep scrolling to find out my Mom's secret ingredient!
If you aren't a fan of marshmallows and sweet potatoes, you should try this recipe for Sweet Potato Casserole with A Pecan Topping! And if you want to save space in the oven, you could also try my easy recipe for Crockpot Sweet Potatoes with Marshmallows!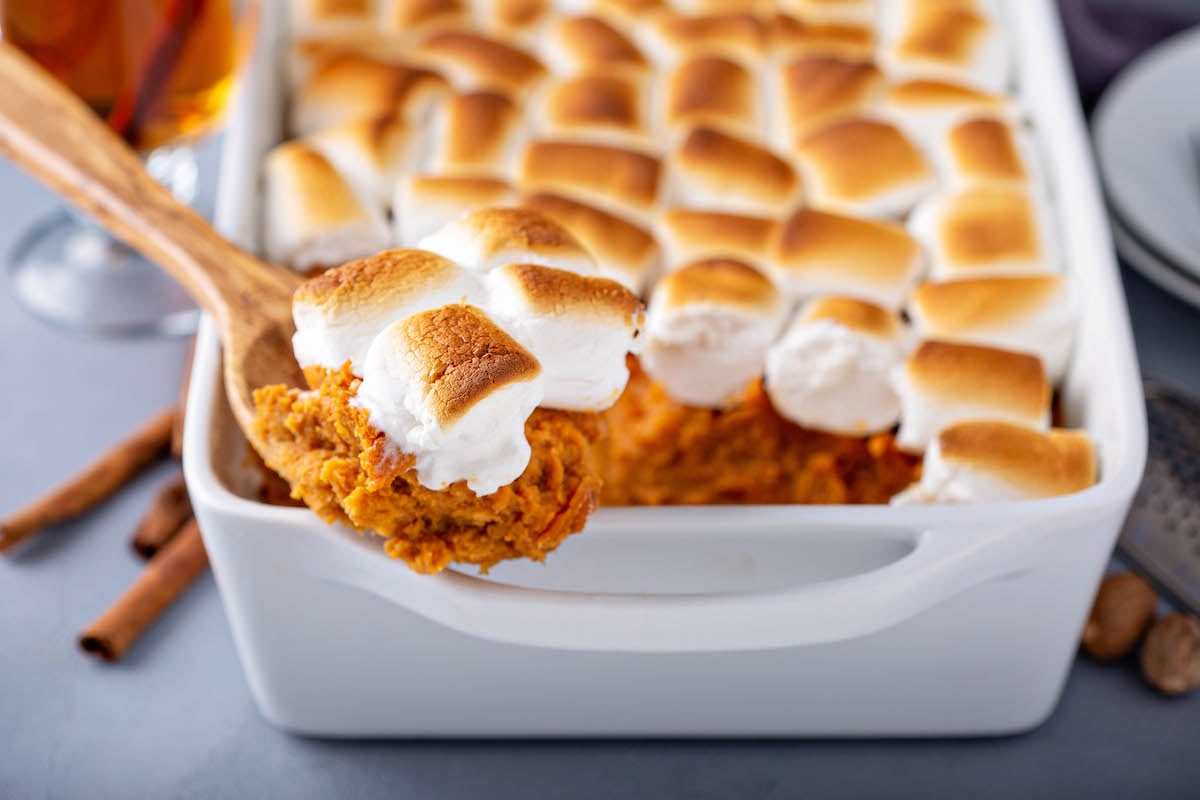 What's The Secret To Making The Best Sweet Potato Casserole?
I think it all comes down to that secret ingredient my Mom adds. It comes in a can and is extra creamy. Any guesses what it is?! Why, it's sweetened condensed milk of course!
If you have been around here long enough, you know how much my Mom likes to sneak that sweet nectar into recipes. Just like in the now famous Mama's Best Banana Pudding, the sweetened condensed milk adds the perfect sweetness and creaminess to this Sweet Potato Casserole. 
I have tried making this casserole recipe many other ways…like with milk, cream and even evaporated milk. I have also tried regular sugar, brown sugar and maple syrup to sweeten this casserole, but I always come back to using sweetened condensed milk! There is something magical about the perfect sweet and creamy flavor it adds to this casserole.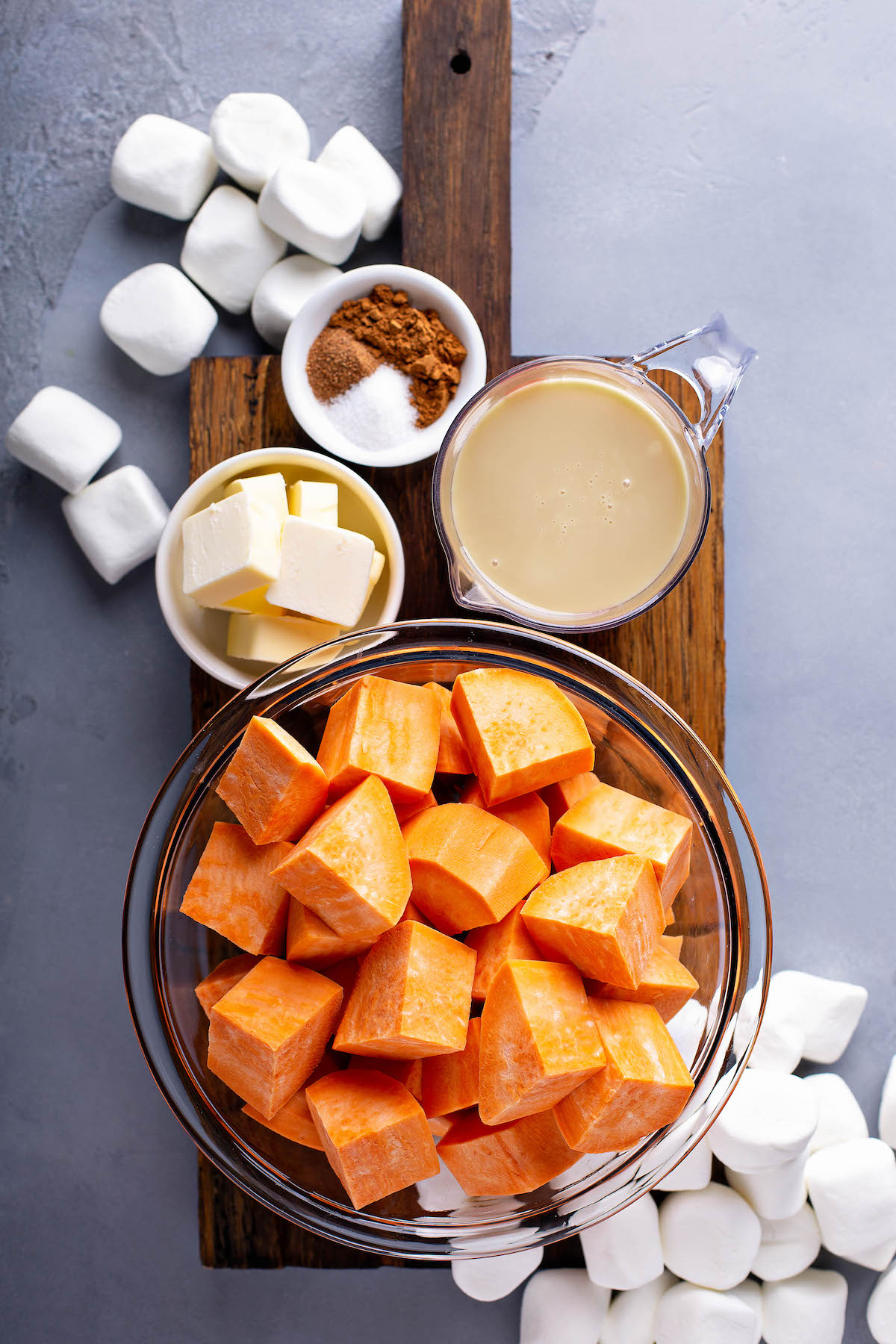 Recipe Ingredients
There is what you'll need to make this old fashioned sweet potato casserole:
Sweet Potatoes: I like to bake my sweet potatoes, instead of boiling them. I find it easier and I can do it a few days ahead. However, you can also boil them!
Butter
Sweetened Condensed Milk: This secret ingredient that makes this casserole extra creamy and perfectly sweet.
Spices: Cinnamon, Nutmeg and Salt are all you need! However, if you prefer, you can also use a few dashes of pumpkin pie spice.
Marshmallows: I like to use big marshmallows, but you can also use mini marshmallows instead. It really is a personal preference. I like a lot of toasted marshmallow on top!
Can I Add An Egg?
Sure! Some people add eggs to their sweet potato casserole which makes your casserole turn out more light in texture, which is more of a Sweet Potato Soufflé.
Personally, adding an egg changes the texture and it's not the classic Thanksgiving casserole that I am personally searching for. However, if you like to add eggs, please by all means, whip in an egg to the sweet potatoes before adding them to the casserole dish.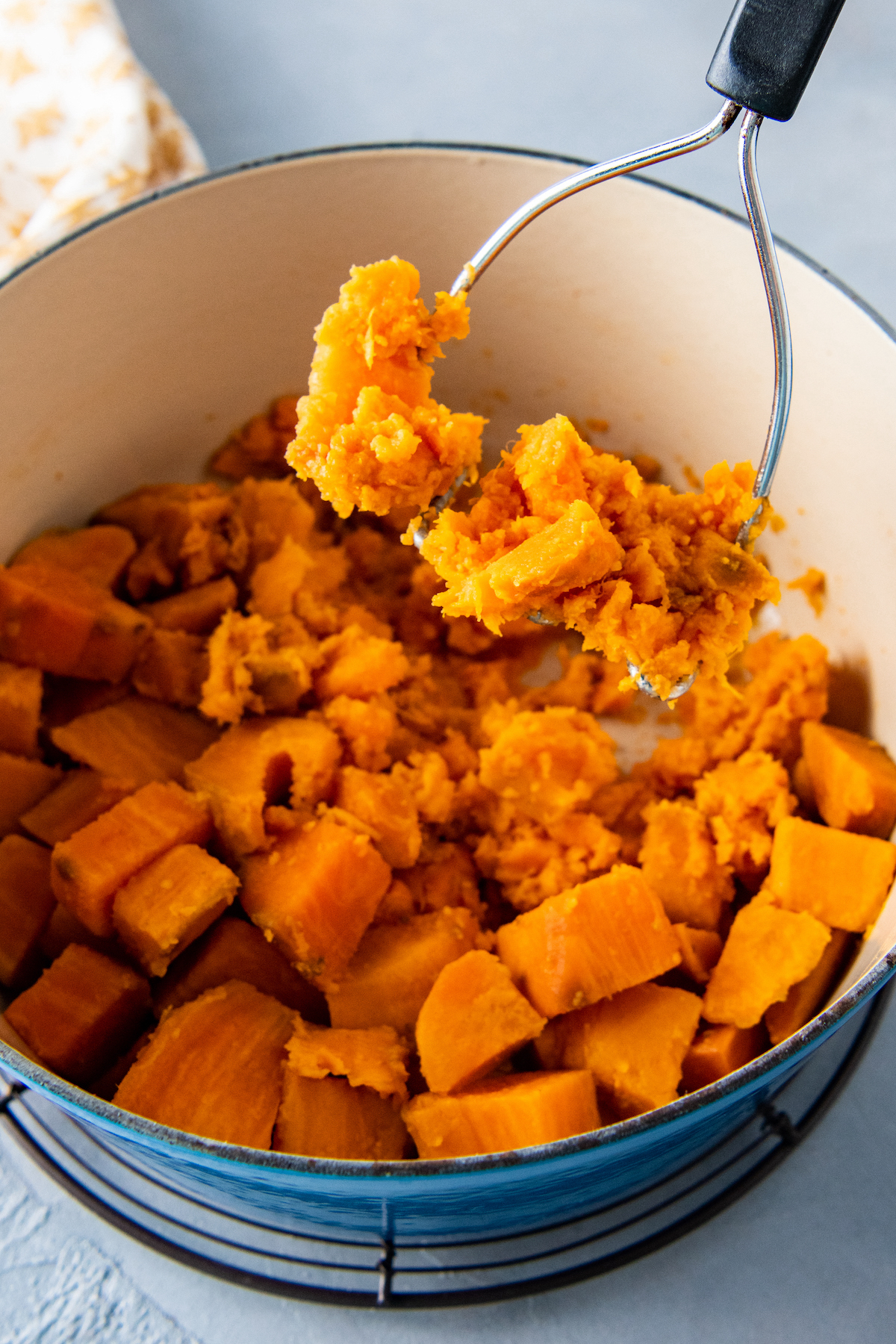 How To Make Sweet Potato Casserole
Making this casserole is super easy and quick! Here's how you do it:
Prepare the sweet potatoes: The first step is to boil your peeled and cubed sweet potatoes in water on the stove until fork tender. (You can also bake the sweet potatoes and then peel off the peels.)
Add butter, condensed milk and spices: Then we add the melted butter, sweetened condensed milk, cinnamon, nutmeg and salt.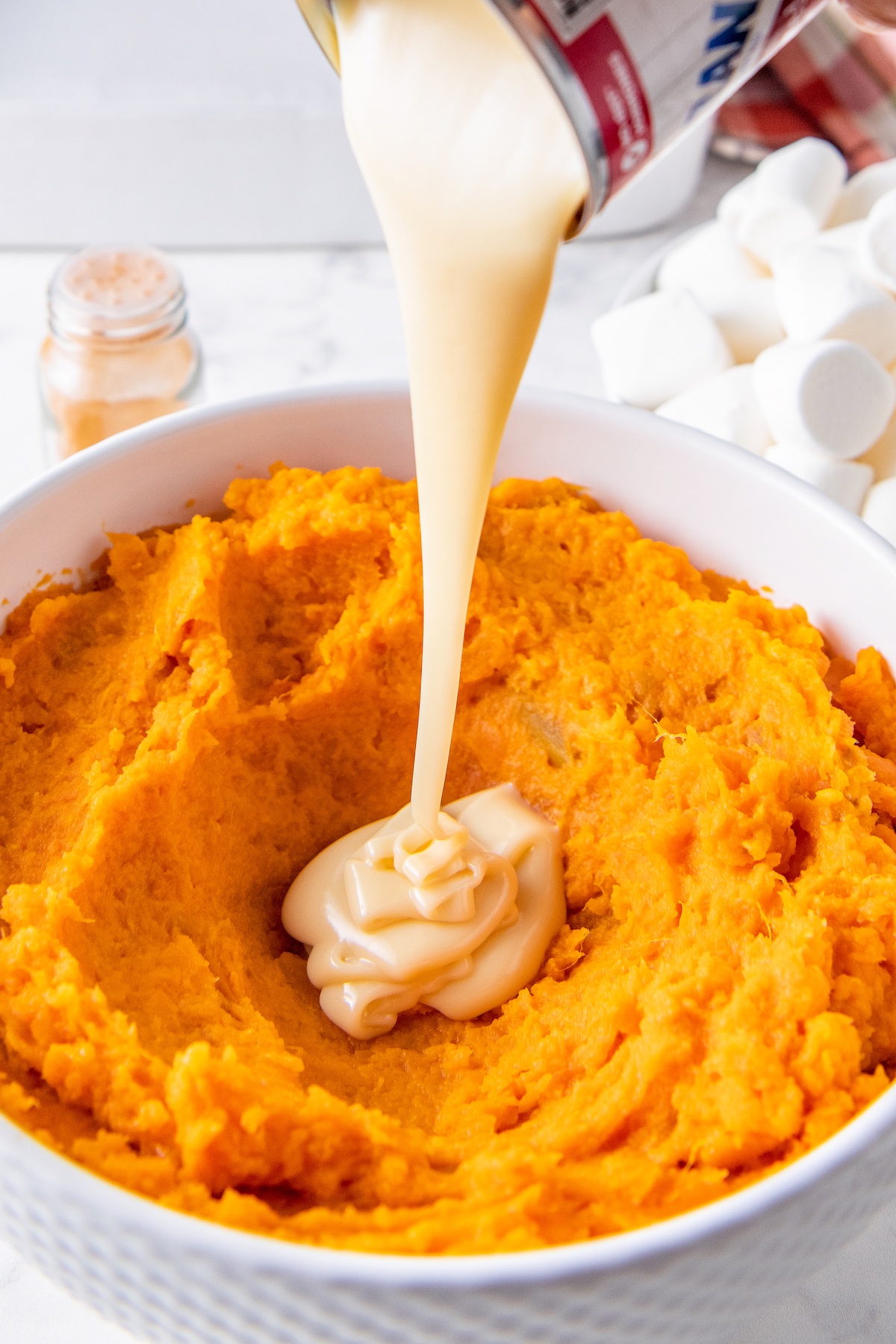 Mash everything together: Mash away until smooth and transfer the sweet potato mixture into a greased 9×13 casserole dish.
Top with marshmallows: Load on all those marshmallows on top of the sweet potato casserole. I like to use large marshmallows — just look at that glorious marshmallow to sweet potato ratio — but you can use minis if you prefer. 
Heat in the oven to toast the marshmallows: I bake the casserole at 350°F for a few minutes to make sure everything is hot and to let the marshmallows on top get perfectly toasted.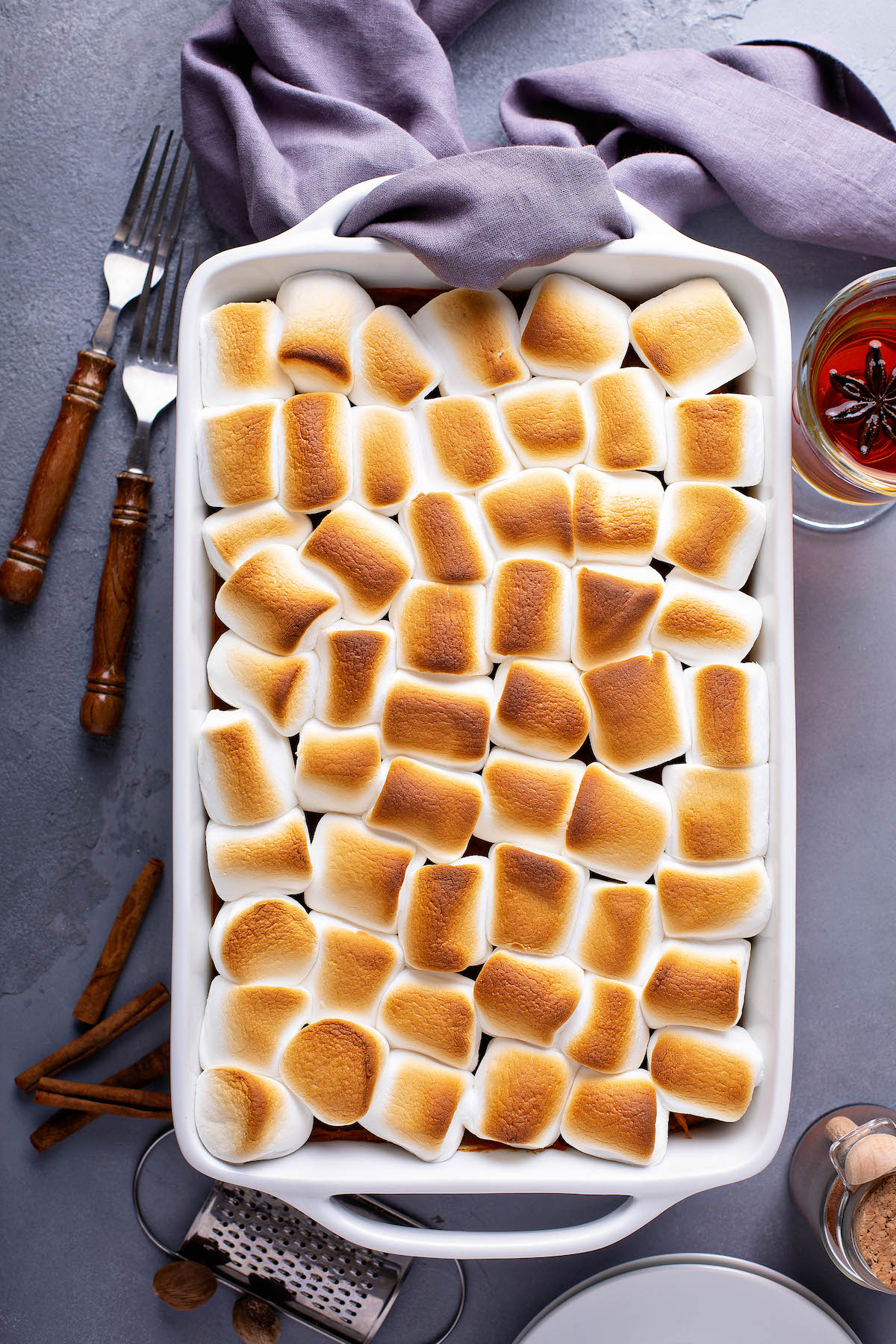 The Most Frequently Asked Questions
Can you use something other than sweetened condensed milk?
How dare you?! Just kidding, of course you can! You can use brown sugar, or go with something like maple syrup. I use maple syrup to sweeten my Instant Pot Mashed Sweet Potatoes and they are always delicious. If you do not use the sweetened condensed milk, you may want to add a little cream to make your sweet potatoes creamy.
I don't like marshmallows, can I do a pecan topping?
Yes! You can use the base recipe for the sweet potato casserole filling and then use the brown sugar and pecan topping from my other Sweet Potato Casserole recipe. An oat topping is also delicious if you are allergic to nuts.
Can I add an egg?
If you are a fan of a more soufflé style sweet potato casserole, go ahead and add one egg to the sweet potato filling.
Is it better to bake or boil the sweet potatoes?
Either way you prefer! I personally like to bake my sweet potatoes, because it is less work than peeling and boiling the sweet potatoes. Just wrap the sweet potatoes in foil and bake them at 400°F for about 45 to 60 minutes, until they are soft and baked through. Let them cool until you are able to touch them without burning yourself. Then peel off the skins, add them to the bowl and continue on with the recipe.
Can You Prep This Casserole Ahead?
Absolutely! I always make this sweet potato casserole the day before to save me stress the day of Thanksgiving. I also included the full make ahead steps and directions in the Sweet Potato Casserole recipe below as well! Here's how I prep it ahead.
If you want to make this casserole ahead of time, follow all steps but stop right before you put the marshmallows on top. At this point, cover the casserole dish tightly with a lid, cling warp or foil. Then keep it refrigerated until you are getting close to being ready to serve it. 
When you are ready to serve it, take it out of the fridge and let it warm up a little on the counter.
Heat the casserole in oven for 15 minutes (still covered with foil), then remove from oven and carefully top with marshmallows. Then bake it a little longer, uncovered, just until the marshmallows have toasted on top!
This casserole can also sit on the counter for a few hours and wait for your other Thanksgiving side dishes to be ready. Then they can all go into the oven together when you are getting close to eating.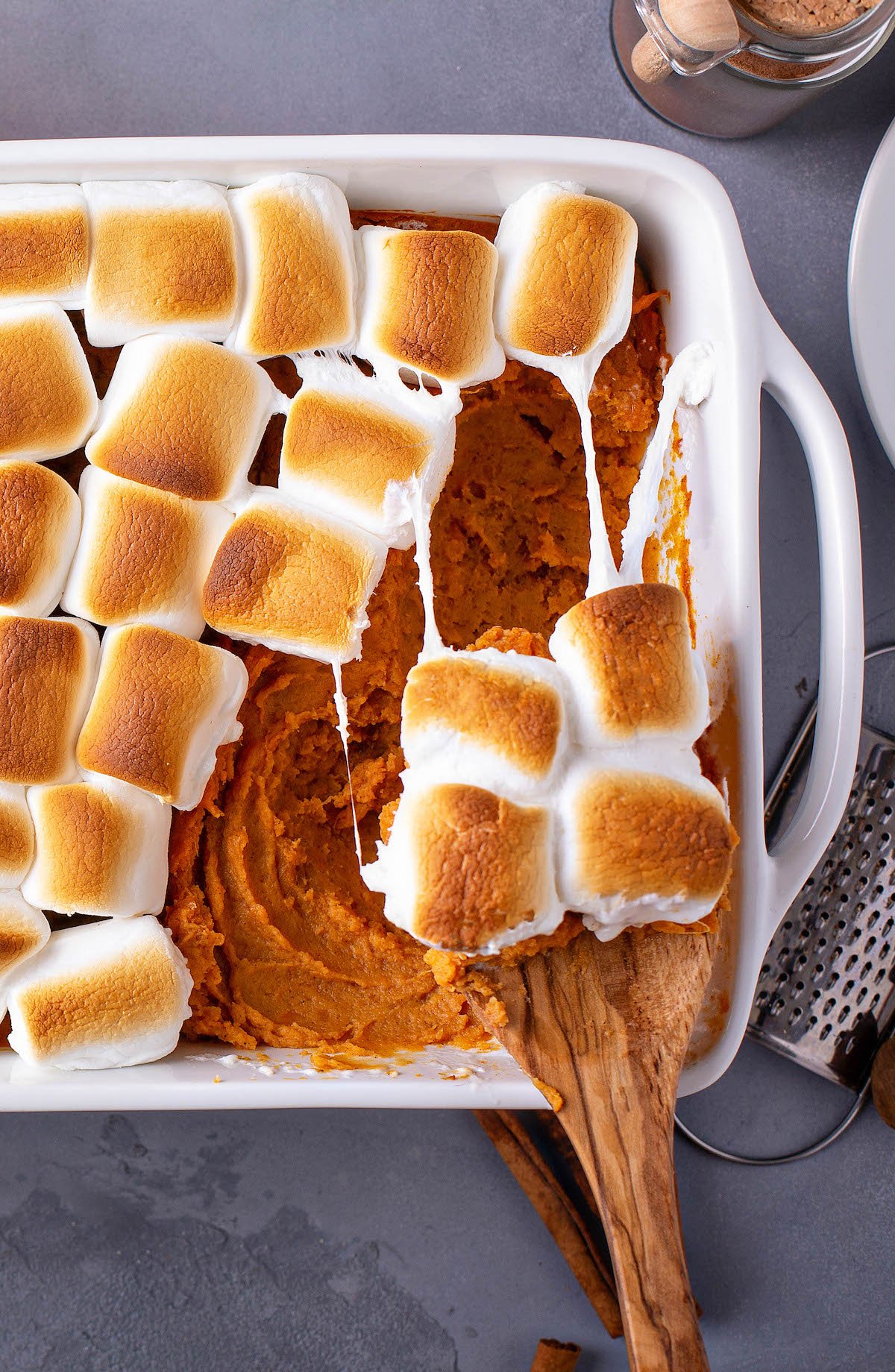 What To Serve With This Dish?
Sweet potatoes are so versatile, that there are a ton of dishes that will go great along side them. Here are a few of my favorites: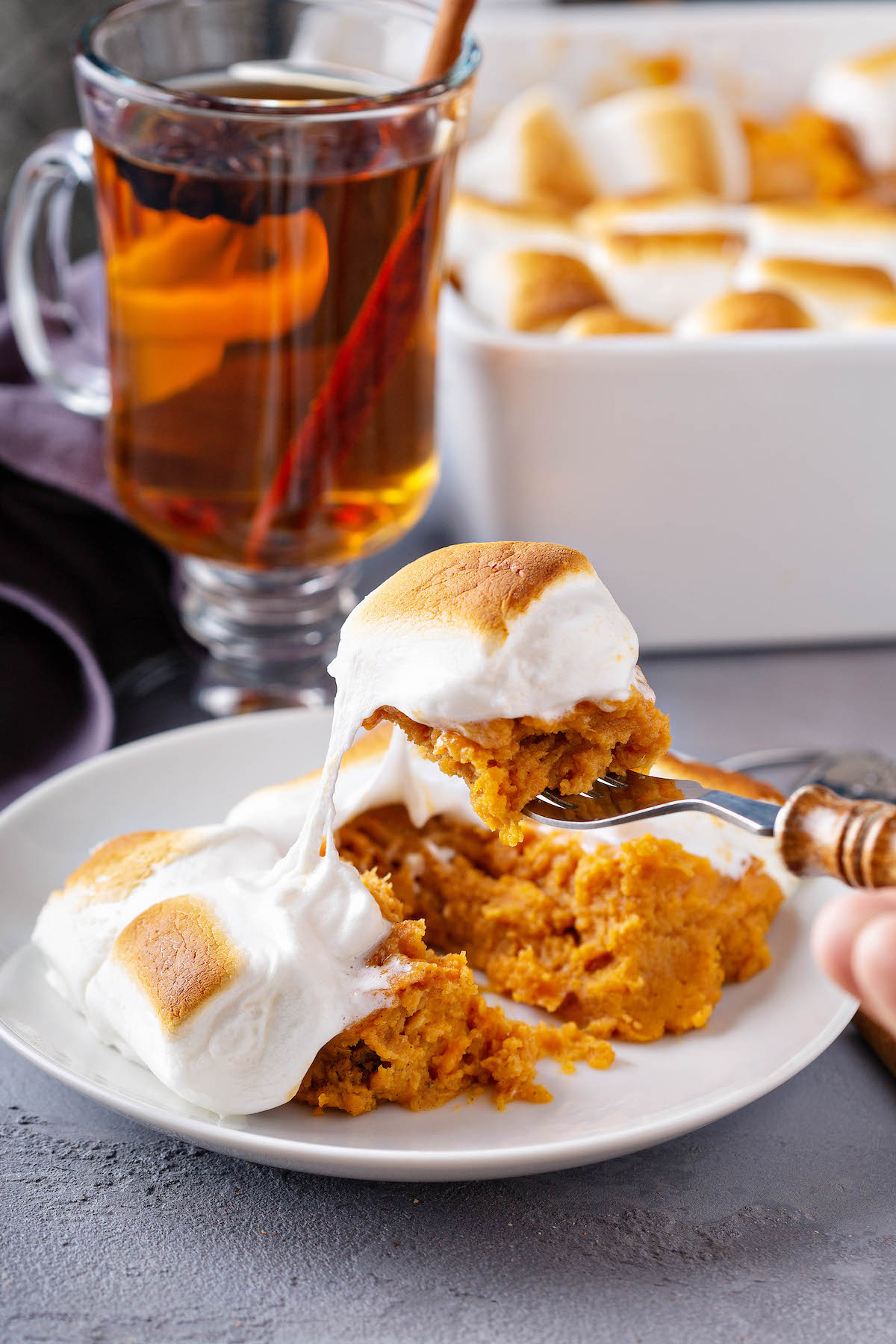 How To Store Leftovers
This casserole is best served fresh, but leftovers can be stored to be enjoyed another day. The marshmallows tend to not hold their shape, especially upon reheating, but it is still delicious!
If we have a lot of leftovers, I will store them in the casserole dish wrapped with saran wrap. However, we usually only have a little left, so I place them in an air tight container and store them in the fridge for up to 5 days. Try not to store them in a zip lock bag as the marshmallows usually turn to mush when stored that way.
Sweet Potato Casserole Recipe
This easy Sweet Potato Casserole recipe is a family favorite that's loaded with marshmallows, butter, cinnamon and a secret ingredient to create the best Thanksgiving side dish!
Ingredients
2.5

lbs

sweet potatoes

,

peeled and diced

8

tablespoons

1 stick butter, melted

1

14 oz can sweetened condensed milk

1

tablespoon

cinnamon

½

teaspoon

nutmeg

½

teaspoon

salt

1

16 oz bag large marshmallows
Instructions
Preheat oven to 350°F. Spray a 9×13 casserole dish with non stick spray and set aside. 

In a large stock pot, add sweet potatoes and cover with water. Cover pot with lid, bring to a boil and cook until fork tender, about 15 minutes. 

Drain potatoes and transfer back to pot. Add butter, sweetened condensed milk, cinnamon, nutmeg and salt. 

Mash away until nice and smooth. Pour potato mixture into prepared baking dish and smooth out the top.  

Line the top of the casserole with marshmallows and bake until marshmallows are lightly toasted, about 15 to 20 minutes.
Notes
Make Ahead Note: If you make this ahead, do not add marshmallows ahead of time. Instead, store the casserole (without marshmallows) in the fridge covered tightly with foil. Heat them in oven for 15 minutes (still covered with foil), then remove from oven and continue on with step #5.  Store Leftovers: Store any leftovers in an airtight container for up to 5 days. When you reheat it, the marshmallows will likely evaporate a little. It will still taste delicious, but will look a little different.
Nutrition
Serving:
1
,
Calories:
99
kcal
,
Carbohydrates:
22
g
,
Protein:
2
g
,
Cholesterol:
1
mg
,
Sodium:
127
mg
,
Fiber:
3
g
,
Sugar:
8
g
Categories:
More Decadent Holiday Recipes
This post may contain affiliate links. Read my disclosure policy.