This easy Sweet Potato Casserole recipe is a family favorite that's loaded with marshmallows, butter, cinnamon. A simple secret ingredient makes this the absolute best sweet potato side dish for Thanksgiving!
Easy Sweet Potato Casserole With Marshmallows
If you ask me, there is only one Sweet Potato Casserole recipe that matters and that is my Mama's homemade sweet potato casserole with marshmallows!
This old-fashioned casserole is easy to make and can be made a day ahead, making it one of the best Thanksgiving side dishes. I make it every year and our holiday table just wouldn't be the same without it. Over the years, I have tried many different recipes and this one is by far the best version I have ever tasted.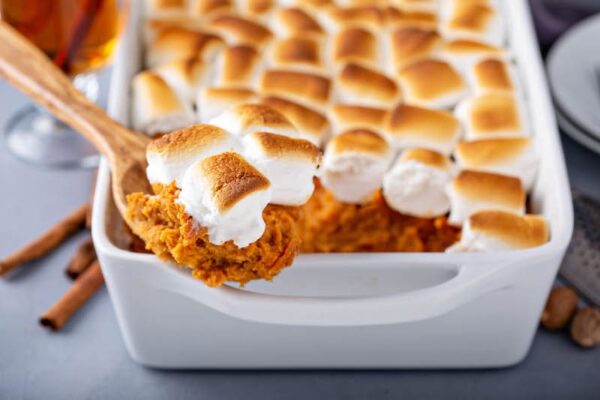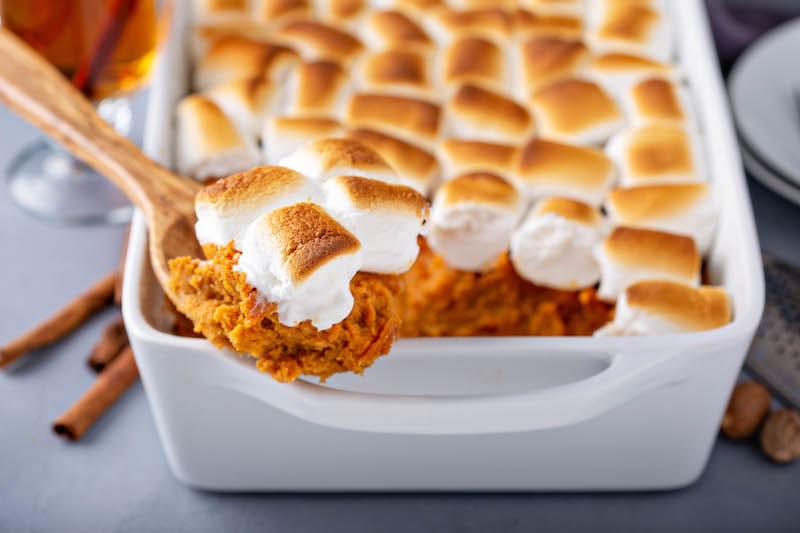 What's The Secret To Making The Best Sweet Potato Casserole?
I think it all comes down to that secret ingredient my Mom adds. It comes in a can and is extra creamy. Any guesses what it is?!
Why, it's sweetened condensed milk of course!
If you have been around here long enough, you know how much my Mom likes to sneak that sweet nectar into recipes.
Just like in the now famous Mama's Best Banana Pudding, the sweetened condensed milk adds the perfect sweetness and creaminess to this Sweet Potato Casserole. 
I have tried making this casserole recipe many other ways…like with milk, cream and even evaporated milk. I have also tried regular sugar, brown sugar and maple syrup to sweeten this casserole, but I always come back to using sweetened condensed milk!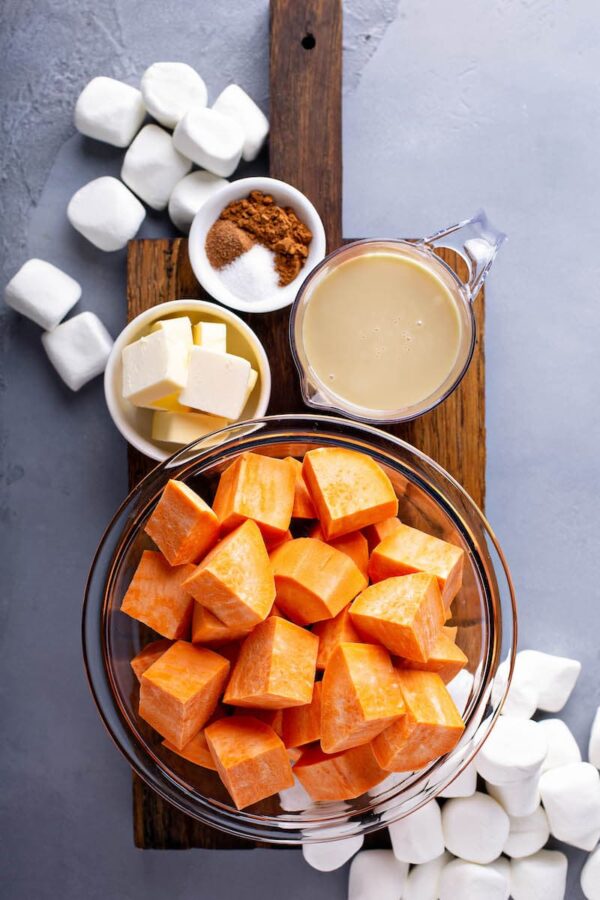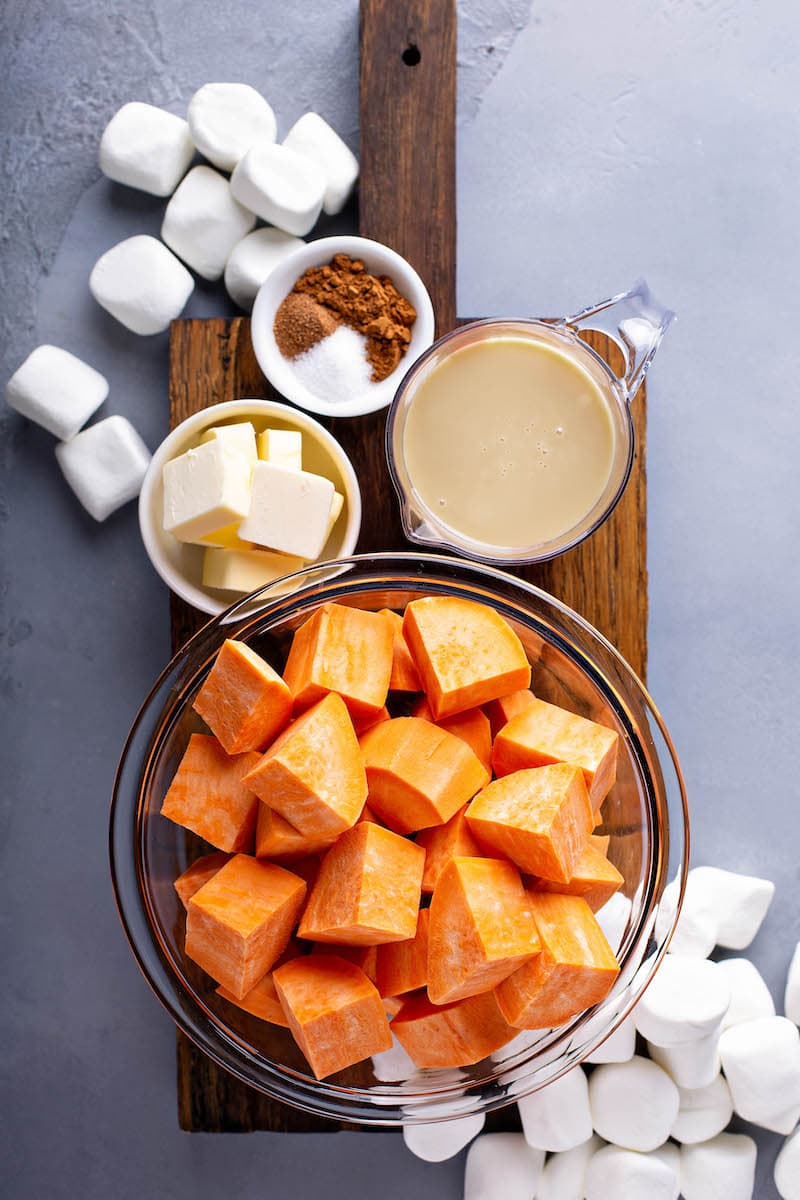 Recipe Ingredients
There is what you'll need to make this old fashioned sweet potato casserole:
Fresh sweet potatoes
Butter
Sweetened condensed milk – Our secret ingredient that makes this casserole extra creamy.
Spices: cinnamon & nutmeg 
Salt
Marshmallows
Some people add eggs to their Sweet Potato Casserole and for the life of me I can not figure out why.  To me, when you add eggs, the final product turns out more like a soufflé. It's just not that classic Thanksgiving casserole that I am personally searching for. 

How To Make Sweet Potato Casserole With Marshmallows
Making casserole is easy! Here's how you do it:
Prepare the sweet potatoes: The first step is to boil our peeled and cubed sweet potatoes in water on the stove until fork tender.
Add butter, condensed milk and spices: Then we add the melted butter, sweetened condensed milk, cinnamon, nutmeg and salt.
Mash everything together: Mash away until smooth and transfer the sweet potato mixture into a greased 9×13 casserole dish.
Top with marshmallows: Load on all those marshmallows on top of the sweet potato casserole. I like to use large marshmallows — just look at that glorious marshmallow to sweet potato ratio — but you can use minis if you prefer.
Heat in the oven to toast the marshmallows: I bake the casserole at 350°F for a few minutes to make sure everything is hot and to let the marshmallows on top get perfectly toasted.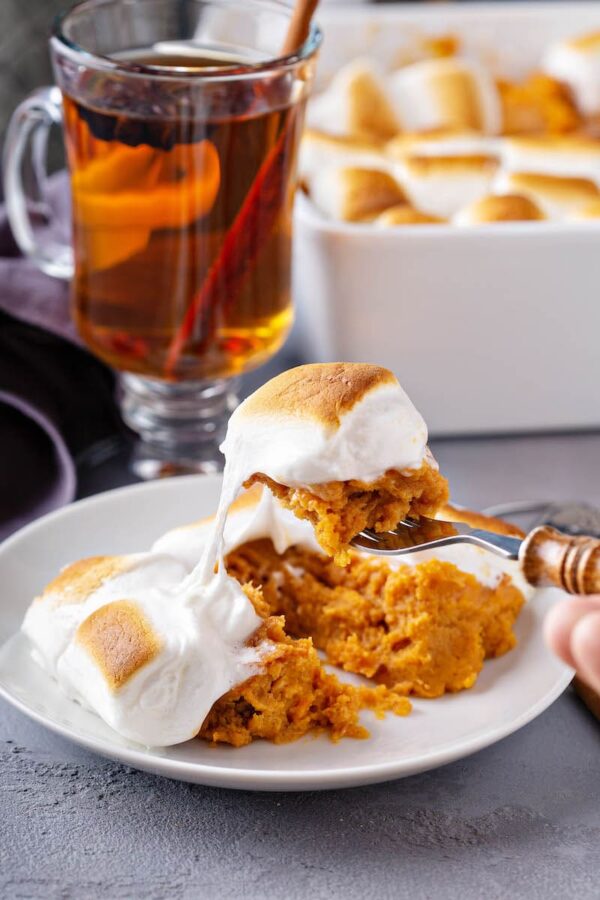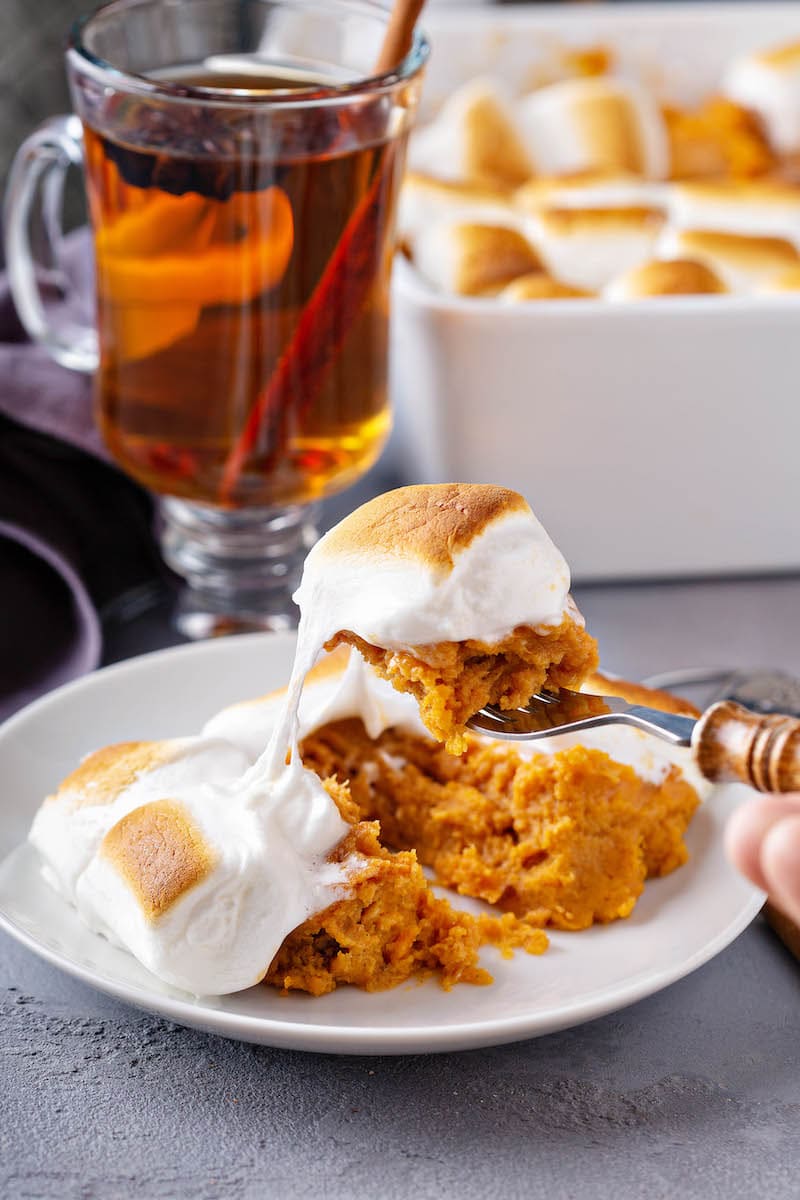 Can You Make This Casserole Ahead?
If you want to make this casserole ahead of time, follow all steps but stop right before you put the marshmallows on top. At this point, cover the casserole dish tightly with a lid, cling warp or foil. Then keep it refrigerated until you are getting close to being ready to serve it.
When you are ready to serve it, take it out of the fridge and let it warm up a little on the counter.
Heat the casserole in oven for 15 minutes (still covered with foil), then remove from oven and carefully top with marshmallows. Then bake it a little longer, uncovered, just until the marshmallows have toasted on top!
This casserole can also sit on the counter for a few hours and wait for your other Thanksgiving side dishes to be ready. Then they can all go into the oven together when you are getting close to eating.
I also included the full make ahead steps and directions in the Sweet Potato Casserole recipe below as well!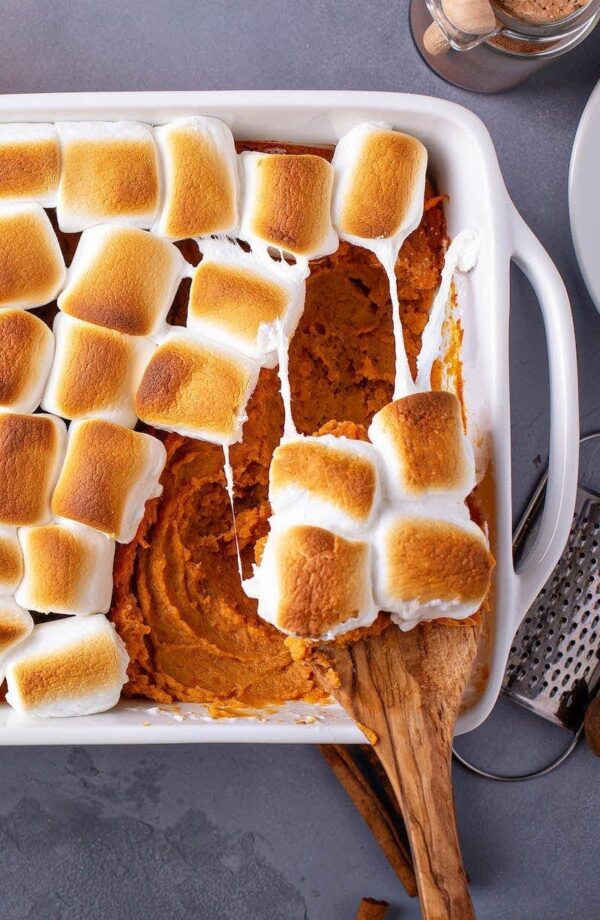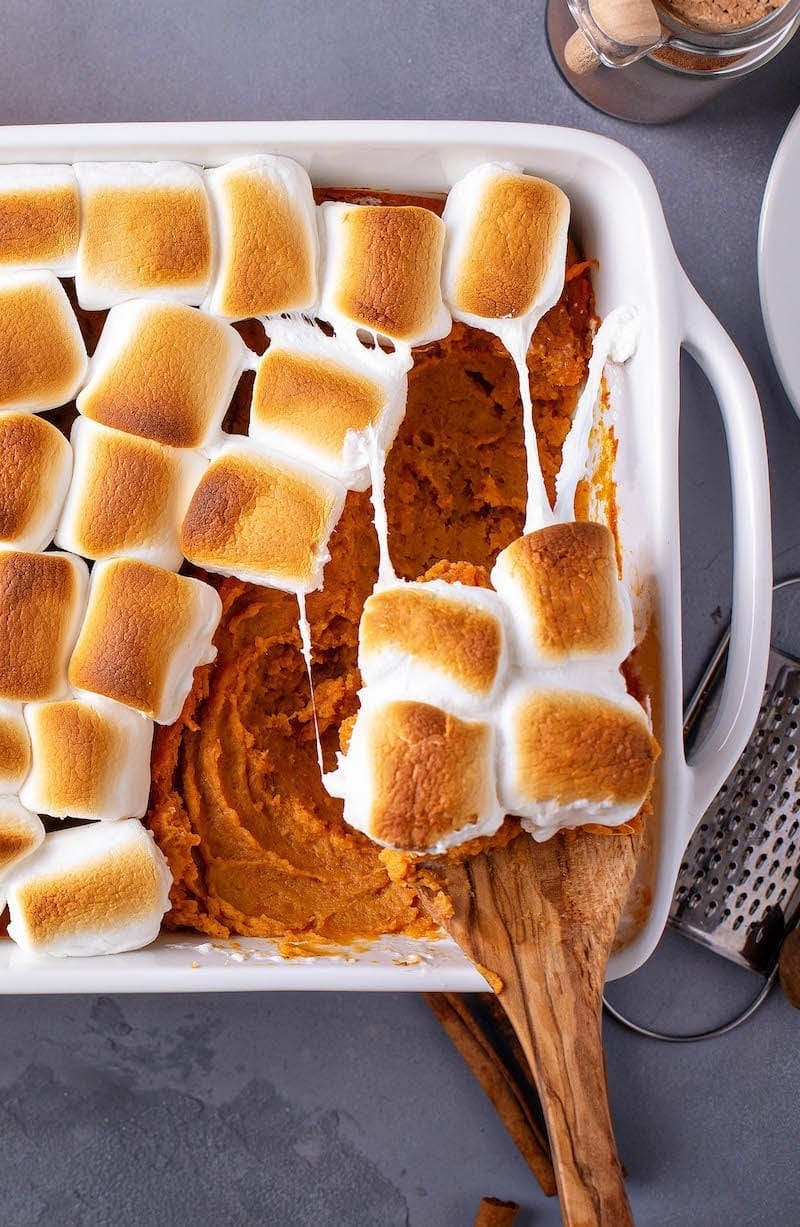 Other Thanksgiving Recipes You May Like
If you are also on the hunt for the best Thanksgiving dessert recipes, I highly recommend my Sweet Potato Pie, Best Pumpkin Cake, Caramel Apple Dump Cake and Pumpkin Pie Cheesecake!
I am so excited to finally be sharing this recipe for my Mama's famous Sweet Potato Casserole recipe with all of you! I know you and your families/friends are all going to love this amazing recipe.
When you try this recipe, please come back and leave a review/comment below letting me know how it turns out for you!
Yield: 10 - 12 Servings
Sweet Potato Casserole Recipe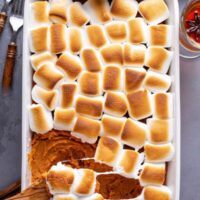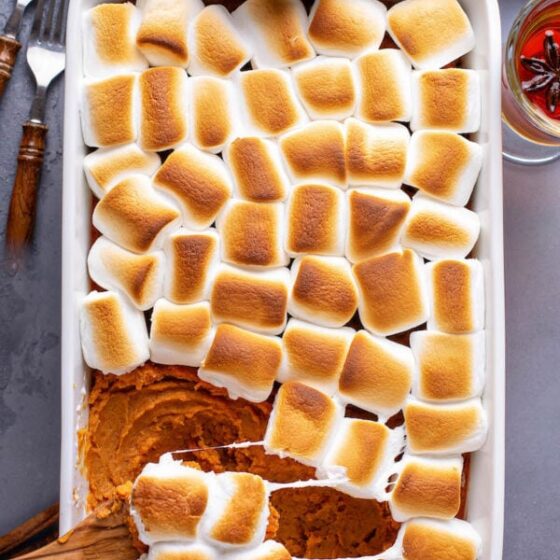 This easy Sweet Potato Casserole recipe is a family favorite that's loaded with marshmallows, butter, cinnamon and a secret ingredient to create the best Thanksgiving side dish!
Ingredients
2.5 lbs sweet potatoes, peeled and diced
8 tablespoons (1 stick) butter, melted
1 (14 oz) can sweetened condensed milk
1 tablespoon cinnamon
1/2 teaspoon nutmeg
1/2 teaspoon salt
1 (16 oz) bag large marshmallows
Instructions
Preheat oven to 350°F. Spray a 9x13 casserole dish with non stick spray and set aside.
In a large stock pot, add sweet potatoes and cover with water. Cover pot with lid, bring to a boil and cook until fork tender, about 15 minutes.
Drain potatoes and transfer back to pot. Add butter, sweetened condensed milk, cinnamon, nutmeg and salt.
Mash away until nice and smooth. Pour potato mixture into prepared baking dish and smooth out the top.
Line the top of the casserole with marshmallows and bake until marshmallows are lightly toasted, about 15 to 20 minutes.
Notes
Make Ahead Note: If you make this ahead, do not add marshmallows ahead of time. Instead, store the casserole (without marshmallows) in the fridge covered tightly with foil. Heat them in oven for 15 minutes (still covered with foil), then remove from oven and continue on with step #5. 
Recommended Products
I am an Amazon affiliate member and I earn a small percentage from qualifying purchases. Thank you!
Nutrition Information:
Yield:
12 servings
Serving Size:
1
Amount Per Serving:
Calories:

99
Total Fat:

0g
Saturated Fat:

0g
Trans Fat:

0g
Unsaturated Fat:

0g
Cholesterol:

1mg
Sodium:

127mg
Carbohydrates:

22g
Fiber:

3g
Sugar:

8g
Protein:

2g
Categories
More Thanksgiving Recipes!
This post may contain affiliate links. Read my disclosure policy.