Buttery and full of caramelized sugar goodness, these Sweet Potato Bites are packed with warm flavors like cinnamon and maple syrup. Topped with melted marshmallows and pecans, they're a quick and easy fall-treat.
Easy Sweet Potato Bites with Marshmallows and Pecans
Baked until perfectly tender, these sweet potato bites pack all your favorite fall flavors.
The exterior is nice and crispy thanks to a maple syrup, brown sugar, and cinnamon glaze that's brushed on. This caramelizes during baking but keeps the center rich and buttery. Topped with fluffy marshmallows, they're a creamy, sweet bite once melted. To contrast the sweetness, pecans are added for a bit of earthiness. Finally, a sprinkle of flakey salt brings everything together.
Once ready, they're incredibly toasty, melty, and decadent. You won't believe they're ready in less than 30 minutes! Just slice the sweet potatoes, make the butter mixture, bake, and you're done. Enjoy them fresh out of the oven with a drizzle of caramel or some homemade ice cream. Either way, there's no going wrong with these buttery, sweet potato bites that everyone will love.
If you love this recipe, you will also love my Mom's recipe for the best Sweet Potato Casserole with Marshmallows and this easy recipe for Crockpot Sweet Potatoes with Marshmallows!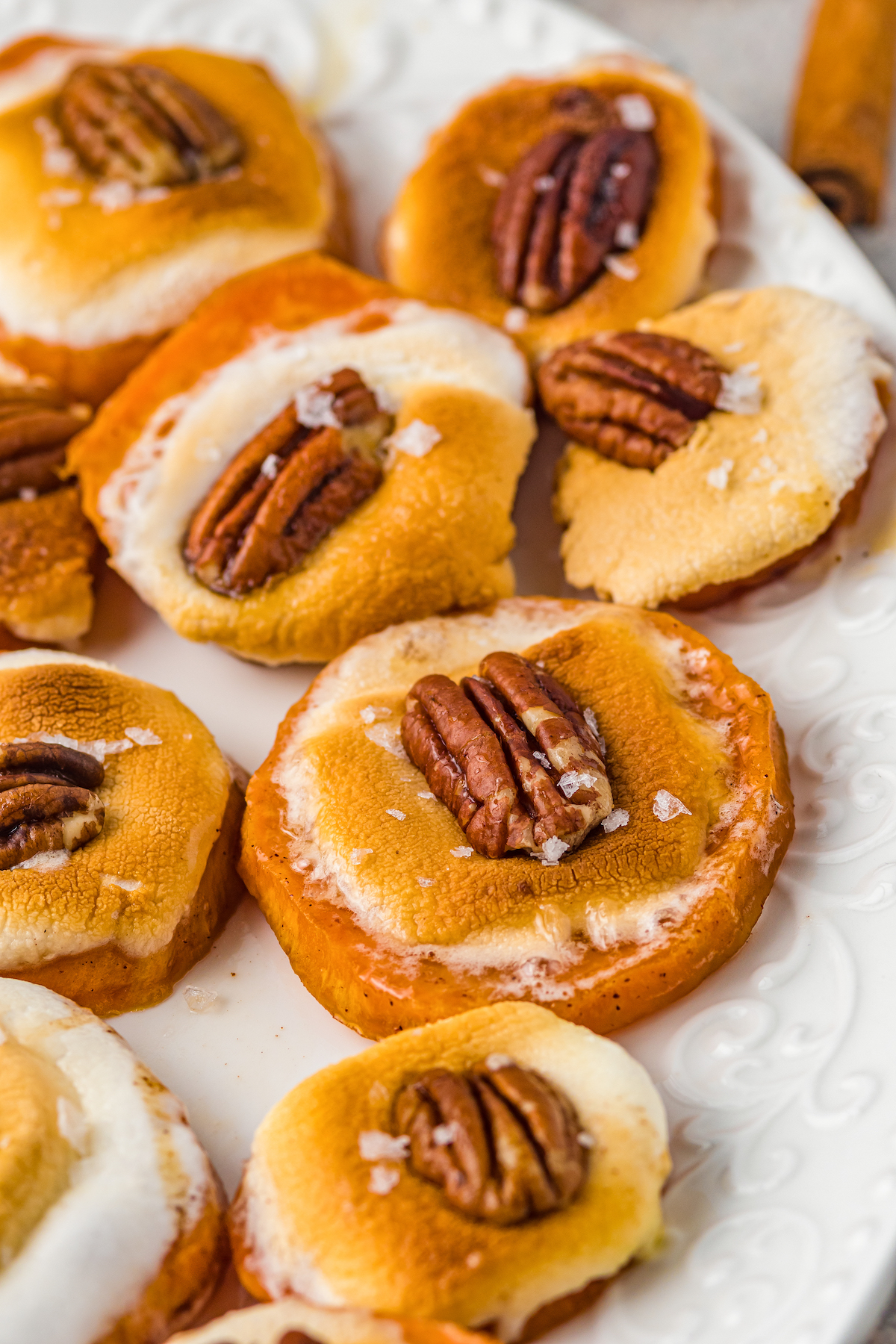 Why You'll Love This Recipe
Sweet potato bites are the perfect snack for days when you don't want to spend hours in the kitchen. Aside from that, here are more reasons to love them:
Quick – Ready in less than 30 minutes, you'll be biting into these sweet potato bites in no time.
Easy – Made with 8 fall-essential baking ingredients, all you have to do is pop these into the oven. They're a fool-proof treat, just don't let the marshmallows burn!
Great for parties – The recipe makes as many bites as can fit in your baking sheet, perfect for gatherings.
Easy clean-up – The tray is lined with foil, so all you have to do is toss it out when your sweet potato bites are done. It's practically a mess-free recipe.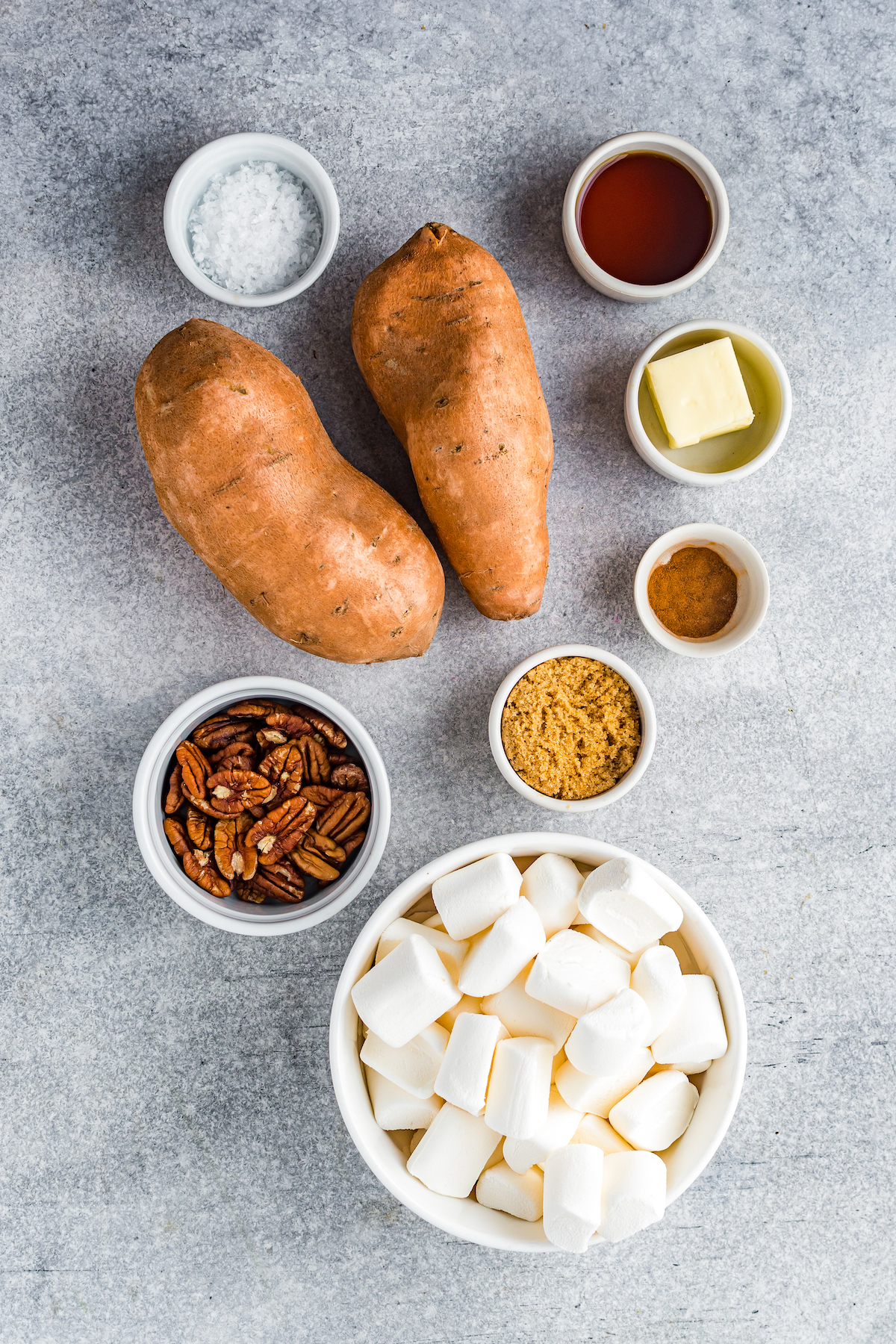 What You'll Need
If you're well-stocked for fall-baking, you've probably got most of these ingredients on hand. Don't forget to scroll to the bottom of this post for exact ingredient amounts in the recipe card.
Sweet potatoes – Feel free to use red yams as well.
Butter – Salted and unsalted butter both work for this recipe.
Maple syrup – Dark corn syrup and raw honey are good substitutes. However, maple syrup yields the best flavor. Try to stay away from artificial maple-flavored syrups.
Brown sugar – Dark brown sugar packs a much richer caramel-like flavor, but light brown sugar is okay too.
Cinnamon
Marshmallows – I prefer large marshmallows because they're easier to work with. If you only have mini marshmallows, generously sprinkle them on. You don't even have to cut them!
Pecans – Unsalted, toasted pecans work best. If they're not toasted, toast them yourself. Cook them in a pan over low heat for 4-5 minutes. Stir continuously to avoid burning. Remove from the heat, wait for them to cool, and use them in the recipe.
Flakey sea salt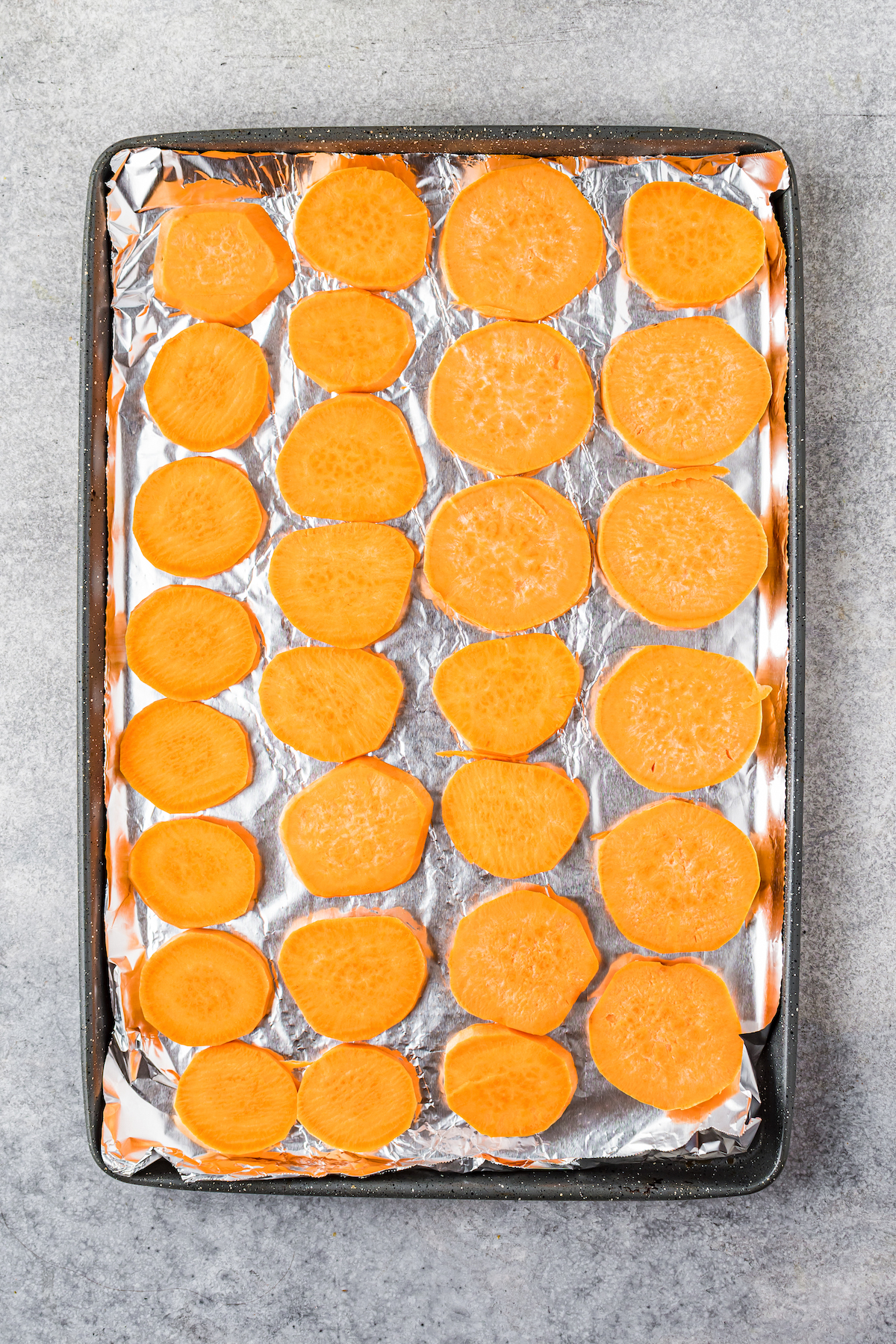 How to Make Sweet Potato Bites
Ready in less than 30 minutes, you won't believe how easy these are to make.
Prepare the tray. Preheat the oven to 350°F. Line a baking sheet with aluminum foil. Spray it with non-stick baking spray. Set it aside. Don't forget to grease the foil otherwise your sweet potatoes will stick. You can also line the cookie sheet with parchment paper.
Arrange the sweet potatoes. Lay the sweet potatoes in a single layer on the baking sheet. Make sure they're not overlapping. Try to make your slices 1/4″ thick.
Melt the butter. Add the butter, maple syrup, brown sugar, and cinnamon to a small bowl. Pop it in the microwave for 1 minute or until melted. Whisk to combine. You can also do this in a pot over low heat, but I find the microwave much easier.
Brush with butter. Generously brush the sweet potatoes with the hot butter mixture. This is easiest with a pastry brush, but you can also dip a paper towel in the mixture and spread it on carefully.
Bake. Pop the sweet potatoes in the oven and bake for 15 minutes or until fork-tender. Baking time will depend on the thickness of your sweet potatoes.
Top. Remove from the oven. Immediately place a marshmallow and pecan half on top of each sweet potato slice. Don't wait for it to cool, otherwise the marshmallows won't melt.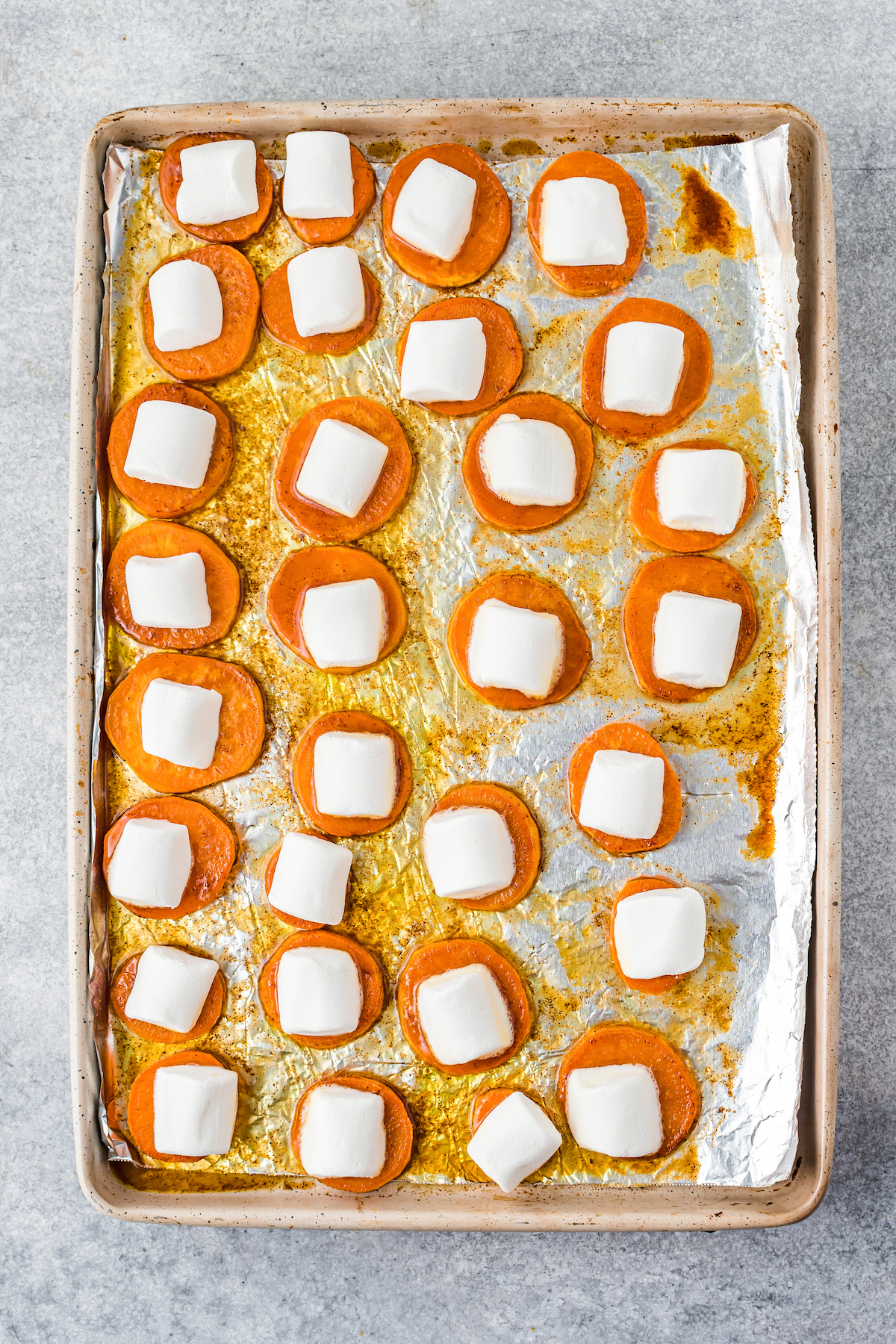 Melt the marshmallows. Place the sweet potatoes back in the oven for about 3 minutes or until the marshmallows are golden brown on top. They should look like s'mores marshmallows.
Serve. Remove from the oven and wait 5-10 minutes to let them cool. Serve and enjoy!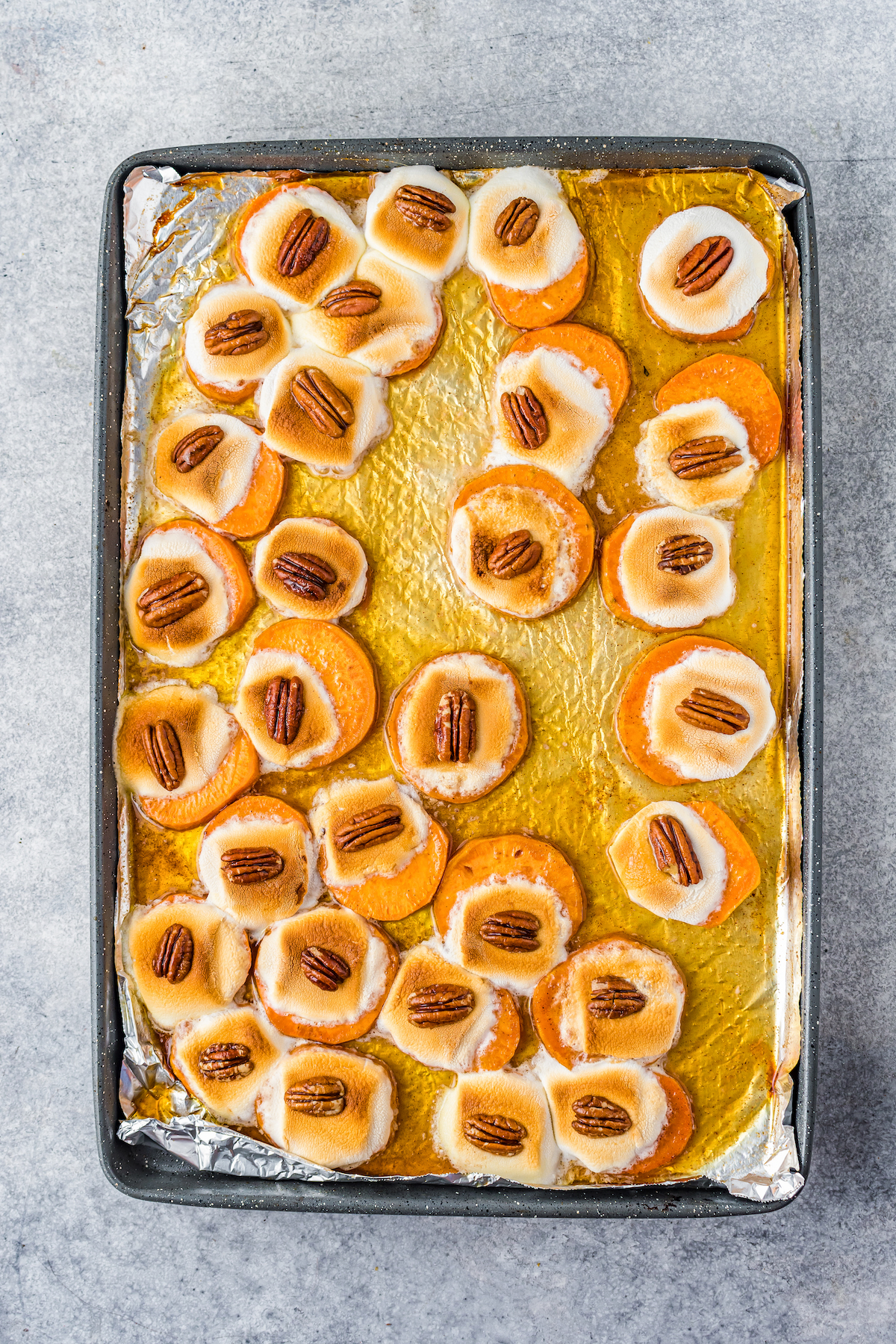 Tips for Success
Make these sweet potato bites fool-proof by following some easy tips.
Line the tray. Use aluminum foil or parchment paper to line the tray. Don't skip this step or the butter-sugar mixture will caramelize directly on the tray and create a hard sugar mess.
Keep the marshmallows in place. After baking, the marshmallows will slide and move around a little. Make sure to push them back in place so each slice has its own marshmallow.
Don't let them cool. After brushing the butter-sugar mixture on the sweet potatoes and baking, remove the slices from the tray immediately. You can even line the tray with a fresh piece of foil. If you wait for them to cool, the sugar will harden and the sweet potatoes will stick to the foil.
Use candied pecans. These add a more intense caramel-like flavor and crunch. Use them to make your sweet potato bites more interesting!
Add chocolate. Right before melting the marshmallows, add a square of your favorite chocolate bar on top. This will create a yummy sweet potato bites and s'mores situation you'll love.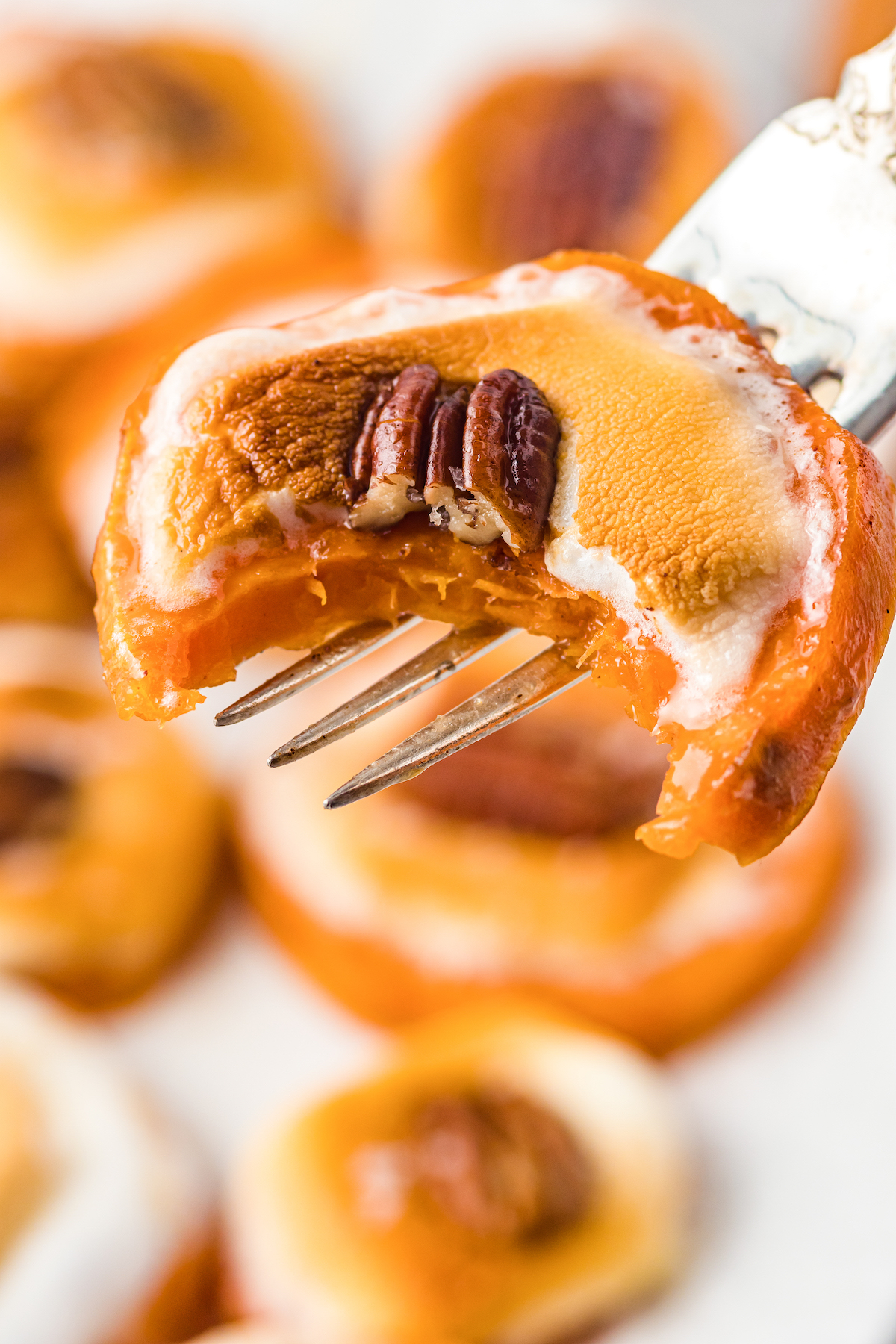 Serving Suggestions
These Sweet Potato Bites are perfect just on their own, I have even served them as a Thanksgiving appetizer! Everyone loved them! However, if you are serving these as part of a meal, here are a few of my favorite dishes to serve along side sweet potatoes.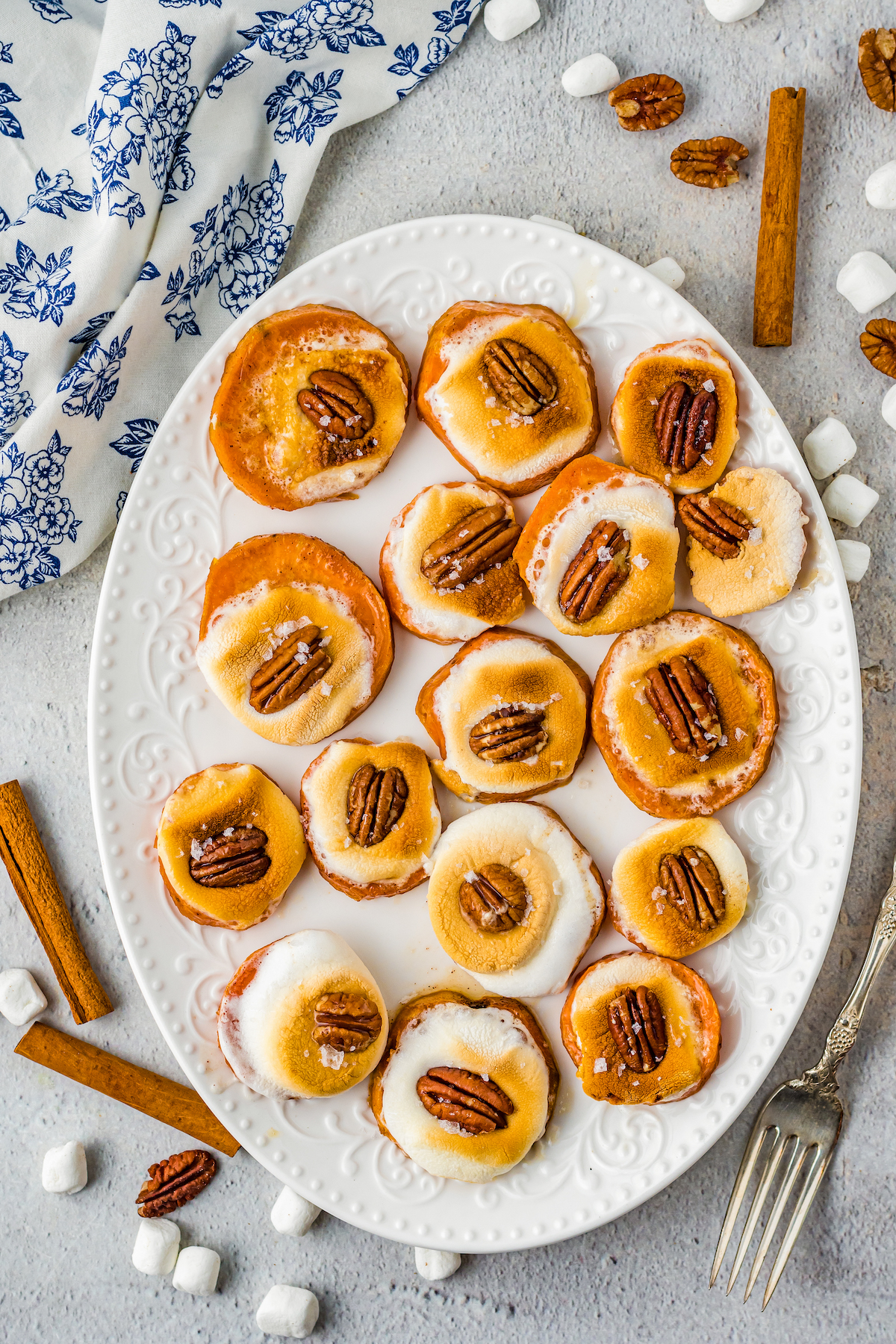 How to Store Leftovers
Once cooled, pop the sweet potato bites into an airtight container. Refrigerate them for up to 5 days. To reheat, simply microwave them for 30 seconds or until warm.
Using a toaster oven can also help keep the marshmallows nice and toasty. Preheat it to 350 F and heat the sweet potatoes for 5 minutes or until warm. Then place them under the broiler for 1 minute or until melty.
Sweet Potato Bites
Buttery, sweet potato bites topped with toasty, melty marshmallows and pecans are the perfect fall-treat.
Ingredients
4

sweet potatoes

,

peeled and cut into discs

2

tablespoons

butter

2

tablespoons

maple syrup

2

tablespoons

brown sugar

½

teaspoon

cinnamon

24-30

large marshmallows

,

sliced in half

24-30

pecan halves

Flakey sea salt

,

for serving
Instructions
Preheat the oven to 350°F. Line a cookie sheet with foil and spray with non-sticks pray(or line with parchment paper).

Lay the sweet potatoes, in a single layer, on the prepared cookie sheet.

In a small bowl, add the butter, maple syrup, brown sugar, and cinnamon. Place in the microwave for 1 minute. Whisk to combine.

Brush the sweet potatoes with the hot butter mixture.

Place the pan in the oven and bake for 15 minutes or until tender.

Once the sweet potatoes are tender, remove the pan, and put a marshmallow and a pecan on top of each sweet potato.

Put the pan back in the oven and bake until the marshmallows are golden brown, about 3 minutes.

Remove from the oven and place on a plate for serving.
Nutrition
Serving:
1
,
Calories:
300
kcal
,
Carbohydrates:
54
g
,
Protein:
3
g
,
Fat:
9
g
,
Saturated Fat:
3
g
,
Polyunsaturated Fat:
6
g
,
Cholesterol:
10
mg
,
Sodium:
185
mg
,
Fiber:
3
g
,
Sugar:
34
g
Categories:
More Sweet Potato Recipes
This post may contain affiliate links. Read my disclosure policy.