Sweet Potato Buttermilk Pie is an easy to make dessert that is perfect for Thanksgiving. This homemade pie is even more delicious with whipped cream on top!
If you enjoy this sweet potato pie you should also try my classic Sweet Potato Pie Recipe and my Sweet Potato Pie Smoothie!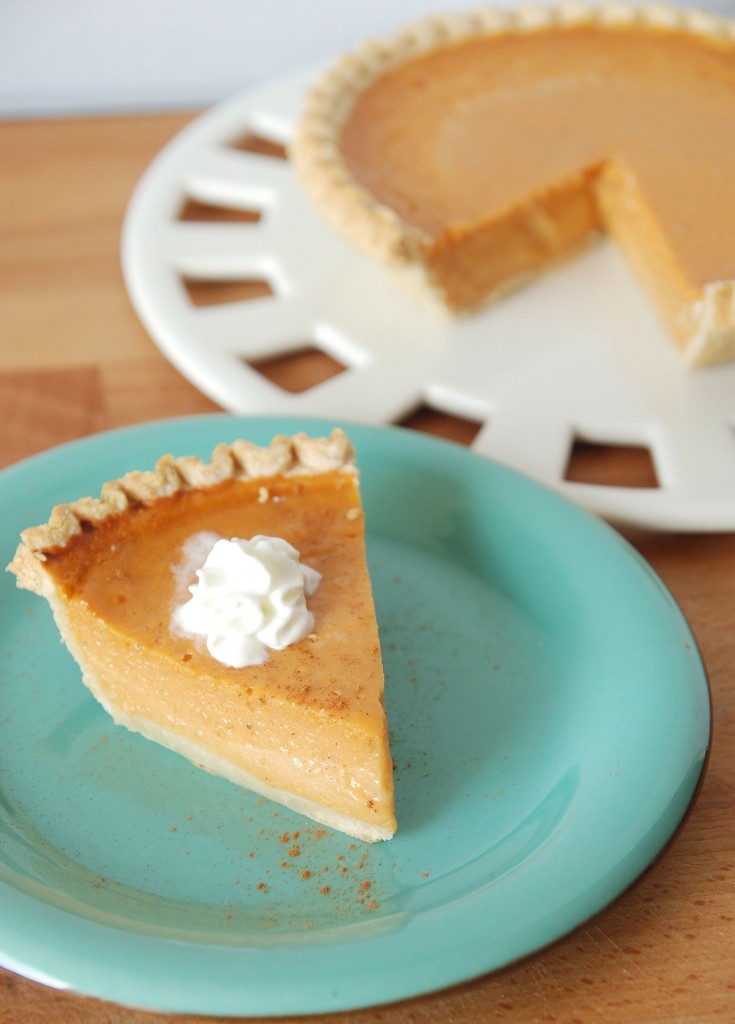 Sweet Potato Buttermilk Pie
It's that time of the year where we go around and tell people what we are thankful for. So here are 10 things I am thankful for in no particular order.
1. The lady at the grocery store who had two saved cans of Pumpkin at the store and gave them to me…and she did this in front of the little old lady who tried to run me over to get to the last cans of pumpkin first.
2. My family, friends, and you guys. Cliche but so true.
3. A-line dresses. They put stretchy pants as a Thanksgiving outfit to shame.
4. Cranberry Jelly. The one from the can that you have to shake for 10 minutes to get it to plop out onto the serving dish…you know, the one with all the ridges on the sides. Because it just isn't Thanksgiving without it.
5. Jorge, for all his support each and every day.
6. That the guy who I would have written off as a "gangsta", that had his pants 20 feet below his ass, chased me down at Publix the other day to give me my debit card that fell out of my hand.
7. That everyone I love is healthy and happy this Thanksgiving.
8. For my DVR. Because how else would I know who got sent home on Top Chef and also know if Claire finally killed Phil on Modern Family? But maybe I should be unthankful for my DVR because then I might have a life. Hmph.
9. I'm thankful for this blog. Because where else would I find people to read this crap?
10. And lastly, for wine. Because as a society I think we function better with it.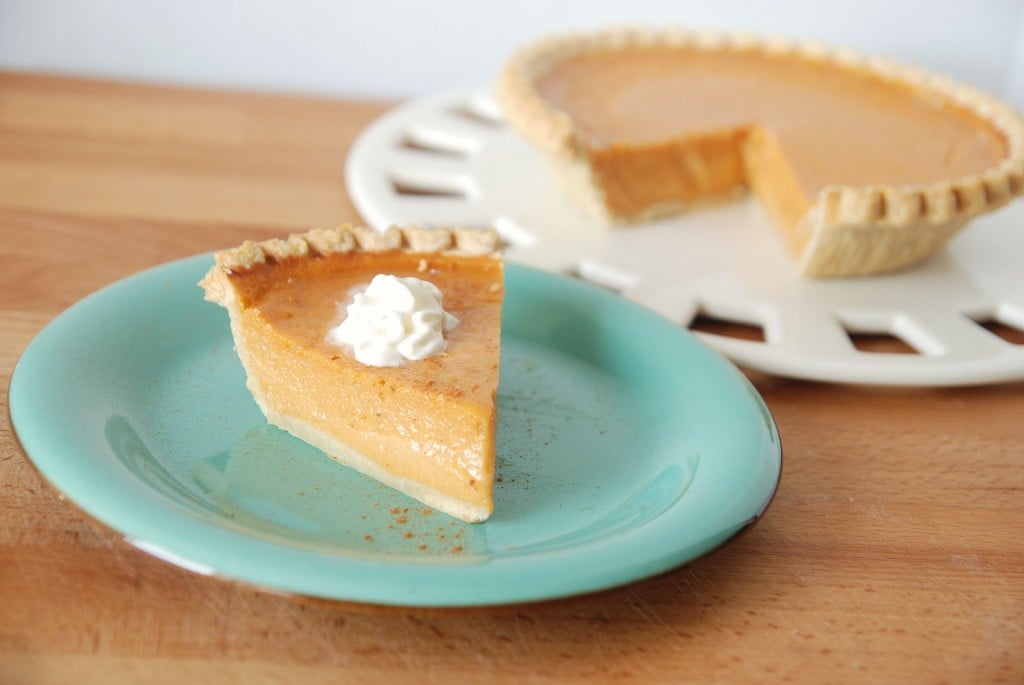 My Family Loves This Sweet Potato Buttermilk Pie
This Sweet Potato Buttermilk Pie is the perfect addition to any Thanksgiving feast! Or if you were not on the list for pie, like me, it goes even better for a warm up pie to Thanksgiving!
If you love this Sweet Potato Buttermilk Pie recipe, make sure and and also check out my other family favorite Thanksgiving recipes: Best Green Bean Casserole, Sweet Potato Pie, Corn Casserole, Sweet Potato Casserole, Cranberry Relish and Fried Apples!
Yield: 1 pie
Sweet Potato Buttermilk Pie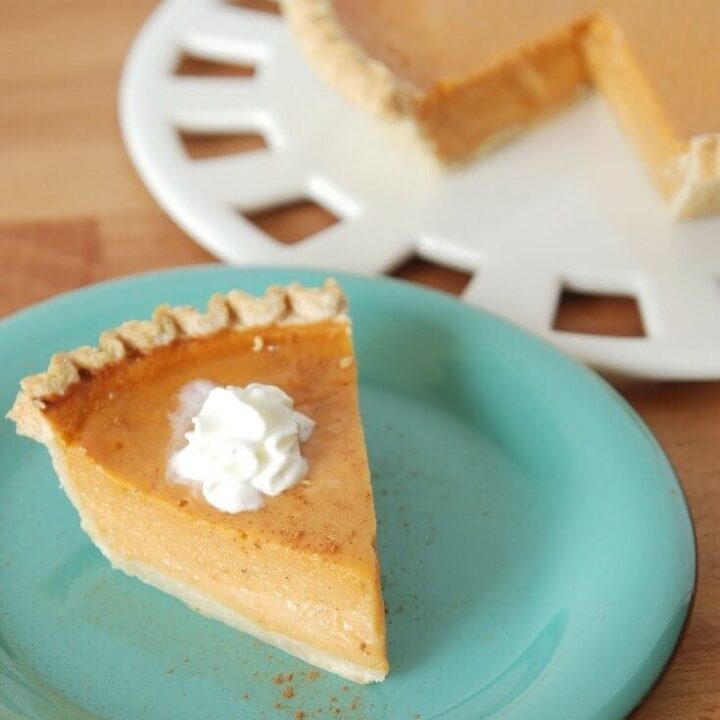 Sweet Potato Buttermilk Pie is an easy to make dessert that is perfect for Thanksgiving. This homemade pie is even more delicious with whipped cream on top!
Total Time
1 hour
10 minutes
Ingredients
1-1/2 pounds sweet potatoes (about 2 medium potatoes), peeled and chopped into 1/2-inch dice
4 tablespoons unsalted butter, melted
2 tablespoons fresh lemon juice
1/2 teaspoon freshly grated nutmeg
1/2 teaspoon ground cinnamon
1/2 teaspoon kosher salt
3 large eggs, separated
1/2 cup sugar
2 tablespoons all-purpose flour
3/4 cup whole or lowfat buttermilk (preferably whole)
1 Pie Crust, prebaked
Instructions
Preheat the oven to 375 degrees.
Pour 1-1/2 inches of water into a 3-quart stockpot with a strainer basket and bring to a boil over medium-high heat. Add the sweet potatoes, cover, and steam until fork-tender, about 20 minutes. Strain the sweet potatoes, place in a large bowl, and let cool to room temperature. Mash them to a smooth puree with a fork or a potato masher. You should have 1-1/4 cups puree; discard any excess. Add the butter, lemon juice, nutmeg, cinnamon, and salt, mixing thoroughly with a wooden spoon or rubber spatula after each addition.
In a small bowl, beat the egg yolks lightly with a whisk, about 30 seconds. Add the sugar and beat until they're a creamy lemon-yellow color, about 1-1/2 minutes. Add the egg mixture to the sweet potato mixture and stir with a wooden spoon or rubber spatula until the eggs are thoroughly incorporated and the filling is a consistent bright orange color. Add the flour a little at a time, stirring after each addition, until thoroughly incorporated. Add the buttermilk and stir to incorporate.
Wash the whisk in a stream of hot water to wash away any butter residue, then rinse in cold water to cool it down and dry with a paper towel. In a separate bowl, whisk the egg whites to soft peaks, about 1-1/2 minutes. With a wooden spoon or rubber spatula, gently fold the egg whites into the sweet potato-buttermilk mixture until thoroughly combined. Pour the mixture into the prepared pie crust and bake on the middle rack until the center is firm and set, 35 to 40 minutes.
Remove the pie from the oven and cool completely on a rack. Serve at room temperature (or cover with plastic wrap, chill in the refrigerator, and serve cold), with a dollop of whipped cream and a mint leaf on top.
Nutrition Information:
Yield:
6
Serving Size:
1
Amount Per Serving:
Calories:

463
Total Fat:

18g
Saturated Fat:

8g
Trans Fat:

0g
Unsaturated Fat:

9g
Cholesterol:

115mg
Sodium:

465mg
Carbohydrates:

67g
Fiber:

6g
Sugar:

30g
Protein:

10g
Categories
This post may contain affiliate links. Read my disclosure policy.