The best kind of baked sweet potato! This Pulled Pork Stuffed Sweet Potato recipe is an easy main or side dish featuring caramelized baked sweet potato stuffed with saucy, BBQ pulled pork.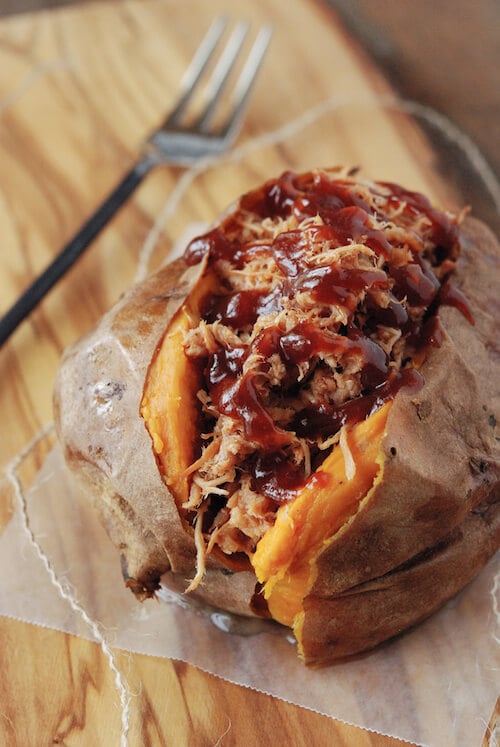 Growing up I would see people at Jason's Deli ordering those big baked potatoes stuffed with things like chili and would gag. First of all, I am pretty sure that chili came from a can. And if I know one thing, it's that chili from a can is only good on one thing…Nachos. The kind of nachos that are also topped with the bright neon cheese that comes from a giant can that is good for the next 30 years.
But to be honest, it wasn't even the chili that got me. I couldn't wrap my mind around stuffing any meat product — besides bacon — into a baked potato. That all changed when I went to a wedding in high school that had bbq chicken stuffed baked potatoes. Yes I agree, this was all kinds of wrong.
What can I say, it wasn't the classiest affair…but I sure did fall in love with baked potatoes stuffed with meat. I still feel shamed every time I do it. I can't explain my hard wired feelings against meat stuffed potatoes…but I can tell you that putting BBQ Pulled Pork into a baked Sweet Potato is possibly the best thing ever. Even if you have to eat it alone in your house with the curtains drawn so no one sees you…or maybe that's just me and my twisted shamed stuffed potato eating ways.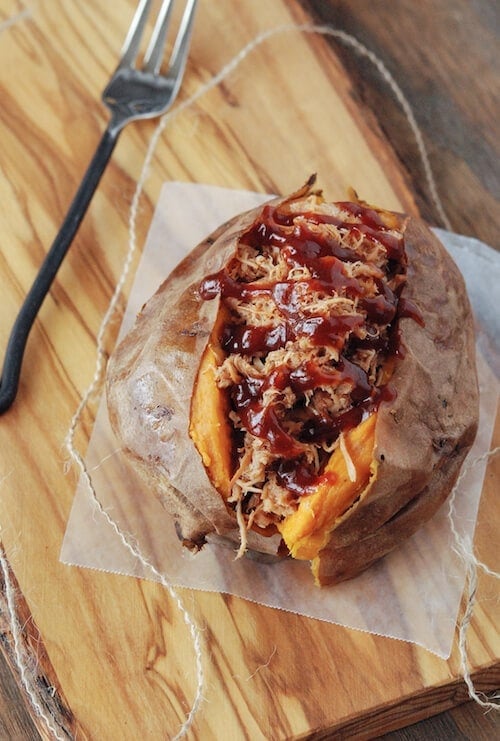 These are a great way to use up leftover pulled pork. Below I have the recipe for how to make pulled pork in your slow cooker, but that doesn't mean you have to make it my way. Sure, my ways the best…but I'm sure your way is good too. ;-)
Pulled Pork Stuffed Sweet Potato
Pulled Pork Stuffed Sweet Potatoes drizzled with BBQ sauce are easy to prep, and incredibly good. They're also a great use of leftover pulled pork!
Ingredients
2

lb

pork loin

¼

cup

chili powder

2

tablespoons

garlic salt

6

cups

coke a cola

,

or enough to cover pork

¾ to 1

cup

Sweet Baby Ray's Original BBQ Sauce

8

large sweet potatoes
Instructions
Season entire pork loin with garlic salt and chili powder. Pour a little coke in the bottom of the crock pot and add the pork butt. Add enough coke to just cover the pork loin. Cook on low for 8 hours.

While pork is cooking, bake your sweet potatoes: Preheat oven to 400°. Scrub potatoes under water and wrap in foil. Bake in oven for about 1 hour. Sweet Potatoes are fully cooked when you can gently squeeze them and they feel soft. Remove from oven and set aside.

Remove pork from crock pot and discard almost all of coke mixture…leaving just a tablespoon or two of juice behind to help moisten the pork.

Place the pork back into the crockpot and then use two large forks to shred the meat. Add BBQ sauce and combine (above it says 3/4 to 1 cup BBQ sauce, which just means add as much, or as little, as you like). Leave slow cooker on low, or warm, to keep things hot until you are ready to serve.

When ready to serve, cut a a slit in the sweet potato, lengthwise. Grab the potato from both ends and press together to open the sweet potato up. Fill each sweet potato with a generous helping of pulled pork and top with an extra drizzle of BBQ Sauce. Serve immediately!
Nutrition
Serving:
1
,
Calories:
578
kcal
,
Carbohydrates:
78
g
,
Protein:
37
g
,
Fat:
13
g
,
Saturated Fat:
4
g
,
Polyunsaturated Fat:
7
g
,
Cholesterol:
100
mg
,
Sodium:
1797
mg
,
Fiber:
8
g
,
Sugar:
47
g
This post may contain affiliate links. Read my disclosure policy.