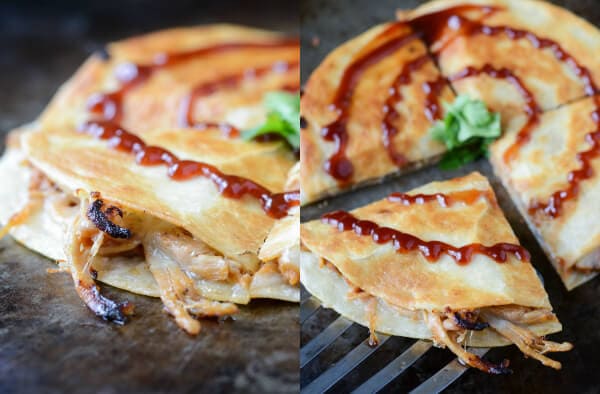 Jorge spent last week in Minnesota. I spent the entire week calling him and saying things like "Dohn'tcha knohw?" and "Have you had a sohda in Minnesohta?". He kept telling me that they don't actually talk like that…at least not in Minneapolis where he was. But to be fair, my knowledge of Minnesota comes from that movie with Renee Zellweger, New In Town. Obviously movies are fact.
I'm pretty sure if I go to Minnesota one day and they really don't talk like that, I will be highly disappointed. First of all, I have been practicing my accent for years. Second of all, people make fun of me for saying Y'all and 'Fixin all the dang time — I'm ready for some payback yankees.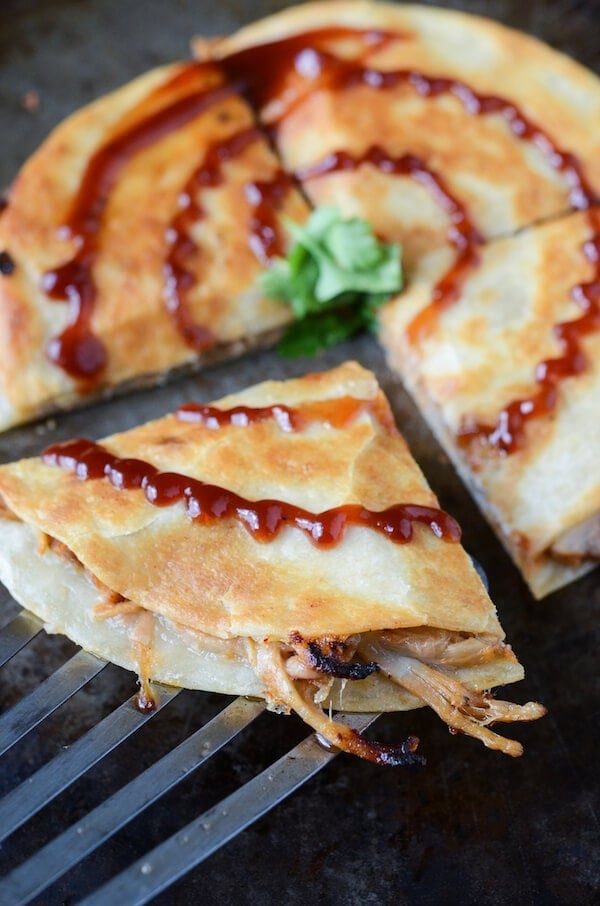 On a happier note, when Jorge is gone I get to play the "eat everything in the fridge so you don't have to go to the store" game. It's a lot of fun and leads to some creative thinking. I had a lot of leftover pulled pork sitting around in the fridge and knew that I could do something better with it.
Pulled pork makes me so happy and I never mind having leftovers. It is the best thing I have ever seen come out of a crock pot and I never get tired of it. Jorge and I will eat it as a topping to Mac & Cheese, stuffed in a sweet potato or any other way we can get it. There are just so many options for the leftovers!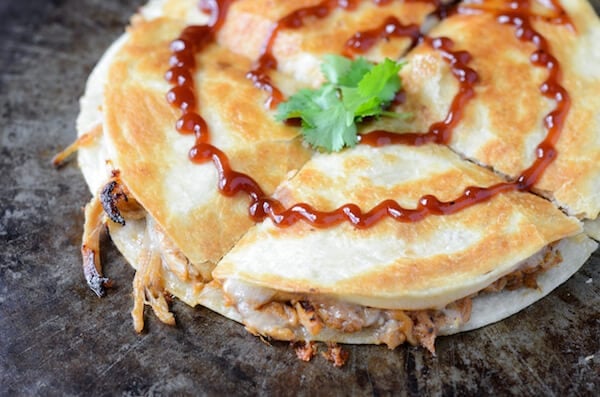 So I grabbed the leftover pulled pork and started to put together a quesadilla. Right before I threw it on the skillet, I realized it would be a lot better with some caramelized onion! Luckily I had a little yellow onion that got pushed to the back of the vegetable basket and a few minutes later they were browning away in that hot skillet.
This is possibly my new favorite way to use up leftover pulled pork, but then again — I say that every time I come up with another way to use it. It's just so versatile! If you don't have a favorite recipe for pulled pork, check out one of these using a pork butt or a pork loin.
Yield: 4 quesadillas
Pulled Pork and Caramelized Onion Quesadillas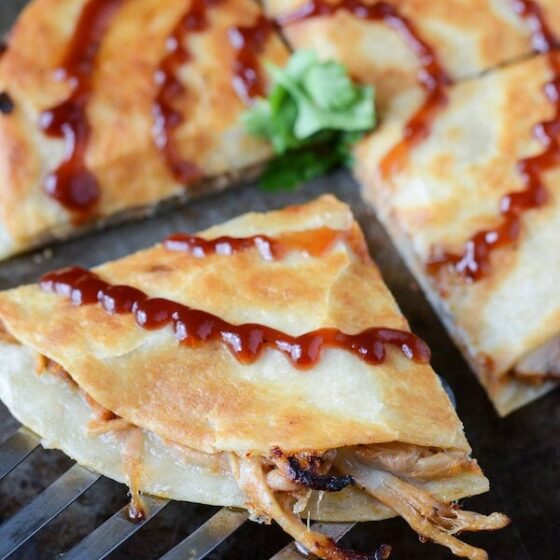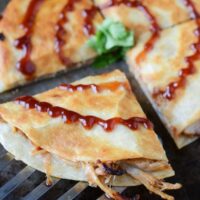 Pulled Pork and Caramelized Onion Quesadillas are the answer to your leftover pork dilemma. Grab some tortillas and shredded cheese, and you've got yourself another awesome dinner!
Ingredients
3 tablespoons butter, divided
1 teaspoon olive oil
1 large yellow onion, sliced
pinch of brown sugar
salt and pepper, to taste
8 small tortillas
2 cups (cooked) pulled pork
2 cups shredded pepperjack cheese
bbq sauce for garnish/dipping
Instructions
Melt 1 tablespoon butter in a large frying pan over medium-low heat.
Once melted, add the olive oil and onions, stirring occasionally, until they are deep golden brown and caramelized – about 30 minutes. Add a pinch of brown sugar and season well with salt and pepper. Remove from heat and set aside.
Lay 4 tortillas flat and divide cheese evenly on all four tortillas. Top with caramelized onions and pulled pork. Top with a second tortilla.
Heat a large skillet over medium heat. Add a 1/2 tablespoon of butter to the pan and let melt. Add quesadilla and cook for about 2-4 minutes, until golden brown on the bottom. Carefully but swiftly flip the quesadilla, cook for another 2-4 minutes on the other side, or until cheese is melted.
Repeat process until all 4 quesadillas have been cooked. Cut each quesadilla into 4 wedges and serve with a drizzle of bbq sauce.
Nutrition Information:
Yield:
4
Serving Size:
1
Amount Per Serving:
Calories:

763
Total Fat:

41g
Saturated Fat:

21g
Trans Fat:

0g
Unsaturated Fat:

17g
Cholesterol:

115mg
Sodium:

1091mg
Carbohydrates:

62g
Fiber:

4g
Sugar:

5g
Protein:

35g
Categories
This post may contain affiliate links. Read my disclosure policy.