These soft melted Baked Mustard, Ham & Cheese Sliders are drenched in sauce and served warm out of the oven. They are so easy to make and full of flavor. It's no wonder they are one of my most popular recipes!
The Best Ham Sandwiches Are Made With Mustard
Can I be honest? Ham sandwiches made with mayo grosses me out. No seriously, I just can't take it. I see people clean the knife full of mayo with their tongue and it makes me shudder.
I am good with mayo baked into recipes or chicken/tuna salad. But please give me Mustard any other time. Plus, I think ham and mustard go perfectly together.
I once had a mustard seed crusted pork tenderloin at a restaurant in San Francisco that was too die for. I really should try to recreate that recipe…but it was done so perfectly and I don't know if I could ever recreate it half as well.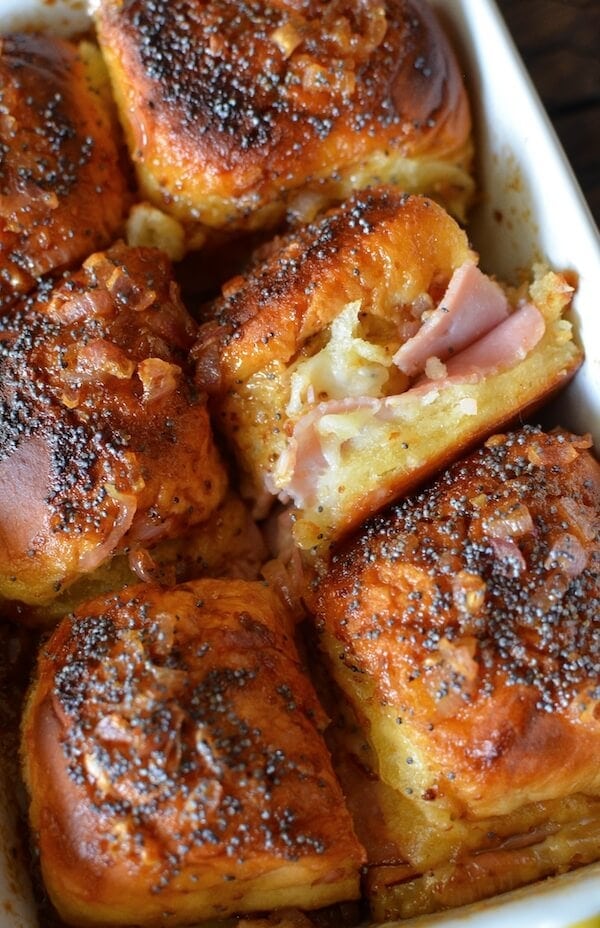 A Quick Recipe That Can Be Made With Leftover Ham
With Easter this weekend, I know must of us are going to have some Ham leftovers to use. Since Jorge is flying out for work on Sunday, we decided to celebrate Easter a little early this year.
I used the leftovers we had to make these delicious messy Mustard, Ham & Cheese Sliders. The sweet rolls, melted cheese, ham and sweet mustardy sauce are the perfect combination.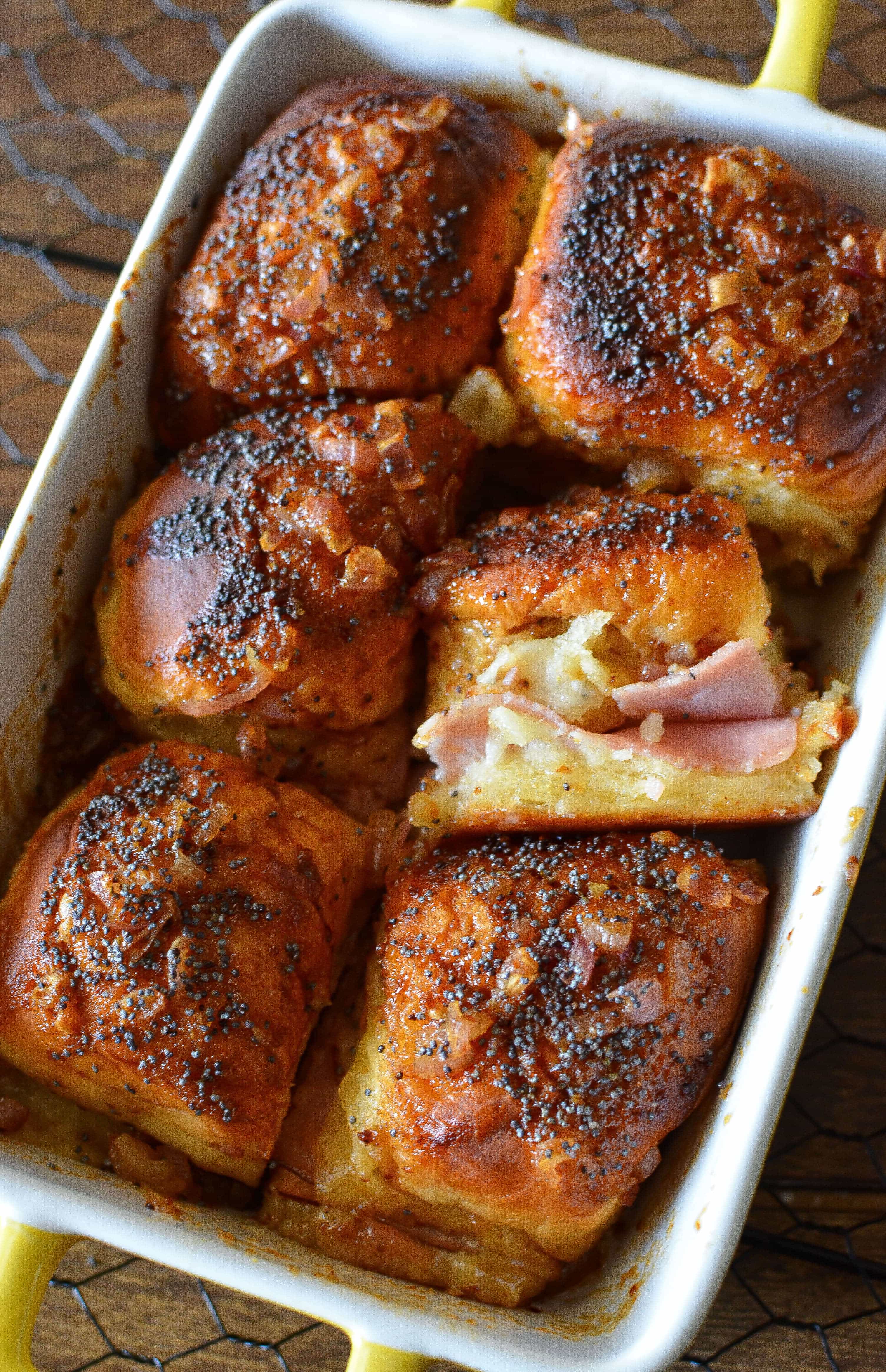 Are Ham And Cheese Sliders Easy To Make?
These sliders are incredibly easy to make and only take 20 minutes to make — start to finish! Plus, they are always a crowd pleaser. I have made them for many parties and they are always the first thing to go!
Quick Update: These babies are now one of the most requested recipe from friends and family. I take them to potlucks and parties all the time and there is never a single bite leftover…even when I triple the recipe!
Can I Make Baked Sliders Ahead Of Time?
I prepare them ahead (even drizzling on the sauce), then cover the baking dish in foil to transfer them to wherever we are going. Then I bake them at my final location. We even heated them up on a grill once while tailgating and they were perfect then too!
This post has been updated with new photos and video on February 13th, 2016. It's still the same great recipe, but here are the original photos!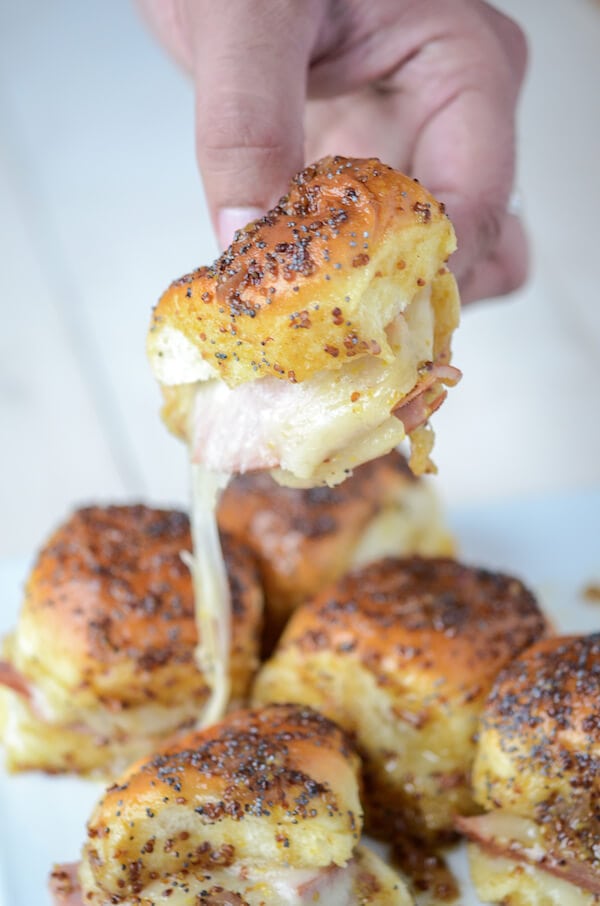 Yield: 12 Sliders
Baked Mustard, Ham and Cheese Sliders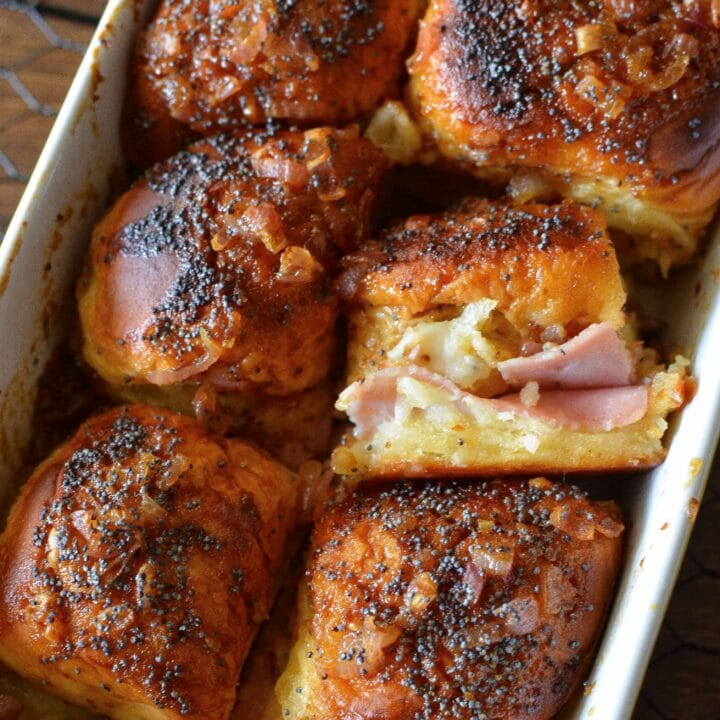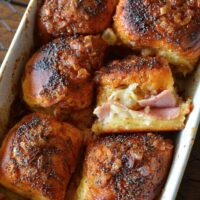 This soft melted Baked Mustard, Ham & Cheese Sliders recipe is drenched in sauce and served warm out of the oven. So easy to make and full of flavor!
Ingredients
12 Hawaiian original rolls
12 slices of ham
 8 slices of swiss cheese
1/2 cup (1 stick) unsalted butter
1 small shallot, minced
2 tablespoons dijon mustard
1 tablespoon packed brown sugar
1 teaspoon worcestershire sauce
1/2 teaspoon salt
poppy seeds, optional
Instructions
Preheat oven to 350°F. Grease a 9x13 baking dish.
Cut the entire pack of rolls in half, horizontally (keeping all top and bottom halves separately in tact). Watch the video at the top of the post to see what I mean.
Place the bottom of the rolls into the prepared baking dish.
Distribute the ham and cheese evenly over the rolls. I like to do two thin layers of cheese with the ham in the center. Put the tops on the rolls. Set aside.
In a small sauce pan, melt butter over medium heat. Add shallot and cook for 1 minute. Remove from heat and add mustard, brown sugar, Worcestershire sauce and salt. Stir to combine.
Pour sauce evenly over all of the sandwiches. Sprinkle tops with poppy seeds.
Cover with foil and bake for 12 minutes, or until cheese is melted. Uncover and cook for 3 additional minutes. Serve hot.
Nutrition Information:
Yield:
12
Serving Size:
1
Amount Per Serving:
Calories:

257
Total Fat:

12g
Saturated Fat:

5g
Trans Fat:

0g
Unsaturated Fat:

5g
Cholesterol:

62mg
Sodium:

1008mg
Carbohydrates:

16g
Fiber:

1g
Sugar:

2g
Protein:

23g
Categories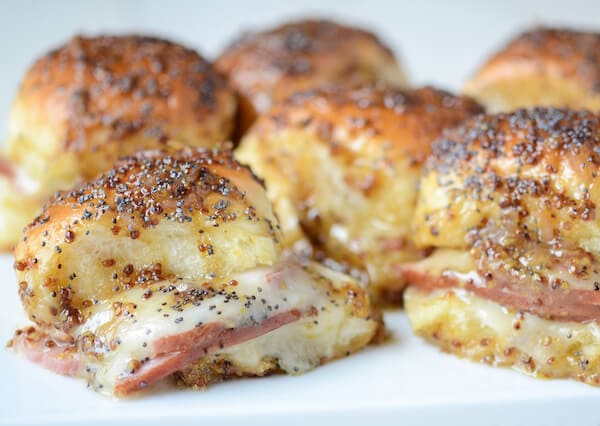 This post may contain affiliate links. Read my disclosure policy.