This easy Greek Salad recipe contains colorful tomatoes, crunchy peppers, and tangy red onions. Topped with creamy feta crumbles and homemade Greek salad dressing, this salad is beyond tasty!
If you love this Greek Salad, check out some of my other Greek recipes like Chicken Souvlaki, Chicken Gyros, Homemade Greek Seasoning and Tzatziki Sauce.
Why You'll Love This Greek Salad Recipe
This Greek salad is on constant rotation in my house. Here's why my family loves it so much!
Great texture. With crisp lettuce, juicy tomatoes, crunchy red onion, rich kalamata olives, and creamy feta cheese, each bite of this salad is truly fabulous.
Adaptable when it comes to meal planning. You can add chicken on top and make this a heartier salad, or keep it light as a perfect appetizer or side salad.
Simple yet flavorful ingredients. This salad has a simple presentation, but don't let that fool you. It features flavor-packed ingredients that will have everyone coming back for more.
Perfect for summer. The cool, crisp vegetables, soft feta, and light, tangy dressing make this salad ideal for summer lunches and dinners. You can also make it year-round to remind you of your favorite summer flavors!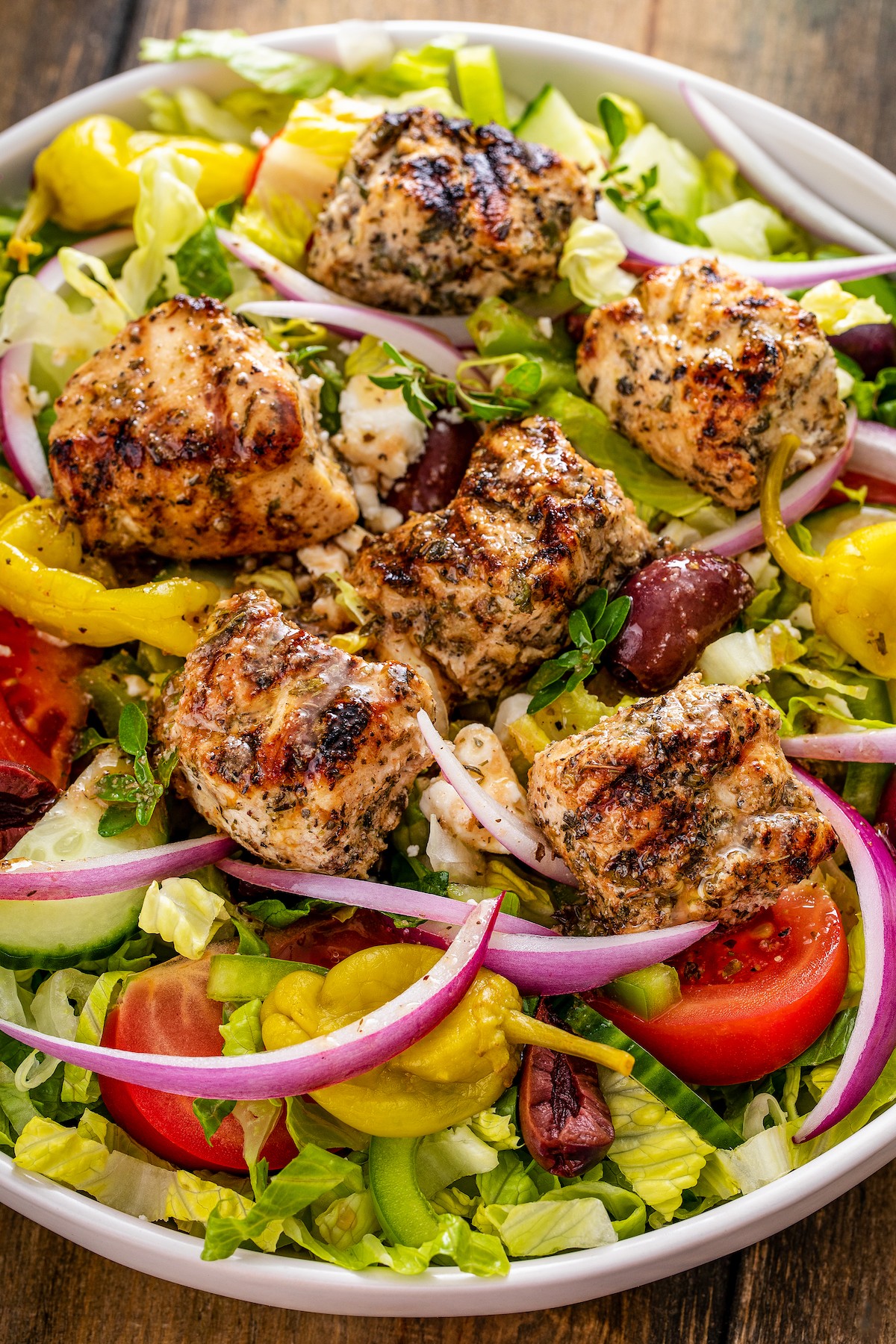 What Is a Greek Salad?
Greek salads are known for being loaded with fresh vegetables and feta cheese. They usually have a mix of tomatoes, onions, cucumbers, green peppers, olives, and feta cheese, all topped with Greek salad dressing. These salads are simple and straightforward, but they are so satisfying with all of their fresh flavors!
In Greece, a Greek salad is called Horiatiki and it's an iconic Mediterranean dish that's especially popular from early spring to early fall, when all of the produce in this recipe is at its peak! It's traditionally made without lettuce, and is seasoned with just olive oil, oregano, and salt.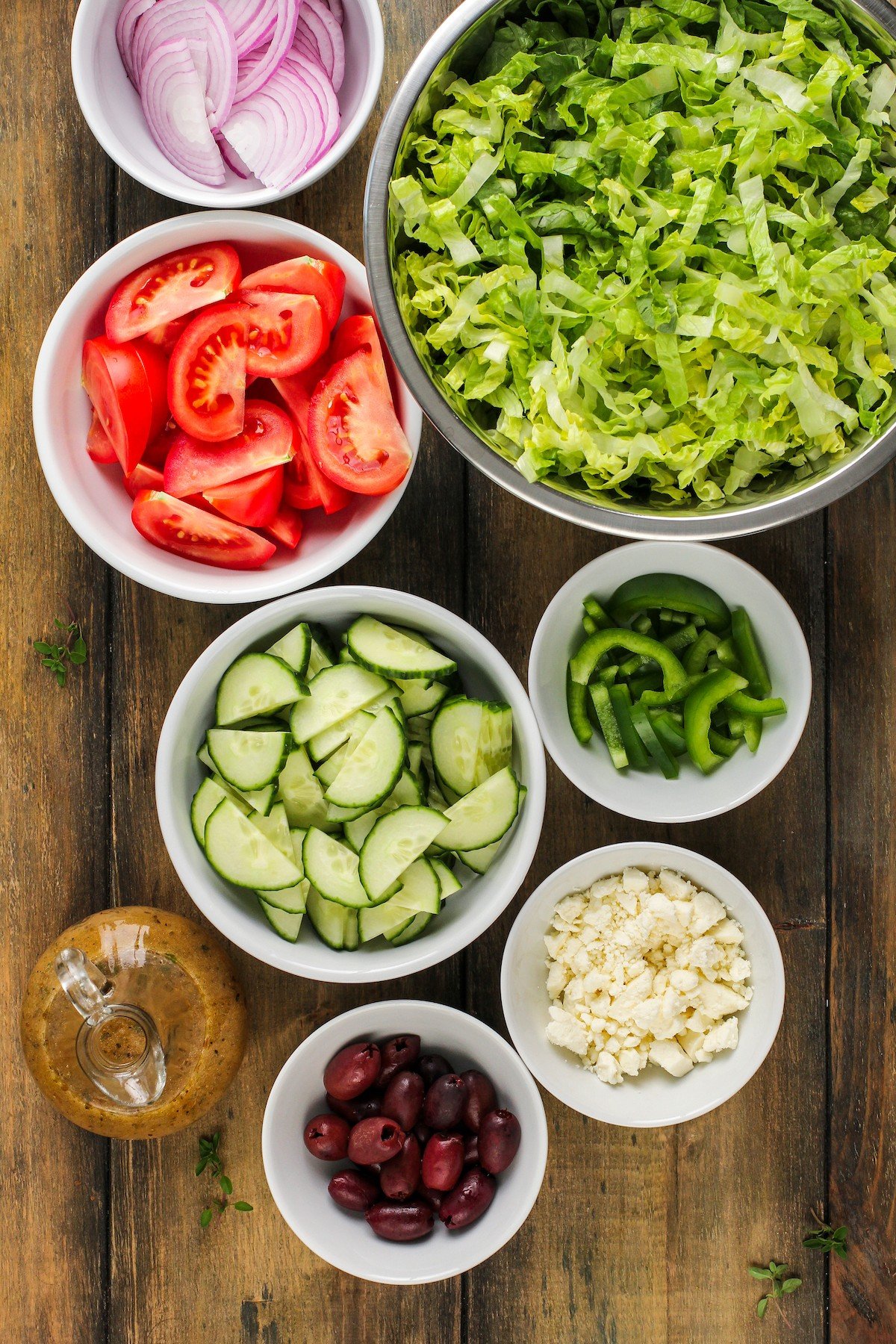 Recipe Ingredients
With 8 simple and healthy ingredients, you can make a fabulous Greek salad at home in no time. Here's what you will need (for exact quantities, check out the recipe card below):
Lettuce – I find that romaine lettuce is the perfect salad base. You could also use iceberg lettuce, if you prefer.
Tomatoes – Traditionally, large tomatoes are used in this salad and they are cut into wedges, but you can also use sliced or diced tomatoes if you like.
Cucumber – English or Persian cucumbers will work.
Red Onion – Thinly sliced so they won't overpower each bite.
Green Bell Pepper – Slices of green bell pepper are traditionally used, but you may substitute a sweeter pepper if that's your preference. Roasted red peppers are also great.
Kalamata Olives – These add such a pop of flavor! Black olives can be substituted in a pinch, though.
Feta Cheese – This cheese, made from sheep's milk, is a must.
Greek Salad Dressing – A dressing with a good-quality olive oil base is key for this salad. I like to make my own!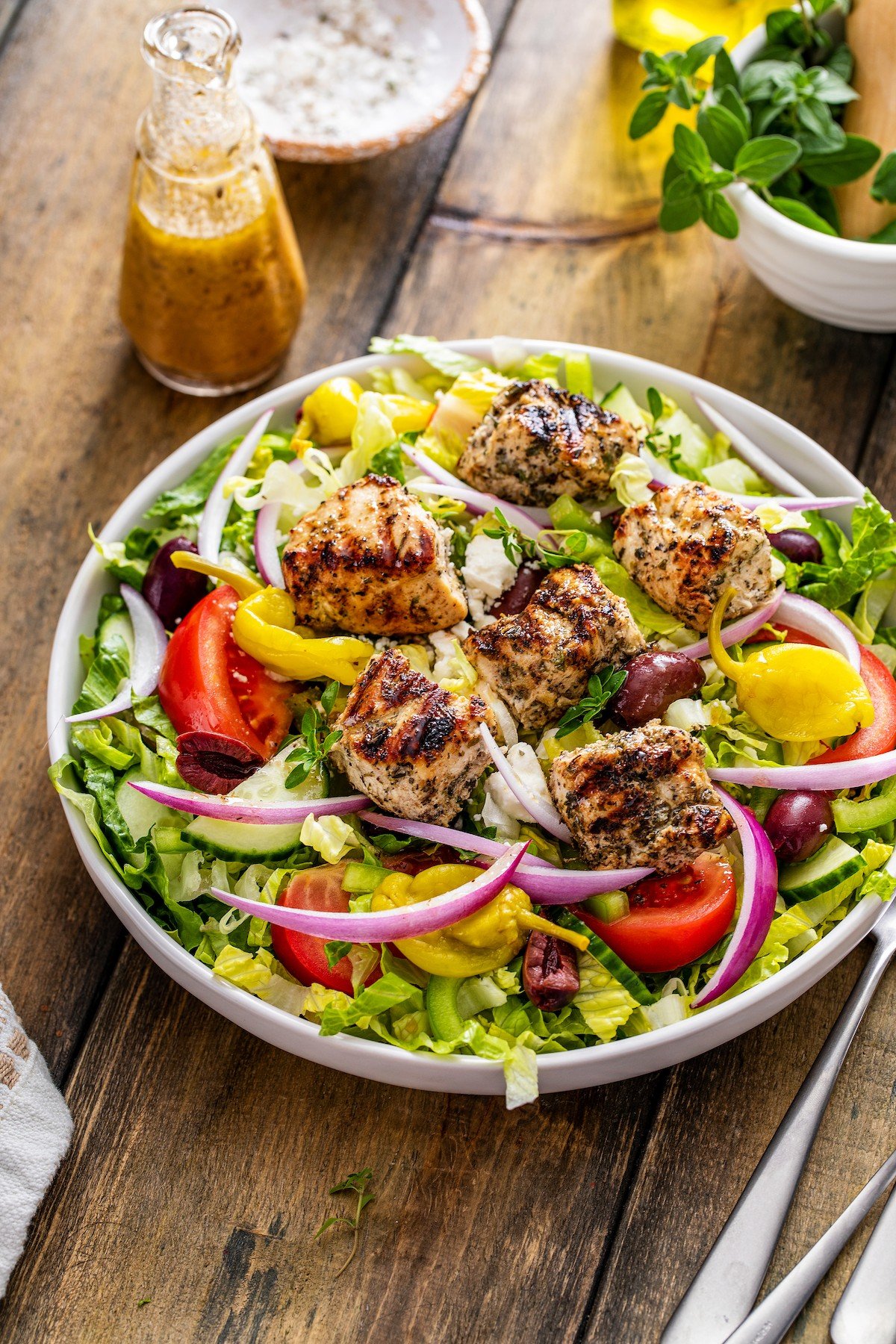 How to Make a Greek Salad
Making this recipe for Greek salad is super easy. The veggie prep is really quick, 5 minutes tops, and then you can add in any other desired optional ingredients. Here are the simple steps (you can find the full set of directions in the recipe card):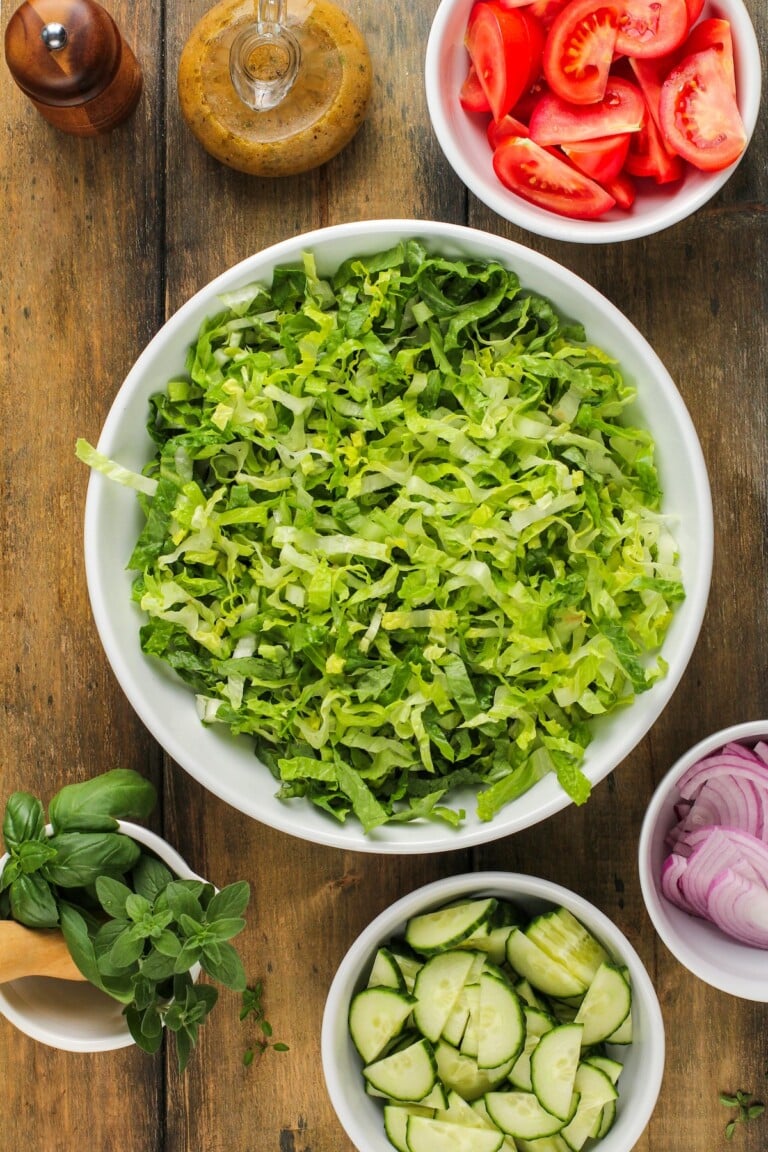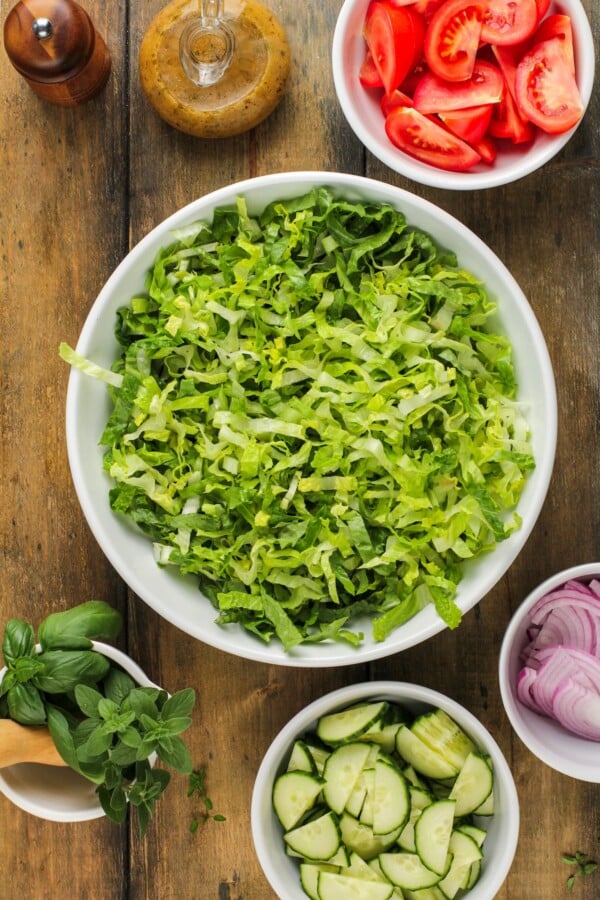 Prepare the lettuce. Place your chopped romaine lettuce into a large bowl.
Add in the other veggies. Top the romaine with diced, sliced, or quartered tomatoes, thinly-sliced cucumbers, thinly-sliced red onions, thinly-sliced bell pepper, kalamata olives (not pitted), crumbled feta cheese, and any of the optional ingredients you'd like.
Drizzle the salad dressing on top. When you are ready to serve this salad, pour the dressing over the salad and gently toss it to combine the dressing and salad mixture. Serve immediately after adding the dressing.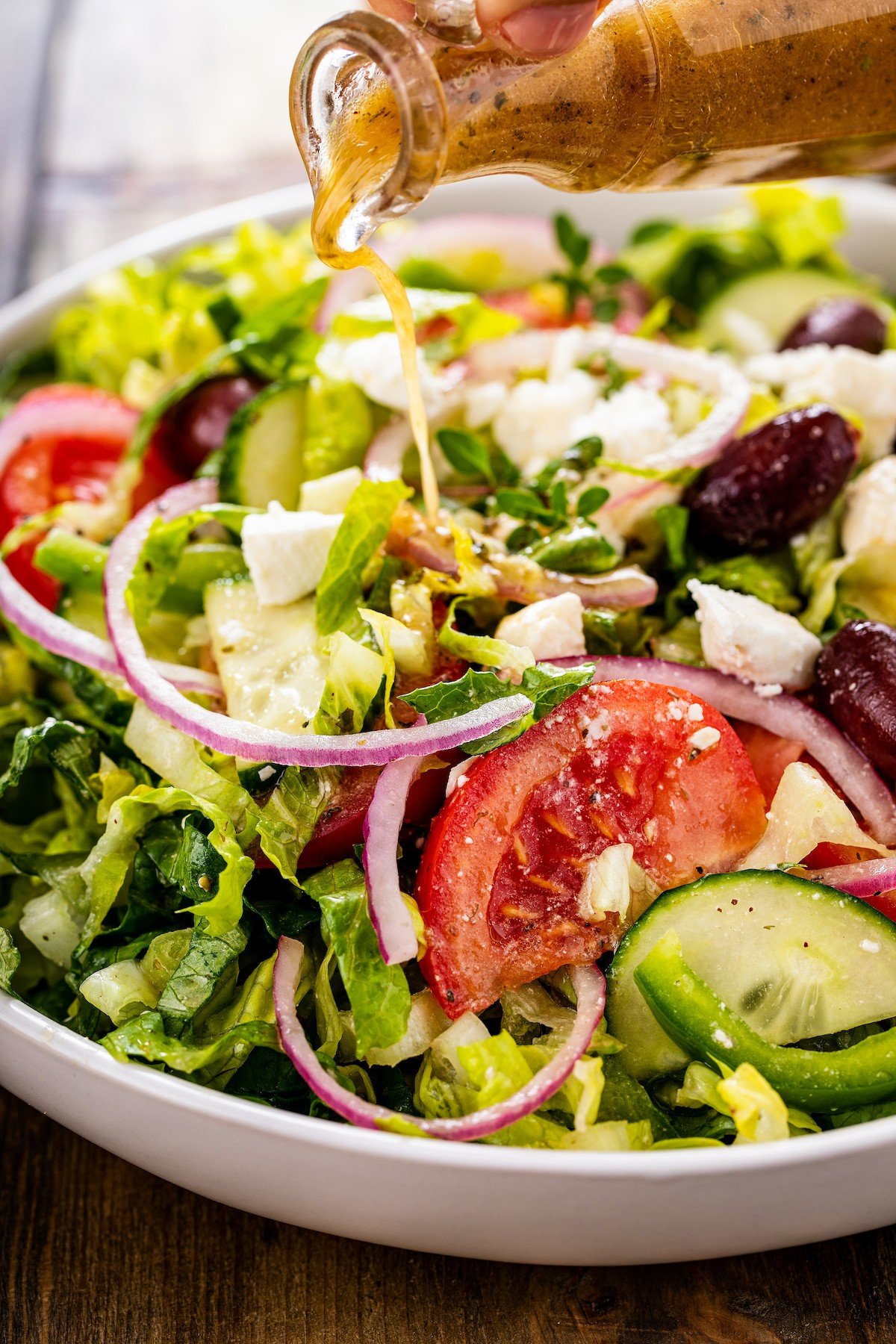 Tips for Success
It's as easy as that! Here are just a few more tips and tricks to keep in mind before you get started:
Pick fresh ingredients. Use the freshest ingredients you can get your hands on! Because this recipe is so simple, the fresh vegetables make all the difference.
Wait to add the salad dressing until you serve the salad. Don't add your salad dressing until it's time to serve your Greek salad, or it will become soggy.
Use a very high quality Greek salad dressing, or make your own. The homemade recipe listed above is super simple to make and is loaded with flavor!
Make a salad bar. If you are making this for a party, you can have a "salad bar" where all the ingredients are offered in different bowls. This allows your guests to pick which toppings they prefer and make their own salads unique!
What Goes With Greek Salad?
You can enjoy your salad as-is and be totally satisfied, but there are other ways to serve it if you're curious! Here are some of my go-to options:
In pita bread or with pita chips. Wrap your salad up in a soft pita or give it some crunch with pita chips.
Add pepperoncinis. These sweet, mild peppers can give your salad some extra kick – they're a great addition.
With chicken souvlaki. Add some protein to your salad by topping it with chicken souvlaki, using the recipe linked above!
With bread. Sometimes I'll just serve this salad with a thick slice of crusty bread, drizzled with olive oil.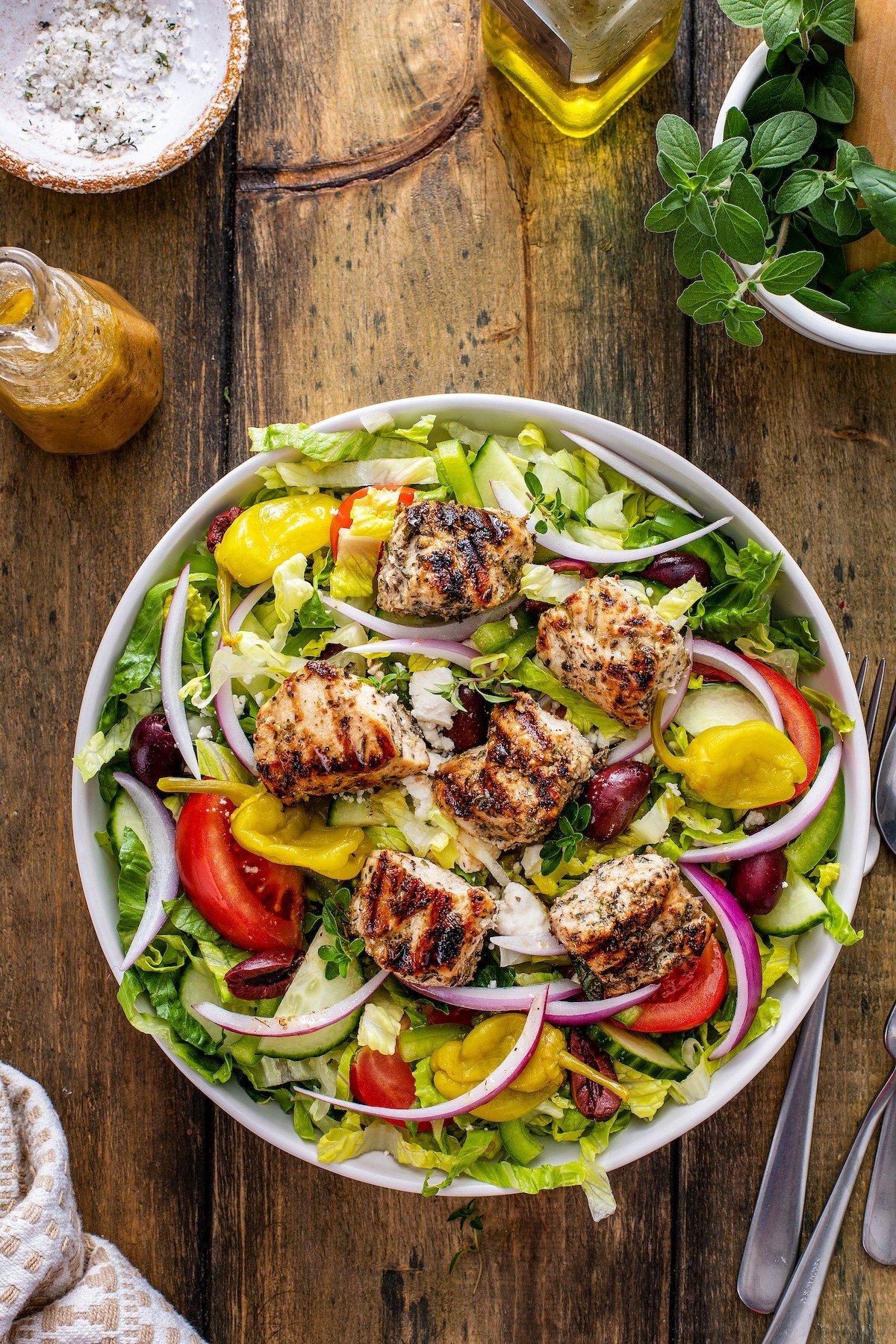 Can I Make This Salad Ahead?
Yes! You can make the salad the morning you plan on serving it. Just prepare it according to directions, but leave off the salad dressing so that the lettuce doesn't get soggy. Once mealtime has arrived, add the salad dressing and serve the salad by itself or along with another favorite dish.
How to Store Greek Salad
If you haven't added salad dressing to all of the salad, leftovers can be kept in the fridge in an airtight container for a couple of days. This salad does taste best fresh, though.
The Greek salad dressing can also be stored in the fridge in a tightly-sealed jar for up to a week.
More Easy Salad Ideas
I've got more easy salad recipes for you to try if you're in the mood! These are some of my favorites:
Greek Salad Recipe
This easy Greek salad is full of juicy tomatoes, crunchy bell peppers, and tangy red onions. It's also topped with creamy crumbled feta cheese and homemade Greek salad dressing!
Ingredients
6

cups

chopped romaine lettuce

2

tomatoes

,

diced, sliced, or quartered

1

cucumber

,

thinly sliced

½

small red onion

,

thinly sliced

½

green bell pepper

,

thinly sliced

½

cup

kalamata olives

½

cup

crumbled feta cheese
Instructions
Place romaine lettuce in a large bowl. Tops with tomatoes, cucumber, red onion, bell pepper, kalamata olives and feta cheese. Add optional salad additions as desired.

When ready to serve, pour dressing on top of the salad and gently toss to combine.

Serve immediately.
Notes
To store. If you haven't added salad dressing to all of the salad, leftovers can be kept in the fridge in an airtight container for a couple of days. This salad does taste best fresh, though.
Nutrition
Serving:
1
,
Calories:
309
kcal
,
Carbohydrates:
21
g
,
Protein:
18
g
,
Fat:
18
g
,
Saturated Fat:
5
g
,
Polyunsaturated Fat:
12
g
,
Cholesterol:
50
mg
,
Sodium:
780
mg
,
Fiber:
4
g
,
Sugar:
7
g
Categories:
This post may contain affiliate links. Read my disclosure policy.