This Homemade Greek Seasoning recipe is ready in minutes with simple pantry spices. It's the perfect way to add authentic Greek flavor to just about any dish!
A VERSATILE GREEK SEASONING RECIPE
Greek seasoning can be used on anything from chicken and fish to vegetables and beef! If you are looking to jazz up one of your regular, go-to recipes, try this seasoning with it. You'd be surprised how a little change like seasoning can bring life back into one of your regular meals!
It is also delicious mixed with a high quality olive oil and served with warm pita or a good crusty bread as a dip. This seasoning is also vegan, gluten free, paleo, keto and whole30 compliant, so it will work with almost any diet!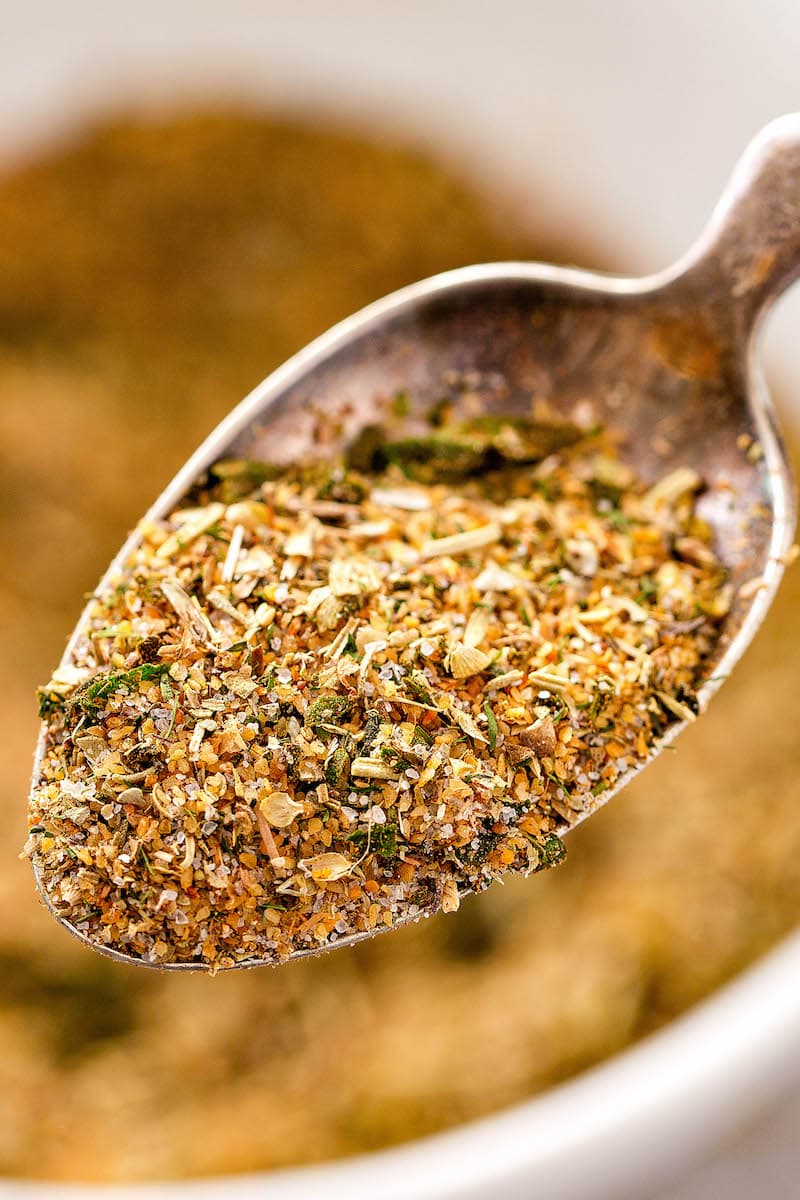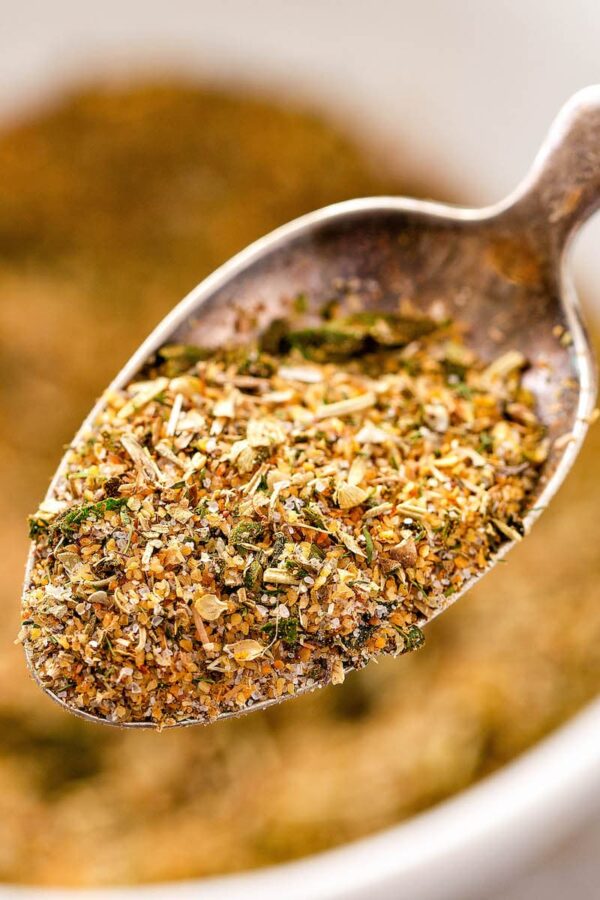 WHAT IS GREEK SEASONING?
Greek seasoning is a blend of spices and herbs common to the Mediterranean region. This includes marjoram, oregano, basil, dill and thyme. Many of these ingredients have actually been documented as being used by Ancient Greeks to add flavor to their food.
WHY MAKE GREEK SEASONING FROM SCRATCH?
Making seasoning blends on your own is always a better idea than purchasing them pre-made at the store. By doing this, you can truly customize the blend to your liking. Plus, this Greek seasoning is made out of a variety of common spices, so you probably already have all of these ingredients at home and will save money by making it versus buying it!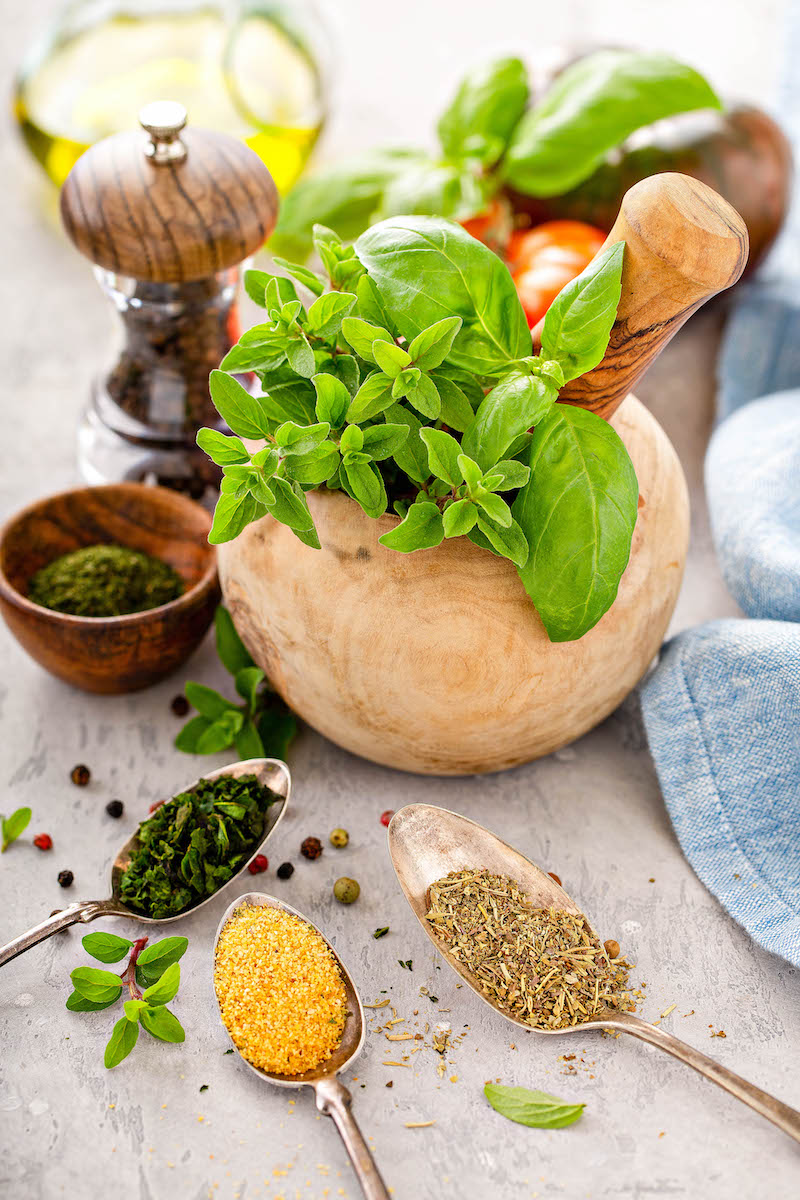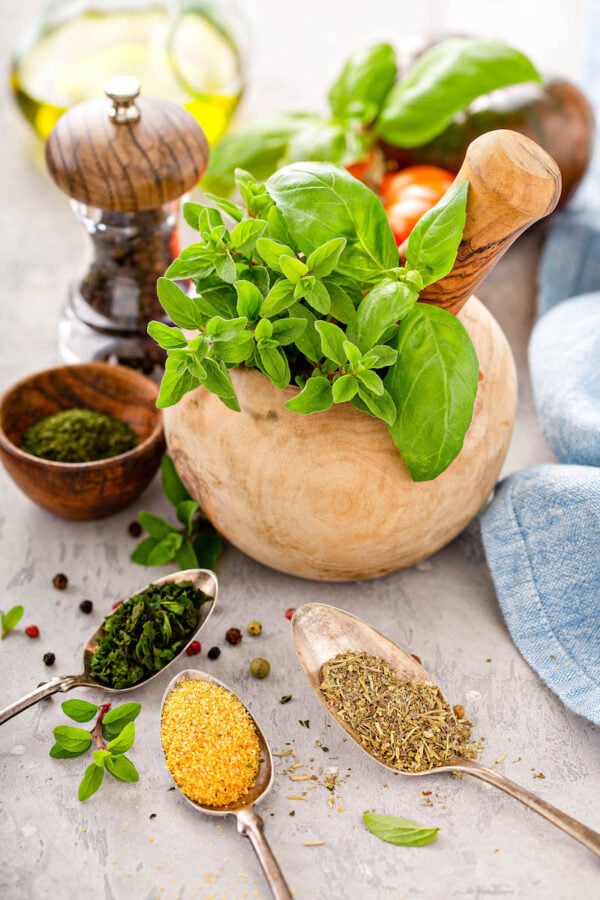 WHAT SPICES ARE IN GREEK SEASONING?
My Greek seasoning is made up of 12 simple spices that you probably already have on hand. It is a perfect mixture of common Greek flavors, savory dried herbs, and aromatic spices.
Here's what you will need to make it:
Salt
Garlic powder
Greek oregano
Dried basil
Dried onion
Black pepper
Dried parsley
Dried dill
Dried marjoram
Thyme
Cinnamon
Nutmeg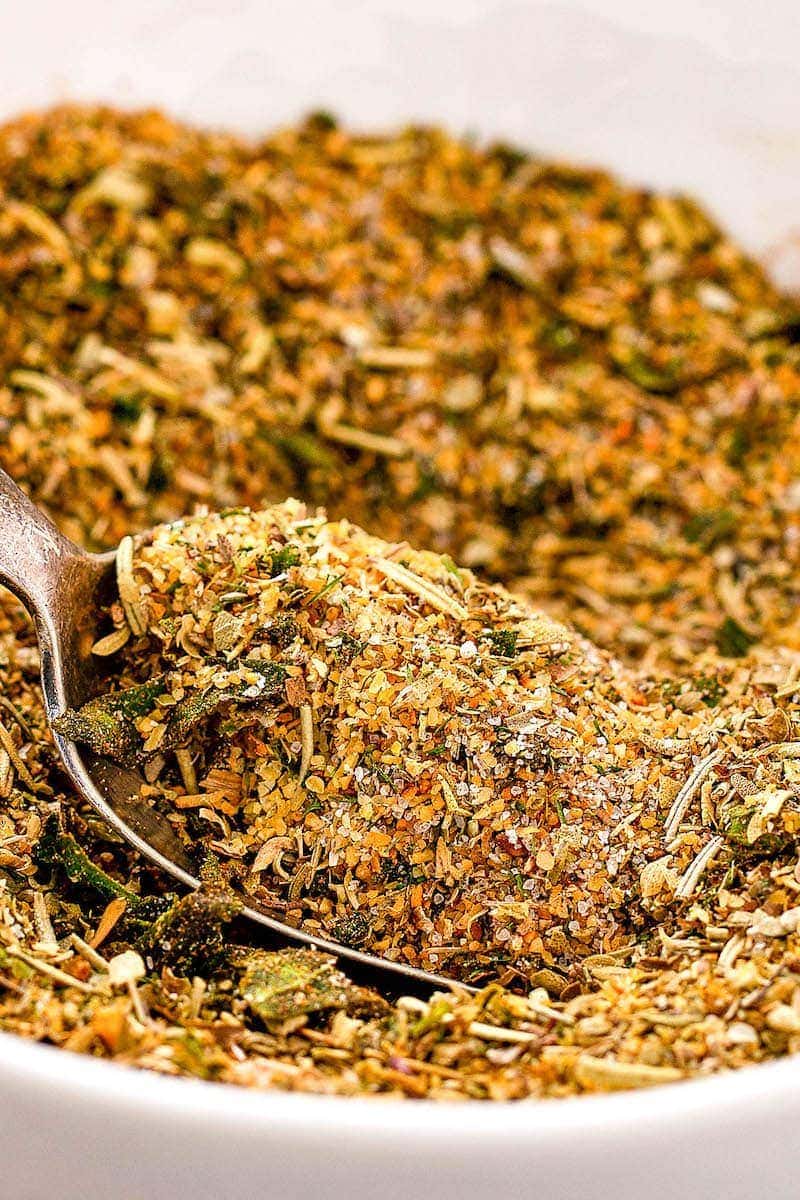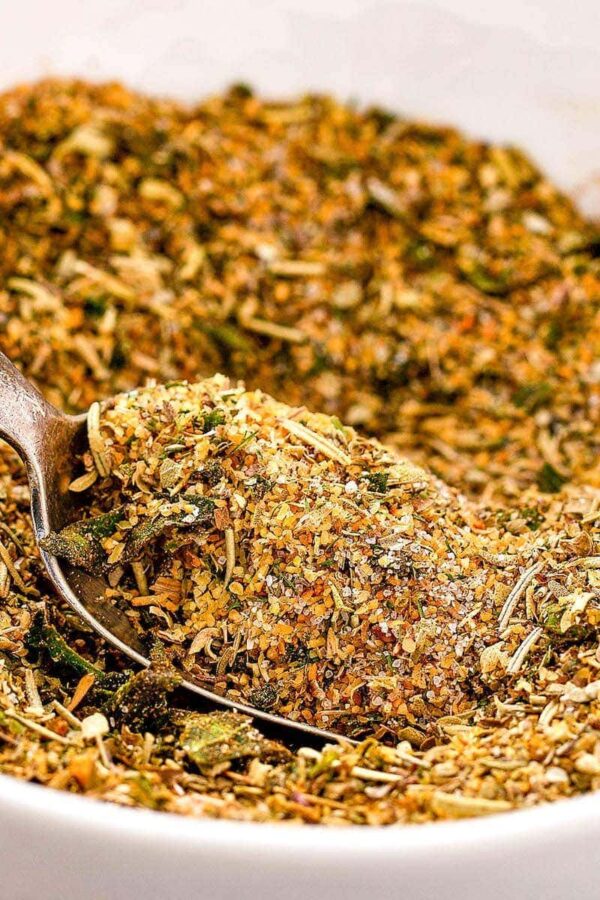 HOW TO MAKE GREEK SEASONING
You can make it as simply as combining all the above ingredients together in a bowl and storing it in an airtight container for up to one month. It's perfect and ready to go in 5 minutes.
However, if you prefer a smoother texture, you can use a food processor or spice grinder to blend all the ingredients together for 30-45 seconds. Blending all the ingredients together in a grinder will create a finer texture of the seasonings. This can help the seasoning stick to food better, but is not necessary.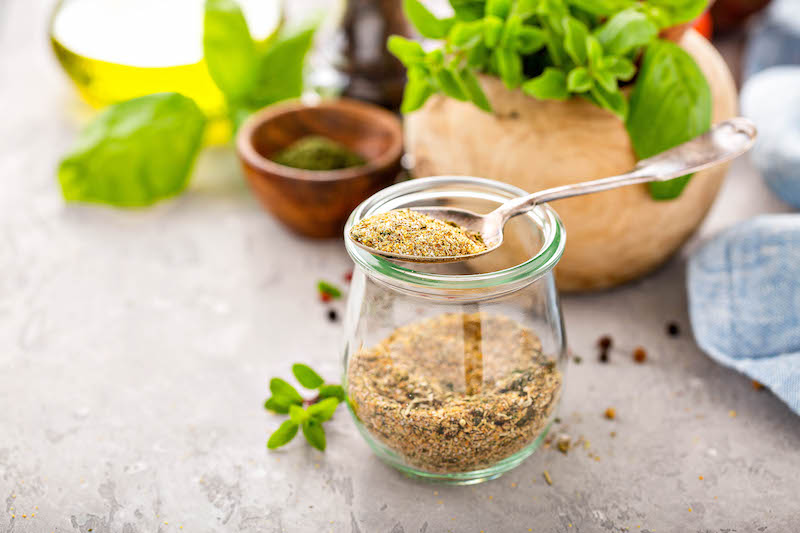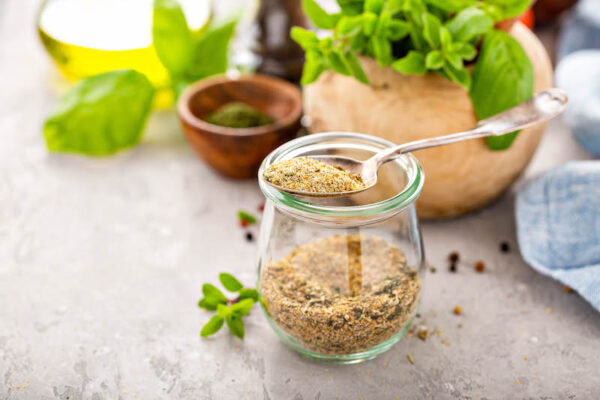 HOW TO USE GREEK SEASONING
This Greek seasoning blend is so versatile. It can be used on vegetables, chicken, fish, grains, or even in dips! It is definitely something you'll want to keep around to try it on different things.
A good rule of thumb is to use 2 tablespoons of seasoning per pound of meat, and 1 tablespoon per cup of uncooked grains or vegetables.
If you choose to add it to yogurt to make a vegetable dip, start with 1 teaspoon per cup of dip, and taste to see if more is needed. Same rule applies if using it with olive oil to create a dip.
HOW TO STORE
Store your homemade greek seasoning in an airtight container in a cool, dark, dry place for up to one month. That's if you don't use it all up before then!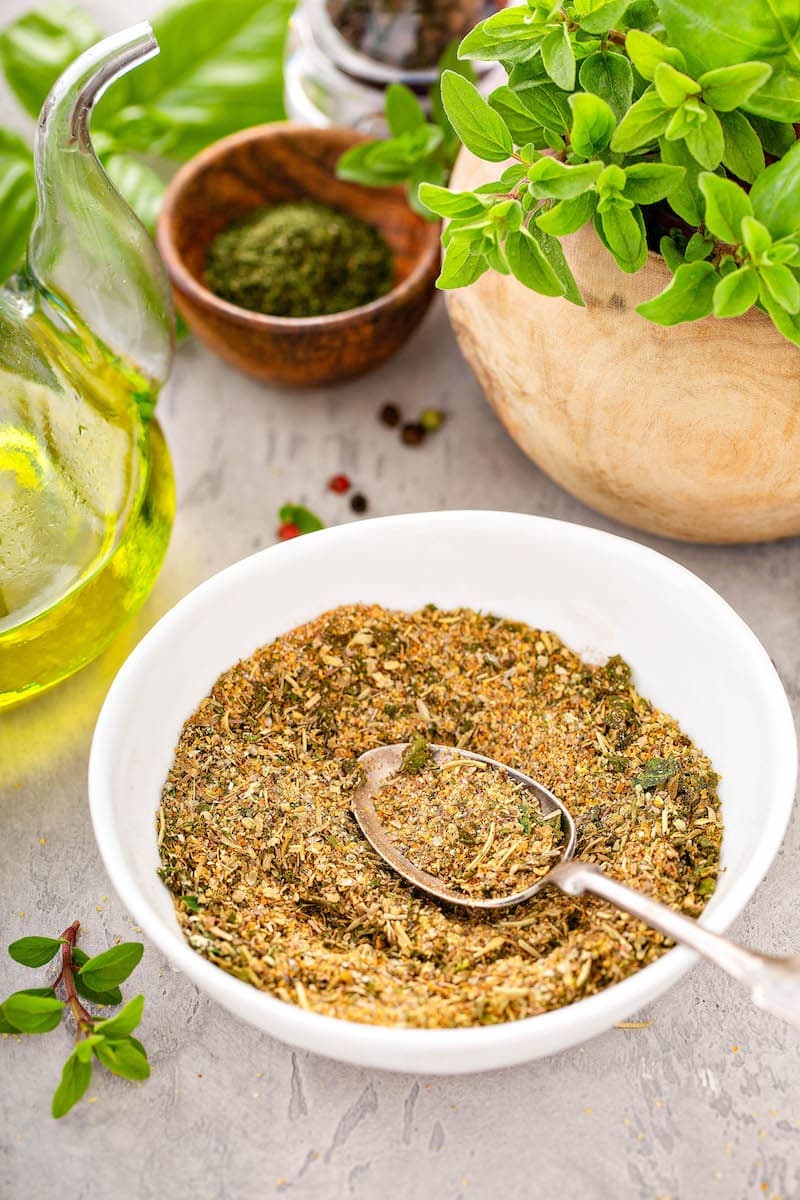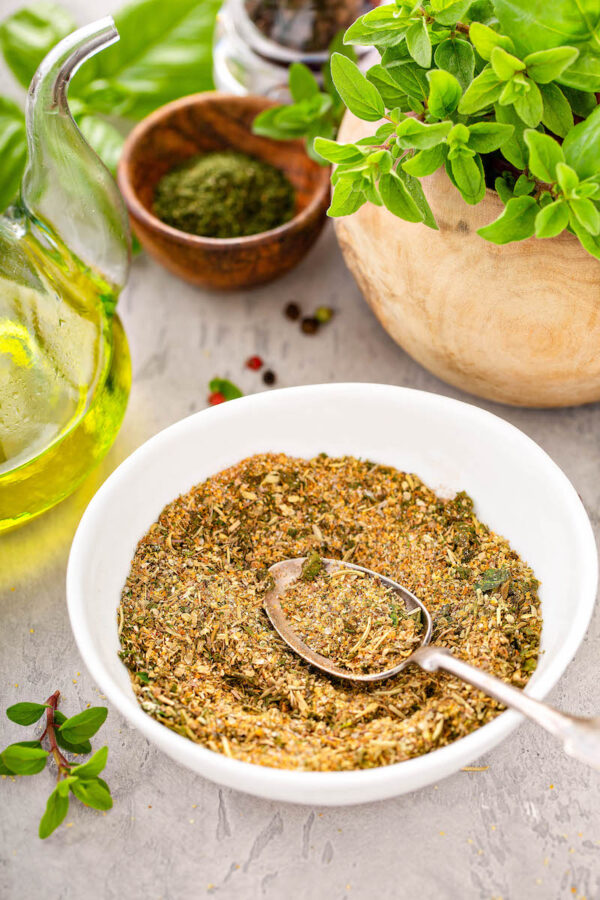 This is a simple and easy recipe to make your own Greek Seasoning at home. Save your money and use the ingredients you already have in your pantry instead of going out and buying another jar of seasoning!
Please leave a rating or comment below letting me now how it turns out!
Yield: 20
Greek Seasoning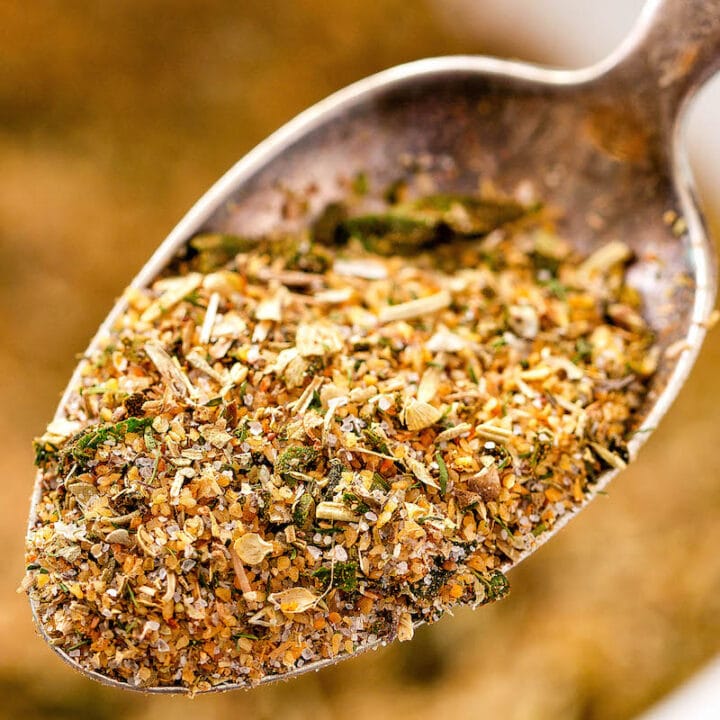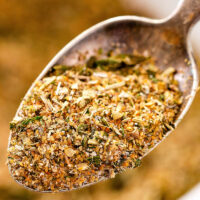 This homemade Greek seasoning recipe is ready in minutes with simple pantry spices. It's the perfect way to add authentic Greek flavor to just about any dish!
Ingredients
2 teaspoons salt
2 teaspoons garlic powder
2 teaspoons Greek oregano
2 teaspoons dried basil
1 teaspoon dried onion
1 teaspoon ground black pepper
1 teaspoon dried parsley
1 teaspoon dried dill weed
1 teaspoon dried marjoram
1/2 teaspoon ground thyme
1/4 teaspoon ground cinnamon
1/4 teaspoon ground nutmeg
Instructions
Combine all ingredients together in a bowl and store in an airtight container for up to one month.
For a smoother texture, you can purée all ingredients for 30-45 seconds in a food processor or use a spice grinder.
Use on meats, vegetables, or combine with olive oil for a great dip for bread or pita chips. It can also be used to make a great Greek salad dressing.
Nutrition Information:
Yield:
20
Serving Size:
1
Amount Per Serving:
Calories:

3
Total Fat:

0g
Saturated Fat:

0g
Trans Fat:

0g
Unsaturated Fat:

0g
Cholesterol:

0mg
Sodium:

212mg
Carbohydrates:

1g
Fiber:

0g
Sugar:

0g
Protein:

0g
Categories
This post may contain affiliate links. Read my disclosure policy.