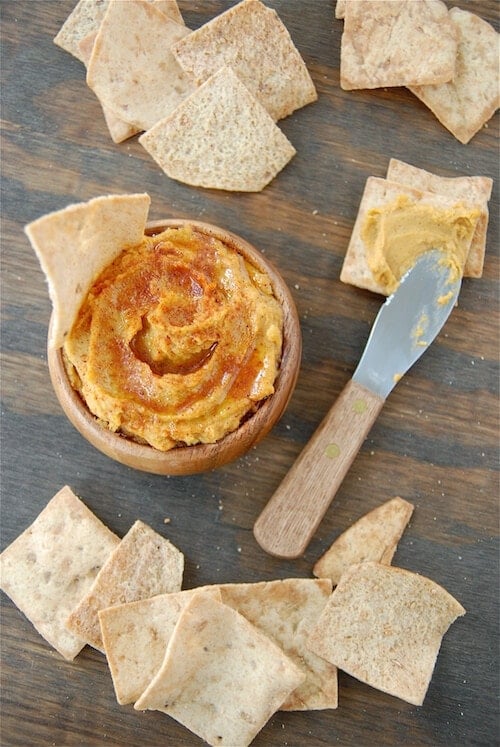 Hummus is quite possibly one of my favorite dips. Well besides eating straight up sour cream on pretty much anything…even a spoon. I'm not the only one who likes that right?! I still remember the first time I had hummus and I remember thinking, thank god this tastes nothing like chickpeas! It's not that I don't like chickpeas…it's just they are so dry normally…and they don't have much flavor. It's kind of like eating weird little balls of flavorless dough. Ok, so maybe it is that I don't like chickpeas. But if you add in enough garlic and olive oil, turns out chickpeas aren't half bad! 😉
When I saw this recipe for Spicy Sweet Potato Hummus, I immediately tossed a couple of sweet potatoes in the oven. I knew I was going to love it considering my love of sweet potatoes…and I also knew that I could make a big batch and freeze the leftovers for later in the month. Plus, I really needed to use up those last few sweet potatoes I had bought when they were on sale after Christmas for .40 cents a pound! I have been making Sweet Potato Fries and my favorite Sweet Potato Coconut Curry Soup like they were both going out of style, but I was excited to try something new with my last two precious sweet potatoes.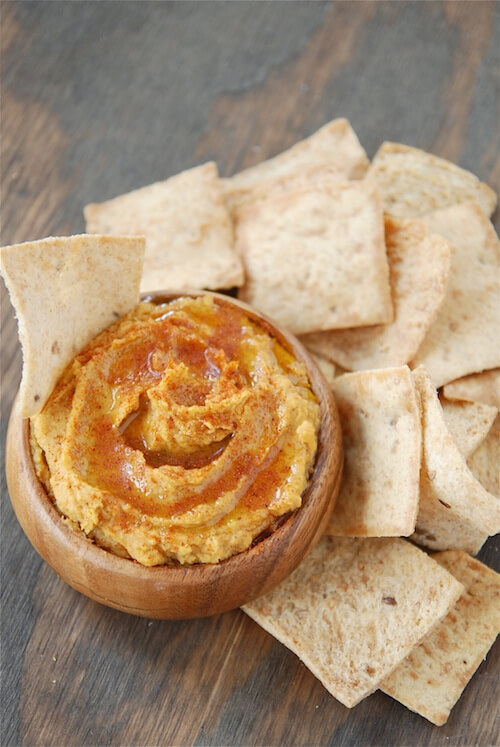 And this hummus did not disappoint! In fact, I think it's one of my favorite hummus flavors yet! It's sweet and spicy and goes perfectly with my favorite Stacy's Baked Multigrain Pita Chips*. I am so glad I made a large batch to freeze and I am already dreaming up ways to use it! I think it would be awesome in a turkey wrap and can't wait to try it out for lunch later this week.
I make hummus a lot, so I already had all the ingredients. But if you don't, you may have a hard time finding Tahini. I find it in the "ethnic" aisle at my grocery store or you can also pick up a jar online for the same price I pay at the store. It may seem expensive, but a little goes a long way! With a 16 oz jar, you could make 8 batches (24 cups) of this hummus! So go ahead, and get your hummus on girl! 🙂
Yield: 3 cups
Spicy Sweet Potato Hummus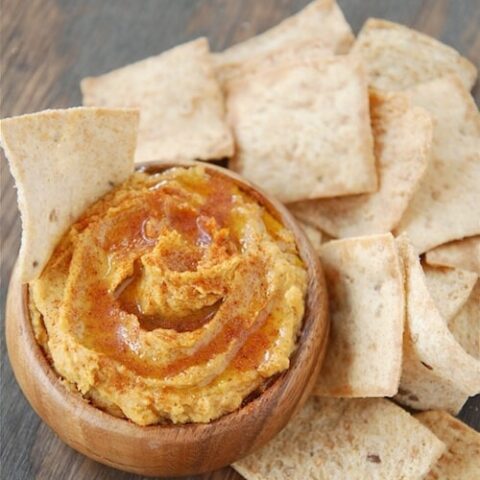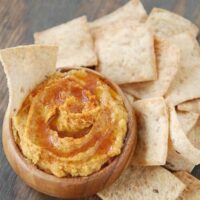 Spicy Sweet Potato Hummus is a delicious snack dip that is so simple to throw together. Get out your crackers, pita chips, pretzels, and whatever else you like to dip, and dig into this homemade hummus recipe!
Ingredients
2 large sweet potatoes (or 2 cups mashed sweet potato)
3 garlic cloves
1 15 oz can chickpeas, rinsed and drained
1/4 cup tahini
1 lemon, juiced
2 tablespoons olive oil
2 tablespoons brown sugar
1 tablespoon cumin
1 teaspoon cinnamon
1/4 to 1/2 teaspoon cayenne pepper, to taste
1/2 teaspoon salt
Instructions
Preheat oven to 400 degrees. Wrap each sweet potato with foil. Bake for 45 minutes to an hour, or until tender. Peel sweet potatoes, set aside.
In a large food processor (or blender), puree garlic cloves and chickpeas. Add tahini, lemon juice, olive oil, brown sugar, and spices. Puree until smooth. Then add sweet potatoes and puree until completely combined.
Serve immediately with pita chips or store in an airtight container in the fridge until ready to serve. This makes a LARGE amount of hummus and is perfect to freeze! To freeze, place in a freezer safe ziplock bag and ensure there is no air in the baggie and freeze for up to 3 months.
Nutrition Information:
Yield:
12
Serving Size:
1
Amount Per Serving:
Calories:

137
Total Fat:

6g
Saturated Fat:

1g
Trans Fat:

0g
Unsaturated Fat:

5g
Cholesterol:

0mg
Sodium:

189mg
Carbohydrates:

18g
Fiber:

4g
Sugar:

5g
Protein:

4g
Want to Save This Recipe?
If you liked this, you might also like:
Cilantro Lime White Bean Hummus by How Sweet Eats
Spinach and Feta Hummus by Two Peas and Their Pod
Spiced Eggplant Hummus by Veggie num.num
Spinach Artichoke Hummus by Gimme Some Oven
Roasted Red Pepper Hummus by Good Life Eats
Roasted Garlic Hummus by TNCB
*This is not a sponsored post in any way. I just love that particular brand of pita chips the most!
This post may contain affiliate links. Read my disclosure policy.