Super crunchy and golden, these 3-ingredient homemade corn tortilla chips are a bite of heaven when dipped into Mexican salsas. On your table in 20 minutes, you're never getting store-bought again!
Easy Tortilla Chips
Sprinkled with a bit of salt, these easy corn tortilla chips are ready to be dipped into your favorite Mexican dips and salsas. They're crispy, crackly, and loaded with all the goodness of a corn tortilla.
Made with only 3-ingredients, these snack-sized triangles will be on your table in less than 30 minutes. All you have to do is keep an eye on the pot. The key is removing them from the heat when they're lightly golden so they don't burn. After all, no one likes a sad-looking, burnt tortilla chip.
Don't think about it too much, though. If there are corn tortillas in your fridge right now, it's a sign. You need to make these. Besides, once you munch through these corn tortilla chips with brightly-colored salsa, you're never going back to store-bought ones again.
Looking to make them in the air fryer instead? Here ya go: Air Fryer Tortilla Chips!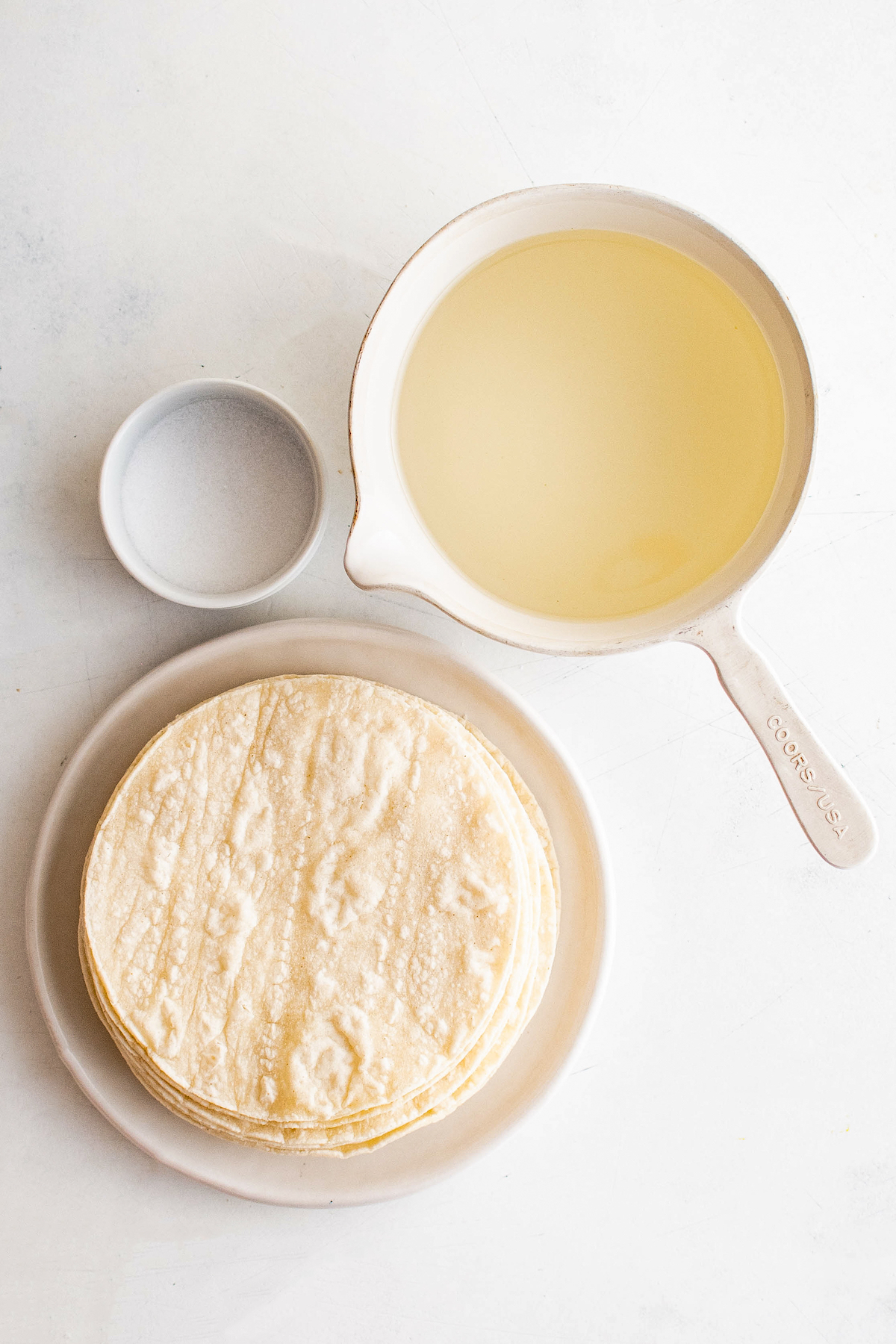 Recipe Ingredients
What can go wrong with only 3 ingredients? Check out the recipe card at the bottom of the post for full ingredient amounts.
Vegetable oil – Corn and canola oil are great substitutes. The oil needs to have a high smoke point or it'll burn during frying.
Corn tortillas – Yellow, white, or blue corn tortillas are okay to use. Even better if you have some Homemade Corn Tortillas!
Salt
What Tortillas Are Best For Tortilla Chips?
While fried flour tortillas are also crispy, they're definitely not the same as corn tortilla chips because they're more delicate and slightly buttery. They're only tortilla chips if they're made from corn tortillas. It doesn't matter what type of corn they are (white, yellow, or blue), if they're made from corn you can use them to make tortilla chips.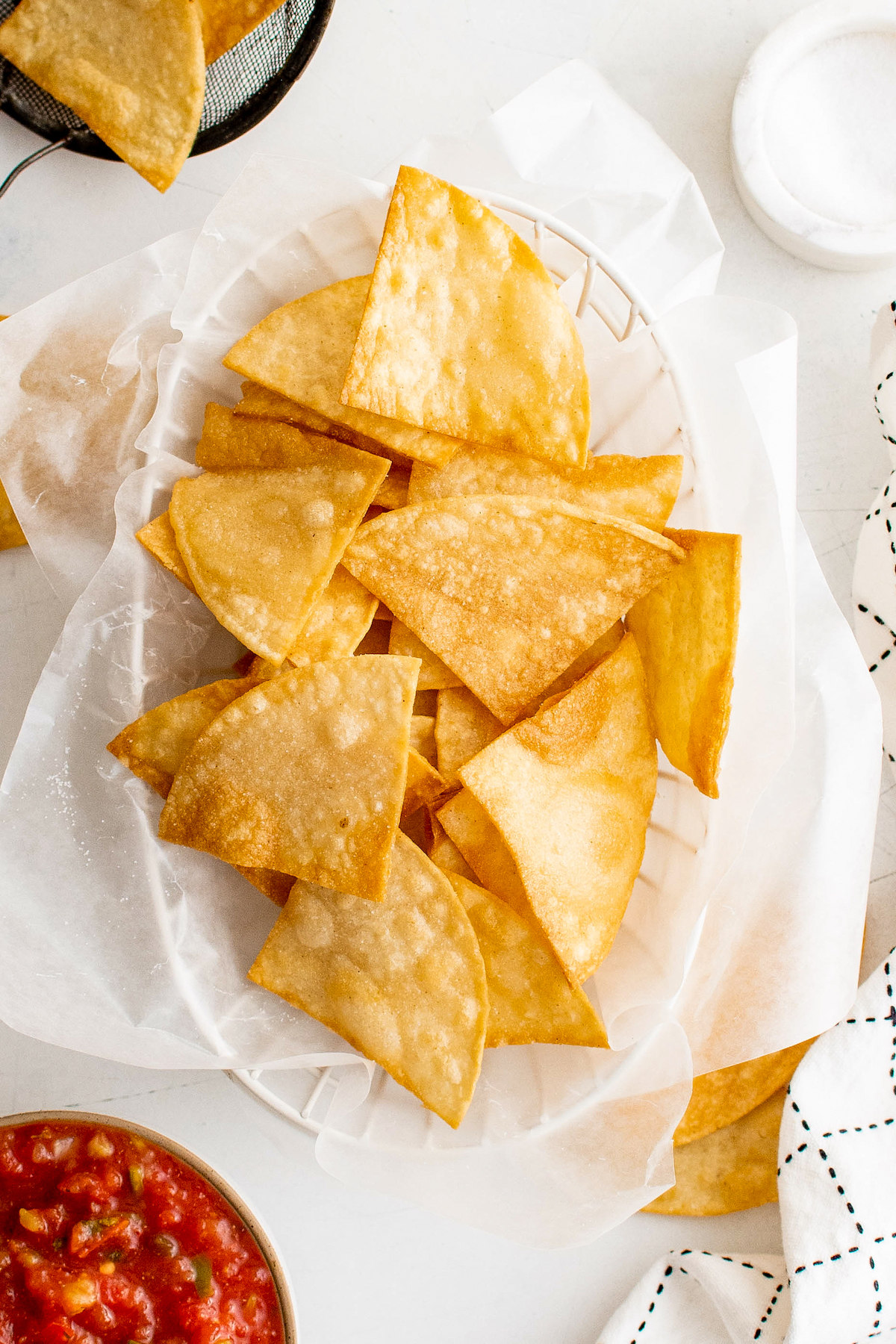 How to Make Homemade Tortilla Chips
Ready in only 5 steps, you'll wonder why you ever bought tortilla chips from the store.
Prepare the oil. Heat 2″ of oil in a large pot at 370°F. Use a kitchen thermometer to get the temperature just right. Line a baking tray with paper towels. Set it aside.
Slice them. Stack the tortillas on top of one another. Use a sharp knife to slice them into four equal-sized quarters.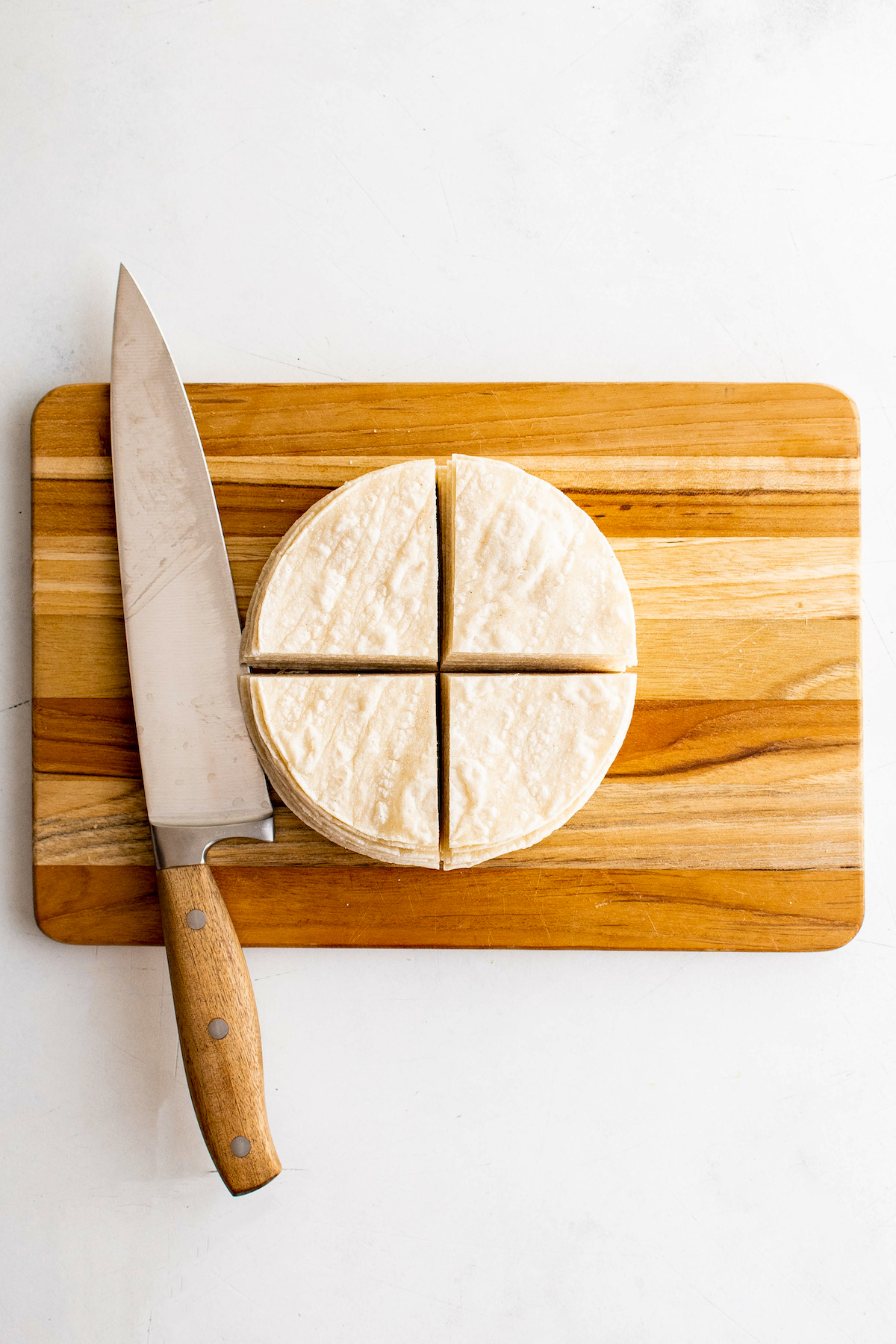 Fry them. Add 8-10 tortilla triangles into the oil at a time. Fry them for 30 seconds, flip them over, and continue to fry until they're a light golden brown. Don't leave them in the pot until darkened because they'll continue to cook for a couple minutes after you remove them from the oil.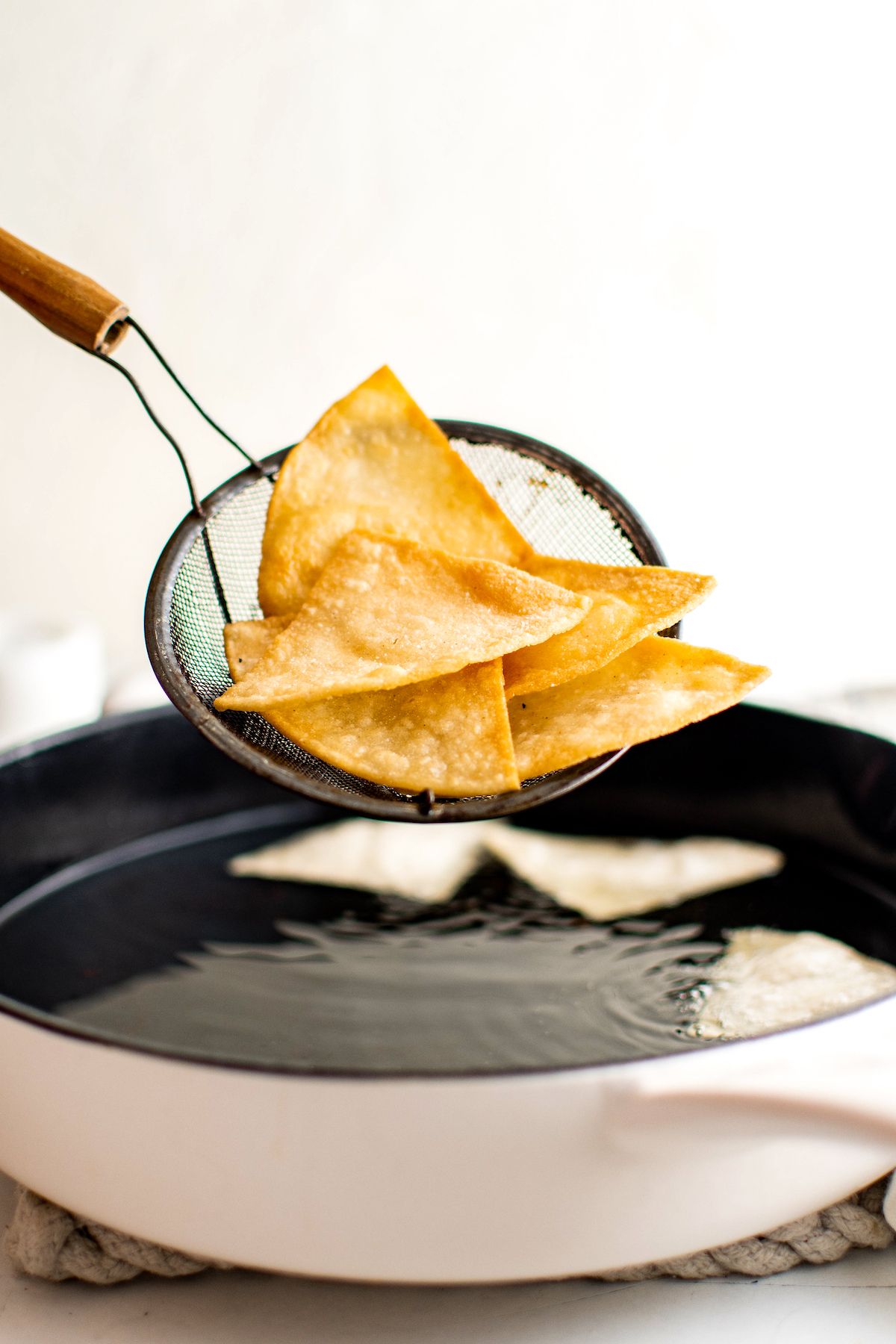 Remove them. Carefully remove the tortilla chips from the oil using a pair of kitchen tongs. Set them on the prepared baking tray. Repeat the last 2 steps for all the tortilla triangles.
Let them rest. Allow the crispy tortilla chips to rest for 5-10 minutes before sprinkling them with salt. Serve with your favorite salsa and enjoy.
Tips for Success
These 3-ingredient corn tortilla chips can't get much easier, but these tips will help prevent them from burning:
Don't make them too small. The smaller they are, the quicker they'll cook and the more likely they'll burn.
Don't overcrowd the pot. Unless you're using a huge pot with a large surface area, don't overcrowd the pot. Only fry a handful of tortilla chips at a time to help ensure even cooking.
Keep an eye on them. Never walk away from the pot once the tortillas are in the oil. They can burn in a second and turn extremely bitter when this happens. It's also important to keep your eye on the temperature of the oil. It will help a lot if you use a clip on thermometer to make sure your oil stays at the correct temperature.
Save the scraps. Use the scraps to make chilaquiles verdes. The frying process is pretty much the same, just keep an eye on the tortilla pieces and remove them from the heat as they finish frying. Since they'll be different sizes, they'll have different cooking times.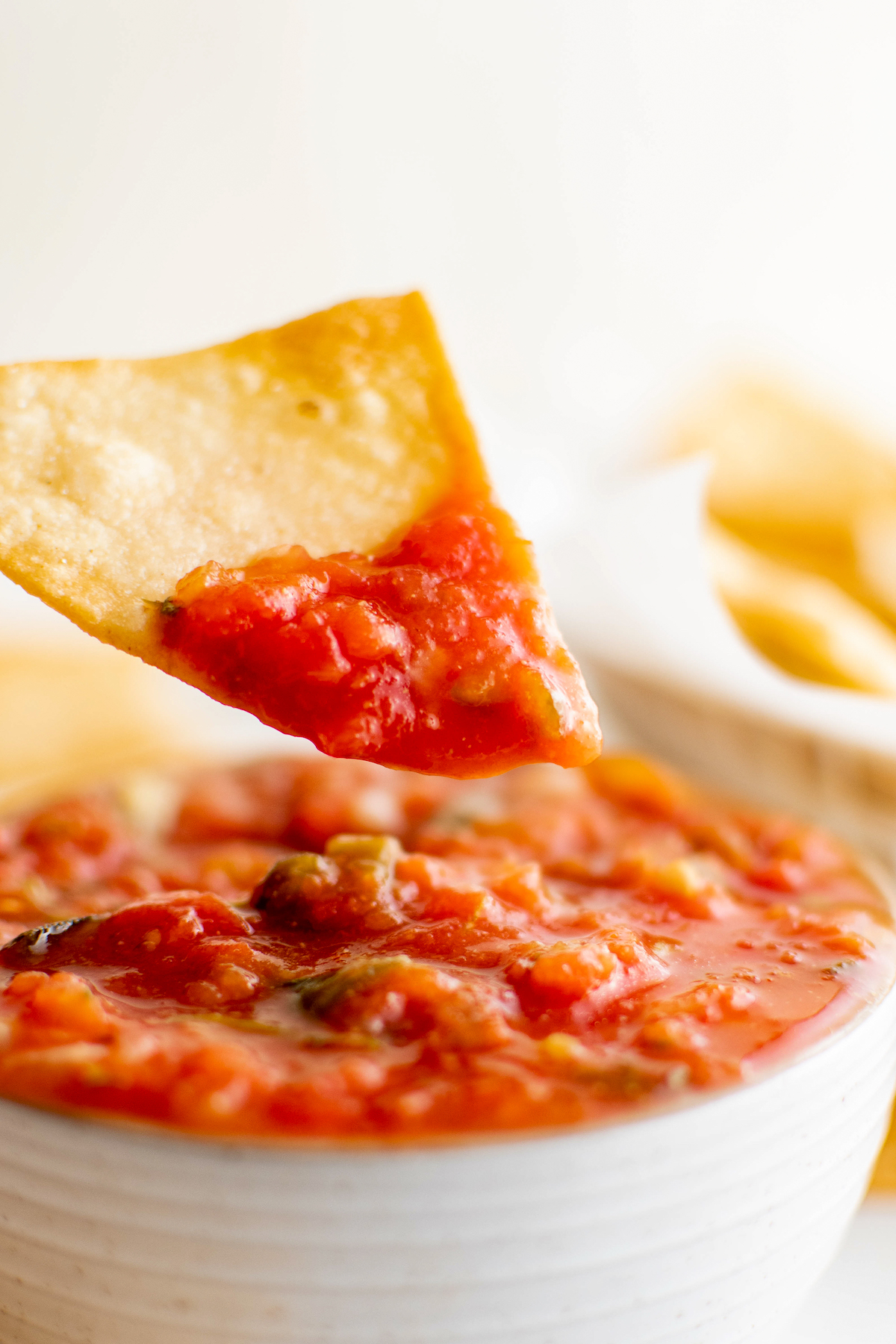 What to Serve With Corn Tortilla Chips
These corn tortilla chips make great appetizers when paired with your favorite dips, salsas, and certain stew-like dishes. While serving them with something Mexican gives you bonus points, you don't necessarily have to because tortilla chips are like a blank canvas for all kinds of flavors.
For snack-like bites, try them with my Avocado Salsa, Authentic Guacamole and Frijoles Puercos (Mexican Bean Dip). If you just want to add a bit of crunchiness to your meal, dip them in my Chicken Tinga (Tinga de Pollo) or Chili Colorado.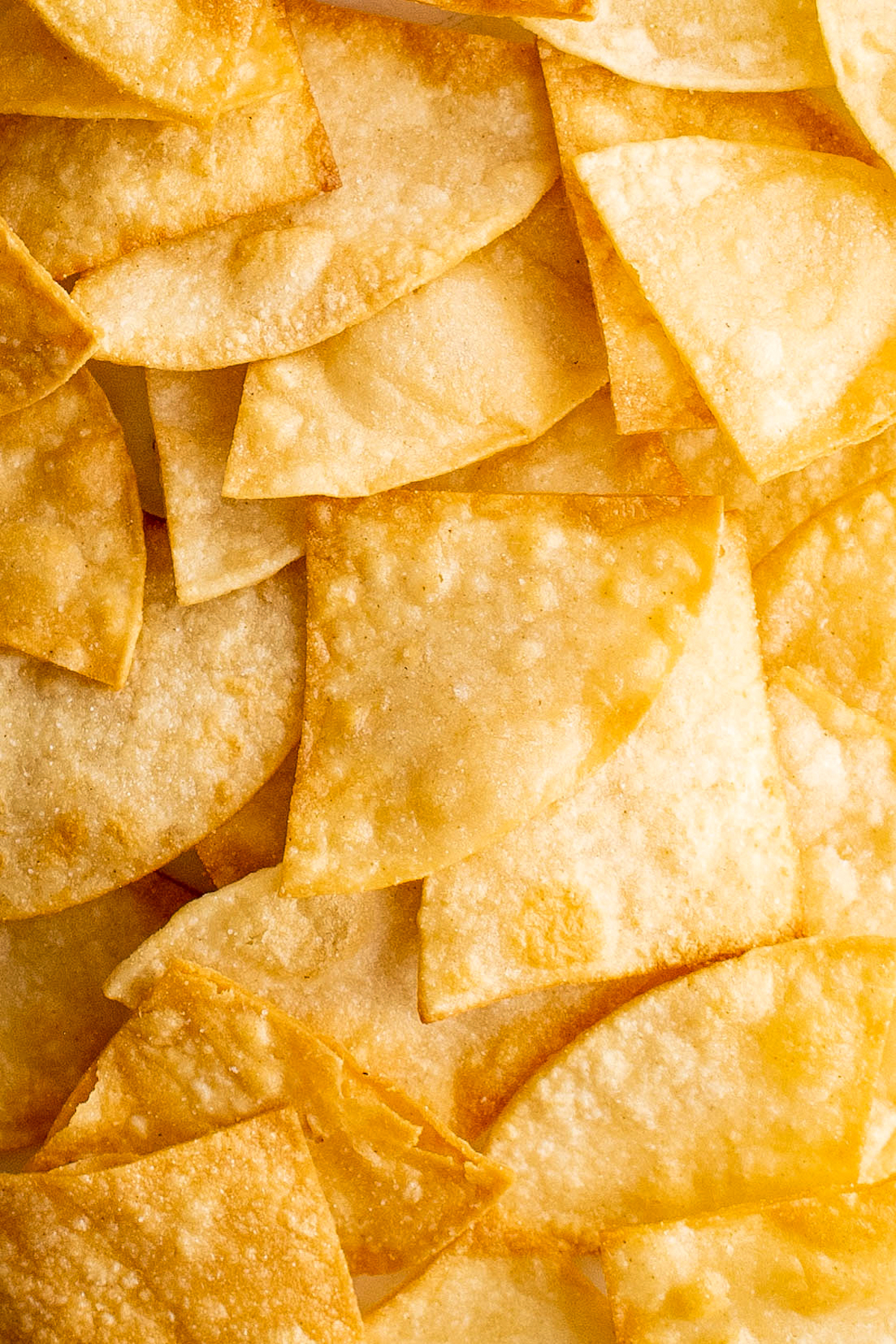 How to Store
Once fully cooled, these corn tortilla chips can be stored at in an airtight container at room temperature for up to a week. If they lose their crunch, pop them into a baking tray and heat them at 350°F for 5 minutes or until crispy. Or you could also pop them into an air fryer!
More Easy Appetizer Recipes
Homemade Tortilla Chips
Dipped into your favorite Mexican salsas, these 3-ingredient corn tortilla chips are the real deal. They're super crunchy and easy to make!
Instructions
Heat 2 inches of oil in a deep skillet or dutch oven to 370°F.

Line the tortillas up on a cutting board and slice them in half. Then cut those halves in half to make four equal triangles.

Set aside a cooling rack fitted with a paper towel on top of a large baking pan.

Fry 8-10 of the tortilla triangles in the heated oil for 30 seconds then flip them over and fry just until a nice color starts to form. (They will continue to darken after they are out of the oil.)

Using a slotted spoon or tongs, strain the chips from the oil and let them cool on the prepared pan.

Repeat the frying process with the remaining tortilla chips and let them cool before sprinkling with salt and serving with salsa if desired.
Notes
Storage: Once fully cooled, these corn tortilla chips can be stored at in an airtight container at room temperature for up to a week. If they lose their crunch, pop them into a baking tray and heat them at 350°F for 5 minutes or until crispy. Or you could also pop them into an air fryer!
Nutrition
Serving:
1
,
Calories:
3138
kcal
,
Carbohydrates:
51
g
,
Protein:
6
g
,
Fat:
330
g
,
Saturated Fat:
25
g
,
Polyunsaturated Fat:
290
g
,
Trans Fat:
8
g
,
Sodium:
580
mg
,
Fiber:
7
g
,
Sugar:
1
g
Categories:
This post may contain affiliate links. Read my disclosure policy.