Grab a big bowl, you're going to need it for this recipe. If you love beef, lots of spice, and smokey sweet chili peppers, you're going to love my Chili Colorado. Chili Colorado, or Mexican Beef Stew, is one of our family's favorite meals, and I think you're going to agree!
There are so many great ways to make beef stew. My family also loves this Puerto Rican Beef Sancocho which also uses chuck roast instead of ground beef.
Easy Chili Colorado Recipe
Everyone loves a big bowl of chili or stew on a cold day. But sometimes even I get a little tired of regular ol' beef chili. Sometimes I want to mix it up and make something different. This Chili Colorado is the perfect way to mix up the normal routine.
Chili Colorado is basically a Mexican beef stew. We'll use cut-up pieces of meat instead of ground beef. When they cook slowly, they become perfectly tender bites of beef. This recipe also uses dried peppers. Have you cooked with dried peppers before? If you haven't, don't worry. It's really simple and you'll be amazed by the flavor they provide.
Trust me when I say this recipe has all of the authentic Mexican flavors that you love, and then some! This is way more than just the little packet of taco mix you get from the store. And the best part is that it's all-natural, healthy, and homemade. You'll be extra proud of yourself with this recipe!
If you love this Chili Colorado, you may also enjoy my favorite Colorado Green Chili (Chili Verde)!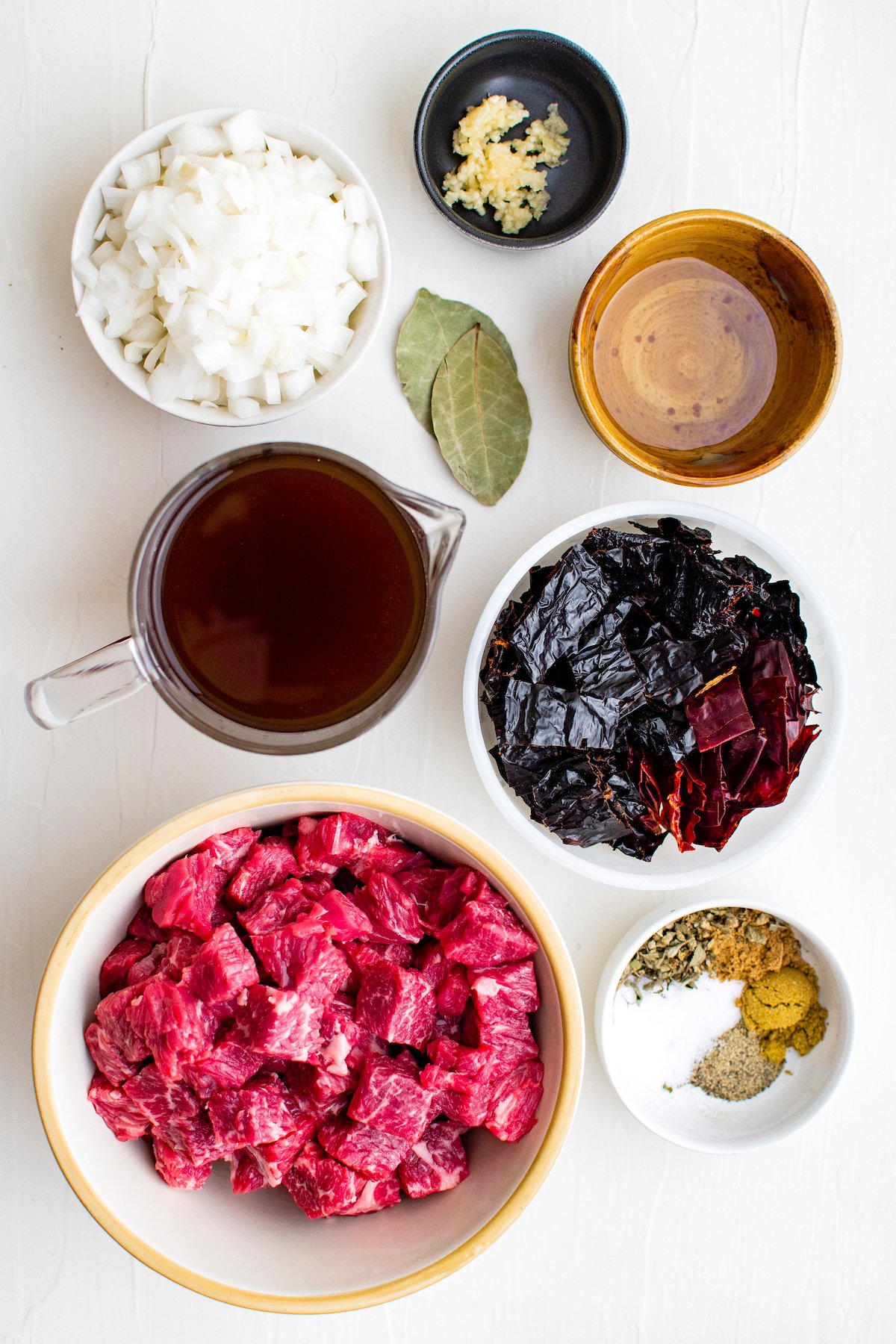 Recipe Ingredients
Cooking Oil: You can use whatever you have on hand.
Chuck Roast: This is a cut of meat that gets really tender when it's cooked slowly.
Guajillo, Pasilla, and Ancho Dried Chiles: If you can't find these at your regular supermarket, you can check your local Latino market or order them online: Dried Guajillo Chiles, Dried Pasilla Chiles and Dried Ancho Chiles.
Low Sodium Broth: I use beef broth, but you can also use chicken broth. Use low sodium so that you can control the salt level yourself.
Bay Leaves: A subtle tasting herb that adds a little earthy flavor to the dish.
Mexican Oregano: You can use regular oregano if you can't find Mexican oregano.
Cumin Powder: I use this spice in almost all of my Mexican dishes. It's hearty and warm with a little hint of citrus.
Coriander Powder: Did you know that coriander is Cilantro seeds? It tastes a little floral and sweet.
Salt: You'll need salt to highlight the flavors of the peppers and beef.
Black Pepper: Pepper is also a great seasoning that brings out the richness of the beef.
White Onion: Usually, we cook with onions at the beginning. But not with this recipe. Adding it at the end lets the smokey sauce soak into the onions.
Garlic: The same goes for the garlic. When you add it at the end, you get a brighter, tangier garlic flavor.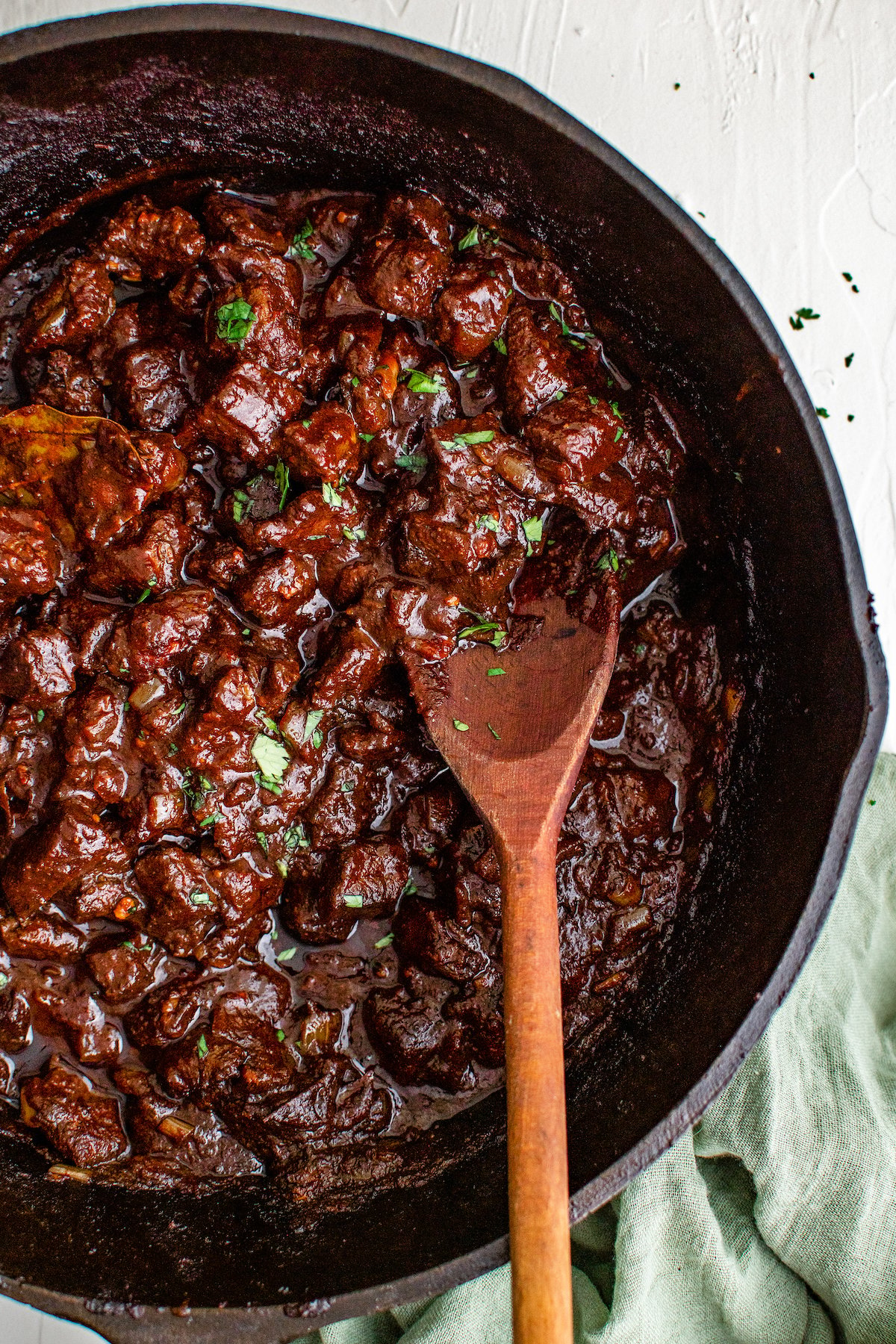 How to Make Chili Con Carne Colorado
Let's start cooking! Here's how to make this delicious Mexican dish.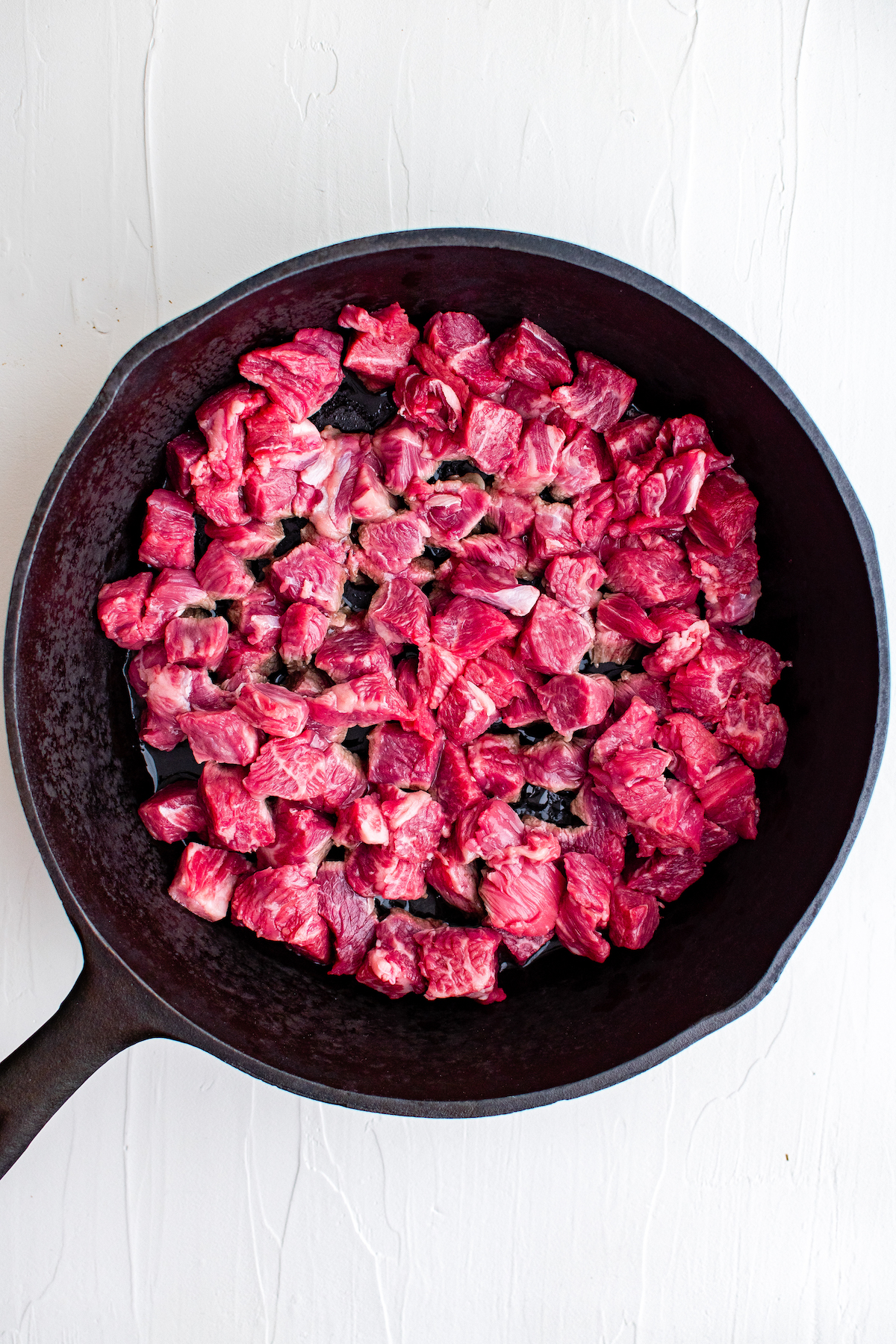 First, you need to sear the beef. When you sear the beef, you start to develop that distinct smokey flavor. I love using my cast iron skillet for this part. Make sure that it's nice and hot! Once the beef has a good sear, lower the heat and let it continue to cook.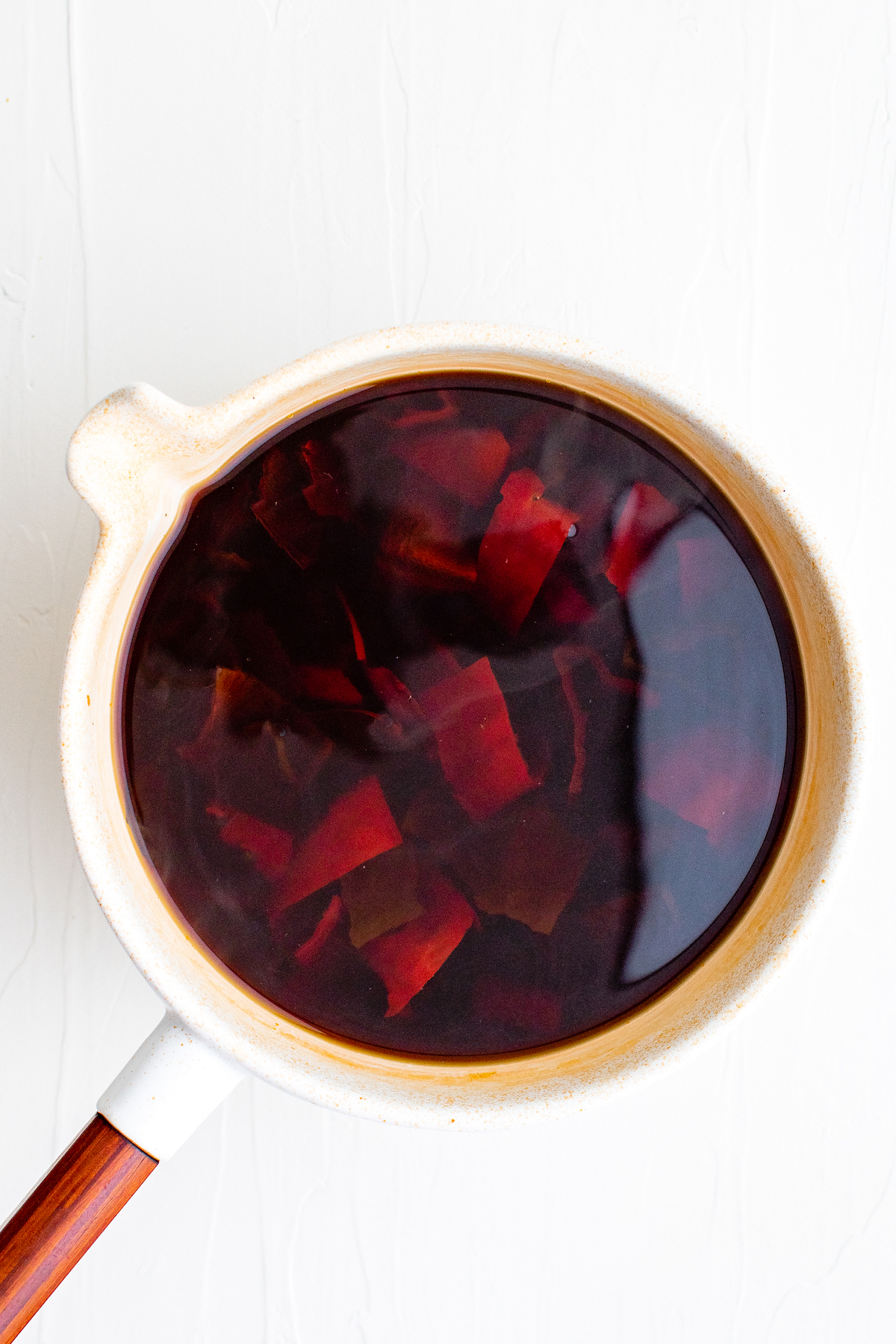 Soak the peppers. Bring a large pot of water to a boil and add the peppers. Boil them for about 10 minutes or until they are soft. Once they are soft, strain the peppers and be sure to keep some of the water.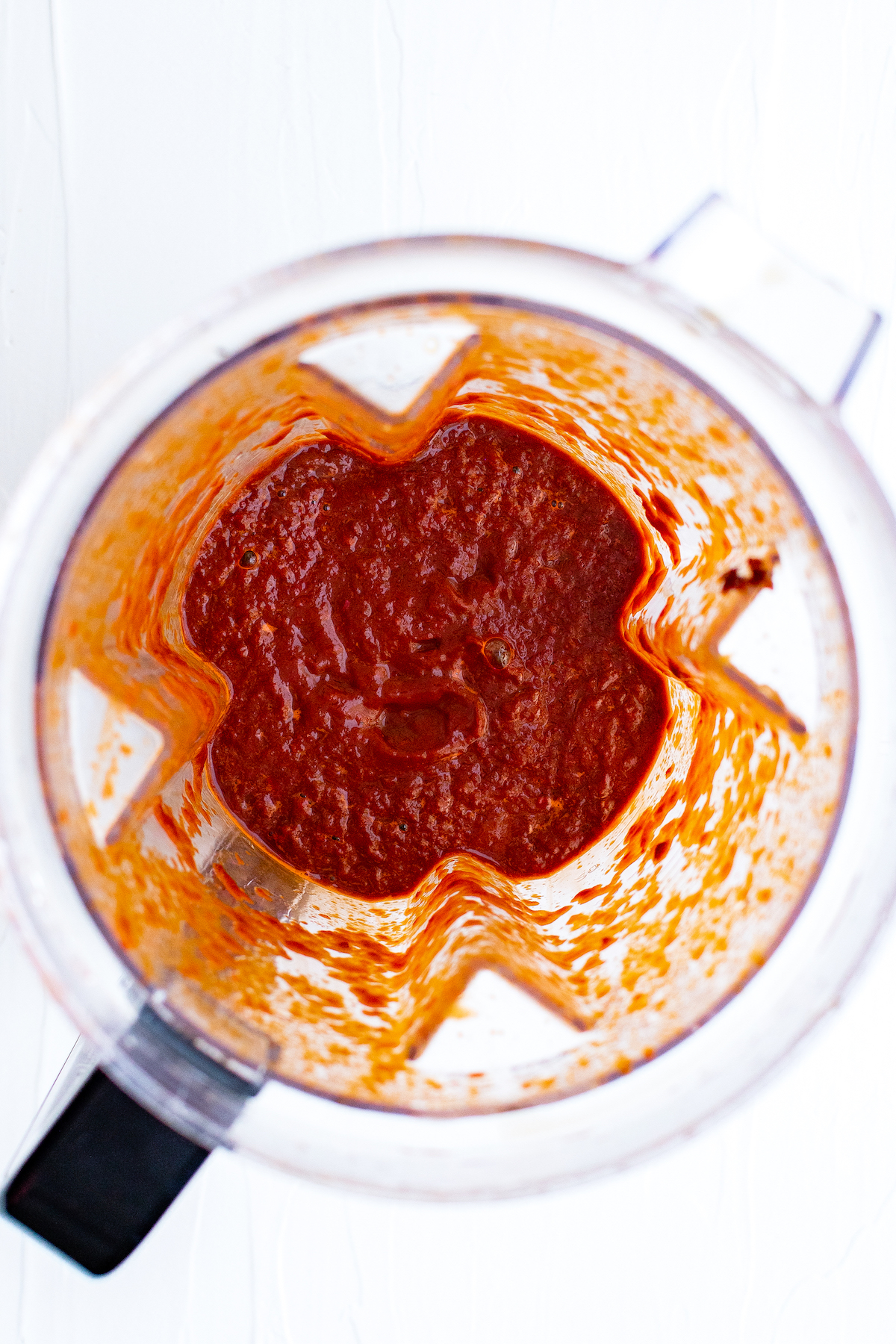 Then, puree the peppers. Add the peppers to a blender with the reserved water and puree until it's smooth.
Add the sauce to the beef. Strain the sauce and pour it right into the pan with the beef. Bring it to a boil and then lower the heat. You're going to let this simmer for about 45 minutes.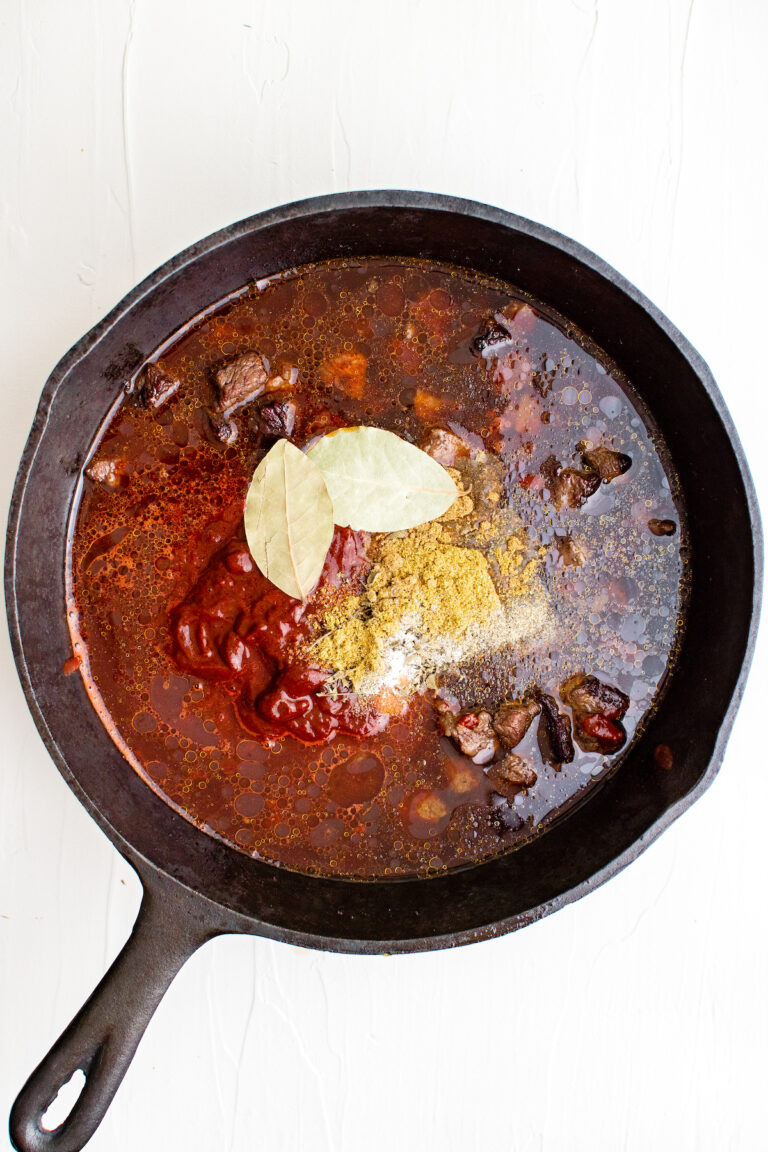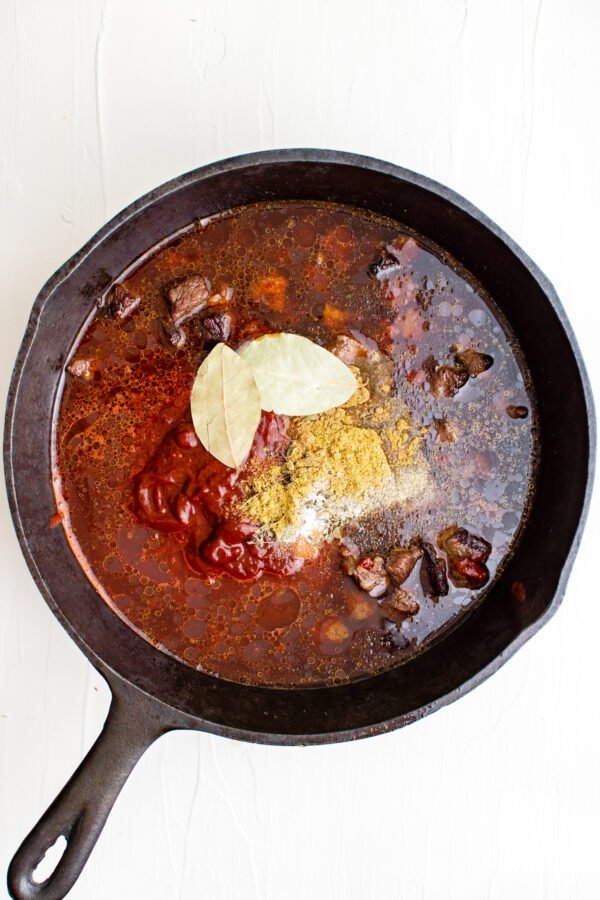 Add the beef broth and spices. Stir everything together.
Finally, add the onions and garlic. Stir in the onions and garlic and let it continue to cook for a while. The onions should get nice and tender.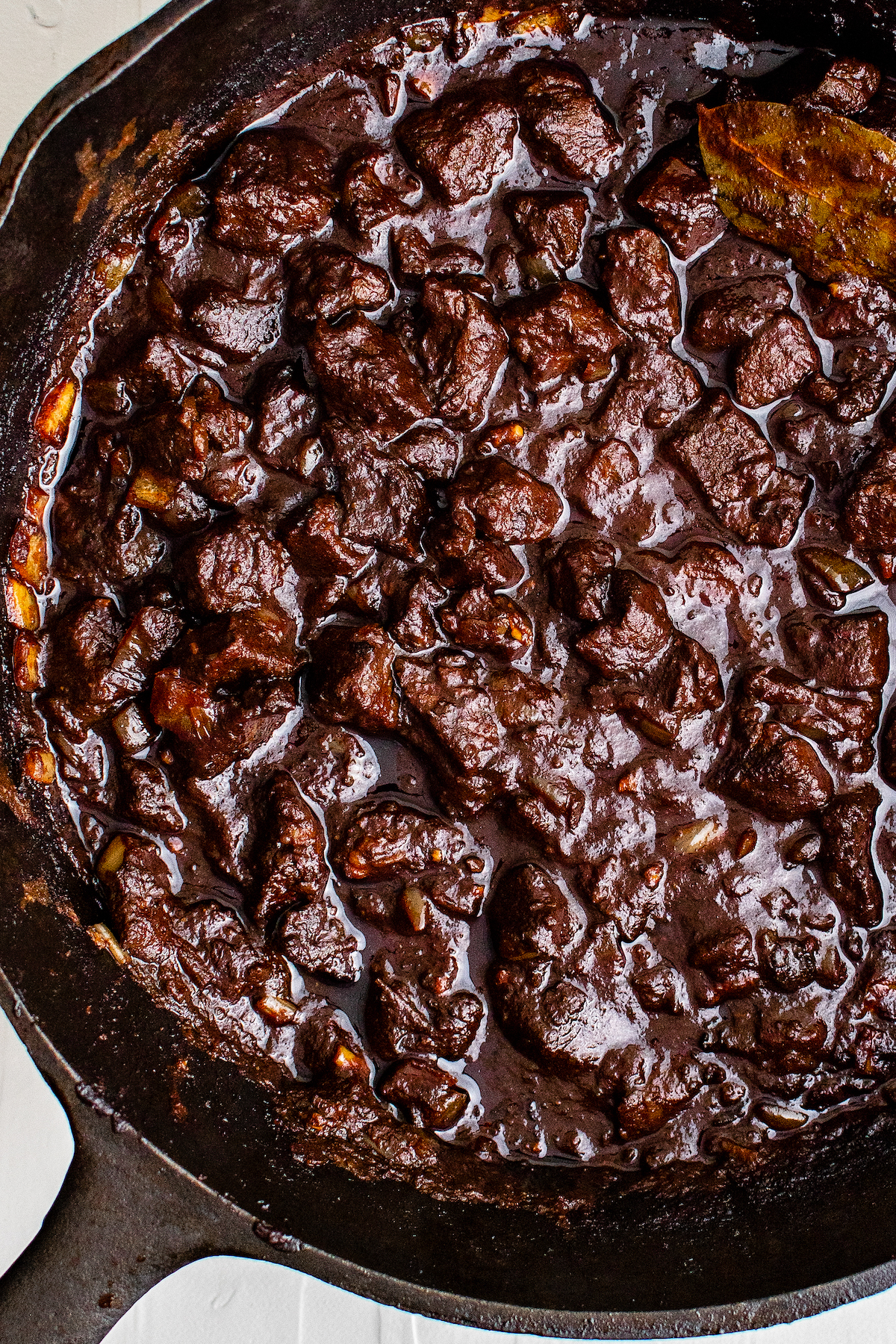 The Chili Colorado is ready to serve! We love to eat Chili Colorado with Mexican rice, corn tortillas, and cilantro.
Tips and Variation Ideas
Here are some of my favorite tips for cooking this dish.
Slow Cooker: You can prep the sauce and brown the meat in a skillet. Then place the browned beef in your slow cooker and add your red chile sauce. Slow cook on low for 6 to 8 hours, until tender.
How to choose the best cut of beef: I use chuck roast that I cut up myself, but you can also use stew meat. You can also use a beef shoulder.
Use a hot pan. Make sure that the pan is really hot when you begin to sear the beef. It makes a world of a difference in the entire dish!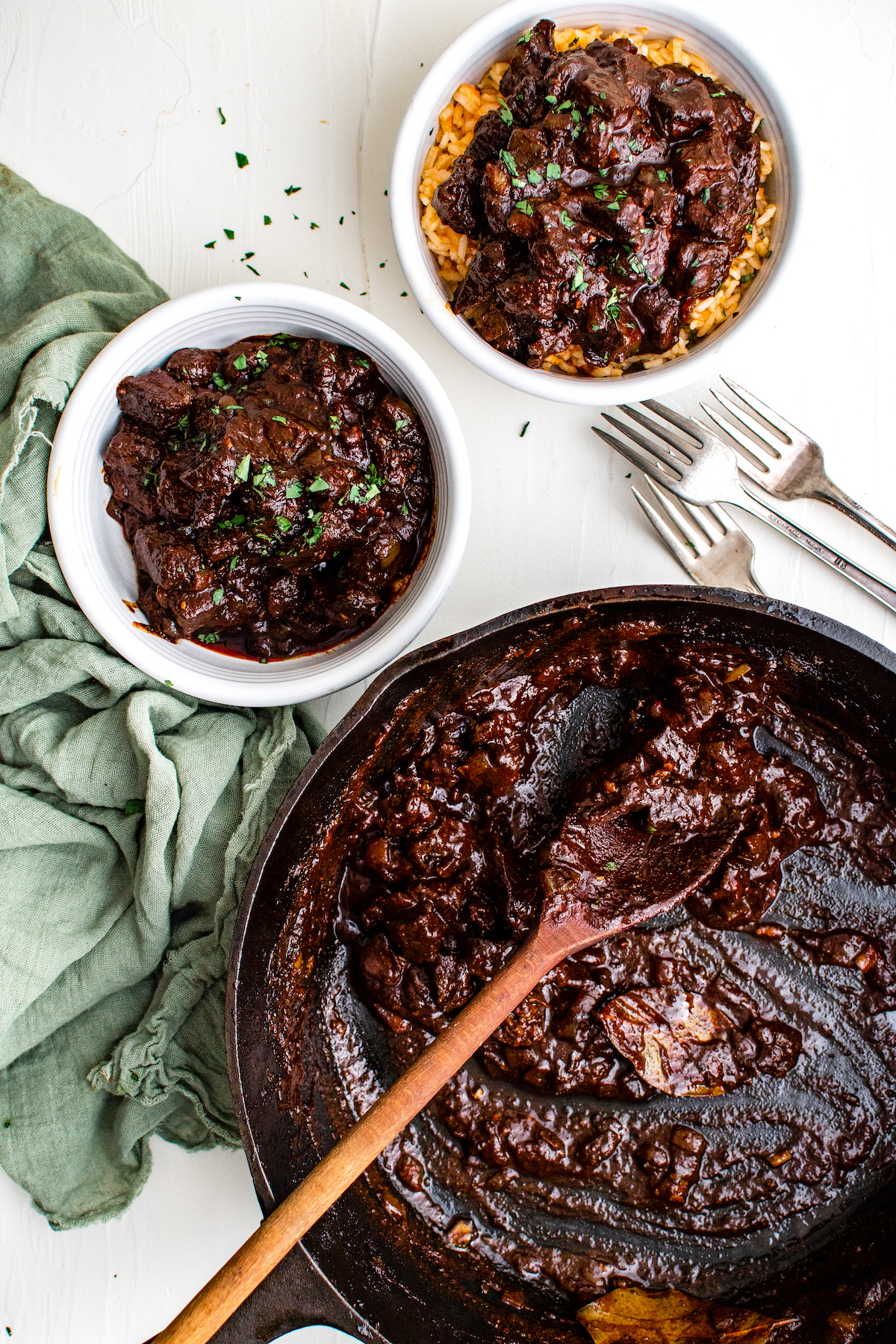 Serving Suggestions
You can keep it simple or serve this Chili Colorado alongside some other Mexican dishes. I have some great suggestions for you!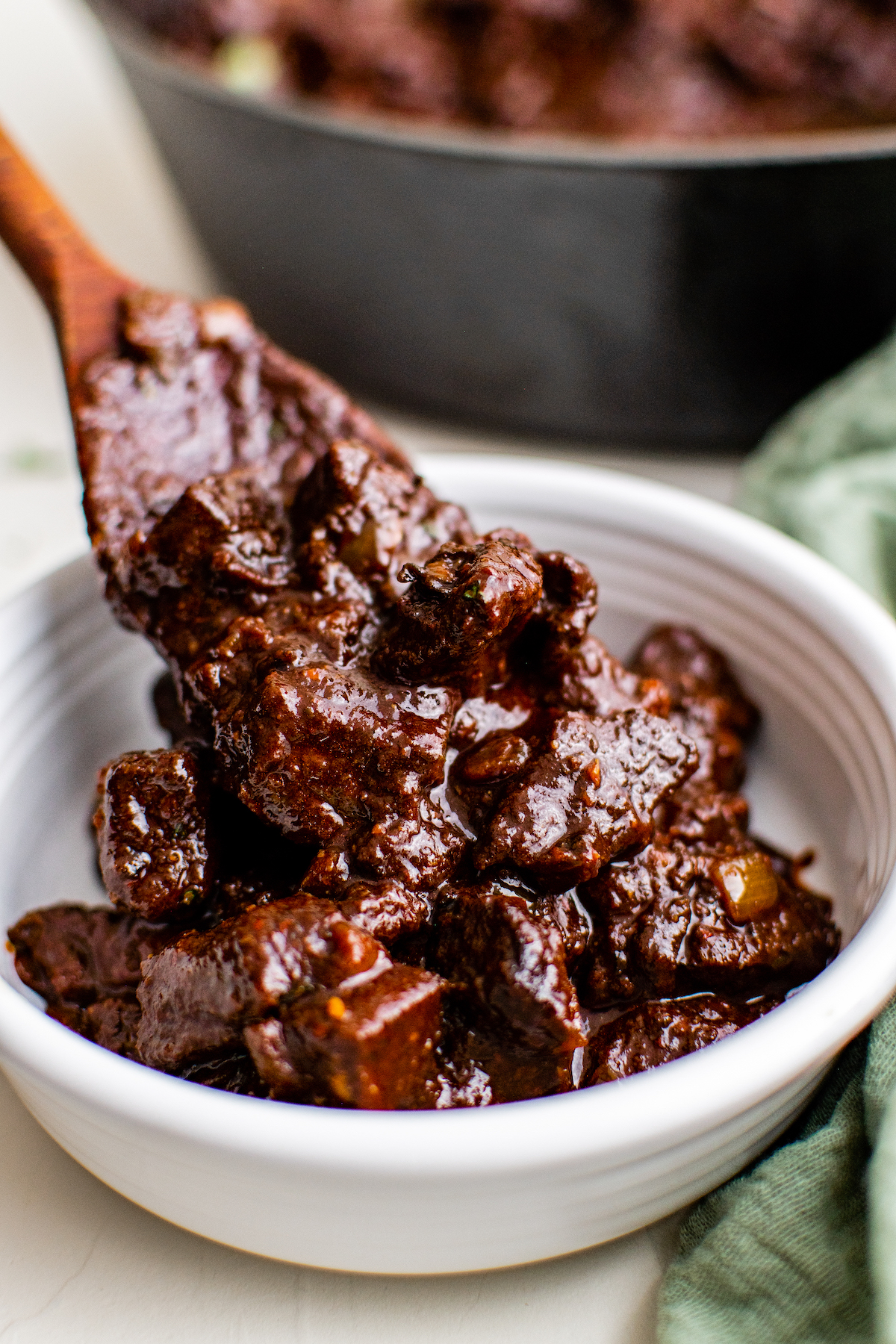 How to Store and Reheat Leftovers
This dish can be stored in an airtight container in the fridge for up to 5 days. You can reheat it on the stovetop or in a microwave. Just make sure that you cover the container with a paper towel in the microwave so it doesn't splatter!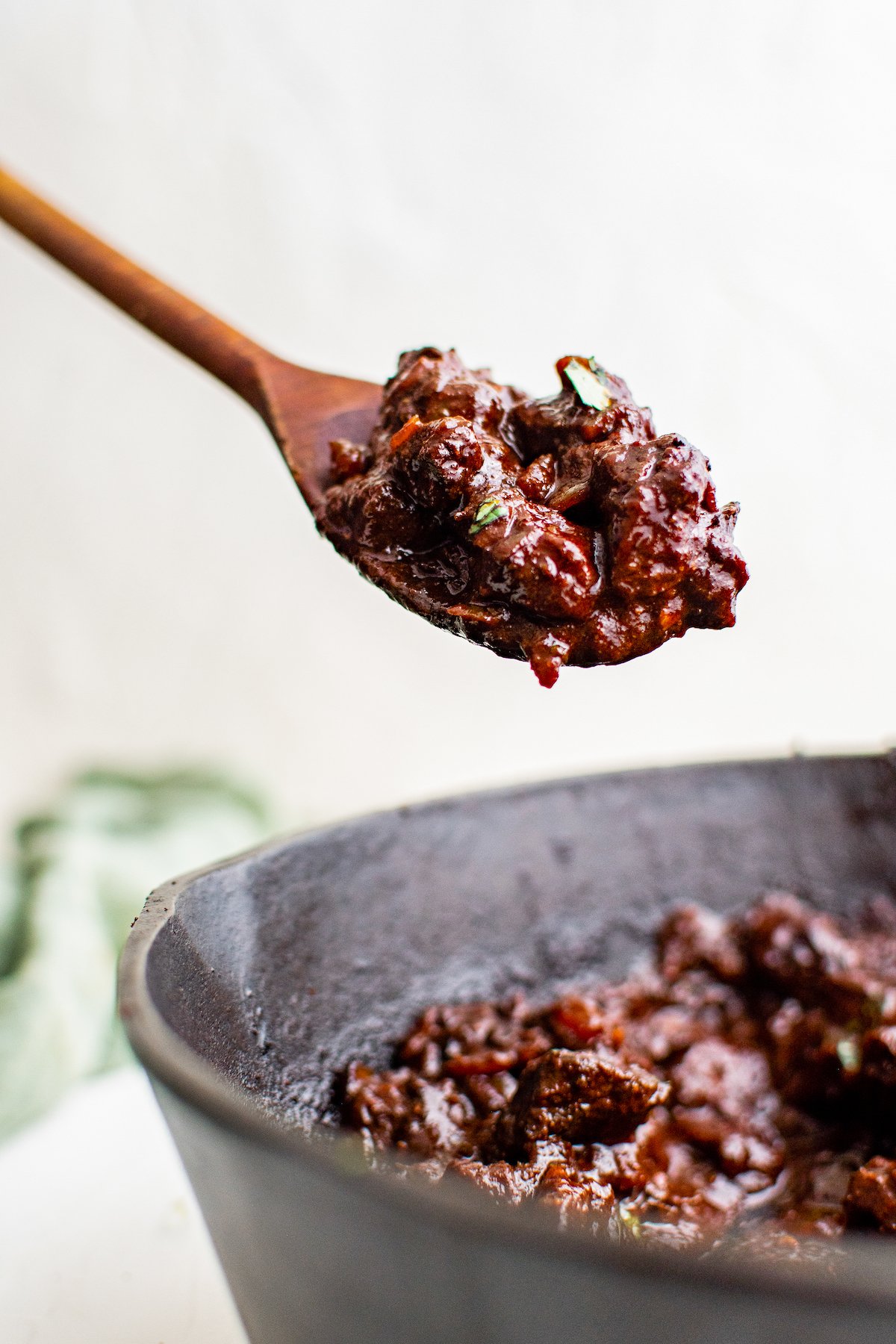 Can I Freeze Extras?
Yes, you can freeze leftover Chili Colorado. It's pretty simple. I recommend storing it in a freezable bag so that it can lay flat in the freezer. This way, it doesn't take up so much room. Don't forget to put a date on the bag. You can keep it in the freezer for up to 3 months.
For the best results, I recommend thawing the chili for 1-2 days in the refrigerator before serving again.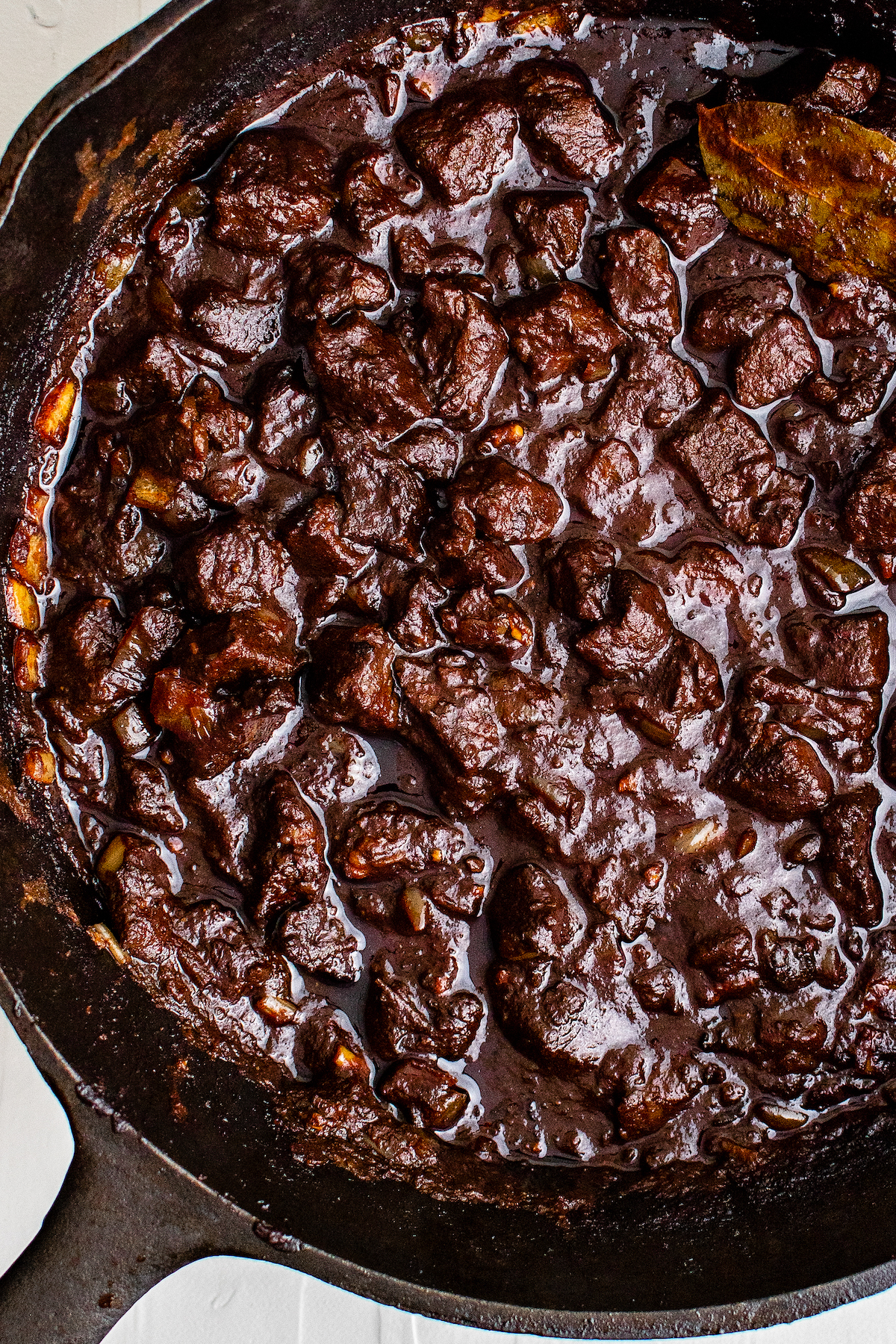 Yield: 4-6 servings
Chili Colorado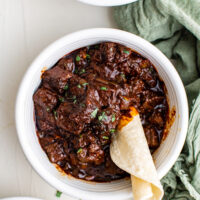 Chili Colorado is an authentic Mexican Beef Stew. Tender pieces of meat are slowly cooked in a rich base made with dried chili peppers and other spices.
Total Time
2 hours
15 minutes
Ingredients
2 tablespoons oil (olive, vegetable, canola)
2 pounds chuck roast, cut into bite size pieces
5 dried guajillo chiles, with the stems, membranes and seeds removed
2 dried pasilla chiles, with the stems, membranes and seeds removed
1 dried ancho chile, with the stems, membranes and seeds removed
3 cups low sodium beef (or chicken broth)
2 bay leaves
2 teaspoons Mexican oregano
1 teaspoon cumin powder
1 teaspoon coriander powder
1 teaspoon salt
½ teaspoon ground black pepper
1 cup diced white onion
3 cloves garlic, finely minced
Instructions
Heat oil in a deep cast iron pan (or a medium dutch oven) over medium heat. Add the beef and let it brown for about 10 minutes, as you stir every so often to prevent burning.
Reduce the heat to low and let it continue to cook as the liquid (created by the beef) reduces.
In the meantime, heat a medium size pot of 5-6 cups of water over high heat and bring it to a boil.
Add the guajillo, pasilla and ancho chiles to the pot and let them boil for 10 minutes. Remove the pan from the heat.
Strain the chiles from the water (reserve 1 cup of the water) and add the chiles to a blender, or food processor, along with 1 cup of the reserved water from the pan and blend until smooth.
Strain the sauce, through a strainer, into the pot with the beef. Add in the beef broth, bay leaves, oregano, cumin, coriander, salt and pepper and stir to combine.
Bring the heat back up to medium and let it boil for 5 minutes. Reduce the heat to low and cover the pan with a lid slightly offset to let a bit of the steam escape. Let it cook for 45 minutes.
Add the onion and garlic and stir to combine. Let it continue to cook for another 15 to 30 minutes, or until the onions have become soft and the sauce reaches your desired thickness. (If your sauce becomes too thick, add a little extra water that the chiles cooked in, as needed.)
Remove the pan from the heat and serve as desired. We serve ours over Mexican rice, with corn tortillas, and freshly chopped cilantro.
Notes
Storage: This dish can be stored in an airtight container in the fridge for up to 5 days. You can reheat it on the stovetop or in a microwave. Just make sure that you cover the container with a paper towel in the microwave so it doesn't splatter!
Nutrition Information:
Yield:
4
Serving Size:
1
Amount Per Serving:
Calories:

1117
Total Fat:

71g
Saturated Fat:

26g
Trans Fat:

3g
Unsaturated Fat:

39g
Cholesterol:

336mg
Sodium:

800mg
Carbohydrates:

16g
Fiber:

4g
Sugar:

6g
Protein:

103g
Categories
More Chili Recipes to Try
Please be sure to try some of my other family-friendly chili recipes!
This post may contain affiliate links. Read my disclosure policy.