Buttery Beer Bread
This Buttery Beer Bread is an fun and easy twist on a classic quick bread recipe. It's made using just a few simple ingredients and comes out soft, delicious and oh so buttery!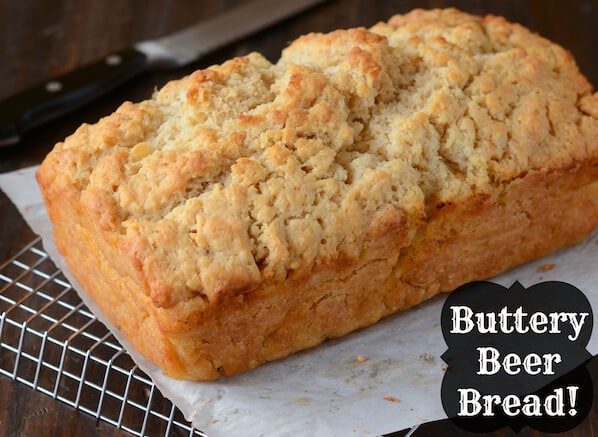 This Beer Bread Is One Of My Favorite Quick Bread Recipes
You know what turns a regular quick bread into an 'omgawd the world can end and I will still be eating this bread' bread? BUTTER and BEER. To be precise, a whole stick of butter and a whole bottle of beer. Then when the breads still warm out of the oven, you smear it with a little more butter. I know. Ridiculous, right? …but oh so freakin' amazing.
I made this recipe for the first time in 2009 and I was immediately hooked. Because it is so good (and because I was a total nobody back then and the photos really sucked) I am re-blogging the recipe so you can share in the amazingness that is Buttery Beer Bread. For obvious reasons, I only make it a couple of times a year…specifically when we are having chili because it makes the perfect pairing. I would love to keep this bread in the weekly rotation, but I just don't think my arteries can handle it.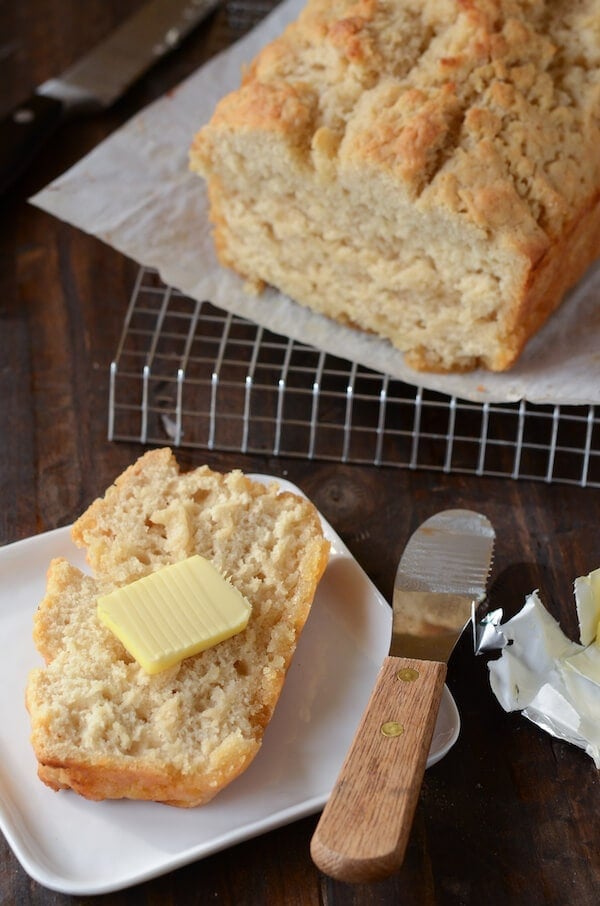 Does This Beer Bread Take A Long Time To Make?
Besides the butter and the beer, the ingredients are rather plain. And until you try it, you probably will even think that it's not as great as I am telling you. But seriously, hands down, this is the best bread (yeasted or quick bread) I have ever made. It takes less than 5 minutes of work from you and then you just pop it into the oven. In less than an hour, out comes probably one of the most delicious carb-y side dishes you will ever eat. Ever. It's Magical.
And for those that hate beer, no it doesn't taste like you are drinking a bottle of beer. Try it and don't blame me when you eat the whole loaf before you share with your husband/boyfriend. Blame the butter and the beer.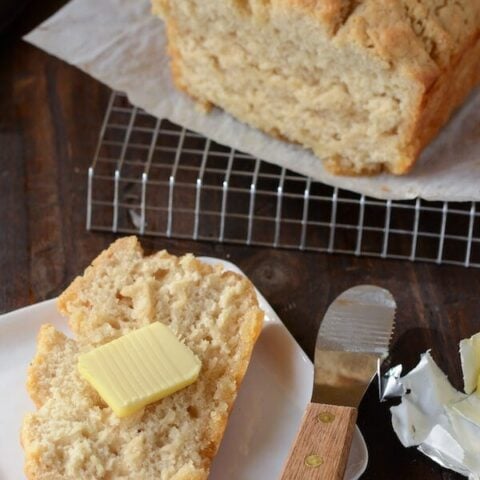 Buttery Beer Bread
Yield: 1 Loaf
Prep Time: 10 minutes
Cook Time: 50 minutes
Total Time: 1 hour
This Buttery Beer Bread is an fun, easy twist on a classic quick bread recipe. It's made using just a few ingredients and comes out soft and oh so buttery!
Ingredients
3 cups all-purpose flour
1/4 cup sugar
1 tablespoon baking powder
1 teaspoon salt
1 bottle (12 ounces) beer
1 stick unsalted butter, melted
Instructions
Preheat the oven to 350°F. Grease a 9x5 inch loaf pan. Line with parchment paper for easy removal (optional).
In a large bowl, whisk together the flour, sugar, baking powder and salt. Using a wooden spoon, stir the beer into the dry ingredients until just mixed.
Pour half the melted butter into the bottom of the loaf pan. Then spoon the batter into the pan, and pour the rest of the butter on top of the batter.
Bake for 50 to 60 minutes, until golden brown and a toothpick inserted in the center comes out clean. Serve immediately with a smear of more butter, or reheat in the microwave for 20 seconds.
Notes
I used Yuengling (original) this time. I prefer to use Shiner Bock, but the store was out. I would suggest using a darker beer because it gives the bread better flavor, but a light beer will work in a pinch!
Repost from 2009 
Nutrition Information:
Yield: 10 slices
Serving Size: 1 slice
Amount Per Serving:
Calories: 238
Total Fat: 10g
Saturated Fat: 6g
Trans Fat: 0g
Unsaturated Fat: 3g
Cholesterol: 24mg
Sodium: 360mg
Carbohydrates: 34g
Net Carbohydrates: 0g
Fiber: 1g
Sugar: 5g
Sugar Alcohols: 0g
Protein: 4g