You are in for a treat with this authentic Puerto Rican white rice recipe. This Arroz Blanco recipe is about as traditional (and easy!) as it gets. Good food doesn't have to be complicated. This recipe has just four ingredients and takes only 20 minutes to make!
Puerto Rican Arroz Blanco
It pays to know people who can cook traditional Puerto Rican recipes like this Arroz Blanco. It's such a special experience to be able to share these teaching moments with our family. Also, it doesn't hurt that these moments include making exceptionally delicious (and simple) food!
If there's one thing I've learned about Puerto Rican cuisine is that rice and beans are #1. So much so, that there are even songs about rice and beans. Puerto Ricans eat white rice with EVERYTHING! And I mean everything. It's completely normal for kids (and even adults) to eat white rice smothered in ketchup. I'm not kidding! Ketchup, eggs, corned beef, you name it – they'll have rice with it. And they aren't wrong in doing so.
Fluffy, perfectly cooked white rice is downright delicious and pairs with just about anything (even ketchup!). Here is the best way (and only way according to our family members) to make Arroz Blanco.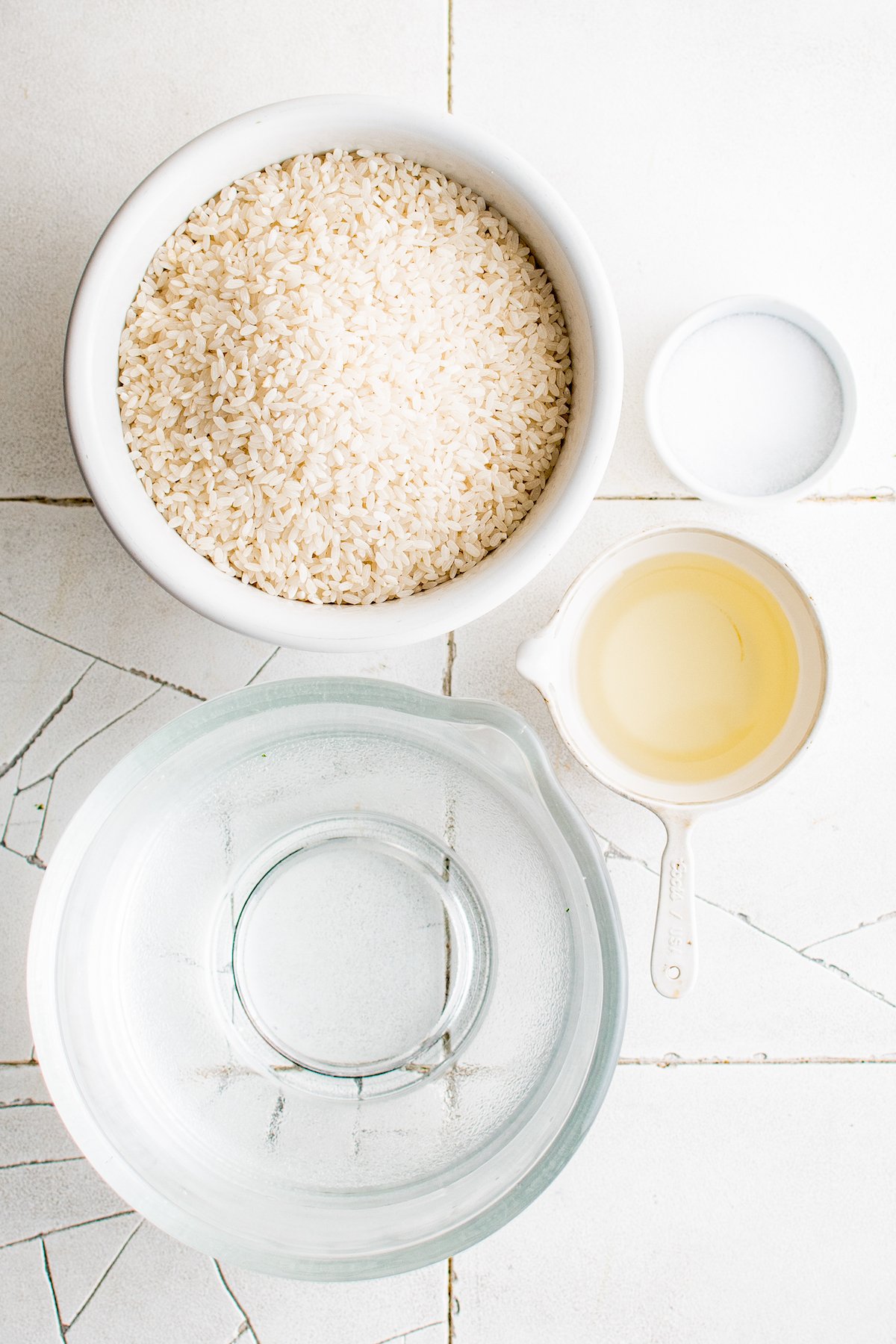 What You'll Need
You'll need four ingredients to make this recipe. That's it! Make sure that you check out the recipe card at the bottom of the post for the exact measurements.
Water
Salt
Vegetable or Canola Oil: You'll need cooking oil so that the rice doesn't stick to the pot. It helps develop that delicious crisp bottom crust.
Medium Grain Rice: Traditional Puerto Rican white rice has to be made with medium grain white rice. However, some people like Arroz Canilla (long grain) and you can use that if you prefer it. Our favorite rice is Arroz Rico!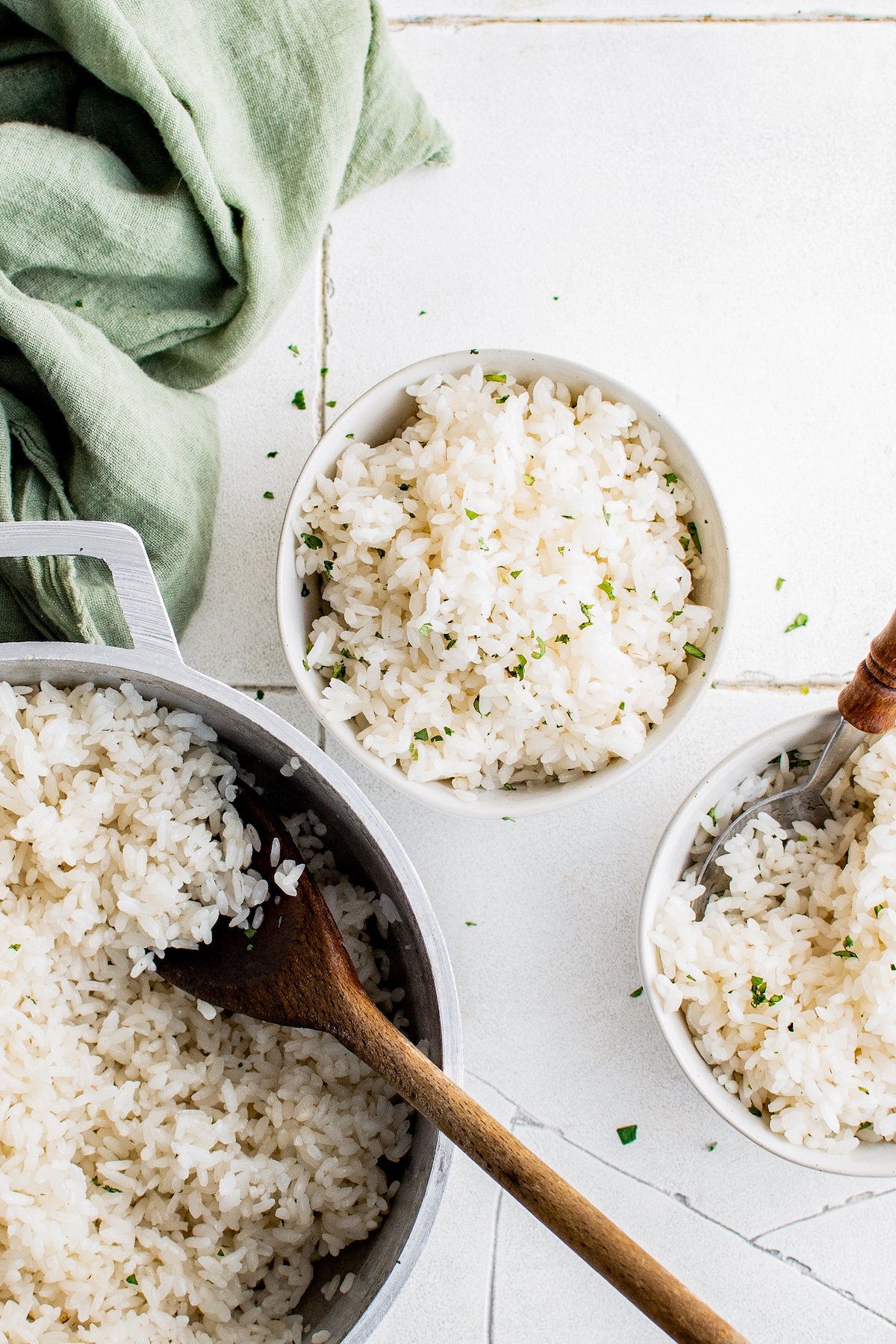 How to Make Perfect Arroz Blanco
The most important part about making Arroz Blanco is to use a caldero or a heavy bottom dutch oven. So, grab your pot, and let's cook some rice!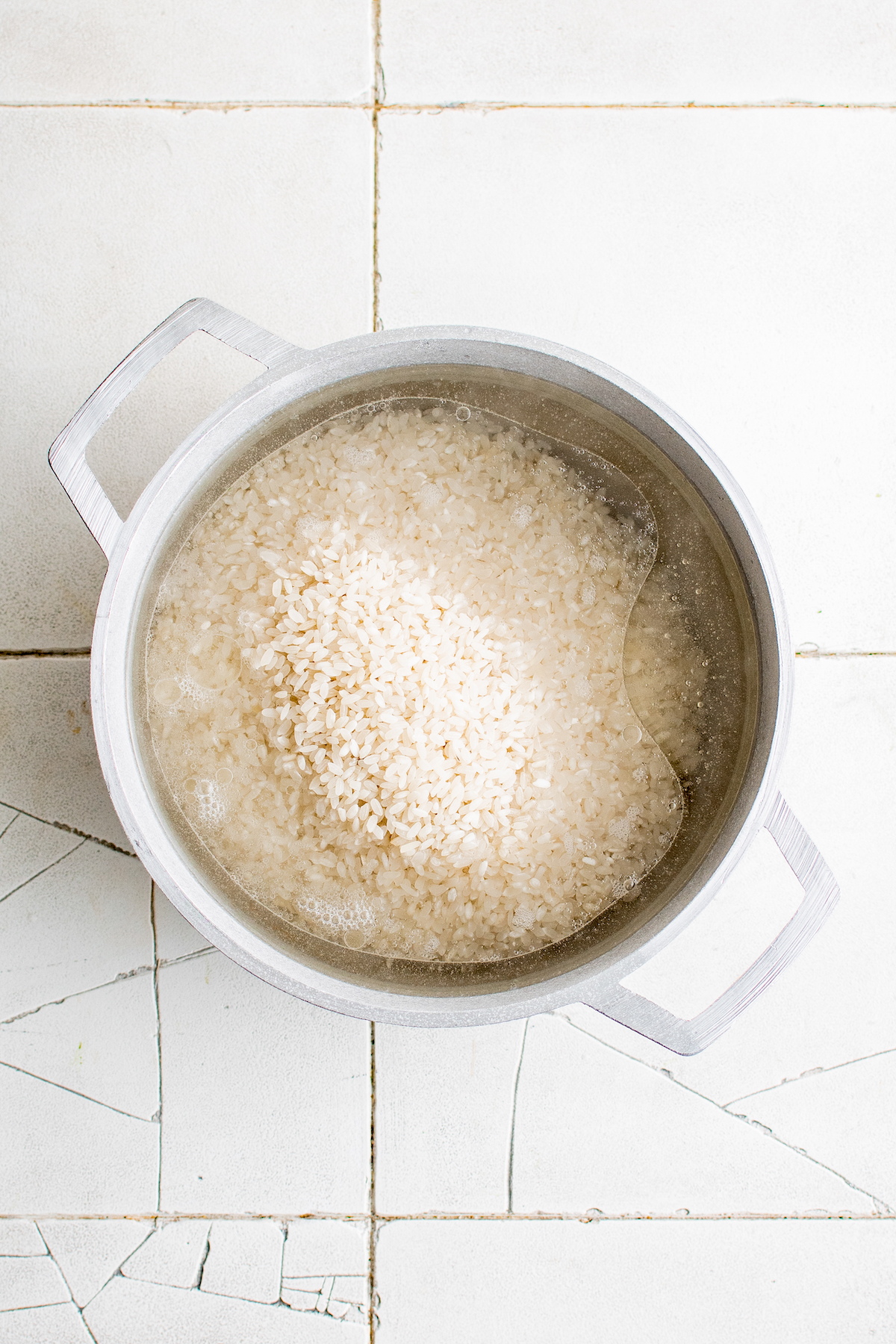 First, combine everything but the rice in a heavy bottom dutch oven. And then bring the water to a boil.
Then, add the rice and stir gently. The rice will start to boil again and after that you're going to let it cook uncovered for a few minutes.
Look for la montañita. You want to keep an eye on the rice and see when a mound starts to form (la montañita) in the middle. Once that happens, put a lid on the pot and keep it closed!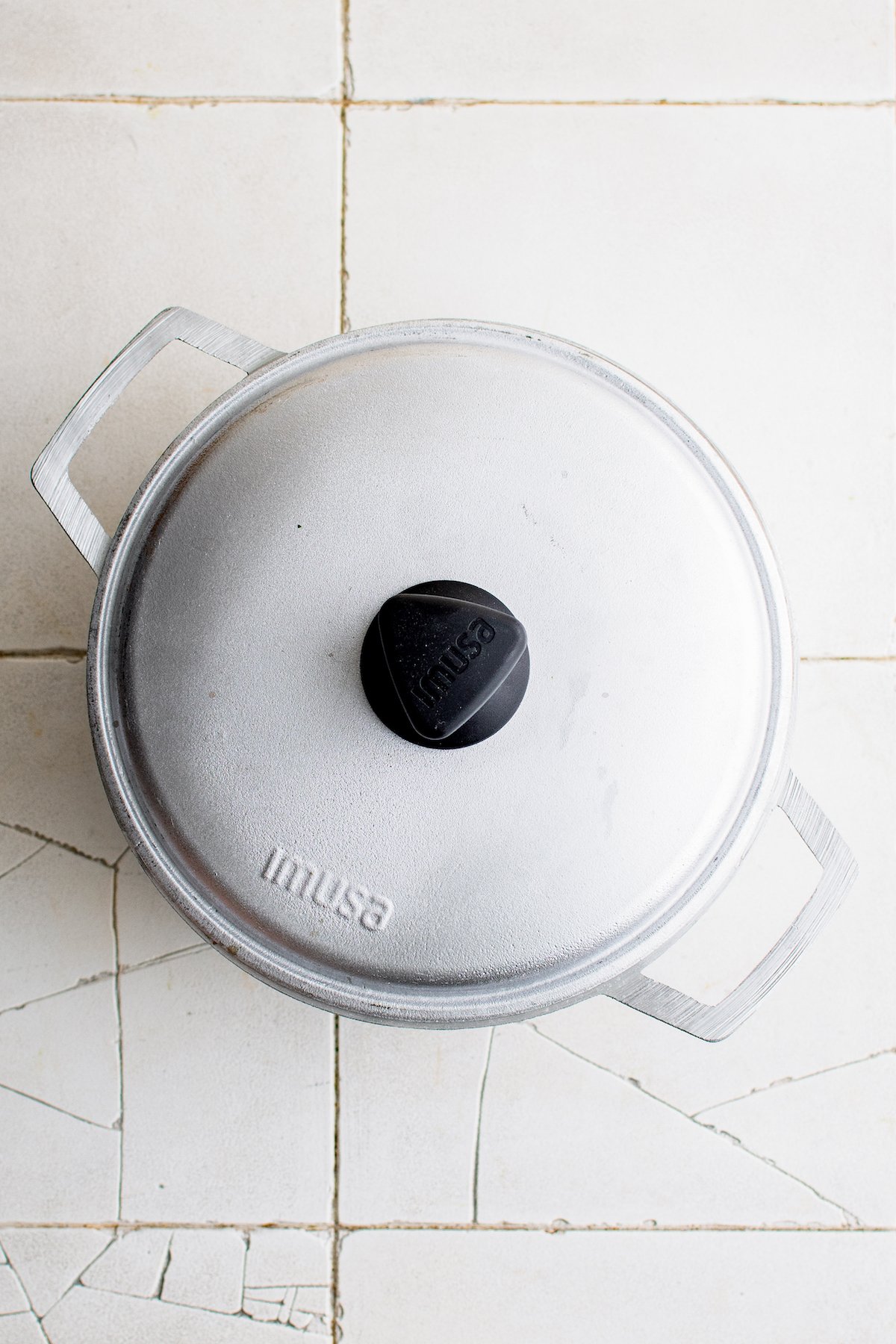 Now, the rice is cooking. Let the rice cook for about 20 minutes undisturbed. It's very important that you don't open the lid! I repeat, do not open the lid!
Check out your fluffy, perfectly cooked rice! Remove the lid after 20 minutes and enjoy the rice right away!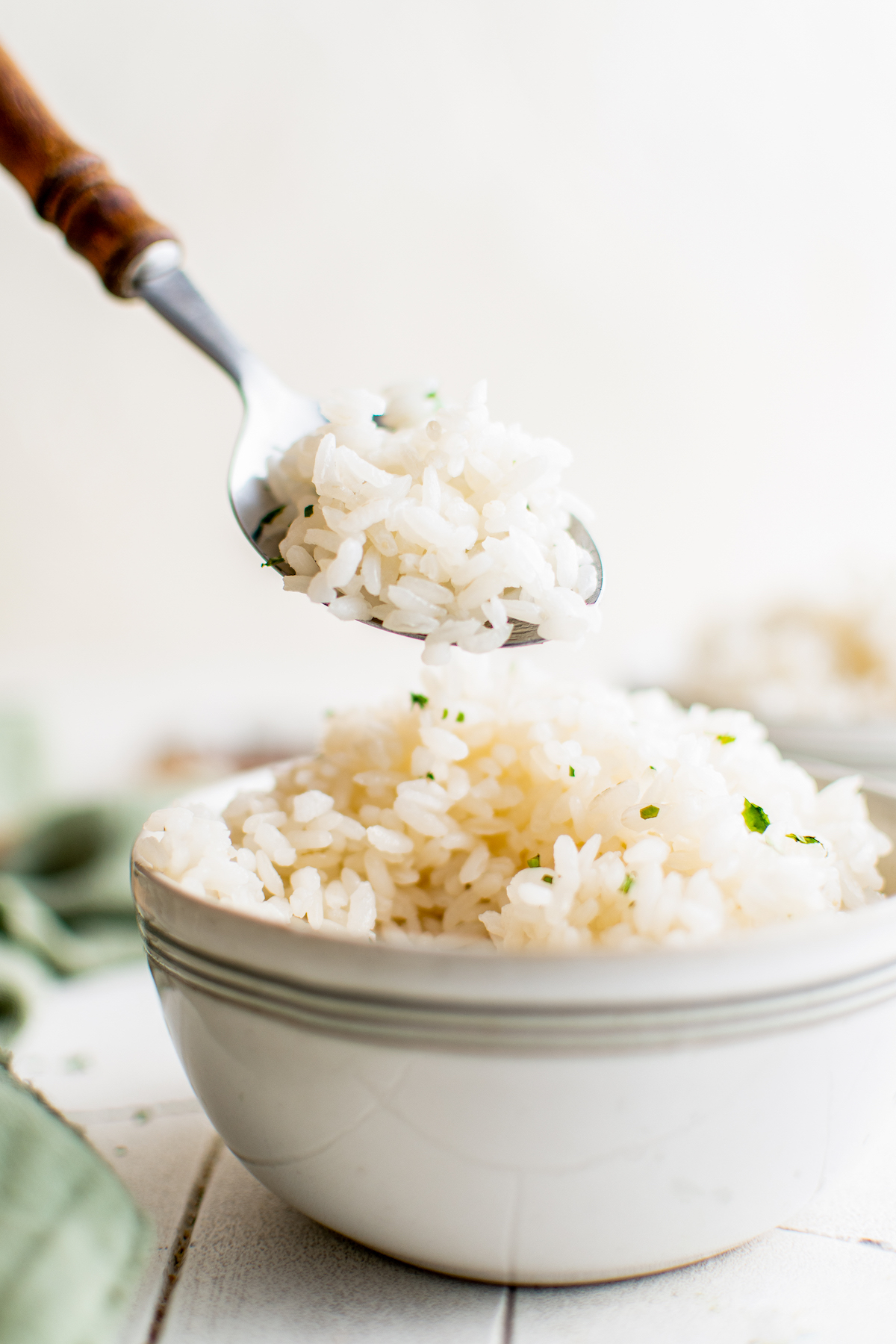 Tips for Success
You'll be a pro at making this white rice in no time if you follow a few tips. Here are some things that I always keep in mind with making this dish.
You must cook the rice in a Caldero! The most important thing to remember is to use the right cooking vessel. What is a caldero? It is a Puerto Rican version of a dutch oven. You can use a dutch oven if you don't have a caldero.
If you use a rice cooker or a slow cooker you will not have "pegao". What's pegao? Pegao is little bits of burnt rice that form at the bottom of a dutch oven pan. This only happens with these types of pans. This is why using one is so important!
Do not use parboiled rice or instant rice! The Puerto Rican ancestors will frown at you for doing that. And, of course, you won't get the same delicious results.
In Puerto Rico, when rice is not cooked properly it's called "amogollao". This means the grains are not as fluffy and loose but more like a sticky texture. This can happen when you do not let it cook properly and/or add too much liquid. Also, if you open the lid too soon, you interrupt the cooking process and the rice will remain hard and chewy.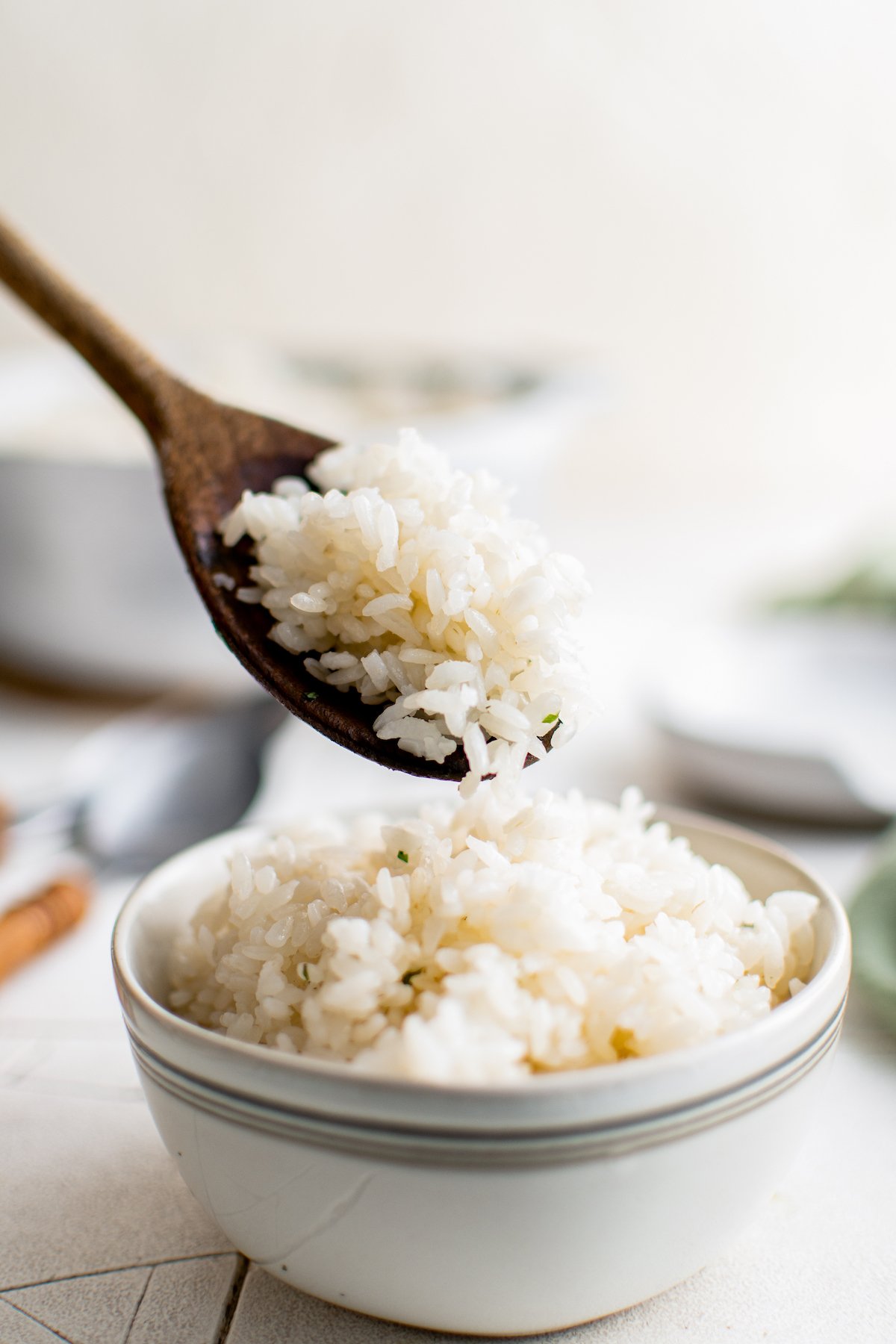 What to Serve with Arroz Blanco
The options are endless with Arroz Blanco. Like I said earlier, some Puerto Ricans like to eat it with ketchup! Here are some of my other favorite ways to eat this delicious white rice.
Beans pair perfectly with rice. Jorge and I are working on re-testing our favorite Puerto Rican beans (Habichuelas Guisadas) recipe, but in the meantime, here are my Refried Beans recipe to try!
Top the rice with flavor-packed proteins like Beef Picadillo, Salsa Chicken or Chicken Adobo.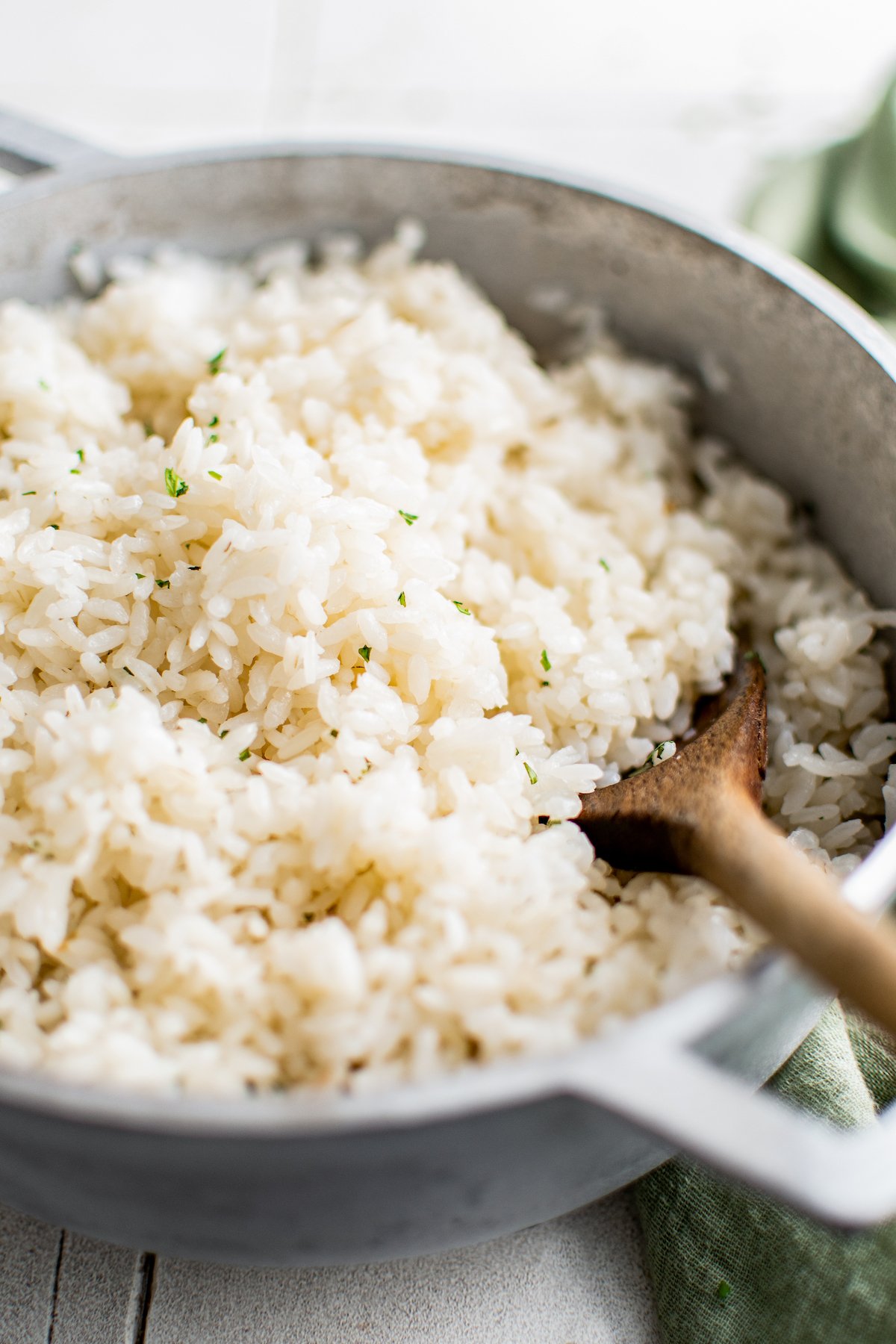 Can I Store and Reheat Leftovers?
Yes, you can store and reheat cooked white rice without a problem. Day old rice is actually preferred for some recipes (like fried rice). Just make sure that you store it in an airtight container for up to 4 days. The rice will develop a gooey texture and unpleasant smell if it's gone bad.
Reheating rice is a breeze. You can do it in the microwave or on the stovetop. I like to add a few spoonfuls of water when I reheat to bring the rice back to life.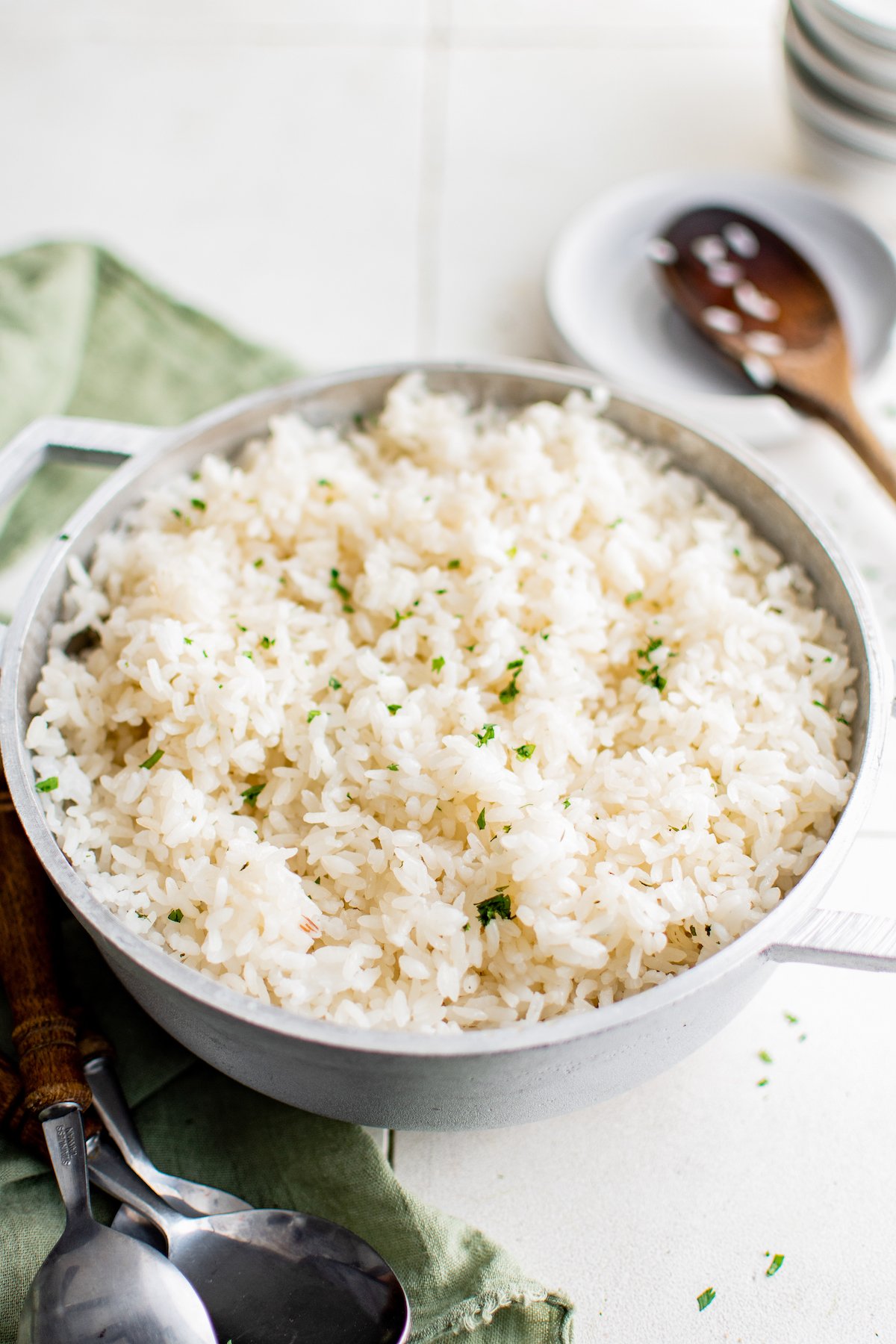 Can I Freeze Extras?
You can also freeze white rice! This comes in handy if you're making large batches and you don't plan on using it all right away. I recommend storing serving-sized portions in plastic or silicone bags. Then, it's safe to freeze for up to 6 months.
Arroz Blanco Puertorriqueño
Arroz Blanco is traditional Puerto Rican white rice cooked in a caldero (or a dutch oven). It's fluffy, dry, and delicious white rice that's the perfect accompaniment for many different meals!
Ingredients
3

cups

water

1

tablespoon

salt

¼

cup

vegetable or canola oil

3

cups

medium grain rice,

Arroz Rico is our favorite
Instructions
Once boiling, add the rice and gently stir. Bring the rice back to a boil, and cook for about 3 to 5 minutes, this is what's going to start building your pegao. I was taught to look at the mound "la montañita" that starts building in the middle of the pot. Once this happens, cover the pot with the lid and bring your temperature down to low.  

Once that lid is closed, DO NOT OPEN IT again! Cook on low for 20 minutes.  Remember, do not open the lid! 

After 20 mins, uncover the lid. Your rice should be white, fluffy, dry, and delicious! Serve as desired.
Notes
Storage Fridge: Store in an airtight container for up to 4 days. Freezer: I recommend storing serving-sized portions in plastic or silicone bags. Then, it's safe to freeze for up to 6 months. Reheat: Reheating rice is a breeze. You can do it in the microwave or on the stovetop. I like to add a few spoonfuls of water when I reheat to bring the rice back to life.
Nutrition
Serving:
1
,
Calories:
192
kcal
,
Carbohydrates:
35
g
,
Protein:
4
g
,
Fat:
4
g
,
Polyunsaturated Fat:
3
g
,
Sodium:
1598
mg
,
Fiber:
1
g
Categories:
More Puerto Rican Recipes to Try
This post may contain affiliate links. Read my disclosure policy.