Pan Fried Plantains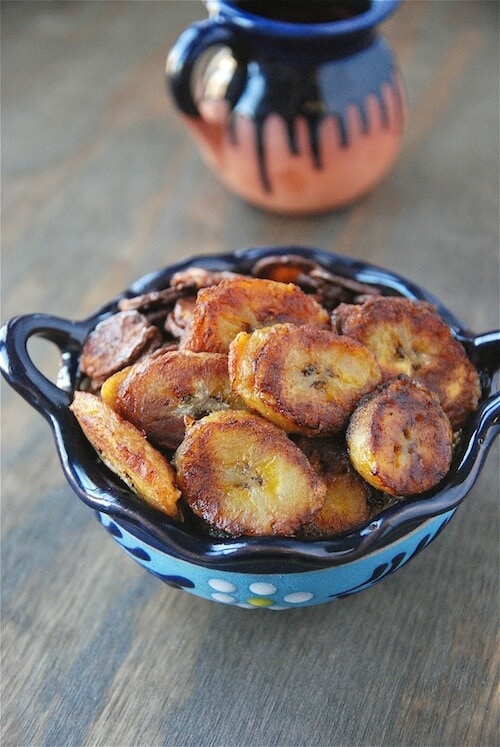 Growing up in Texas, I had never heard of a plantain — much less eaten one. Then 6 years ago, I moved to Florida and they were everywhere. EVERYWHERE. I thought they were hard, awkward looking, black, wannabe bananas…and I stayed the heck away from them. A couple of years later, I married Jorge and became best friends with Christina. Both of them are Puerto Rican, and neither of them could accept my disgust with Plantains. So they set out on a mission to make me fall in love with their beloved plantain.
Plantains are to Puerto Ricans, like Pie is to Americans. Could you imagine what would happen if someone said they wouldn't try pie?! We would shove pie at them until they finally caved and tried the amazingness that is pie. And that is exactly what they did with plantains! I eventually gave in and tried a plantain…and while I was dreading it, I have to admit they are absolutely amazing. The first one I ever had was pan fried…and after that, there was no going back. I now love Tostones (smashed, fried, green plantains), Mofongo (mashed plantains — like mashed potatoes), plantain chips (like potato chips) and even plantain crusted fish.
The recipes using plantains are never ending, but my favorite way is still to simply pan fry them. Pan Fried Plantains are perfectly sweet, caramelized along the outside, and deliciously warm on the inside. They are so simple to make, yet no one will ever know how easy it really is! All you will need is an extra ripe plantain and butter to have one of my favorite side dishes of all time. I love to serve them along side of pork recipes…and I enjoy the cheating feeling I get from having what tastes like dessert with my dinner. 😀
Pan Fried Plantains
Pan Fired Plantains are like having dessert with dinner! They can be -and should be- served next to any Latin dinner!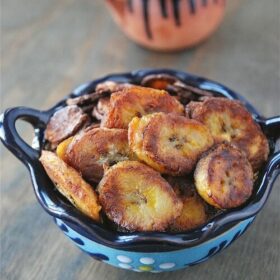 Ingredients:
2 overly ripe (black) plantains, peeled and sliced in 1 inch slices
4 tablespoons butter
Directions:
In a non-stick skillet over medium heat, melt butter.
Add plantains, in a single layer (you will have to do multiple batches). Cook plantains on each side, for about 2-3 minutes, or until they reach a caramelized brown color.
Transfer to a plate covered with newspaper (or paper towels) and allow to drain for a minute or two. Then serve!
If you liked this, you might also like:
How To Peel A Plantain from The Noshery
Coconut Plantain Crusted Fish from My Life as a Mrs.
Plantain Poblano Tofu Wrap from Healthy Happy Life
Tostones with Roasted Garlic Mayo from Closet Cooking
Baked Plantain Chips from Small Home Big Start