Just like Mexican cowboys used to cook them, Frijoles Charros are a hearty bean soup made with leftover meats. Chorizo, bacon, ham, and chicharron pack all the smokiness you need.
Quick & Easy Charro Beans Recipe
First invented by Mexican cowboys, frijoles charros were a simple improvised meal that turned out way better than expected and eventually became a national dish. They're so hearty and comforting that you'd never expect them to be made from leftovers!
With a couple of cheats like canned beans, turning your kitchen into a Mexican restaurant has never been easier. Just make sure the beans are cooked right; everything else is adding ingredients to the pot at the right time.
Made with chorizo, ham, bacon, hot dogs, and chicharrón, it's packed with enough protein to be a meal of its own. Served in a wonderfully rich and smoky broth, you'll be licking the bowl clean like you've found your lost cattle.
Want to make these charro beans in your instant pot? Here ya go: Instant Pot Charro Beans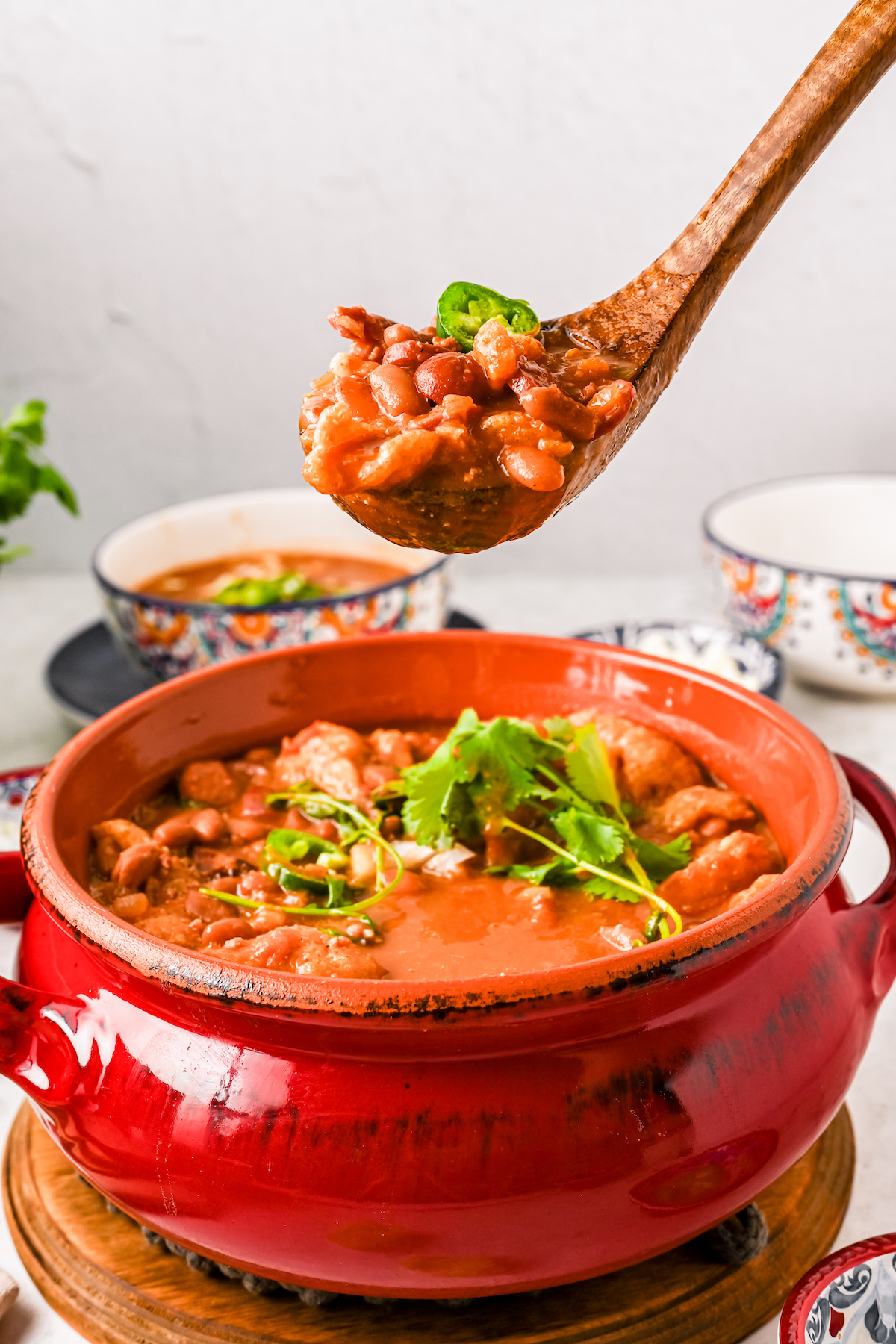 What Are Frijoles Charros?
Frijoles charros are a typical Mexican dish that consists of bean soup flavored with bits of leftover meats. Chorizo, ham, bacon, hot dogs, and chicharron come together for this hearty soup, adding lovely smokiness and depth.
Simmered with lots of tomatoes, onion, jalapeño, and garlic, it's a melting pot for Mexican flavors. The tomatoes add sweetness while the jalapeños bring heat. Meanwhile, the onion and garlic balance everything out with their pungent spiciness.
It's often served with cilantro for a bit of herby freshness and queso fresco for richness.
Why Are They Called Charro Beans?
Frijoles charros get their name from "charros," Mexican cowboys. This is because they used to spend most of their time outdoors— in the desert or the ranch— and barely had time to cook. Not to mention, few ingredients were available because of where they worked.
As a result, charros threw together improvised meals all the time using whatever they had on hand. Charro beans were the result of one of these unintentional lunches. That's why they're called "frijoles charros."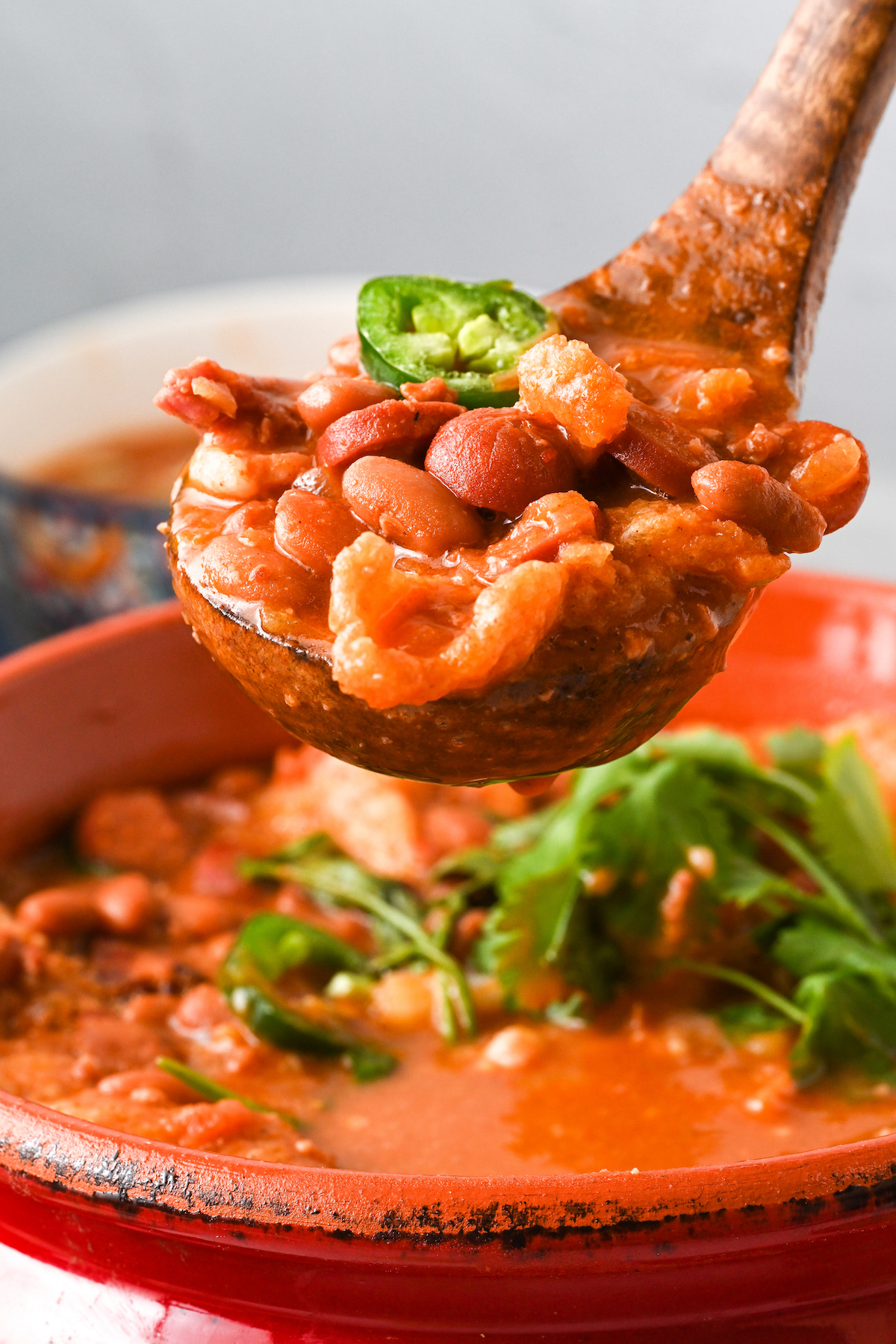 What's the Difference Between Charro and Refried Beans?
Charro beans are practically bean soup. The beans are whole and boiled in a flavorsome broth with bacon, hot dogs, ham, and chicharrón. They need to be served hot and can be a whole meal.
Refried beans are mashed or blended beans cooked in lard and thickened. They don't normally have meat in them, except for chorizo sometimes. They are served cold, room temperature, or hot as a side dish.
What Does Charro Mean in Spanish?
Traditional charros are Mexican cowboys. They dress in tight-fitting, beautifully embroidered suits and ride around in horses. They also look after livestock. It's an art form, a sport, and a job.
However, one can argue there's a newer kind of charro nowadays, transforming the meaning into something musical, like mariachis.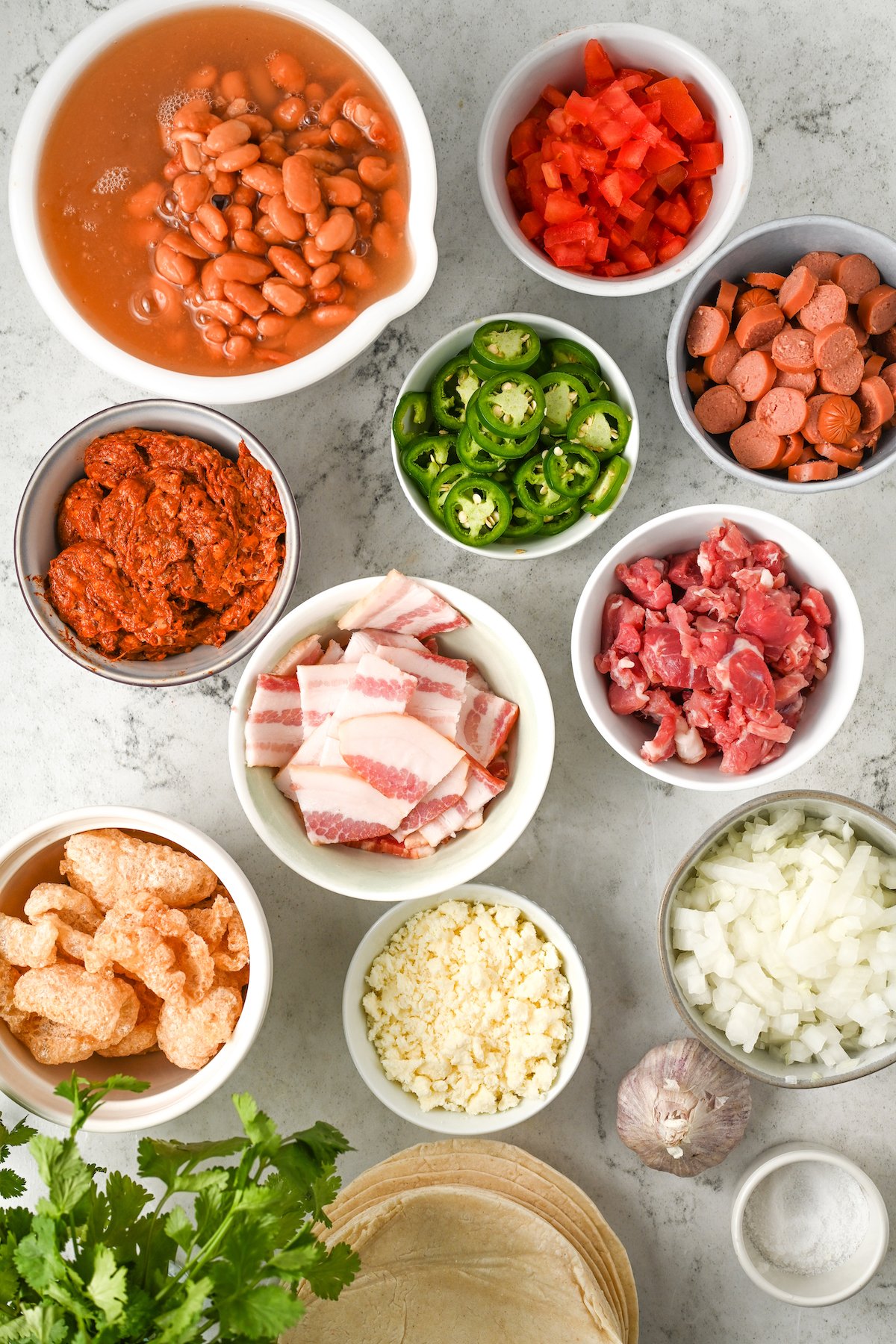 Recipe Ingredients
Charro beans are an excellent way to use leftovers to make a hearty meal. For exact ingredient amounts scroll to the recipe card at the bottom of this post.
Bacon – Pancetta or pork belly are wonderful substitutes.
Mexican Chorizo – Pork chorizo is the most flavorful, but beef and turkey versions are delicious too. You can use store bought, or I also have a great Homemade Chorizo recipe!
Roma Tomatoes – The heirloom variety also works, just remove most of the seeds.
Onion – White or yellow onions are okay.
Jalapeños – Serrano chiles work too, but reduce the amount by half since they're usually spicier. Don't use poblanos because they're sweeter.
Garlic – You can swap it out for 4 tsp garlic powder.
Hot Dogs – Pork, beef, or turkey hot dogs are great.
Ham – Smoked ham gets bonus points for flavor.
Pinto Beans – Homemade or canned will do. Give canned beans a good rinse.
Bean Broth – This is from the cooked beans. For canned beans, use water or veggie broth instead.
Chicharrón – Definitely optional, but highly recommended.
Salt
Optional Toppings
Cilantro
Queso Fresco – Panela is a good substitute.
Onion
Jalapeños – Serrano is fine as well.
Tortillas – Of course I recommend my favorite Homemade Four Tortillas, but store bought tortillas (corn or flour) are both great. Heat them up on the stove top before serving!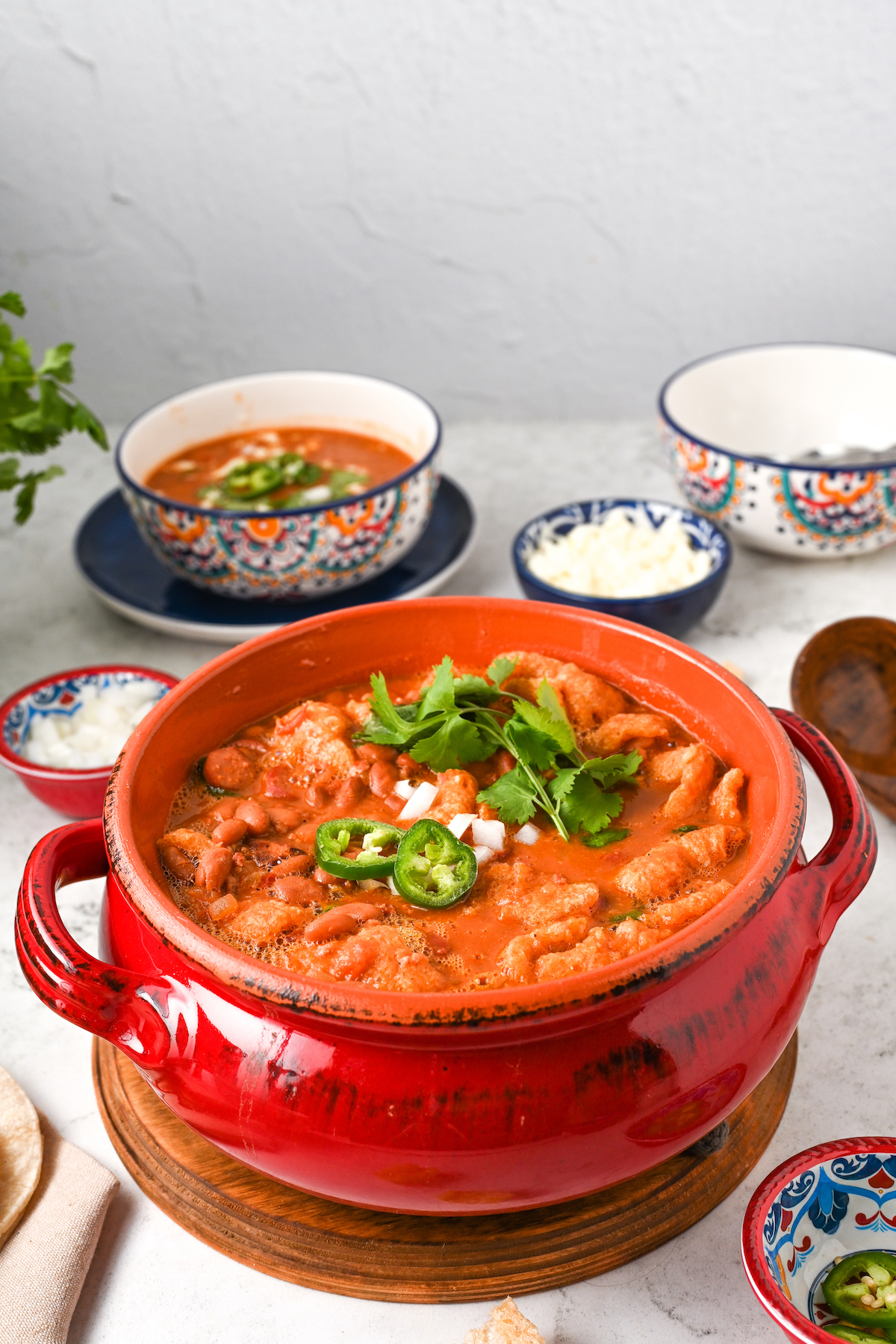 How to Make Frijoles Charros
Don't let this hearty bean soup intimidate you. It's just a bunch of leftovers thrown into the pot at different stages.
Cook the bacon. Place the bacon in a large pot over medium heat. Cook it for 1-2 minutes or until it starts rendering fat. Add the chorizo and let it cook for another 4-5 minutes or until golden brown. Use a spatula to break the chorizo apart and keep it from clumping.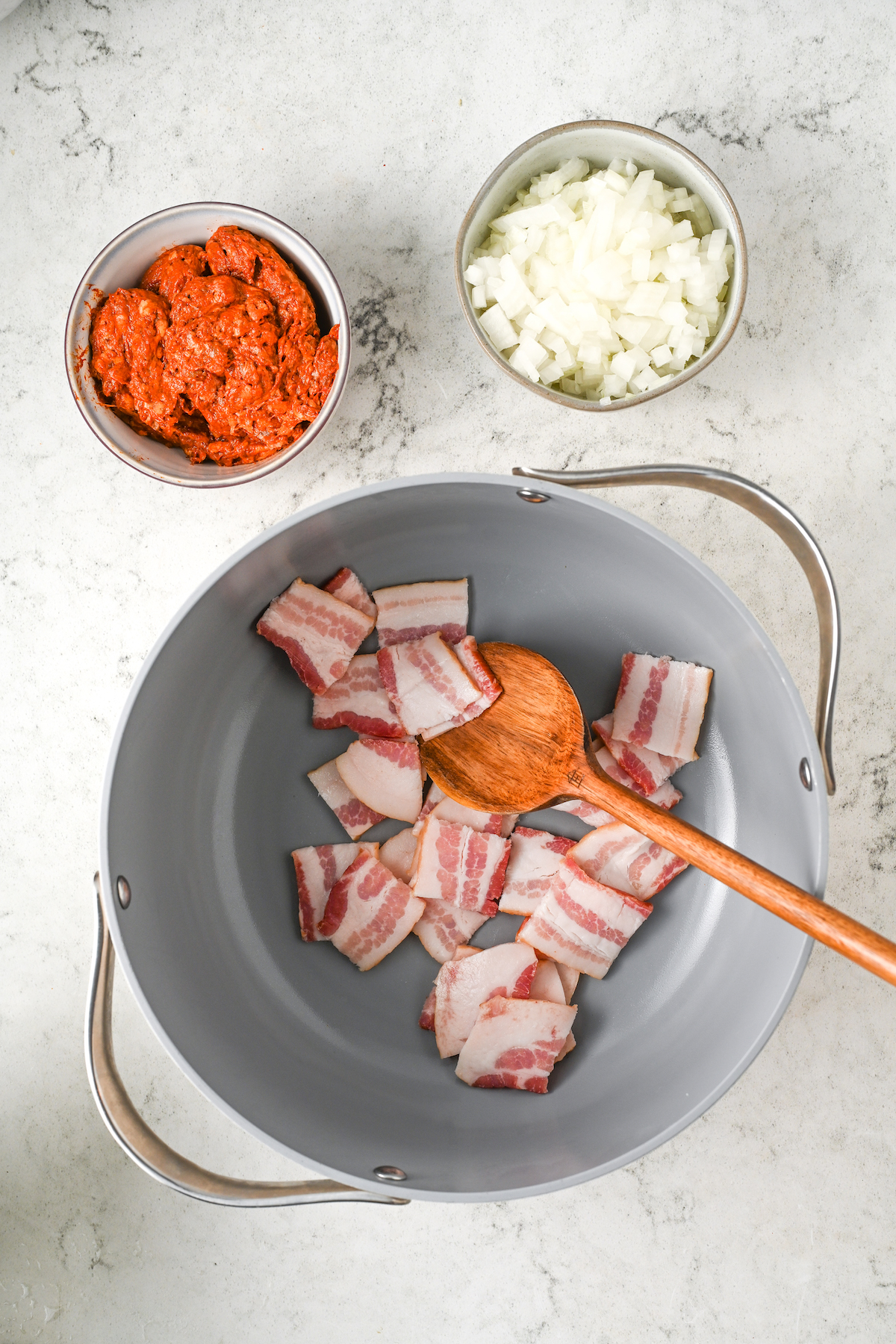 Cook the tomatoes. Add the tomatoes, onion, jalapeños, and garlic to the pot. Stir to combine. Cook the ingredients for 3-4 minutes or until the vegetables are soft.
Add the hot dogs. Stir the hot dogs and ham in. Mix well and cook over medium-low heat for 10 minutes.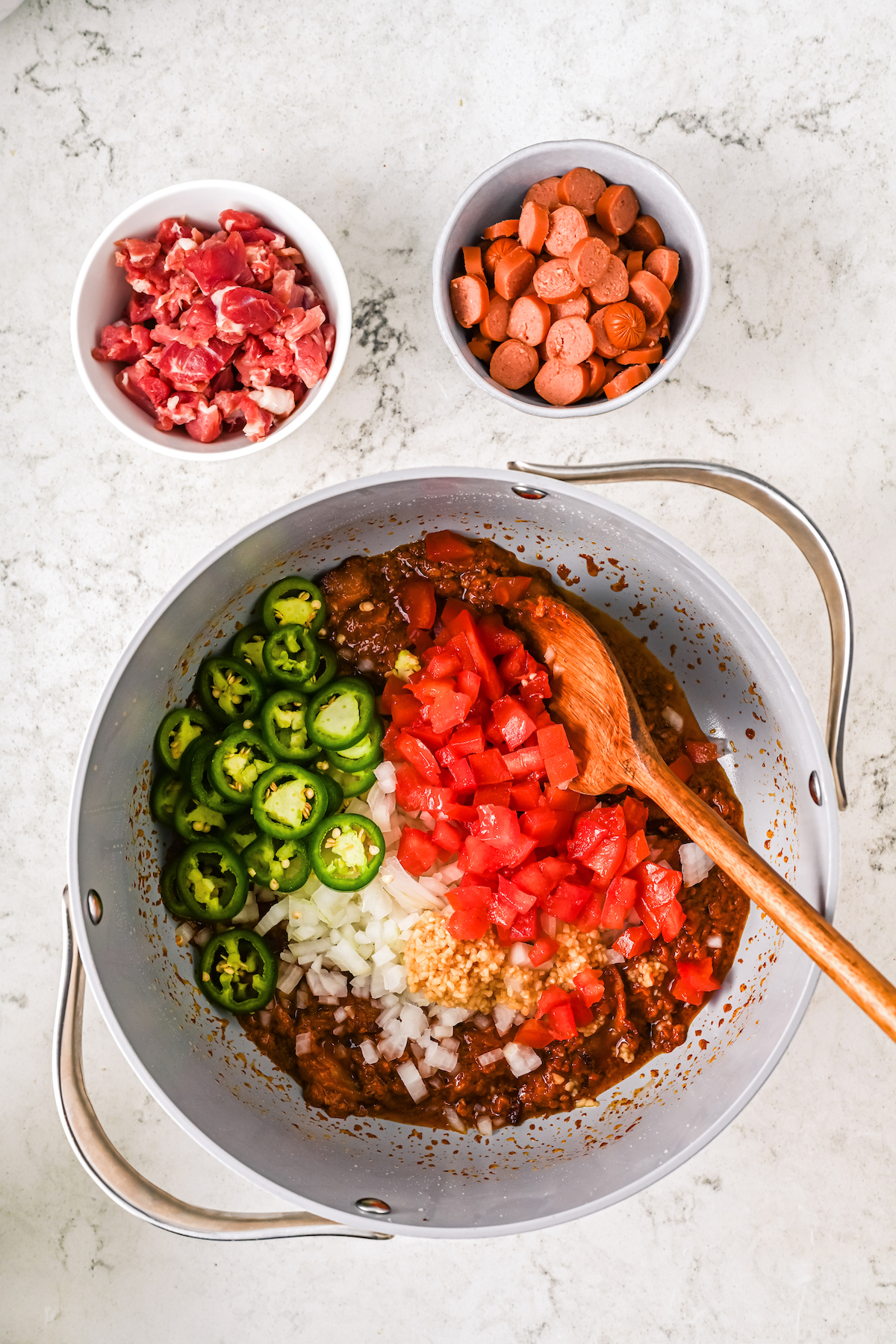 Incorporate the beans. Add the beans and bean broth to the pot. Stir well to combine and then cover with a lid. Set the heat to medium and let the beans simmer for 20 minutes. Then add the chicharrón and let it cook for another minute.
Serve. Add more salt to taste. Serve and add your favorite toppings. Enjoy!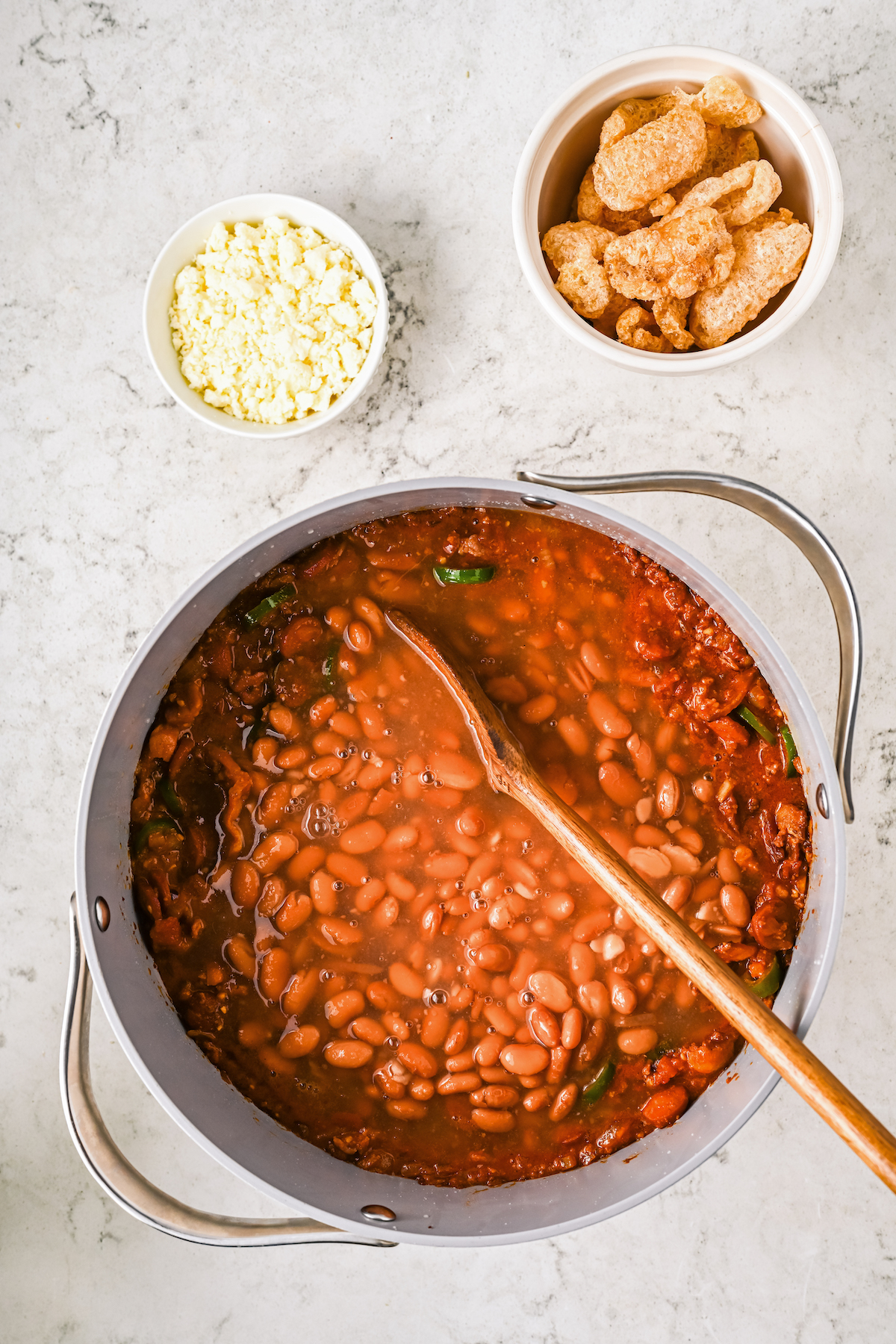 Tips for the Best Charro Beans
If you follow these tips, there's no going wrong with the recipe.
Make your own chorizo. Use my recipe to make high-quality homemade chorizo for charro beans and all your favorite recipes.
Save time. Try my Instant Pot Charro Beans recipe for the same flavor in less time.
Use kidney beans. Using kidney beans isn't the end of the world if that's all you've got on hand.
Add ground pork. Make frijoles charros an extra filling meal by cooking ground pork with the bacon. Shredded beef or pork are great too for a kind of frijoles charros-pozole fusion.
Cook the beans well. Make sure your homemade beans are fully cooked before adding them to the pot. No one likes hard, raw beans.
Keep the lid on. The lid should be on the pot at all times to avoid excess evaporation and ensure even cooking.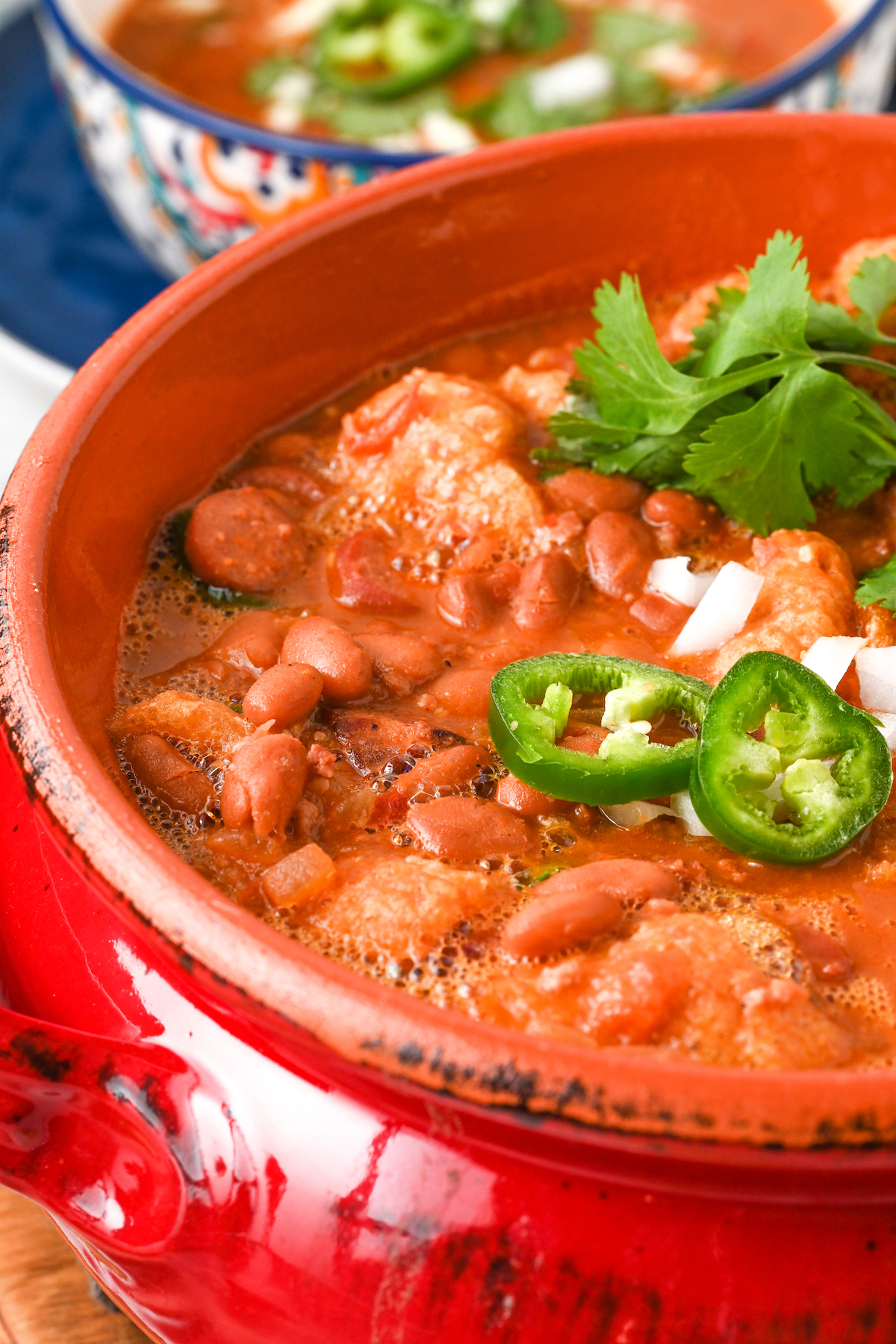 Serving Suggestions
Frijoles charros are filling enough to be a whole meal. However, it's more common to see small portions of it used as a side.
They go great with tacos, especially my Carne Asada Tacos. Cheesy Beef Taquitos and Air Fryer Chicken Taquitos are great options too. Basically anything that isn't as saucy will do because the beans are already quite soupy.
These beans also go along great with Carne Asada, Chile Rellenos in Cream Sauce and Sheet Pan Chicken Fajitas! With a bit of Mexican rice and guacamole, frijoles charros are the perfect starter to a great meal.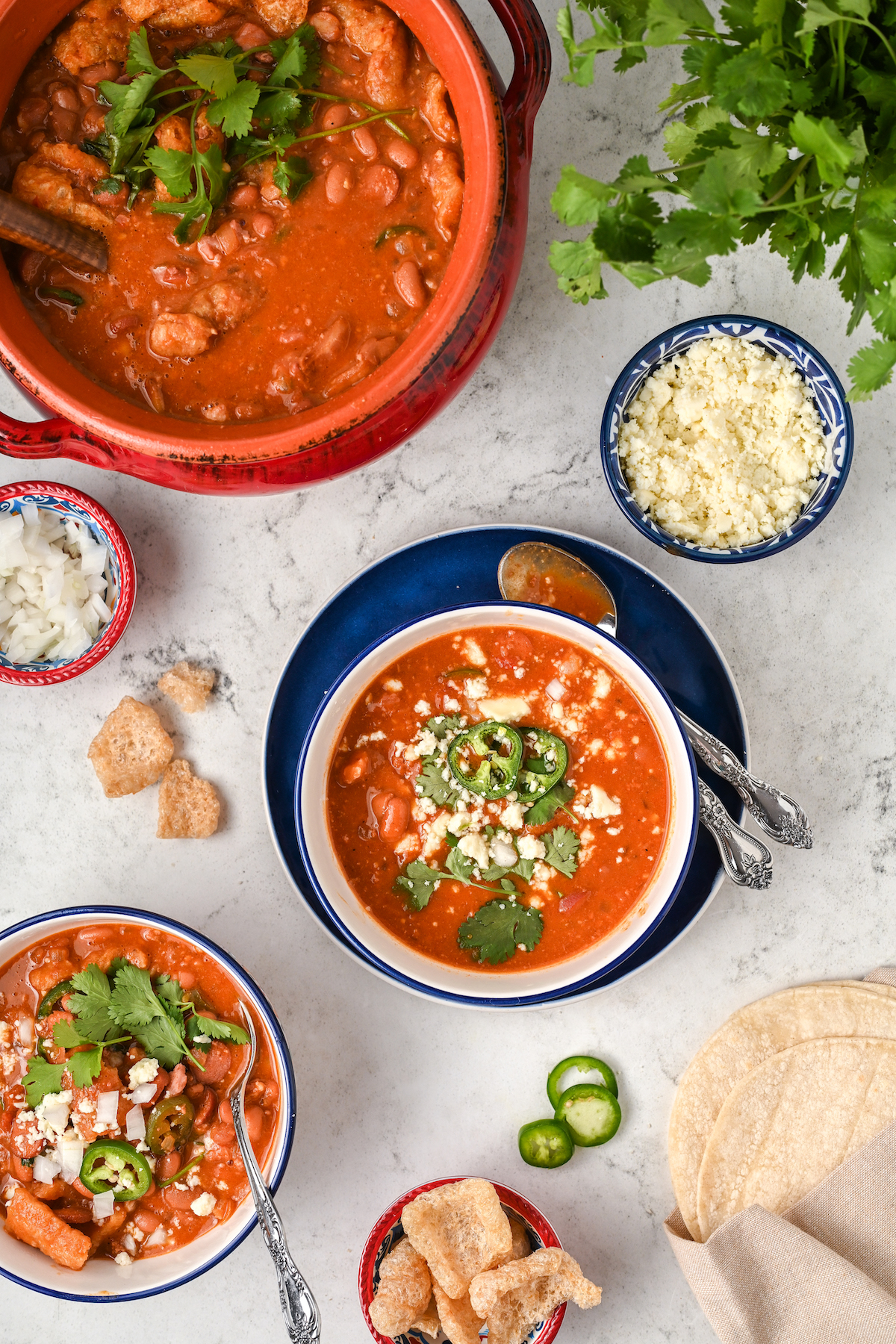 How to Store & Reheat Leftovers
Refrigerate any cooled leftovers in an airtight container for up to 5 days. To heat them, pop them in the microwave for up to a minute or until warm. You can also heat them in a pot over medium-low heat for 3-4 minutes or until hot.
Can I Freeze These?
Yes! Frijoles charros freeze very well. Transfer them to a freezer-friendly bag or container and freeze for up to 3 months. Thaw them in the refrigerator overnight the day before you're ready to eat them.
More Mexican Recipes
Frijoles Charros (Charro Beans)
Frijoles charros are made with leftover chorizo, ham, bacon, and hot dogs. Served in a flavorful, smoky broth, it's a comforting bean soup. 
Ingredients
4

slices

bacon

,

cut into 1" pieces

8

oz

Mexican chorizo

3

Roma tomatoes

,

diced

1

medium onion

,

diced

2

jalapeños

,

seeded and sliced

1

tablespoon

minced garlic

3

hotdogs

,

sliced into 1/4" pieces

½

cup

cubed ham

4

cups

cooked pinto beans

,

homemade or canned

3

cups

bean broth

,

from the cooked beans

1

cup

chicharron

,

optional

1

teaspoon

salt

,

to taste
Optional Toppings:
Cilantro

Queso fresco

,

crumbled

Onion

,

diced

Jalapeños

,

sliced
Instructions
In a large pan, cook the bacon until some of the fat is rendered out.  Add the chorizo and cook through, breaking apart the meat as it cooks.

Next, add the tomatoes, onion, jalapeños, and garlic. Cook for 3 to 4 minutes, until the vegetables are softened.

Stir in the hotdogs and ham, cook on medium low for 10 minutes.

Add the pinto beans and bean broth, stirring to combine. Cover with a lid.  Set to medium heat and simmer for 20 minutes. Add the chicharron and cook for 1 minutes. Taste and add salt, if needed.

Serve immediately with desired toppings!
Nutrition
Serving:
6
,
Calories:
730
kcal
,
Carbohydrates:
64
g
,
Protein:
44
g
,
Fat:
34
g
,
Saturated Fat:
13
g
,
Polyunsaturated Fat:
17
g
,
Cholesterol:
82
mg
,
Sodium:
1613
mg
,
Fiber:
17
g
,
Sugar:
5
g
Categories:
This post may contain affiliate links. Read my disclosure policy.