Packed with pork and white hominy, Pozole Verde is a comfortingly spicy Mexican soup. Made with a poblano and tomatillos sauce, a bit of shredded cabbage is just what it needs for extra greenness and crunch.
Pork Pozole: A Traditional Mexican Stew Recipe
Spicy and vibrant, pork pozole verde is a Mexican soup with prehispanic origins. With juicy pork slowly simmered in chicken broth and a charred green sauce, it's no wonder it was made as an offering to Aztec gods.
Smokey, spicy, and slightly sweet, this soup becomes extra flavorful the longer it's simmered. Having said that, don't be afraid to leave it in the pot a little longer! For a quicker cooking time, use cheats like frozen poblanos and rotisserie chicken.
With a signature greenness that isn't going away any day, it's time to get creative with the toppings. Sliced radishes and cilantro are the most common, but why not crumble some chicharron on top? Once you figure out your favorite combination, you'll be simmering pots of pork pozole verde more often than you'd expect!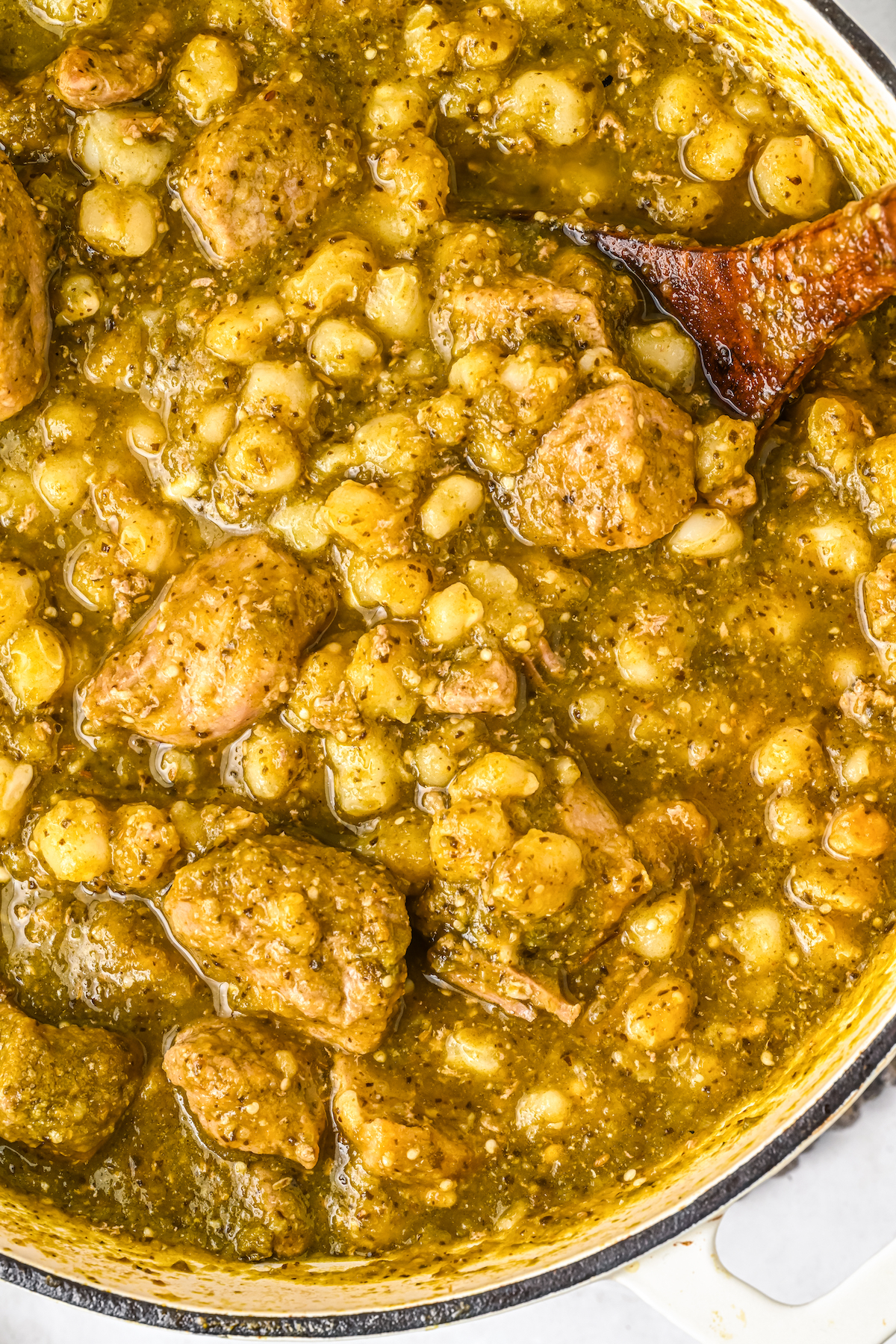 What is Pozole?
Pozole is a typical Mexican soup made with pork and white hominy. It's typically only made for special occasions like Independence Day.
Although the flavor base changes depending on the region, it doesn't necessarily have to be spicy. In fact, pozole can be quite mild if you leave out some or all of the chiles.
Simmered for hours until the meat is fork-tender, it's a comforting soup with hints of cumin and Mexican oregano for spice and herbiness. The longer it's cooked, the more stew-like it becomes as the broth thickens.
Often served in large bowls with lots of shredded cabbage, sliced radish, and red onion on top, it's one of Mexico's most iconic dishes.
What Are The 3 Types of Pozole?
Pozole comes in three flavors or types: green, white, and red— just like the Mexican flag!
Green pozole gets its color from poblano peppers, tomatillos, and jalapeños. Red pozole gets it from dried chiles, while white pozole is a plain broth with lots of aromatics for flavor.
What Kind of Pork is Pozole Made Of?
Pozole is typically made with pork shoulder or butt.
What Meat Was Originally Used in Pozole?
Believe it or not, the Aztecs used human flesh to make pozole. When the Spanish arrived to Mexico, it was substituted for pork and chicken.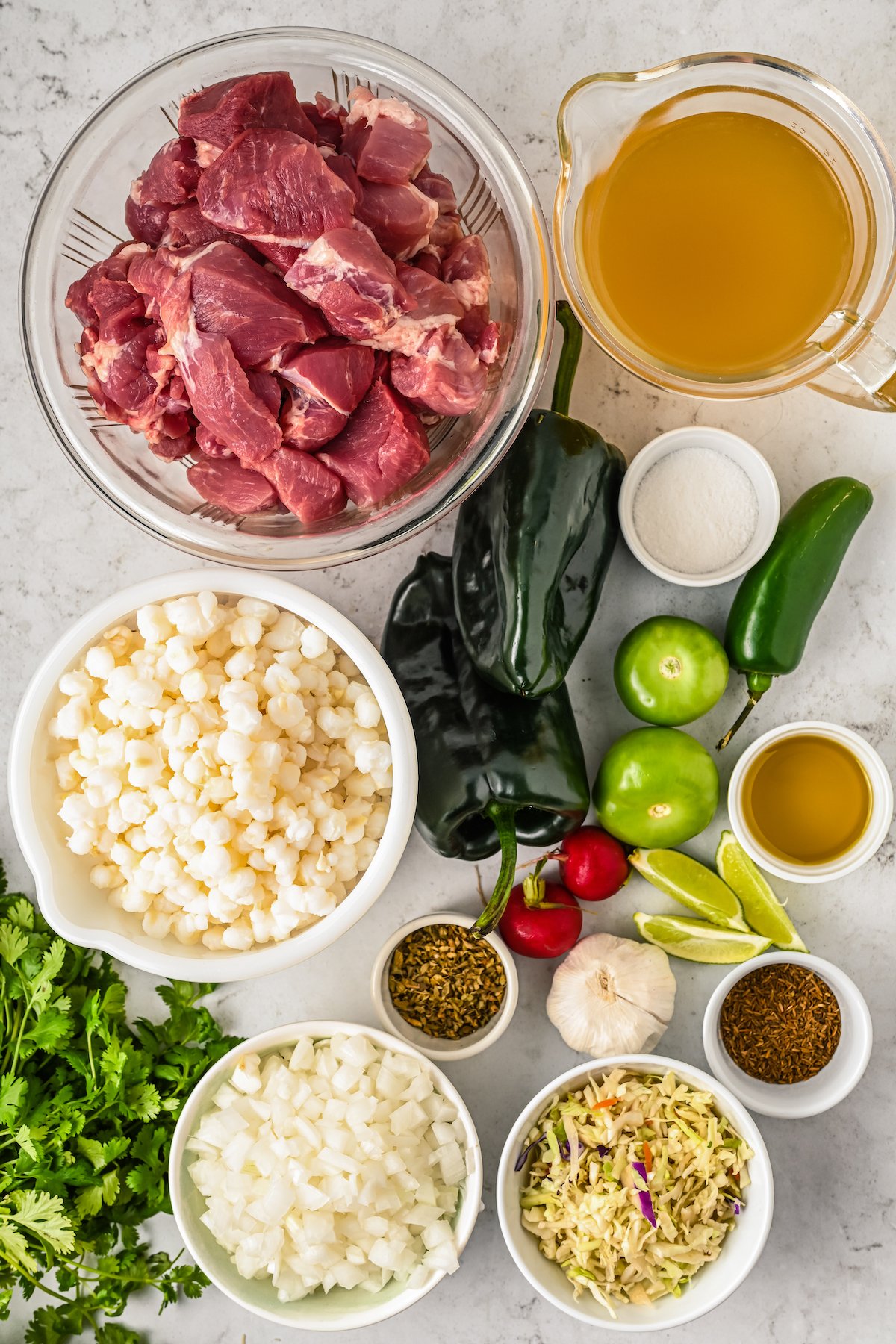 Recipe Ingredients
You can find these ingredients in the Mexican/Latino section at most supermarkets. Check the recipe card at the bottom of the post for exact ingredient amounts.
For the Pozole Verde
Olive oil – You can also use vegetable, corn, or canola oil. Feel free to swap it out for lard as well.
Pork shoulder – Pork butt works too.
Onion – I prefer white, but yellow onion is a good substitute.
Salt
Chicken broth – You can also use veggie broth.
Poblano peppers
Tomatillos
Jalapeños
Garlic – Don't substitute this for garlic powder.
Cilantro
Cumin seeds – Ground cumin will do too.
White hominy – This is sold in cans or vacuum-sealed bags at most Mexican supermarkets.
For Garnishing
Shredded cabbage – Lettuce works too.
Radishes
Jalapeños – Sliced serrano is a good substitute.
Lime wedges
Mexican oregano
Cilantro
Red onion
Can I Make This With Chicken Instead of Pork?
Absolutely! Chicken pozole is very common, so just substitute it in the recipe.
How to Make Pork Pozole Verde
In a nutshell, making pozole consists of three main steps: searing the pork, making the sauce, and letting the soup simmer.
Sear the pork. Add the olive oil to a pot over medium-high heat. Place the pork inside and let it cook for 3-4 minutes on all sides or until browned. Don't overcrowd the pot, so you may have to cook in batches. Remove the pork from the heat and set it aside.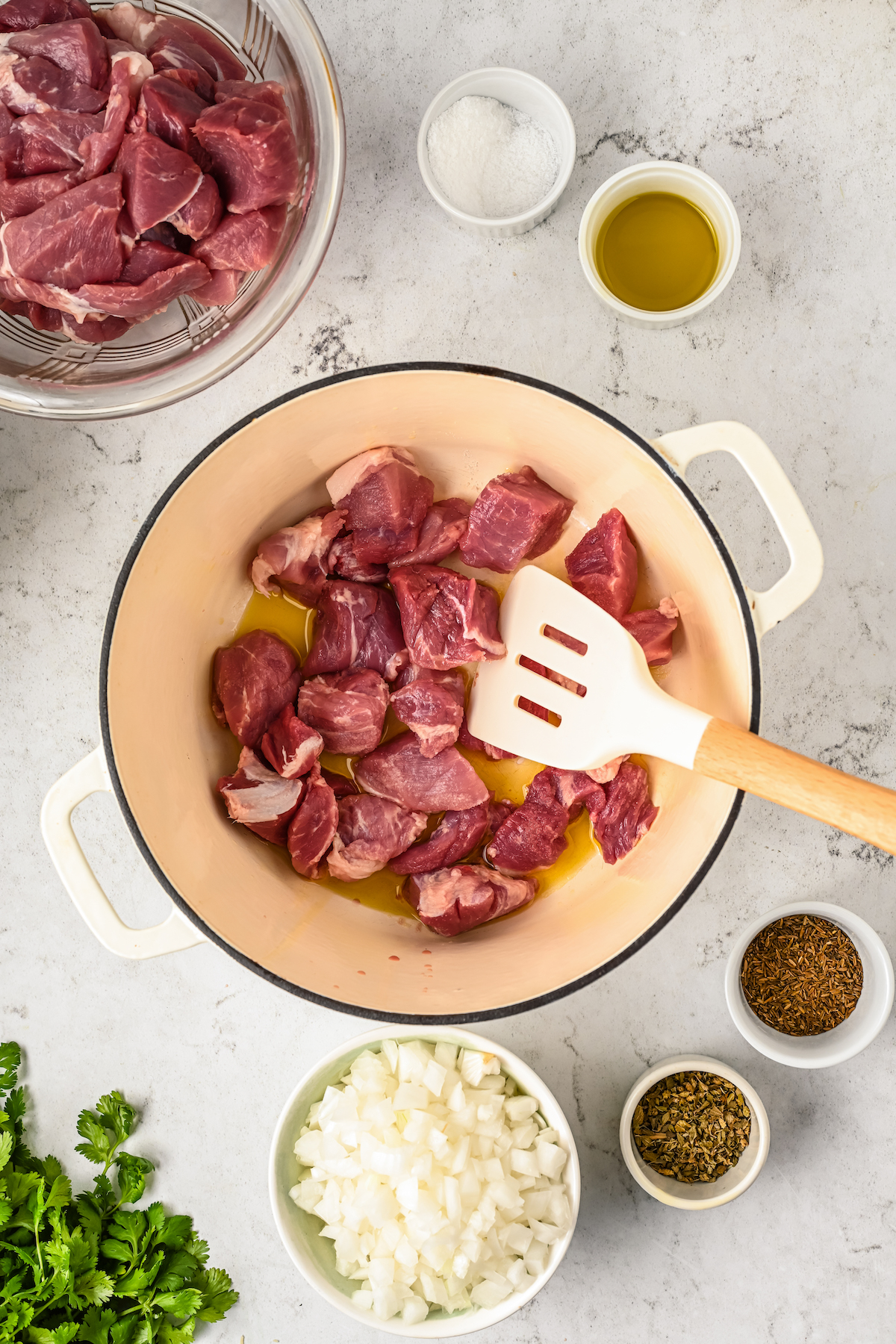 Cook the onions. Add the onions to the pot and let them cook for 5 minutes or until softened. Transfer half of the cooked onions to a blender. Set it aside.
Add the pork. Return the pork to the pot and stir it with the remaining onions. Season with salt to taste and add 5 cups of chicken broth. Lower the heat to medium and let it simmer for 1 hour.
Char the poblanos. Heat the broiler to 500 F. Line a baking sheet with parchment paper and place the poblanos, tomatillos, jalapeños, and garlic head inside. Pop the tray into the lower rack and let the ingredients broil for 5 minutes or until they begin to char. Turn the poblanos and tomatillos over. Broil for another 5 minutes.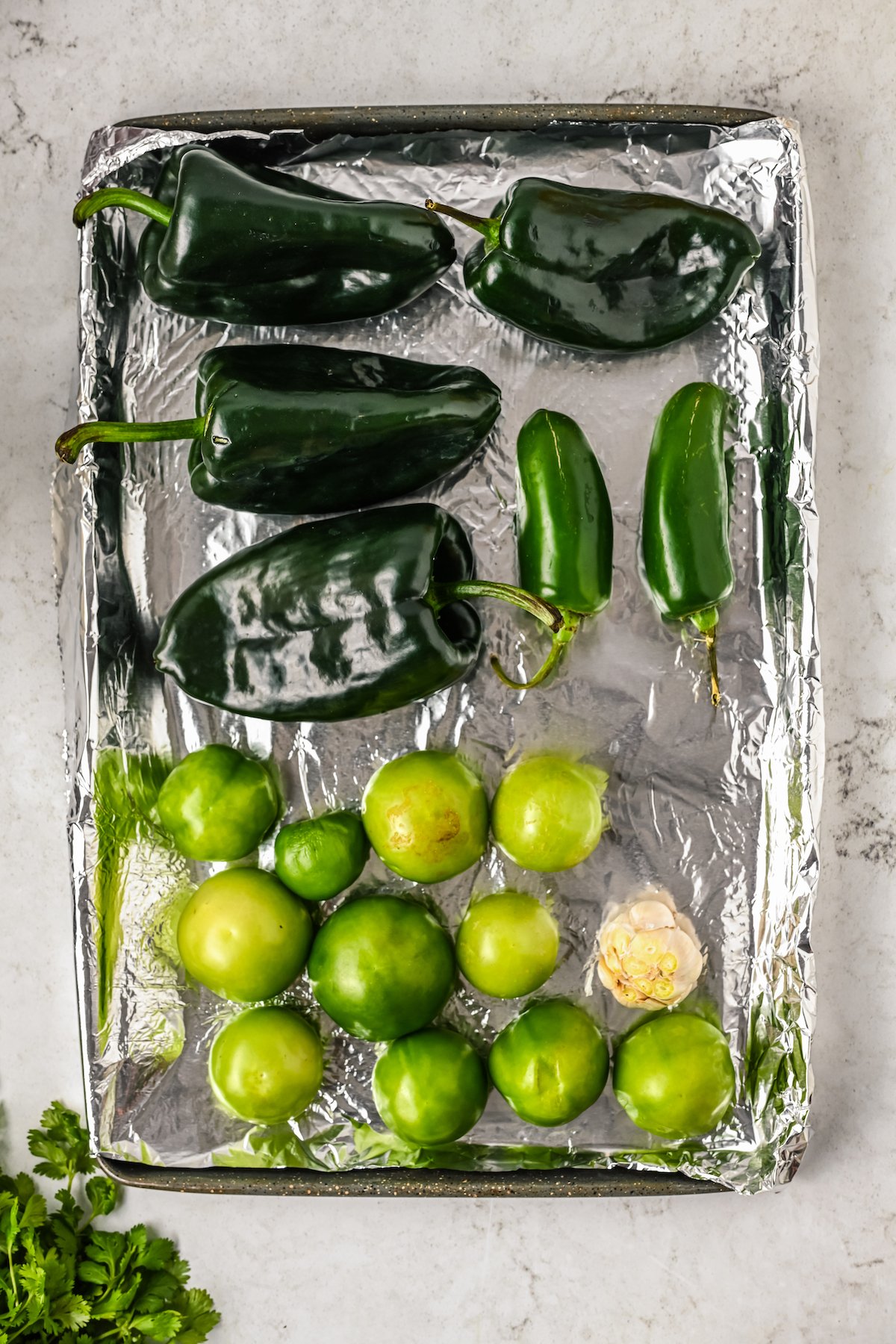 Steam the poblanos. Remove the baking sheet from the oven and set it aside. Place the poblanos in a large ziplock bag and seal it. Let it rest for 10 minutes. Remove them from the bag and gently rub your fingers against the blackened parts to remove the skin. If it's not peeling off easily, let them steam in the bag for another 5 minutes.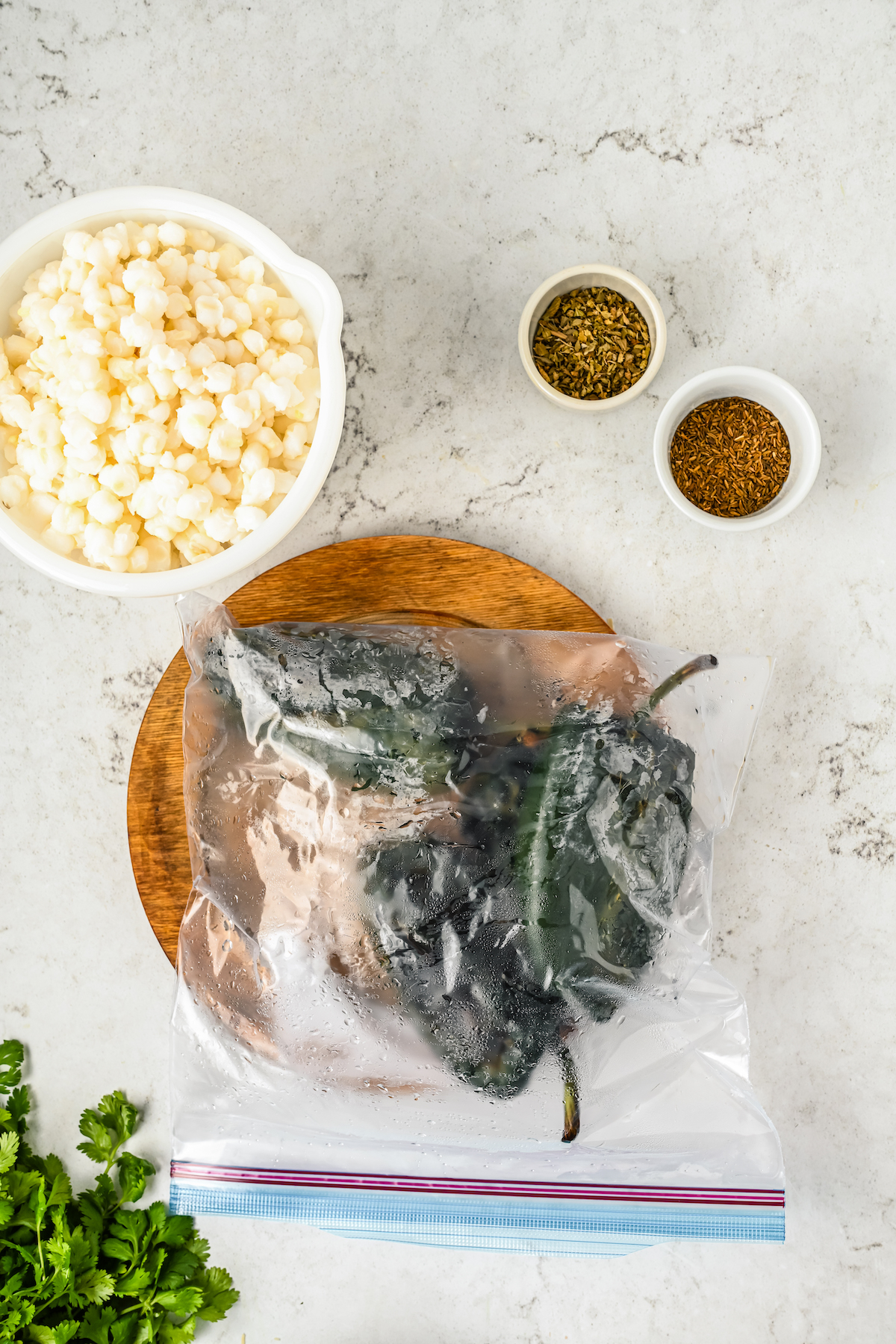 Blend the tomatillos. Place the peeled poblanos and tomatillos in the blender. Remove the seeds from the jalapeños and add them too. Pour in the remaining 3 cups of broth and blend until smooth.
Add the garlic.

Squeeze the garlic from the peel and add it to the blender.

Process until well combined. Add the cumin and oregano to the blended sauce.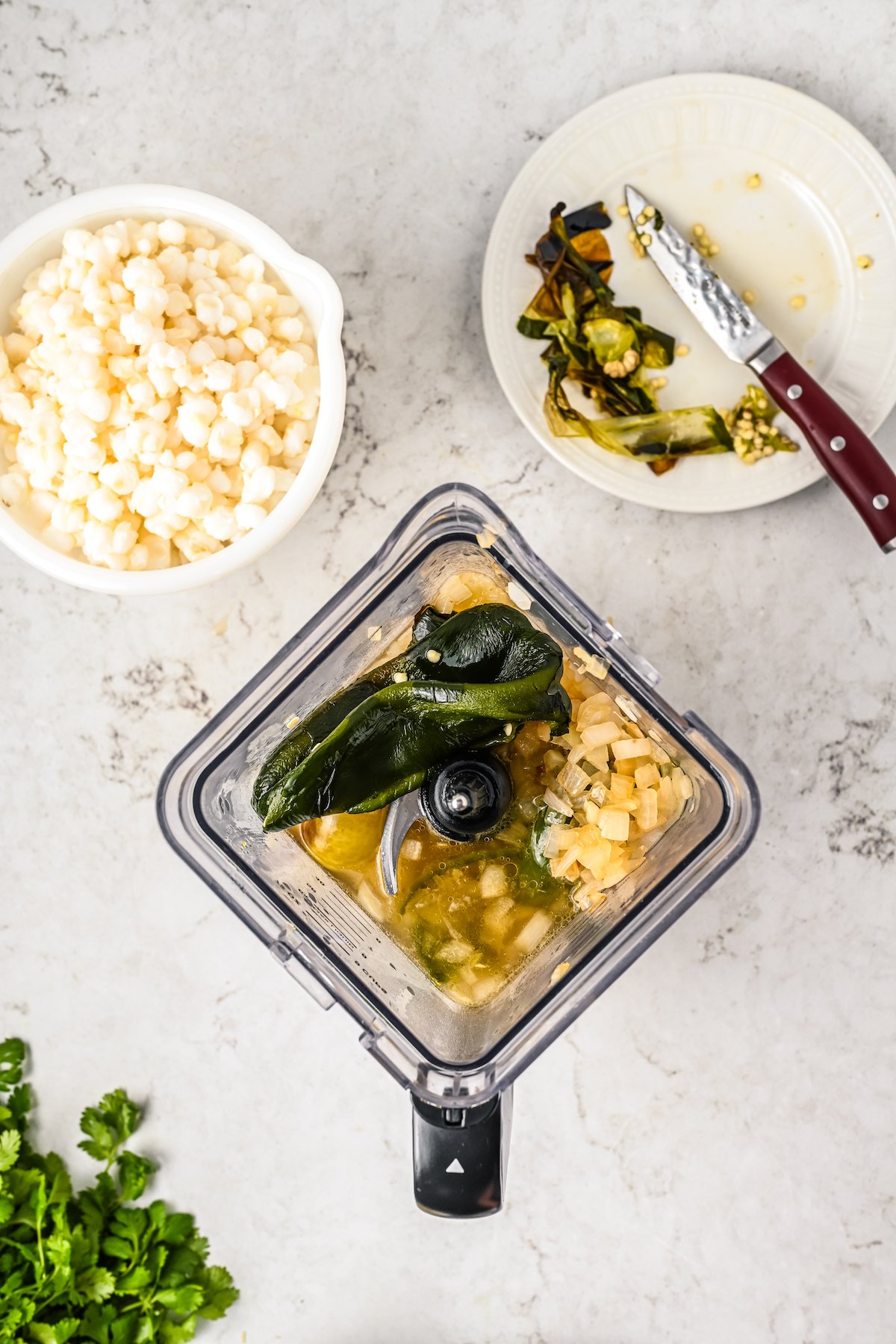 Pour the sauce. After an hour of simmering, add the green sauce to the pot and stir well.
Simmer. Reduce the heat to medium-low, add the hominy, and let it simmer for 1-2 more hours. If too much liquid evaporates, add more water or chicken broth as needed.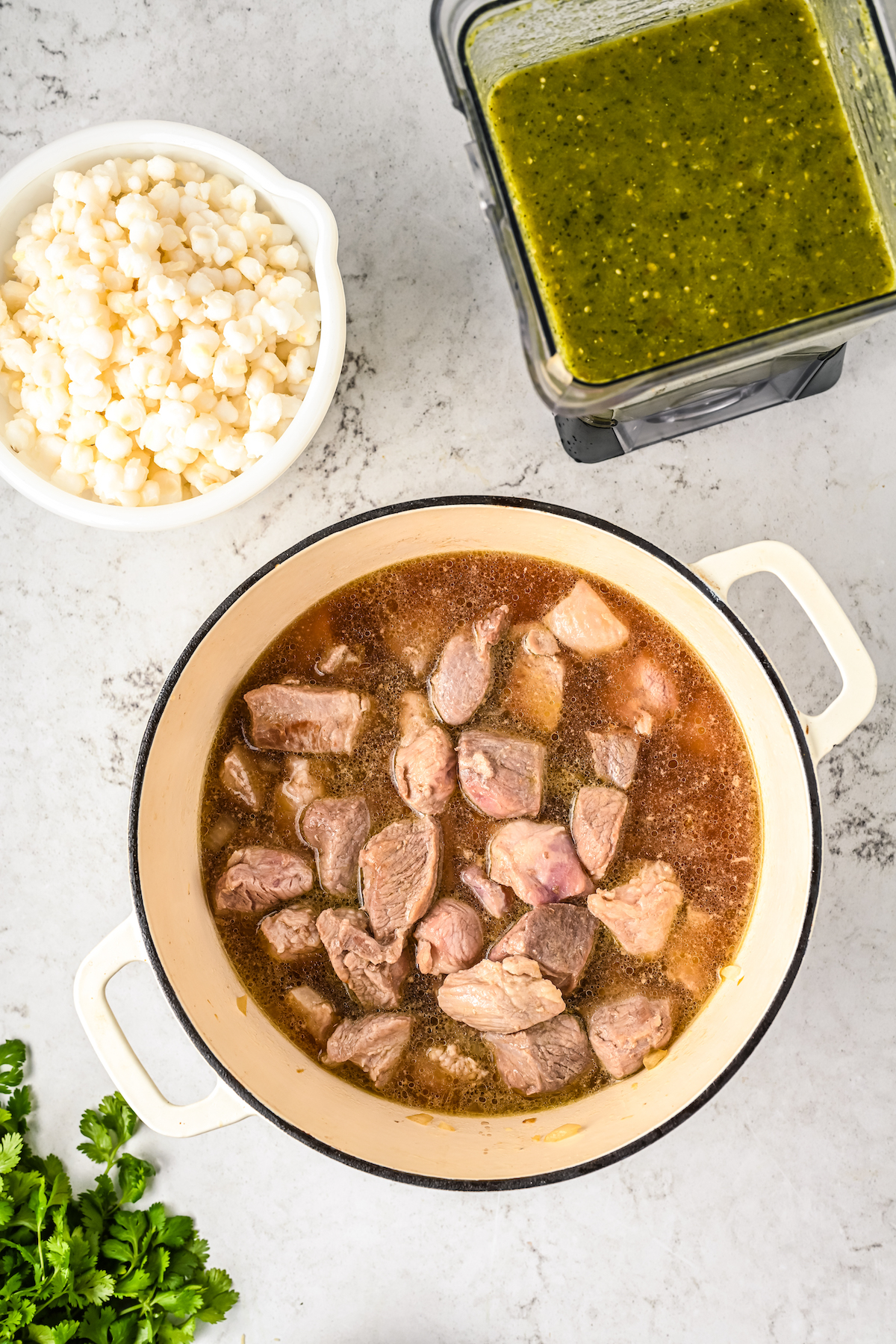 Serve. Pour it into large serving bowls and add your favorite toppings. Enjoy!
Tips for Success
Add some extra flavor and cut down on cooking time with these simple tips:
Use frozen poblanos. You can find them at most Mexican supermarkets and are a real lifesaver.
Add avocado. Top your pozole with avocado slices for a bit of creaminess.
Crumble chicharron. For something a little crunchier, crumble chicharron (pork rind) on top.
Use rotisserie chicken. Shred any leftover rotisserie chicken and use it for pozole.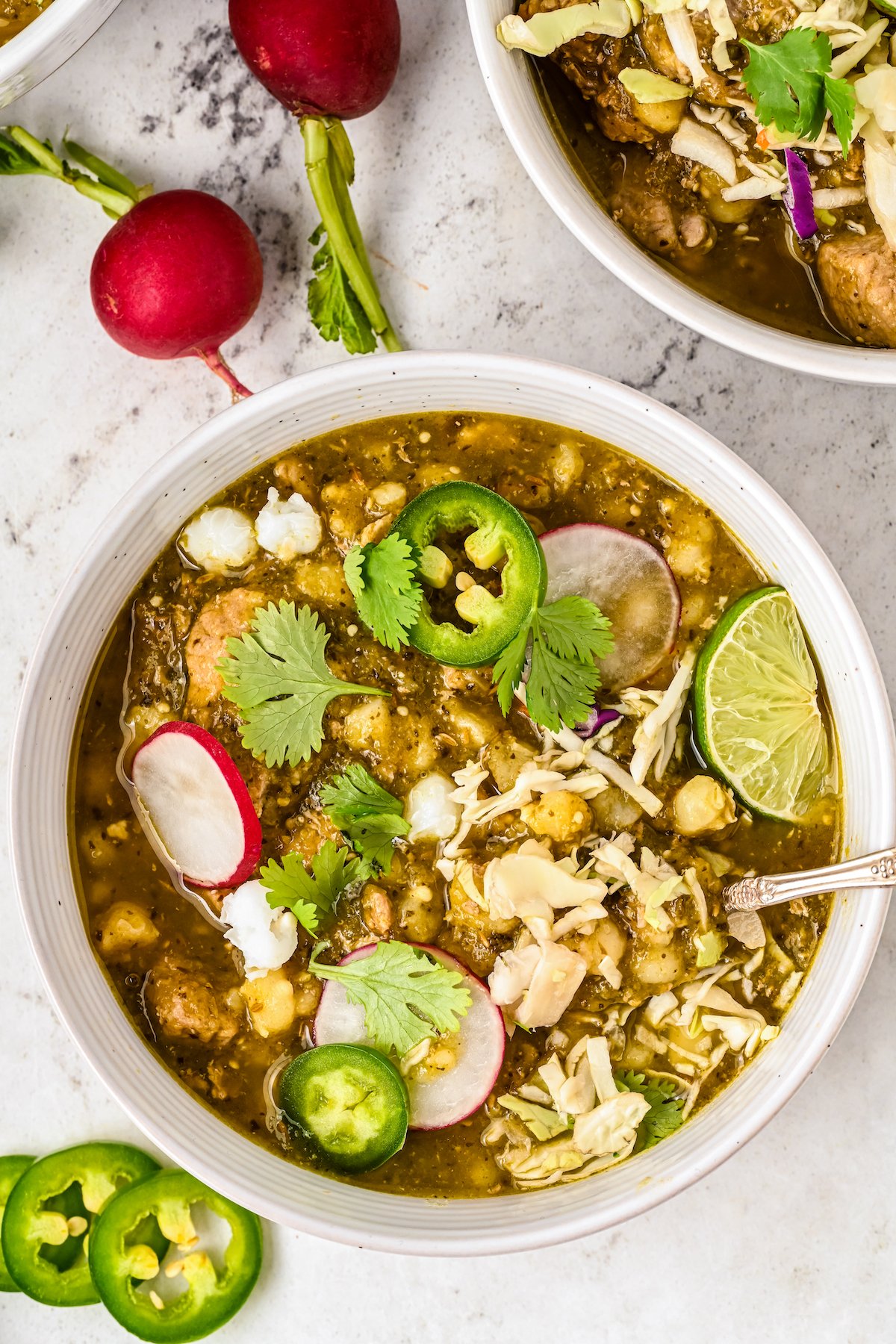 What To Serve with Pozole
Pork pozole verde is so filling it doesn't need lots of side dishes. However, a bit of guacamole and refried beans go great with the soup to tone down the heat.
Dunking Mexican bolillos and tortillas into the broth for an extra hearty bite is quite typical as well.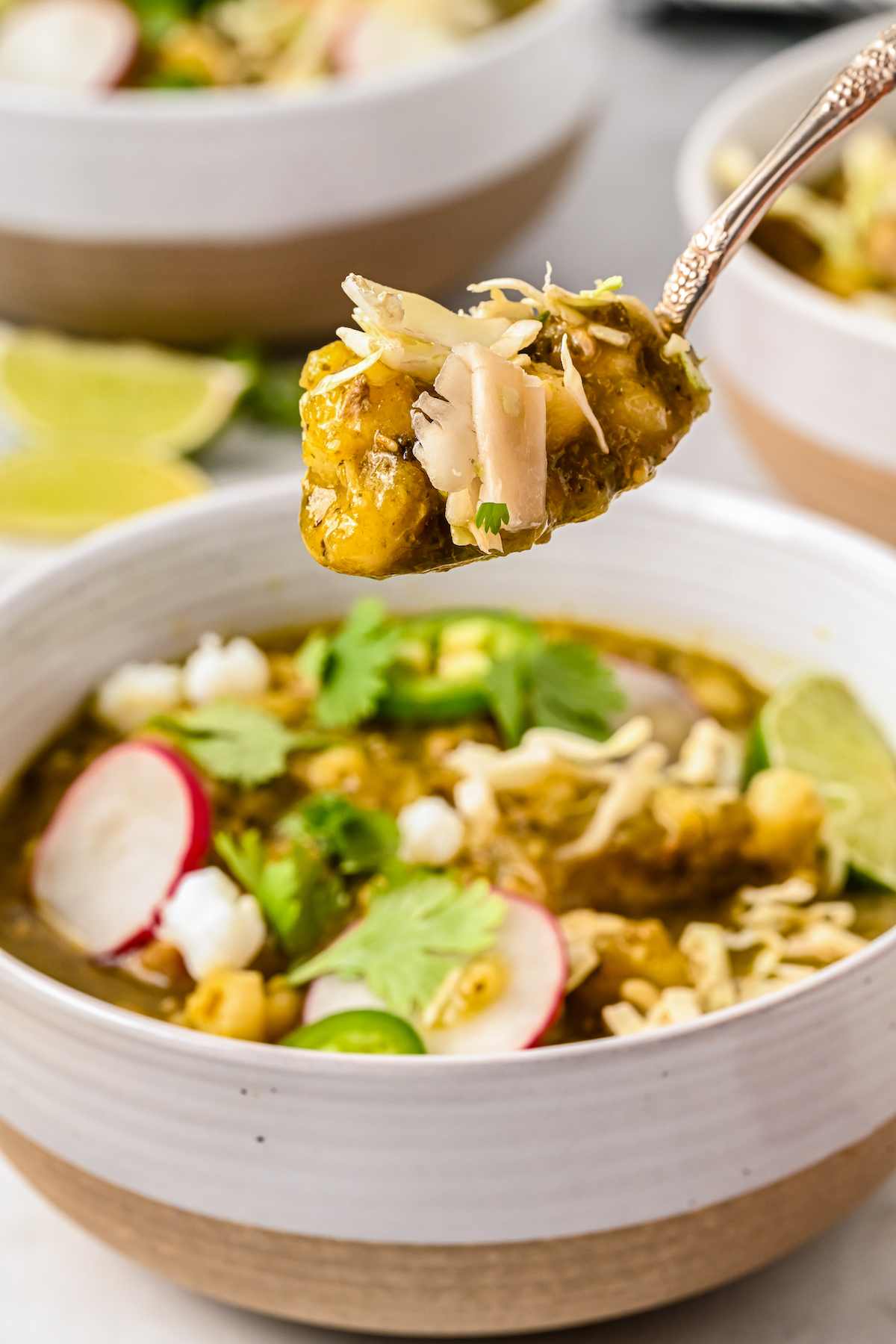 How to Store & Reheat Leftovers
Refrigerate any leftovers in an airtight container for up to 5 days.
Reheat it by microwaving the pozole for 1-2 minutes or until warm. You can also heat it in a small pot over medium heat.
Can I Freeze This?
Sure! Place any cooled pozole verde in a freezer-friendly container and freeze for up to 3 months.
When ready to eat, transfer it to the fridge overnight so it begins to thaw and then heat it as usual.
More Authentic Mexican Recipes
Pork Pozole Verde
Comfortingly spicy, pork pozole verde is a spicy Mexican soup with white hominy. Packed with poblanos and tomatillos, it's perfect. 
Ingredients
4

tablespoons

olive oil

3

pound

pork shoulder or butt

,

cut into 2-inch pieces

1

white onion

,

diced

2

tablespoons

salt

8

cups

chicken broth

6

poblano peppers

6

large tomatillos

,

peeled

2

jalapeno peppers

1

head of garlic

,

top cut off

1

bunch cilantro

,

leaves and stems

1

tablespoon

whole cumin seeds

,

toasted and ground (or ground cumin)

1

tablespoon

Mexican oregano

4

cups

30 oz can cooked white hominy, rinsed and drained
For Garnishing
Green cabbage

Radishes

Jalapeños

,

sliced

Lime wedges

Cilantro

Red onion
Instructions
In a large pan over medium-high heat, heat the olive oil and cook the pork pieces in batches, making sure not to overcrowd the pan. Brown the pork on all sides and remove from the pan and set aside.

Add the onion to the pan and cook for 5 minutes, until softened. Remove half of the onion and place it in a blender or food processor. Set aside. 

Add the pork back to the pan with the remaining onions and add the salt and 5 cups of broth. Simmer for 1 hour.

While the pork simmers, turn on the broiler to 500°F and place the oven rack at the top of the oven.

Line a cookie sheet with parchment paper (or foil) and place the poblanos, tomatillos, jalapeños, and the garlic head (with the top cut off) onto the prepared pan.

Place the pan under the broiler for 5 minutes, or until the chilis begin to blacken, watch closely. Turn the chilis and tomatillos over and broil for another 5 minutes to cook the other side. 

Remove the pan and place the poblanos in a large ziplock bag for 5 minutes to steam, then remove the skins. Add the poblanos and the tomatillos to the blender (or food processor). Remove the seeds from the jalapeños and then add them to the blender. Squeeze the garlic from the peel and add to the blender. Add the remaining 3 cups of broth and the cilantro and blend until smooth.

Toast the cumin seeds in a pan for 1 minute, then remove and crush in a mortar and pestle (or in a molcajete). Then add the cumin and oregano to the prepared green sauce.

After the pork has cooked for an hour, pour in the green sauce and add the hominy.

Simmer over medium low for a minimum of one hour or two hours is even better. If the sauce gets too thick, add some water or chicken broth, as needed.

Place bowls of garnishes on the table, serve the bowls, and allow everyone to season the way they wish! Enjoy!
Nutrition
Serving:
1
,
Calories:
676
kcal
,
Carbohydrates:
23
g
,
Protein:
44
g
,
Fat:
45
g
,
Saturated Fat:
15
g
,
Polyunsaturated Fat:
26
g
,
Cholesterol:
158
mg
,
Sodium:
2918
mg
,
Fiber:
5
g
,
Sugar:
7
g
Categories:
This post may contain affiliate links. Read my disclosure policy.