Fresh Mexican summer squash is cooked with tomatoes, onions, and corn in this easy Calabacitas Recipe. Add some jalapeños if you like it spicy, and serve with queso fresco and Mexican crema. The perfect side for any meal!
A Fresh, Healthy Side Dish Idea
Everyone needs a few easy side dish recipes, although the main course is usually the star. Sure, you can whip up a salad, or throw together some rice and beans, but if you're looking for something a little different this time around, you've got to try calabacitas! This easy side dish is super healthy, super flavorful, and definitely not boring.
Made with fresh Mexican summer squash (or zucchini), tomatoes, corn, and more, this colorful veggie medley is full of amazing texture. It's also simple to make, even if you've never cooked Mexican squash before! (These are tender squash that don't need peeling – can I get a witness?) So let's get into this wholesome, vibrant recipe for Mexican calabacitas.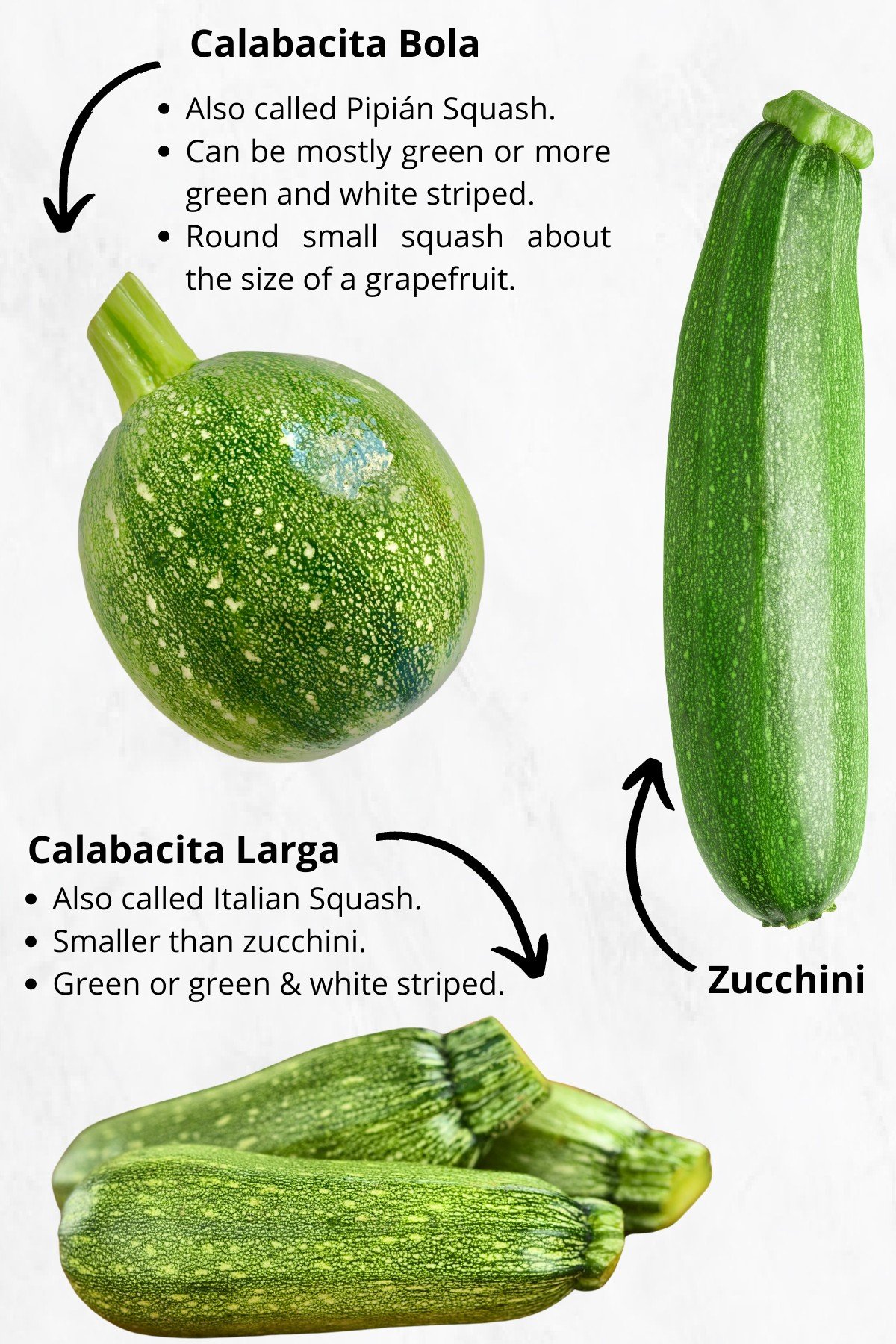 Is Zucchini the Same as Calabacitas?
Yes, and no. You'll often see recipes for calabacitas that call specifically for zucchini, but actually they're not quite the same. Calabacita translates to "little squash" in Spanish, and it is a very popular type of summer squash in Mexico that's similar to zucchini, but lighter in color. There are two kinds of calabacita:
Calabacita Bola: a small and round squash.
Calabacita Larga: similar in shape to zucchini, but usually a little smaller in size. This squash is also known as Calabacita Italiana, or Italian Squash.
You can use either of these squash varieties in this recipe. If you don't have either one, using zucchini will work just fine.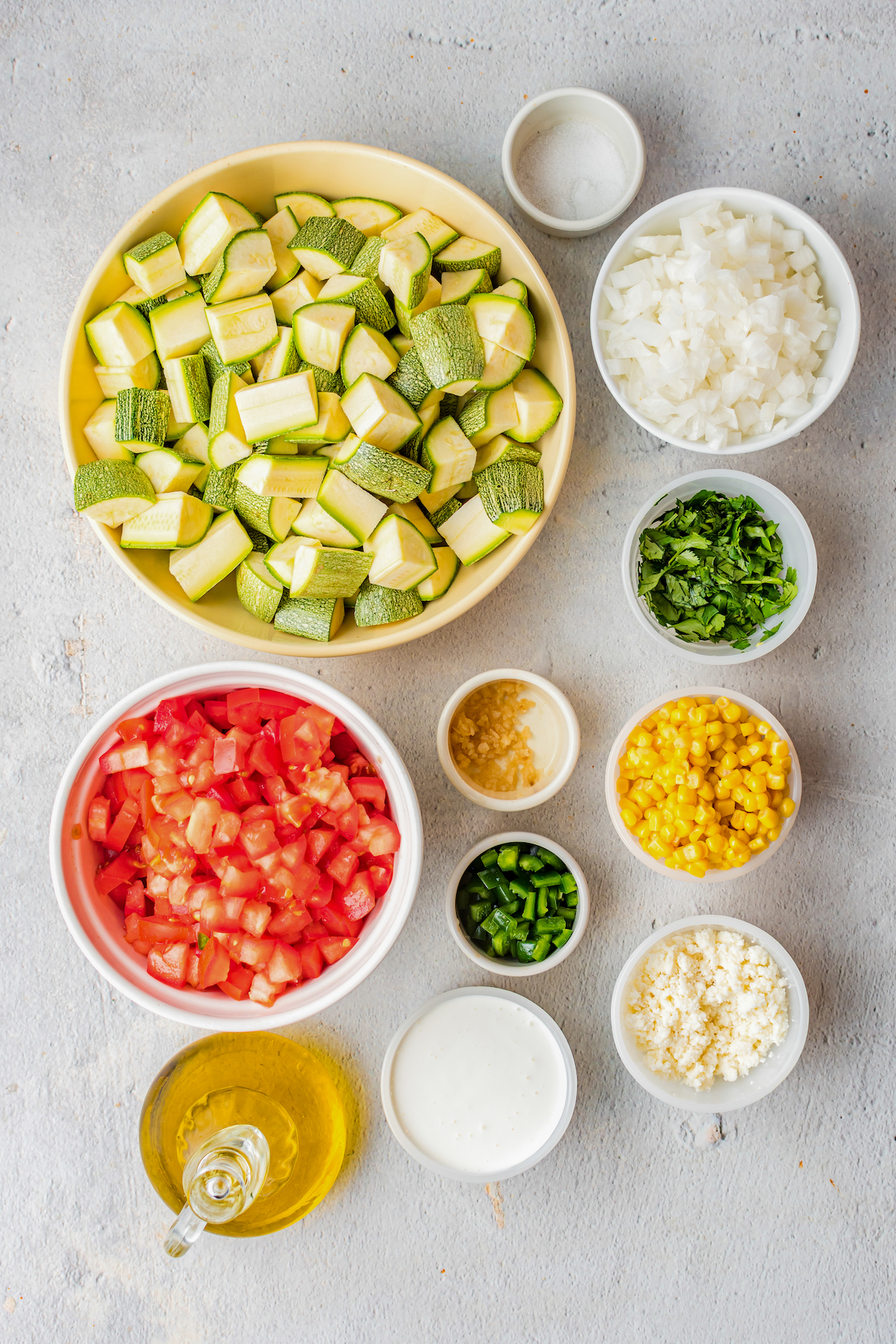 Ingredients
Let's talk ingredients for a minute. You've already seen the kind of squashes that work well in a calabacitas recipe, but there are a few more items you'll need. Don't worry – they're all easy (and yummy) basics!
Olive Oil: For a little saute action.
Onion: I use white onion, but you can use any kind of onion here.
Garlic: A couple of minced cloves of garlic add that irresistible, mellow flavor.
Tomatoes: Roma tomatoes are my go-to because of their meaty texture. Plus, they're usually easy to find in all seasons. If you need to substitute another type of tomato, that's fine, too.
Jalapeño: One jalapeño, seeded and diced. This is optional, but it does add a nice little kick.
Salt: Or chicken bouillon, if you prefer.
Corn: Fresh or frozen corn kernels, it's up to you!
Squash: Cube the squash before using.
Cilantro: Fresh, minced cilantro tastes amazing in this recipe! If you're not a fan, that's okay too – you can leave it out, our substitute some freshly-chopped parsley.
Queso Fresco: A sprinkling of crumbled queso fresco adds a subtle flavor and creaminess.
Crema: Mexican crema adds another creamy note here. See the "Tips" section below for more info on this ingredient, and some easy substitutions.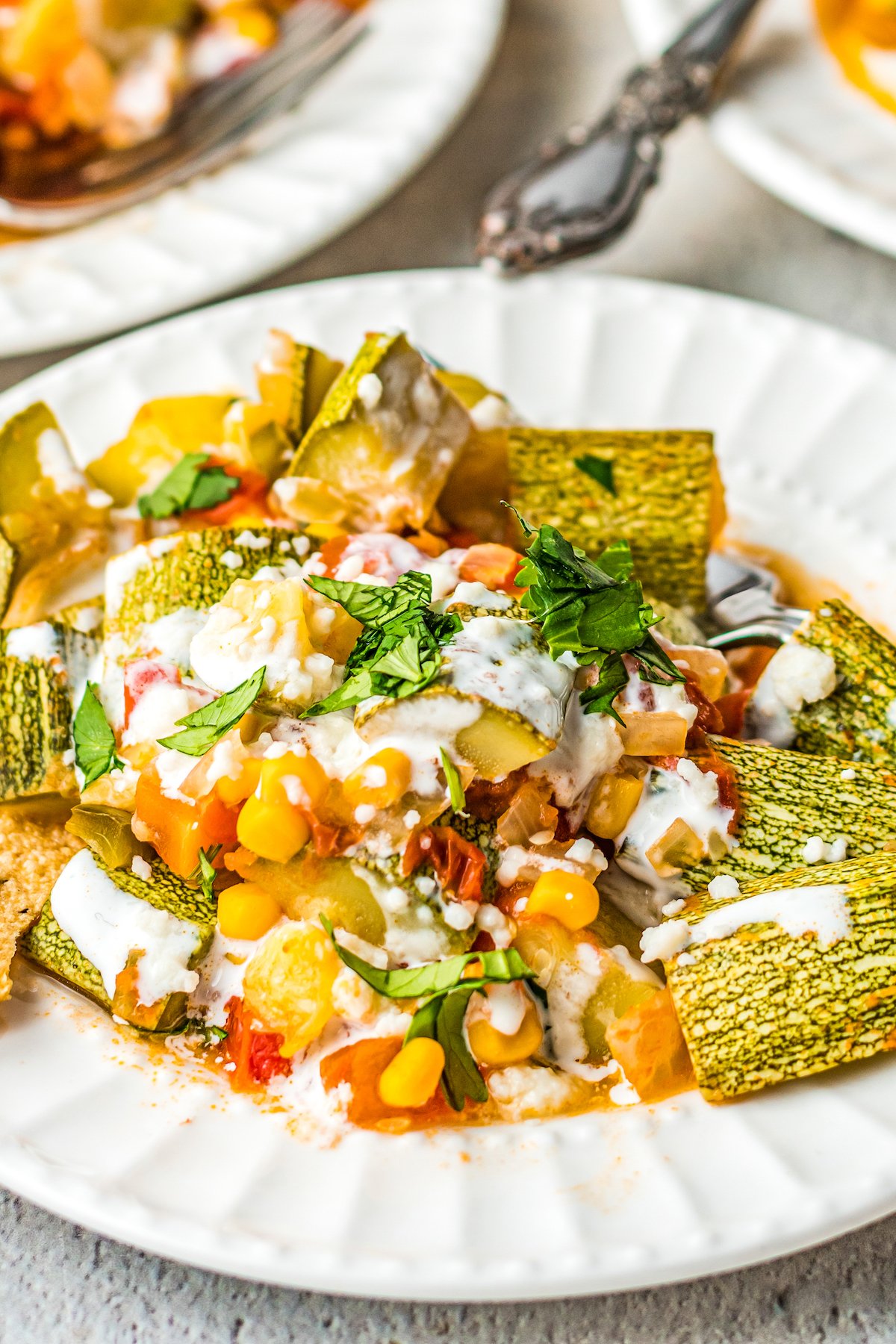 Let's Make Calabacitas!
Even if you've never made this dish before, you really can't mess it up. It's a very easy saute-simmer process, that comes together in only a few minutes.
Cook the Onions. We'll start by cooking the onions. Heat up some olive oil in a large frying pan or skillet, and add the onions. Let them cook gently until translucent – about 3 minutes.
Add the Garlic, Tomatoes, Jalapeños, and Salt. Stir in the garlic, diced tomatoes, jalapeño, and sprinkle in the salt. Let these ingredients cook together for another 5 minutes or so.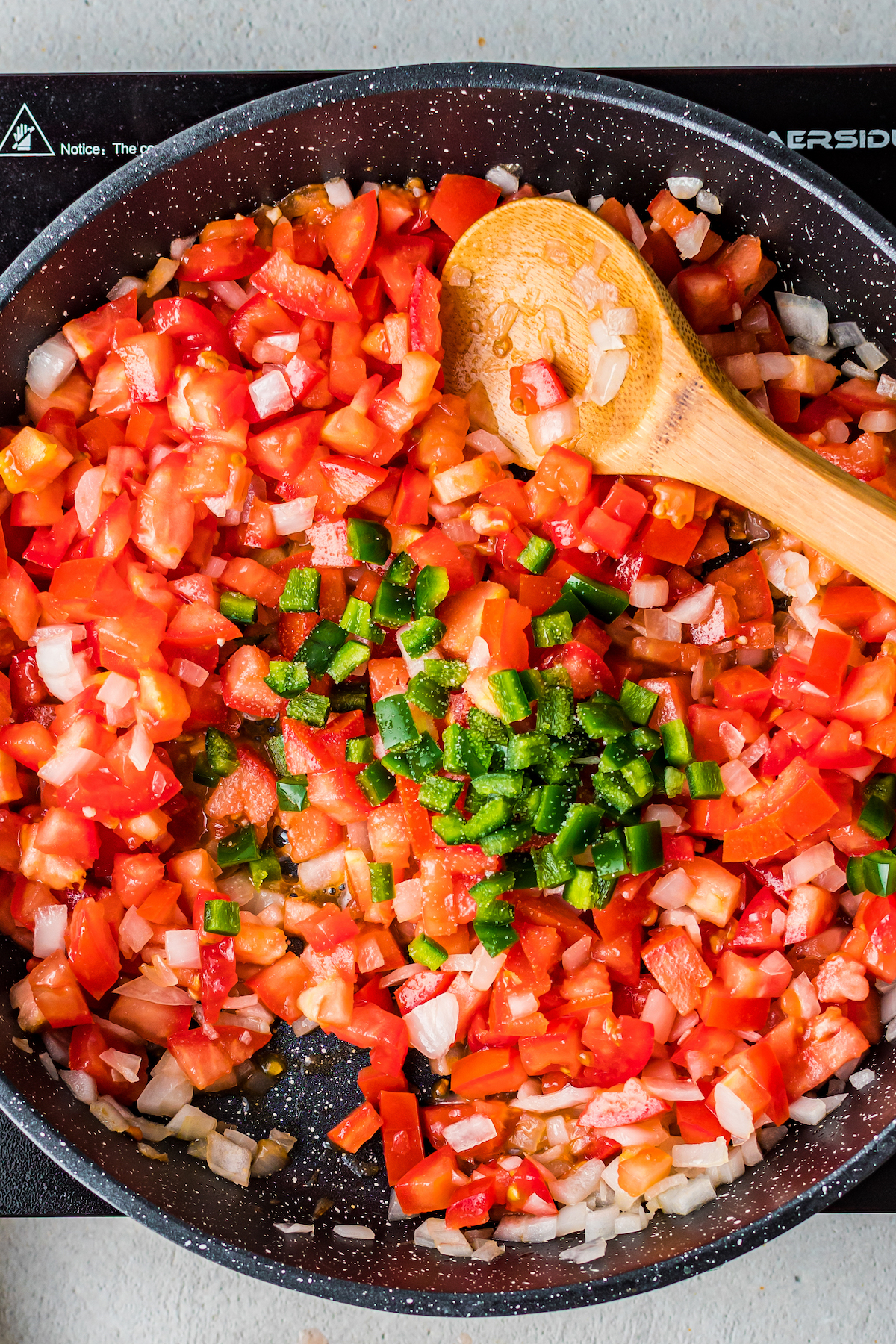 Add the Corn and Squash, and Simmer. Last, add your corn and squash to the pan. Stir gently, cover, and let the calabacitas simmer for 15 minutes, or until the squash is fork-tender. You don't want to stir this very much, or at all! Just let it cook gently.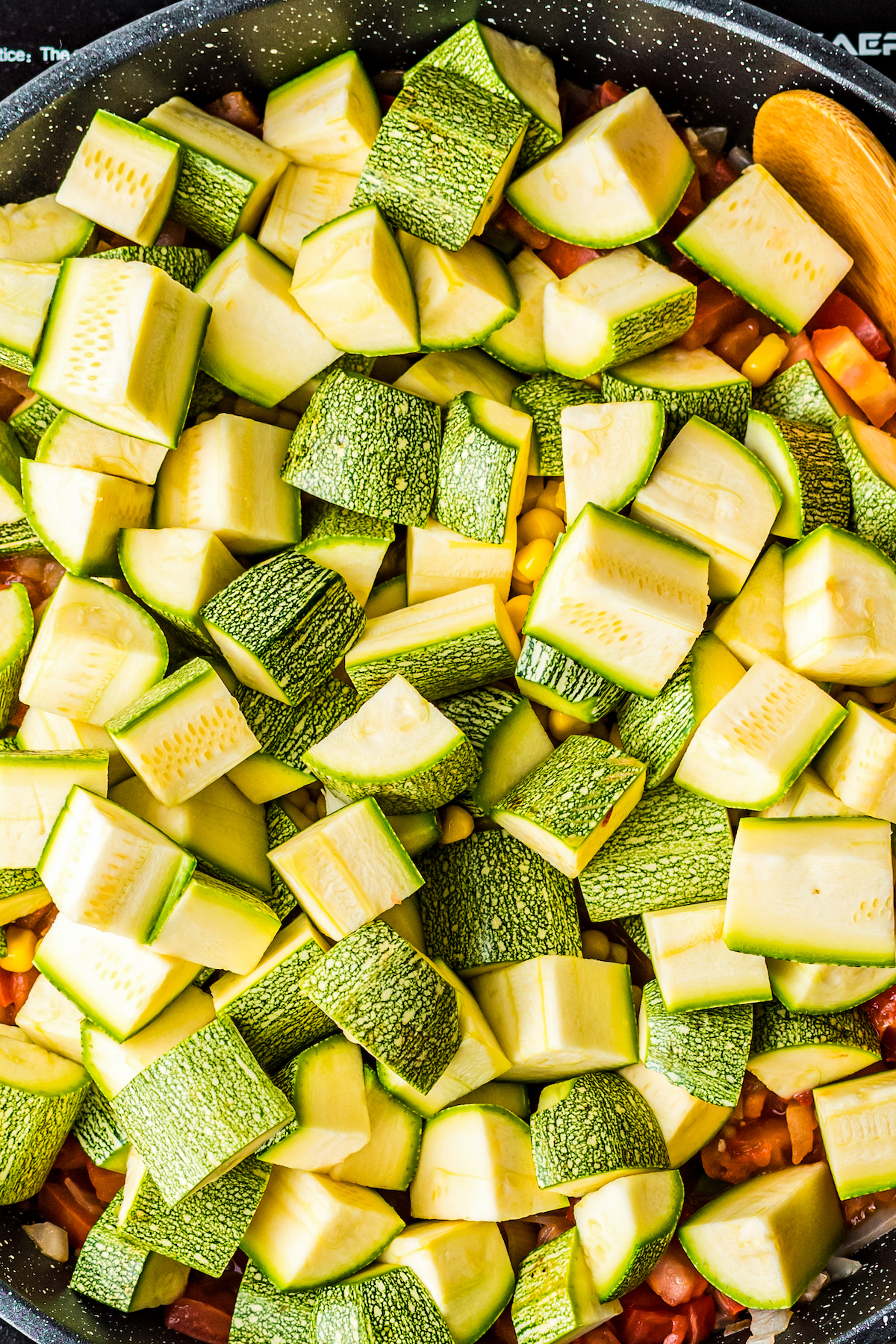 Finish the Dish, and Serve. When the squash is tender, remove the pan from the heat and garnish with cilantro, queso fresco, and Mexican crema. Serve immediately.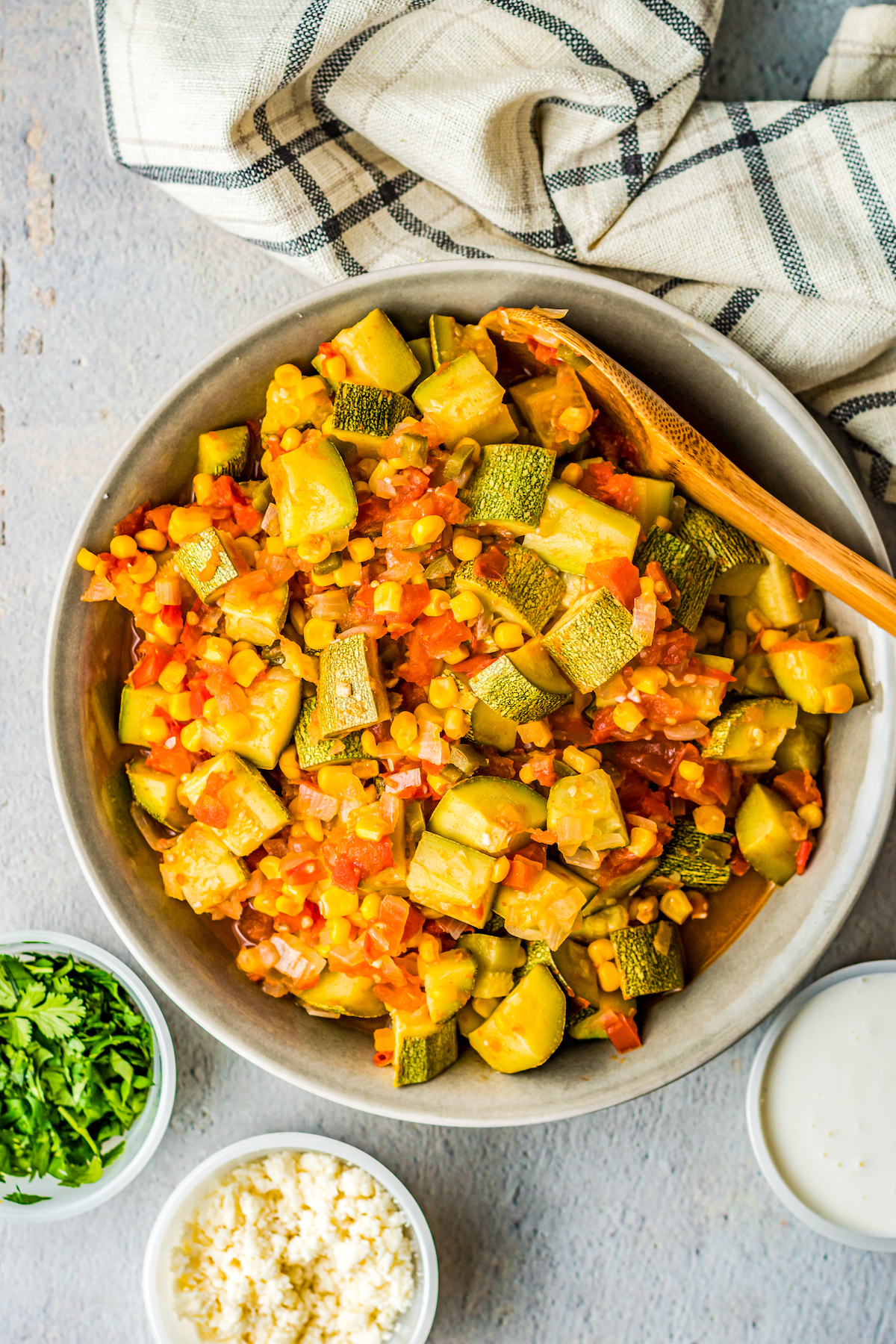 Tips and Tricks
If you've never made calabacitas before, it can be helpful to know a few little tips and tricks. Read on for my best insider info about this healthy, wholesome dish.
Jalapeño: This is optional, but gives a little bit of spice to the dish. Remove the seeds to only add a little heat. Keep the seeds in for a lot of heat.
Mexican Crema: This is a mild pourable, creamy condiment. It's thicker and richer than American sour cream, but not as thick and rich as French crème fraîche. If you can't find this in your local grocery store, you can also use sour cream in a pinch. I recommend thinning the sour cream with a little bit of milk, or water, to make it pourable like Mexican crema.
No Broth Needed: You might be wondering if you need to add a splash of liquid somewhere in this recipe, but actually, you don't! Squash contains a lot of liquid, and as it cooks, it will simmer in its own juice.
No-Stir: To avoid a mushy dish, don't stir the squash while cooking. Squash is a very tender vegetable, and will easily break up into bits (and eventually mush) if you stir too much.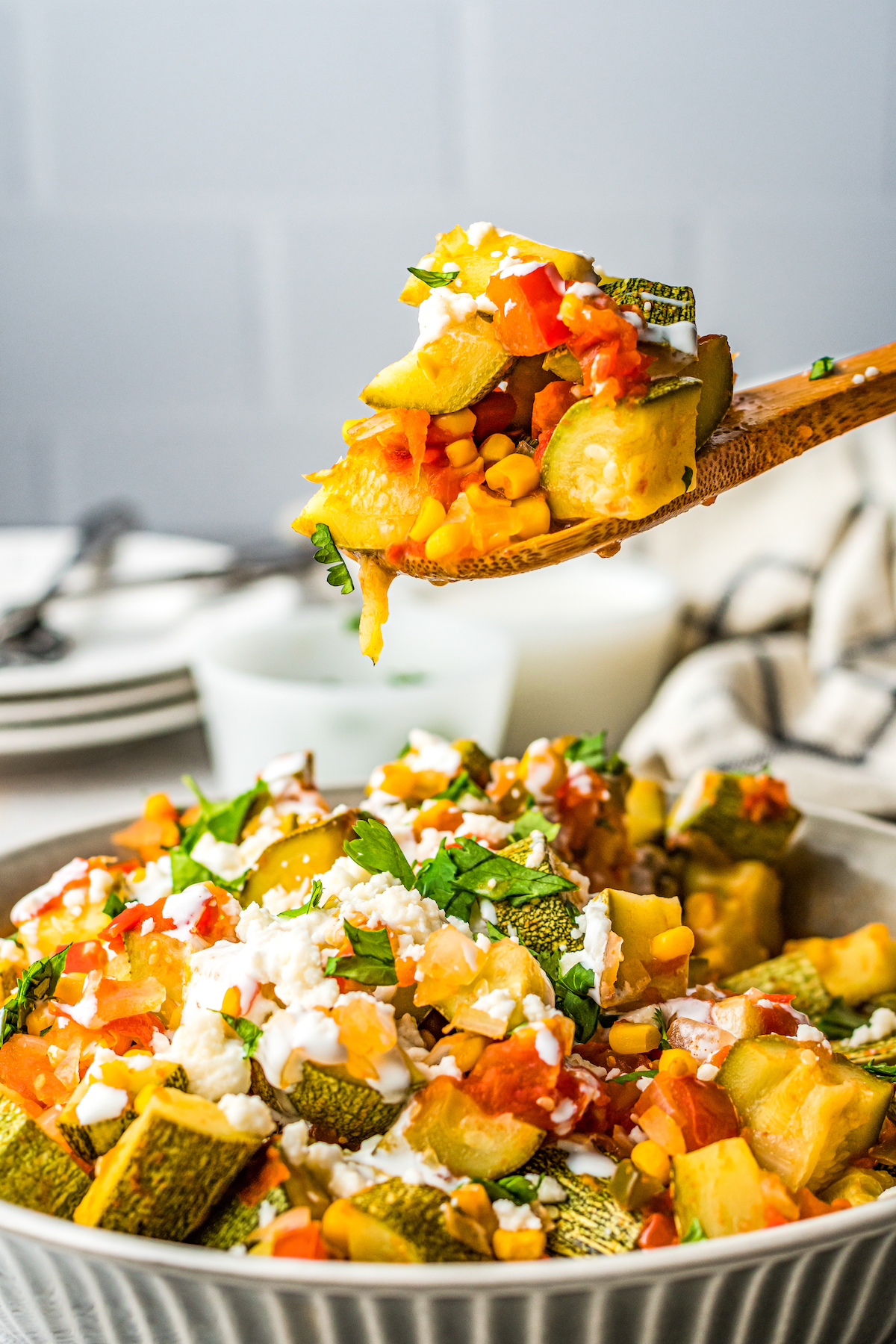 Yummy Serving Suggestions
You can serve calabacitas in any situation that you'd normally serve beans and rice, for a simple side dish that's a little more veggie-oriented. These are some of my favorite Mexican meals to enjoy with calabacitas:
Huevos Rancheros: This mouthwatering layered meal of tortillas, eggs, beans, and other yummy ingredients goes beautifully with freshly-made calabacitas.
Empanadas: Everyone loves empanadas, and this easy recipe for Cheesy Beef Empanadas is a guaranteed crowd-pleaser. Add calabacitas and you've got a complete meal.
Ropa Vieja: Tender, shredded beef in a hearty seasoned tomato sauce? Yes, please! Serve Ropa Vieja with a side of yellow rice and this healthy squash medley.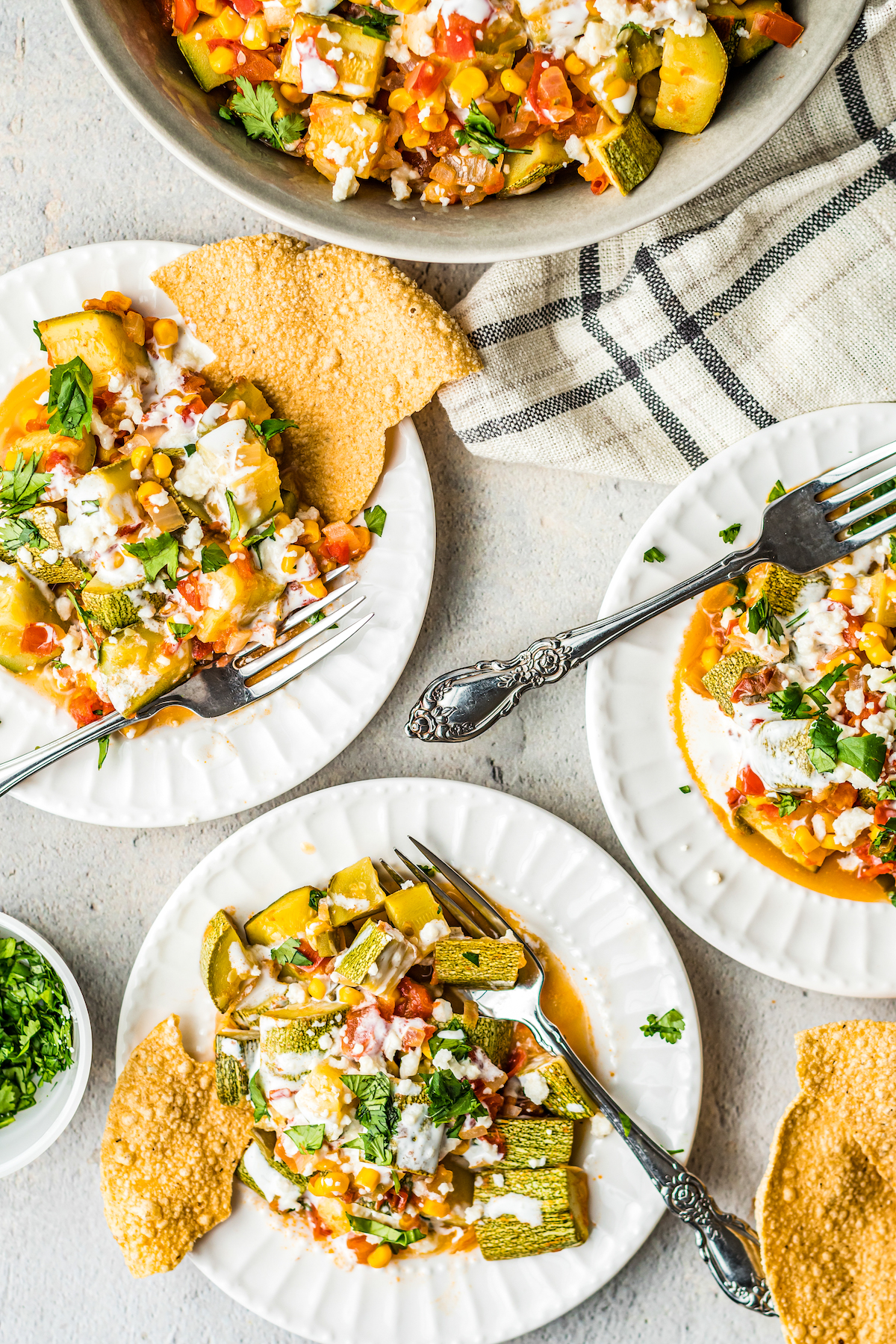 Storing and Reheating
Calabacitas is a dish best served fresh, but you can store leftovers in an airtight container in the refrigerator for up to 5 days. To reheat, just place in a skillet over low heat until warmed through, stirring occasionally.
Can I Freeze Calabacitas?
Yes, you can freeze this for up to 3 months. The texture may not be quite as good after thawing and reheating, but it will be safe to eat. To keep freezer burn at bay, store the calabacitas in a freezer bag with as much air pressed out as possible.
Calabacitas Recipe
Fresh Mexican summer squash is cooked with tomatoes, onions, and corn in this easy Calabacitas Recipe. Add some jalapeños if you like it spicy, and serve with a sprinkle of queso fresco and Mexican crema. The perfect side for any meal!
Ingredients
1

tablespoon

olive oil

½

cup

white onion

,

diced

2

garlic cloves

,

minced

6

roma tomatoes

,

diced

1

jalapeño

,

seeded and diced, optional

1 ½

teaspoon

salt

,

or chicken bouillon

1

cup

corn kernels

,

frozen or fresh

3

large or 6 small mexican squash or zucchini

,

cubed

¼

cup

minced cilantro

¼

cup

crumbled queso fresco

¼

cup

Mexican crema
Instructions
Heat the olive oil in a large frying pan over medium heat, add the onions and cook for 3 minutes, until starting to become translucent. 

Add the garlic, tomatoes, jalapeños, and salt (or bouillon). Cook for another 5 minutes.

Add the corn and squash and gently stir to combine. Cover with a lid and cook for approximately 15 minutes. Check the squash occasionally for doneness (you want it to be fork tender), but don't stir. 

When the squash is tender, remove from the heat and sprinkle with cilantro, queso fresco and drizzle some Mexican cream over the top. Serve immediately!
Nutrition
Serving:
1
,
Calories:
153
kcal
,
Carbohydrates:
18
g
,
Protein:
5
g
,
Fat:
8
g
,
Saturated Fat:
3
g
,
Polyunsaturated Fat:
4
g
,
Cholesterol:
12
mg
,
Sodium:
626
mg
,
Fiber:
4
g
,
Sugar:
9
g
Categories:
More Latin Side Dishes
This post may contain affiliate links. Read my disclosure policy.