Crock Pot Ropa Vieja
I tried convincing you all to try this before…but I don't think it worked. Actually I know it didn't. A couple of people tried it (and loved it, I might add) but not very many! I think it is because I did not have a picture….and this time I do! I finally got a decent picture…I know it's not the greatest picture….but what am I supposed to do with something that literally translates into "Old Clothes"?! I mean it's not like it is cute like a cupcake, or eye catching like pancakes coated in syrup….but don't let the look or translation fool you! It might be called Old Clothes in Spanish, but consider this like the best old clothes ever. So now you are wondering when are old clothes ever good? Well how about if you went into a consignment shop and found a Channel dress, or a Birkin that some idiot gave away to Goodwill, or even better a pair of Louboutins carelessly tossed on the shoe rack! Has this happened to me? Of course not….but I assume it has to have happened to someone. If this ever happens to me, trust me, you will all hear about it. Ummm, so where was I? Oh ya, so this Ropa Vieja, make it. It is was wrongfully named Ropa Vieja. They should have named it Damn Good (in Spanish of course).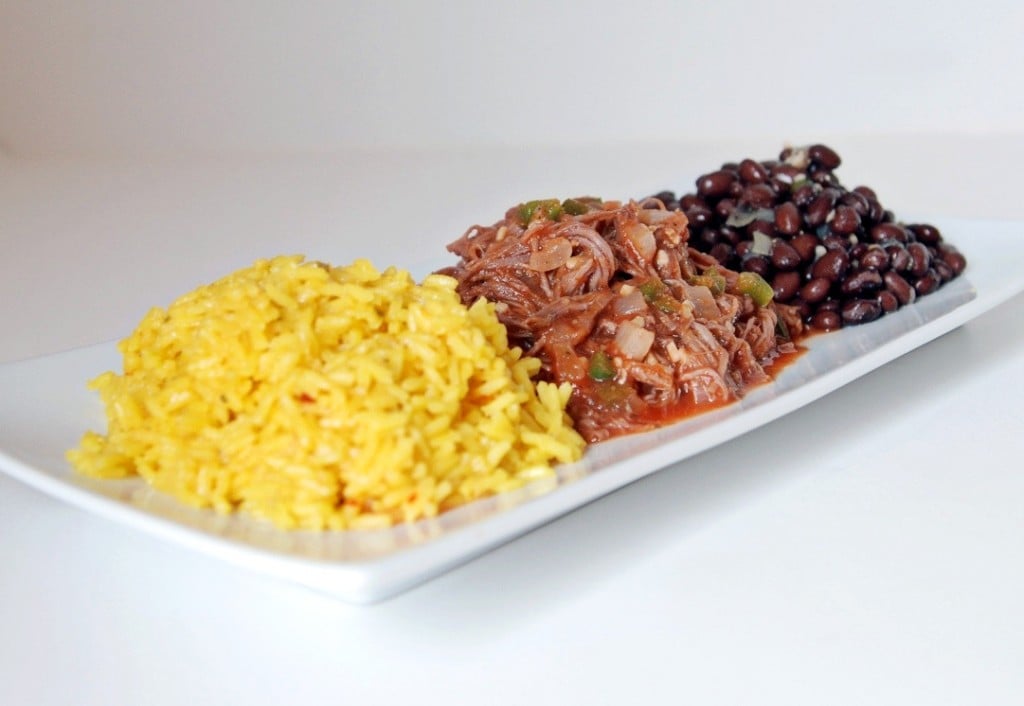 Crock Pot Ropa Vieja
Ingredients:
1.5 pound Flank Steak
1 bottle Mojo Marinade (I like this one)
2 Jalapenos, de-seeded and minced
1 large onion, chopped
2 cloves garlic, minced
1 20 oz can tomato sauce
1 teaspoonful garlic salt
2 tablespoon olive oil
Directions:
Place flank steak in crock pot and cover flank steak with Mojo marinade (this usually takes the whole bottle for me) and cook on low for 8 hours.
In large skillet on medium add 2 tablespoon olive oil, jalapenos, onion, and garlic. Allow to saute until the onion is translucent. While onion mixture is cooking, remove flank steak from crock pot and shred (toss leftover marinade). Once the onion mixture is ready add the shredded flank steak, tomato sauce, and garlic salt and incorporate them all together (I do this with two forks and just do the same motions I use to shred the flank steak). Allow to heat thoroughly and serve with yellow rice and black beans.