Salsa Verde Sour Cream Enchiladas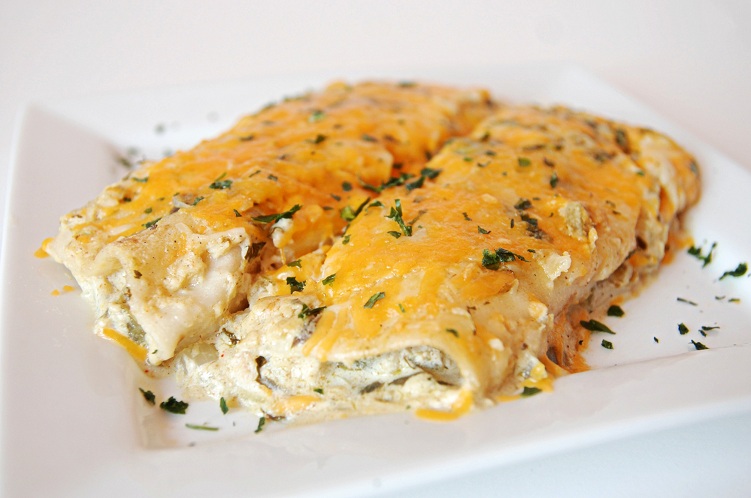 It takes a lot to make this Texas girl happy when it comes to Mexican food. When I moved to Florida, I had friends tell me all about the great Mexican food in Florida. They took me to all of the different places telling me how great it was and how authentic it was. They lied. To their credit they really thought it was authentic and good…but bless their hearts, they had no idea they were just feeding me upscale Taco Bell. Now don't get me wrong, back in the day I made many drunken Taco Bell runs at 2 am…but when you really want Mexican…Taco Bell (or even upscale Taco Bell) does not hit the mark.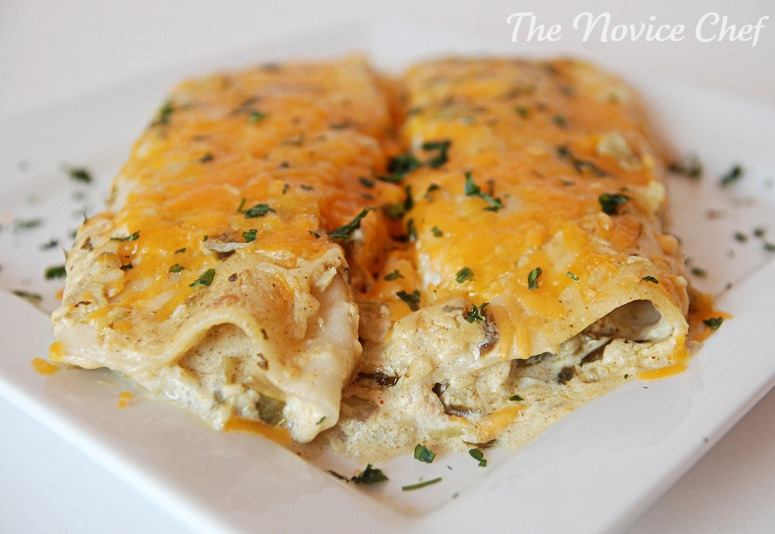 Now on the other hand, these enchiladas hit the mark. And why shouldn't they when the original recipe came from another homesick Texan….well actually they came from
The Homesick Texan
. I made them for some friends and family and everyone was MMMing. Which you know is the best noise for the cook to hear. That sound is better then any words, it is the true sound of someone enjoying their food!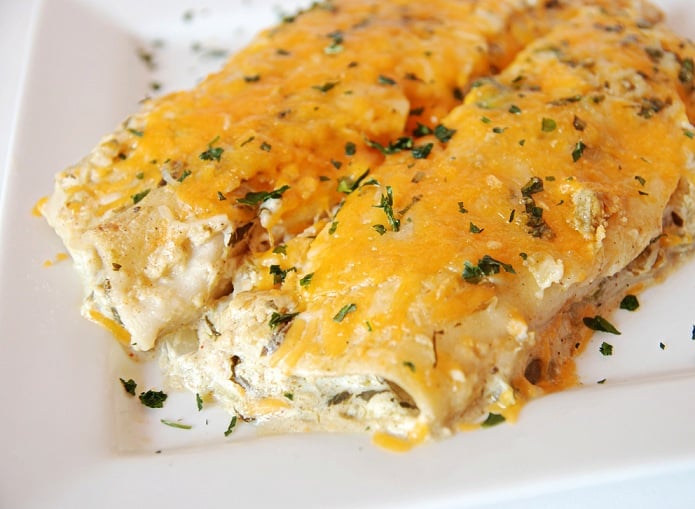 Salsa Verde Sour Cream Enchiladas
A quick note about these, you must use the Ortega Medium Salsa Verde to achieve the correct taste. The medium is not hot, just flavorful. I tried a more expensive Salsa Verde and was very disappointed in the lack of flavor it added to the sauce. So make sure and pick up the Ortega one! You won't be sorry!
Ingredients:
4 boneless chicken breasts, cooked and shredded
3 large cloves of garlic, minced
2 Serranos, diced (seeds-in if you like the heat; reduce to 1 if you're not a fan of spicy food)
1 Jalapeno, seeded, minced
2 Tbsp butter
2 Tbsp all-purpose flour
2 cups chicken broth
2 cups sour cream
16 oz jar of Ortega Medium Salsa Verde
1 & 1/2 tsp cumin
1/4 tsp cayenne
1/2 tsp salt
1/4 tsp white pepper
1/2 tsp garlic powder
1/4 cup cilantro, chopped
12 tortillas, small fajita size
1 cup shredded sharp cheddar
1 cup shredded Monterrey Jack
1/2 medium onion, diced
Directions:
Preheat the oven to 350. Melt butter over medium-high heat. Saute Serranos and Jalapenos until soft and then add the garlic, cooking for 1 minute. Stir in the flour and let cook 1-2 minutes. Whisk in the chicken broth until smooth and let cook until bubbly. Stir in the sour cream, salsa, cumin, cayenne, salt, pepper, garlic powder and cilantro until the sauce is smooth. Remove from heat.
Spray/grease a 9×13 baking dish. Add 1 cup of sauce to the bottom of the pan. Add chicken, cheese, and chopped onion to the center of each tortilla and roll, placing seam-side down in the dish. Pour the sauce over the enchiladas, top with leftover cheese, and bake at 350 for 25 minutes or until top is brown and bubbling.
To freeze: Cook the sauce and cool completely (I do it quickly using an ice water bath). Assemble the enchiladas in portion-friendly dishes and wrap well with plastic wrap or foil. To cook thawed, bake at 350 for 30-35 minutes (or to an internal temperature of 165). To cook straight from the freezer, increase the baking time to 45-55 minutes.