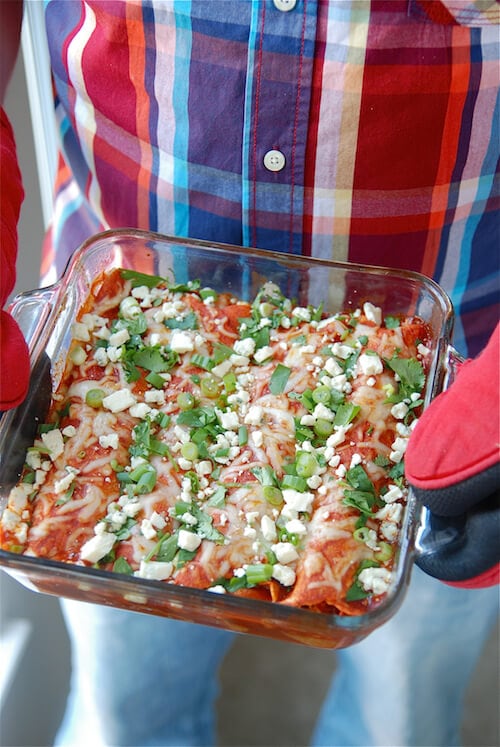 This weekend I wanted to make manly food for my man. But what does that even mean? Beer and Nacho Cheese Doritos? Frozen Pizza? Ham & Cheese Hot Pockets? Steak?! ….Obviously, Jorge has really sophisticated tastes. 🙂
I wanted to make something that he, and any guy at a Super Bowl party, would love to see included in the big spread. And as far as I am concerned, there are 5 main flavors to any good Super Bowl party.
1. Beer.
2. Chili.
3. Chips & Dip.
5. Buffalo sauce anything.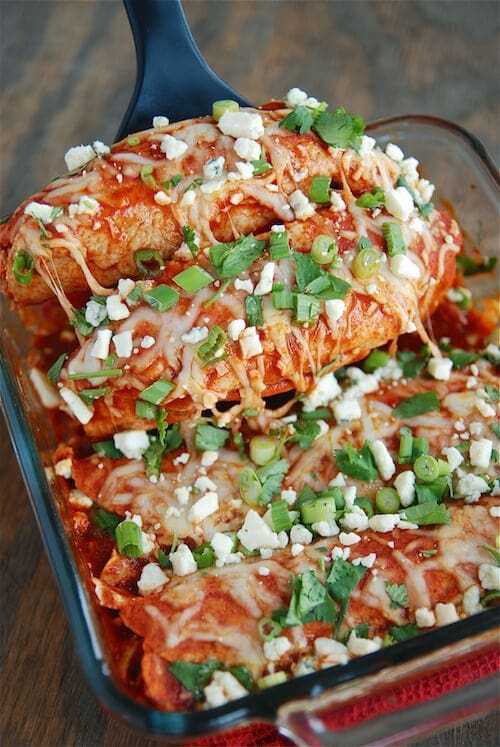 Don't you want to stick your whole head right in the center of that? Because I do! YUM!
I took a quick glance through my bookmarked recipe posts and these Buffalo Chicken Enchiladas from How Sweet It Is were glaring back at me. I had dreams about these for weeks after I originally saw them, but they somehow got buried under all the holiday recipes. I took it as a sign. A delicious, spicy, cheesy sign from God that I had to make these ASAP. I just couldn't let y'all throw a Super Bowl Party that didn't include these Buffalo Chicken Enchiladas…because seriously, they go perfect along with flavor group #1…Beer.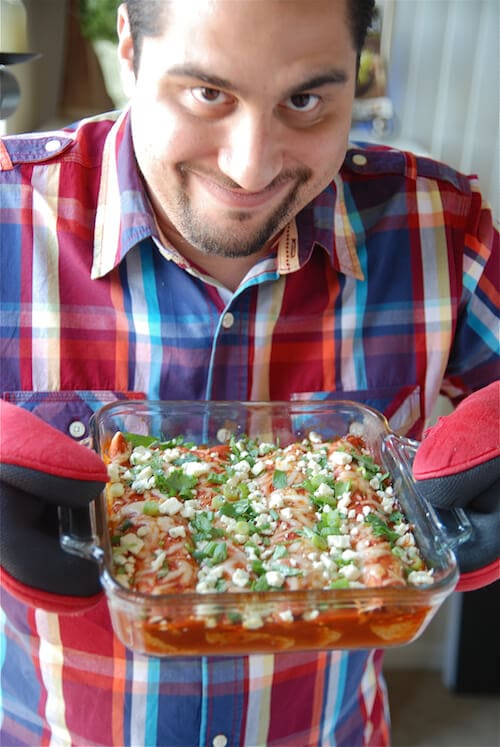 Do I need to tell you how good these were? I mean, come on! Look at that face! Jorge and I both loved these! I changed them up a little from the original recipe…but not by a lot. I love all flavors and left them the same, but I like my enchiladas to have lots of meat and cheese in them. I want them to be so big and filling that you can barely make it through one. And I also want them to be incredibly messy and dripping in sauce. It just makes them that much better.
Do yourself a favor and don't let these drop down into the forgotten recipe pile like I did. Make them. Immediately. Oh! And serve them with lots of cold beer. You will thank me. 😀
Make your own homemade enchilada sauce to take this recipe to the next level!
Yield: 4 large enchiladas
Buffalo Chicken Enchiladas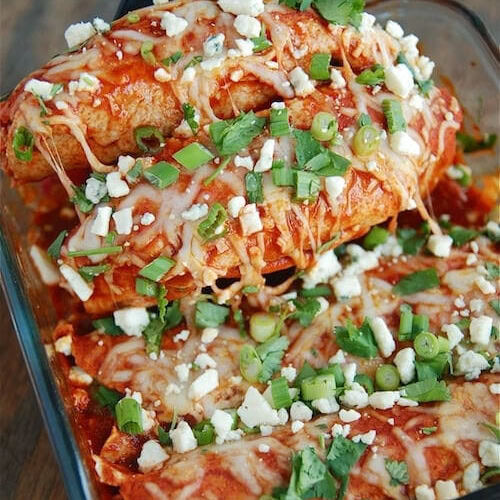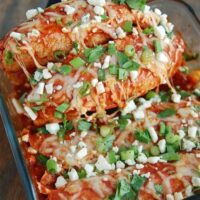 Buffalo Chicken Enchiladas are a cheesy, baked enchiladas recipe with a little bit of heat! Whether you're serving them at a Super Bowl party or just a regular family dinner, these classic Mexican enchiladas are sure to be a hit.
Ingredients
1 lb chicken breasts, cooked and shredded
14 ounce can red enchilada sauce
1/3 cup buffalo wing sauce (I use Frank's)
5 chopped green onions, divided
1 1/2 cup shredded mozzarella cheese
4 large whole wheat tortillas
1/3 cup crumbled gorgonzola cheese
1/4 cup fresh cilantro, coarsely chopped
Instructions
Preheat oven to 350 degrees. Spray an 8×8 glass dish with non-stick spray.
In a medium bowl, mix together enchilada sauce and slowly mix in buffalo wing sauce…stopping to taste and adjust as you go. I used a little over 1/3rd a cup wing sauce, but we like it spicy! You as little, or as much as you like. Set aside.
In a large bowl, toss together shredded chicken, half of the green onions, and 1/2 cup mozzarella cheese. Slowly pour in 1/2 cup of the enchilada sauce mixture and stir until combined.
Pour 1/2 cup enchilada sauce into the prepared glass baking dish and spread mixture to the edges. Working with one tortilla at at time, fill with 1/4 of the chicken mixture. Roll the tortilla and place it seam-side down in the dish. Once all tortillas are filled, pour the remaining enchilada/buffalo sauce on top of tortillas and add the remaining mozzarella cheese.
Bake for 20 minutes, or until the cheese is melted and the sauce its bubbling. Immediately after taking enchiladas out of the oven, top with gorgonzola cheese, cilantro, and the remaining onions. Serve immediately!
Store any remaining sauce in the fridge for 1-2 weeks, and use if reheating leftover enchiladas.
Notes
Recipe Note: This recipe is easily doubled, or tripled, for a big party. But as it is…it's perfect for two hungry people!
Adapted from How Sweet It Is
Nutrition Information:
Yield:
4
Serving Size:
1
Amount Per Serving:
Calories:

500
Total Fat:

18g
Saturated Fat:

9g
Trans Fat:

0g
Unsaturated Fat:

7g
Cholesterol:

126mg
Sodium:

2002mg
Carbohydrates:

32g
Fiber:

6g
Sugar:

9g
Protein:

51g
Want to Save This Recipe?
This post may contain affiliate links. Read my disclosure policy.