Buffalo Chicken Enchiladas are the spicy, cheesy, satisfying dinner casserole you need in your life! Easy chicken enchiladas are spiked with buffalo sauce and bleu cheese in this fun twist on the original.
Easy Tex-Mex Enchiladas with a Buffalo Twist
Enchiladas are such a special dinner – the kind of meal that everyone always enjoys. I have always enjoyed making homemade chicken enchiladas, but until recently, I had not tried making them with a couple of special ingredients: wing sauce and bleu cheese! Let me just say, enchiladas and buffalo sauce are a match made in comfort-food heaven.
I made these especially for my husband, Jorge, and he absolutely loved them. Served with cold beer, these meaty, cheesy enchiladas are the ultimate "man food!" Seriously, if your husband and family are anything like mine, this recipe will be an instant favorite.
This Recipe Is Awesome Because…
It's super easy to make, and bakes up quickly
Perfect for game day or family night
It's a combination of two beloved flavors
The chicken can come from a rotisserie chicken, leftovers, or just some freshly baked or pan-fried chicken breast
You can customize the level of heat to your taste
So. Much. Cheese!
Can be assembled in advance and chilled overnight, or frozen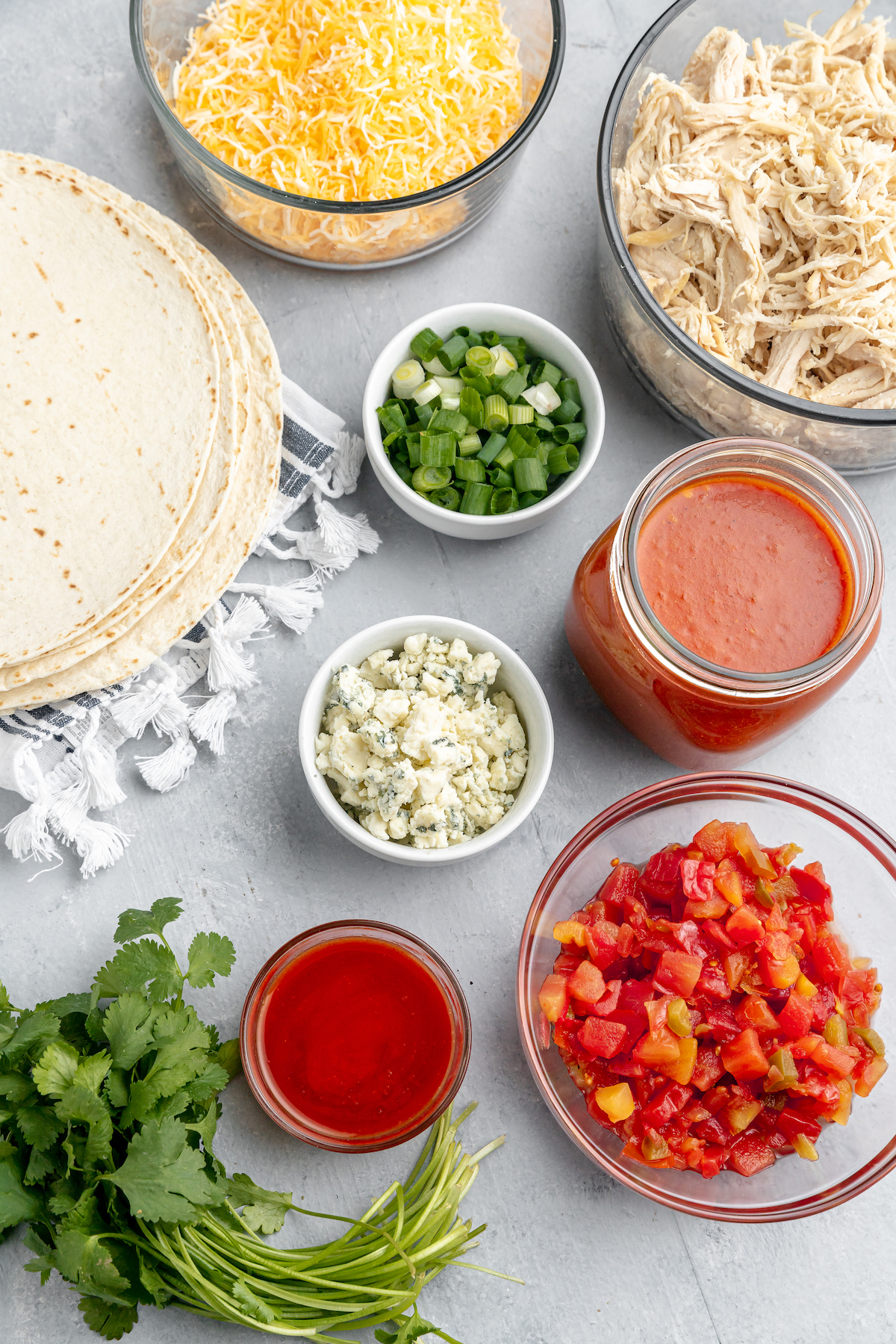 What You'll Need
Let's get into the delicious, delicious ingredients for this recipe! Honestly, one of my favorite things about making it is that there's practically no chopping or slicing needed. Everything is easy to pull off the shelf or out of the fridge, and assemble.
Chicken: Cooked, shredded chicken is the main ingredient for the enchilada filling. As mentioned before, any shredded chicken is fine, whether store-bought or homemade.
Enchilada Sauce: I love to use my favorite homemade red enchilada sauce here – I think it works better with the wing sauce than green enchilada sauce, but it's up to you!
Diced Tomatoes: A can of diced tomatoes with green chilies adds so much flavor! Drain out the liquid well, to avoid making the enchiladas soggy.
Buffalo Sauce: You can use your favorite buffalo wing sauce here. I like Frank's wing sauce (not hot sauce, which will be much spicier and not have that buffalo taste).
Green Onions: Chop these up and divide them in half. You'll use half for the filling, and half for garnish.
Cheese: Shredded Mexican-blend cheese is my go-to, or you can shred your own favorite melting cheeses. Additionally, you'll want some crumbled bleu cheese. Yum!
Tortillas: I used homemade flour tortillas, but you can substitute store bought or corn tortillas if you prefer.
Fresh Cilantro: Chopped fresh cilantro is the finishing touch. However, if you don't like cilantro, that's fine – you can use parsley, or just leave it out altogether. Your buffalo chicken enchiladas will still be amazing!
Are Enchiladas Better with Corn or Flour Tortillas?
This really depends on your taste – both work fine, but corn tortillas are sometimes preferred because they are sturdier. If you don't mind (or prefer) soft enchiladas, then flour is just fine. If you would rather have a firmer, chewier texture, go with corn!
Let's Make Some Enchiladas!
If you've ever made your own enchiladas, you are probably going to be very familiar with this process, but if not, no worries! It's very easy to do, and actually kind of fun.
Prep the Oven and Baking Dish. To begin, get your oven preheating to 350°F, and lightly spray your baking dish with cooking spray. I use a small-ish casserole dish, but you can also double the recipe and use a large one.
Make the Buffalo-Enchilada Sauce to Taste. Mix together the enchilada sauce and a small amount of the buffalo sauce, in a medium-sized bowl. My family likes ours on the spicy side, so I use ⅓ cup buffalo sauce, but you can definitely use less or more depending on your taste.
Make the Enchilada Filling. In a bigger mixing bowl, combine the shredded chicken, diced tomatoes with green chilies, half of the green onions, and half a cup of the Mexican cheese. Pour in half a cup of your sauce, and mix it all together well to create the filling mixture.
Assemble the Enchilada Casserole. Spread half a cup of the sauce in the bottom of your casserole dish. Fill one tortilla at a time, using ⅙ of the filling mixture per tortilla. Roll up the enchiladas and place them in your baking dish, seam-side-down. Once all the enchiladas are rolled and placed in the dish, pour the rest of the sauce over them, and then top with the rest of the shredded cheese.
Bake. Bake the enchiladas for 20 minutes, until the cheese is melted and the sauce is bubbling. Take the enchiladas out of the oven, and sprinkle the crumbled bleu cheese, chopped cilantro, and remaining green onions on top.
Enjoy!
How Do You Make Enchiladas Not Soggy?
If you have trouble with your enchiladas turning out soggy, you can try lightly pan-frying the tortillas in a small amount of hot oil before rolling and frying. Another trick is to lightly coat the tortillas in sauce before rolling them up, and then discard the remaining sauce instead of pouring it over the casserole. This way, everything is saucy, but not soaked!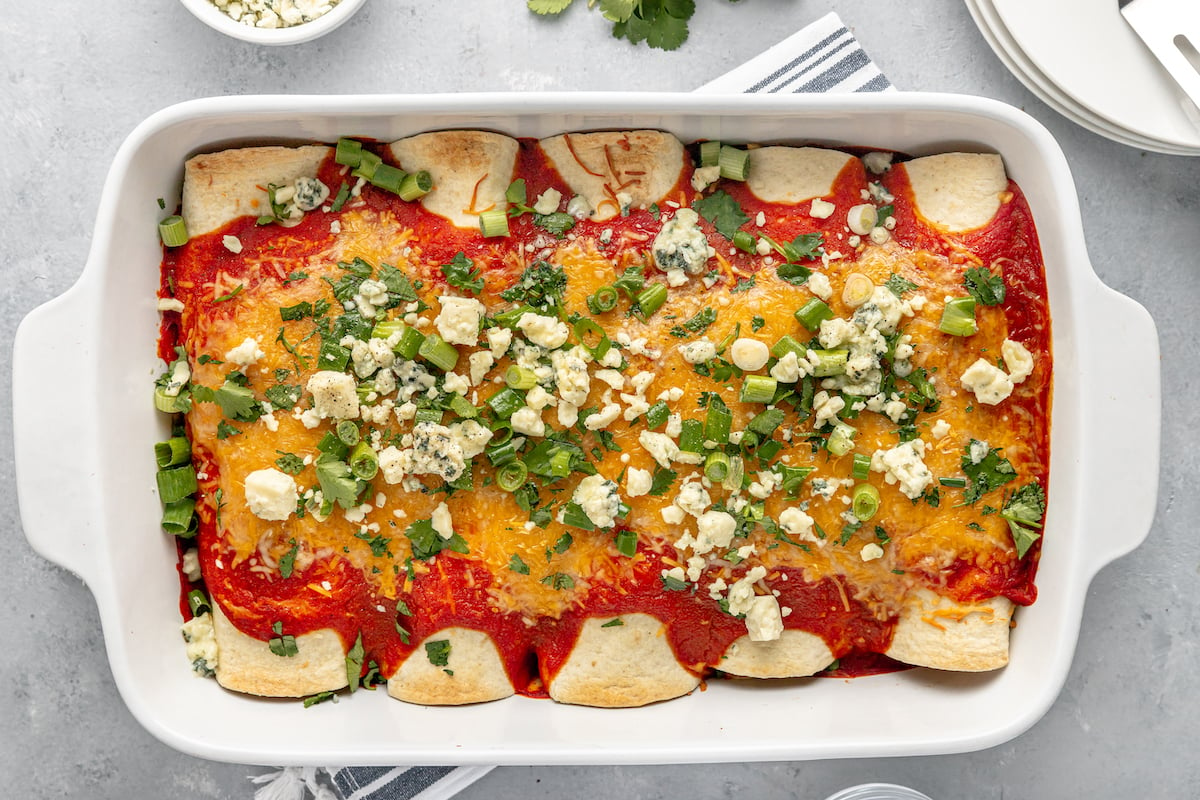 Easy Variations
In addition to making the recipe as written, there are tons of easy ways you can customize buffalo chicken enchiladas. Here are just a few of the tweaks and changes you can make:
Turkey or Pork: If you have other leftovers you'd rather use, feel free! You can easily substitute shredded turkey or pulled pork in this dish. Yum!
Vegetarian: Steam and pat dry your favorite mild veggies (or grains) for this recipe, in place of the meat: squash, potatoes, cauliflower, mushrooms, rice… whatever you like!
Layered: You can also make enchiladas by layering the ingredients, instead of rolling – easy and quick.
Spicy: Substitute a spicy wing sauce in this recipe, or just add cayenne pepper to taste.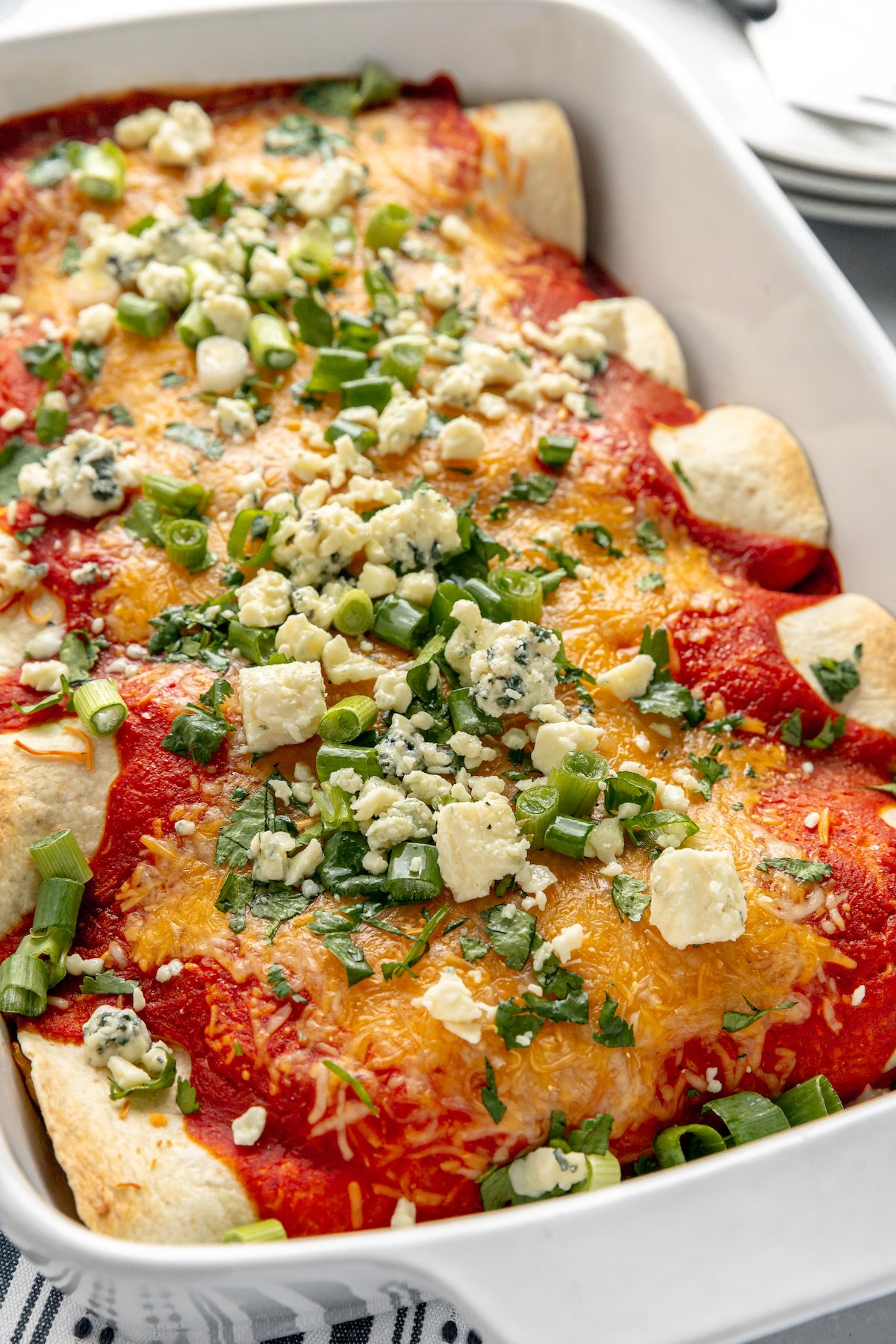 Easy Ideas for Serving
Are you stumped when it comes to side dishes for enchiladas? Well, they are kind of a one-dish meal, so honestly, you can get away without making any sides at all. However, if you'd like to add an extra dish or two to your menu, try one of these:
A Fresh Salad: Whether you set out a garden salad, iceberg wedge, or a big bowl of Watermelon Salad with Feta and Mint, crunchy raw produce is the perfect contrast to warm, cheesy, buffalo chicken enchiladas.
Corn on the Cob: Chicken and corn are a classic, family-pleasing combo. There are plenty of ways to make corn on the cob, but one of our favorites is in the air fryer! Try this easy Air Fryer Corn on the Cob, and see for yourself!
Arroz con Gandules: A Puerto Rican favorite, Arroz con Gandules is made with medium-grain rice and mild, nutty pigeon peas, spices with Sazon and sofrito. Yum!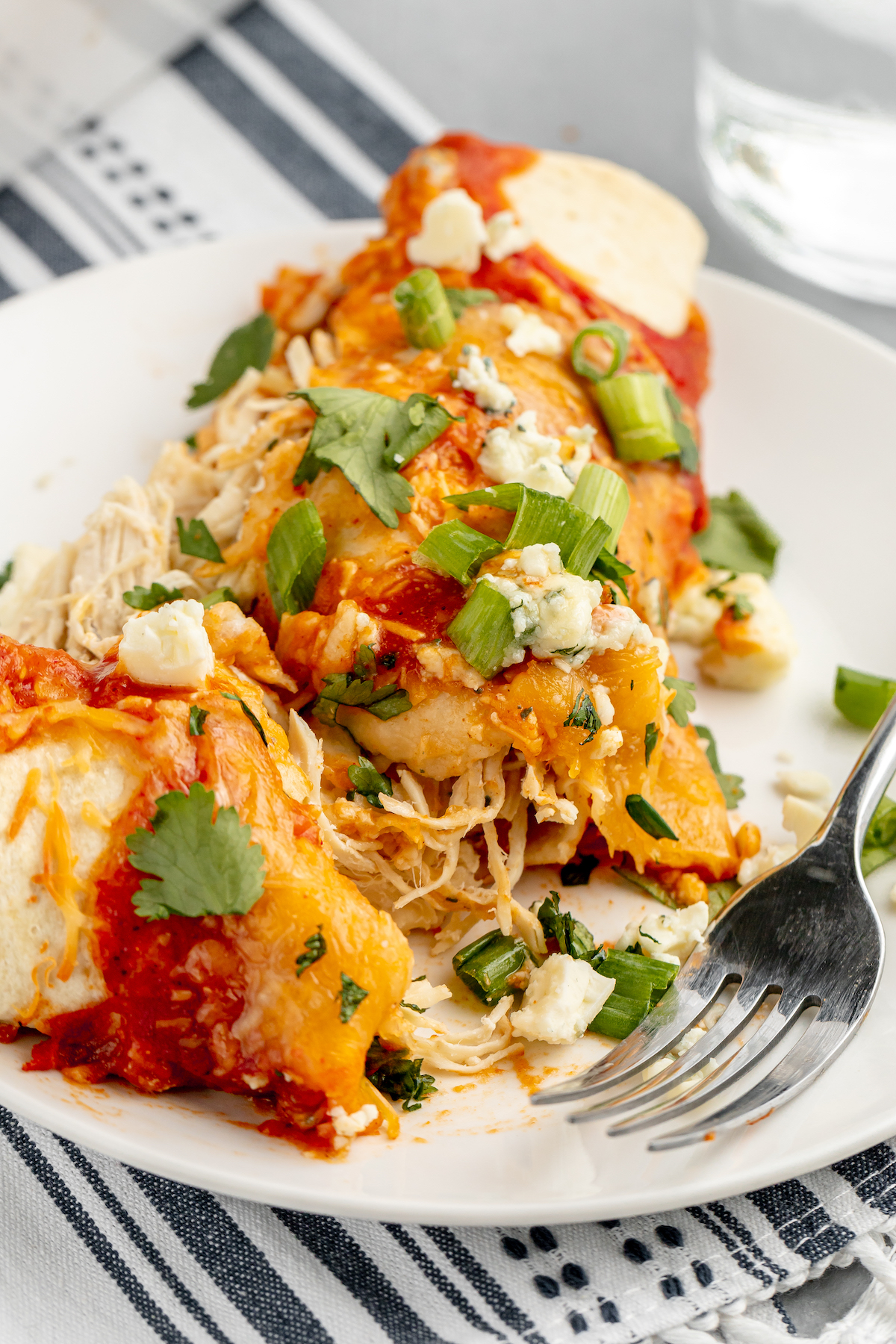 Storing and Reheating the Leftovers
Enchiladas will keep in the fridge for up to two days. Place them in an airtight container or zip-top bag, or just cover the baking dish with plastic wrap.
To reheat, bake the enchiladas in a 350F oven until heated through. You can melt extra cheese on top if you like!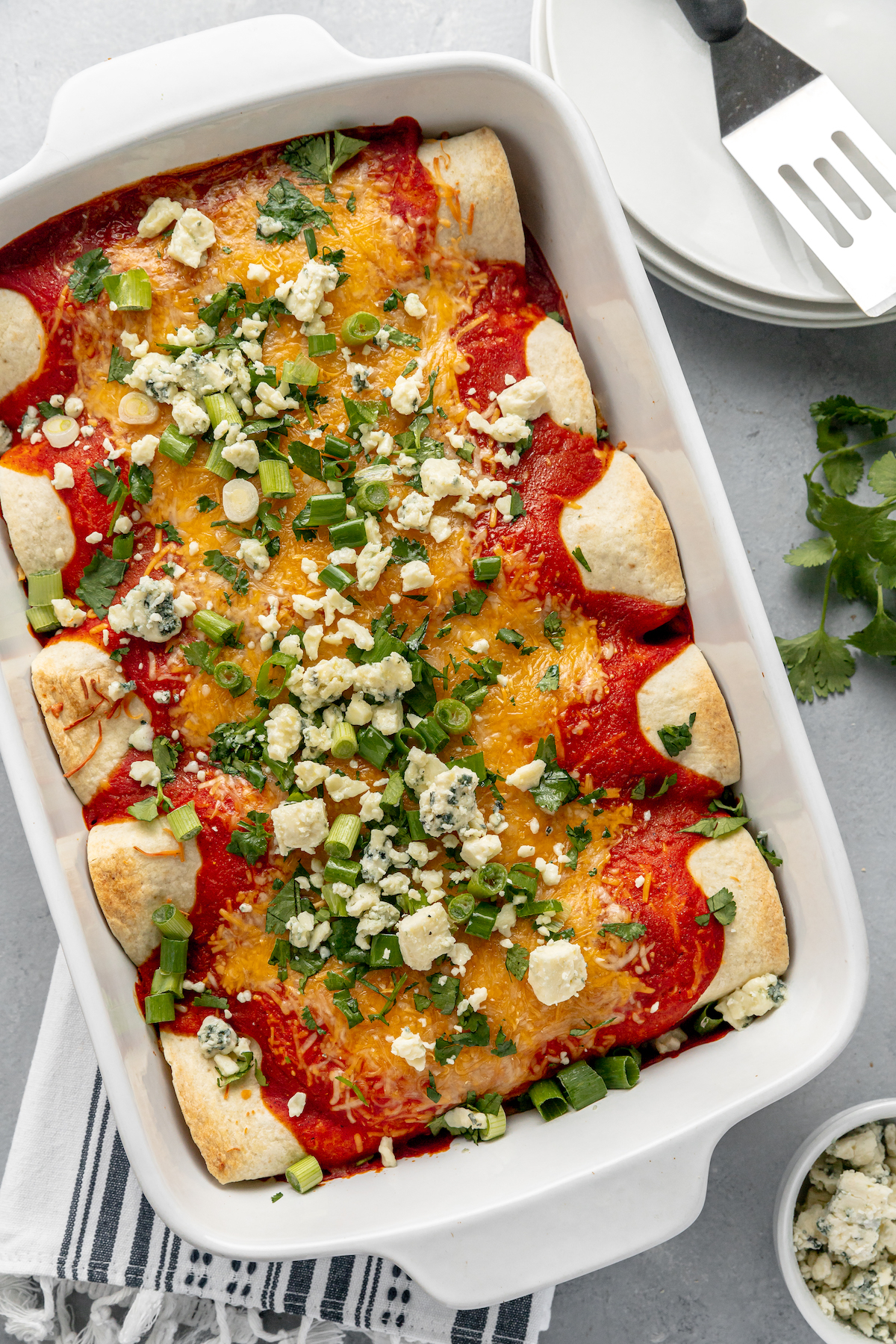 Can I Freeze This Recipe?
Yes, you can freeze buffalo chicken enchiladas baked, or unbaked. Here's how:
To freeze leftover baked enchiladas, just cool them down and store in airtight containers, freezer bags, or just wrap in a couple of layers of plastic wrap. Freeze for up to three months. Reheat directly from frozen in a 350F oven.
To freeze unbaked enchiladas, just assemble the casserole, and then wrap the whole thing in two layers of plastic wrap and one of foil. Freeze for up to three months. Bake directly from frozen, adding 20 – 30 minutes to the bake time.
Buffalo Chicken Enchiladas
Buffalo Chicken Enchiladas are the spicy, cheesy, satisfying dinner casserole you need in your life! Easy chicken enchiladas are spiked with buffalo sauce and bleu cheese in this fun twist on the original.
Ingredients
1 ½

pounds

chicken breast

,

cooked and shredded

1 14-

ounce

can red enchilada sauce

1 10-

ounce

can diced tomatoes with green chilies

,

drained

⅓

cup

buffalo wing sauce

,

I used Frank's

4

green onions

,

divided in half

1 ½

cups

shredded Mexican blend cheese

6 8-

inch

flour tortillas,

can substitute corn tortillas

⅓

cup

crumbled bleu cheese

¼

cup

fresh cilantro

,

coarsely chopped
Instructions
Preheat the oven to 350F. Lightly spray a small casserole dish with cooking spray, and set aside.

In a medium bowl, mix together the enchilada sauce and the buffalo wing sauce. We use ⅓ cup because we like it spicy, but you can use less to make a mild version. Set aside.

In a large bowl, toss together the shredded chicken, diced tomatoes with green chilies, half the green onions, and ½ cup Mexican-blend cheese. Slowly pour in ½ cup of the enchilada sauce mixture, and stir until combined.

Pour ½ cup of the enchilada sauce mixture into the prepared casserole dish, and spread it to the edges. Working with one tortilla at a time, fill with ⅙ of the chicken mixture. Roll up the tortilla, and place it seam-side-down in the dish. Once all the tortillas are filled and placed, pour the remaining sauce mixture over the enchiladas, and top with the remaining Mexican cheese.

Bake for 20 minutes, or until the cheese is melted and the sauce is bubbling. Immediately after taking the enchiladas out of the oven, top with bleu cheese, cilantro, and the remaining onions. Serve immediately.
Nutrition
Serving:
1
,
Calories:
511
kcal
,
Carbohydrates:
36
g
,
Protein:
49
g
,
Fat:
18
g
,
Saturated Fat:
8
g
,
Polyunsaturated Fat:
8
g
,
Cholesterol:
129
mg
,
Sodium:
1594
mg
,
Fiber:
3
g
,
Sugar:
5
g
More Bold Dinner Ideas
Looking for more recipes with bold flavors that pop? Here are a few of my personal favorites:
This post may contain affiliate links. Read my disclosure policy.