Homemade sauce and lots of cheese make these vegetable enchiladas extra flavorful. Ready in less than 30 minutes, they're the perfect quick meal loaded with bell peppers, corn, and black beans.
Easy Vegetarian Enchiladas
With a 7-minute enchilada sauce and only 20 minutes in the oven, these vegetable enchiladas are a total veggie-packed dream. Made with a variety of fresh or frozen ingredients for convenience, you'll be surprised by how easy this vegetarian casserole is.
Filled with bell peppers, corn, and black beans, these enchiladas are as healthy as they're delicious. Topped with a melty sharp cheese blend and cilantro, I promise they'll earn a place in your regular meal rotation the second you taste them.
Don't forget the adobo seasoning! It's the secret ingredient and what sets these apart from any veggie enchiladas you've ever had. Prepared on the spot or a couple days in advance, no one will be able to tell the difference so use it to your advantage. These are all about the flavor minus all the effortb— You're welcome!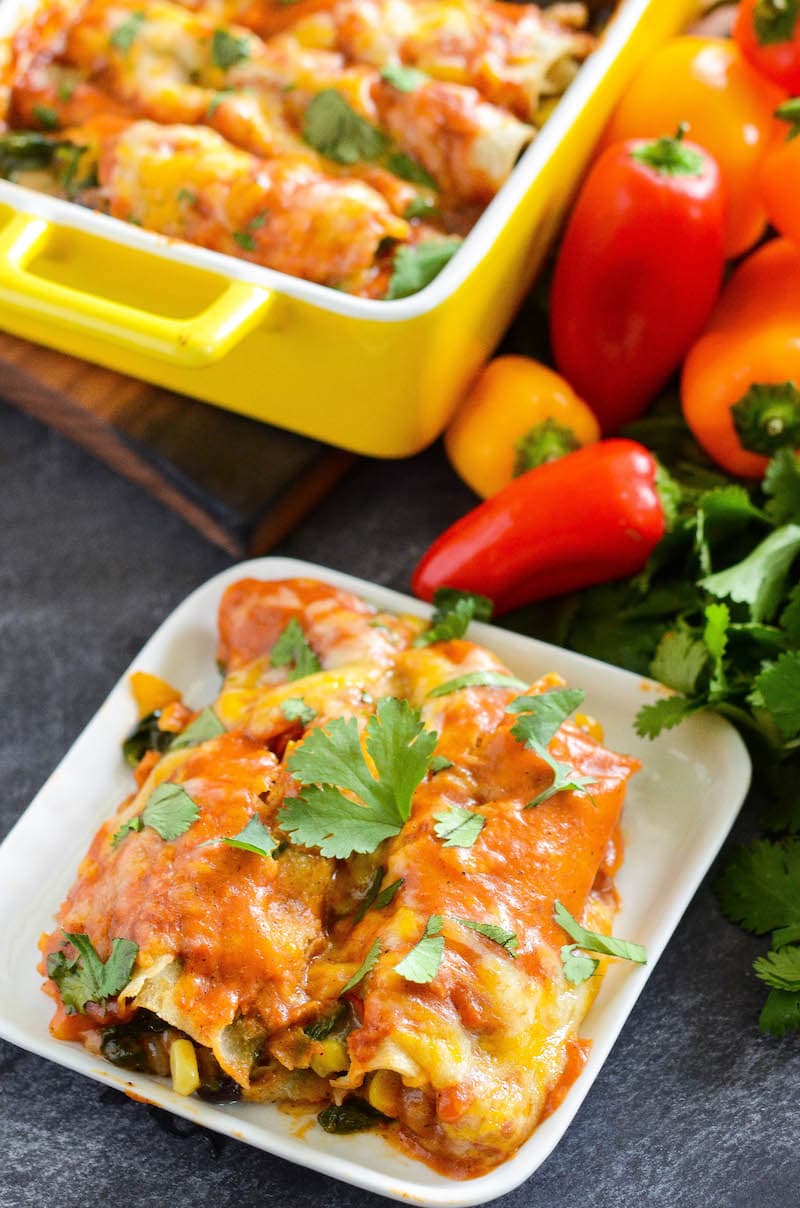 What You'll Need
Using frozen veggies and canned beans will help you cut down on prep time so take advantage of the cheats!
Homemade enchilada sauce – This is my go-to recipe, but if you have your own, go for it!
Olive oil – Vegetable, corn, and canola oil work too.
Garlic – Fresh garlic adds the best flavor, but you can substitute it for 1 tsp garlic powder.
Yellow onion – Only swap it for white onion if absolutely necessary, but reduce the amount by half.
Bell pepper – Use any color of bell pepper, they're all delicious!
Yellow corn – Fresh or frozen is okay.
Adobo seasoning – If you can't get a hold of any, substitute it for more salt to taste.
Ground cumin – You can leave it out, but it adds amazing smokiness.
Black beans – Make your own or used canned beans. If you use canned ones, make sure to rinse and drain them.
Baby spinach – Feel free to use fresh or frozen.
Cilantro – Only use fresh cilantro, please.
Fiesta blend cheese – This is my favorite, but any Mexican or Tex-Mex cheese blend is wonderful.
Corn tortillas – You can use flour tortillas in the worst of cases.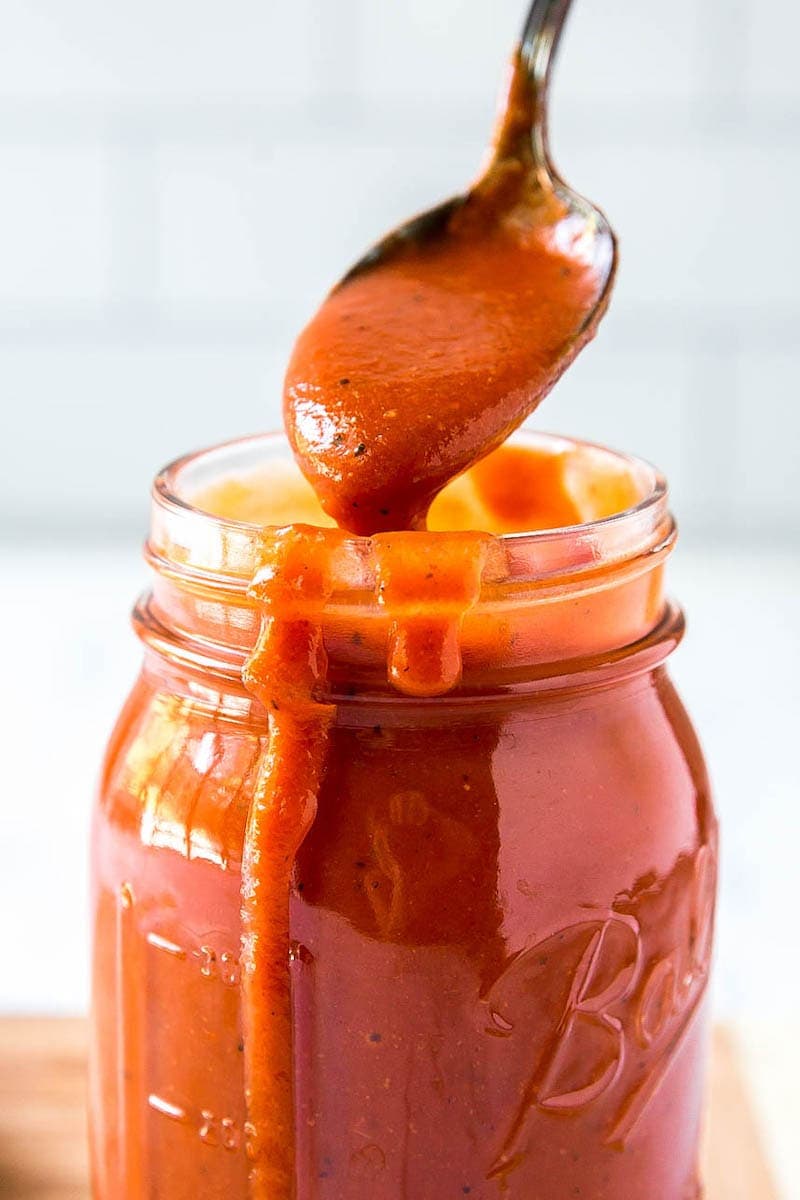 Store-Bought vs Homemade Enchilada Sauce
For the best possible enchiladas, make your own enchilada sauce. It only takes 7 minutes to make and is extremely flavorful in comparison to store-bought salsas. Not to mention, it's also healthier!
Another perk to making your own sauce is that you can season it to taste. You can add more spices, tomato paste, veggie broth, and even a little chili powder for a bit of heat.
However, if you're in a rush and don't have time to make some, I recommend using a canned or jarred simple, organic tomato salsa. Mix it with some spices to taste and incorporate it into the dish. It's not the same as homemade, but it's much better than other kinds loaded with sodium and added sugars.
What Is Adobo Seasoning?
Adobo seasoning is a mix of salt, garlic powder, dried oregano, black pepper, and ground turmeric. It adds lovely color and wonderful earthiness with a punch of spice and pungency from the black pepper and garlic.
Although it's not as common as other seasonings, adobo is actually a staple ingredient in many Caribbean and Latin American households because of how easily it adds flavor to foods.
You can usually find it in the Latin American section at most supermarkets or online. If you can't get a hold of any, substitute it for more salt to taste in the recipe.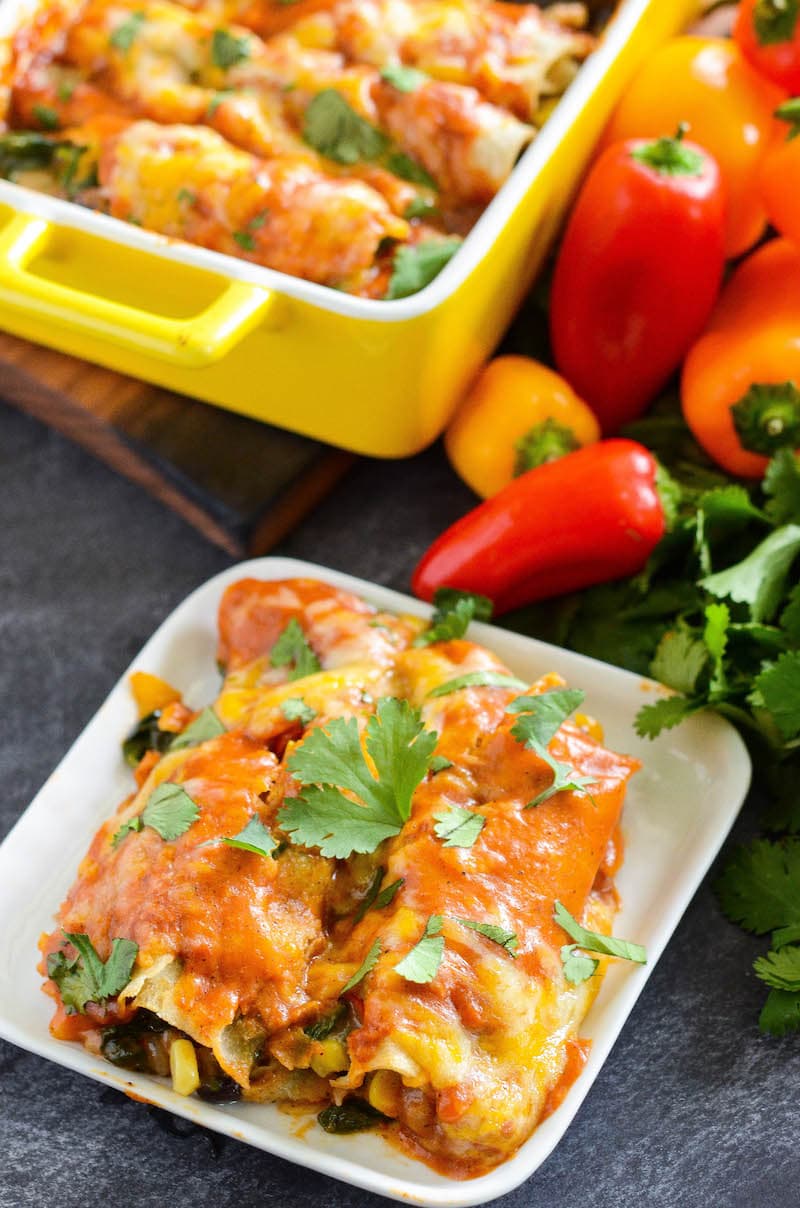 Healthy Enchilada Variations
These vegetable enchiladas are exquisite, but these variations will help you use up leftover veggies and beans, and even let you play around with the filling and sauce.
Use leftover beans. If you have leftover beans from frijoles de la olla, frijoles charros, or Ranch-Style beans, use them for the enchiladas to reduce waste.
Add leftover veggies. Chop up your leftover veggies and add them to the filling. You can use carrots, squash, and even potatoes.
Change the filling. Make a completely different filling with zucchini, riced cauliflower, and yellow squash. Follow the recipe, as usual, just change the ingredients.
Use green salsa. Swap the enchilada salsa for a green one. It'll feel like a completely different dish!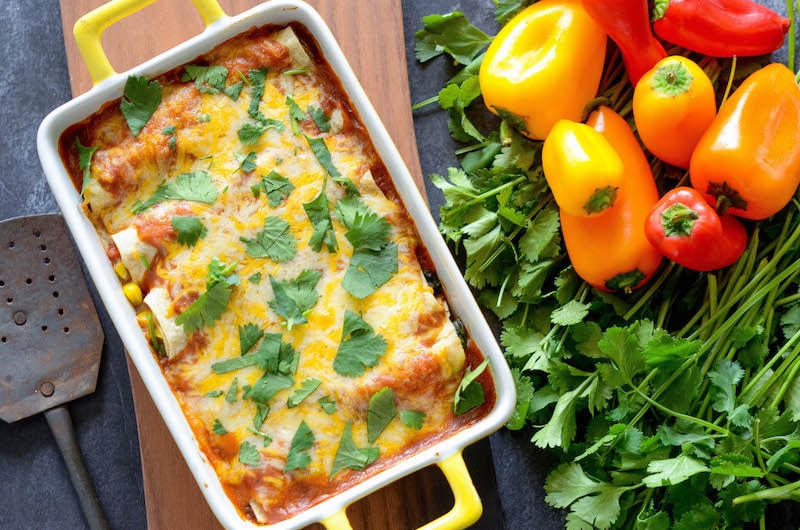 How to Make Vegetable Enchiladas
Once the tortillas are warm, it's all about rolling the enchiladas quickly— but that's about as hard as it gets for this recipe.
Cook the filling. Add the oil to a large pan over medium-high heat. Add the garlic, onion, bell pepper, and corn. Stir and let it cook for 5 minutes or until the bell pepper and onion soften.
Add the beans. Stir the adobo, ground cumin, and black beans into the mixture.
Add the spinach. Toss the spinach into the pan and stir it in. Let it cook for 2-3 minutes or until wilted. Remove it from the heat. Add the cilantro and 2 cups of cheese. Stir them in.
Prepare the baking dish. Preheat the oven to 375 F. Grease the baking dish with non-stick cooking spray. Add 3/4 cup enchilada sauce to the baking dish and spread it out evenly. Don't skip this because it will help avoid sticking.
Heat the tortillas. Wrap the tortillas in a damp paper towel or kitchen towel. Heat them in the microwave for 20-30 seconds.
Fill them. Add about 1/3 cup of enchilada filling down the center of each tortilla and roll them up. Arrange them in the baking dish with the seam side down. Pack them tightly so they don't unfold during baking.
Pour the sauce. Top the enchiladas with the remaining sauce. Make sure they're completely covered.
Add cheese. Sprinkle the remaining cheese on top and pop the enchiladas in the oven. Bake them uncovered for 20 minutes or until the cheese is melty and bubbly.
Serve. Remove them from the oven and let them cool for 5 minutes before serving. Sprinkle with cilantro and enjoy.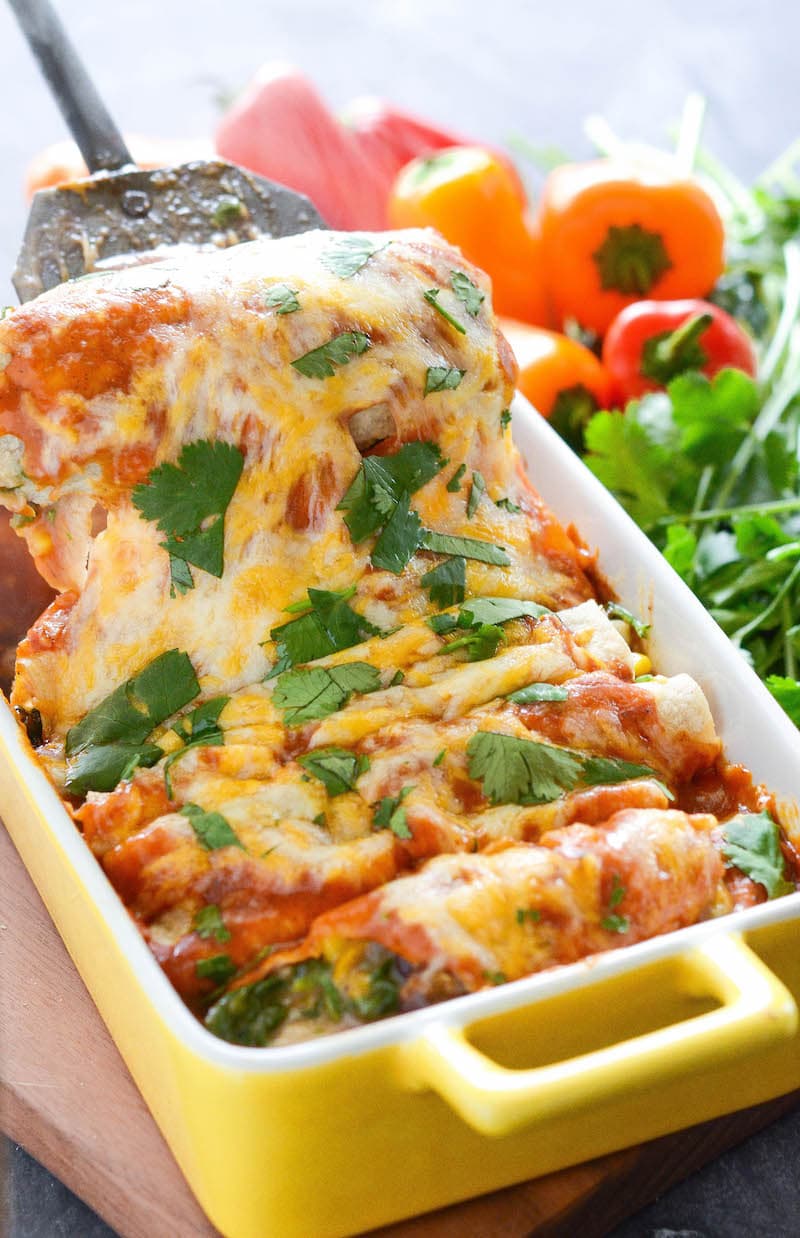 Tips for the Best Homemade Enchiladas
Follow these tips for perfect vegetable enchiladas every time:
Heat the tortillas. Some room-temperature (and cold) tortillas crack the minute you try to roll them. Heat them in the microwave or on the griddle for 10-15 seconds or until pliable enough to roll without breaking.
Add sauce to the baking dish. Pour enough sauce on the bottom of the baking dish before adding the enchiladas to avoid sticking. You can also line the dish with aluminum foil for easy clean-up too.
Use flour tortillas. Sometimes you have to work with what's on hand. If you're halfway through making the filling and realize you only have flour tortillas, use them!
Make the sauce in advance. Having some enchilada sauce in the fridge for late-night cravings or last-minute meals will simplify your life a whole lot.
Can These Be Made In Advance?
Absolutely! As long as you don't pour any sauce over the enchiladas until right before baking, these can be made up to 3 days in advance.
What To Serve with Vegetarian Enchiladas
Enchiladas are served for breakfast and lunch. What you serve with them depends on the time of day although they're hearty enough to be enjoyed on their own.
For breakfast, these are great with a side of scrambled eggs and bacon. Don't forget the orange juice! On the other hand, these are great with refried beans or lentil soup for lunch.
Top them with fresh cilantro, Mexican crema, cotija cheese, and more salsa for an extra flavorful meal.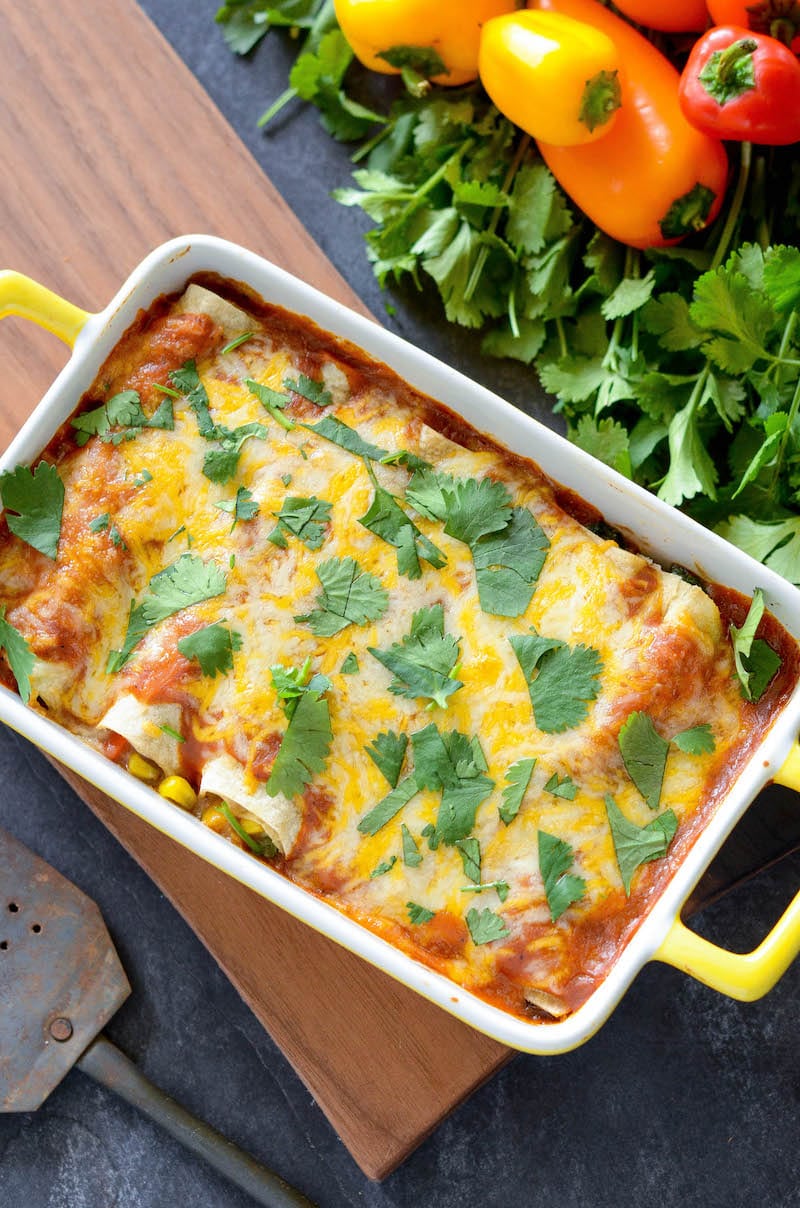 How to Store & Reheat Leftovers
Refrigerate any cooled leftovers in an airtight container for up to 5 days. To reheat them, place them in the microwave for up to 1 minute or until warm. You can also bake them at 320 F for 15-20 minutes. If you prefer to do it on the stove, place them in a pan over medium-low heat. Cover them and let them heat for 10-15 minutes.
Can Homemade Enchiladas Be Frozen?
Yes! Assemble the uncooked enchiladas and place them in a freezer-friendly container. Freeze them for up to 3 months. To thaw them, transfer them to a baking dish and bake them frozen for 40 minutes or until hot and bubbly.
More Easy Mexican Recipes
Yield: 6-8 servings
Vegetable Enchiladas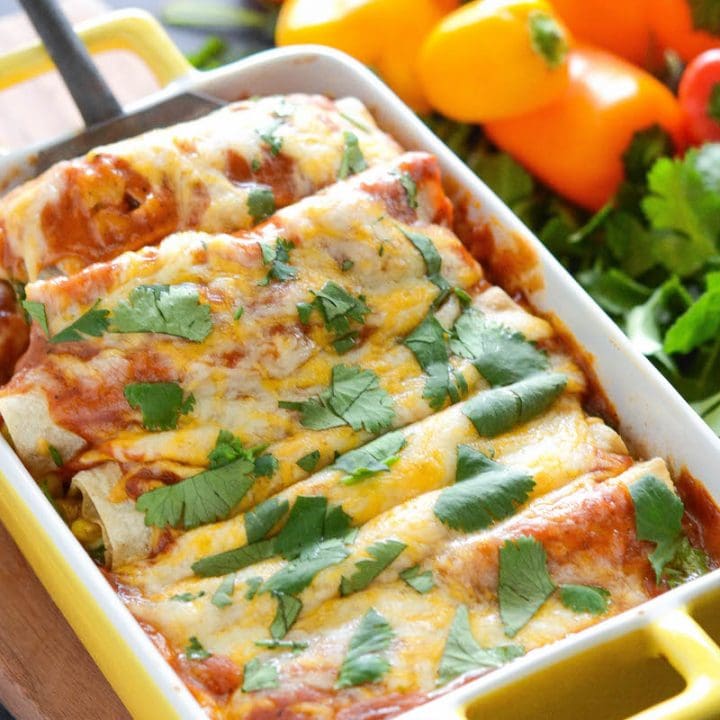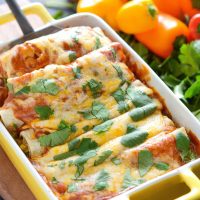 Ingredients
1 batch homemade enchilada sauce
2 tablespoons olive oil
2 cloves garlic, minced
1 large yellow onion, diced
1 large bell pepper (yellow, orange or red), diced
2 cups fresh (or frozen) corn
1 teaspoon adobo seasoning
1/4 teaspoon cumin
1 (15 oz) can black beans, rinsed and drained
1 6 oz bag fresh baby spinach
1/2 cup cilantro, chopped
16 oz fiesta blend cheese
16 (6 inch) corn tortillas
Instructions
In a large skillet, heat olive oil over medium-high heat. Add garlic, onion, bell pepper and corn and saute until just softened. Stir in adobo, cumin and black beans.
Add spinach and saute until wilted, about 2 minutes. Remove pan from heat. Stir in cilantro and 2 cups of cheese.
Preheat oven to 375°F. Lightly spray a 9x13 baking dish with non-stick spray. Pour 3/4 cup enchilada sauce in the bottom of the baking dish and spread evenly.
Wrap corn tortillas in a damp paper towel and microwave for 30 seconds. Then working quickly, spoon about 1/3 c of the enchilada filling into each tortilla and roll up. Place in the baking dish, seam side down.
Pack the filled tortillas tightly in the baking dish. Pour remaining enchilada sauce over them, making sure to cover the entire surface.
Sprinkle remaining cheese evenly over the enchiladas. Bake uncovered until hot and bubbly, about 20 minutes. Cool for 5 minutes before serving and sprinkle with extra cilantro. Serve hot!
Notes
If you want to make these but only have two adults in your household, like me, then freeze half a batch! When I make these, I buy some of those throw away foil pans and separate them in 2 or 3 batches.
To freeze, complete all the steps until it's time to bake them. Then freeze them instead! When you are ready to eat them, bake them frozen and expect it to take about double the time to bake as the recipe says since they are frozen.
Recommended Products
I am an Amazon affiliate member and I earn a small percentage from qualifying purchases. Thank you!
Nutrition Information:
Yield:
8
Serving Size:
2 enchiladas
Amount Per Serving:
Calories:

560
Total Fat:

30g
Saturated Fat:

12g
Trans Fat:

1g
Unsaturated Fat:

15g
Cholesterol:

56mg
Sodium:

1449mg
Carbohydrates:

54g
Fiber:

10g
Sugar:

8g
Protein:

23g
Categories
This post may contain affiliate links. Read my disclosure policy.