Try these fast and delicious ways to make the Best Scrambled Eggs! A tasty, protein-filled breakfast any day of the week, any way you crack it. How to make scrambled eggs, ways to use them, and easy breakfast ideas to serve alongside!
Make the Best Scrambled Eggs Ever
Today we're talking about an all-time favorite breakfast staple: Scrambled Eggs! If you've ever wondered how to cook the most delicious, buttery, fluffy eggs, there's no time like the present. And even if you're a seasoned pro, it's never too late to add another trick up your sleeve.
I've rounded up 4 easy methods for making scrambled eggs that you can crack out on any occasion, from quick weekday breakfasts to a dazzling weekend brunch.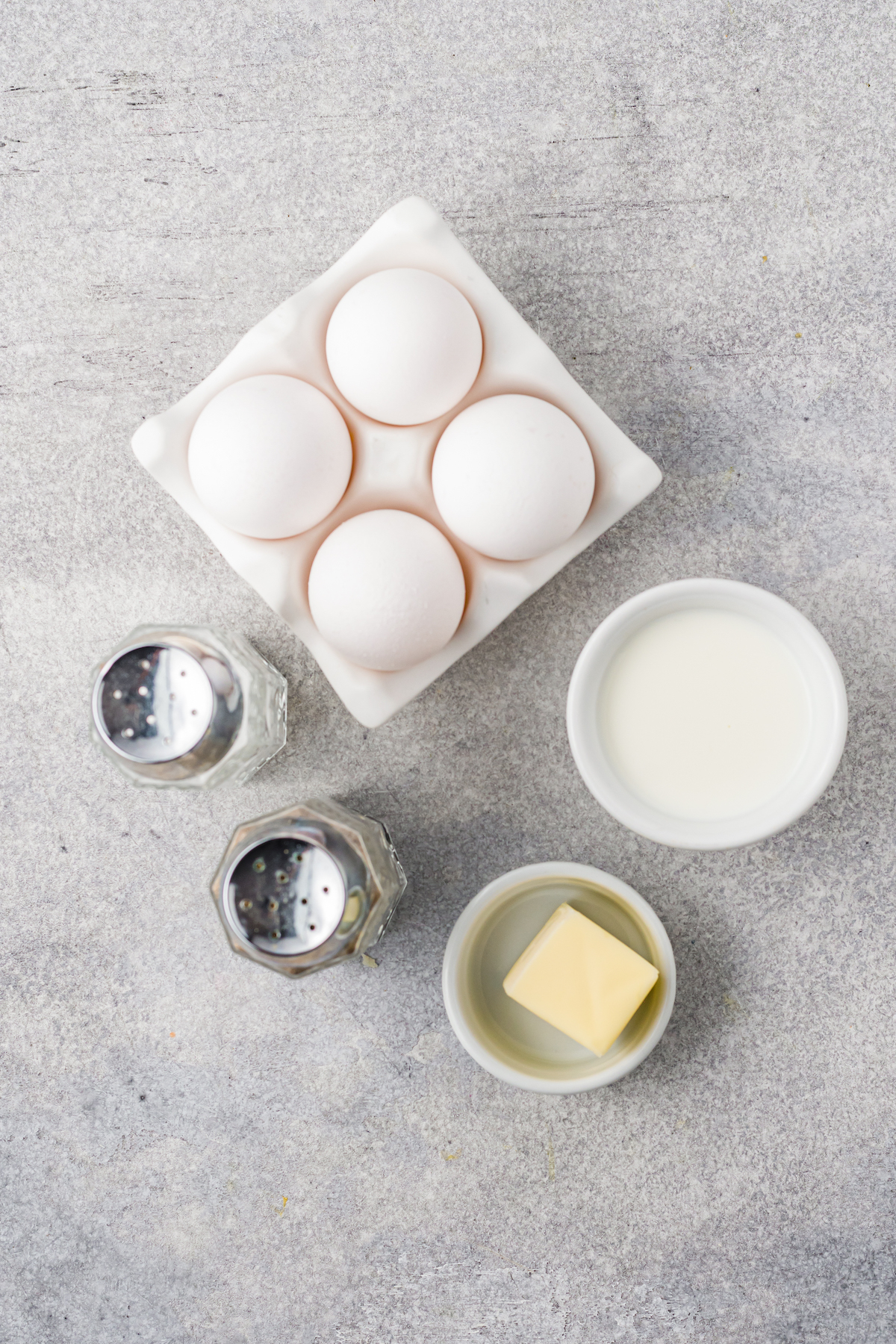 What Goes Into Scrambled Eggs?
Let's get to it. Here's the short list of ingredients involved:
Eggs: The star ingredient, you'll need to get your hands on some large fresh eggs.
Butter: Salted or unsalted butter, to help with coating the cooking surface and also to give your eggs the best, buttery flavor!
Salt & Pepper: A generous pinch of salt and pepper for seasoning.
Milk: Including milk is optional, for extra creaminess.
How to Make Them
Make gorgeous, buttery, and fluffy eggs, scrambled 4 different ways!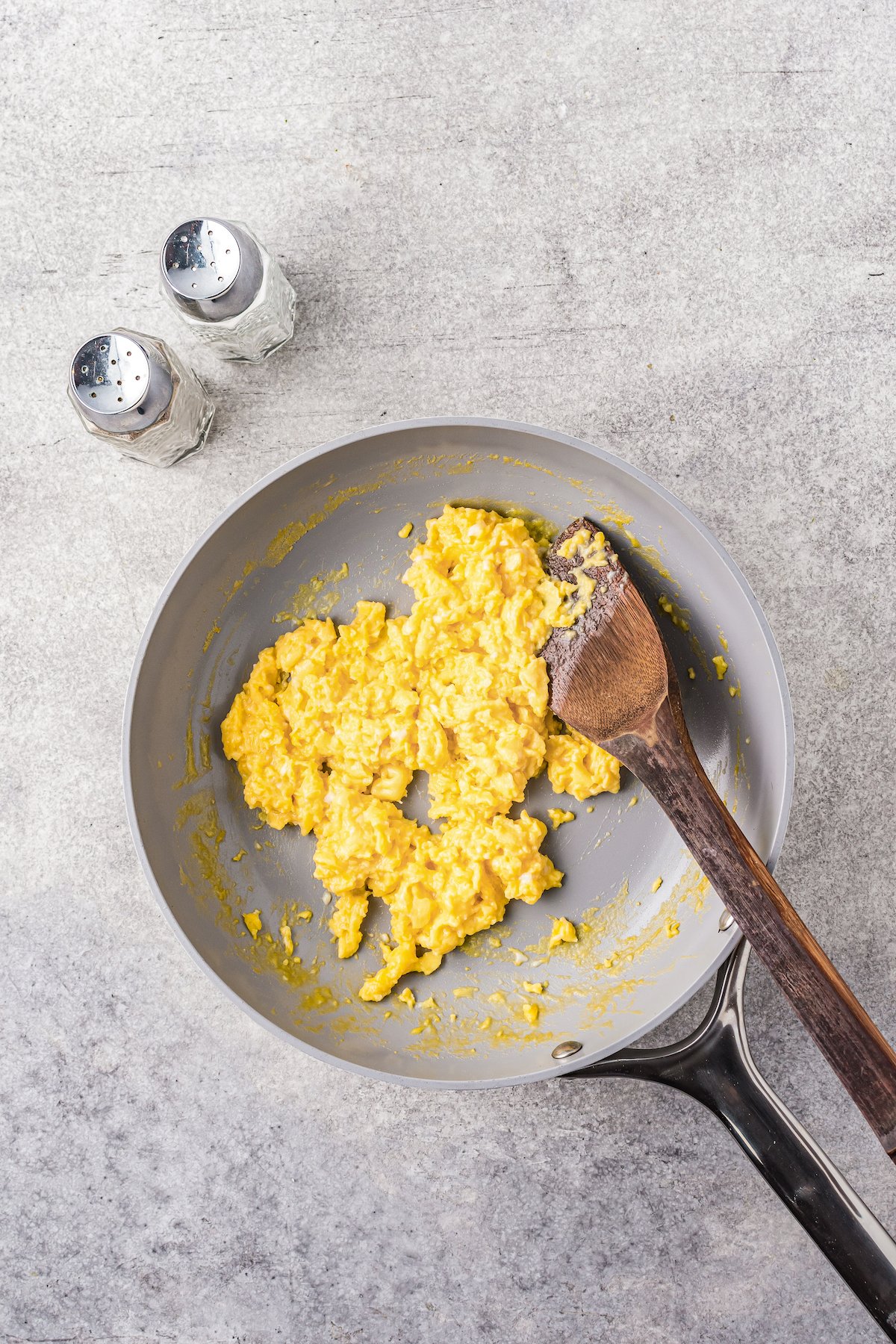 Stove Top Scrambled Eggs
Cooking Time: 4 minutes
The classic method to scramble eggs: in a skillet on the stove top! Scrambling eggs on the stove is how many of us grew up making them. It's tried and true, quick, and you have the most control over the heat. Once you master stove top scrambled eggs, they'll come out to your liking every time!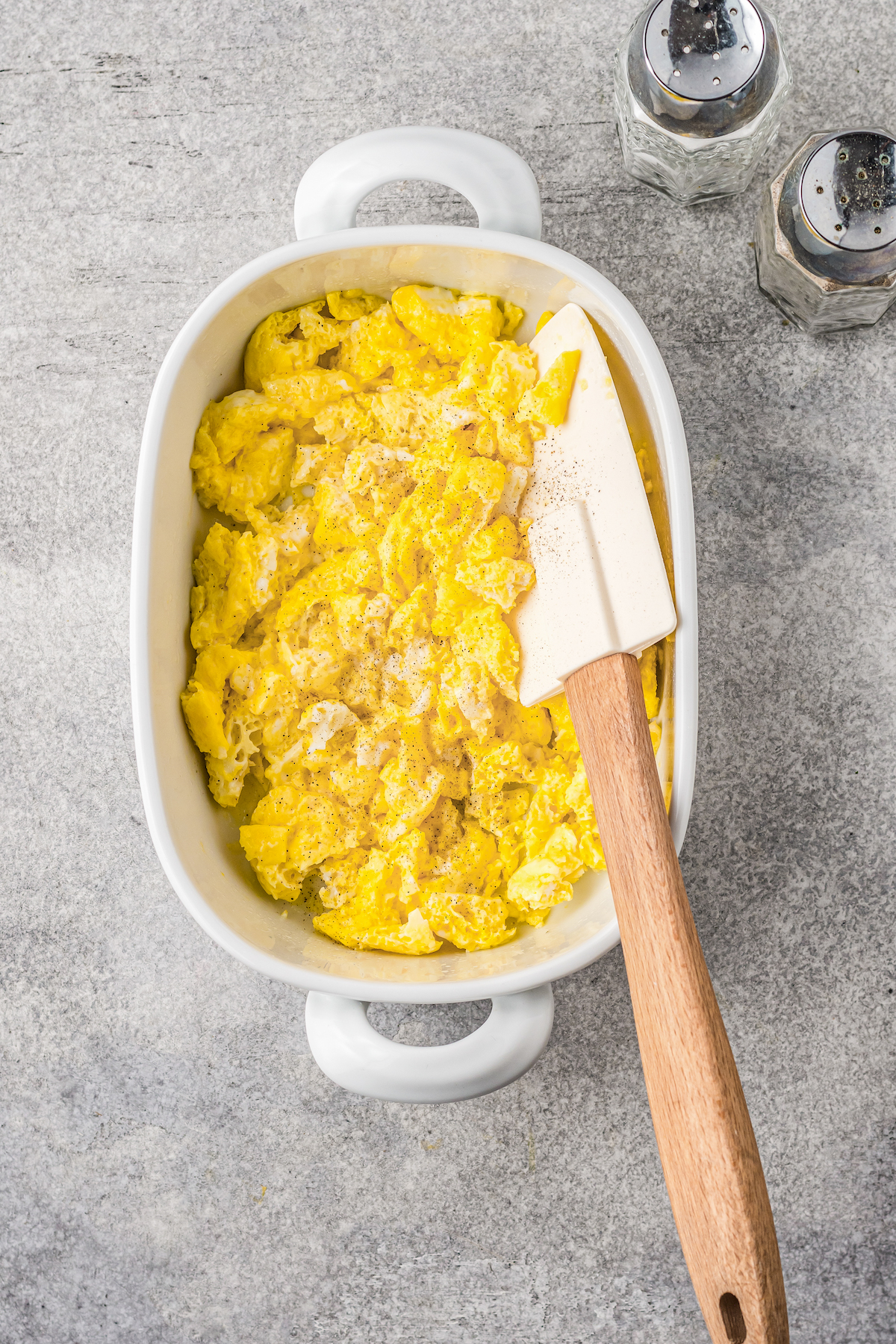 Microwave Scrambled Eggs
Cooking Time: 2 minutes
For the mornings when you're in a hurry, microwave eggs are the way to go. These fluffy eggs cook up in just 2 minutes! This method is by far the fastest, and you can cook and scramble your eggs in one (microwave-safe) bowl or mug, for next to zero clean up.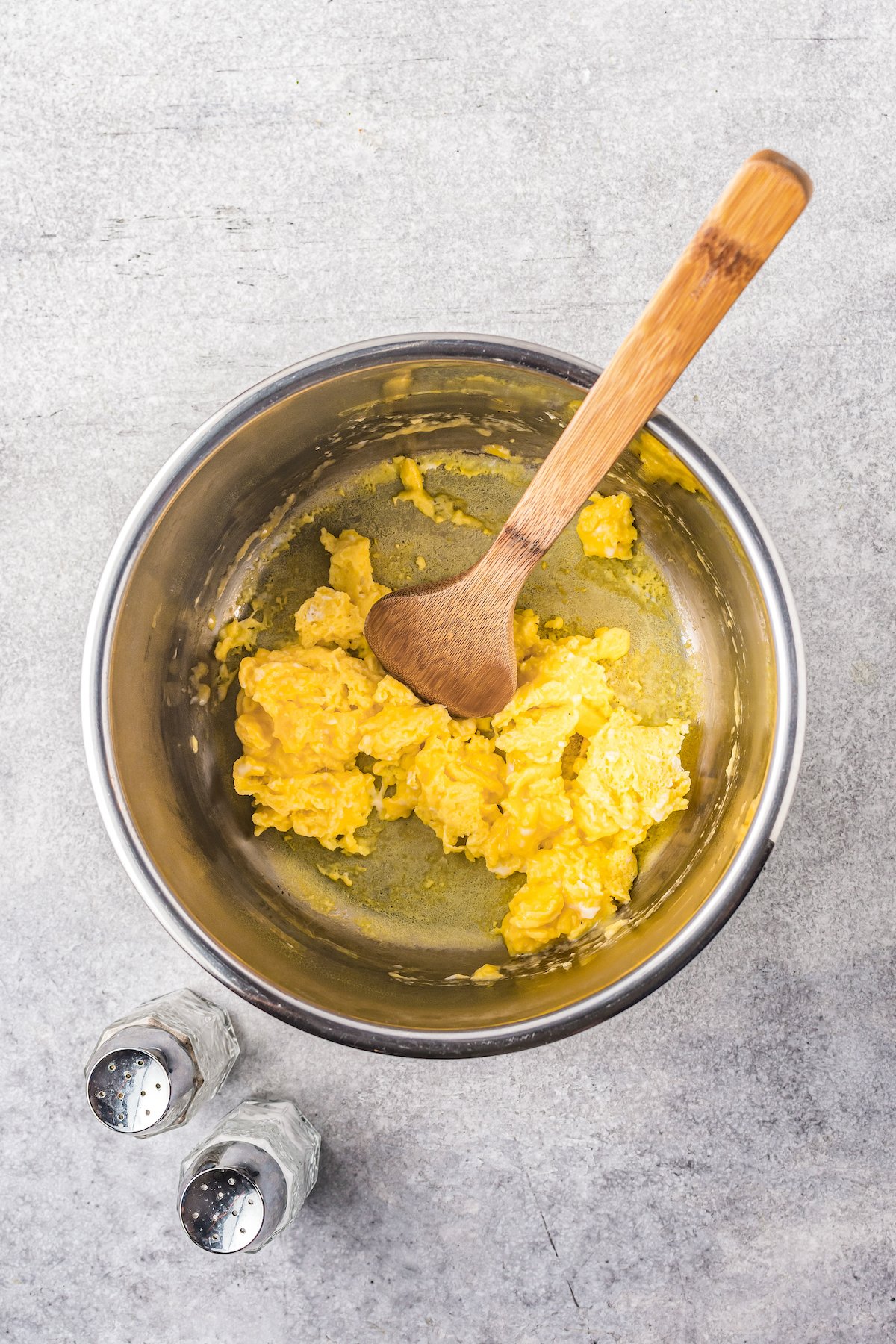 Instant Pot Scrambled Eggs
Cooking Time: 3 minutes
The second quickest way to scramble your eggs, using your Instant Pot! These are some of the most tender and pillowy scrambled eggs you'll ever have, made super fast and easy. If you're short on time but aren't keen on the microwave, these are the eggs for you!
Air Fryer Scrambled Eggs
Cooking Time: 8 minutes
Scrambled eggs in the air fryer is one of the simplest recipes you can try! Ideal for air fryer beginners, and the result is perfectly buttery scrambled eggs. This method is safe and basically effortless, with no need to stand over a hot stove! And like the microwave, there's minimal clean up involved.
What Are the Best Kinds of Eggs to Use?
You don't need to have expensive, organic, designer eggs to make delicious scrambled eggs. That being said, the best eggs to use are fresh eggs, as fresher eggs will lead to a fluffier scramble.
If you're lucky enough to have a hen house in the backyard, all the better! I pick up free range eggs from my local grocer, but any eggs, as long as they're fresh, will do the trick.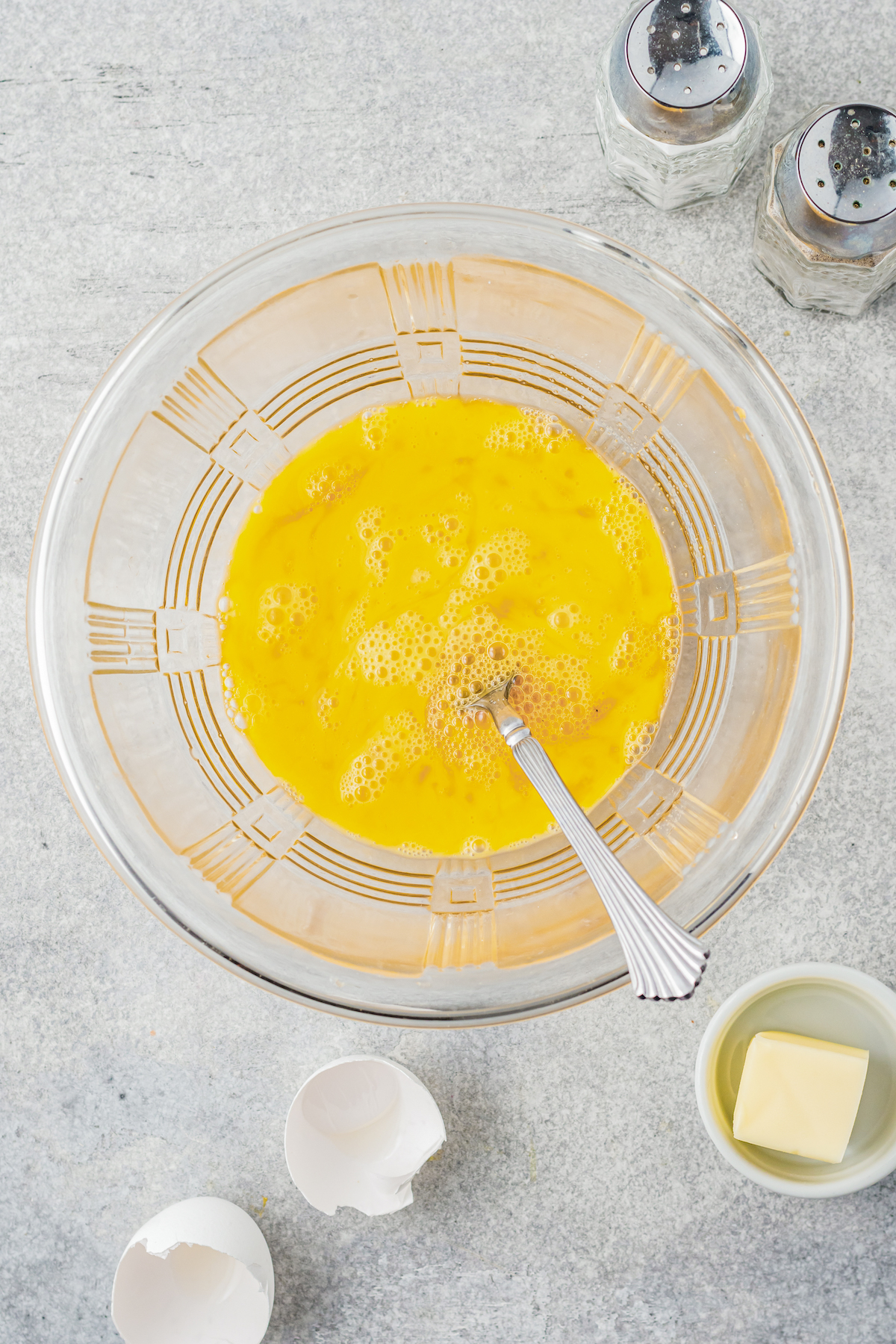 Ways to Use Scrambled Eggs
There are many ways to incorporate eggs into all kinds of creative breakfast ideas! Here are some ways to put your freshly scramble to good use:
Eggs on Toast: You can't go wrong with a classic serving of fluffy eggs on buttered toast! For something fancier, slice up avocado and make avocado toast topped with scrambled eggs.
Breakfast Scramble: Upgrade your eggs with extra add-ins like veggies, proteins, and herbs for a custom scramble every time! I love to use scrambled eggs to make spicy Chorizo and Eggs, or toss in some leftover corn tortillas for easy Mexican-style migas.
Breakfast Tacos, Burritos, and Quesadillas: Speaking of Mexico, spoon your eggs into a corn tortilla for easy breakfast tacos! Or wrap your eggs up in a flour tortilla with bacon, sausage, home fries and tomato for a no-fuss homemade breakfast burrito. Likewise, place your scrambled eggs between two fried tortillas for cheesy breakfast quesadillas.
Huevos Rancheros: Rather than a fried egg, make Easy Huevos Rancheros topped with scrambled eggs instead!
Crepes: Creamy eggs make a tasty, luxurious filling for savory crepe recipes. Sprinkle over some fresh chives, dill, or green onions for extra flavor!
Breakfast Sandwich: Load your eggs onto a bagel or English muffin, topped with cheese, bacon, and your favorite add-ins, for a simple, protein-filled breakfast sandwich. (Try making your own homemade bagels with my easy recipe for Keto Bagels!)
Scrambled Eggs Benedict: Prepare a homemade Eggs Benedict by topping toasted English muffins with ham or Canadian bacon. Then swap out the poached egg for easy scrambled eggs, topped with Hollandaise sauce!
What to Serve with Them
Eggs are great to whip up on their own for a quick, healthy breakfast. They also make a wonderful addition to any breakfast or brunch! Here are some of our favorite sides to serve with scrambled eggs:
Mix in Ideas
Every family has their own way of dressing up their scrambled eggs. Here are some add-in ideas to kick you breakfast up a notch:
Shredded cheese: Cheddar, mozzarella, parmesan, pecorino, Pepper Jack or Monterey Jack cheese.
Veggies: Asparagus, green peppers, broccoli, tomatoes, and greens like spinach and kale.
Proteins: Cooked ham, crispy bacon, sausage, ground beef, Homemade Chorizo.
Salsa and sauces: Jarred salsa, Homemade Pico De Gallo, Rotel, Basil Pesto Sauce, Béarnaise Sauce, Homemade Enchilada Sauce or hot sauce.
Herbs and spices: Fresh chives, onions, dill, thyme, rosemary, nutmeg, cayenne pepper, crushed red pepper.
This post may contain affiliate links. Read my disclosure policy.