Quick and easy Scrambled Eggs in the Air Fryer is the breakfast hack you never knew you needed. Make buttery, fluffy scrambled eggs that come out perfect and delicious every time!
The Best Air Fryer Scrambled Eggs Recipe
In my quest to discover all the many different ways I can use my air fryer, allow me share my latest revelation: Breakfast! What started with Air Fryer French Toast Sticks and Air Fryer Donuts led me down a savory path with these perfect, delicious air fryer scrambled eggs.
Scrambled eggs are one of my most loved protein-packed, hearty breakfasts. I've perfected the art of good old-fashioned scrambled eggs on the stovetop. I also have easy recipes for instant pot scrambled eggs and microwave scrambled eggs! However, I'll admit that now that I've made them in the air fryer, it's impossible to decide which method is my favorite!
This easy air fryer method makes the most incredible light and fluffy scrambled eggs that are on the table in 10 minutes or less!
Why Cook Scrambled Eggs in the Air Fryer?
There are definitely benefits to making scrambled eggs in the air fryer. To name a few:
Easy Cooking: Air frying is one of the easiest cooking methods, since it's fast with minimal clean up! This scrambled eggs recipe is perfect for beginners.
Safety: Without the open flame or hot element of a stovetop, cooking with the air fryer poses less risks for kids (and even the elderly).
Great for Warm Weather Cooking: On hot summer days when the thought of turning on the stove causes you to break a sweat, the air fryer keeps the hot air to itself!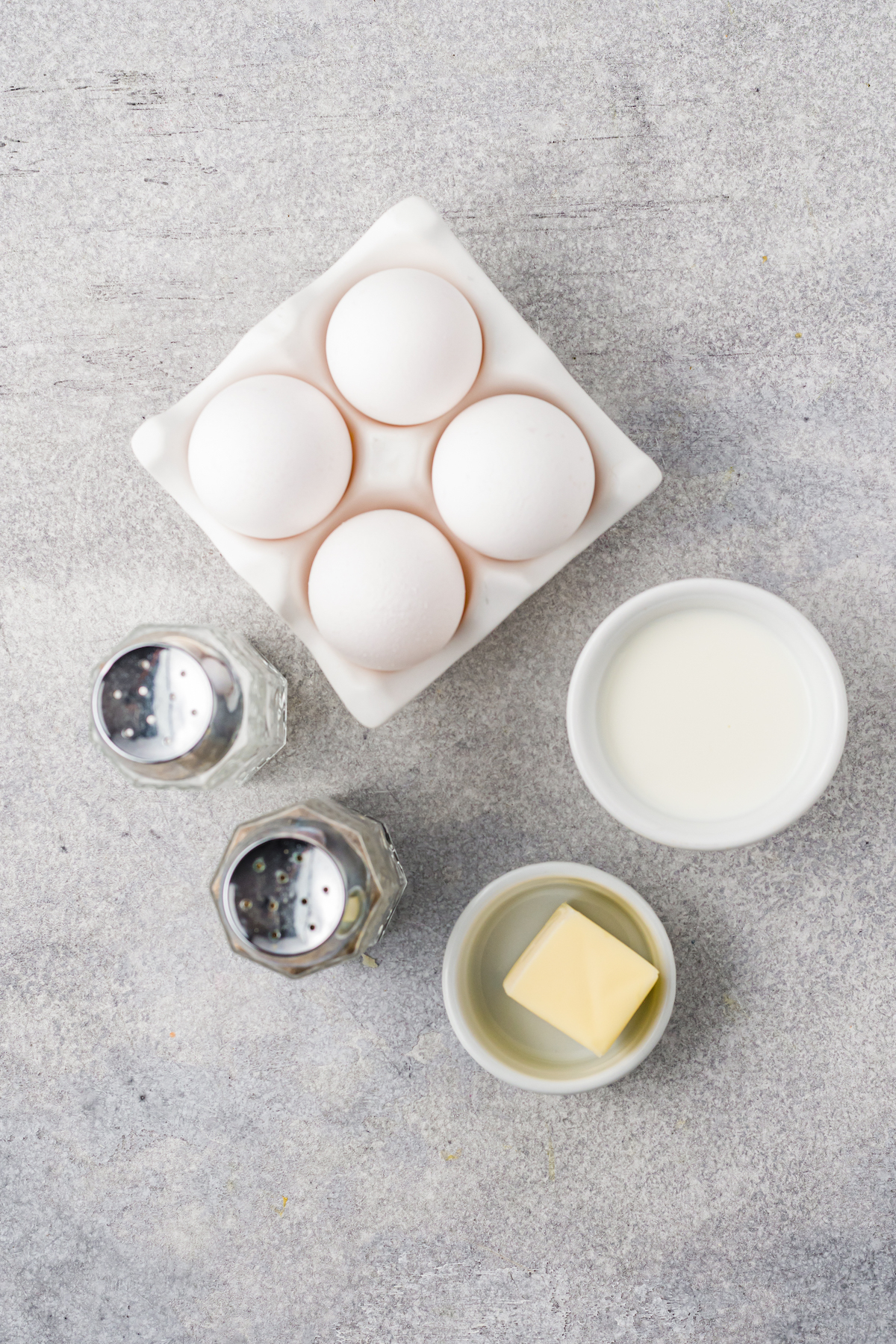 What You'll Need
Eggs: This recipe uses 4 large eggs.
Butter: Salted or unsalted, butter gives scrambled eggs loads of richness and flavor. It also helps with sticking – if you prefer, you can use a half teaspoon of olive oil instead.
Salt & Pepper: Salt for flavor, plus an optional pinch of black pepper if you'd like.
Milk: Adding milk is also optional. A couple spoonfuls of milk or cream will make scrambled eggs smoother and creamier, but it's totally fine to leave it out, too.
How to Make Fluffy Air Fryer Scrambled Eggs
Ready to make scrambled eggs in your air fryer? Let's get cracking! (Sorry, egg joke. I can't help but crack myself up. It's only to be eggs-pected. Ok, ok! I promise that was the last one.)
Prep: While the air fryer preheats, melt the butter in the microwave and pour it into a small pan or oven-proof dish (make sure that the pan will fit inside the air fryer).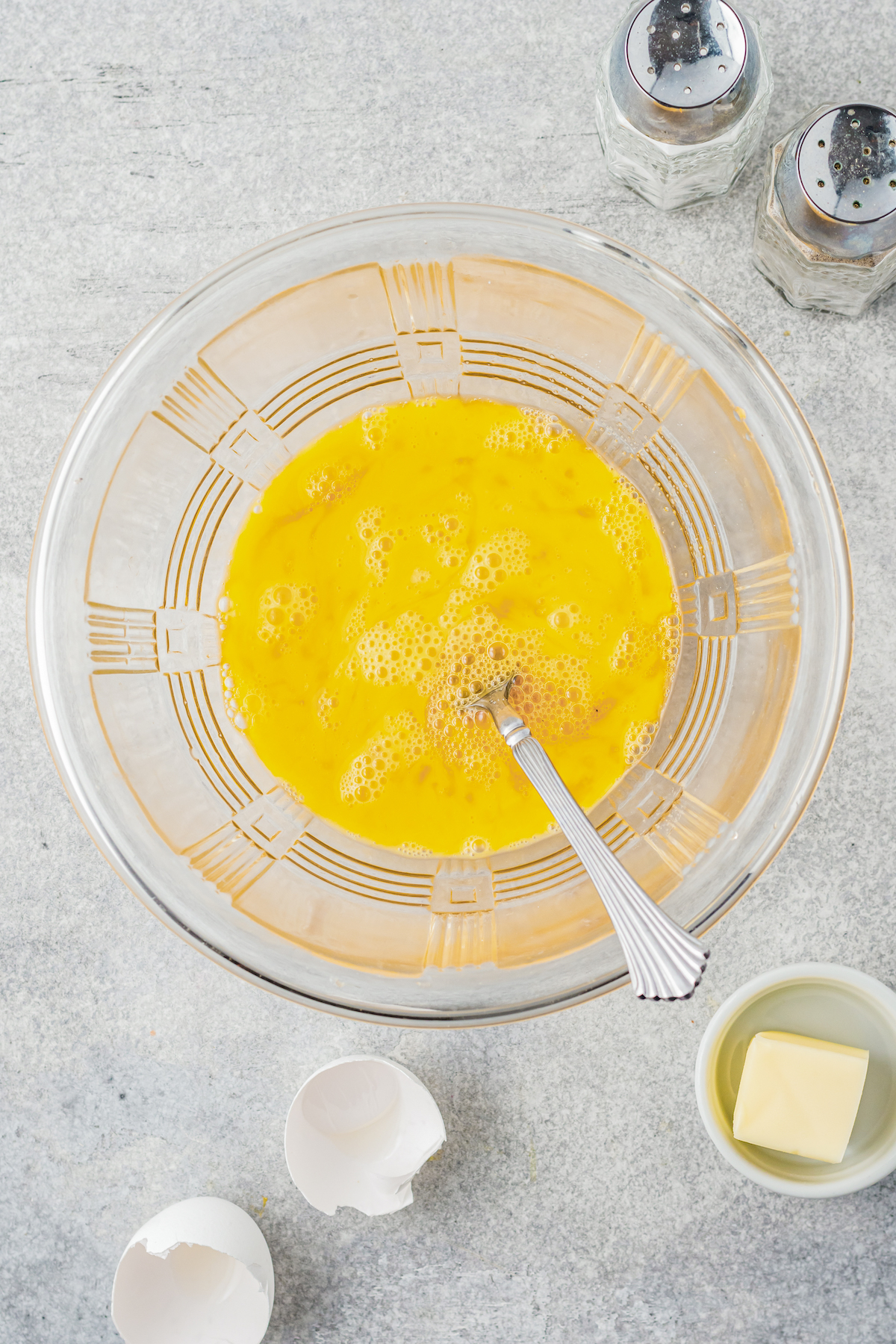 Whisk: Whisk together the eggs, salt, and pepper and then add them to the pan with the butter.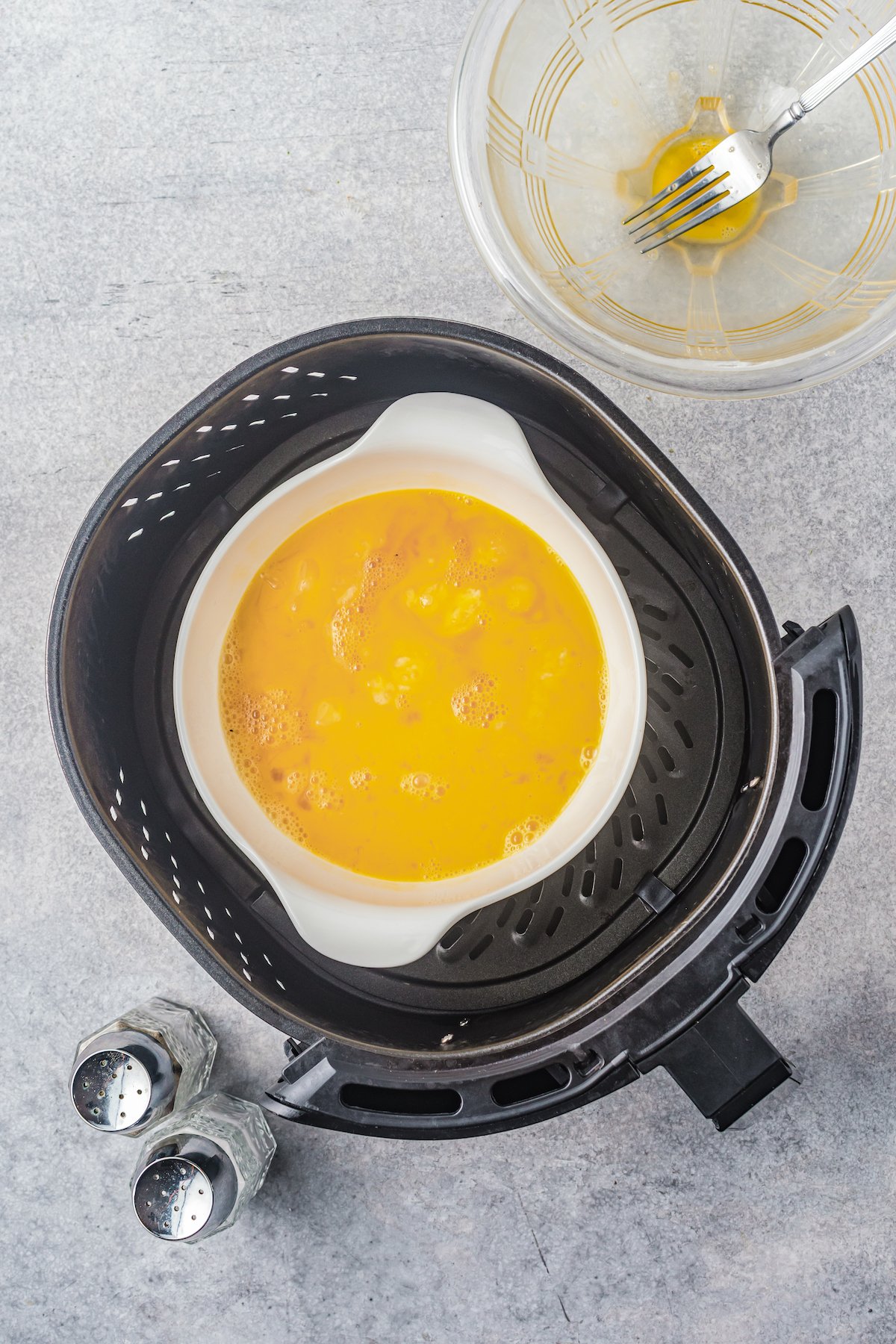 Cook: Cook the eggs in the air fryer for 4 minutes. Give the eggs a "scramble" and then place them back into the fryer to cook for another 4 minutes. Check to see if they're done – scrambled eggs are best when they're still a little wet (they'll also continue to cook even after they're out of the heat). Give the finished eggs a good stir and enjoy!
Tips for Success
When Adding Milk: I make my eggs simply with eggs, salt, pepper and butter. I also include milk in the ingredients just in case! Add 1 ½ teaspoons of milk per egg if you prefer the extra creaminess.
Add-In Ingredients: You can find some of my favorite add-in ideas for scrambled eggs in the section below. Most add-ins won't require much added cooking time (maybe an extra minute or so at most). If you're using ingredients that take longer to cook, I'd suggest pre-cooking them before adding them into the eggs.
Don't Overcook: Not all air fryers cook the same, so keep an eye on the eggs and the temperature! Remove your eggs from the air fryer as soon as the cooking time is up to avoid overcooking. Since the air inside the fryer will stay hot for a while, leaving the eggs in longer will dry them out.
Pay Attention When Cooking: Don't leave the eggs in the air fryer unattended. And don't forget to stir them half way through!
Add-In Ideas
Here are some of my favorite scrambled eggs add-ins. I've also included suggested amounts in the recipe card below!
Shredded cheese like cheddar, asiago, or parmesan.
Chopped aromatics like chives or diced onions
Ham or cooked and crumbled bacon
Greens like spinach or kale
Veggies like diced asparagus or bell peppers
Homemade Pico De Gallo, salsa, or a can of rotel (drained)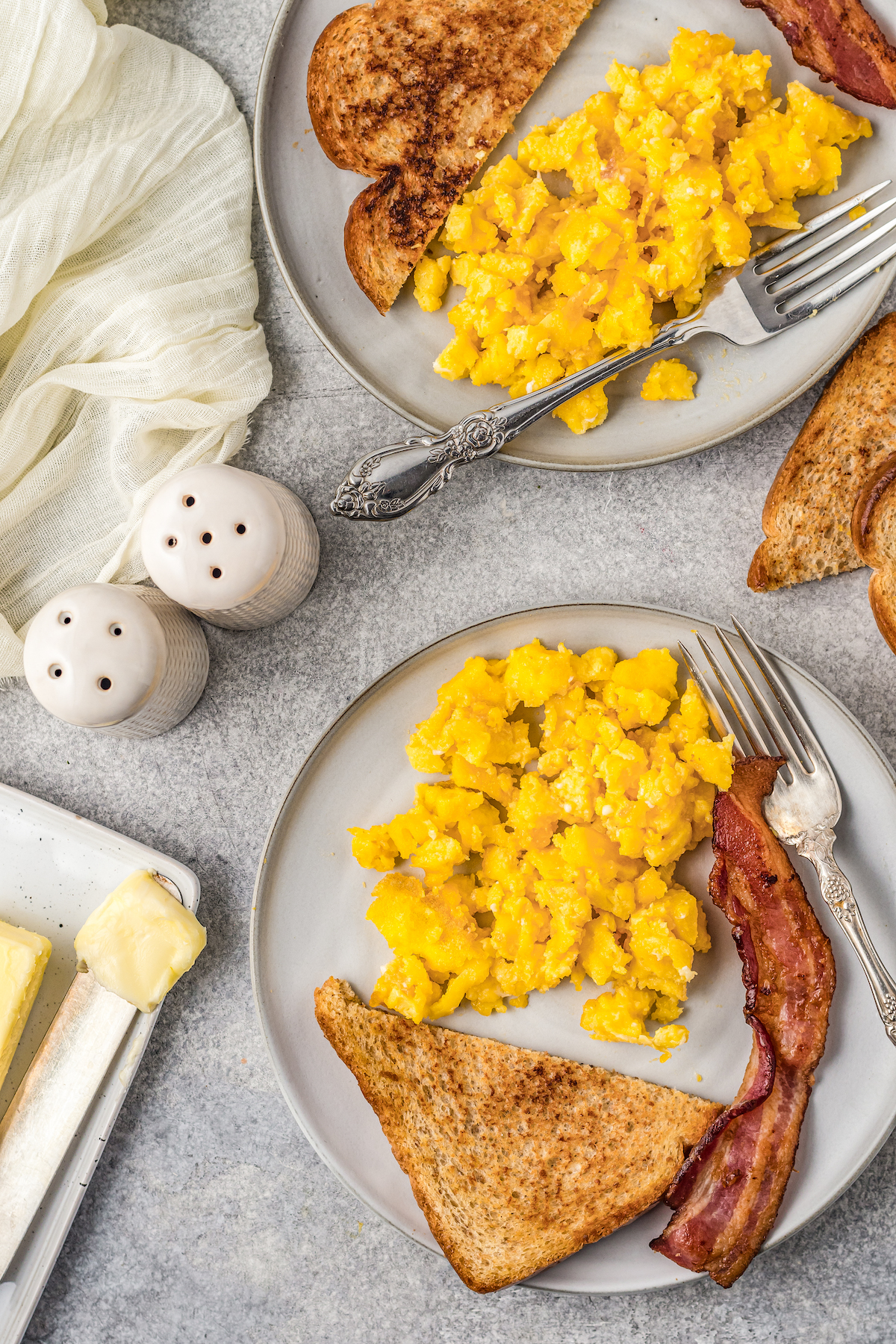 Serving Suggestions
Scrambled eggs in the air fryer are a fast and easy, protein-packed breakfast that you can enjoy alone or as a meal! Here are some ways to serve your scrambled eggs:
Storage and Reheating
These scrambled eggs are so quick to make, I love to serve them fresh when they're at their best. However, if you have leftovers, or would like to cook your scrambled eggs ahead of time, keep the cooked eggs stored airtight in the fridge. They'll keep for up to 5 days and can be reheated in the microwave in short bursts before serving.
More Protein-Packed Breakfast Ideas
Air Fryer Scrambled Eggs
Quick and easy Scrambled Eggs in the Air Fryer are a protein-packed breakfast, ready in minutes. These fluffy scrambled eggs come out perfect and delicious every time! 
Ingredients
4

large eggs

1-2

tablespoons

butter

¼

teaspoon

salt

Small pinch pepper

,

optional

2

tablespoons

milk

,

optional
Instructions
Preheat air fryer to 300°F.

Use a small pan that will fit in the air fryer. Melt the butter in the microwave and pour into the pan.

Whisk the eggs, salt and pepper and pour into the buttered pan.

Place the basket into the air fryer and cook for 4 minutes. Stir the eggs around and set for another 4 minutes. Check for doneness.

The eggs are best when they still look wet. They will continue to cook a little even when removed.

Stir well and serve immediately.
Notes
Storage: 
Scrambled eggs are best served fresh, but they can be stored in an airtight container in the refrigerator for up to 5 days.
Optional Add-Ins: 
1/4 cup shredded cheese
1 teaspoon chopped chives
2 tablespoons chopped onion
1/4 cup chopped ham
1/4 cup cooked and crumbled bacon
1/4 cup spinach
1/4 cup diced asparagus
1 cup Homemade Pico De Gallo (salsa or a can of rotel (drained) will also work!)
Tips:
These eggs are made simply with eggs, salt, pepper and butter.  You may choose to add some milk, but this is not necessary and if you choose to add milk, just 1 ½  teaspoons per egg should be added.
Many wish to add other ingredients to their scrambled eggs. There is no wrong way, so add whatever your family likes. You may need a little extra cooking time, but it shouldn't increase the cook time by much more than a minute or so.
Eggs cooked in the air fryer will need to be removed as soon as the time is done. The air fryer will remain hot and continue drying out the eggs.
Nutrition
Serving:
1
,
Calories:
253
kcal
,
Carbohydrates:
2
g
,
Protein:
13
g
,
Fat:
21
g
,
Saturated Fat:
11
g
,
Polyunsaturated Fat:
9
g
,
Trans Fat:
1
g
,
Cholesterol:
404
mg
,
Sodium:
505
mg
,
Sugar:
1
g
Categories:
This post may contain affiliate links. Read my disclosure policy.