These easy Air Fryer French Toast Sticks have soft, fluffy insides and crispy cinnamon sugar outsides making them simply irresistible! They're fun to dip, insanely tasty, and wonderfully quick and easy to make in the air fryer.
Air Fryer French Toast Sticks
Not many things make me jump up out of bed in the morning. I'm definitely what you'd call a night owl, not an early bird! However, the smell of these french toast sticks cooking in the air fryer is enough for me to peel off the sleep mask and, as Dolly would say, stumble to the kitchen! I mean really, the aroma of warm cinnamon sugar is enough to get anyone awake and excited for breakfast – which is why I love making these when I need my kids up early.
When you think of french toast sticks, you probably think of the ones from Sonic or Burger King. No shame! Honestly, they're one of my favorite fast food treats. However, these air fryer french toast sticks are SO much better. Sometimes, the drive-thru ones are way too hard and crunchy from all the oil they're fried in, and don't even taste like french toast. With this easy recipe, you won't have to worry about that at all, since you're using an air fryer of course! No oil required, just the way I like it.
Besides being far less greasy, these air fryer french toast sticks are also so much more flavorful and soft then their drive-thru counterparts. Each bite is rich with cinnamon sugar flavor, and is air fried to absolute perfection. With a perfectly crunchy outside and soft, fluffy inside, these really make for the perfect bite every time. Oh, and the best part? You can have 16 of these sticks made in about 20 minutes. Yes, really!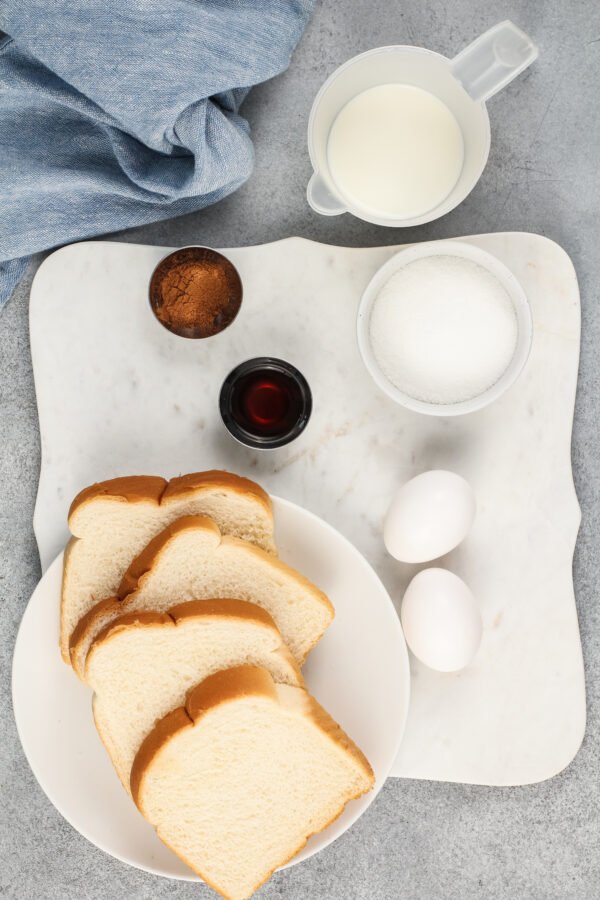 Ingredients
Bread: Thick sliced bread like Texas toast is the best for this recipe! Also, you'll want your bread to be a little stale so it holds its shape well.
Milk: Whole milk is what I usually use, but any kind of milk should get the job done – even oat milk!
Eggs: Personally, I like to use free range organic eggs for best results.
Vanilla Extract: Just a dash of vanilla is all you need to give a touch more of sweetness to this already sweet treat.
Granulated Sugar: To give it that perfect cinnamon sugar coating on the outside!
Cinnamon: For even more cinnamon flavor, you can add another 1/2 tbsp.
Maple Syrup: These french toast sticks are so good all on their own, you don't even need the maple syrup… Oh, who am I kidding. Of course you'll want maple syrup on the side!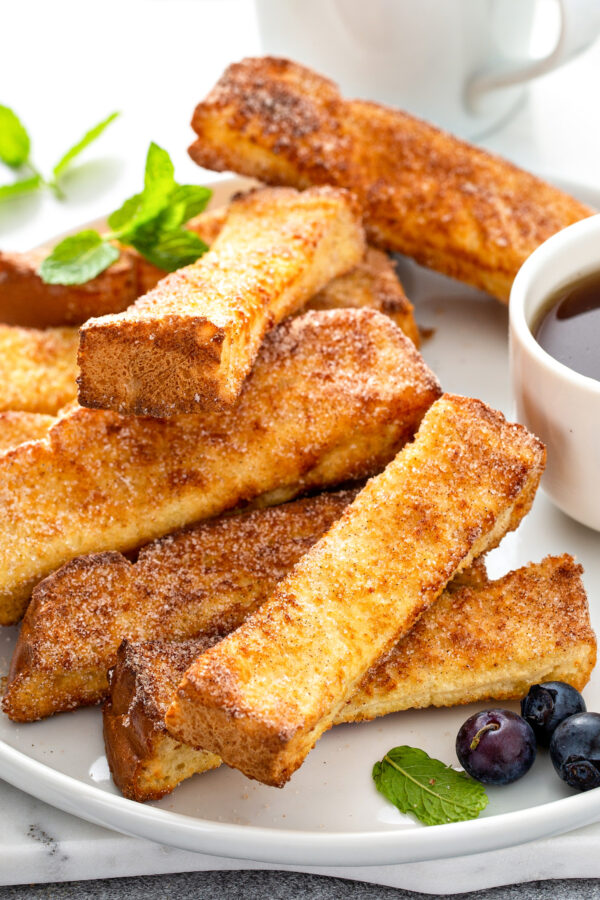 How to Make French Toast Sticks in the Air Fryer
Preheat: Start off by preheating your air fryer to 350°F if your air fryer requires preheating.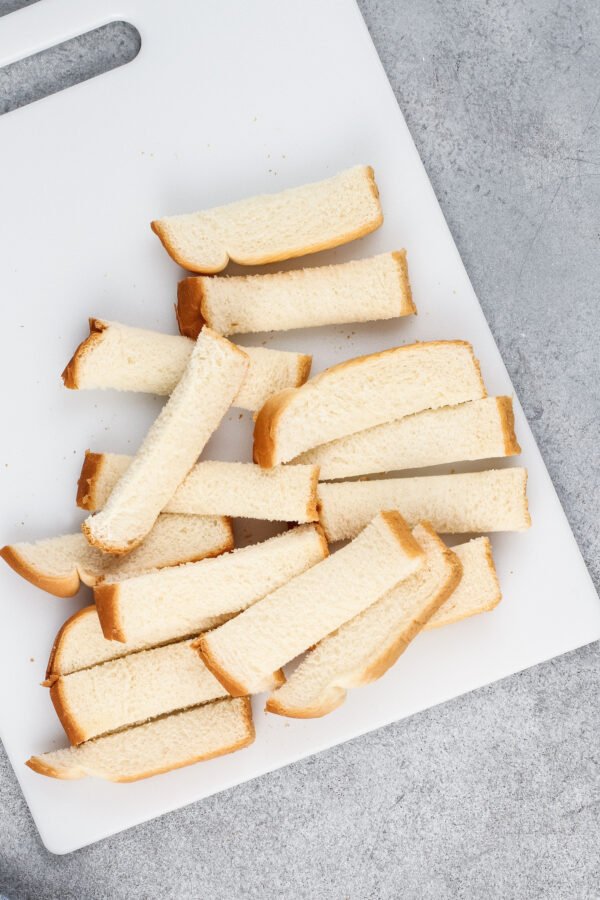 Slice: Slice each bread slice into four sticks. Set aside.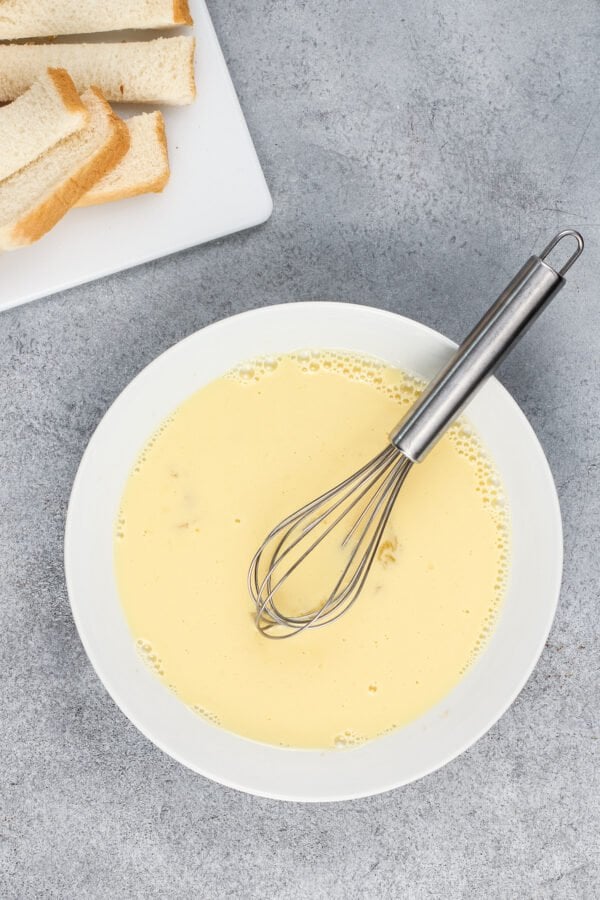 Whisk: In a shallow bowl, add the milk, eggs, and vanilla extract. Whisk everything together until well combined.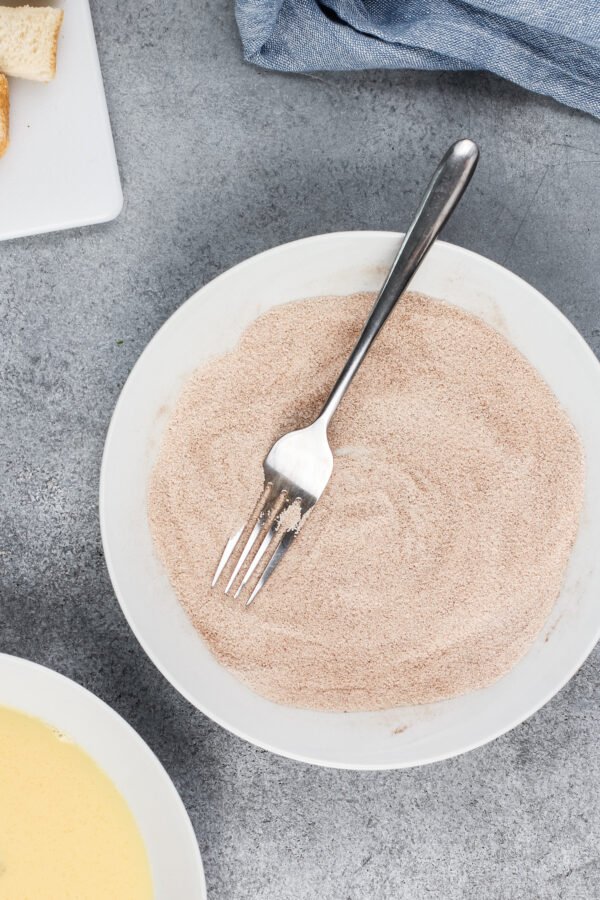 Combine: In another shallow bowl, combine the cinnamon and sugar. Set aside.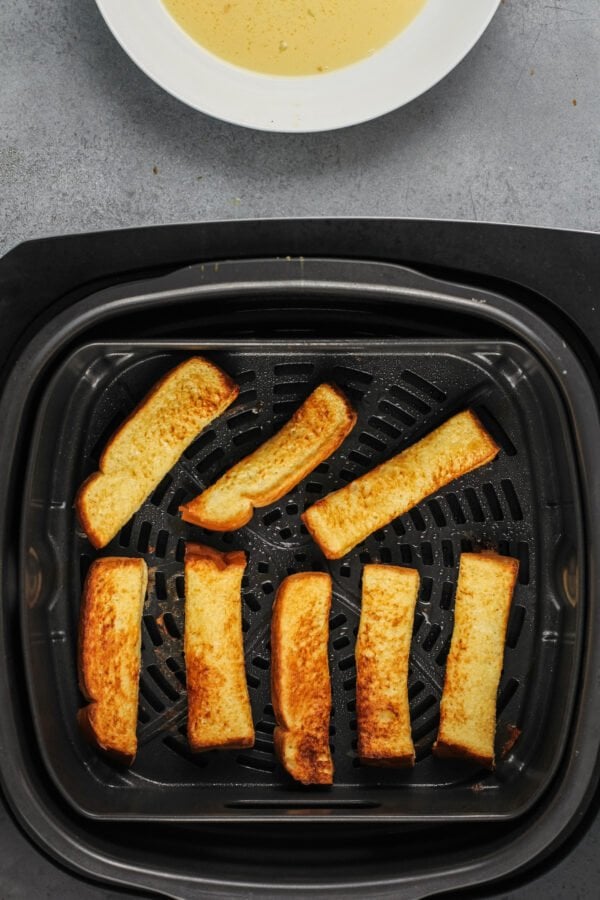 Prep the sticks: Dip each bread stick quickly into the egg mixture. Coat the bread in the egg mixture quickly, being careful not to soak them. Then, shake off any excess egg mixture and place the sticks in the air fryer basket.
Cook: Cook at 350°F for about 8 minutes or until just crispy, flipping halfway through cooking.
Toss: Immediately toss the french toast sticks in cinnamon sugar, tossing until all the sticks are fully coated. You must do this quickly, or the cinnamon sugar mixture will not stick.
Enjoy: Serve these sticks fresh with maple syrup if desired, and enjoy!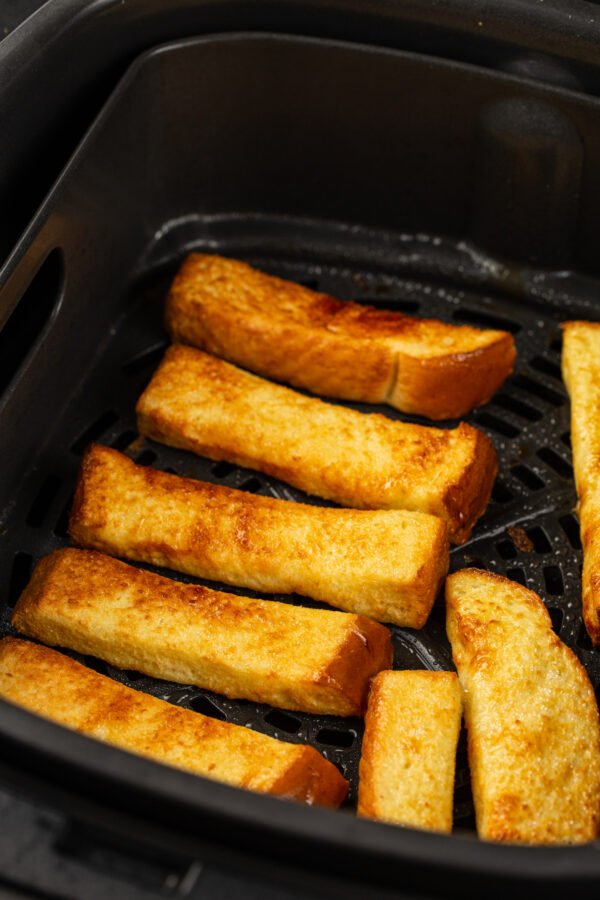 Can I make french toast sticks ahead of time?
These are a treat that are best served and enjoyed when they're first cooked. As soon as they're warm and rolled in cinnamon sugar is when they're at their most delicious!
However, you can keep these french toast sticks in an airtight container in the fridge, where they'll stay fresh for up to 3 days. To reheat, pop them back into the air fryer for just a few minutes – NOT the microwave! They'll get very soggy very quickly if reheated in the microwave.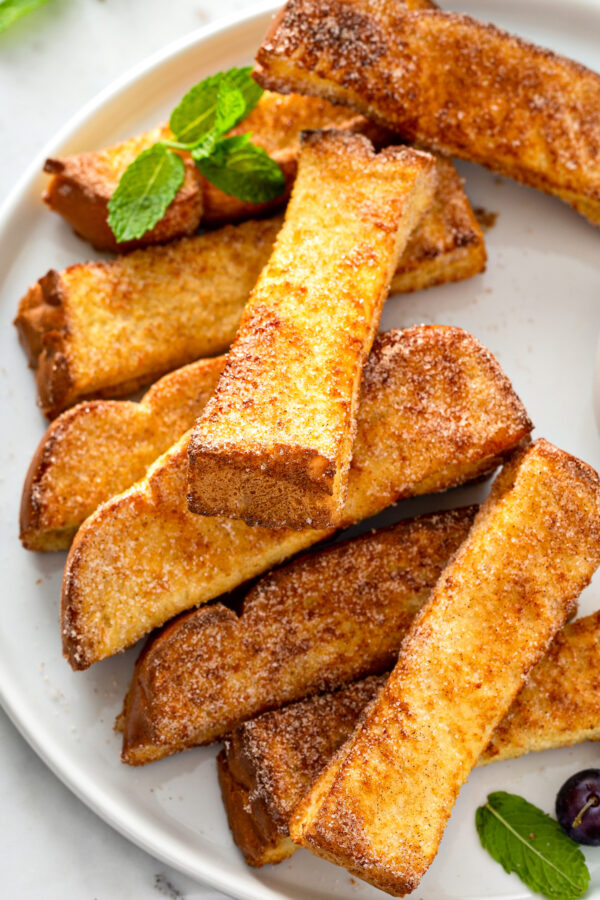 Variations to Try:
If you're serving these sweet sticks in the fall, dust them not just with cinnamon sugar, but with apple or pumpkin pie spice, too!
Texas toast is my favorite bread to slice up for this recipe, especially when it's slightly dried out and about a day old. However, breads like challah and brioche are delicious for this recipe as well.
I've found that 8 minutes is the perfect amount of time to get these sticks crunchy on the outside and soft on the inside. But if you prefer your french toast sticks extra crispy, leave them in there for 10 minutes! I wouldn't leave them in there longer than that, though, or you risk burning them.
Here are a few more fun breakfast ideas: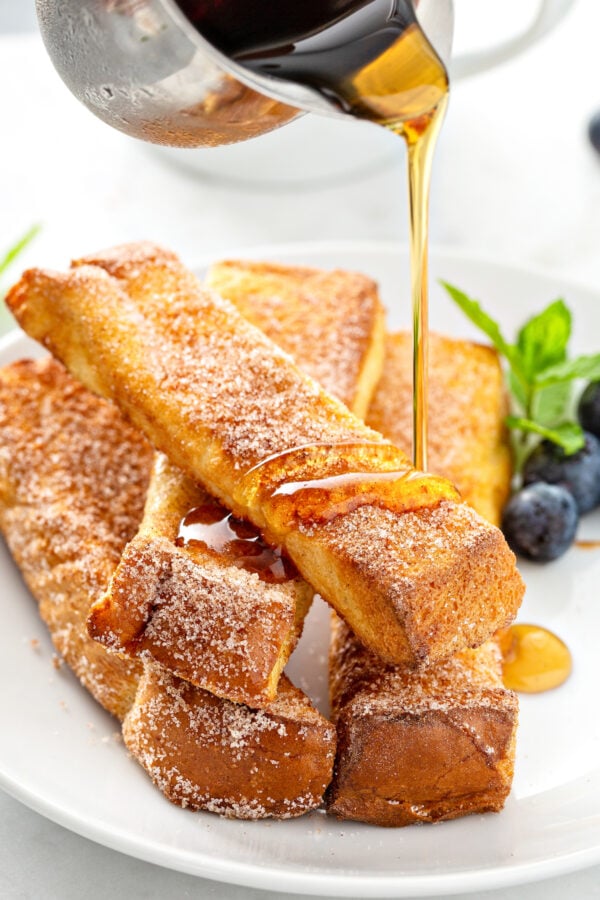 These easy to make air fryer french toast sticks are rich with cinnamon sugar flavor, perfect texture, and they ALWAYS get the kids (and myself) to the kitchen – no matter how early it is!
Head on over to Dixie Crystals to get the full recipe I developed for them by clicking the button below:
This post may contain affiliate links. Read my disclosure policy.