Chocolate pancakes with chocolate sauce drizzled on top? Yes please! These decadent pancakes pack a triple chocolate punch. Fluffy chocolate pancakes are stuffed with chocolate chips and served with a homemade rich chocolate sauce on top!!
Best Chocolate Pancakes
You've probably have had (or at least heard of) chocolate chip pancakes, which are a classic and a favorite in this house. They are on regular rotation for Sunday breakfast around here.
However, for the girl's 6th birthday a couple of weeks ago, Lyla requested actual 100% Chocolate Pancakes. And boy did I deliver. My little chocolate loving girl thought she had hit the jackpot!
My chocolate pancakes take chocolate chip pancakes and elevate them a few notches. Instead of having some chocolate in a regular pancake, I've made a pancake that is fully flavored with chocolate, with added chocolate chips and an optional chocolate drizzle!
That's right, these are the ultimate Chocolate Pancakes! These Chocolate Pancakes are incredibly delicious, extra decadent and so over the top they can also be served as a dessert.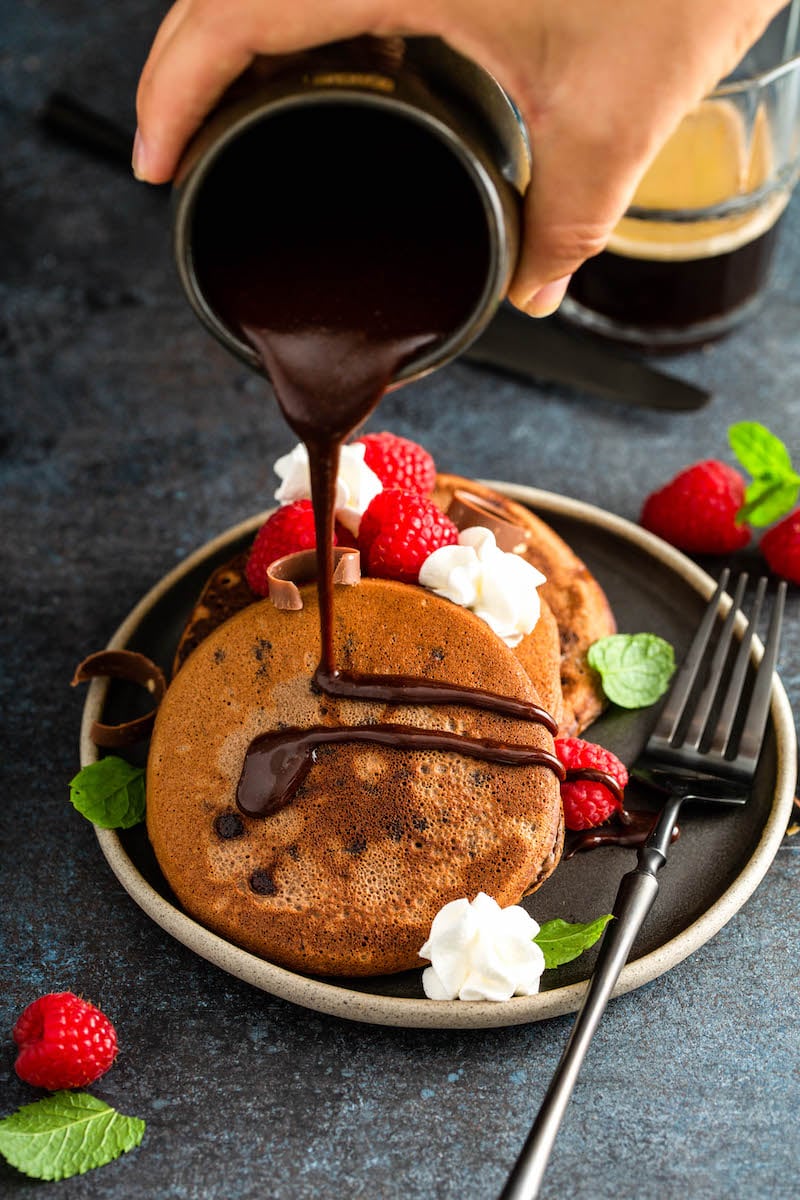 Homemade Chocolate Sauce
The rich chocolate sauce on top is definitely a show stopper, but is completely optional. These pancakes are also delicious topped with regular maple syrup or even whipped cream.
If you would like to make this easy Homemade Chocolate Sauce, these are the ingredients you will need:
unsalted butter
milk
corn syrup
vanilla extract
dark chocolate
powdered sugar
The recipe is really quick to make and you can find all the directions here: Homemade Chocolate Sauce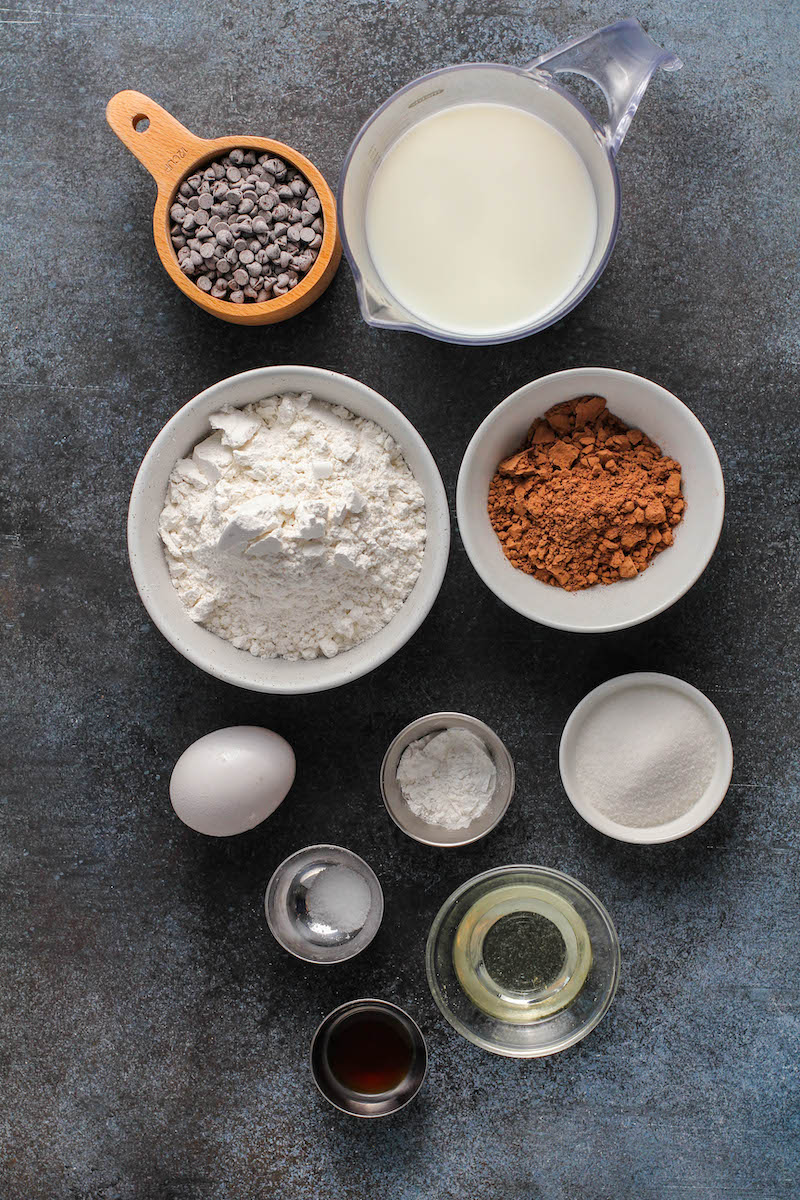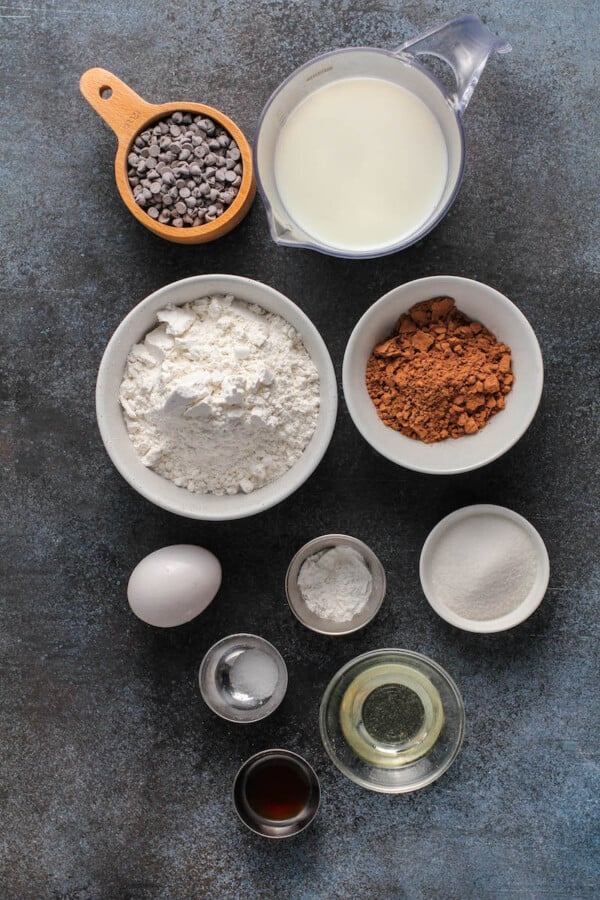 Chocolate Pancake Ingredients:
You should be able to find most of the ingredients you need for these pancakes in your pantry and fridge. If not, here's what you'll need to stock up on:
all purpose flour
cocoa powder
granulated sugar
baking powder
salt
whole milk
vanilla extract
large egg
oil
chocolate chips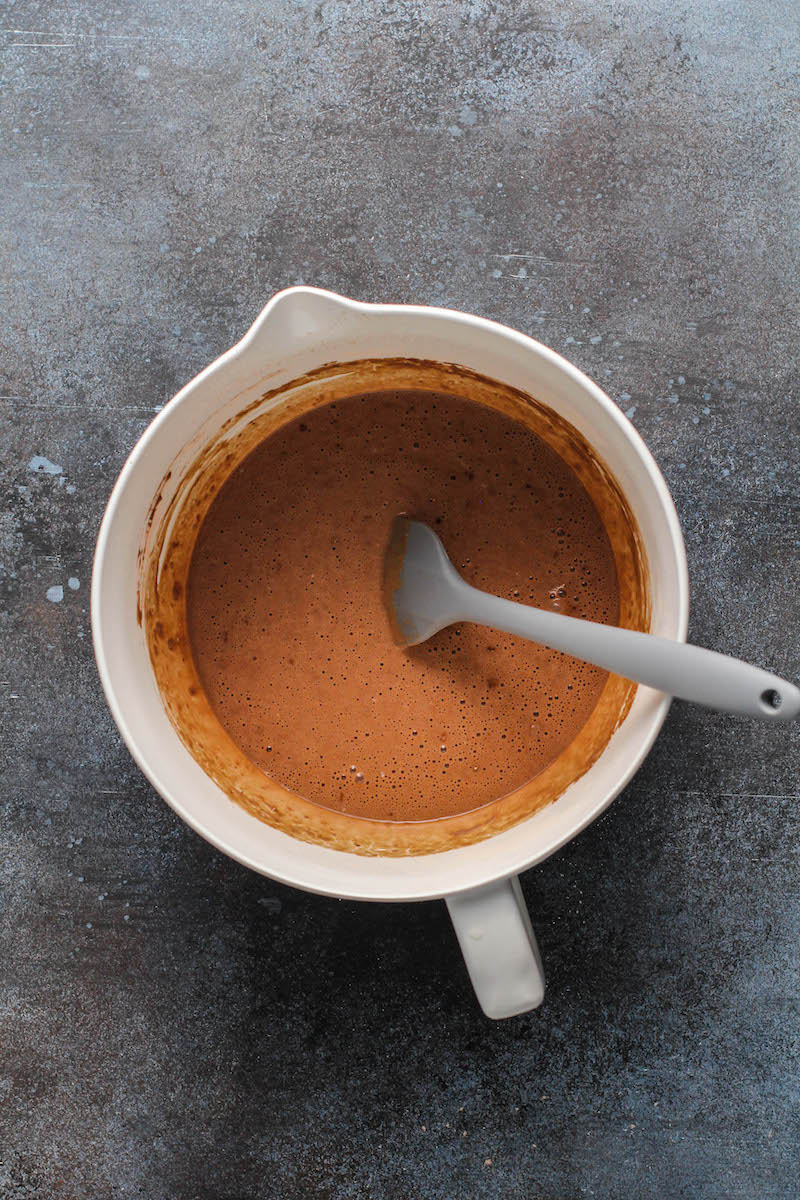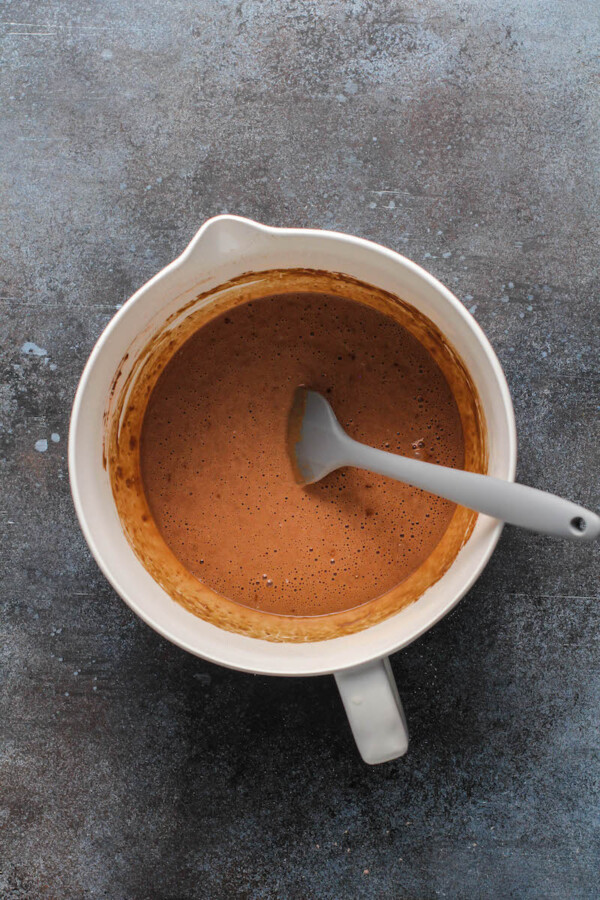 How to Make Chocolate Pancakes
You don't need much to make chocolate, irresistible pancakes. A whisk, hot griddle or pan, a bowl, and some measuring cups will get you cooking.
Here's what you need to do:
Sift together the flour, cocoa powder, sugar, baking soda, and salt in a large bowl.
Make a well and pour in the milk, egg, vanilla extract, and oil. Whisk the batter until smooth, but leave some small lumps and do not over mix.
Fold in the chocolate chips.
Heat the griddle or pan over medium heat and add oil, butter, or a non-stick cooking spray.
Pour about 1/4 cup of the batter onto the hot griddle. Allow it to cook until bubbles start to form on the surface. Flip the pancake and cook the other side until the sides start to brown.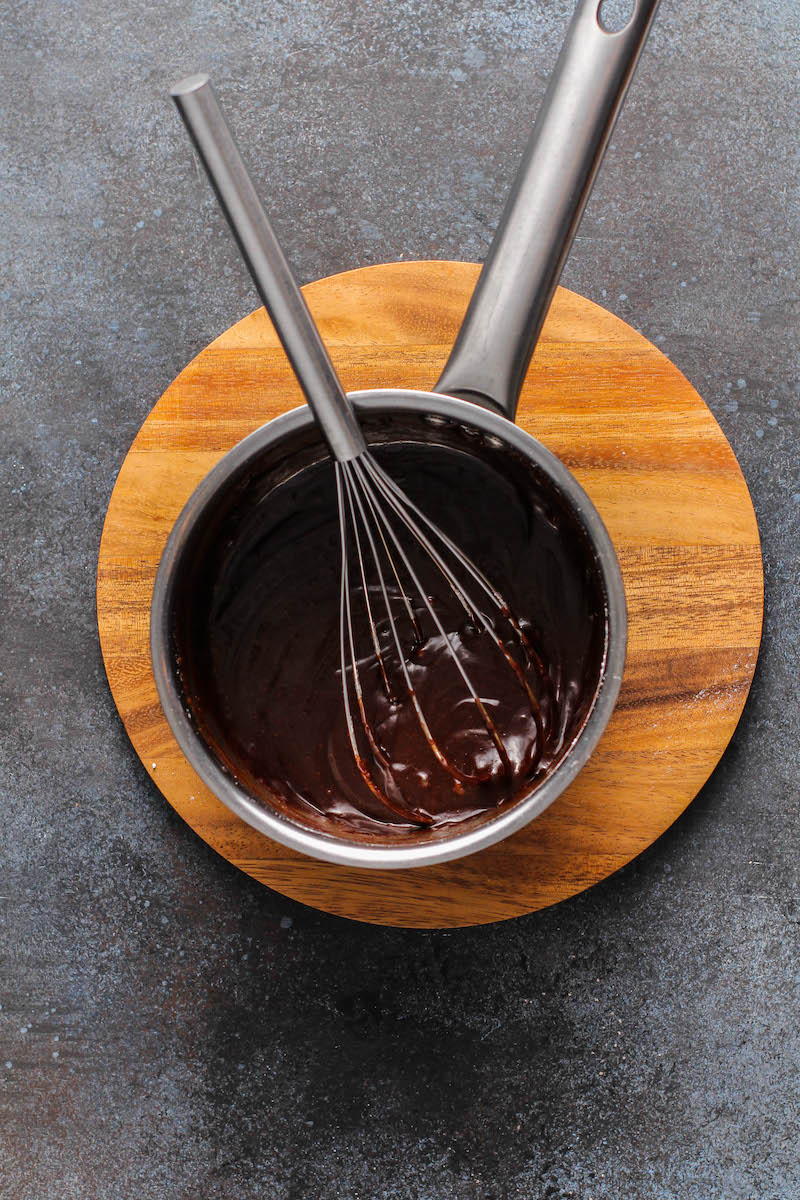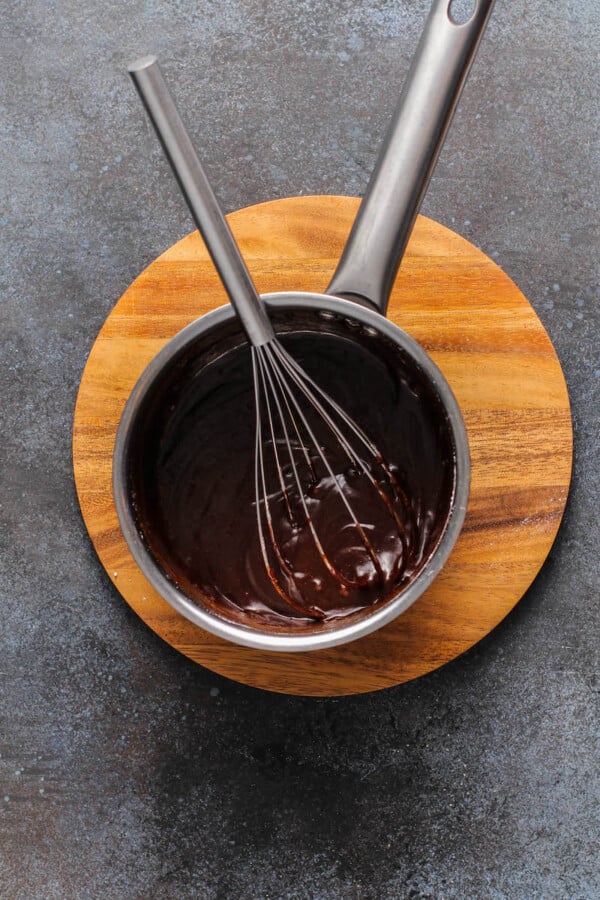 Make the chocolate sauce by heating the milk, butter, corn syrup, and vanilla extract in a small pot over medium heat.
Reduce the heat and add the chocolate chips after the butter melts. Whisk until smooth. Remove the sauce from the heat and whisk in the powdered sugar until it is smooth and silky. Allow the sauce to sit for about 5 minutes so it cools and thickens a bit.
Serve the pancakes hot from the griddle with a generous pour of chocolate sauce on top. Add whipped cream, more chocolate chips, nuts, or other toppings if you desire.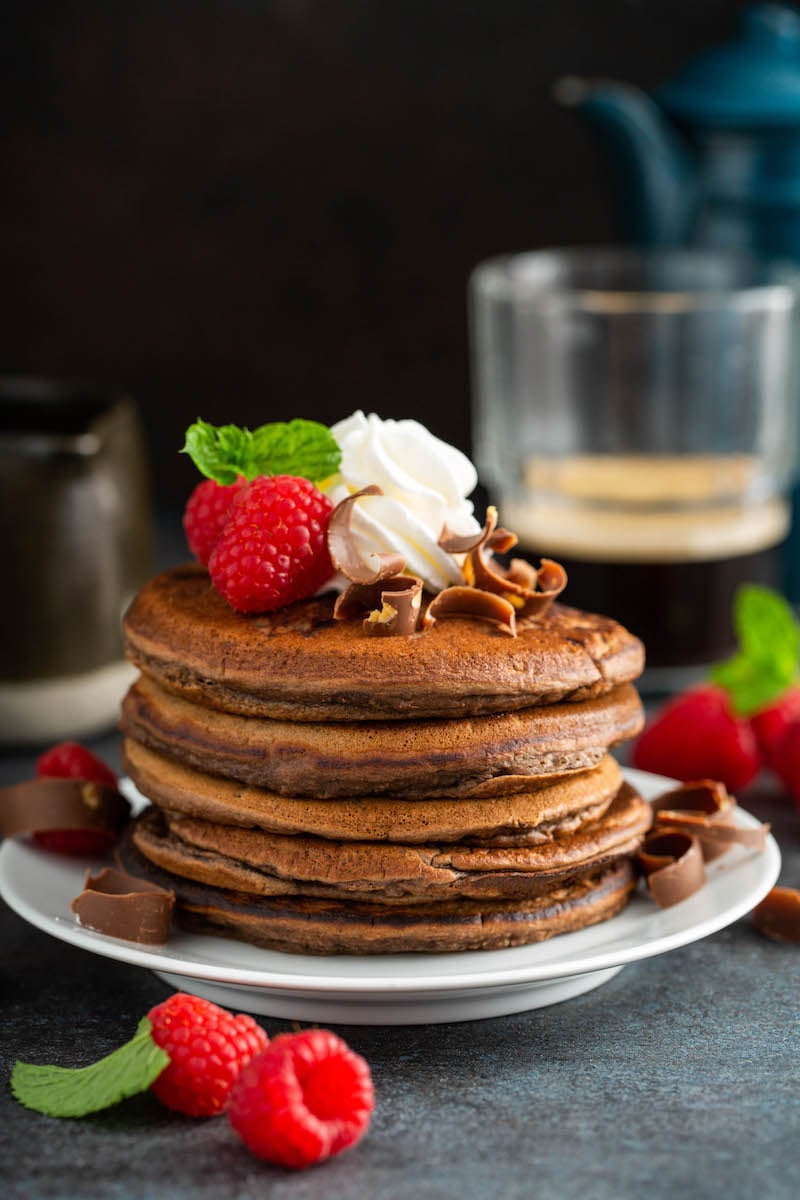 Pancake Tips!
Tips to make the best Chocolate Pancakes
If your batter is too thick, pour a small amount of milk in to add more moisture. About 1 teaspoon at a time is perfect.
If your batter is too thin, you can add 1 teaspoon of flour at a time until the batter reaches a good consistency. Be sure not to over mix it though!
Medium is about as hot as you should set your flame. Too much more and it will burn the outside without cooking the middle. Just wait until the pan or griddle is hot before adding the batter.
Use whole milk for the best texture and taste.
Sifting the dry ingredients helps make them extra fluffy so don't skip this step!
Use butter on the griddle or pan to add extra flavor and help the pancakes from sticking to the pan or griddle.
Keep cooked pancakes warm on a sheet pan or wire rack in an oven set to warm. This lets you serve everyone in your family all at once.
Regulate the temperature when making the chocolate sauce! If it is too hot, you can easily burn the chocolate!
Serving Ideas for Chocolate Pancakes
Pancakes are best served hot off the griddle. When making pancakes for a crowd, I often store them in a warm oven while I make the rest of the pancakes so we can all eat together and everyone can enjoy warm pancakes.
These pancakes are great for breakfast, but they can also make a mouthwatering dessert. You can serve them with whipped cream, fresh strawberries, more chocolate chips, ice cream, nuts, and just about anything else you might put on a warm cake!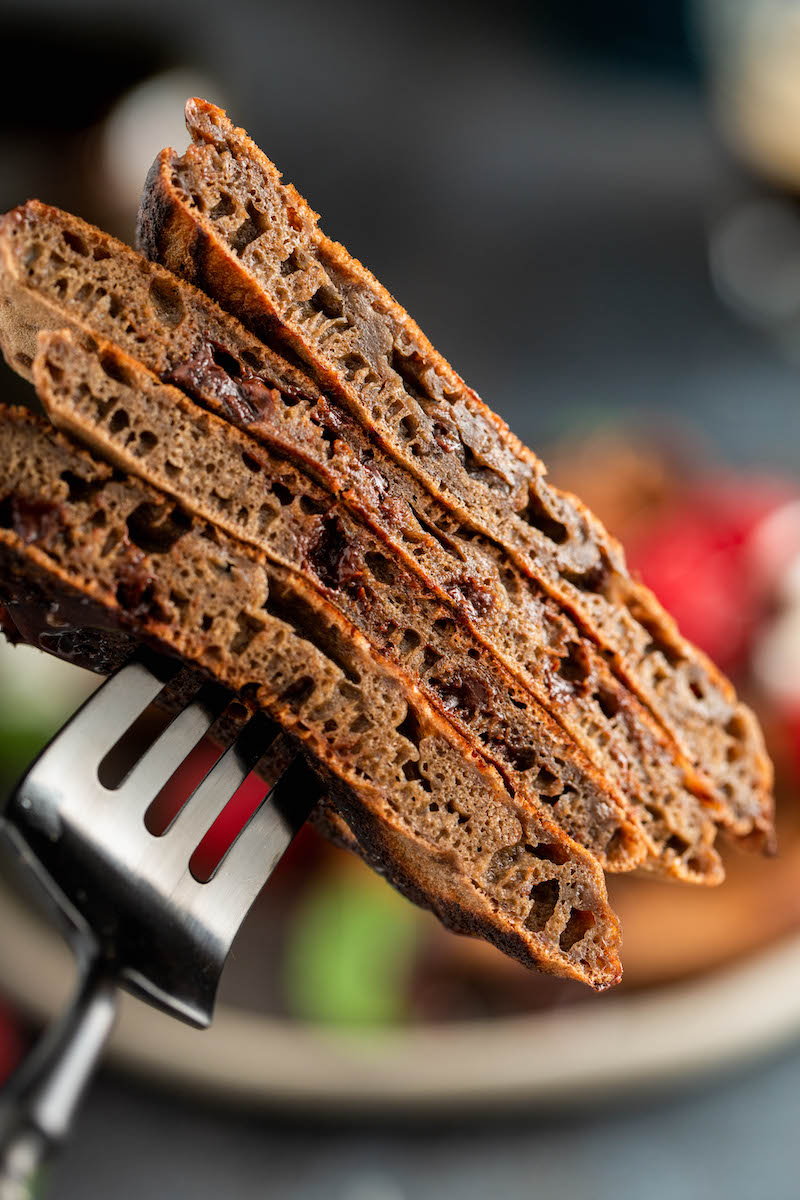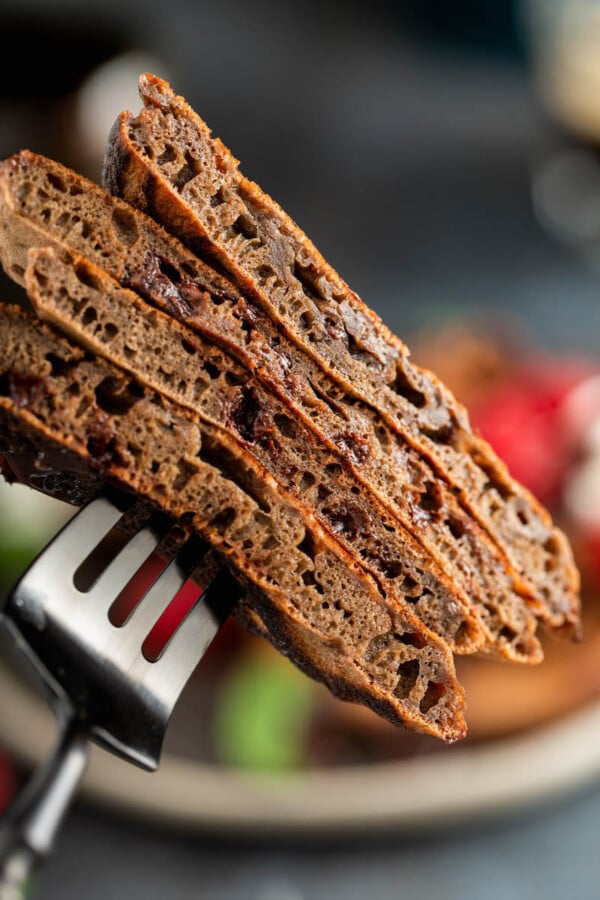 Storing Leftovers
It's super easy to store leftovers (assuming you still have any that is). Before storing, allow the pancakes to come to room temperature before storing. Place the pancakes in a sealable bag or container.
You can store them for about 3 days in the refrigerator. When you are ready to reheat them, pop them in the microwave or lightly toast them for about a minute.
Can I freeze chocolate pancakes?
Yes! To freeze the pancakes, allow them to cool and then place a small piece of parchment paper between each pancake.
This helps prevent them from sticking together when frozen. You can store them for about 3 months. To serve them, you can either thaw them overnight in the refrigerator or just heat the frozen pancake in the microwave.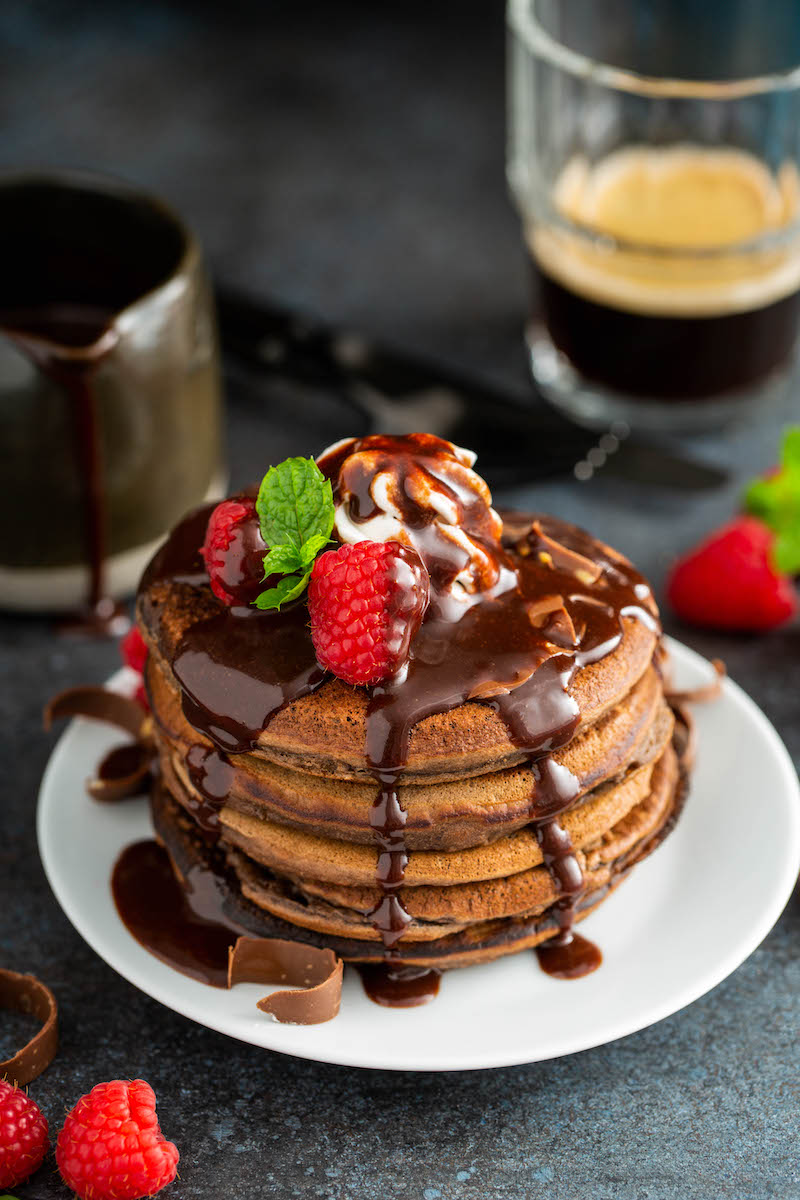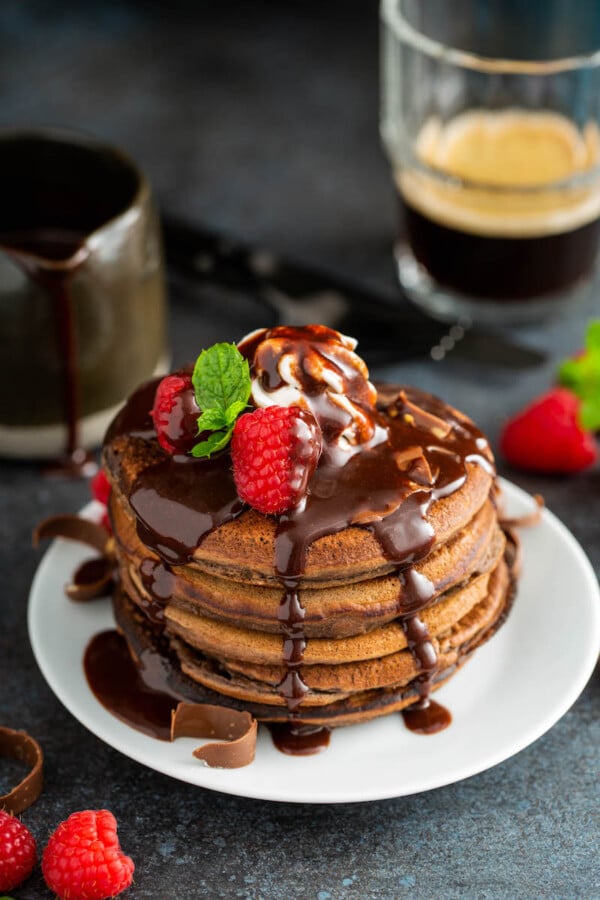 Looking for more amazing pancake recipes? Make sure you check out my Fluffy Pancakes recipe for tips on making fluffy pancakes every time. You'll also love these recipes, too: Churro Pancakes, Cinnamon Toast Crunch Pancakes, Low Carb Pancakes, or Easy Pumpkin Pancakes!
Head on over to Dixie Crystals to get the full recipe I developed for them by clicking the button below:
This post may contain affiliate links. Read my disclosure policy.