Easy Pumpkin Pancakes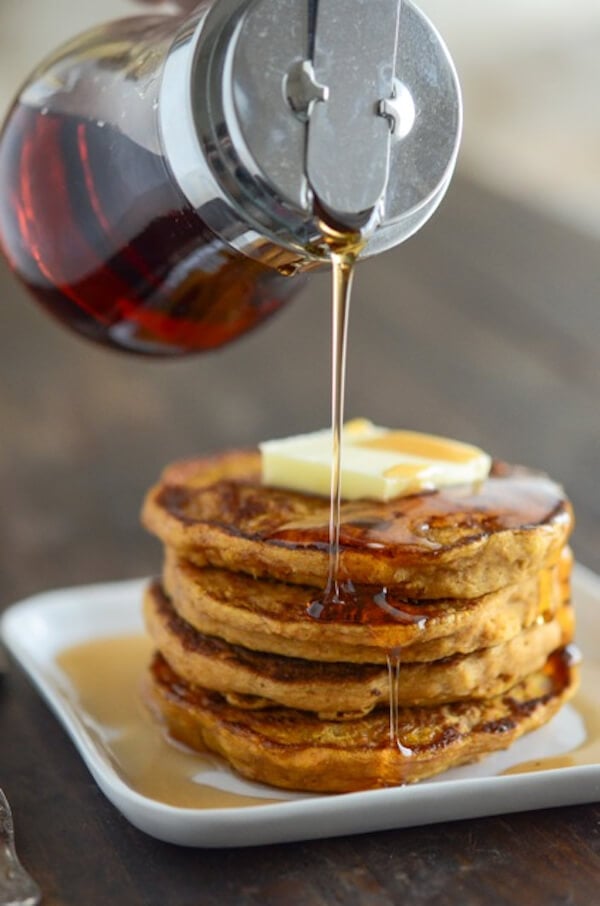 The reason these pancakes are easy?? Well, because they are cheater pumpkin pancakes. That's right. I cheated and used store bought pancake mix. My Mom has made these for years and I used to make my own from scratch. Actually, I used to make a whole lot of types of pancakes from scratch.
Then I went and had twins. Two adorable chunky demons who slobber and cry all the time. And when that happened, I bought a box of pancake mix. Sure, once the girls can entertain themselves for half a second I will get back to making pancakes from scratch…but until then, this gives Jorge & I our Sunday pancake fix in 10 minutes. Yahoo!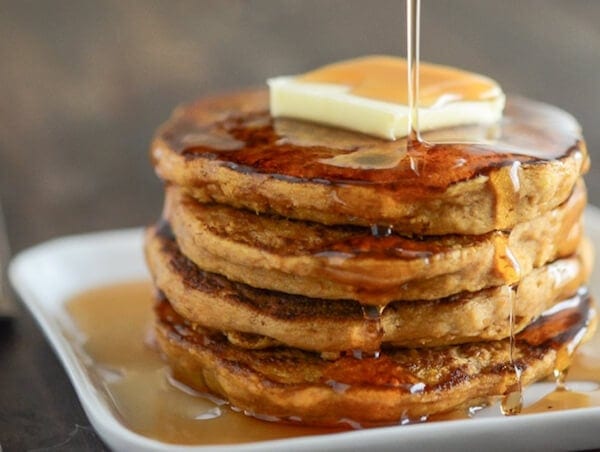 So while I was making these (and shoveling them into my face in between playing peek-a-boo), I thought you might actually want to know how to make cheater pumpkin pancakes too. I mean, you are probably going to have a house full of family Thanksgiving morning. Who has the time to make real pancakes while also cooking a whole Thanksgiving meal??
Since I won't talk to you before Thursday, HAPPY THANKSGIVING! I will be spending mine with my family and then doing some Black Friday shopping (online — I'm not leaving my couch or fighting with the crazies). Mama needs a new TV! 😉
Easy Pumpkin Pancakes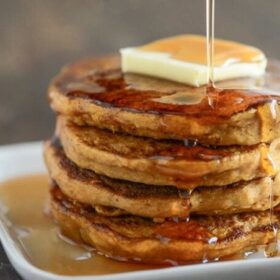 Ingredients:
1 1/2 cup pancake mix
1 cup milk
1/2 cup water
1/2 cup canned pumpkin
1 teaspoon ground cinnamon
1/2 teaspoon ground nutmeg
1/2 teaspoon ground ginger
butter & maple syrup for serving
Directions:
In a mixing bowl, combine all ingredients.
Heat a non-stick skillet to medium heat. Using a 1/4 cup scoop, pour batter on to skillet. Once you start to see little bubbles form, flip and continue to cook until pancake is browned on each side. Continue until you have used all pancake batter.
Serve pancakes with butter and maple syrup!