These Easy Pumpkin Pancakes are perfectly fluffy and light. Plus, they're packed with all of the best fall flavors like cinnamon, nutmeg, and ginger. The aroma when making these pancakes will surely get the kids up and out of bed!
If you enjoy these easy pancakes you might also like these Banana Chocolate Chip Pancakes or my favorite classic Fluffy Homemade Pancakes.
Fluffy Homemade Pumpkin Pancakes
Do you want to know the secret behind these Easy Pumpkin Pancakes? The secret is using pre-made pancake mix. The recipe is kept simple and quick because we're going to skip the whole "making them from scratch" thing. And that's ok! You're still going to have delicious and healthy pumpkin pancakes.
We're busy, right?! We have kids running around and a long list of things to do to get out the door. We don't have time to make pumpkin pancakes from scratch. But that doesn't mean we can't enjoy that same "made from scratch" flavor. There's no shame in taking a shortcut to make this recipe. Mornings are chaotic. And even on the mornings that aren't as crazy, we're still allowed to want a quick and delicious breakfast.
So, keep a box of your favorite pancake mix in the pantry with a can of pureed pumpkin. This way, you're ready to whip up these fast and delicious pumpkin pancakes anytime you want!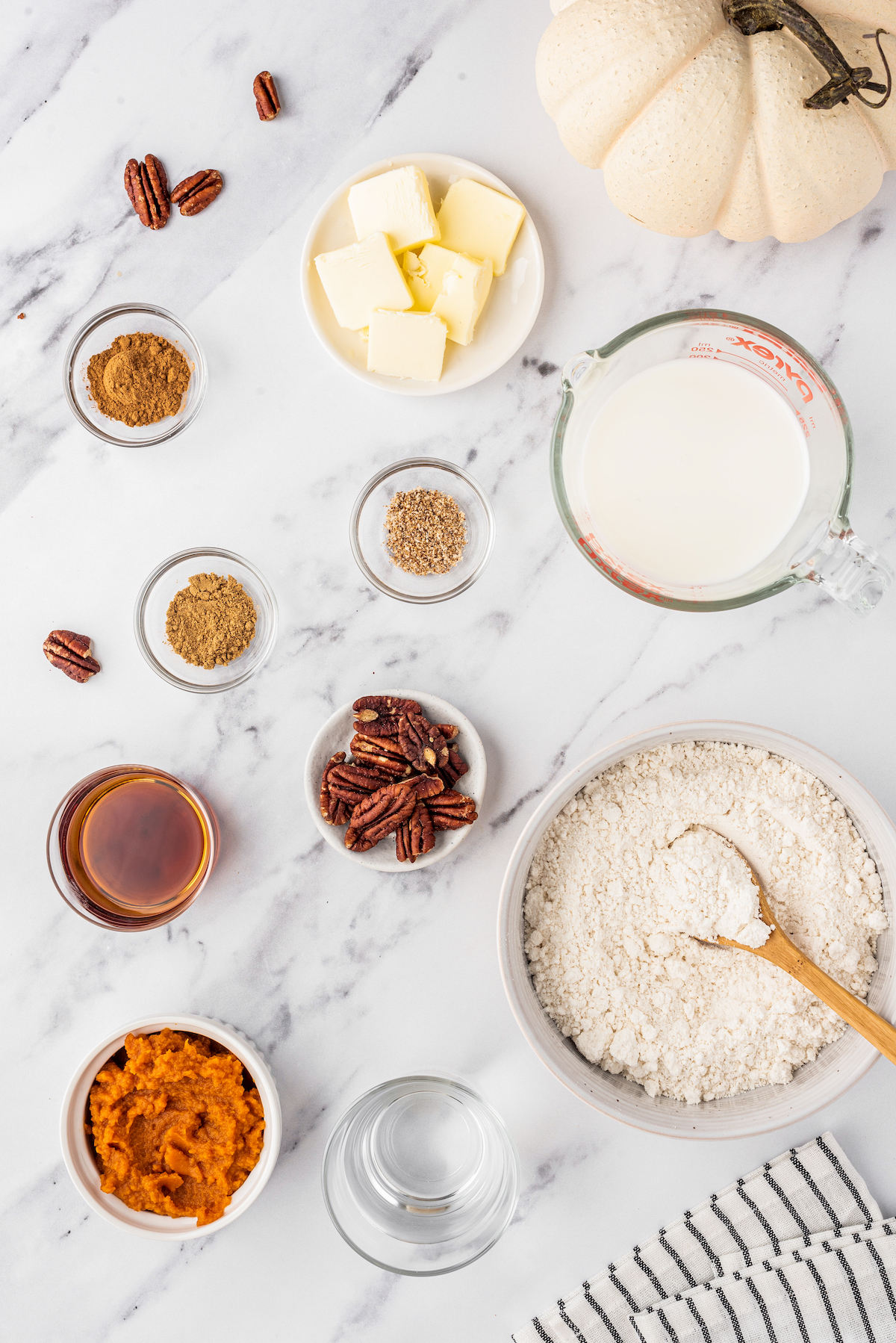 What You'll Need
Finding the ingredients for this recipe shouldn't be a problem. In fact, most of these ingredients are probably already in your kitchen. Also, please don't forget to check out the recipe card for the exact ingredient measurements.
Pancake Mix: You have the option to use something as basic as Bisquick pancake mix or whatever brand you like the best. This is my favorite pancake mix, but any mix will work!
Milk: You can use whatever milk you have on hand. I used whole milk for best texture.
Canned Pumpkin: Using this ingredient not only flavors the pancakes but it makes them extra moist and fluffy. It's a fool-proof ingredient for perfect pancakes.
Ground Cinnamon: This is just one of the three amazing fall spices that attribute to the incredible flavor!
Ground Nutmeg: You can buy whole nutmeg and use a spice grinder or buy it already ground.
Ground Ginger: You can substitute ground mace for ginger if you don't have any. Or you can compensate with the other spices (nutmeg and ginger). Actually, this goes for all three spices! If you are out of one spice, just make up for it with the other two.
Butter and Maple Syrup: A plate of pancakes is not complete without these two ingredients! I highly recommend using pure maple syrup. It's way better than the other stuff!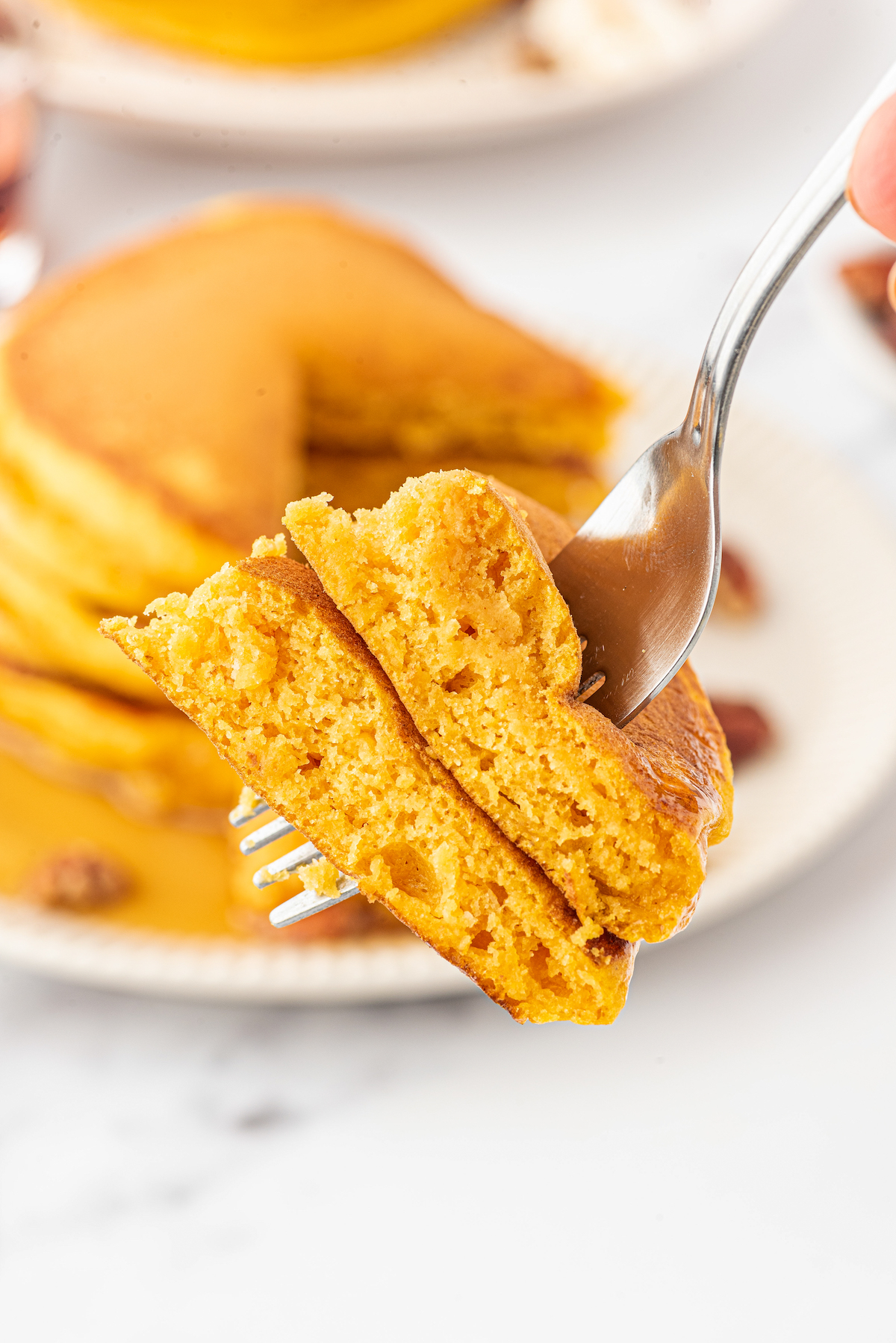 How to Make the Best Pumpkin Pancakes
It's time to turn up the griddle and get started. Here's how to make the most delicious pumpkin pancakes!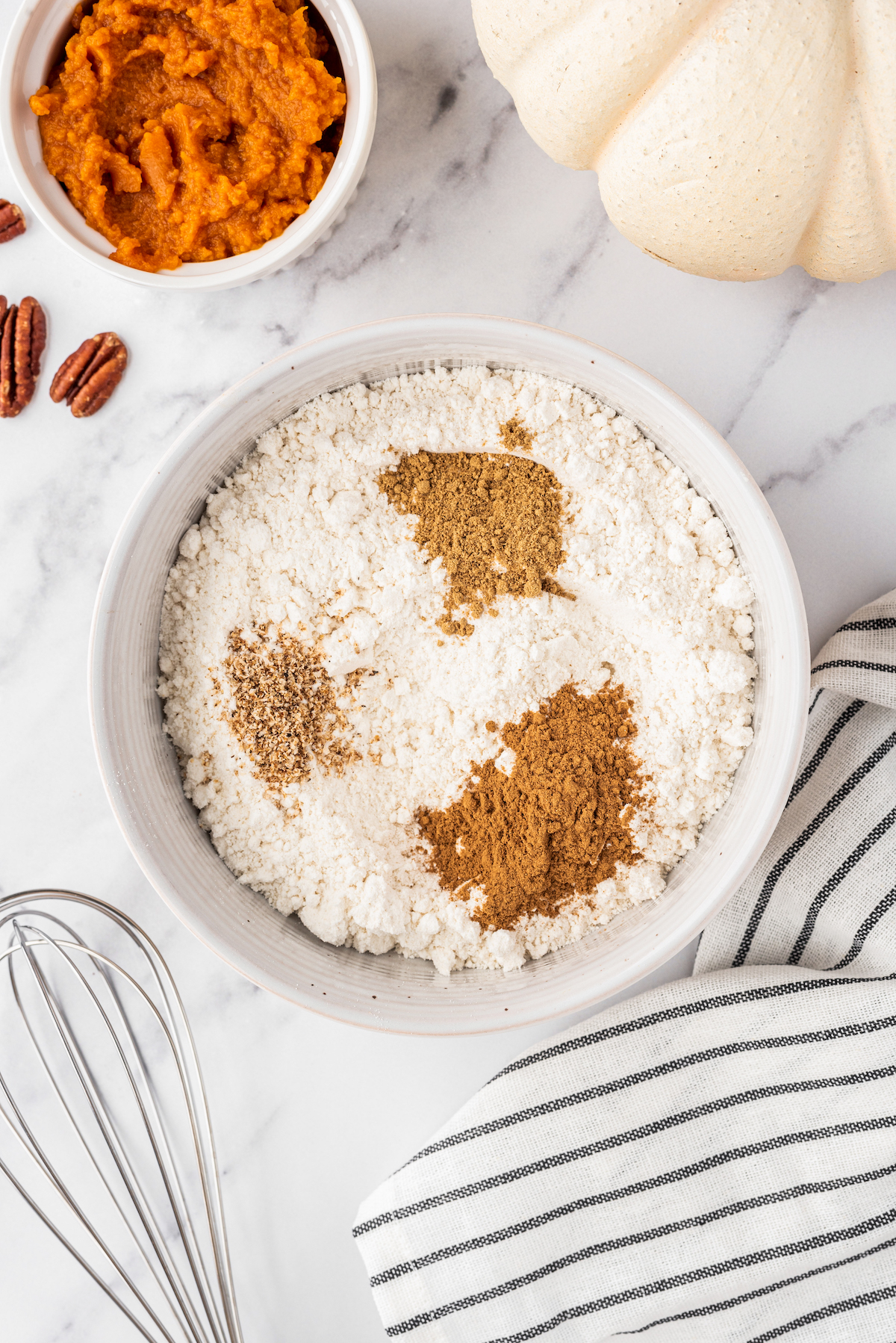 First, put all of the dry ingredients into a bowl. It's best to mix the dry ingredients together first in a bowl first.
Then add the wet ingredients to a large bowl. (The milk and pumpkin puree.)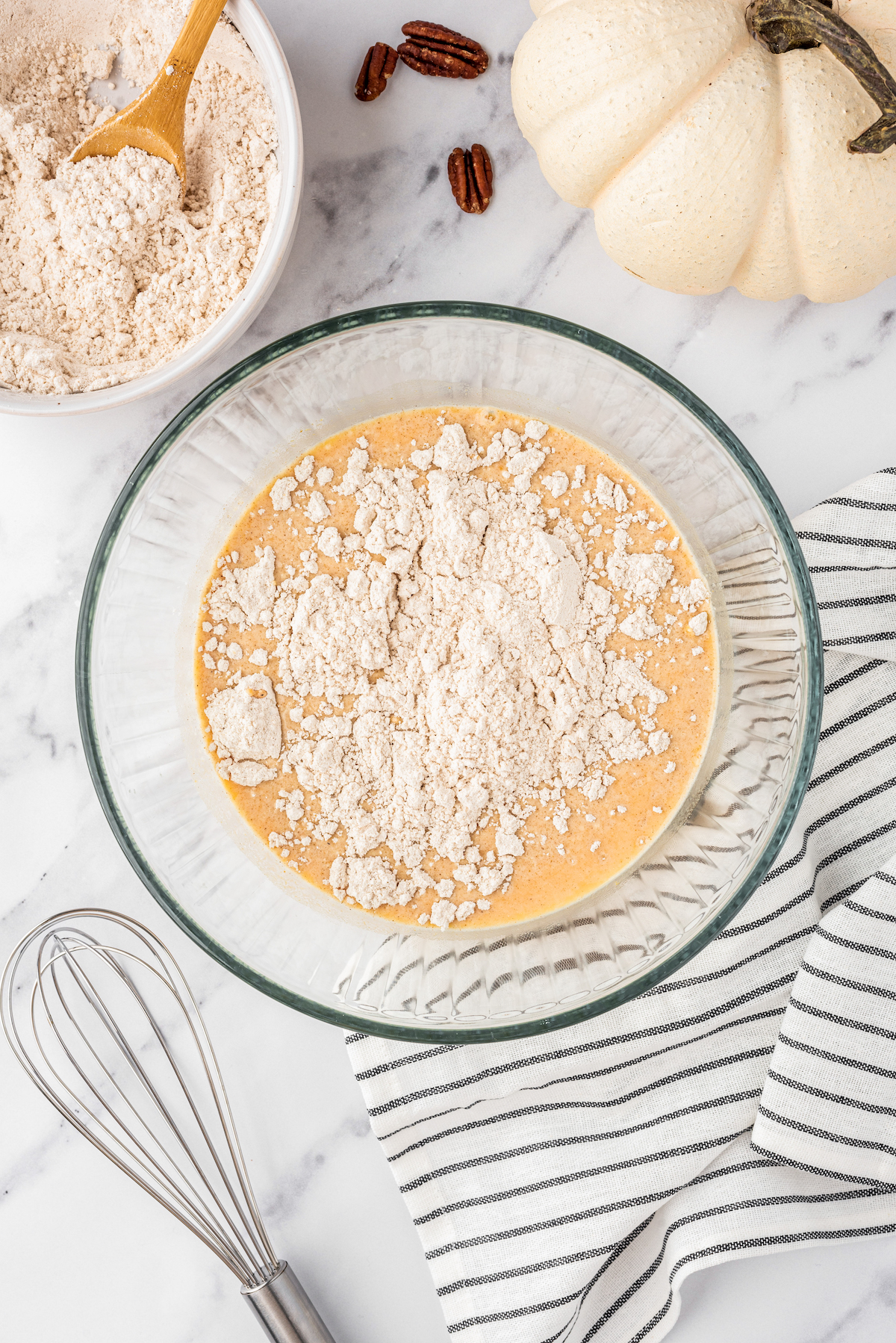 Combine the dry ingredients with the wet ingredients. And then whisk everything together to make the pancake batter. Be sure that you don't overmix the batter. Having a few lumps is ok. I recommend that you always do it by hand to avoid overmixing.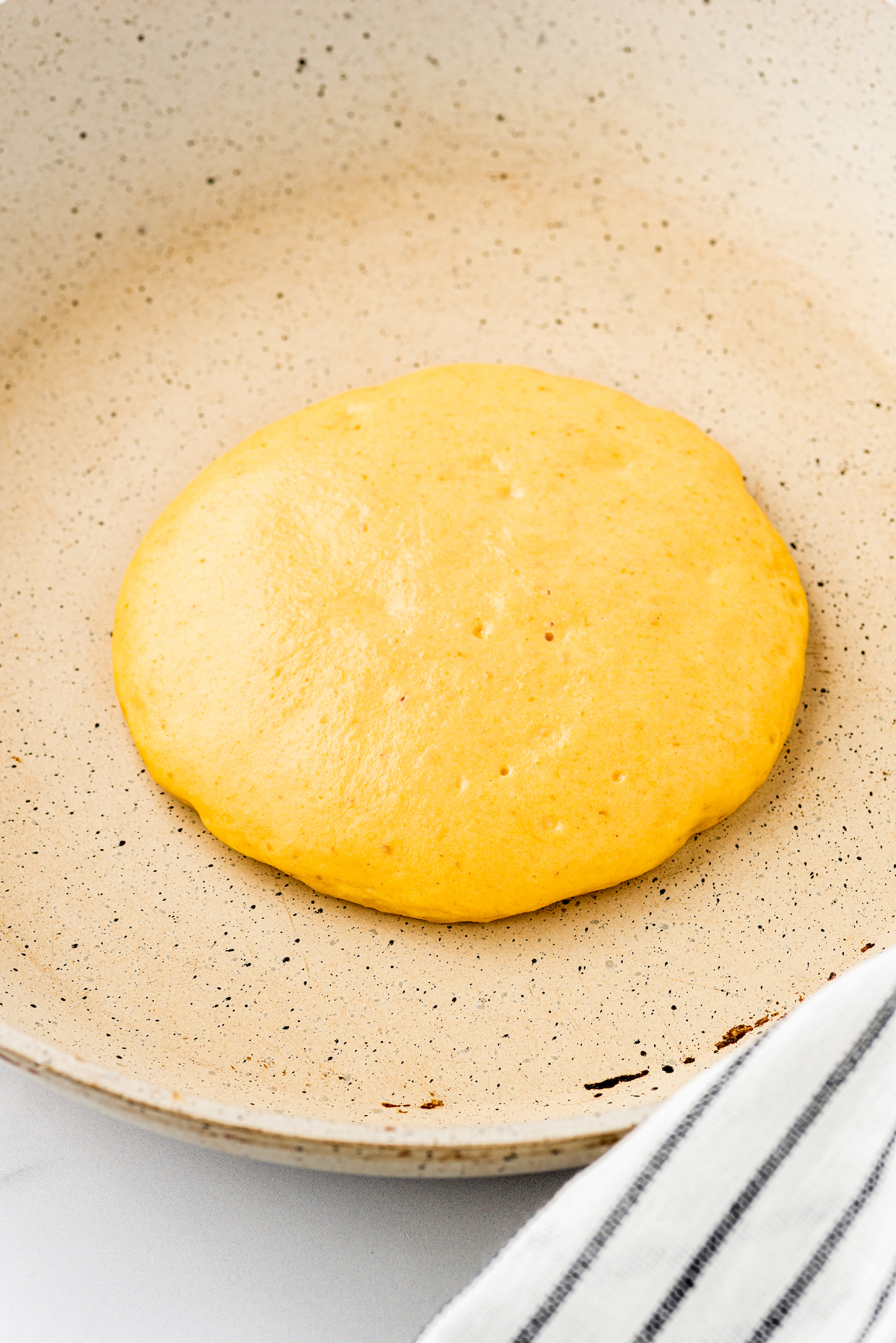 Next, cook the pancakes. You can use a non-stick griddle or saute pan for this. I like to use a 1/4 cup scoop so that my pancakes are all the same size. You know it's time to flip the pancake when it starts to bubble a little bit.
Then, serve them immediately. Make sure you serve them with butter and maple syrup!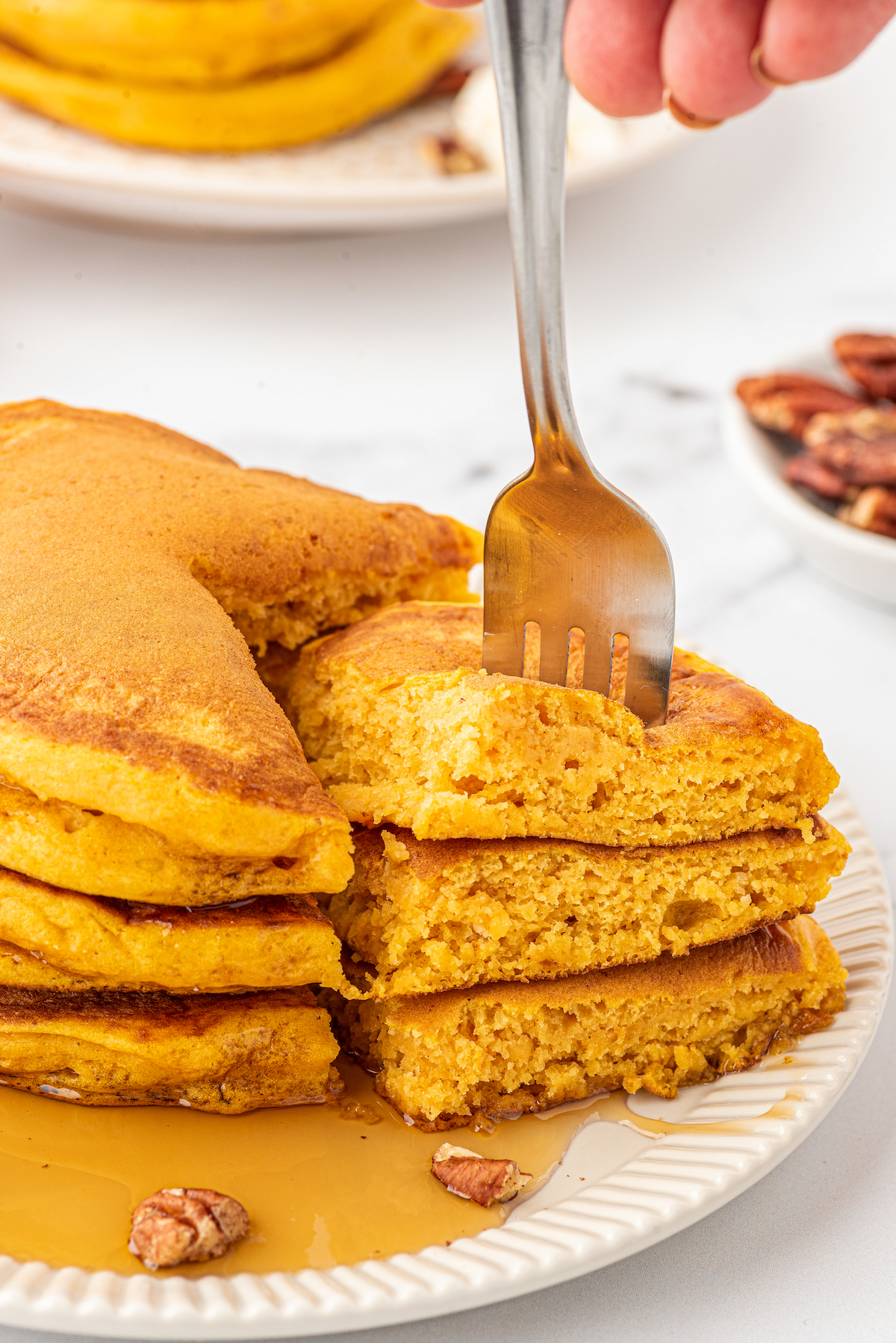 Tips for Success
Here are a few tips to help you along the way. This recipe is very easy, but keeping a few things in mind will make sure your pancakes come out perfectly!
You can use whatever pancake mix you like. For the best results though, use one that states "just add water". That's the best type to use for this recipe.
Make sure that your pan or griddle is pre-heated before cooking the pancakes. This allows the pancake to get that delicious golden outside crust that protects the fluffy center.
Make them "to go"! If you're eating these pancakes on the go, you can add a few tablespoons of maple syrup to the batter. This way you still get that extra bit of sweetness without a sticky mess.
Heat the maple syrup prior to pouring it on the pancakes. It makes a world of a difference!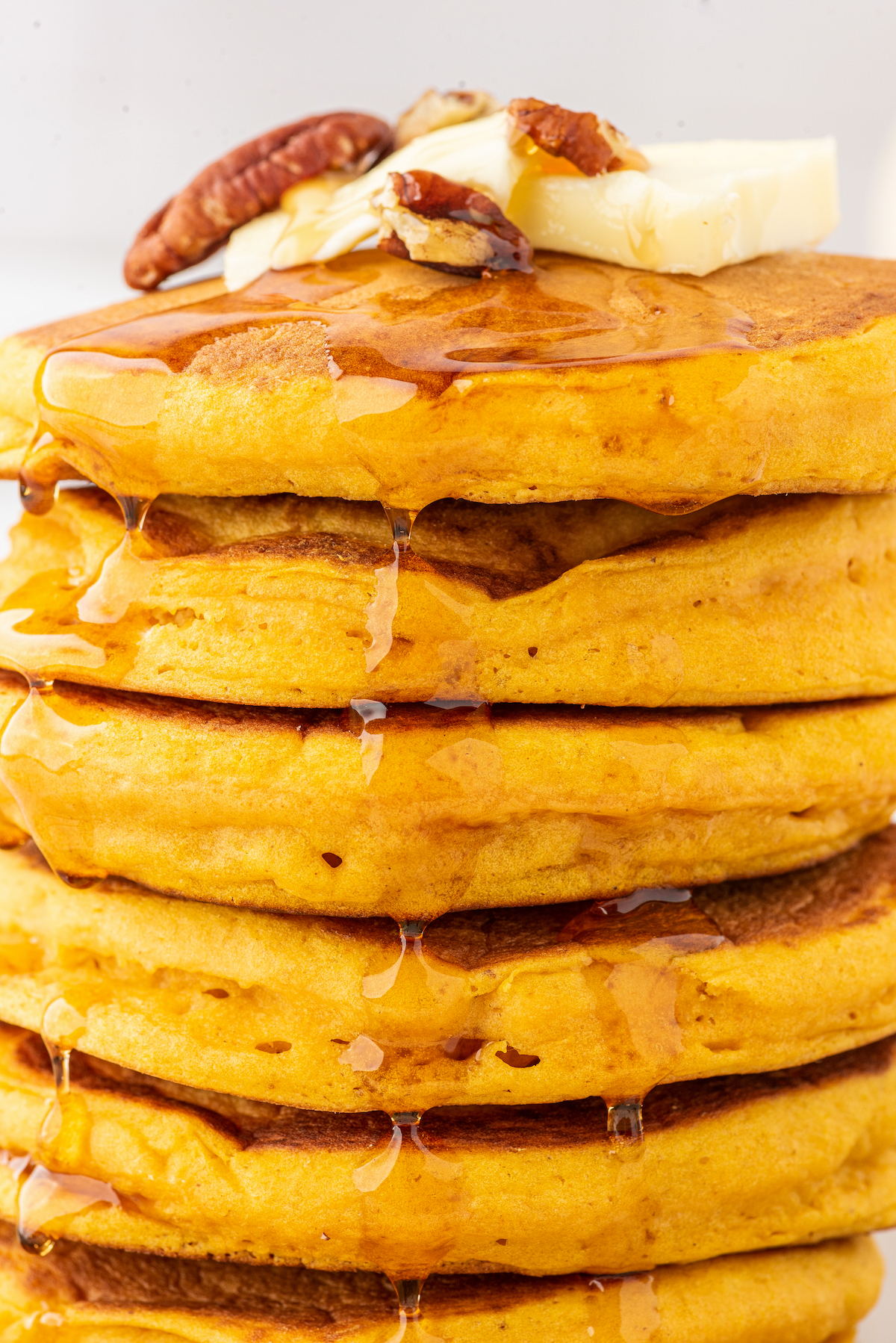 Serving and Topping Ideas
These pumpkin pancakes are great on their own. Or you can add them to a decked-out breakfast spread. Here are some of my favorite ways to serve them!
Chocolate chips anyone? This wouldn't be a pancake post without mentioning that you can 100% add chocolate chips to this recipe!
Top them with a swirl of whipped cream. I like to stir a little cinnamon into mine for added flavor.
Add some nuts for crunch. Adding nuts like pecans, walnuts, or sliced almonds is a great way to add a some texture to the plate.
Give them a healthy boost. You can add things like flax seeds or chia seeds to the mix for added nutritional value.
Don't forget the coffee! I love having these pancakes with a simple cup of coffee and my Homemade Pumpkin Spice Coffee Creamer. It's a great way to start off a crisp fall morning.
Make it a well-balanced breakfast. Serve it alongside a protein-packed egg casserole like my Bacon and Sausage Casserole or Overnight Ham Casserole.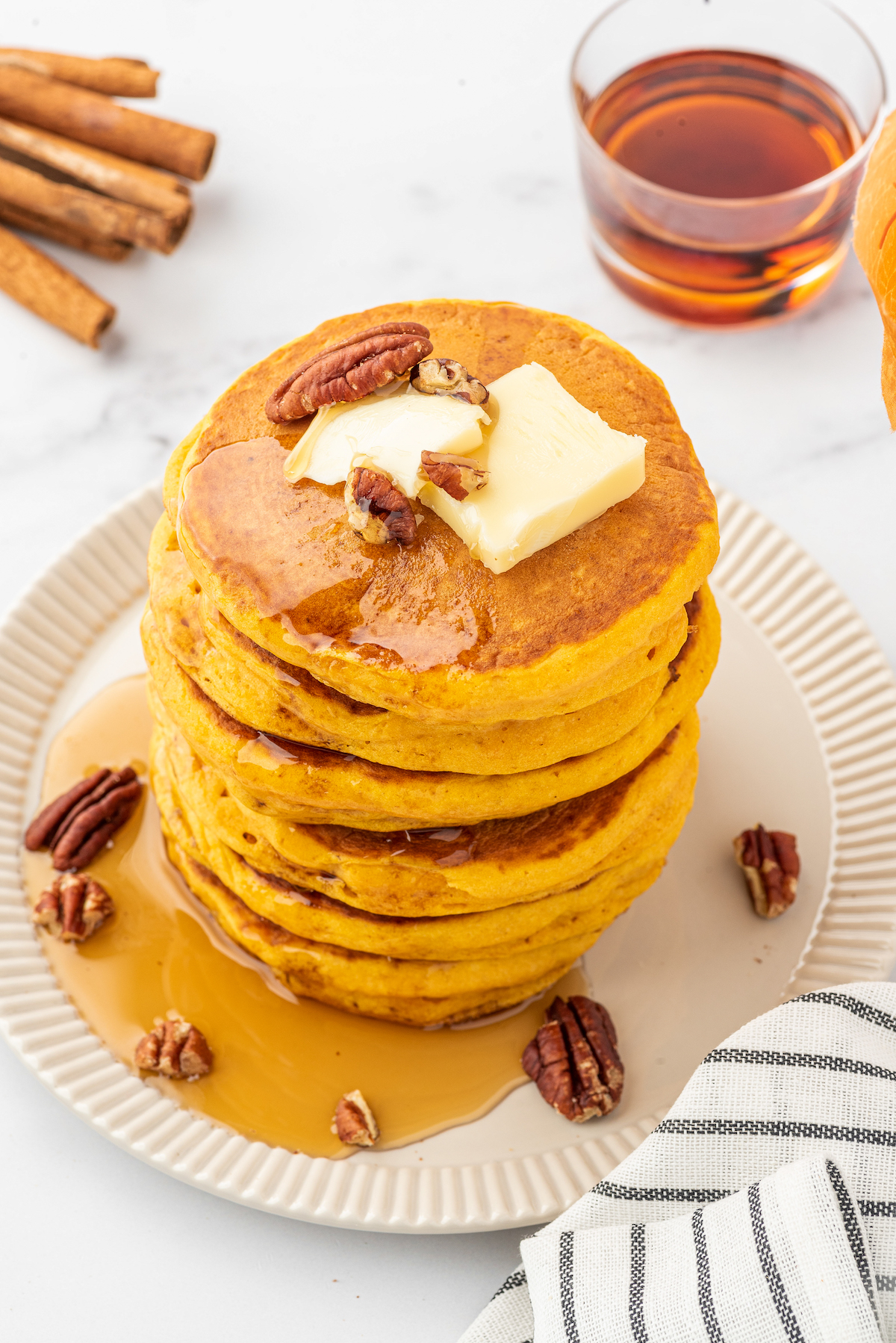 How to Store and Reheat Leftovers
If all of the pancakes aren't devoured by your family members, don't worry. You can store them and reheat them to eat later. I actually think they make a really great afternoon snack!
I recommend storing them in an air-tight bag or container. Then, keep them in the refrigerator for up to 3 days. In my opinion, the best way to reheat them is in the toaster oven. You can also reheat them in a skillet again if you'd like.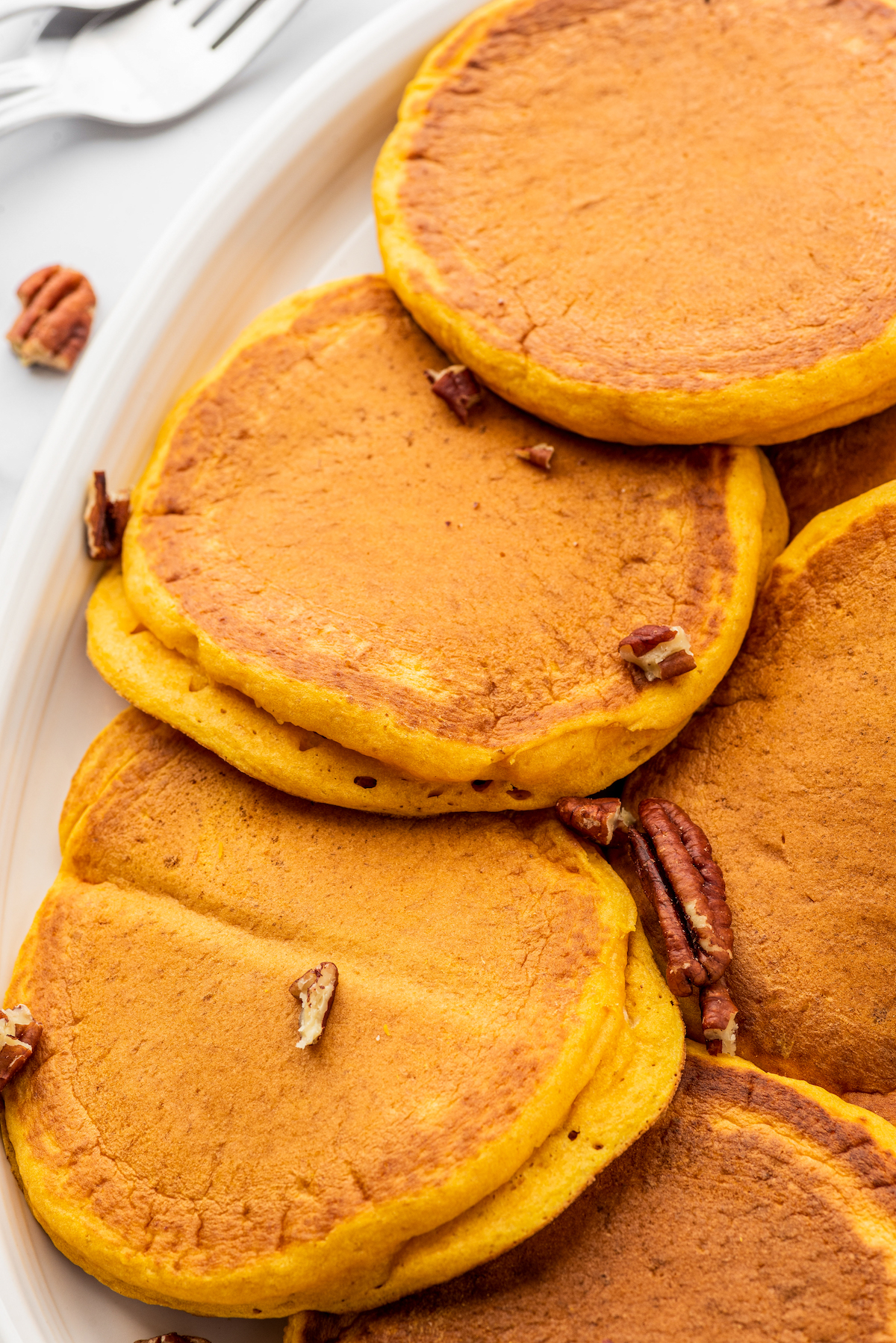 Can I Freeze Pancakes?
Yes, you can freeze leftover pancakes! Sometimes, I'll make a double batch so that we can keep some in the freezer for an even faster breakfast.
Again, the best way to reheat these pancakes is in a toaster oven. You can also use the microwave to defrost them first and then put them in the toaster oven. The pancakes will be a little soft if you only use the microwave to reheat them. If you're ok with that, go ahead and stick with that method!
Easy Pumpkin Pancakes
These Easy Pumpkin Pancakes are light, fluffy and so easy to make using canned pumpkin and boxed pancake mix. It's a delicious breakfast recipe that's perfect for fall!
Ingredients
1 ½

cup

pancake mix

1

cup

milk

½

cup

canned pumpkin

1

teaspoon

ground cinnamon

½

teaspoon

ground nutmeg

½

teaspoon

ground ginger

butter & maple syrup for serving
Instructions
In a mixing bowl, combine all ingredients. The batter will be thick, but if it's too thick, add a little more milk, if needed.

Heat a non-stick skillet to medium heat. Using a 1/4 cup scoop, pour batter on to skillet.

Once you start to see little bubbles form, flip and continue to cook until pancake is browned on each side. Continue until you have used all pancake batter.

Serve pancakes with butter and maple syrup!
Notes
Storage Fridge: Store in an airtight container, in the fridge, for up to 3 days. Freeze: If you want to freeze these, I recommend putting a small piece of parchment paper between each pancake. Then place them in a freezer friendly ziplock bag. Freeze for up to 3 months. Reheat: In the microwave, toaster oven, or on the stovetop in a skillet.
Nutrition
Serving:
1
,
Calories:
141
kcal
,
Carbohydrates:
25
g
,
Protein:
4
g
,
Fat:
3
g
,
Saturated Fat:
2
g
,
Polyunsaturated Fat:
1
g
,
Cholesterol:
7
mg
,
Sodium:
321
mg
,
Fiber:
1
g
,
Sugar:
6
g
Categories:
More Pumpkin Recipes to Try
This post may contain affiliate links. Read my disclosure policy.