This Pumpkin Crisp is an easy fall dessert made with a creamy pumpkin pie filling and a crunchy golden cinnamon streusel and then served warm with ice cream!
Pumpkin Crisp
If you are a pumpkin pie fan, just wait until you have your first bite of this Pumpkin Crisp! The base of this recipe is a creamy pumpkin pie filling, but instead of messing with a pie crust, we just add a streusel topping on top and bake it!
I have never been a fan of dealing with pie crusts, so I love how easy this Pumpkin Crisp is to make instead. You whip together the pumpkin pie filling, place it in your cast iron skillet (or casserole dish) and then top it with a big thick sweet cinnamon streusel topping.
The thick cinnamon streusel topping really takes this recipe to the next level, but then you serve it warm with a big scoop of vanilla ice cream on top. Oh y'all, trust me, this is so good.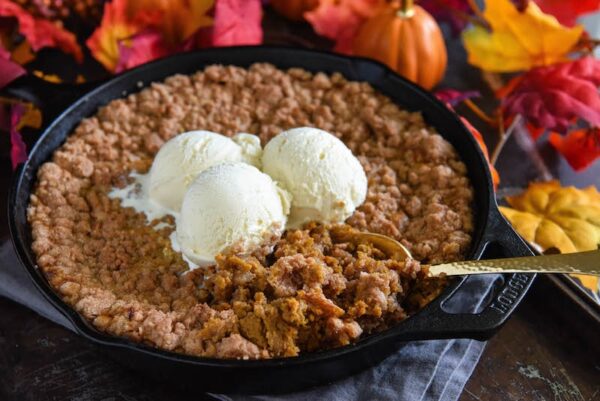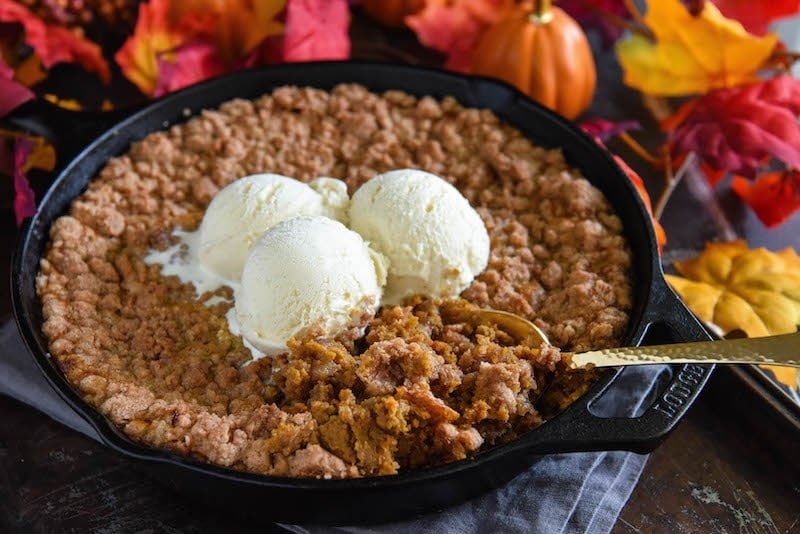 Pumpkin Pie Crisp Filling:
The base pumpkin pie part of this crisp is really easy to whip up, you just need a bowl and a whisk and the following ingredients:
Pumpkin Puree
Eggs
Granulates Sugar
Heavy Cream
Pumpkin Pie Spice
Salt
Vanilla
If you don't have pumpkin pie spice (affiliate link) on hand, you can also season it up with some cinnamon, nutmeg and cloves.
Here's an easy recipe for making your own DIY Pumpkin Pie Spice!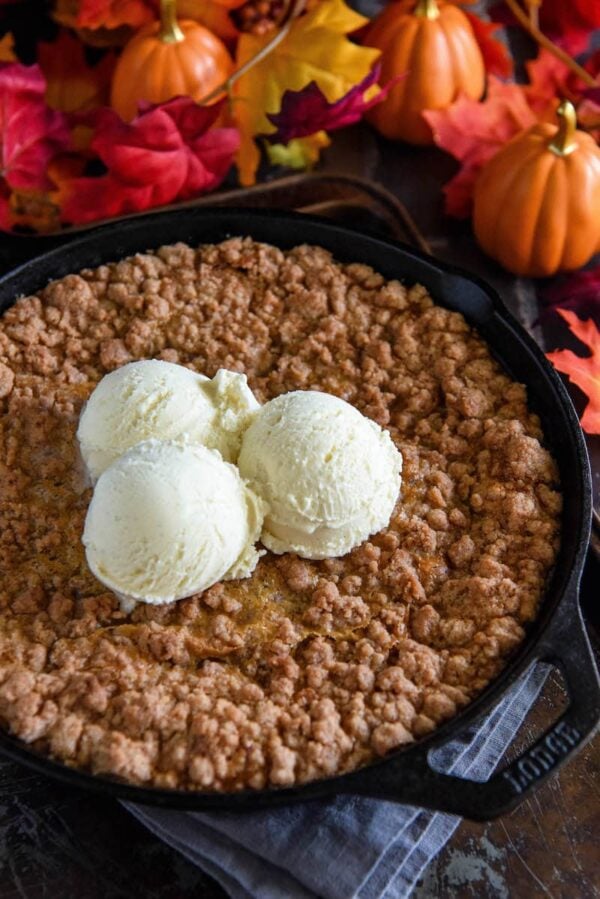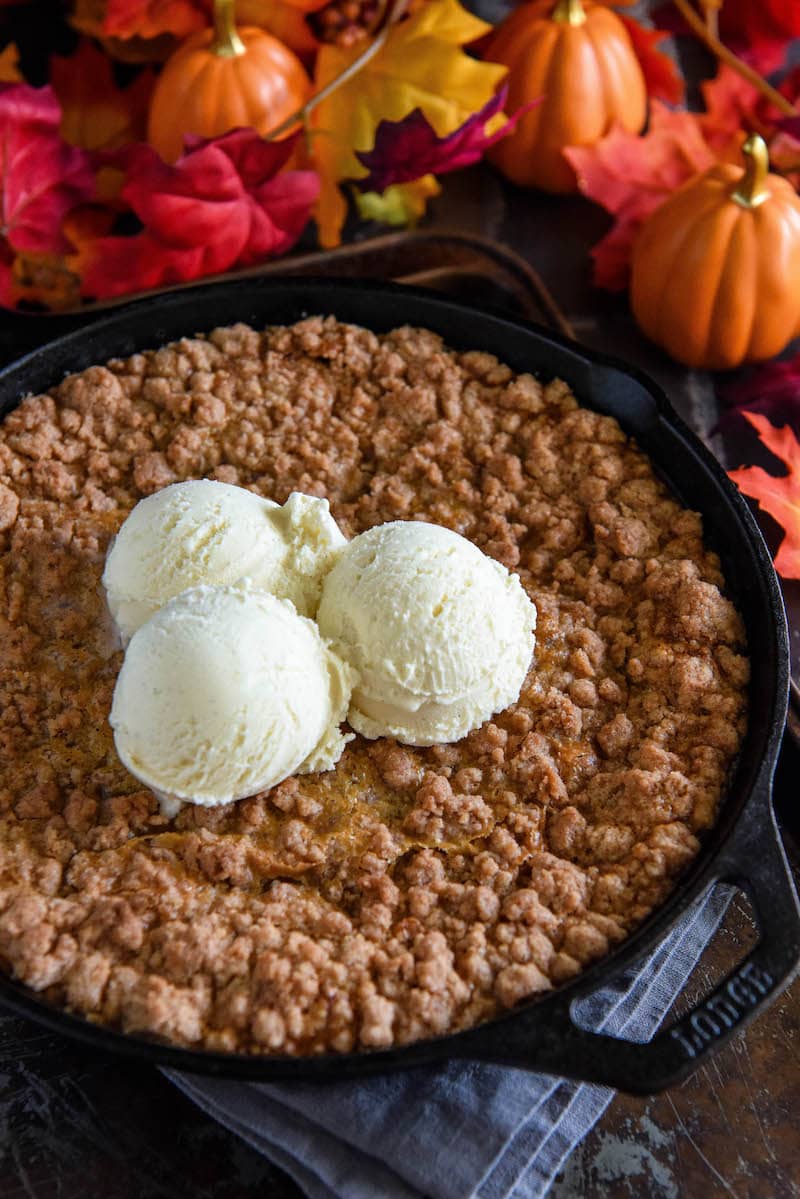 Cinnamon Streusel Topping:
On top of that pumpkin pie filling, we sprinkle on a ton of delicious cinnamon streusel topping. It's a homemade streusel topping, but don't let that scare you, it's a breeze to make if you haven't made one before!
You will need the follow ingredients to make the cinnamon streusel:
Butter
Flour
Cinnamon
Granulated Sugar
Salt
We mix all of the ingredients together till a crumble texture forms. You can use a fork to do this or I like to use my handy dandy hand mixer (affiliate link). Whipping up a streusel topping is extra easy with a hand mixer and requires little effort from me!
This is my favorite streusel topping and I also used it on my favorite Pumpkin Streusel Muffins and Pumpkin Sour Cream Coffee Cake this year!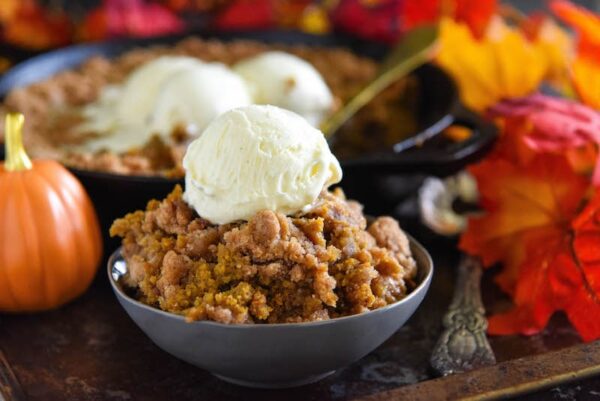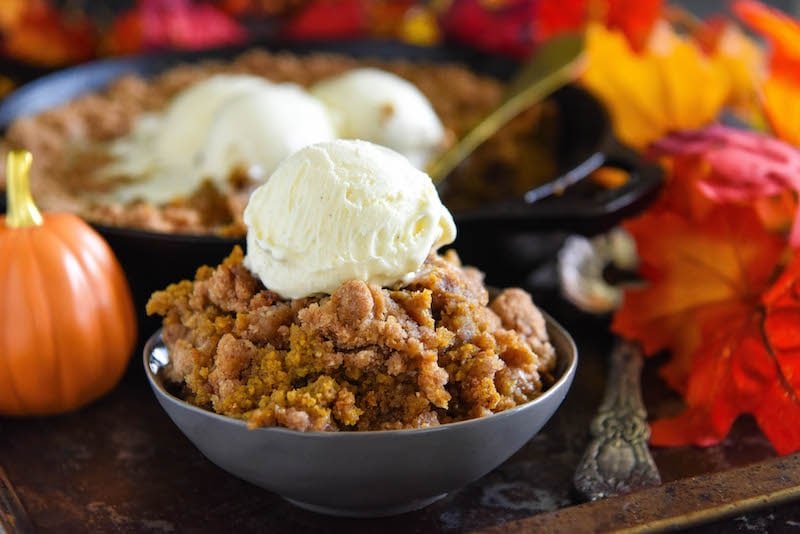 How to serve?
This Pumpkin Pie Crisp is best served warm with ice cream or whipped cream! I personally love it best with a scoop of ice cream on top like any other classic fruit crisp.
If you can find it, I really recommend cinnamon ice cream paired with your pumpkin crisp. The combination is insanely delicious!
Can I add nuts?
One option I didn't include, but considered adding…Pecans! I went back and forth on this one a lot and decided to skip the nuts.
However, if you are a big time pecan fan, they would be a wonderful addition to this Pumpkin Pie Crisp recipe. I think they would be best mixed in with the streusel on top to add some extra crunch. Just make sure and do small chopped up pecans, not large pieces.
Can I make this ahead?
You can prep this Pumpkin Pie Crisp ahead, but I highly recommenced baking it fresh when you are ready to serve it.
To prep this recipe ahead, I follow all directions until the baking step. Then, instead of popping it into the oven, I cover it with saran wrap or foil and pop it into the fridge.
Then, when I am ready to bake it, I take it out of the fridge and sett it on the counter and then start pre-heating the oven and bake it as directed in the recipe!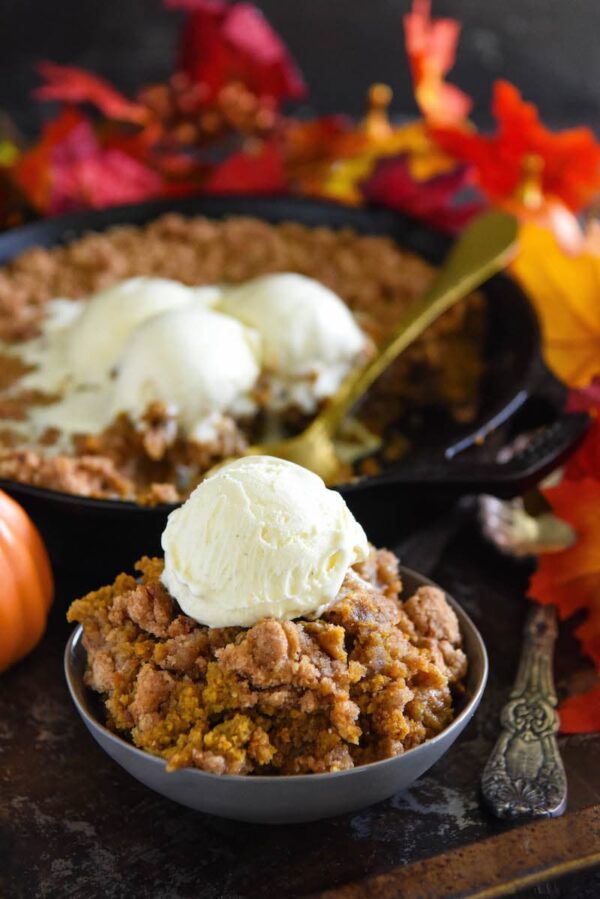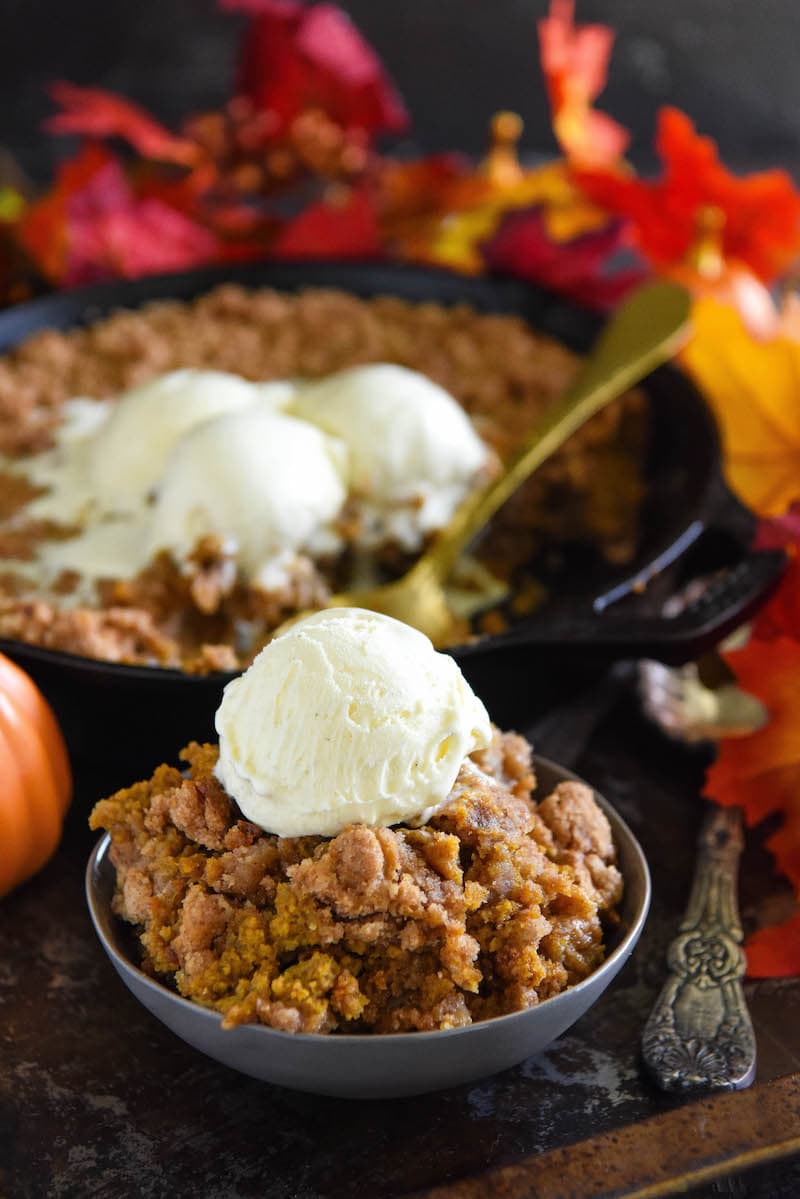 This Pumpkin Crisp is delicious served all on it's own, but it becomes extra magical when topped with a big scoop of ice cream.
I went classic with a big scoop of creamy vanilla ice cream, but I also think cinnamon ice cream would be a great pairing.
Looking for more pumpkin recipes? Try these reader favorites:
Head on over to Dixie Crystals for the full recipe I developed for them by clicking the recipe button below.
This post may contain affiliate links. Read my disclosure policy.