This Pumpkin Crisp is an easy fall dessert made with a creamy pumpkin pie filling and a golden cinnamon streusel and then served warm with ice cream!
*This recipe is sponsored by Dixie Crystals. Thank you for supporting the brands that make this site possible!*
Decadent Warm Pumpkin Crisp
If you are a pumpkin pie fan, just wait until you have your first bite of this Pumpkin Crisp! The base of this recipe is a creamy pumpkin pie filling, but instead of messing with a pie crust, we just add a streusel topping on top and bake it!
I have never been a fan of dealing with pie crusts, so I love how easy this Pumpkin Crisp is to make instead. You whip together the pumpkin pie filling, place it in your cast iron skillet (or casserole dish) and then top it with a big thick sweet cinnamon streusel topping.
The thick cinnamon streusel topping really takes this recipe to the next level, but then you serve it warm with a big scoop of vanilla ice cream on top. Oh y'all, trust me, this is so good.
Looking for more pumpkin pie themed desserts? I know you will love these other reader favorites: Pumpkin Pie Cheesecake, Pumpkin Pie Cookies, Mini Pumpkin Pies, and these adorable Pumpkin Pie Pops!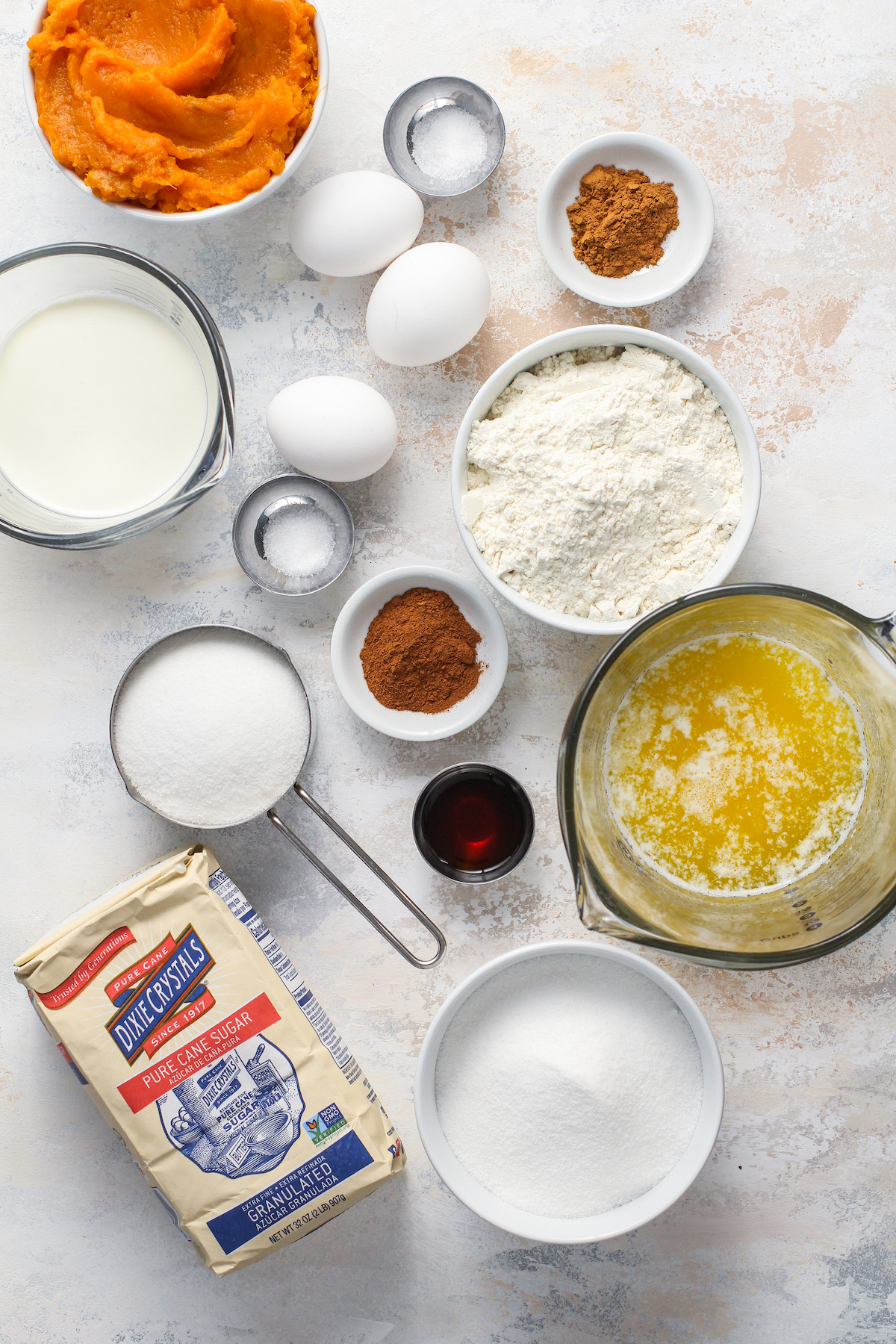 Ingredients Needed:
The base pumpkin pie part of this crisp is really easy to whip up, you just need a bowl and a whisk and the following ingredients:
Pumpkin Pie Layer:
Pumpkin Puree: Make sure you get 100% pumpkin puree, not the pumpkin pie canned mix! If you like sweet potatoes, you can also use sweet potatoes in this Sweet Potato Crumble!
Eggs
Dixie Crystals Granulated Sugar
Heavy Cream: You can sub this for half and half, but I really recommend going for the full fat heavy cream. It makes the pumpkin pie layer so creamy and decadent.
Pumpkin Pie Spice: If you don't have pumpkin pie spice on hand, you can also season it up with some cinnamon, nutmeg and cloves.
Salt
Vanilla Extract
Vanilla Ice Cream: Optional for serving, but it makes it extra delicious. You can also use cinnamon ice cream for a fun twist.
Cinnamon Streusel Topping:
Butter: You will need to melt the butter. If you use salted butter, you can skip the added pinch of salt!
Flour: All purpose flour works best.
Cinnamon: I tried both pumpkin pie spice and plain cinnamon in my testing, and for the streusel, I prefer just plain cinnamon.
Dixie Crystals Granulated Sugar
Salt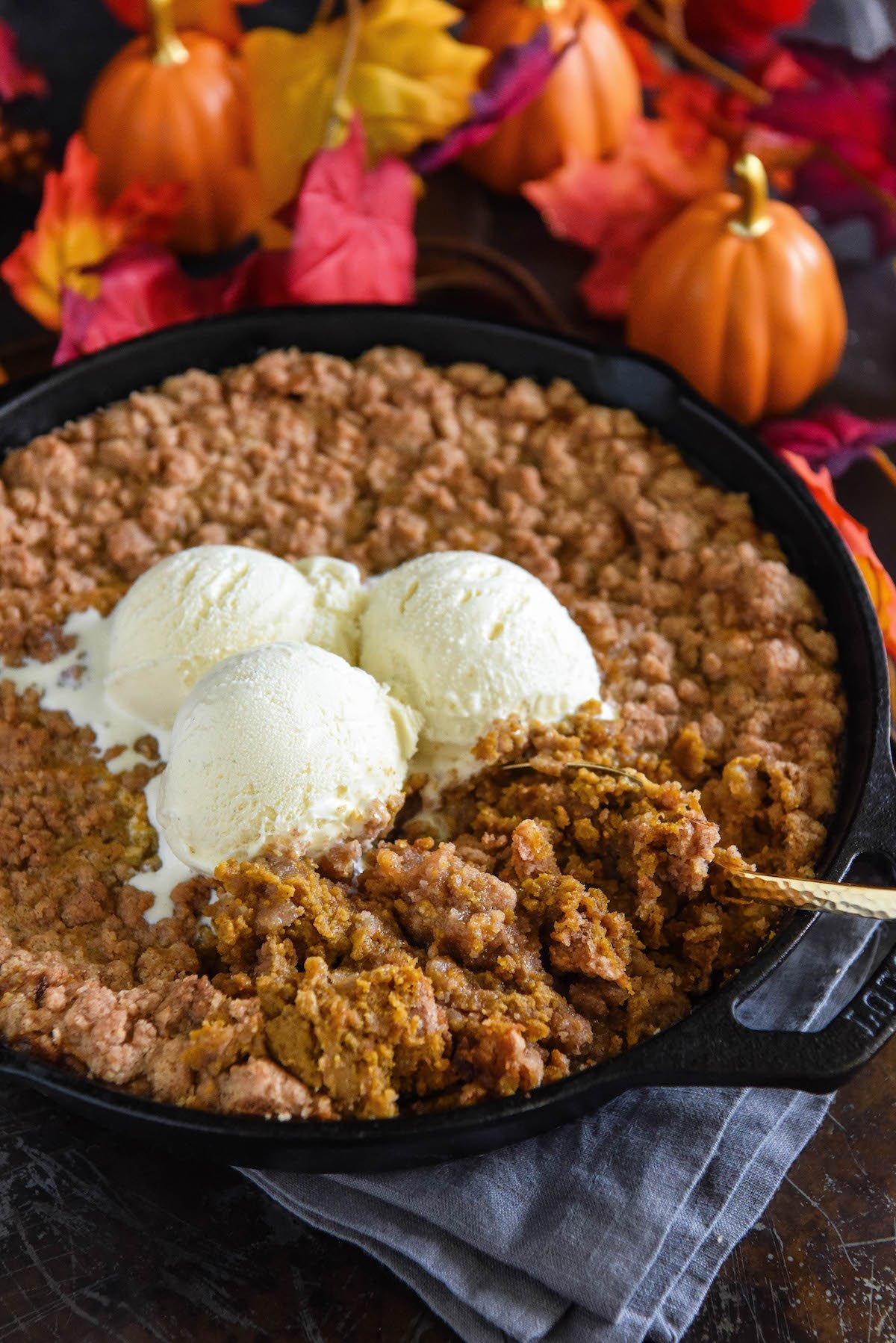 How To Make Pumpkin Crisp
First we whip together a quick and easy pumpkin pie filling and then we sprinkle on a ton of delicious cinnamon streusel topping. Let's get started.
Preheat the oven to 375°F and butter a 12-inch cast iron skillet or 9×9 casserole dish.
Pumpkin Pie Layer: Whisk together pumpkin, sugar, eggs, pumpkin pie spice, salt, and vanilla extract. Whisk in heavy cream until smooth. Pour into prepared skillet and set aside.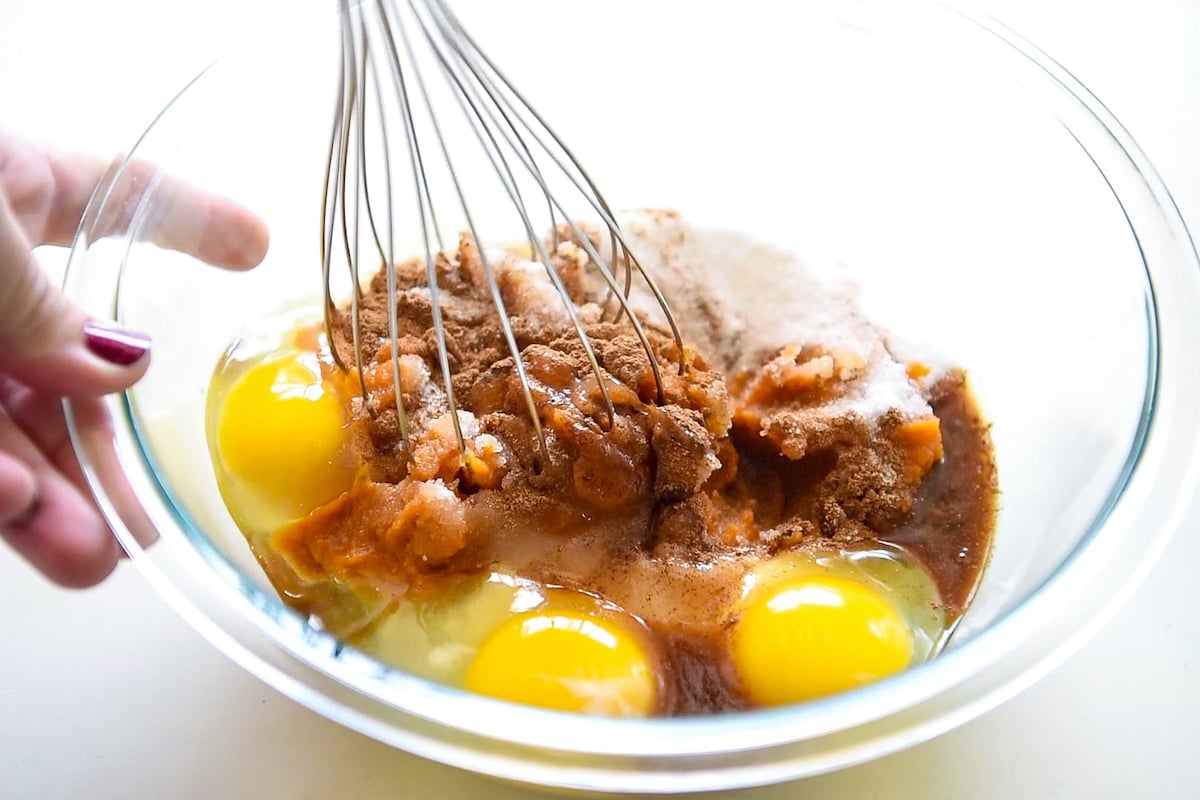 Cinnamon Streusel Layer: Whisk to combine the flour, sugar, cinnamon, and salt. Add the melted butter and stir with a fork until crumbly. (Can also beat with a hand mixer until crumbly.)
Spread the cinnamon streusel topping over the top of the pumpkin pie mixture in an even layer.
Bake until the filling is set and the top is nice and golden brown, about 40 to 45 minutes.
Let cool for 10 minutes, to let the pie layer cool a little and set up. Then serve warm topped with ice cream!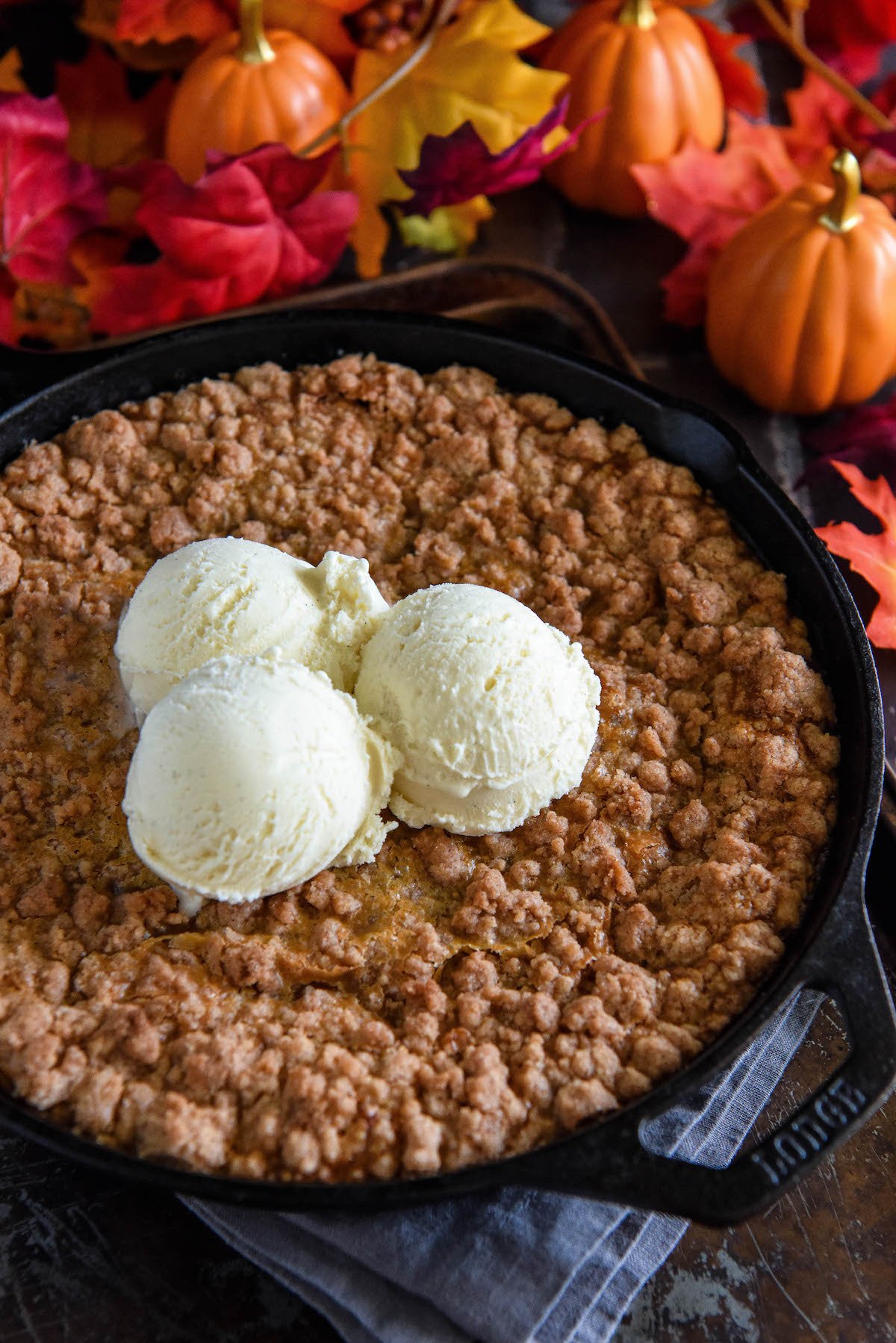 How to serve?
This Pumpkin Crisp is best served warm with ice cream or whipped cream! I personally love it best with a scoop of ice cream on top like any other classic fruit crisp.
If you can find it, I really recommend cinnamon ice cream paired with your pumpkin crisp. The combination is insanely delicious!
Can I add nuts?
One option I didn't include, but considered adding…Pecans! I went back and forth on this one a lot and decided to skip the nuts.
However, if you are a big time pecan fan, they would be a wonderful addition to this Pumpkin Crisp recipe. I think they would be best mixed in with the streusel on top to add some extra crunch. Just make sure and do small chopped up pecans, not large pieces.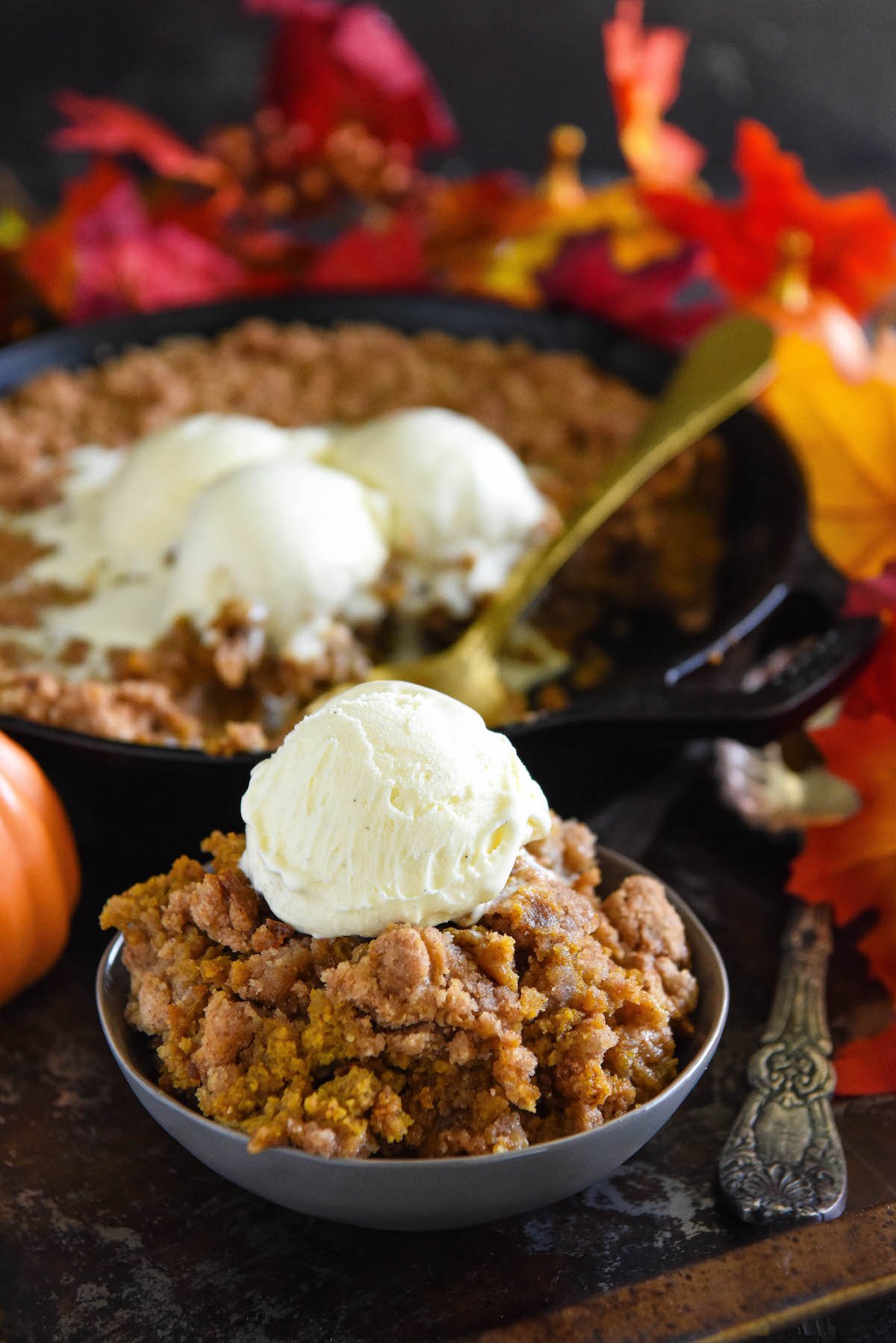 Can I make this ahead?
Yes! Absolutely! I do it every thanksgiving! You can prep this Pumpkin Crisp ahead, but I highly recommenced baking it fresh when you are ready to serve it.
To prep this recipe ahead, I follow all directions until the step where you pour the cinnamon streusel topping over the pumpkin pie layer. Instead, tightly cover the pumpkin pie layer in the baking pan and refrigerate it. Then place the streusel topping in a airtight container and refrigerate it as well. You can store these two like this for up to 48 hours.
Then, when I am ready to bake it, I take it out of the fridge and set it on the counter and then start pre-heating the oven. Once the oven is warm, sprinkle the cinnamon streusel on top of the pumpkin pie layer and bake it as directed in the recipe!
Do I have to use a cast iron skillet?
No! You can use any baking dish! I recommend either a large 12-inch round casserole dish or a 9×9 baking dish. If you are giving this away to friends/family, you can also bake it in an aluminum foil tin.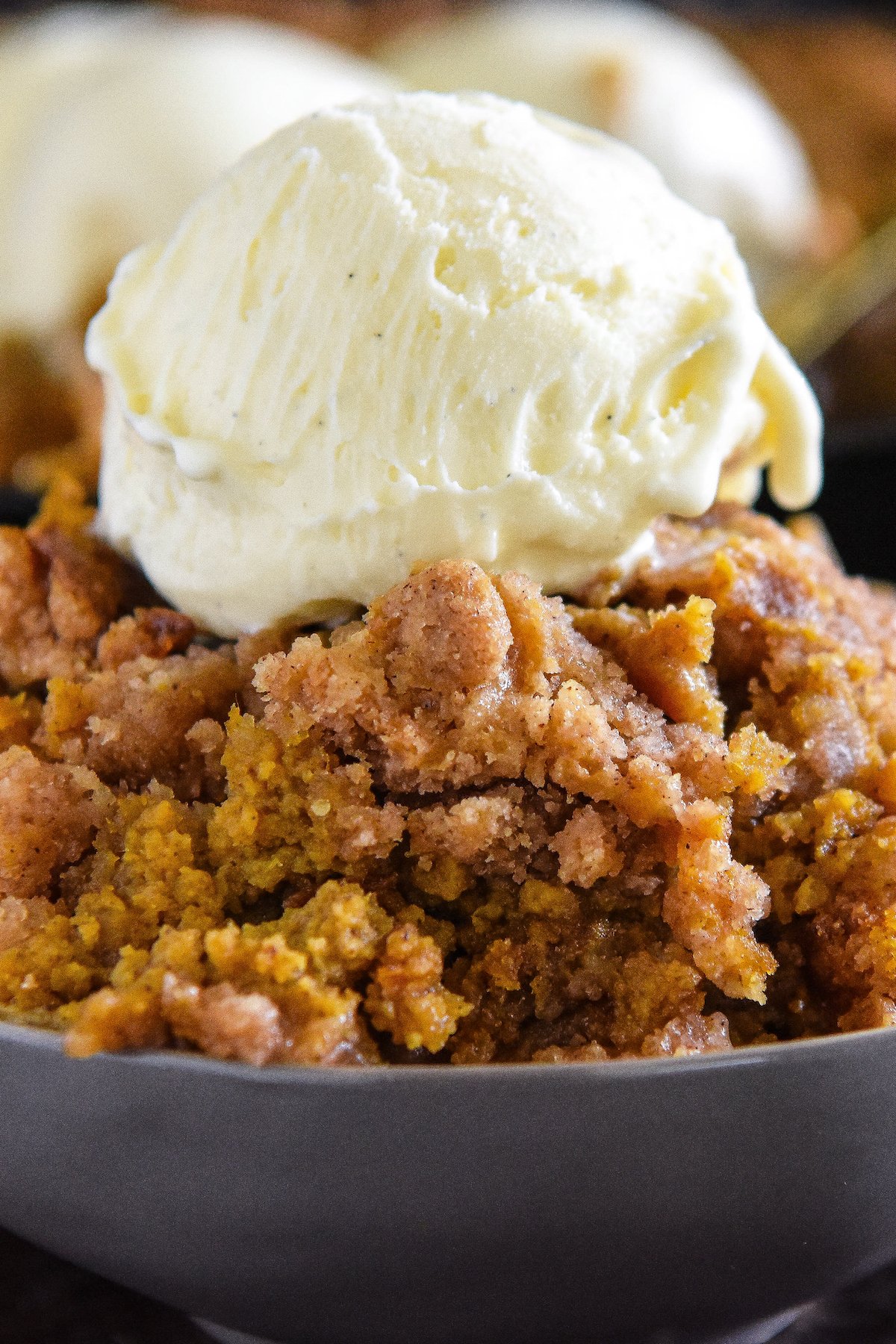 How To Store Leftovers
If you have any leftovers that is! We almost never do!! Store leftovers in the fridge for up to 5 days and reheat in the microwave for about 20 seconds, until warmed through again. You can also enjoy it cold!
Yield: 6 to 8 servings
Pumpkin Crisp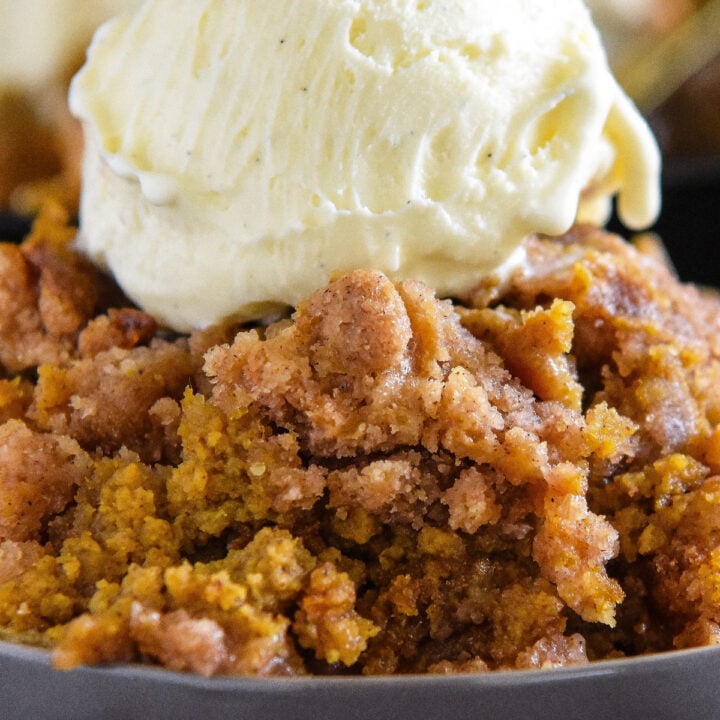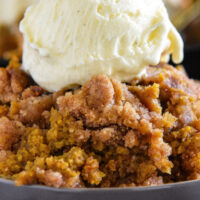 This Pumpkin Crisp is an easy fall dessert made with a creamy pumpkin pie filling and a crunchy golden cinnamon streusel and then served warm with ice cream!
Ingredients
Pumpkin Pie Layer
1 (15-oz.) canned pumpkin purée
3 large eggs
2 teaspoons pumpkin pie spice
1/2 teaspoon salt
2 teaspoons pure vanilla extract
2/3 cup heavy cream
Cinnamon Streusel
Instructions
Find the full printable recipe on Dixie Crystals website: Pumpkin Pie Crisp!
Nutrition Information:
Yield:
8
Serving Size:
1
Amount Per Serving:
Calories:

378
Total Fat:

27g
Saturated Fat:

16g
Trans Fat:

0g
Unsaturated Fat:

9g
Cholesterol:

138mg
Sodium:

301mg
Carbohydrates:

28g
Fiber:

2g
Sugar:

2g
Protein:

7g
Looking for more pumpkin recipes? Try these reader favorites:
This post may contain affiliate links. Read my disclosure policy.