Swirled Pumpkin Cheesecake Bars
These amazing Swirled Pumpkin Cheesecake Bars have a buttery graham cracker crust, spiced pumpkin pie filling and a sweet, thick cheesecake swirled through them!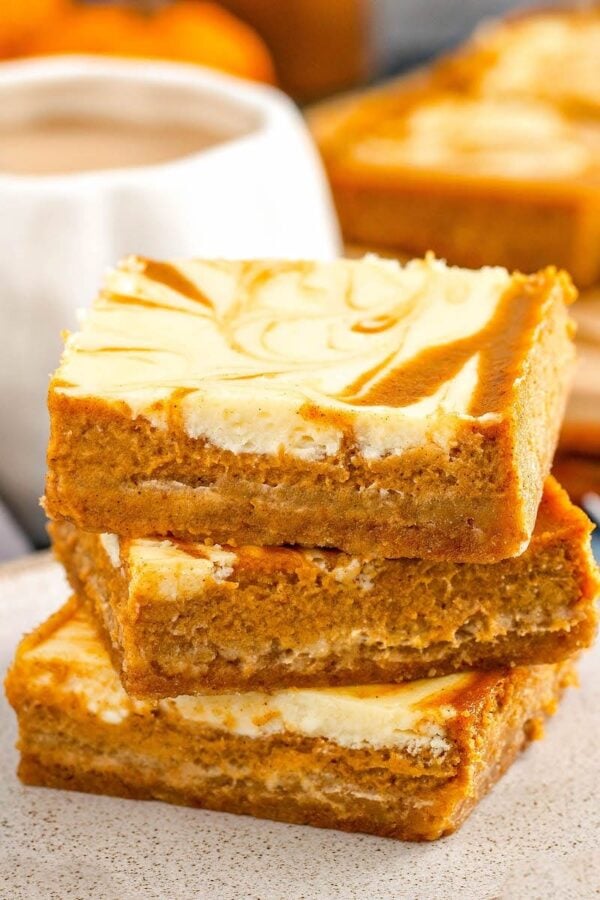 Hello my fellow Pumpkin Lovers! It's so good to see all of you again and bring you my first pumpkin recipe of the year!
We are kicking off this Fall season with Swirled Pumpkin Cheesecake Bars! Do they look a little familiar?
These pumpkin cheesecake bars are a fun twist on my now famous Pumpkin Cream Cheese Swirl Muffins.
Staring with a buttery graham cracker crust and then a layer of spiced pumpkin pie filling and then big thick swirls of sweet creamy cheesecake.
These bars are absolutely delicious and the perfect dessert to bring to a party. I dare you to try to just eat one!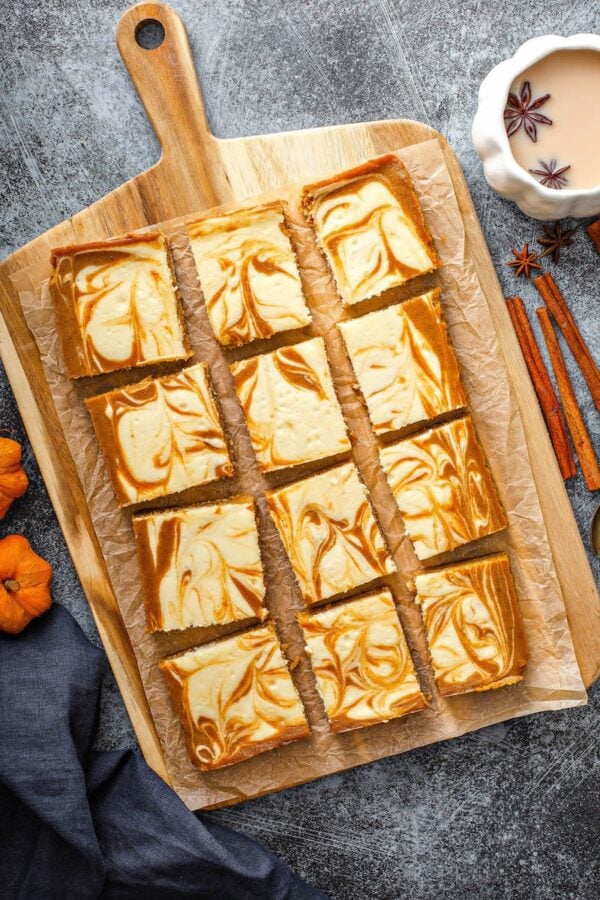 Can I make these Pumpkin Cheesecake Bars ahead?
Yes! Absolutely! It's what makes them the perfect dessert for a party.
You can make these up to a couple of days ahead and store them in the fridge for an event.
They have to be kept chilled and serve them cold from the fridge when you are ready, just like you would a cheesecake.
They are also delicious served with a dollop of whip cream on top, if you happen to have it on hand.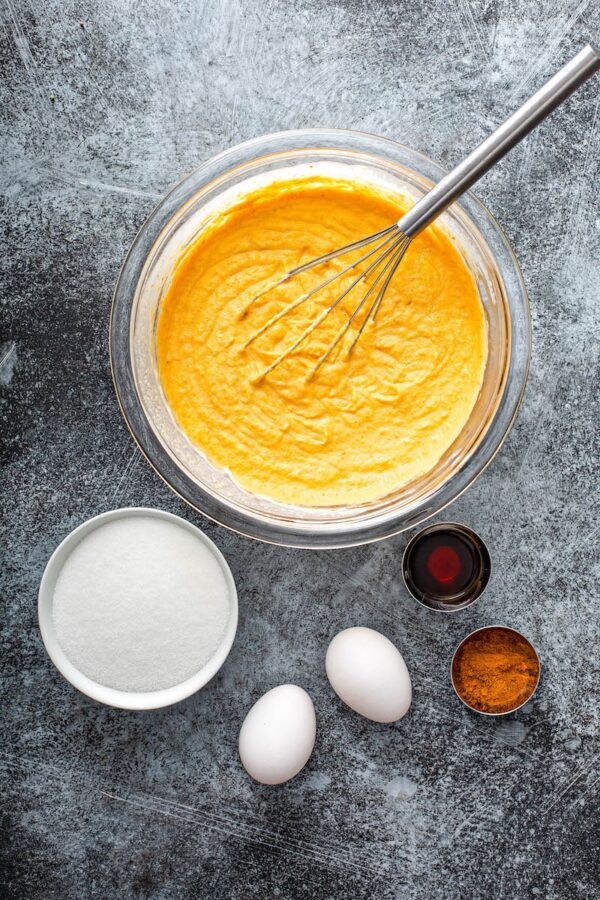 Ingredients in Pumpkin Cheesecake Bars
Like most pumpkin baking recipes, you want to use pure canned pumpkin puree. You do not want to buy a can of pumpkin pie filling.
Instead of a graham cracker crust, you can also use crumpled up gingersnap cookies for a gingersnap crust.
Both crusts are absolutely delicious and I struggled with which one to share for the recipe on the blog post.
I went with a graham cracker crust because it is the most classic crust for cheesecake bars, however the gingersnap crust is also beyond delicious.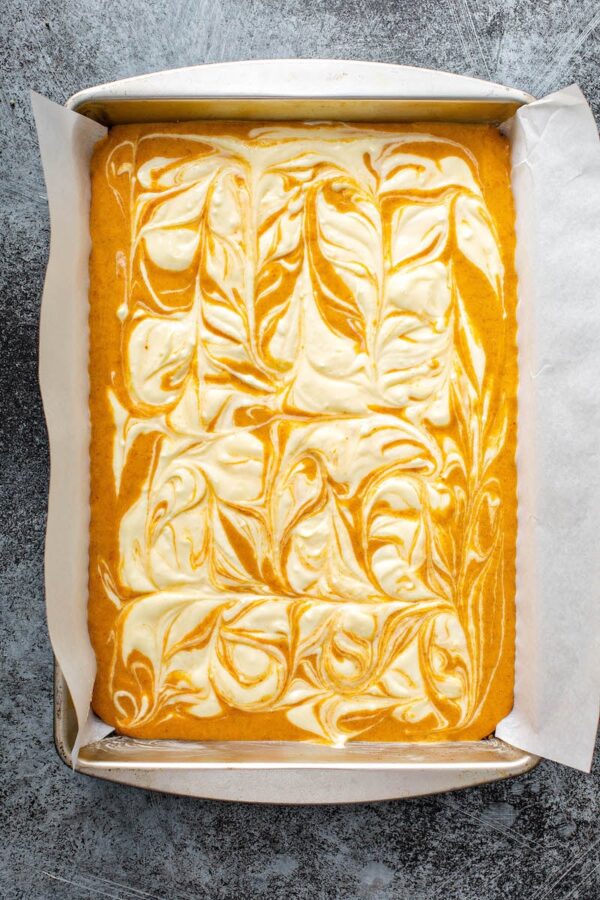 How to make Pumpkin Cheesecake Bars:
First we start with the crust: crushed graham crackers (or gingersnaps), butter and sugar pressed into the bottom of a 9×13 casserole dish.
Whip together the pumpkin pie layer, seasoned with pumpkin spice, and pour it on top of the graham cracker layer.
Then we beat together the cream cheese, eggs, sugar and vanilla until smooth. Pour it on top of the pumpkin layer and then drag a knife through the cheesecake and pumpkin layers to create a marbled look.
Bake for about 40 minutes, cool and refrigerate. Serve chilled!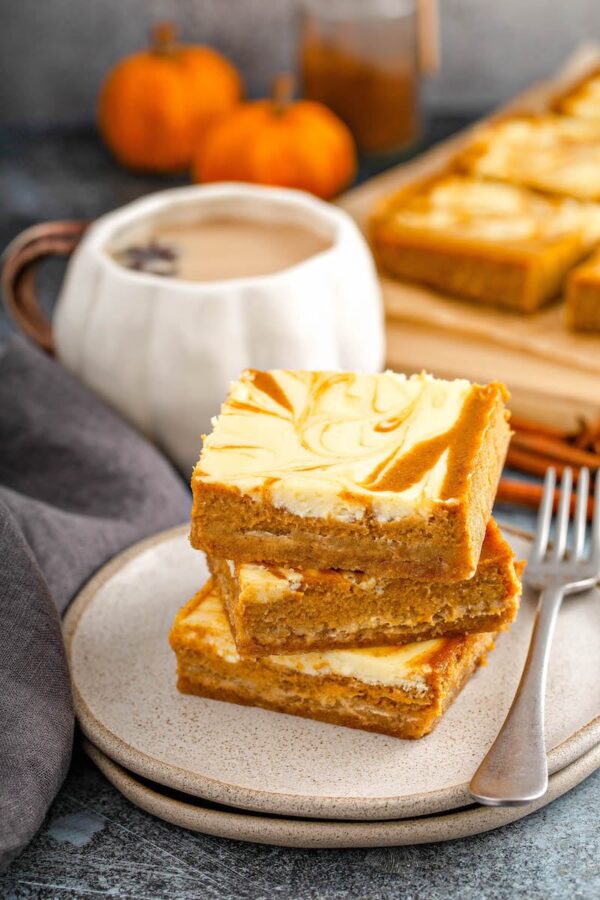 Tips for perfect Pumpkin Cheesecake Bars:
Use softened/room temperature cream cheese. If you don't, you run the risk of having lumps in your cream cheese layer.
Allow the bars to cool completely before transferring to the fridge to finish chilling. You really can't speed up this process.
Make sure your graham crackers (or gingersnaps) are truly crumbs. You don't want chunks. I recommend using a food processor or large ziplock bag with a rolling pin crush them finely.
Parchment paper! Make sure and line your 9×13 baking dish with parchment paper to make sure nothing sticks or burns!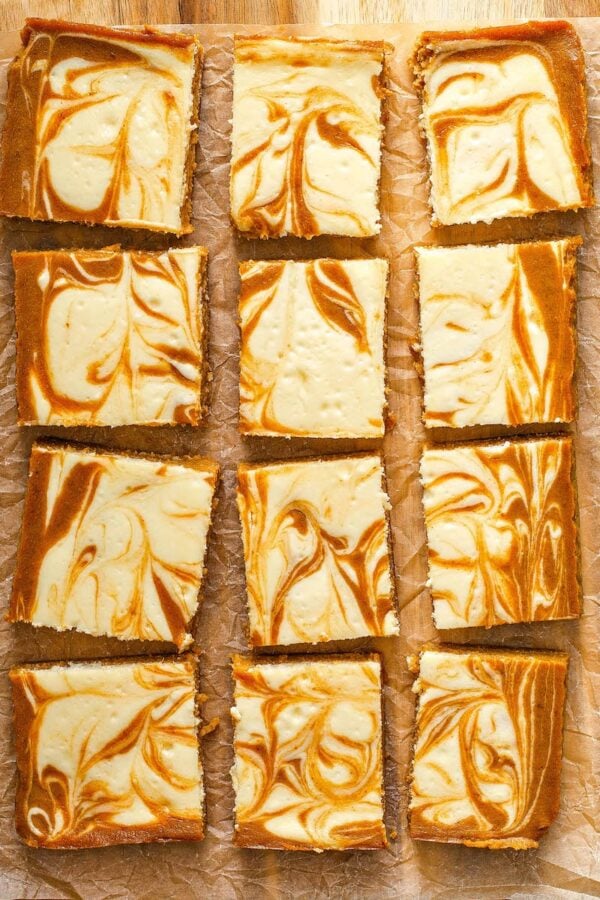 These Swirled Pumpkin Cheesecake Bars are seriously scrumptious and an amazing Fall dessert!
Serve them chilled with a warm cup of coffee on a chilly Fall night and they are absolute perfection.
My husband already is begging me to make another batch AND to make a batch to bring to his family's Thanksgiving dinner!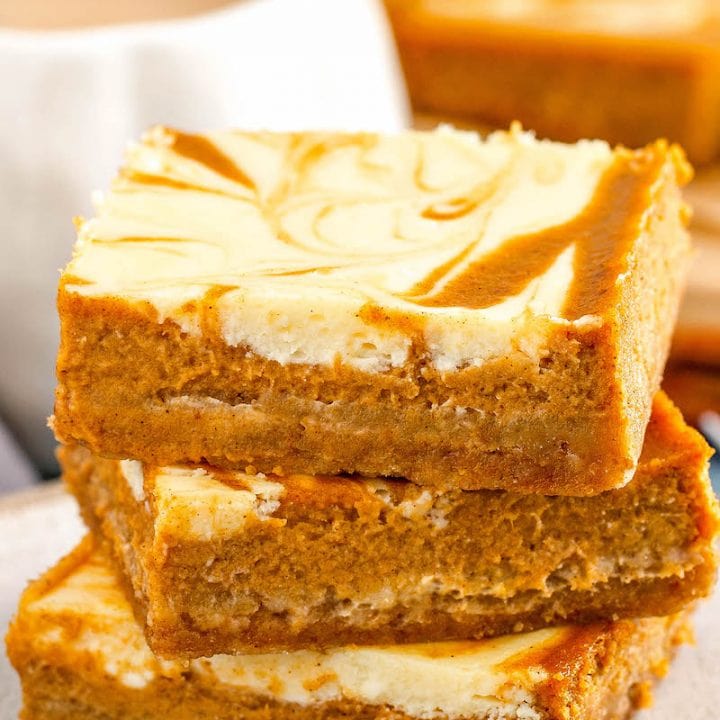 Swirled Pumpkin Cheesecake Bars Recipe
Yield: 15 bars

Prep Time: 20 minutes

Cook Time: 40 minutes

Additional Time: 2 hours

Total Time: 3 hours

These amazing Swirled Pumpkin Cheesecake Bars have a buttery graham cracker crust, spiced pumpkin pie filling and a sweet, thick cheesecake swirled through them!
Ingredients
Graham Cracker Crust:
3 cups graham cracker crumbs
6 tablespoons granulated sugar
10 tablespoons melted butter
Pumpkin Layer:
1 can (15 oz) pumpkin puree (not pumpkin pie mix)
3/4 cup heavy cream
2 large eggs
3/4 cup sugar
1 teaspoon vanilla extract
2 teaspoons pumpkin pie spice
Cheesecake Swirl:
8 oz cream cheese, softened
1 large egg
1 egg yolk
1/2 cup granulated sugar
1 teaspoon vanilla extract
Instructions
Preheat oven to 350°F. Line a 9x13 baking pan with parchment paper or foil.
Graham Cracker Crust: In a medium sized bowl, combine graham cracker crumbs, sugar and melted butter until crumbly. Press into the prepared baking pan.
Pumpkin Layer: In a medium bowl, whisk together all ingredients (pumpkin puree, heavy cream, eggs, sugar, vanilla and pumpkin pie spice). Pour on top of graham cracker layer.
Cheesecake Swirl: In a medium bowl, beat all ingredients (cream cheese, egg, egg yolk, sugar and vanilla extract) with electric mixer on medium speed until well mixed. 

Spoon tablespoonfuls of cheesecake filling on top of pumpkin layer. With a knife, carefully swirl cheesecake filling into pumpkin mixture to create marbled look. Be careful to not disturb the bottom graham cracker layer while swirling the top two layers.
Bake for 37 to 42 minutes or until center is set. Cool for 30 minutes and then refrigerate for 2 hours, until chilled.
Slice into squares and serve.
Notes
Store any leftover pumpkin cheesecake bars in an airtight container in the fridge for up to a week.
Nutrition Information:
Yield: 15 bars Serving Size: 1 bar
Amount Per Serving: Calories: 338Total Fat: 20gSaturated Fat: 11gTrans Fat: 0gUnsaturated Fat: 7gCholesterol: 99mgSodium: 204mgCarbohydrates: 36gFiber: 1gSugar: 27gProtein: 4g

If you try this recipe, please leave a comment/review below letting me know how they turn out for you!