This ultra-creamy, no-bake Pumpkin Pie Dip is packed with Fall flavors! Pure pumpkin, sweet marshmallow fluff, and a few other simple ingredients whip up into this perfect dessert in under 5 minutes. What could be better?
Creamy Homemade Pumpkin Dip
Who all is ready for everything FALL? I know I am! When even just a hint of coolness starts to creep into the air, I start dreaming of colorful leaves, cozy scarves, hot chocolate, and of course, pumpkin.
And pumpkin works in just about everything! Pumpkin pies, pumpkin cakes and cupcakes, pumpkin cinnamon rolls—is there anything it can't do? With a little cinnamon, ginger, nutmeg, and cloves (AKA pumpkin spice!) simple pureed pumpkin becomes the star of many an autumn favorite.
Speaking of autumn favorites, let me introduce you to this creamy, sweet dip! Because seriously, it may just be your brand-new fave! It's sweet, creamy and oh so delicious served on a graham cracker or fruit. You will only need 5 easy ingredients to whip together into this easy no-bake pumpkin dip!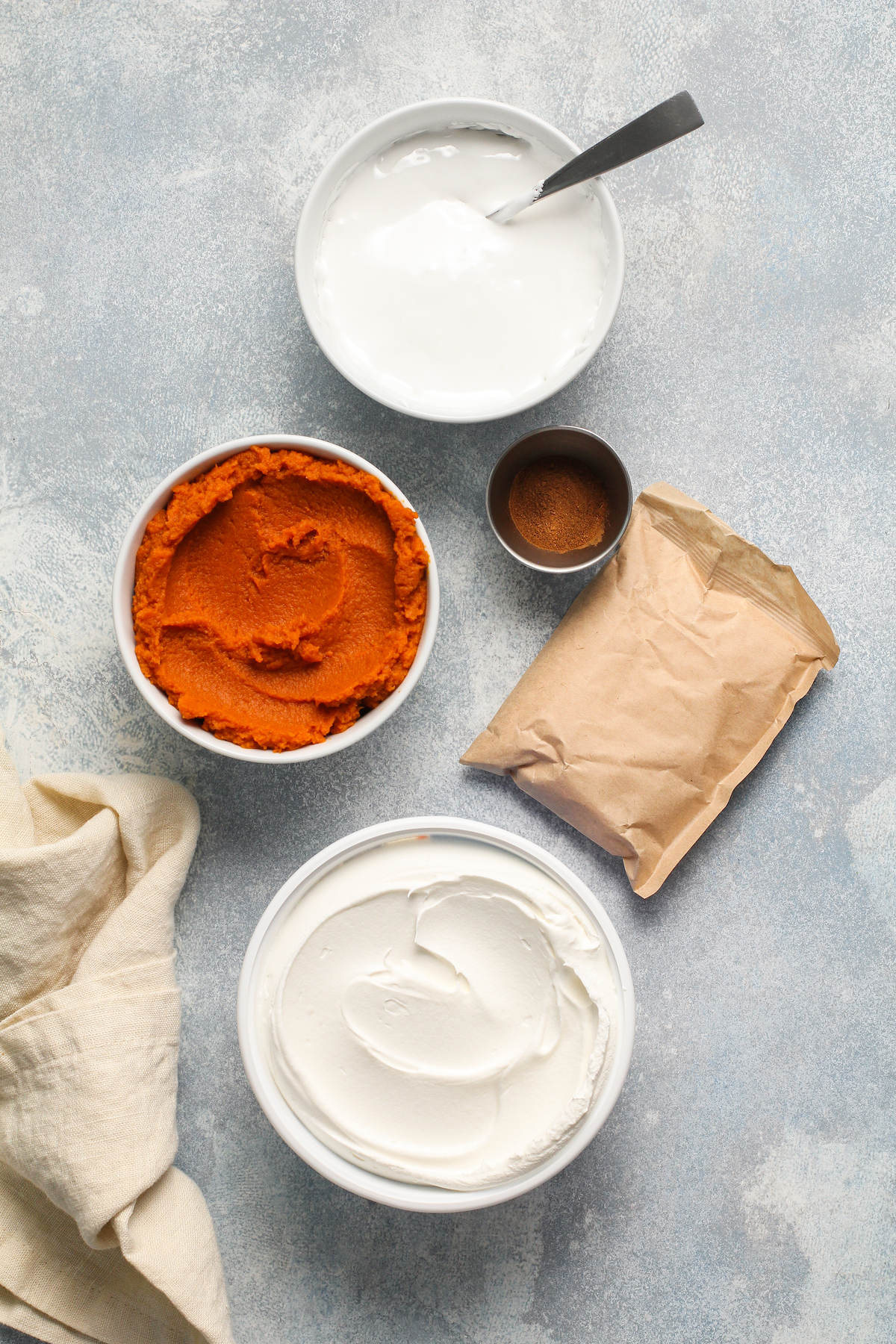 What You'll Need
My pumpkin dip is a little different than other recipes you might see that use cream cheese. While pumpkin and cream cheese is definitely a lovely combination, I like using a lighter cream-and-vanilla approach to make this dip more delicate and sweet.
Canned Pumpkin: Make sure to use pure pumpkin, not the canned pumpkin pie filling. Pie filling has lots of additional ingredients that we don't need or want here.
Vanilla Pudding: A box of instant vanilla pudding makes this recipe easy and fast.
Pumpkin Pie Spice: I keep a container of pre-blended pumpkin pie spice on hand, but store bought is always good too!
Marshmallow Fluff: My secret ingredient! Marshmallow fluff is such a fun addition giving the pumpkin dip a sweet, candy-like taste and a light texture.
Cool Whip: Cool whip, like marshmallow fluff, is sweet and light—and it also adds that creamy finish. If you prefer, you can use homemade sweetened whipped cream.
How to Make Pumpkin Dip
Making this recipe is super easy! It only takes a few minutes to do by yourself. If you add kiddos to the process (which I highly recommend!), it takes a little longer, but it's still easy and fast. Kids are great at helping scoop, measure, and mix this easy recipe.
Measure the Ingredients (Except Cool Whip) into a Bowl. In a large bowl, combine pumpkin purée, vanilla pudding, 1 1/2 teaspoons pumpkin pie spice, and marshmallow fluff.
Mix Well. Using a hand mixer or a whisk, blend until ingredients are incorporated and smooth. The mixture will still be somewhat dense and dark at this point.
FOLD in the Cool Whip. Add in the cool whip and fold gently, until the pumpkin mixture is completely combined with the Cool Whip. You don't want to mix it too hard or too quickly, because it won't turn out as fluffy. Give it a taste test, and see if you would like to add another 1/2 teaspoon pumpkin pie spice to dip.
Serve! Your freshly-made pumpkin dip is ready to be enjoyed immediately. If you want to serve it later, cover it and keep in the refrigerator for up to 24 hours before serving.
Tips for Success
Making pumpkin dip is so easy and fast, I guarantee you'll be making it all through the season (and maybe beyond)! But before you start measuring and mixing, take a look at these helpful tips!
Use Pure Pumpkin Not Pumpkin Pie Filling: When you purchase the canned pumpkin for this recipe, make sure you are grabbing a can of plain pumpkin. The ingredients on the back should only say pumpkin, nothing else. Pumpkin Pie Filling is usually right next to the canned pumpkin, but it is already flavored and sweetened with sugar.
Make Your Own Pumpkin Puree: To make your own pumpkin puree, just scoop the seeds and strings out of a small baking pumpkin. Cut the pumpkin in half, and bake the halves at 350°F until the pumpkin is soft, about 1 hour. Cool, scoop away from the rind, and puree. Done!
Substitute Cream Cheese: To make this pumpkin dip more rich and cheesecake-like, substitute an equal amount of softened cream cheese for the marshmallow fluff. You may want to add powdered sugar, to taste, if you do this, since marshmallow fluff is much sweeter than cream cheese.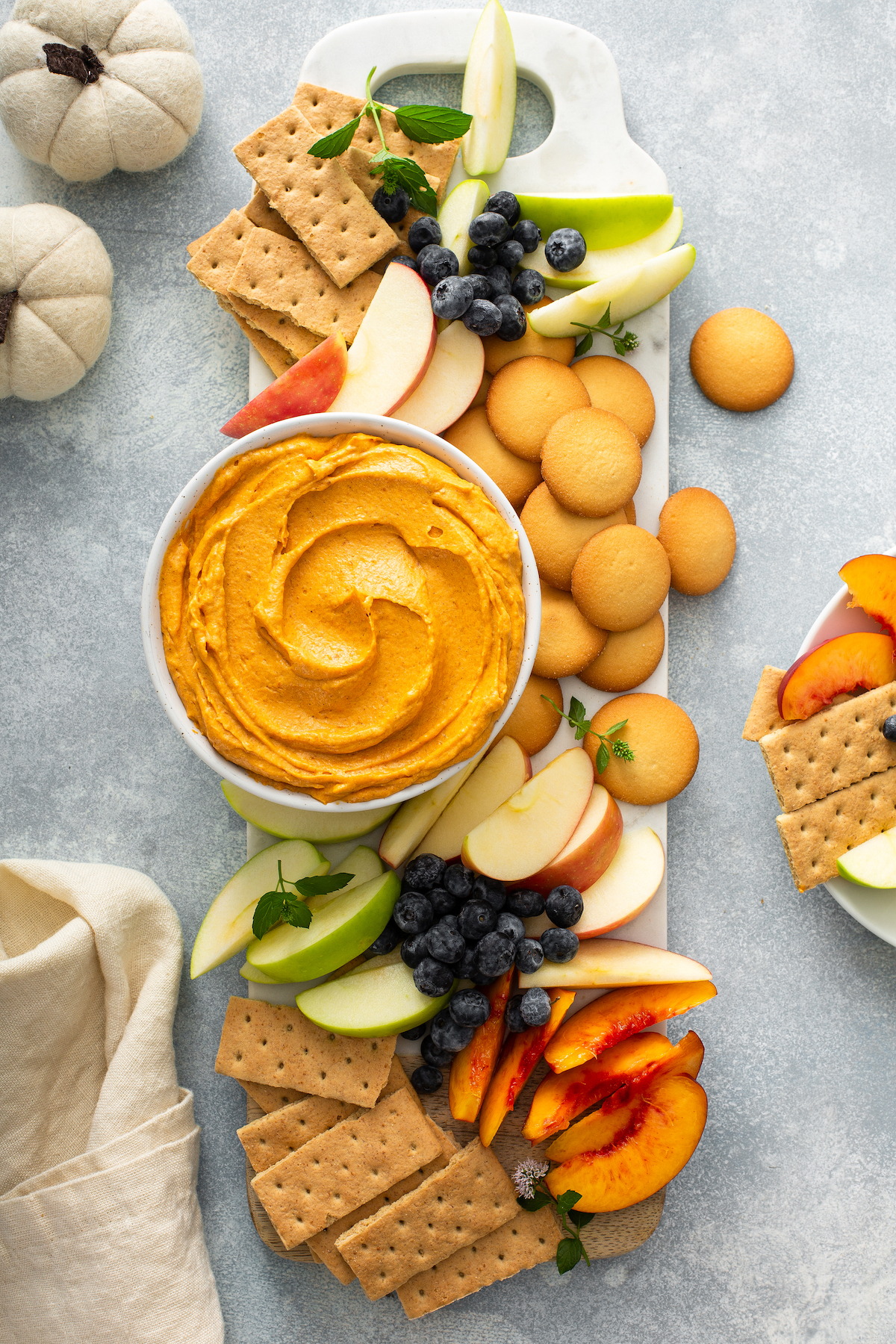 DIY Pumpkin Pie Spice
If you don't have any pumpkin pie spice on hand, you can just use cinnamon in its' place. Or, you can quickly whip up a homemade batch of DIY Pumpkin Pie Spice:
4 teaspoons ground cinnamon
2 teaspoons ground ginger
1 teaspoon ground cloves
1/2 teaspoon ground nutmeg
1/2 teaspoon ground allspice
Mix all ingredients together. This recipe will make a little over 2 tablespoons of pumpkin pie spice.
You can double or triple the recipe and save it for any other wonderful Fall recipes or even sprinkle it over your morning coffee!
Serving Suggestions
This is the kind of recipe that really makes it tempting to dig in with a spoon! And hey, I won't judge. But I do recommend trying it with some yummy dippers, as well! Here are some of my favorite, tried-and-true options:
Graham Crackers
Nilla Wafer Cookies
Cinnamon Pretzel Crisps
Sliced Apples
Shortbread
Cinnamon Pita Chips
Banana Chips
Gingersnaps
Fresh Fruit
How to Store Leftover Pumpkin Dip
Leftover dip should be refrigerated in an airtight container. It will keep for 3 to 4 days and is a great make ahead recipe for a party. You can prep it the day before and it tastes just as good the next day as it does that first day!
Can I Freeze This Dip?
Freezing leftovers is definitely an option, but keep in mind that the texture after freezing and thawing may not be the same. So if you want to make a whole batch ahead, I don't recommend freezing. By the time you serve it, the texture may have degraded. Instead, try making it a maximum of two days in advance, and storing in the refrigerator, instead of the freezer.
Pumpkin Dip
This sweet and creamy Pumpkin Dip is made with pure pumpkin, autumn spices, sweet marshmallow fluff, vanilla pudding, and Cool Whip. Easy and delicious!
Ingredients
1

(15 oz)

can pumpkin puree

,

not pumpkin pie filling

1

(3.4 oz)

package instant vanilla pudding

1 ½ to 2

teaspoons

pumpkin pie spice

4

oz

marshmallow fluff

8

oz

Cool Whip

,

thawed
Instructions
1. In a large bowl, combine pumpkin purée, vanilla pudding, 1 1/2 teaspoons pumpkin pie spice, and marshmallow fluff.

2. Using a hand mixer or a whisk, blend until ingredients are incorporated and smooth.

3. Add the Cool Whip and fold until pumpkin mix is completely combined with the Cool Whip. Give it a taste test and see if you would like to add another 1/2 teaspoon pumpkin pie spice to dip.

4. Serve immediately, or cover and allow to set in refrigerator for up to 24 hours before serving.
Nutrition
Serving:
1
,
Calories:
161
kcal
,
Carbohydrates:
23
g
,
Protein:
1
g
,
Fat:
8
g
,
Saturated Fat:
6
g
,
Polyunsaturated Fat:
1
g
,
Sodium:
38
mg
,
Sugar:
18
g
Categories:
More Pumpkin Recipes to Try
Pumpkin season, and yes it's a full season, is my favorite every year! I have a ton of pumpkin recipes, but here are a few reader favorites you won't want to miss!
This post may contain affiliate links. Read my disclosure policy.