Lemon lovers, rejoice: these dreamy Lemon Ricotta Pancakes are made from scratch and filled with the taste of sunshine! Light and fluffy with a hint of lemon zest, and guaranteed to brighten up any weekend brunch or breakfast. This is the perfect flavorful and easy pancake recipe to enjoy with your favorite toppings, from maple syrup to a fresh lemon curd.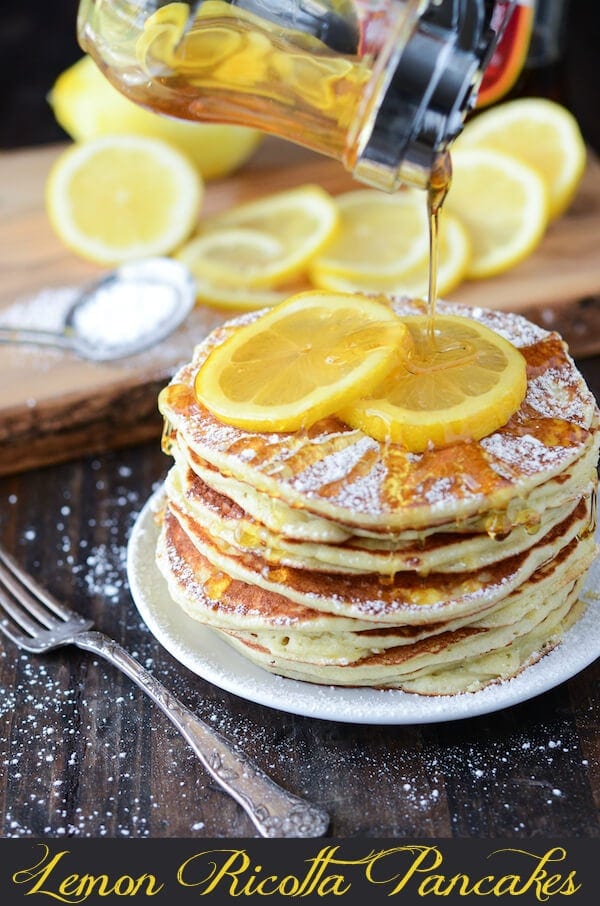 Fluffy Lemon Ricotta Pancakes
Recently I found myself with an abundance of lemons and a carton of leftover Ricotta and naturally, inspiration led me to my favorite breakfast obsession: Pancakes. If having too many pancake recipes is wrong, then I refuse to be right. And this citrusy take on my best weekend breakfast treat is one for the books!
The key to fluffy pancakes? Separating the eggs! I often used to skip this step when whipping up a batch of easy weekend morning pancakes. But with this recipe, whipping the whites and yolks separately really makes all the difference when it comes to texture. You'll have to try it for yourself and taste the difference!
I love this straightforward yet luxurious recipe for spongey lemon pancakes with an Italian twist, thanks to the addition of ricotta cheese. The sweet citrus flavors are just so fresh and bright, like a burst of summertime that you can whip up any time of the year! Enjoy these fluffy and delightful Lemon Ricotta Pancakes topped with simple maple syrup, dressed up with lemon curd, or sprinkled with blueberries – I guarantee you'll be hooked!
Why Add Ricotta to Pancakes?
Ricotta cheese is a classic Italian staple that can be used in so many ways, sweet and savory. When added to recipes like pancakes, there's no sign of cheesy flavor here – just unbelievable moisture for a melt-in-your-mouth texture! Ricotta lemon pancakes are such a great way to use up leftover ricotta cheese; and trust me, if you haven't yet tried ricotta as an ingredient, you're in for a game changer.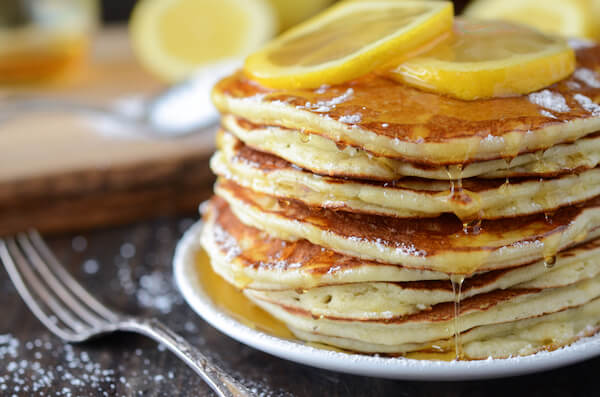 What You'll Need
Like most pancake recipes, the ingredients list for these Lemon Ricotta Pancakes is made up of mostly basic pantry items! For the stars of the show, you can find Ricotta in the cheese aisle of most grocery stores, and be sure to pick out the freshest-scented Lemons for the most fragrant zest and lemony flavor.
Eggs: 3 large eggs with the yolks and whites separated. Whipping the egg whites separately is what gives these pancakes the lightest, fluffiest texture!
All-Purpose Flour: All-purpose flour will get the best rise out of these pancakes in my experience. Alternatively, a fine-ground flour alternative like oat or almond flour can be used for a gluten-free recipe.
Ricotta Cheese: The addition of ricotta cheese brings an indescribable moist and buttery texture to this recipe. If you haven't tried it already, prepare to be amazed!
Butter: Unsalted butter, melted and then cooled.
Lemons: For the zest that gives this recipe the most fresh and wonderful lemon flavor!
Vanilla Extract: Pure vanilla extract has the best and most natural flavor.
Sugar: Granulated sugar that's been divided, to use when whipping the egg whites and egg yolks separately.
Milk
Baking Powder
Baking Soda
Salt
How to Make Lemon Ricotta Pancakes
This pancake recipe is easy enough to make with only a couple of extra steps to ensure the most fluffy pancakes ever! I can promise you that it will be worth it. Using a stand mixer will make things even easier, but you can also channel your inner Julia Child and use a good old fashioned whisk plus a little elbow grease if needed. Here's how to make these wonderfully light lemon ricotta pancakes:
Beat the Egg Whites: Whisk the egg whites in a stand mixer or by hand until they start to bubble, then sprinkle in a tablespoon of sugar. Continue beating the mixture well until soft peaks form and set this aside.
Mix the Ingredients Separately: In your medium bowl, whisk together the dry ingredients (flour, baking powder, baking soda and salt). In a separate small bowl, combine the milk and melted butter. In one more separate, large bowl, whisk the egg yolks with the remaining sugar, lemon zest, and vanilla. Whisk one half of the milk-butter mixture into the large bowl, followed by the remaining half and mix continuously until smooth.
Make the Pancake Batter: Slowly add the flour mixture into the large bowl, finally followed by the egg whites, being careful to not overmix.
Add In the Ricotta Cheese: As you add in the ricotta, be gentle so as to not break down the texture too much! Once the batter is streaked with ricotta clumps, set the bowl aside.
Cook the Pancakes In a Skillet: Pour rounds of batter onto a preheated non-stick skillet using a ladle or measuring cup, and wait while the pancakes cook. The easiest way to tell if your pancakes are ready for flipping is to watch for bubbles – once bubbles are forming, flip and continue to cook until both sides of the pancake are evenly browned. Place finished pancakes in the oven to keep warm, and repeat the process until all the batter is finished!
Serve a stack of these delicious pancakes warmed from the oven with your choice of toppings. See my suggestions below for ideas!
Tips for Success
Improvise the Amount of Ricotta As Needed: If you don't have a full 3/4 cup of Ricotta, don't let that deter you — the recipe still turns out great with slightly less. You can also leave it out altogether in a pinch, and enjoy regular lemon pancakes sans the special ricotta texture.
Don't Over-mix the Batter: This is a seemingly small but very important detail that is the difference between cooked pancakes that are soft and fluffy (yay!), or chewier and tougher (ick!); pay attention when mixing the batter and stop when all the ingredients are just combined. Some small clumps here and there are better than chewy pancakes!
Mixing Dry Ingredients Separately Will Prevent Clumps: Whisking the dry ingredients before combining them with the wet ingredients will eliminate most lumps from the batter. Because the only clumps we're after are clumps of ricotta cheese!
Give the Pan a Wipe Between Batches: To prevent any extra batter residue from burning. If you're using a bit of butter or oil to coat in the pan, this also serves as a clean slate between rounds of pancakes.
Variation & Topping Ideas
Where to begin with variation ideas? These pancakes can be mixed, drizzled, sprinkled, and topped with a variety of different ingredients. So many flavors just pair so nicely with the lemon! Here are some ways to mix up your pancake batter:
Stir in a half cup of White Chocolate Chips
Sprinkle in a handful of Fresh Berries for Raspberry or Blueberry Ricotta Pancakes
Swap out the Lemon Zest for Orange Zest
Mix in a pinch of Cinnamon or Nutmeg for a hint of warmer flavor
Pancake Topping Ideas
Along with the classic maple syrup and/or butter combo, here are more suggestions to dress up these Lemon Ricotta Pancakes:
Fresh Berries (Blueberries, Raspberries, Strawberries)
Candied Lemon Slices
Lemon Curd
Chantilly Cream or Whipped Cream
Honey
Chocolate Chips
Berry Coulis
Fruit Jams & Marmalades
Chopped Nuts (Walnuts, Macadamias, Pecans)
Cinnamon Sugar or Powdered Sugar
How to Store and Reheat Extras
Store leftover pancakes in the fridge for up to 5 days, wrapped tightly or sealed in an airtight ziplock bag or container. If storing leftover pancake batter, use an airtight container and keep the batter in the fridge for up to two days. For an extra layer of protection, you can place a layer of plastic wrap over the container before closing the lid.
To reheat cooked pancakes, you can follow the below techqniues:
Microwave: Heat the pancakes on a microwave-safe dish for a few seconds at a time until they're warm all the way through.
Oven: Reheat pancakes in the oven, wrapped in foil and at a low temperature until heated through.
How to Freeze Pancakes
Cooked pancakes can be kept frozen for up to 2-3 months. To freeze pancakes, arrange them in a single layer on a baking sheet and place this in the freezer for about half an hour, or until the pancakes are solid. Transfer the frozen pancakes to a zip seal bag or freezer-safe container and store, to be thawed at a later time!
Let frozen pancakes thaw in the refrigerator and then reheat them using the oven or microwave.
More Easy Breakfast Ideas
Delicious doesn't have to mean difficult! Try these recipes for more hassle-free breakfasts:
Yield: 12
Lemon Ricotta Pancakes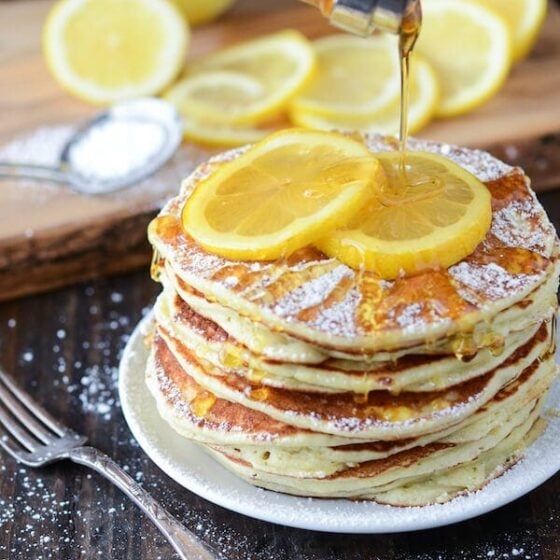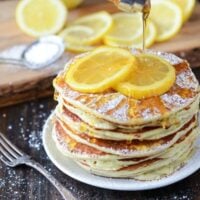 Lemon lovers, meet the breakfast of your dreams! These fluffy Lemon Ricotta Pancakes are light and flavorful and super easy to make from scratch.
Ingredients
3 large eggs, separated
1/4 cup granulated sugar, divided
1 1/2 cups all purpose flour
1 1/2 teaspoon baking powder
1/2 teaspoon baking soda
1 teaspoon salt
5 tablespoons butter, melted and cooled
1 cup milk
zest from 2 lemons
1 tablespoon vanilla extract
3/4 cup ricotta cheese
Instructions
Preheat oven to 200°F.
In a stand mixer with the whisk attachment, whisk egg whites until they start to bubble like a bubble bath. Sprinkle in 1 tablespoon sugar and continue beating until soft peaks form. Set aside.
In a medium bowl whisk together flour, baking powder, baking soda and salt. Set aside.
In a small bowl, whisk together melted and cooled butter and milk. Then in a large bowl whisk together egg yolks, remaining 3 tablespoons of the sugar, lemon zest, and vanilla. Whisk in half of the milk-butter mixture, then whisk in the remaining milk-butter mixture until smooth.
Add the flour mixture and stir with a rubber spatula until just combined (do not overmix). Then fold the whipped egg whites into the batter until just combined.
Gently fold the ricotta into the batter, being careful not to break down the texture of the cheese (the batter will be lumpy and streaked with ricotta); set aside.
Heat a non-stick skillet to medium heat. Using a 1/2 cup measuring scoop, pour batter on to skillet. Once you start to see little bubbles form, flip and continue to cook until pancake is evenly browned on each side. Repeat with the remaining batter.
Place pancakes on an oven safe dish and place in oven to keep warm. Serve with your choice of toppings (such as butter, maple syrup, powdered sugar or even lemon curd!).
Nutrition Information:
Yield:
12
Serving Size:
1
Amount Per Serving:
Calories:

172
Total Fat:

8g
Saturated Fat:

4g
Trans Fat:

0g
Unsaturated Fat:

3g
Cholesterol:

66mg
Sodium:

372mg
Carbohydrates:

20g
Fiber:

1g
Sugar:

5g
Protein:

6g
This post may contain affiliate links. Read my disclosure policy.