Lemon lovers, get ready for the breakfast of your dreams! These fluffy Lemon Ricotta Pancakes are super easy to make from scratch with the most amazing lemon flavor.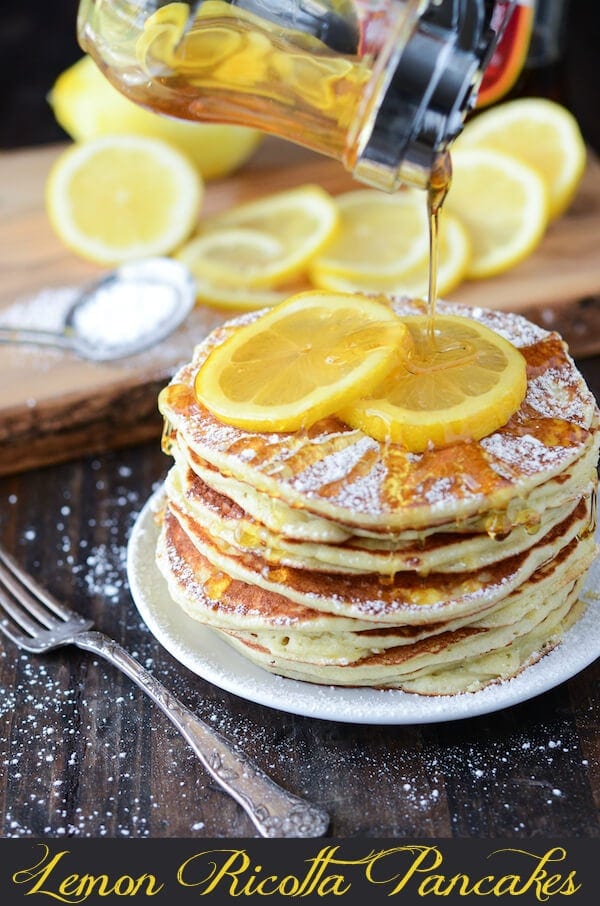 Fluffy Lemon Ricotta Pancakes
Lemon Ricotta Pancakes are a fantastic Sunday morning breakfast or brunch. They're everything a perfect pancake should be: light, fluffy, and covered in maple syrup!
I'm worried that you are all going to break up with me for posting too many pancake recipes. Is there such a thing as too many pancake recipes? I say no, but maybe normal sane people don't seek out new pancake flavors like I do? This weekend I found myself with an overload of lemons and a carton of leftover Ricotta to use up.
So when Sunday (i.e. Pancake Day) rolled around, I immediately started wondering if it was possible to put them both in a pancake. I was about to go into recipe development mode, but I did a quick google search and found that Lemon Ricotta Pancakes are actually quite popular! Who knew?
About this Recipe
I ended up making a recipe I found on chow.com, but I changed it up quite a bit. I felt it needed a little more flour, baking soda to help them rise more, and a few other changes. But the one part I didn't change, is to beat the egg whites before adding them to the batter. I usually skip this part when I make pancakes, but it truly does produce a different/lighter texture. If you are like me and have a severe pancake obsession, it's a fun way to switch it up on Pancake Day.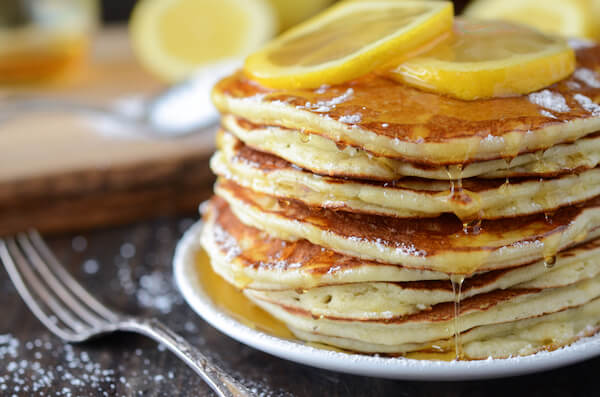 I was watching Julie & Julia a couple weeks ago (I know – how clichéd) and one of my favorite scenes is where Julia (Meryl Streep) is whipping the whipped cream by hand. Nowadays almost everyone has an electric mixer to do it for them. I have a hand mixer and a stand mixer, but for some reason I wanted to see how long it would take me to whip up these egg whites by hand. Half way through I realized what a masochist I was!
Holy arm burn! I got them whipped, but I'd be lying if I said I didn't have to keep switching arms like a wimp. In the end, it was all totally worth it. These pancakes are a great change from the ordinary pancake and a fun way to use up any leftover ricotta cheese. If you don't have a full 3/4 cup of Ricotta, don't let that turn you away — the recipe still turns out great with less.
While these pancakes a fun citrusy breakfast treat, I do have to say that they don't hold a flame to my absolute favorite Sweet Hoecakes. Just being honest. 😉
Yield: 12
Lemon Ricotta Pancakes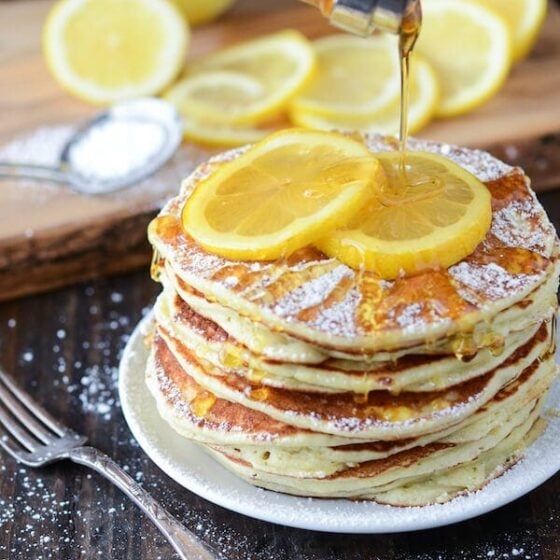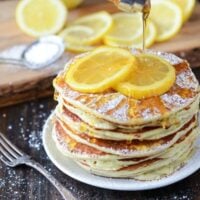 Lemon lovers, get ready for the breakfast of your dreams! These fluffy Lemon Ricotta Pancakes are super easy to make from scratch with the most amazing lemon flavor.
Ingredients
3 large eggs, separated
1/4 cup granulated sugar, divided
1 1/2 cups all purpose flour
1 1/2 teaspoon baking powder
1/2 teaspoon baking soda
1 teaspoon salt
5 tablespoons butter, melted and cooled
1 cup milk
zest from 2 lemons
1 tablespoon vanilla extract
3/4 cup ricotta cheese
Instructions
Preheat oven to 200°F.
In a stand mixer with the whisk attachment, whisk egg whites until they start to bubble like a bubble bath. Sprinkle in 1 tablespoon sugar and continue beating until soft peaks form. Set aside.
In a medium bowl whisk together flour, baking powder, baking soda and salt. Set aside.
In a small bowl, whisk together melted and cooled butter and milk. Then in a large bowl whisk together egg yolks, remaining 3 tablespoons of the sugar, lemon zest, and vanilla. Whisk in half of the milk-butter mixture, then whisk in the remaining milk-butter mixture until smooth.
Add the flour mixture and stir with a rubber spatula until just combined (do not overmix). Then fold the whipped egg whites into the batter until just combined.
Gently fold the ricotta into the batter, being careful not to break down the texture of the cheese (the batter will be lumpy and streaked with ricotta); set aside.
Heat a non-stick skillet to medium heat. Using a 1/2 cup measuring scoop, pour batter on to skillet. Once you start to see little bubbles form, flip and continue to cook until pancake is evenly browned on each side. Repeat with the remaining batter.
Place pancakes on an oven safe dish and place in oven to keep warm. Serve with your choice of toppings (such as butter, maple syrup, powdered sugar or even lemon curd!).
Nutrition Information:
Yield:
12
Serving Size:
1
Amount Per Serving:
Calories:

172
Total Fat:

8g
Saturated Fat:

4g
Trans Fat:

0g
Unsaturated Fat:

3g
Cholesterol:

66mg
Sodium:

372mg
Carbohydrates:

20g
Fiber:

1g
Sugar:

5g
Protein:

6g
Want to Save This Recipe?
This post may contain affiliate links. Read my disclosure policy.