Treat yourself to thick-sliced french toast filled with a sweet cream-cheese-berry filling, topped with a delicious custard! This Berry Stuffed French Toast recipe is a luxurious breakfast. Go ahead and treat yourself, you deserve it!
Easy Berry Stuffed French Toast
Taking a bite of this crispy french bread with a surprise creamy filling will put a literal smile on your face – it always does for me at least! Each layer has soft, custard filled French toast that is filled with sweet cream cheese and fresh berry filling.
Skip whatever you had planned for brunch this weekend, and make this Berry Stuffed French Toast. Whether you're expecting guests or just craving something sweet and filling for breakfast, this strawberry french toast is sure to please! My family can't resist it and have asked me to add it to our Sunday brunch rotation.
Keep in mind that you can customize this recipe with other fruit according to season too, so feel free to experiment with other flavors. Always drizzle it with some real maple syrup for a perfect brunch, though. :)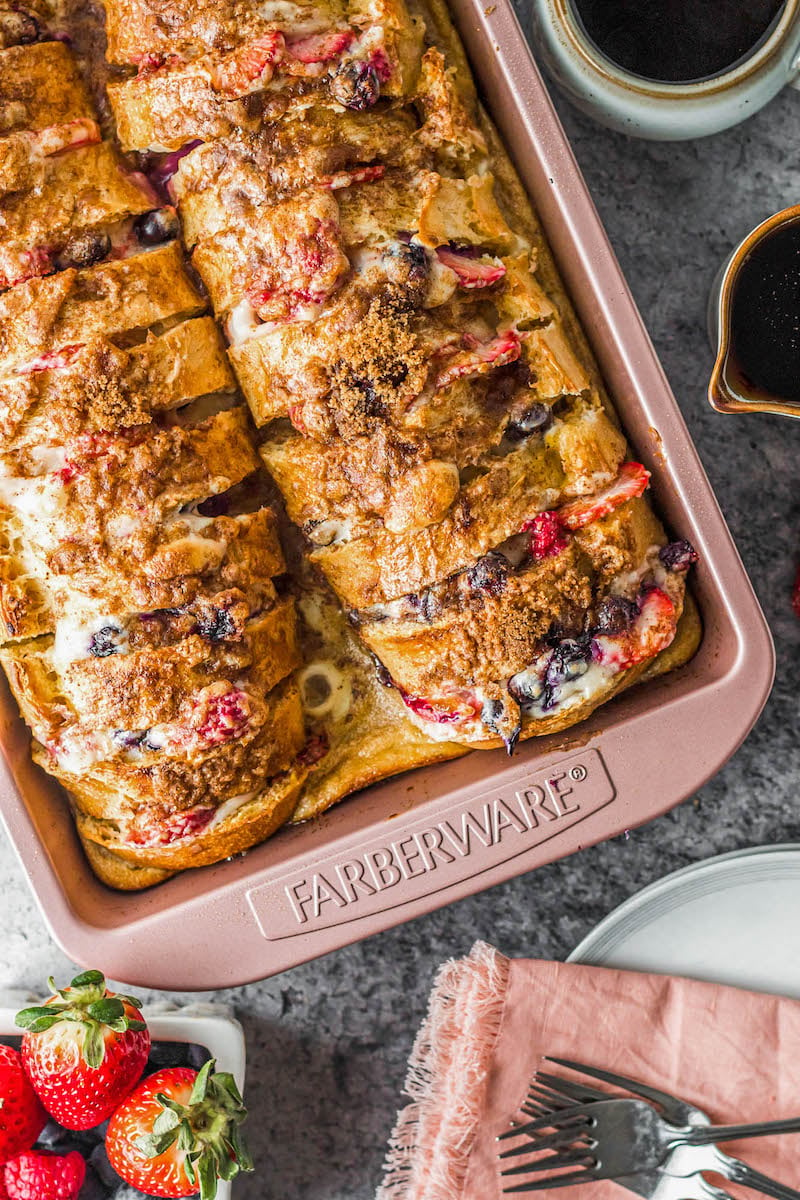 What Makes this Breakfast Recipe So Good?
Well, other than the fact that this is STUFFED french toast as opposed to regular french toast, I love this breakfast because it's really easy to make! It looks – and more importantly tastes – incredibly delicious and extravagant, but there's only 20 minutes of prep work involved, and then you can pop it in the oven and wait to dig in!
You can also prep it the night ahead and store it in the fridge for the next morning. It will look like you got up early and started working in the kitchen before everyone else was even awake, but really you make it last night before bed. That is *always* a big win for me.
It's also a great way to use up any berries or other fruit that you have in your fridge, to keep them from going bad. Our favorite way to make this french toast is with blueberries, strawberries, and raspberries, but as mentioned above, feel free to play around with that combo!
P.S. this is a great holiday breakfast! Everyone is always so impressed with it.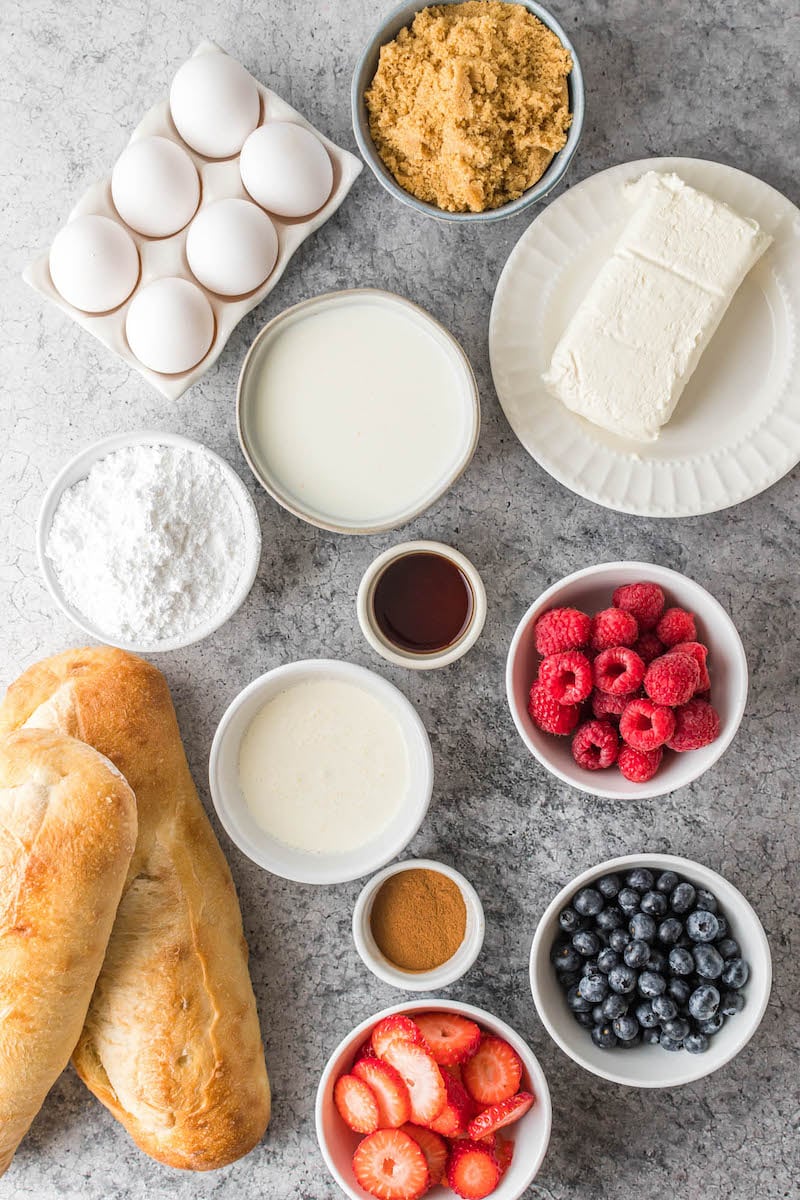 Ingredients
What other ingredients go into making this easy breakfast recipe?
The main additions to this otherwise normal french toast recipe are the cream cheese and heavy cream, but there are a couple of other essentials too! Make sure you have the following:
Bread: French baguettes were used in this recipe, but there are other choices. You want a sturdy bread that is NOT pre sliced. You will need to slice thicker slices and will not be cutting all the way through so the cream cheese and berries will stay in the bread. Other choices are brioche or challah bread. Thick Texas toast slices are what we need for this recipe. Depending on the size of the loaves, you will use 2 to 3 eight to ten inch loaves.
Cream Cheese: Don't use pre-whipped it won't be thick enough for this recipe. You will need to have the cream cheese at nearly room temperature.
Powdered Sugar: This works best for getting a nice creamy cheese spread.
Strawberries: These need to be sliced thin. Save some berries for topping the french toast.
Fresh Berries: Use any combination you want. I used a cup of each berry, but I have made this with all blueberries before as well.
Vanilla: To enhance the sweetness.
Eggs: Important to create the custardy bread.
Milk: You can use half and half or all heavy cream if you want. Mix it up and use eggnog around Christmas.
Heavy Cream: You can use all milk if you want, I prefer a richer creamier custard bread, so like to use a combination of milk and heavy cream.
Cinnamon
Brown Sugar: You can use white sugar, I just prefer the extra flavor of brown sugar.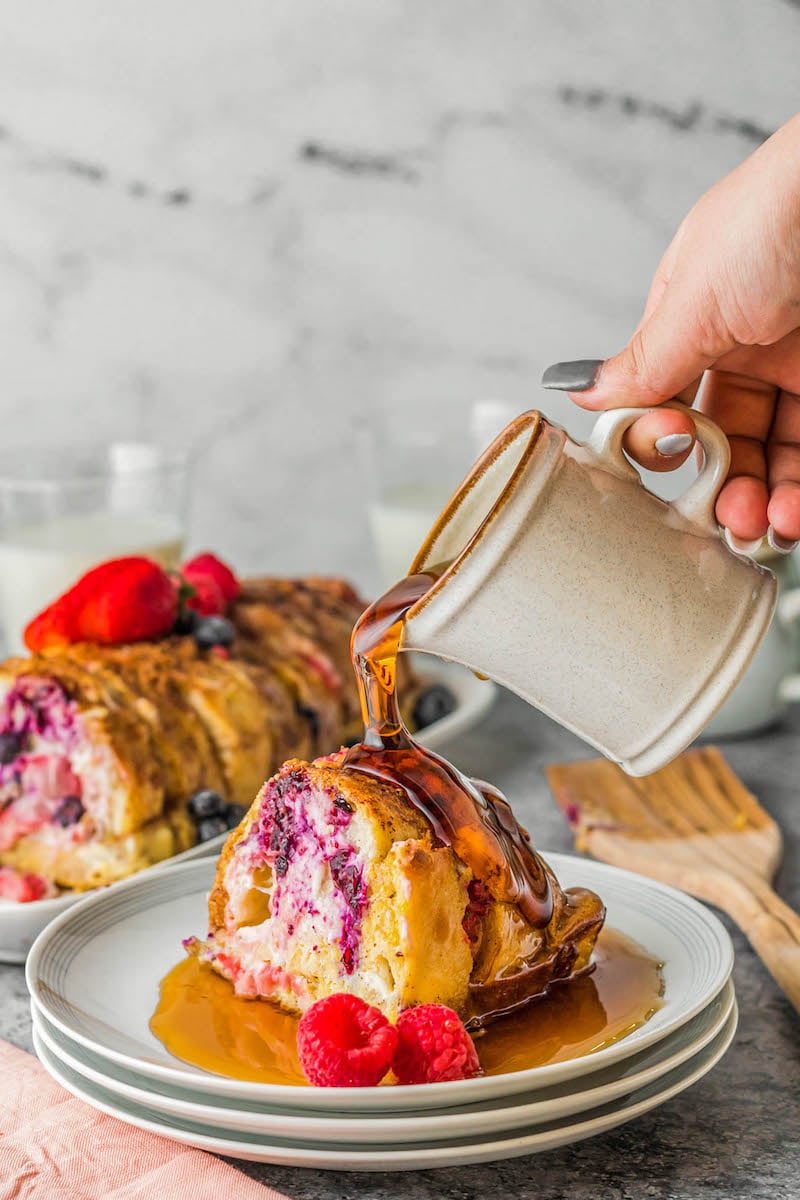 How to Make Stuffed French Toast
Stuffed french toast comes together in just a few quick steps. Start by preparing the loaf of bread and the cream cheese spread:
Prep Work: Begin by spraying a 9-in by 13-in pan with nonstick spray.
Slice the Bread: Then start slicing the bread into thick 1 inch slices, but DON'T cut completely through. This aids in the cream cheese mixture staying in the bread.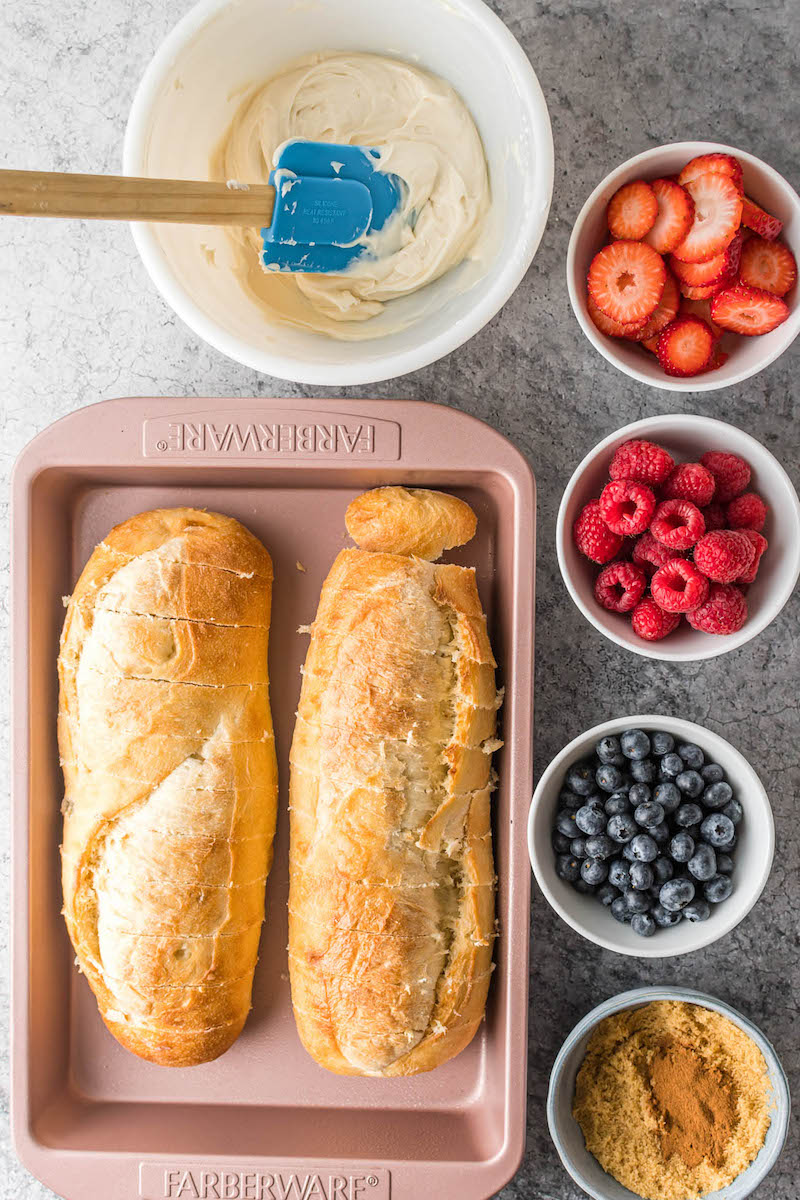 Prepare the Stuffing: Next whip the cream cheese, powdered sugar, and vanilla together, fold in the berries and spread a layer between each piece of toast.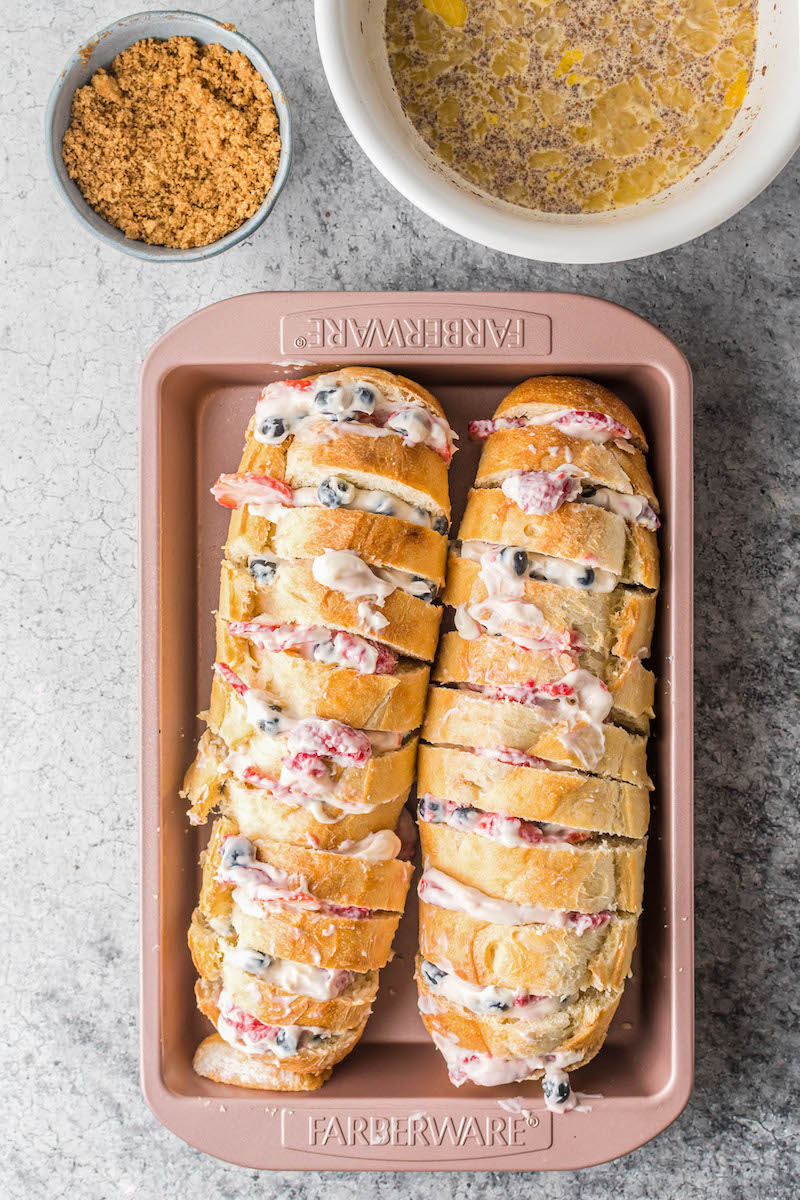 Mix Together the Custard: Now we need to make the custard by mixing the eggs, milk, cream and cinnamon together. Pour it over the stuffed toast. It's best to let the custard soak into the bread for 30 minutes to an hour.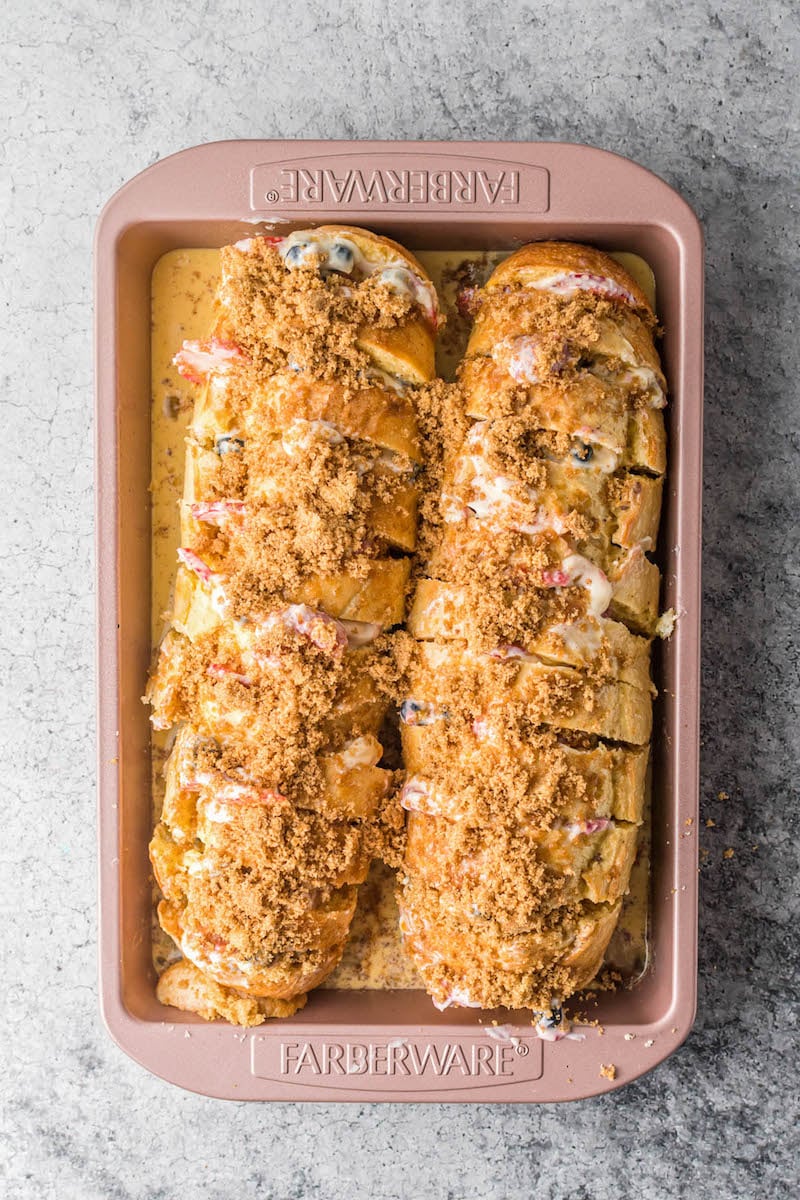 Preheat the Oven: Preheat your oven, sprinkle the remaining brown sugar over the top of the bread and cover the french toast with tinfoil.
Bake the French Toast: Bake for 15 minutes covered, then remove the tinfoil and bake for an additional 30 minutes. Serve immediately with maple syrup and whipped cream.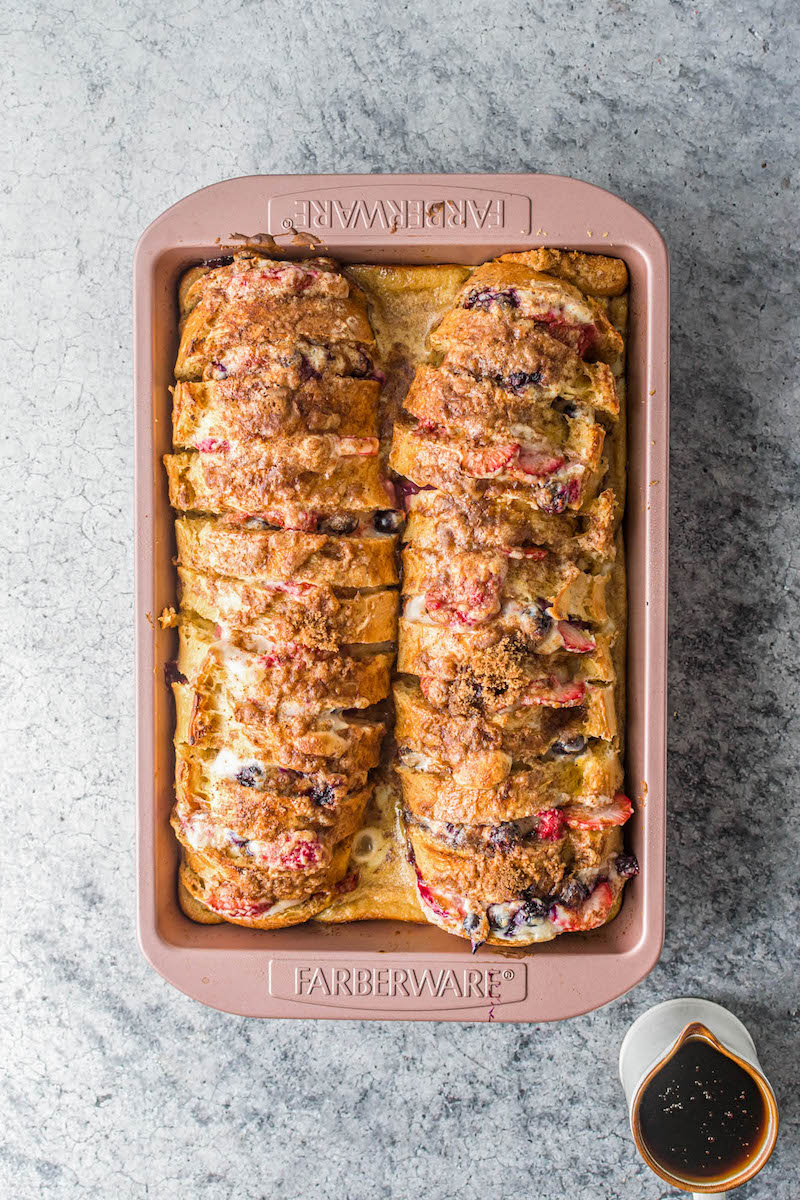 Tips for the Best Stuffed French Toast
And there you have it! An easy berry-filled breakfast that the whole family will love. Here are some extra tips to get you the best results with your french toast:
Berry Substitutions: If you don't have fresh berries, you can use frozen ones. Just make sure to let them thaw first.
Use Stale Bread: Stale bread will soak up the custard really well, giving your french toast more flavor once baked.
If You Need to Reheat: If the french toast gets too cold for your liking, heat it up in a skillet with a little butter, and then top with berries and whipped cream.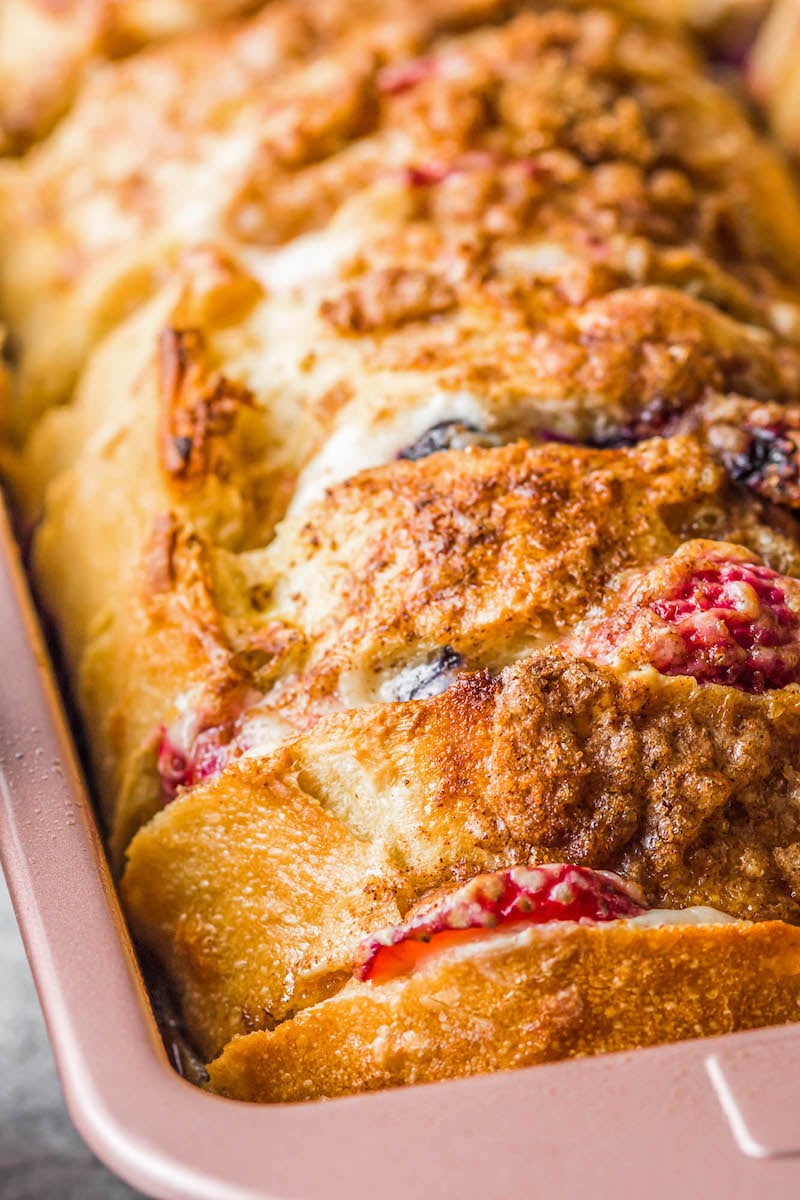 Variation Ideas
Stuffed french bread can be made in many different ways! If you don't want to use cream cheese, consider trying:
Nutella: Nutella-stuffed french toast is so delicious, and often a hit with the kiddos!
Peanut Butter: Very similar to Nutella and equally as tasty.
Chocolate Chips: If you don't want to put berries in the french toast, try chocolate chips!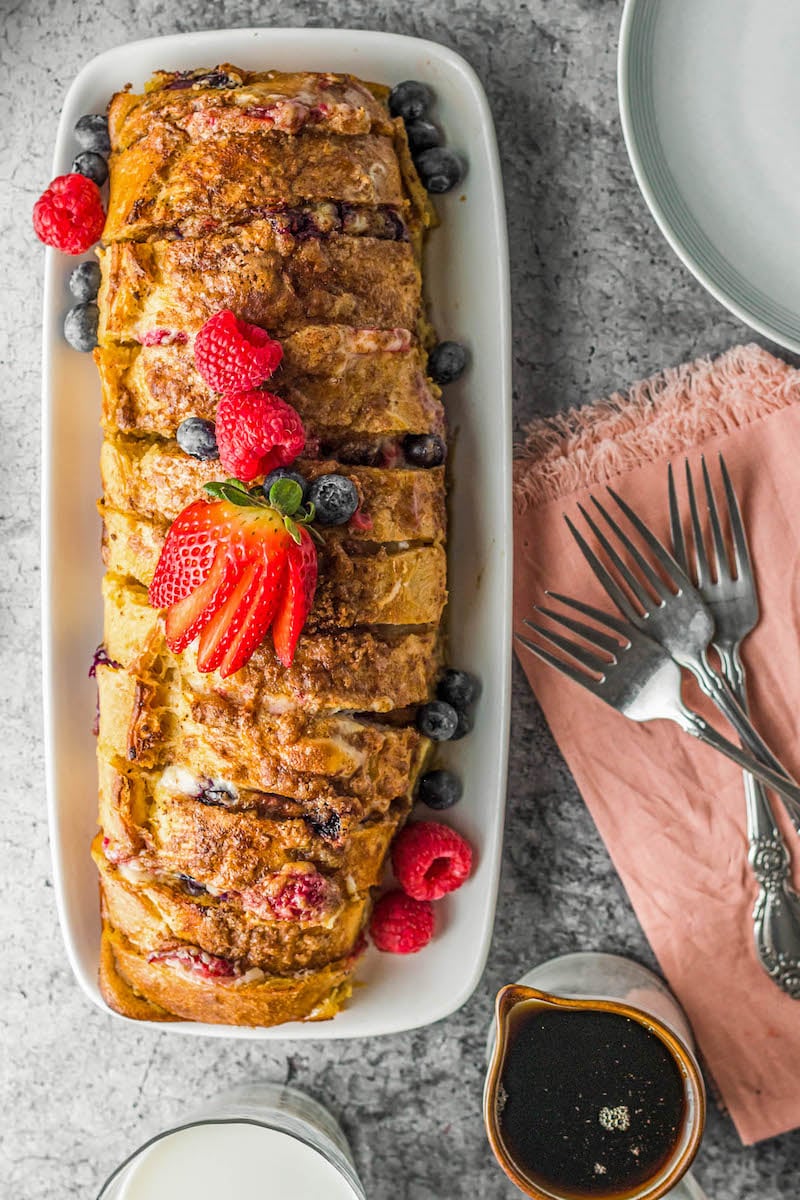 Serving Suggestions
Wondering what to serve with your french toast? Here are a couple of ideas:
Whipped Cream: A french toast essential!
Maple Syrup: What french toast is complete without a drizzle of maple syrup? Other syrups, like strawberry syrup, are good too!
More Berries: Grab some extra berries to slice and pile on top of the toast.
Other Fruit: Banana slices and blackberries are always a favorite around here at breakfast time.
Smoothies: You can also use your berries in this Berry Banana Oatmeal Smoothie!
Can this French Toast Recipe Be Made in Advance?
Yes! You can make it ahead! If you like overnight French toast casserole style recipes, the texture of this Stuffed French toast will be very similar if you let it soak overnight.
Just make sure you wrap your casserole pan tightly with foil to keep the bread from drying out or absorbing any of the smells in your fridge.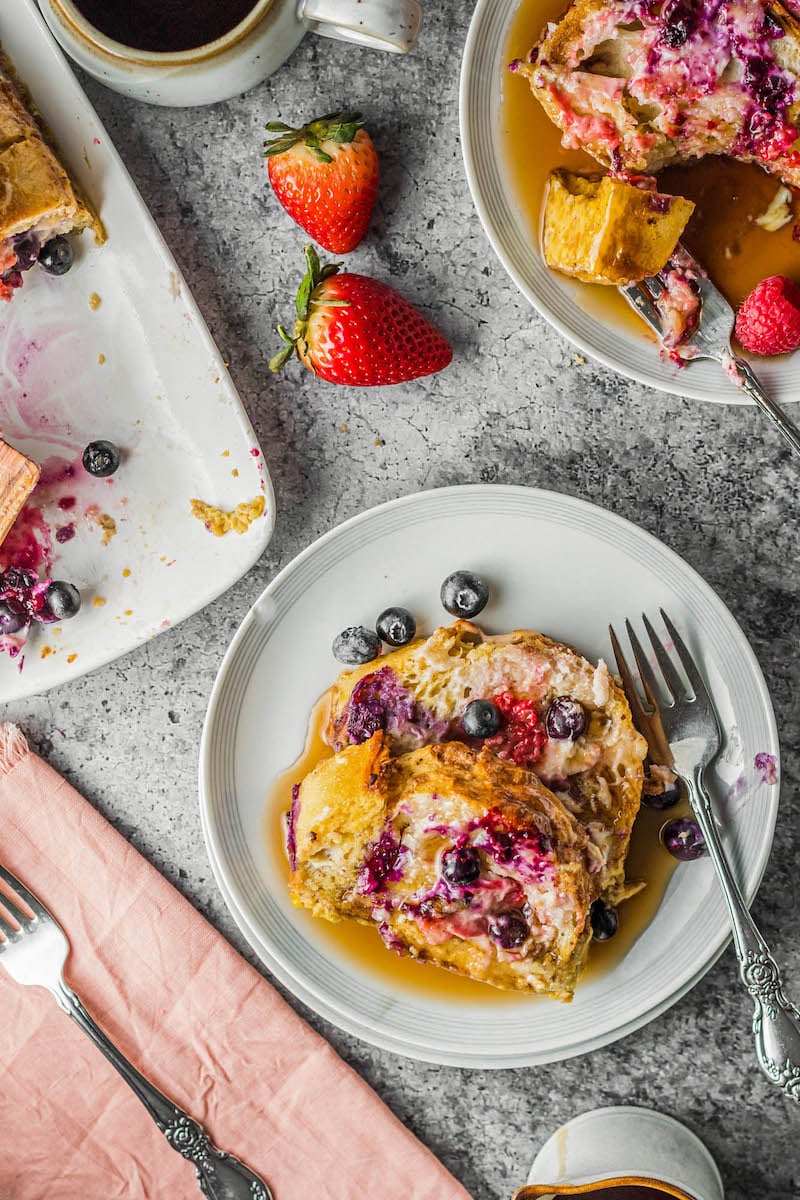 Berry Stuffed French Toast
Berry Stuffed French Toast is the best weekend breakfast, and a total family favorite! There's nothing better than a serving of french toast, fresh from the oven, stuffed with sweet cream cheese and tangy berries.
Ingredients
2 – 3

8-10 inch French baguette loaves (you are lining a 9-in by 13-in pan)

8

oz

cream cheese

1

cup

powdered sugar

2

teaspoons

vanilla

1

cup

thinly sliced fresh strawberries

1

cup

fresh blueberries

1

cup

fresh raspberries

6

large eggs

1

cup

milk

½

cup

heavy cream

4

teaspoons

cinnamon

1

cup

packed light brown sugar

,

divided
Instructions
Spray a 9-in by 13-in baking pan with nonstick cooking spray.

Slice the loaves of bread into thick slices about an inch thick. Do not cut completely through the bread. Place in the pan.

In a mixing bowl, beat the cream cheese, powdered sugar and vanilla together. Fold in the berries.

Spread cream cheese mixture evenly between each slice of bread.

In a mixing bowl, beat the eggs, milk, cream, ½ cup brown sugar and 3 teaspoons cinnamon. Evenly pour egg mixture over the stuffed bread.

Let bread sit for 30 minutes to an hour to soak in some of the egg mixture.

Preheat oven to 350°F, sprinkle the remaining 1/2 cup brown sugar over the top of the bread and cover the stuffed french toast with foil.

Bake for 15 minutes and remove the tinfoil. Continue to bake for an additional 30 minutes, until the custard is cooked.

Remove and let rest for 10 minutes. Serve with maple syrup, whipped cream, and more berries if desired!
Notes
Storage: This french toast is best eaten immediately, but if you have leftovers you can store them in an airtight container and keep them in the refrigerator. The longer it is stored the soggier it will become.
Nutrition
Serving:
1
,
Calories:
489
kcal
,
Carbohydrates:
71
g
,
Protein:
14
g
,
Fat:
17
g
,
Saturated Fat:
9
g
,
Polyunsaturated Fat:
6
g
,
Cholesterol:
150
mg
,
Sodium:
526
mg
,
Fiber:
3
g
,
Sugar:
36
g
Categories:
more breakfast recipes
Looking for more easy breakfast ideas? Check out some of these:
This post may contain affiliate links. Read my disclosure policy.