Very Berry Banana Oatmeal Smoothie
Very Berry Banana Oatmeal Smoothie: just five ingredients to make this fruity breakfast smoothie loaded with strawberries, bananas and oats to keep you full!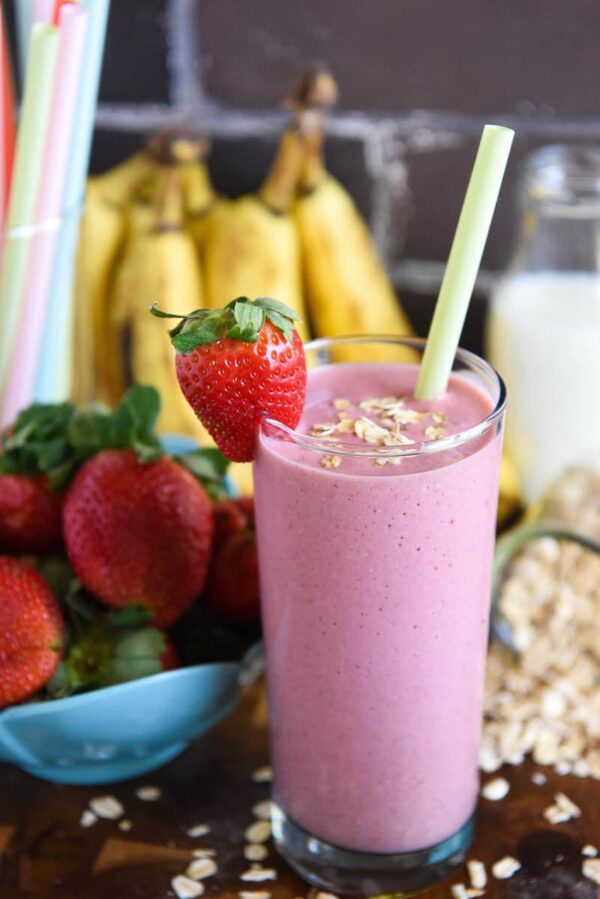 The girls and I are always running out the door for school in the morning. Usually one doesn't have her shoes on and the other is saying she doesn't want to go.
While I am always trying to bribe one to finish getting dressed and the other to go to school without a fight, I am also trying to get them to eat a healthy breakfast.
It NEVER works out well for me! We are always running way too late to sit at the table for a full breakfast. However, what I have found works — breakfast on the go. I just have to make sure they are filling and easy for the girls to hold in their car seats.
We use McCormick's Smoothie Boosts in all of our smoothies to add extra flavor, but also a good dose of added protein to keep us all full longer. Plus, they add the perfect touch of sweetness without any added sugar!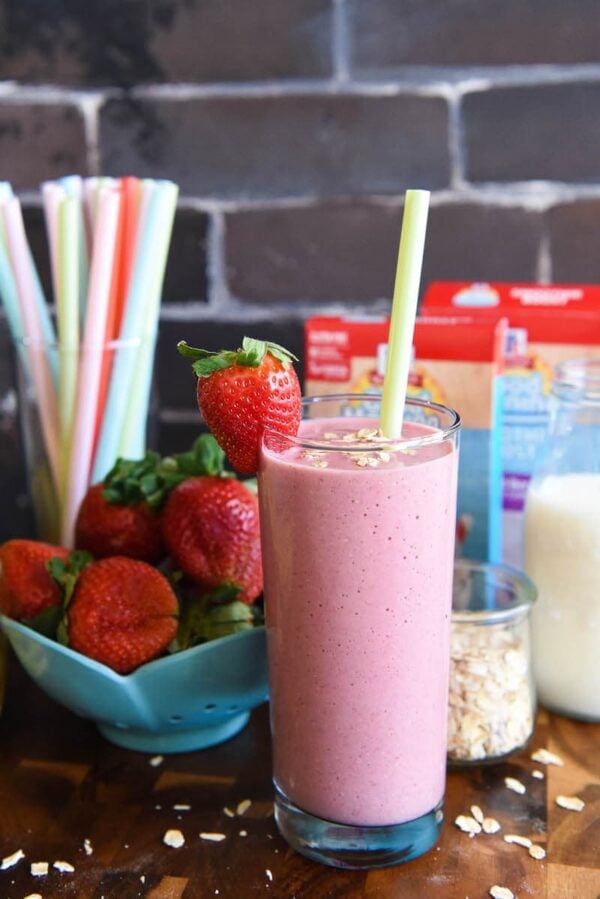 These Very Berry Banana Oatmeal Smoothies are incredibly easy to make and a hit with our whole family. I usually make a double batch and then we all share on our way to school drop off.
You can even add everything to the blender bowl (besides the frozen fruit) and store it in the fridge overnight. Quickly toss in the frozen strawberries and blend.
Then into a tall glass it goes, add a colorful straw, and you are sipping breakfast as you pull out of the driveway! #MomWin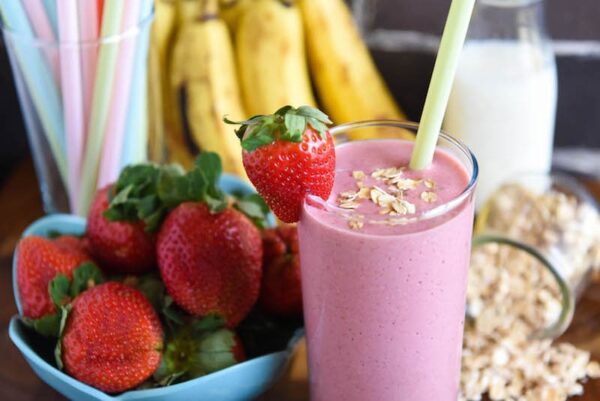 Since Jorge has gone gluten free due to allergies, oats have become a great gluten free grain to have on hand. I have started adding a handful of old fashioned oats to our smoothies to help keep us full longer and it really helps!
We also add a fresh banana and a good handful of frozen berries. Strawberries, blackberries, raspberries and blueberries are all great in this smoothie.
If your berries happen to not be very sweet, I usually add a drizzle of local honey to help sweeten it.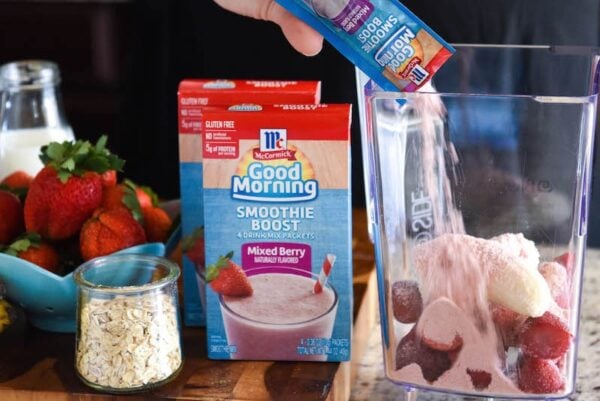 The last two ingredients are whole milk (almond milk or soy milk can be substituted) and McCormick Good Morning Mixed Berry Smoothie Boost. One package has four individual smoothie boosts inside so you can make four smoothies with just one package.
The McCormick Good Morning Mixed Berry Smoothie Boost is made with great ingredients like beets and strawberries, and without any artificial colors, flavors or sweeteners. It easily adds a wonderful boost of flavor to your smoothies!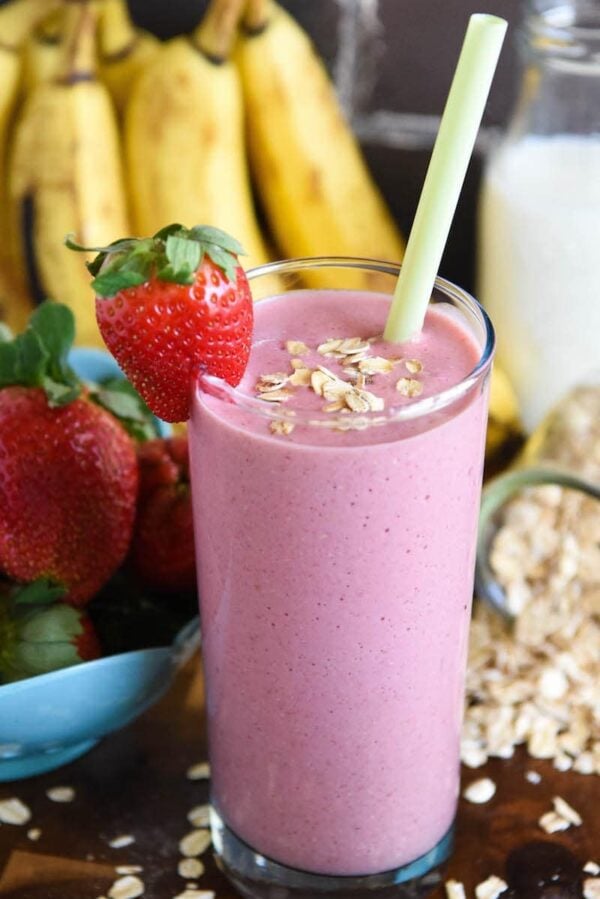 McCormick's Smoothie Boosts come in a variety of flavors: Cocoa Cinnamon, Chocolate Mocha, Peach Matcha Green Tea and Tropical Twist. I love to blend the Chocolate Mocha one with ice, milk and a little cold brew coffee on the weekends!
Ellie lended a hand and helped make these vibrant Very Berry Banana Oatmeal Smoothies for the video. I am biased, but it's pretty adorable. Make sure and watch below!
This Very Berry Banana Oatmeal Smoothie is packed with flavor, easy to make and sure to be a hit with the entire family!
Very Berry Banana Oatmeal Smoothie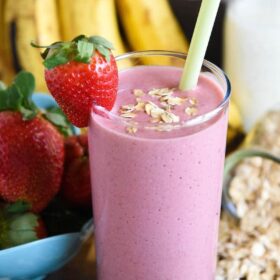 Ingredients:
1 packet McCormick Good Morning Mixed Berry Smoothie Boost
1 large banana
12 frozen strawberries
1 cup whole milk (or milk alternative of your choice)
1/3 cup old fashioned oats
Directions:
Place all ingredients in blender. Blend on high speed until smooth. Serve immediately!
This post is sponsored by McCormick. All opinions are, as always, 100% my own. Thank you for supporting the brands that I love!