Made with 5 simple ingredients, this healthy Banana Oatmeal Smoothie is filled with the bright flavor of fresh fruit and grounded by the earthy taste of oats. It's quick enough for breakfast on the go and gives you a big boost of natural energy to get you through a hectic morning.
If you enjoy this recipe, check out my healthy and scrumptious Strawberry Smoothie Bowl!
Healthy Strawberry Banana Breakfast Smoothie
We all live busy lives, and unfortunately that means breakfast sometimes ends up on the back burner. Whether you slept through your alarm, got distracted by an email, or got so busy making food for the kids that you forgot to fix something for yourself, we all have those days where there just isn't time. On days like that, this breakfast smoothie is the answer to your prayers.
This smoothie only needs 5 ingredients, and it comes together in less than 10 minutes. What could be simpler than that? Plus, it's loaded with vitamins, minerals and antioxidants that give you the energy to get through busy mornings, and it's easy to grab and take with you on the go.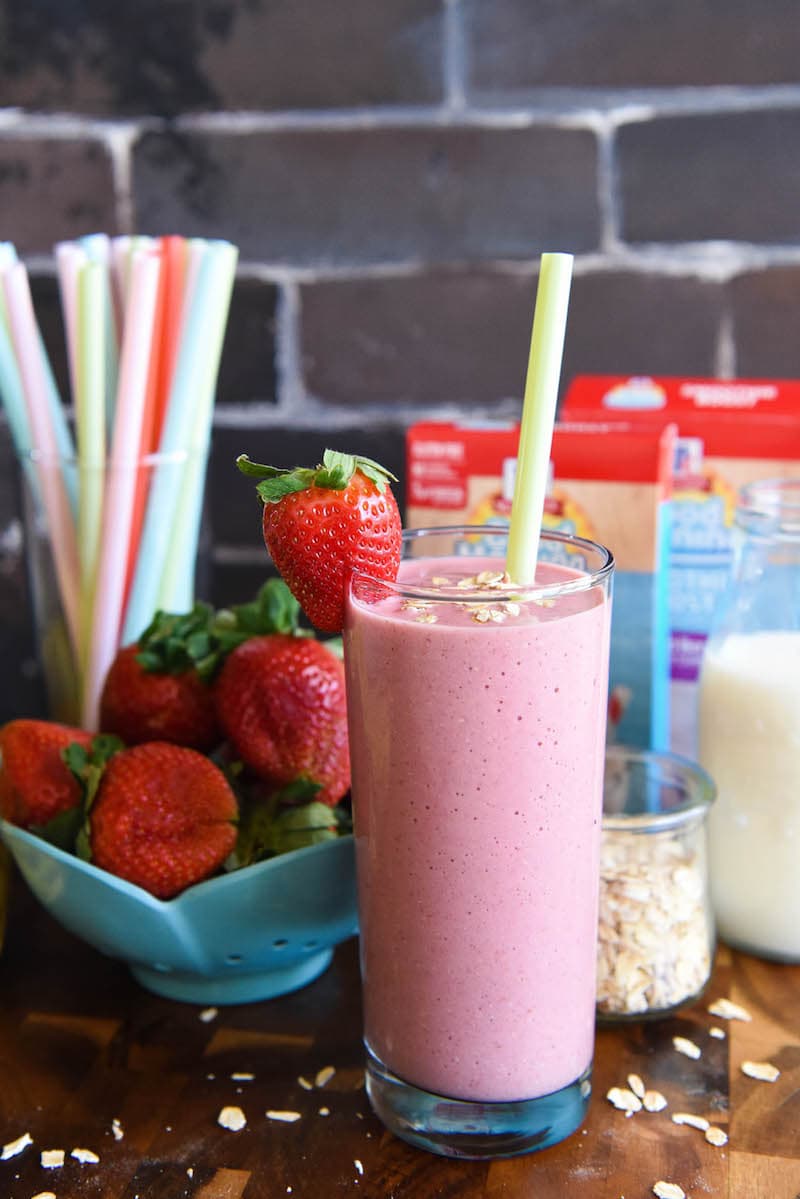 What You'll Need
With just a blender and 5 simple ingredients, it doesn't get better than this. Scroll down to the recipe card to find the exact amounts.
Banana: Make sure your bananas are ripe but not overripe.
Strawberries: Frozen are the quickest and easiest.
Milk: Anything other than skim will work.
Oats: Use old-fashioned rolled oats.
Chia Seeds: These can be left out, but the additional health benefits are worth it.
Do I Have to Use Old-Fashioned Oats?
Don't have old-fashioned oats in your pantry? Don't worry! You can also use quick oats. I recommend old-fashioned rolled oats because they're packed with health benefits and give your smoothie the best taste and texture. I would not recommend steel-cut oats as they won't break down the same.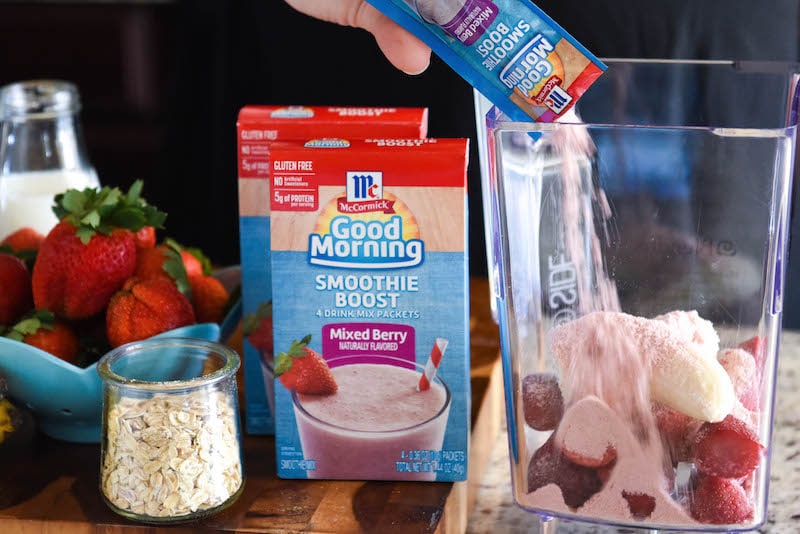 How to Make a Strawberry Banana Oatmeal Smoothie
This smoothie is breathtakingly easy to make. Follow these steps and you'll have a healthy no-mess breakfast in minutes.
Prep Ingredients: Place all of your ingredients into the blender or food processor.
Blend: Turn your blender to high speed and blend until the contents are completely liquid. Once you turn the blender off, you can use a spoon to stir the smoothie and check for lumps.
Serve: Pour your smoothie into a glass or a sealable drink container and enjoy!
Tips for Success
With a recipe so simple, there's really no way for things to go wrong. Follow these tips to make your smoothie even better.
Add Fresh Berries: We use frozen strawberries, but if you have a little extra time to cut the caps off, fresh-picked summer strawberries can make this smoothie even brighter. If you do this, try replacing some or all of the milk with yogurt to keep the smoothie from getting too runny.
Add Honey: If you're using frozen or off-season strawberries, adding a drizzle of honey is a healthy way to sneak in a little extra sweetness. And honey isn't just a sweetener – it's loaded with health benefits, too!
Add Ice: If you want a thickener, try adding a bit of ice. You could also try adding frozen yogurt.
Add-Ins & Variations
Smoothies are more of an art than a science, so it's really easy to shake things up! Here are some ideas to give this simple smoothie a new twist.
Ice Cream or Frozen Yogurt: Turn this breakfast into a desert by adding some strawberry ice cream or frozen yogurt. You may need to add a little extra milk to help thin it out, though it's just as tasty scooped up with a spoon.
Go Dairy-Free: With a simple switch to plant-based milk, this recipe becomes both vegan and dairy-free. Use oat milk, soy, coconut or almond: anything goes!
Try Other Berries: You can swap the strawberries out entirely or go on a mixed-berry adventure. Blueberries, blackberries, and raspberries can be added or exchanged in any combination.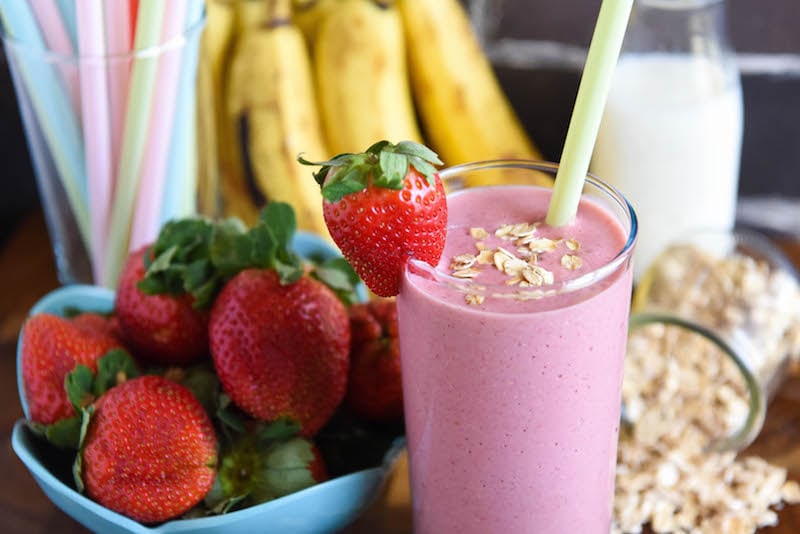 Can I Make This Smoothie In Advance?
If you want a smoothie that lasts longer, go for the slightly hardier fresh-berries-and-yogurt option from the list of tips above. The version made with frozen strawberries will get runny overnight, even in the fridge. If you decide to save your smoothie so it's ready to go when you wake up, cover the glass tightly and give it a stir before you set off in the morning.
Can I Freeze It?
Unfortunately, freezing and thawing an oatmeal smoothie will mess with the taste and texture. You can freeze the ingredients by themselves in ziplock bags, and then pop everything in the blender in the morning.
Yield: 1 large smoothie
Berry Banana Oatmeal Smoothie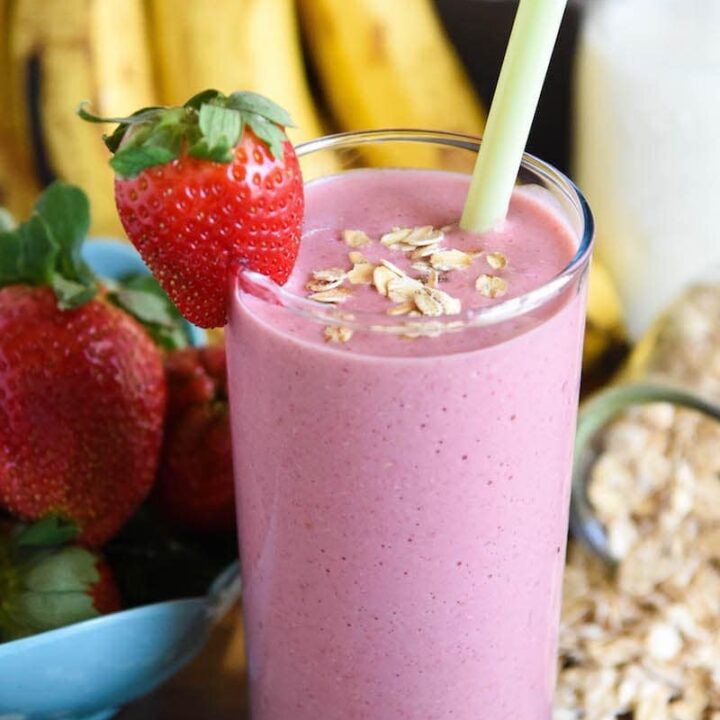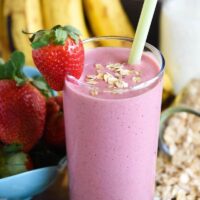 This Berry Banana Oatmeal Smoothie uses just five ingredients to make this fruity breakfast smoothie loaded with strawberries, bananas and oats to keep you full!
Ingredients
1 large banana
12 frozen strawberries
1 cup milk
1/3 cup old fashioned oats
1 tablespoon chia seeds
Instructions
Place all ingredients in blender. Blend on high speed until smooth. Serve immediately!
Nutrition Information:
Yield:
1 smoothie
Serving Size:
1
Amount Per Serving:
Calories:

459
Total Fat:

11g
Saturated Fat:

4g
Trans Fat:

0g
Unsaturated Fat:

6g
Cholesterol:

20mg
Sodium:

134mg
Carbohydrates:

79g
Fiber:

14g
Sugar:

25g
Protein:

17g
Categories
More Quick-Fix Breakfast Ideas
Check out these other quick recipes for a filling breakfast in 15 minutes or less.
This post may contain affiliate links. Read my disclosure policy.