This Berry Banana Oatmeal Smoothie uses just five ingredients to make this fruity breakfast smoothie loaded with strawberries, bananas and oats to keep you full!
If you enjoy this recipe, you should also check out my yummy Strawberry Smoothie Bowl!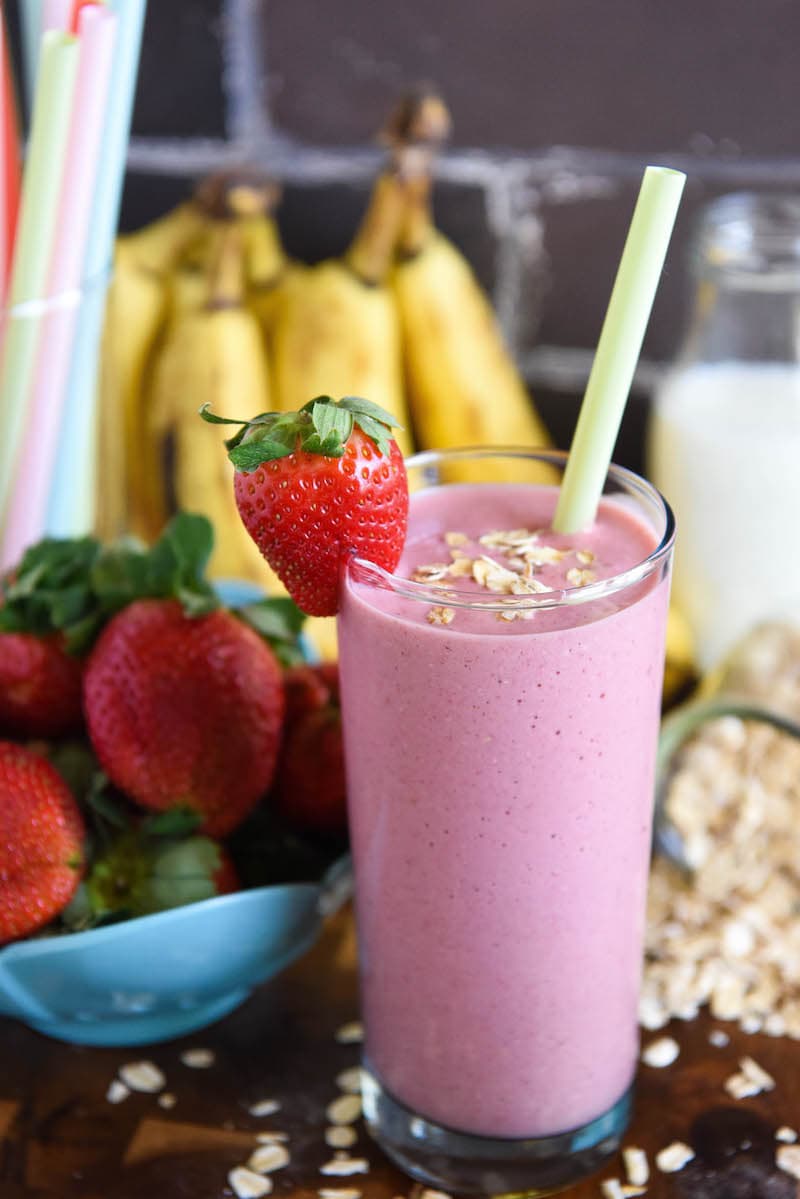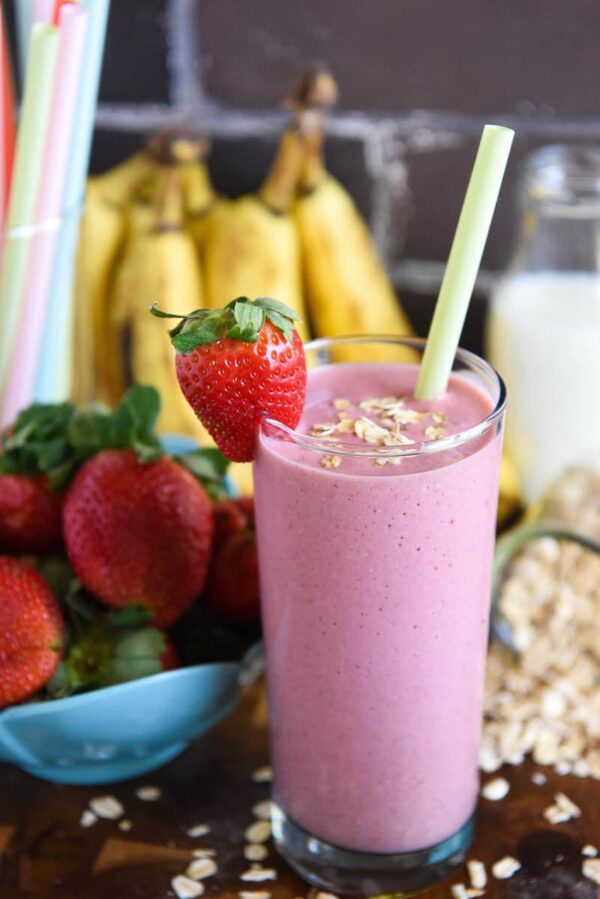 The girls and I are always running out the door for school in the morning. Usually one doesn't have her shoes on and the other is saying she doesn't want to go.
While I am always trying to bribe one to finish getting dressed and the other to go to school without a fight, I am also trying to get them to eat a healthy breakfast.
It NEVER works out well for me! We are always running way too late to sit at the table for a full breakfast. However, what I have found works — breakfast on the go. I just have to make sure they are filling and easy for the girls to hold in their car seats. Smoothies come in perfectly and we all love them for a tasty way to start the day!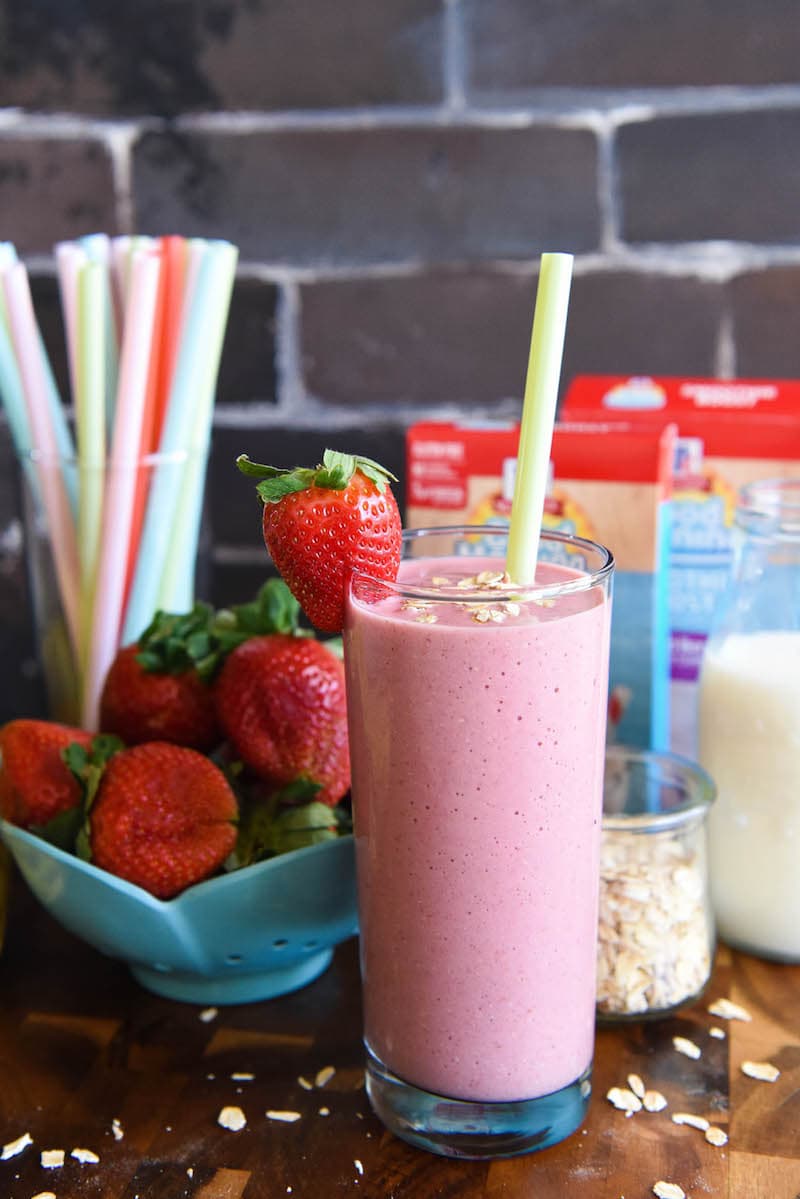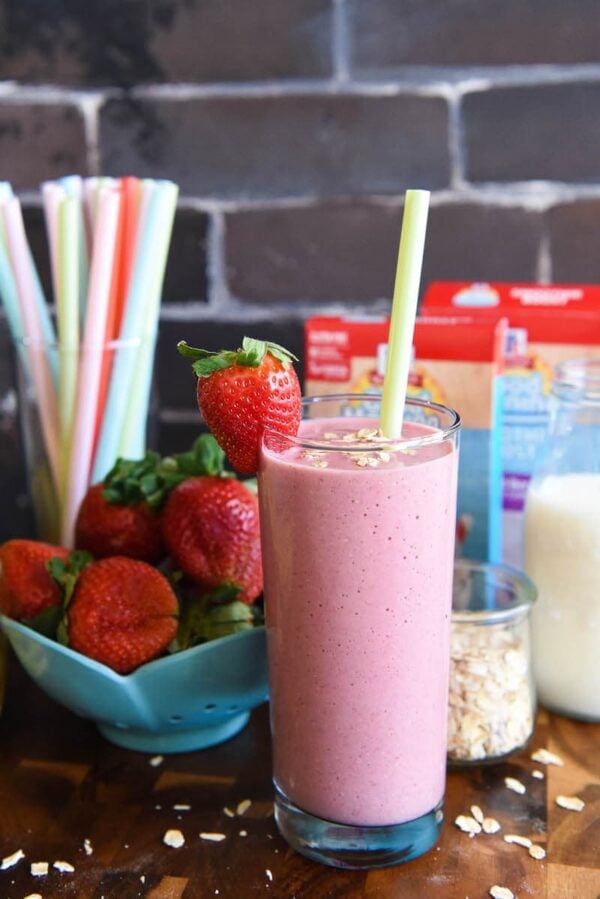 These Berry Banana Oatmeal Smoothies are incredibly easy to make and a hit with our whole family. I usually make a double batch and then we all share on our way to school drop off.
You can even add everything to the blender bowl (besides the frozen fruit) and store it in the fridge overnight. Quickly toss in the frozen strawberries in the morning and blend. Couldn't be any easier!
Then into a tall glass it goes, add a colorful straw, and you are sipping breakfast as you pull out of the driveway! #MomWin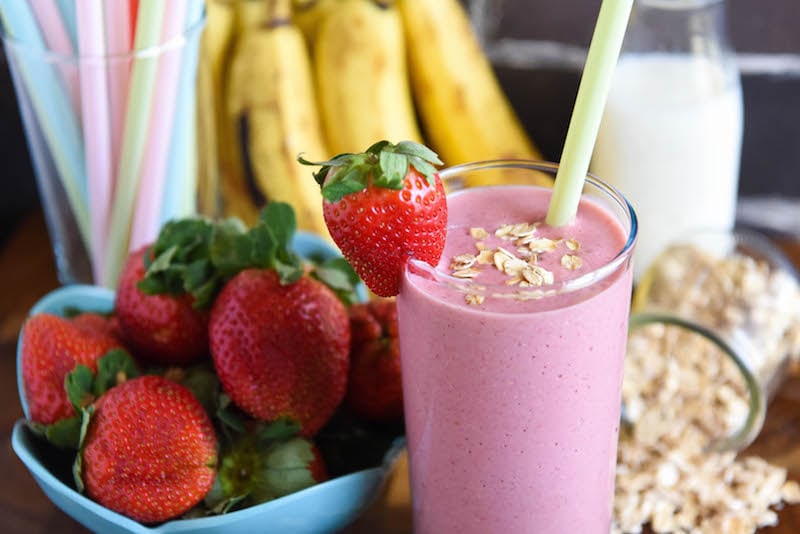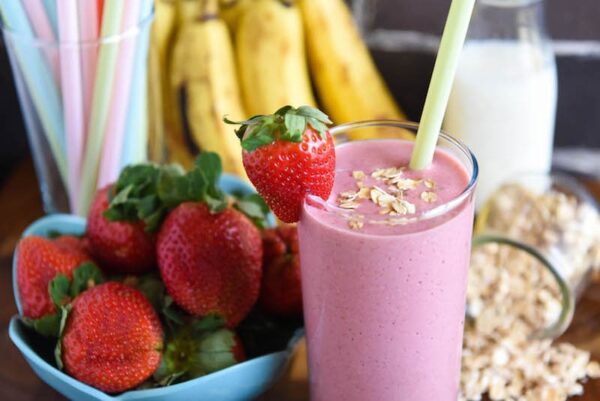 Since Jorge has gone gluten free due to allergies, oats have become a great gluten free grain to have on hand. I have started adding a handful of old fashioned oats to our smoothies to help keep us full longer and it really helps!
We also add a fresh banana and a good handful of frozen berries. Strawberries, blackberries, raspberries and blueberries are all great in this smoothie. If your berries happen to not be very sweet, I usually add a drizzle of local honey to help sweeten it.
The last two ingredients are whole milk (almond milk or soy milk can be substituted) and a few chia seeds if you have them for added fiber. I never feel like my kids are getting enough fiber into their diets, but with a spoonful of hidden chia seeds they reach almost half of their daily recommended fiber and have no idea they are in there!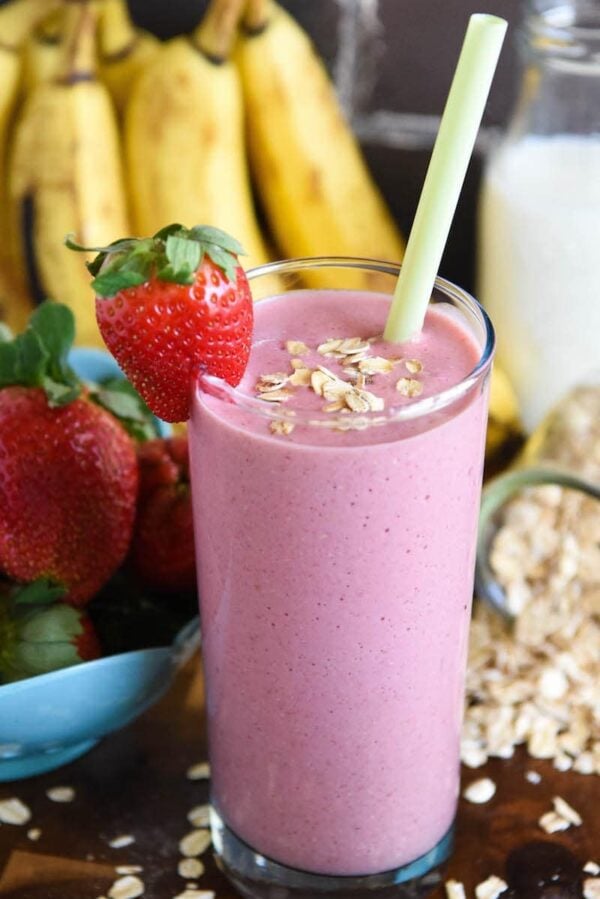 Ellie lended a hand and helped make these vibrant Very Berry Banana Oatmeal Smoothies for the video. I am biased, but it's pretty adorable. Make sure and watch below! (Note: this recipe originally included an ingredient that is no longer on the market. I have substituted that ingredient going forward with healthy chia seeds!)
This Berry Banana Oatmeal Smoothie is packed with flavor, easy to make and sure to be a hit with the entire family!
Yield: 1 large smoothie
Berry Banana Oatmeal Smoothie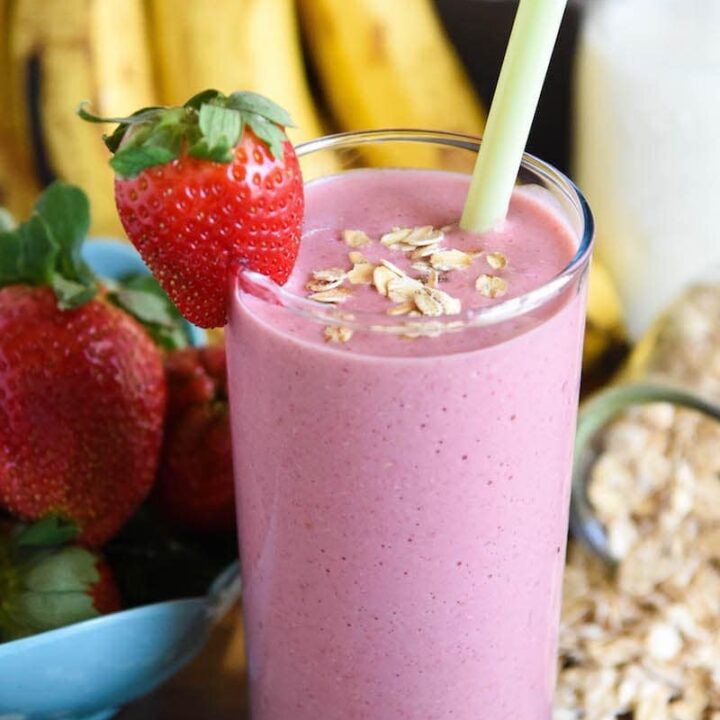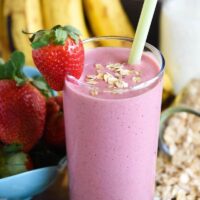 This Berry Banana Oatmeal Smoothie uses just five ingredients to make this fruity breakfast smoothie loaded with strawberries, bananas and oats to keep you full!
Ingredients
1 large banana
12 frozen strawberries
1 cup milk
1/3 cup old fashioned oats
1 tablespoon chia seeds
Instructions
Place all ingredients in blender. Blend on high speed until smooth. Serve immediately!
Nutrition Information:
Yield:
1 smoothie
Serving Size:
1
Amount Per Serving:
Calories:

459
Total Fat:

11g
Saturated Fat:

4g
Trans Fat:

0g
Unsaturated Fat:

6g
Cholesterol:

20mg
Sodium:

134mg
Carbohydrates:

79g
Fiber:

14g
Sugar:

25g
Protein:

17g
Categories
This post may contain affiliate links. Read my disclosure policy.