This Strawberry Smoothie Bowl is loaded with healthy fruits and customizable toppings. It's a fun take on the traditional smoothie and an easy breakfast idea for the whole family!
Looking for more healthy breakfast ideas? Try my Low Carb Keto Pancakes!
MY GO TO STRAWBERRY SMOOTHIE BOWL
These smoothie bowls are packed with strawberry flavor and nutritious ingredients. They're an easy way to fit fruit, dairy and protein into your diet and taste more like a dessert than a healthy breakfast!
You can easily customize your bowl to be paleo, vegan, keto, or whatever your dietary needs are. I like to use oats to thicken mine up, but there are many different options to try to meet different dietary restrictions. I promise to give you all my best tips and tricks!
WHAT IS A SMOOTHIE BOWL?
A smoothie bowl isn't just a smoothie poured into a bowl, like it sounds. The big difference between a smoothie and a smoothie bowl is the thick consistency.
If you were to add toppings to a typical smoothie, they would quickly sink to the bottom. By contrast, the thick base of a smoothie bowl holds up the toppings and let's you enjoy different flavors and textures with each spoonful!

RECIPE INGREDIENTS
The base of my smoothie bowl starts with Greek yogurt. I use Greek yogurt because it contains less liquid than regular yogurt, so it has a naturally thick consistency. This thick base helps support all of your toppings without them sinking to the bottom of your bowl.
Here are the ingredients:
Rolled oats
Milk of choice
Chia seeds
Frozen strawberries
Banana
Greek yogurt
How to thicken your smoothie bowl without oats?
There are a few options depending on your dietary restrictions. Oats are the best in my opinion for consistency and flavor, but you can try the following in place of them:
2 tablespoons chia seeds
2 tablespoons white beans
2 tablespoons tofu
You won't be able to taste the tofu or white beans, but they will thicken the smoothie bowl!

How to make a smoothie bowl in 3 easy steps
Blend the oats in a blender, until they make a finely ground powder. Add in the milk and the chia seeds. Purée the mixture for about 20 seconds.
Add in the yogurt and fruit. Carefully blend everything together and make a smooth mixture, scraping down the sides as needed.
Pour the mixture into a bowl and top with your favorite toppings!
Making the perfect smoothie bowl couldn't be any easier. Just blend the ingredients together and add your favorite toppings! How simple is that? Your family will request this for breakfast all the time!

Smoothie Bowl Toppings
I love how customizable smoothie bowls can be! You can add whatever toppings you feel like. This is a really great time to have the little ones help out in the kitchen. You can pour the base in the bowl for them and let them add on whatever toppings they want. They will love it! If you have a picky eater at home, they will love picking out their own toppings. #MomWin
Here are some topping suggestions:
Peanut or almond butter drizzle
Granola
Kiwi
Chopped nuts
Honey
Berries
Banana
Pumpkin seeds
Chia seeds
Cacao nibs
Cinnamon
Dragon fruit
I'd love to hear your favorite toppings in the comments!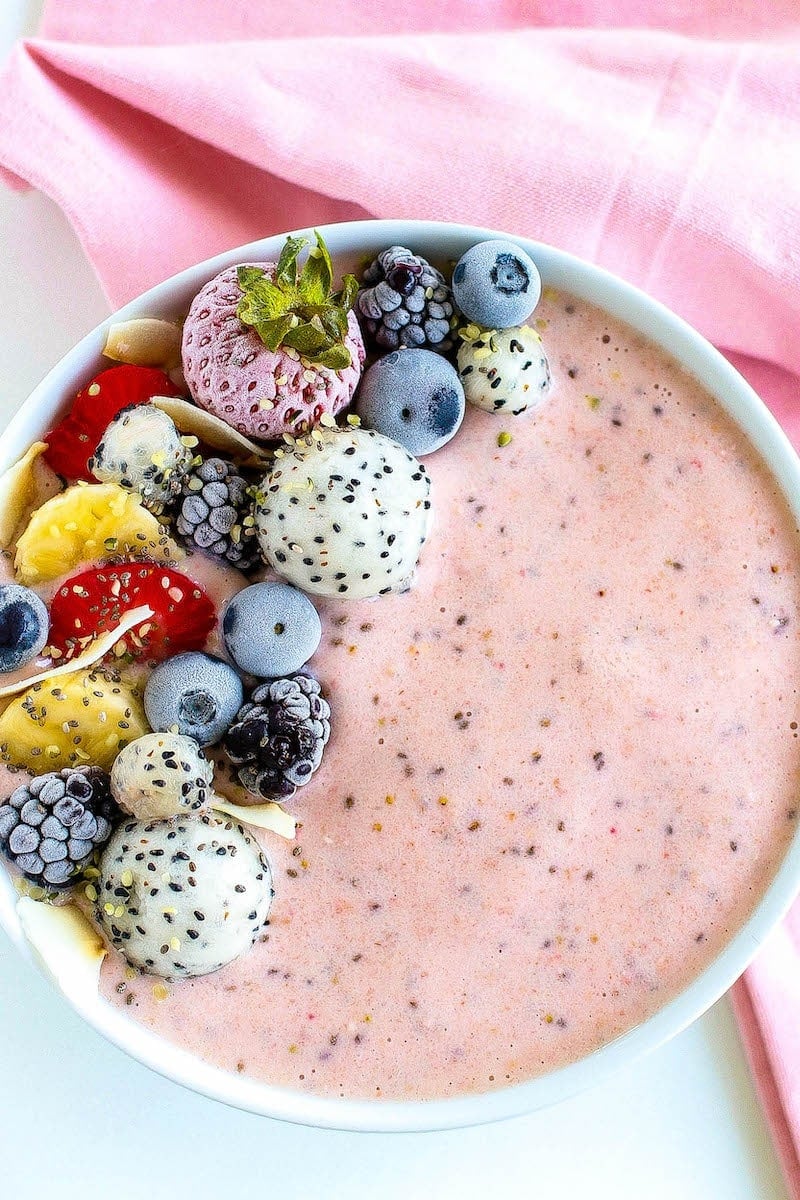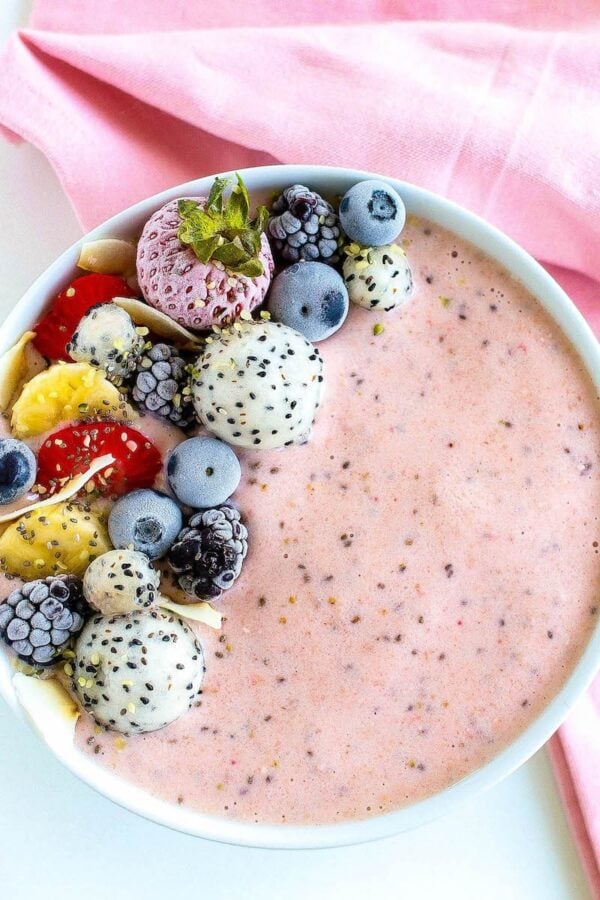 My kids love helping me make our smoothie bowls in the morning and decorating each of theirs individually with toppings.
Don't tell them my secret, but the first time we had them I told them they were homemade ice cream bowls. They had no idea and thought I was the coolest mom giving them ice cream for breakfast!
Please leave a review or comment below letting me know how this recipe turns out for you!
Strawberry Smoothie Bowl
This Strawberry Smoothie Bowl is loaded with healthy fruits and customizable toppings. It's a fun take on the traditional smoothie and an easy breakfast idea for the whole family!
Ingredients
2

tablespoons

rolled oats

1

cup

milk of choice

1

tablespoon

chia seeds

1 ½

cups

10 oz. bag frozen strawberries

1

frozen banana

½

cup

Greek yogurt
Instructions
Place oats in a blender and pulse until finely ground.

Add in milk and chia seeds. Purée for 20 seconds.

Add yogurt and fruit and blend at high speed until smooth.

Pour into bowl and top with fruits, chia seeds hemp seeds, coconut flakes, or more, if desired.
Nutrition
Serving:
1
,
Calories:
402
kcal
,
Carbohydrates:
57
g
,
Protein:
25
g
,
Fat:
10
g
,
Saturated Fat:
4
g
,
Polyunsaturated Fat:
5
g
,
Cholesterol:
25
mg
,
Sodium:
172
mg
,
Fiber:
9
g
,
Sugar:
20
g
Categories:
This post may contain affiliate links. Read my disclosure policy.