Stove Top Scrambled Eggs are a classic and easy breakfast recipe that you can whip up in minutes in a skillet! This recipe shares how to make delicious scrambled eggs that are full of flavor and super fluffy.
These Classic Scrambled Eggs Are Extra Fluffy!
Scrambled eggs are such a classic, simple breakfast staple. And often the simplest dishes leave the least margin for error! But never fear, because I think I've literally cracked the secret to the best stove top eggs with this recipe!
If you've ever wondered how to make fluffy scrambled eggs on the stove, this is the best recipe to walk you through it. (PSA: If a skillet isn't your thing, I also have a fool proof recipe for air fryer scrambled eggs that you can try…or you can even make microwave scrambled eggs or instant pot scrambled eggs!). Scrambled eggs are one of my family's favorite quick breakfasts and I'm all for sharing the love.
I keep these eggs simple with salt and pepper seasoning, cooked in melted butter for that unbeatable richness and flavor. Plus, they're incredibly quick to make. These easy eggs scramble up in the skillet in just 6 minutes!
Are Scrambled Eggs Healthy?
Eggs are little protein powerhouses, and super rich in nutrients, vitamins, and amino acids. They're also high in not-so-great stuff like cholesterol. The key to healthy eggs is in the preparation: healthier cooking techniques = healthier scrambled eggs!
Loading your scramble up with calorie and carb-packed ingredients will lead to a breakfast that's arguably not as healthy. Luckily, this recipe keeps things light!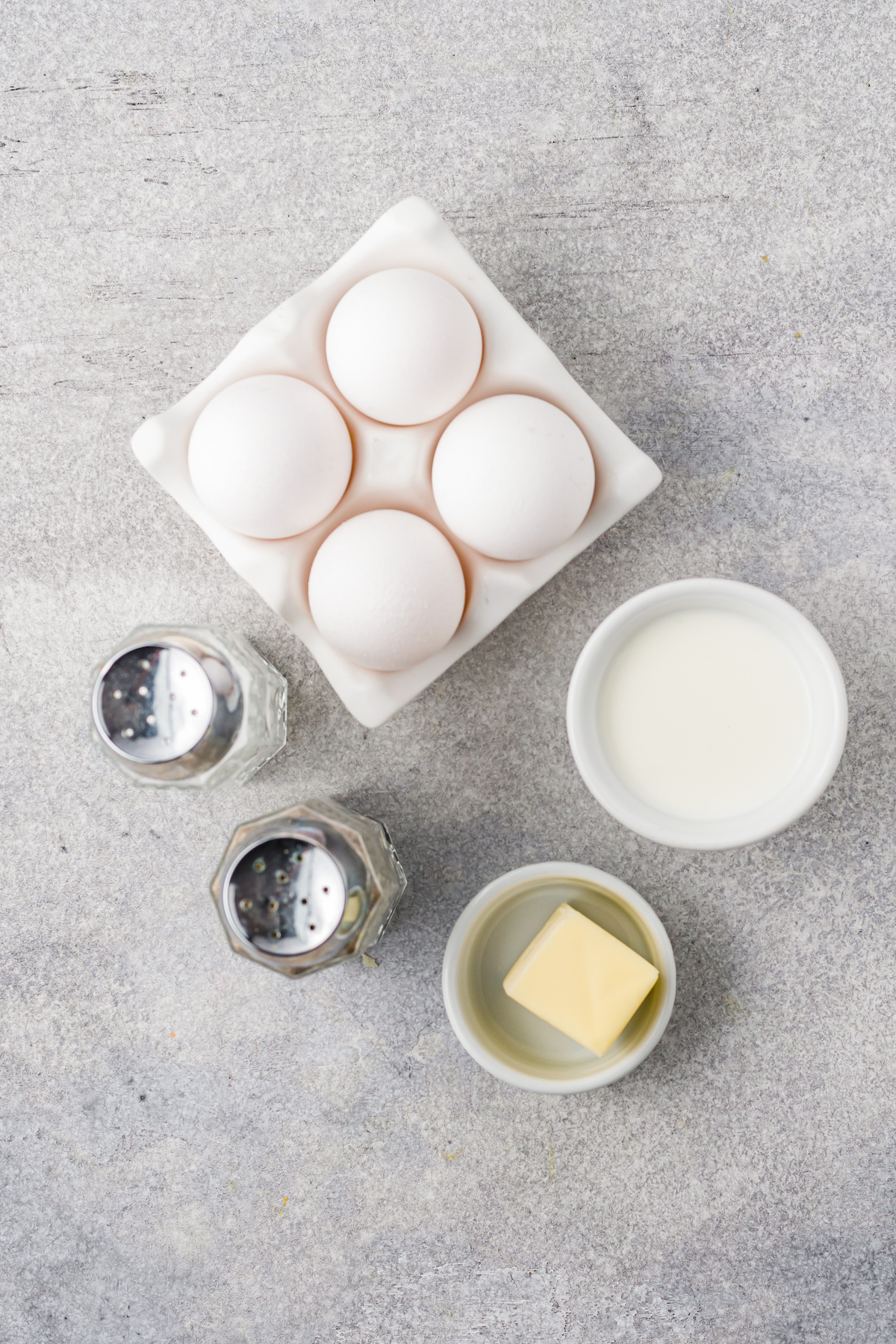 What You'll Need
Eggs: You'll need 4 large eggs. They can be fresh from the fridge or at room temperature, though room temperature eggs will lead to fluffier scrambled eggs!
Butter: Salted or unsalted. Butter lends just the right amount of richness to the eggs.
Salt & Pepper: Fresh ground pepper is optional. If you prefer your scrambled eggs bright yellow without small black flecks, you can omit the pepper or swap it for white pepper instead.
Milk: Also optional. Whole milk adds another layer of creaminess to the eggs. You can also use heavy cream, or half and half for extra richness, or leave it out altogether if you prefer dairy-free.
How to Cook Scrambled Eggs on the Stove
You don't need to be Gordon Ramsay to make wonderful scrambled eggs at home! Here's how to whip up a batch of perfectly fluffy eggs on your stovetop in just 6 minutes: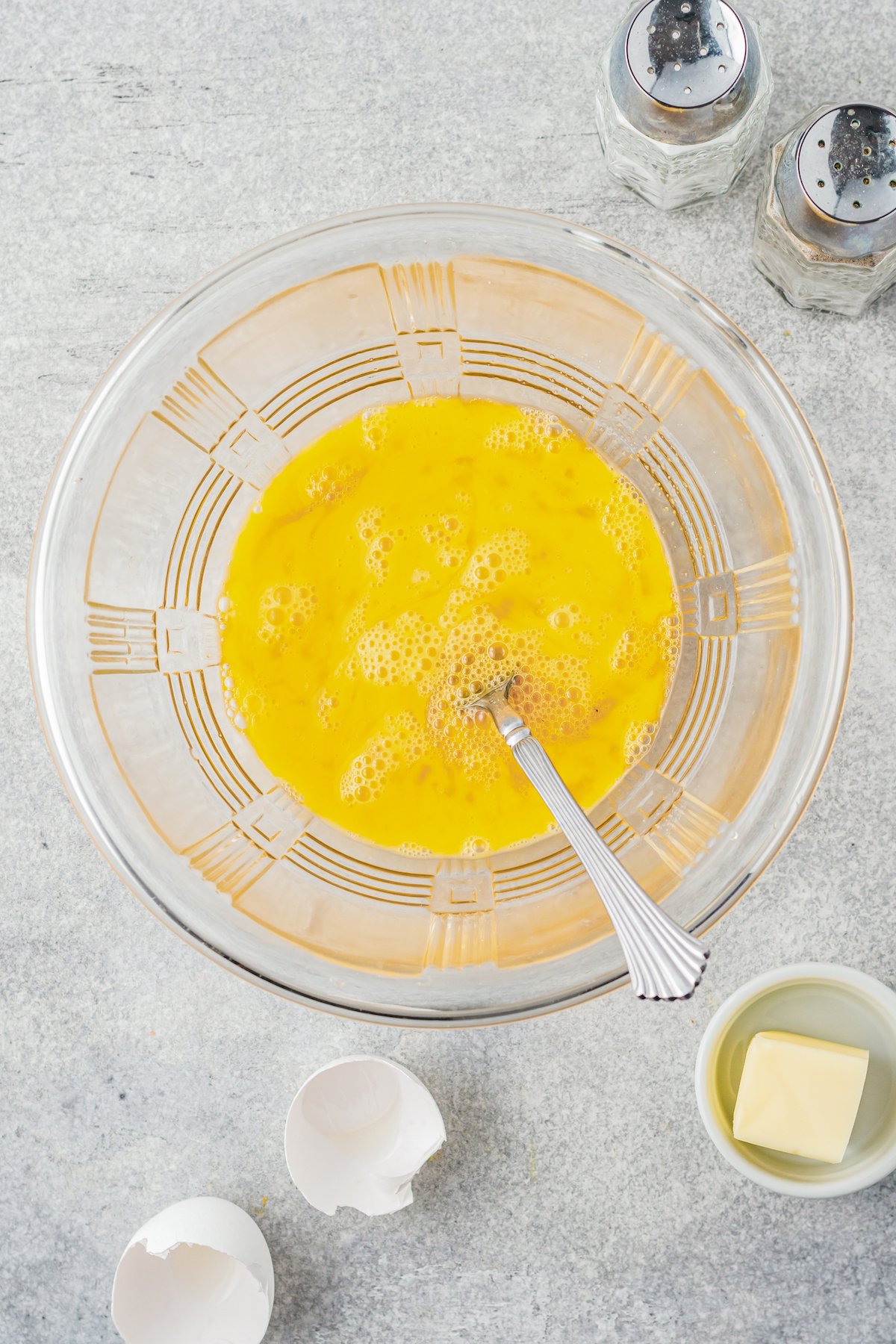 Whisk: Whisk together the eggs and season them with salt and pepper.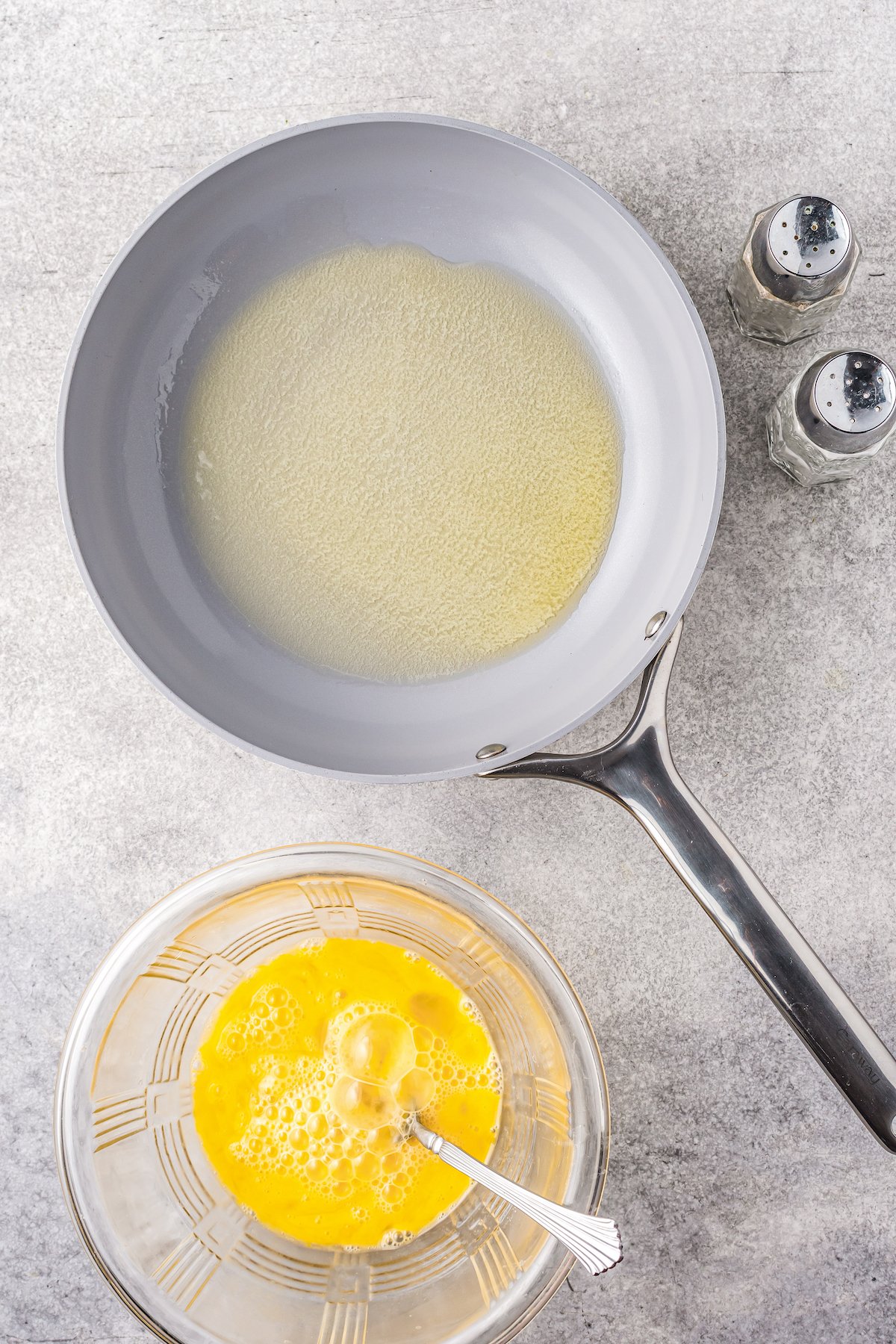 Cook: Melt the butter in a skillet. Next, add the eggs and use a spatula to make long strokes back and forth through the eggs as they cook. Continue moving the eggs around the pan for a minute or so to form small curds that are evenly cooked.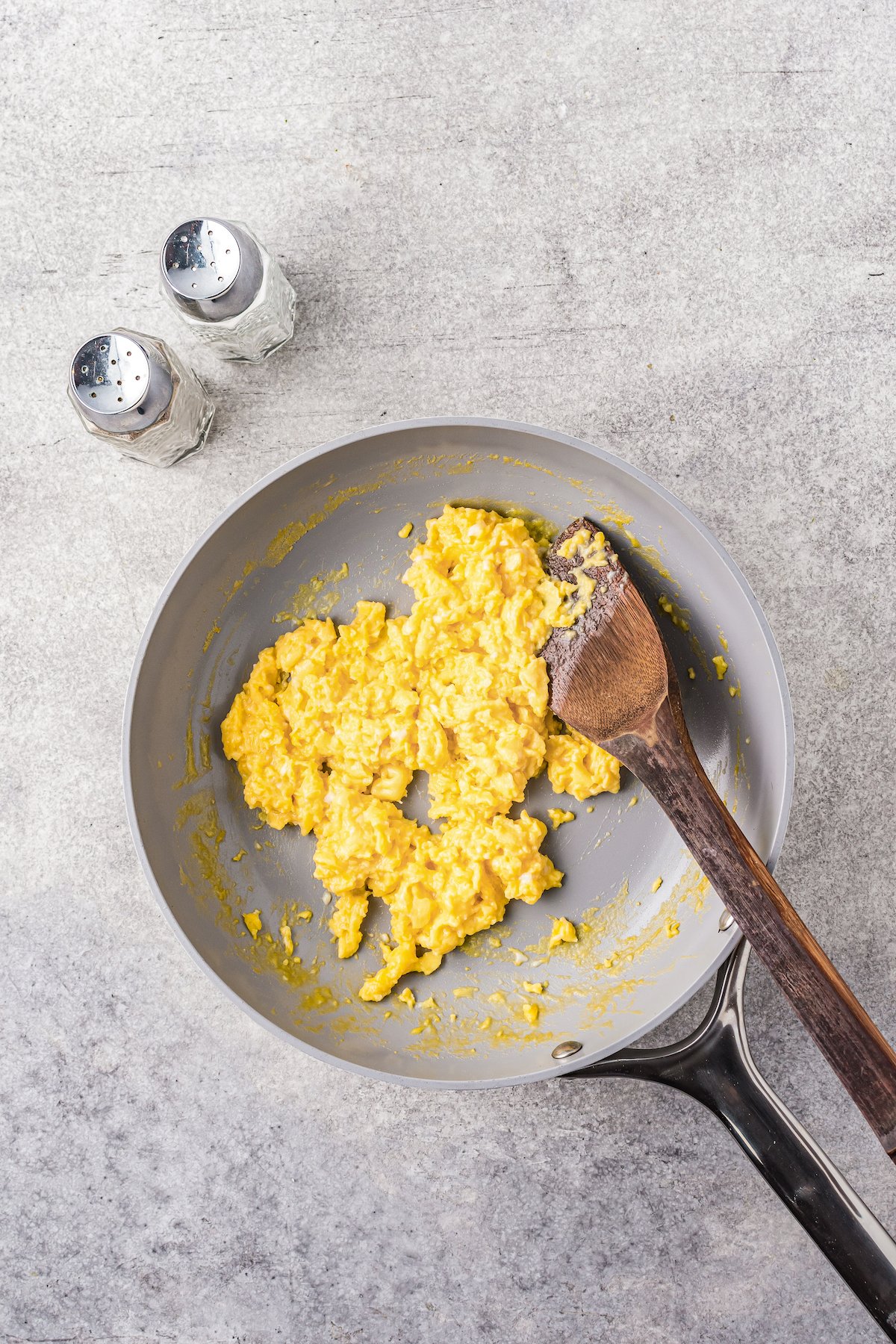 Serve: Your scrambled eggs are ready when they're still slightly wet. Take the pan off the heat right away, and transfer the eggs to a plate for serving. Don't leave the eggs on the stove, as even away from the heat, they can still dry out in the pan!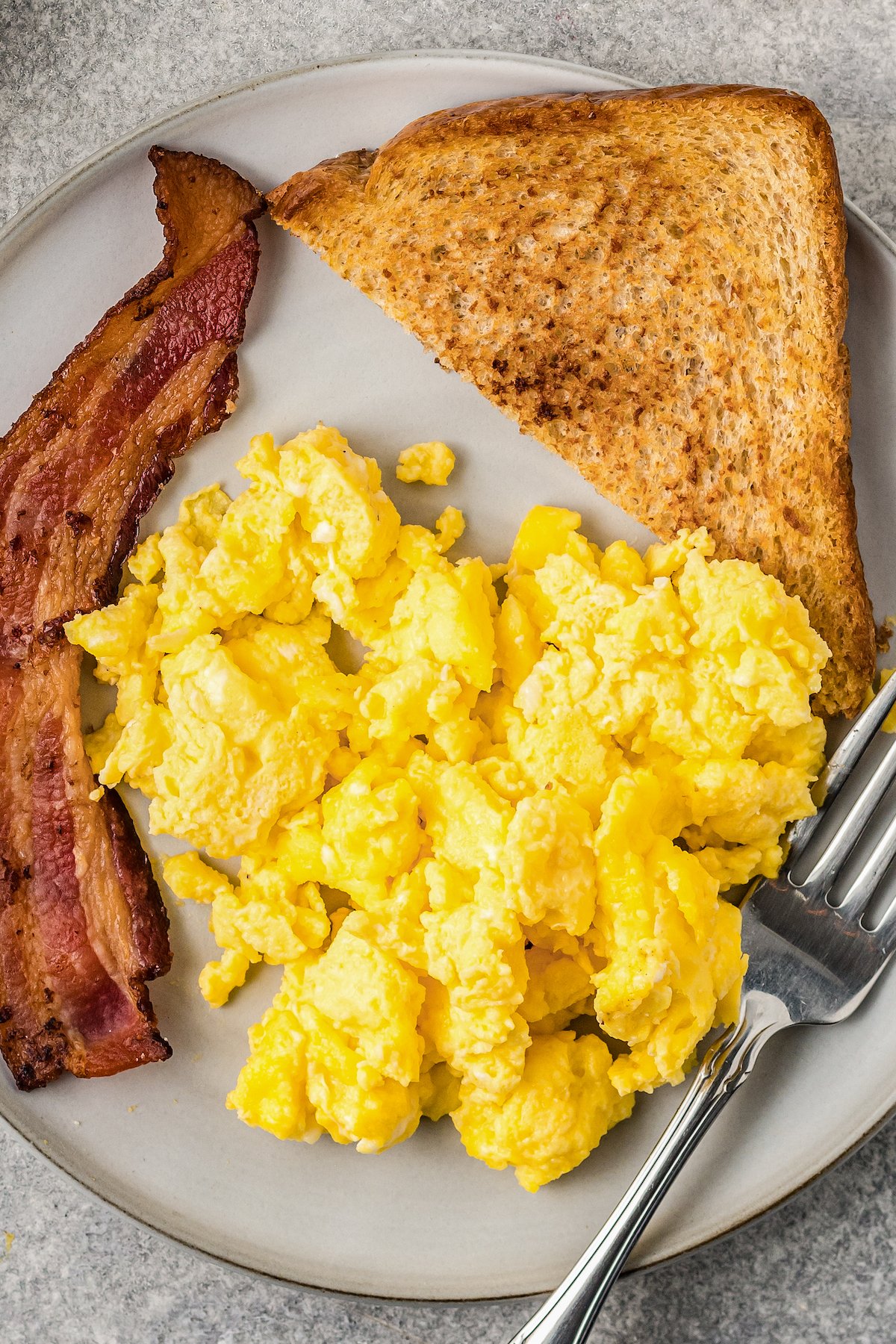 Tips for the Best Results
Use a Whisk: When it comes to whisking the eggs, a fork will work fine in a pinch, but for best results, use a whisk! This aerates the eggs even more, and amps up the fluff factor.
Don't Overheat the Pan: I like to scramble my eggs over medium heat to keep them from cooking too quickly. Eggs that cook too fast will have small, hard curds and lack all that gorgeous moisture and fluffiness!
Adding Milk: I included milk in the ingredients for this recipe as some people prefer an even creamier scrambled egg! This is optional, though if you'd like to add milk or cream to your eggs, about 1 ½ teaspoons per egg should do the trick.
Adding In Ingredients: There really is no wrong way to add extra ingredients to your eggs. Different ingredients may call for a bit more cooking time though, so it's a good idea to aim for add-ins that soften quickly (or cook them ahead of time). See the section below for some of my favorite add-in ideas!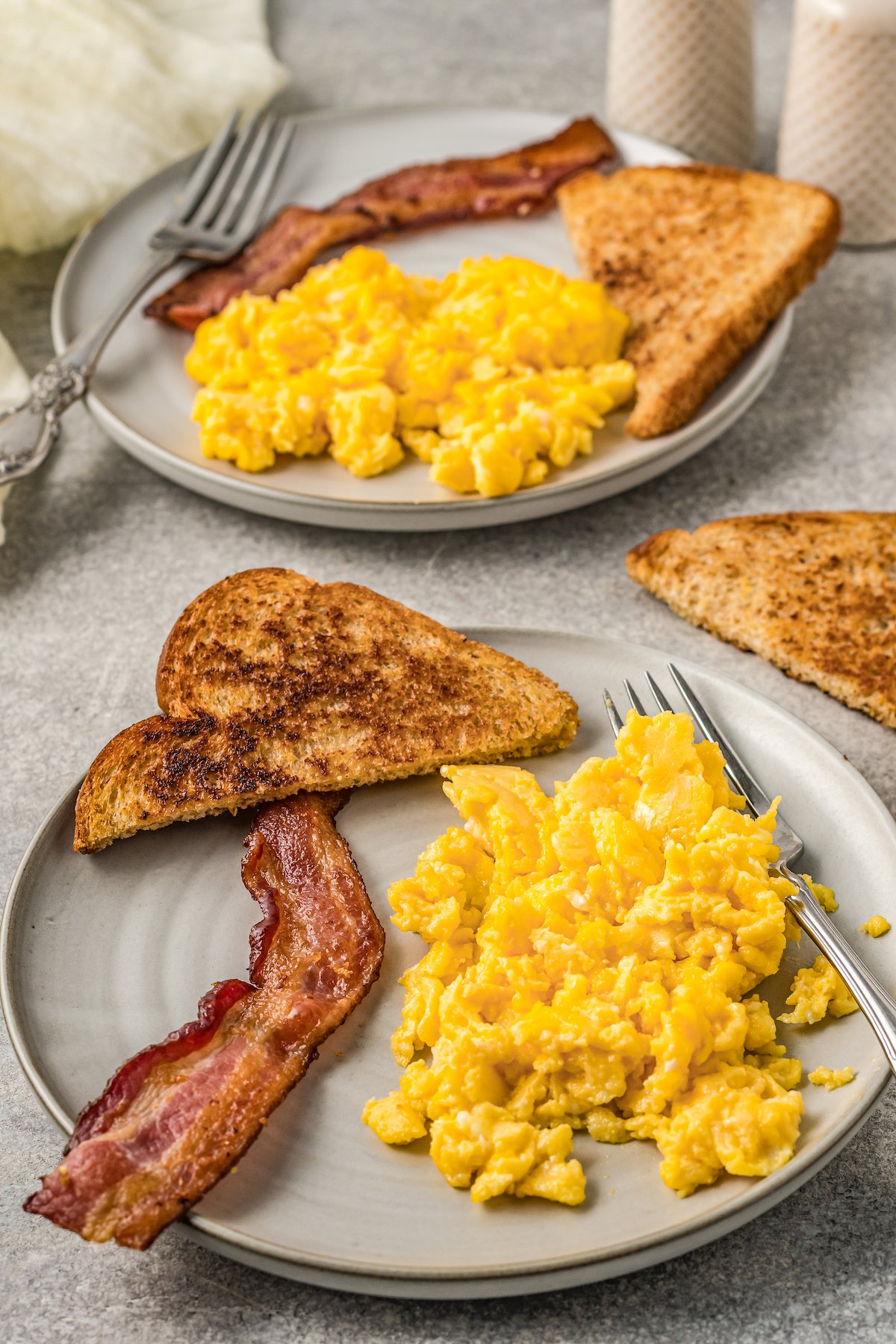 Serving Suggestions
Stove top scrambled eggs are quick to make for an easy meal, anytime! Enjoy this easy egg recipe for breakfast, brunch, or even breakfast-for-dinner. Here are some ideas:
Add-In Ideas
When it comes to add-ins for stove top scrambled eggs, you can add whatever your family likes! These eggs are a great way to serve up a well-rounded breakfast, and even pack in some sneaky veggies! Check out the recipe card for recommended amounts of the add-ins below:
Shredded cheese
Chopped chives
Diced onion
Chopped ham
Cooked and crumbled bacon: I love cooking my bacon in the oven!
Spinach
Diced asparagus
Homemade Pico De Gallo (alternatively, salsa or a drained can of rotel will also work!)
Can I Make These in Advance?
Eggs always taste the best when they're scrambled fresh. But for convenience's sake you can definitely make this recipe ahead to keep in the fridge! Scramble the eggs as directed and then store the cooled eggs airtight for up to 4-5 days.
Reheat eggs in the microwave in bursts, covered with a moist paper towel. Once they're heated through, drain any excess liquid and serve!
Freezing Scrambled Eggs: For even longer storage, you can also freeze them. I recommend making them without milk in this case. Once they've cooled completely, transfer the cooked eggs to a freezer bag or container and freeze until you're ready to serve them. Thaw the eggs overnight in the fridge before reheating.
More Quick-Fix Breakfast Recipes
Yield: 2 servings
Stove Top Scrambled Eggs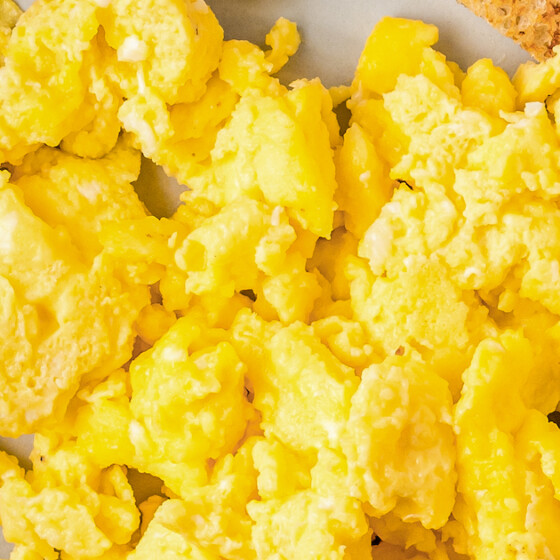 Scrambled Eggs are an easy breakfast recipe that you can whip up in minutes on the stove top. Here's how to make the best, extra fluffy scrambled eggs!
Ingredients
4 large eggs
1-2 tablespoons butter
1/4 teaspoon salt
Small pinch pepper, optional
2 tablespoons milk, optional
Instructions
Whisk the eggs, salt and pepper together. Melt the butter in a nonstick pan over medium heat.
When the butter begins to lightly bubble, add the eggs. Using a spatula, make long strokes back and forth over the pan. This will help the eggs cook and form smaller curds. The cooked part will come off the bottom, allowing the uncooked part to cover the pan and begin to cook.
Continue cooking and scraping the pan for another minute and a half. The eggs are best when still wet. They will continue to cook and can get dry the longer they sit on the stove even if turned off, so remove and plate the eggs immediately.
Notes
Storage: 
Scrambled eggs are best served fresh, but they can be stored in an airtight container in the refrigerator for up to 5 days.
Optional Add-Ins: 
1/4 cup shredded cheese
1 teaspoon chopped chives
2 tablespoons chopped onion
1/4 cup chopped ham
1/4 cup cooked and crumbled bacon
1/4 cup spinach
1/4 cup diced asparagus
1 cup Homemade Pico De Gallo (salsa or a can of rotel (drained) will also work!)
Tips:
These eggs are made simply with eggs, salt, pepper and butter.  You may choose to add some milk, but this is not necessary and if you choose to add milk, just 1 ½  teaspoons per egg should be added.
Many wish to add other ingredients to their scrambled eggs. There is no wrong way, so add whatever your family likes. You may need a little extra cooking time, but it shouldn't increase the cook time by much more than a minute or so.
Make sure to scrape back and forth along the pan continually while the eggs are cooking so the egg curds are small and the remaining eggs get to the pan to cook.
Nutrition Information:
Yield:
2
Serving Size:
1
Amount Per Serving:
Calories:

253
Total Fat:

21g
Saturated Fat:

11g
Trans Fat:

1g
Unsaturated Fat:

9g
Cholesterol:

404mg
Sodium:

505mg
Carbohydrates:

2g
Fiber:

0g
Sugar:

1g
Protein:

13g
This post may contain affiliate links. Read my disclosure policy.