Have a healthy breakfast on the table in minutes with no-fuss Microwave Scrambled Eggs! This is a super easy recipe anytime you're hungry for hearty, fluffy scrambled eggs in a hurry!
The Easiest Scrambled Eggs Ever
I've been on a scrambled eggs kick lately. Obviously, I'll always be a fan of my classic scrambled eggs in a skillet. And I've recently tried them in the air fryer and in the instant pot, with great success (if I say so myself). However, the quickest and easiest recipe for eggs has to be microwave scrambled eggs!
I make my fluffy scrambled eggs in the microwave on mornings when I'm feeling particularly peckish, or when I need breakfast on the table ASAP. I promise you, the microwave is the easiest method for scrambling eggs! (With a few necessary precautions, more on that below).
Having these creamy and buttery eggs ready in just 5 minutes always makes the kids and hubby happy. Plus, they're cooked in the same dish you whisk them in, meaning less clean up for all!
Is it Safe to Microwave Scrambled Eggs?
It's perfectly safe to cook scrambled eggs in the microwave. Just be sure to never microwave a whole egg that's still in its shell! Steam will build up inside and cause the egg to explode – not the scramble we're looking for.
The same goes for sunny side up eggs, or fried eggs in the microwave: the yolks can burst if they aren't pierced beforehand. Avoid whole eggs and whole yolks as a general rule when microwaving, and stick to whisking your eggs beforehand.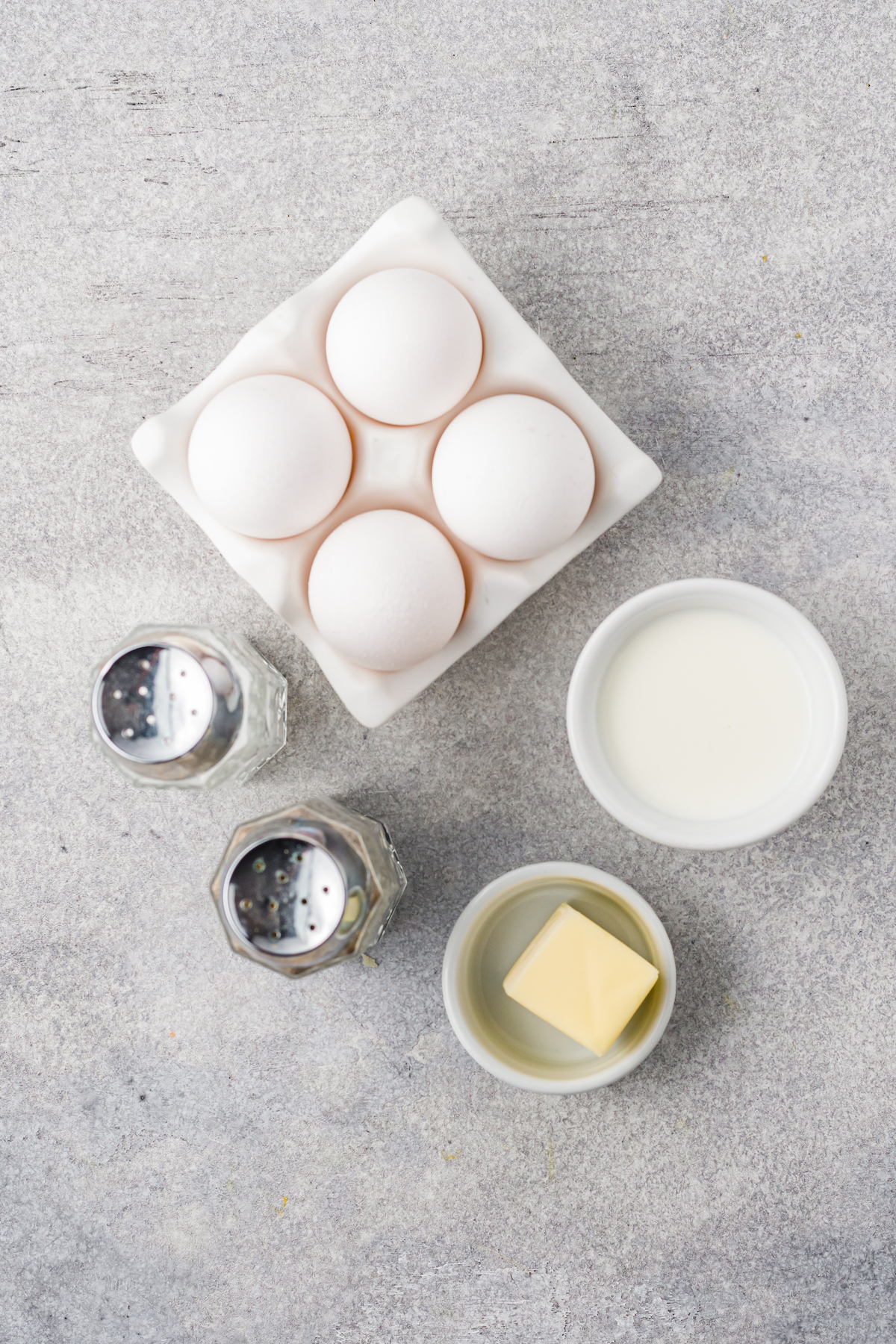 What You'll Need
Eggs: Four large eggs makes about 2 servings.
Butter: Salted or unsalted butter helps with sticking and also gives scrambled eggs a rich and, well, buttery flavor.
Salt & Pepper: Salt for flavor, and an optional pinch of pepper. If you prefer bright yellow eggs without the addition of pepper, feel free to skip it.
Milk: A spoonful or two of milk will add extra creaminess to scrambled eggs, but this is also optional.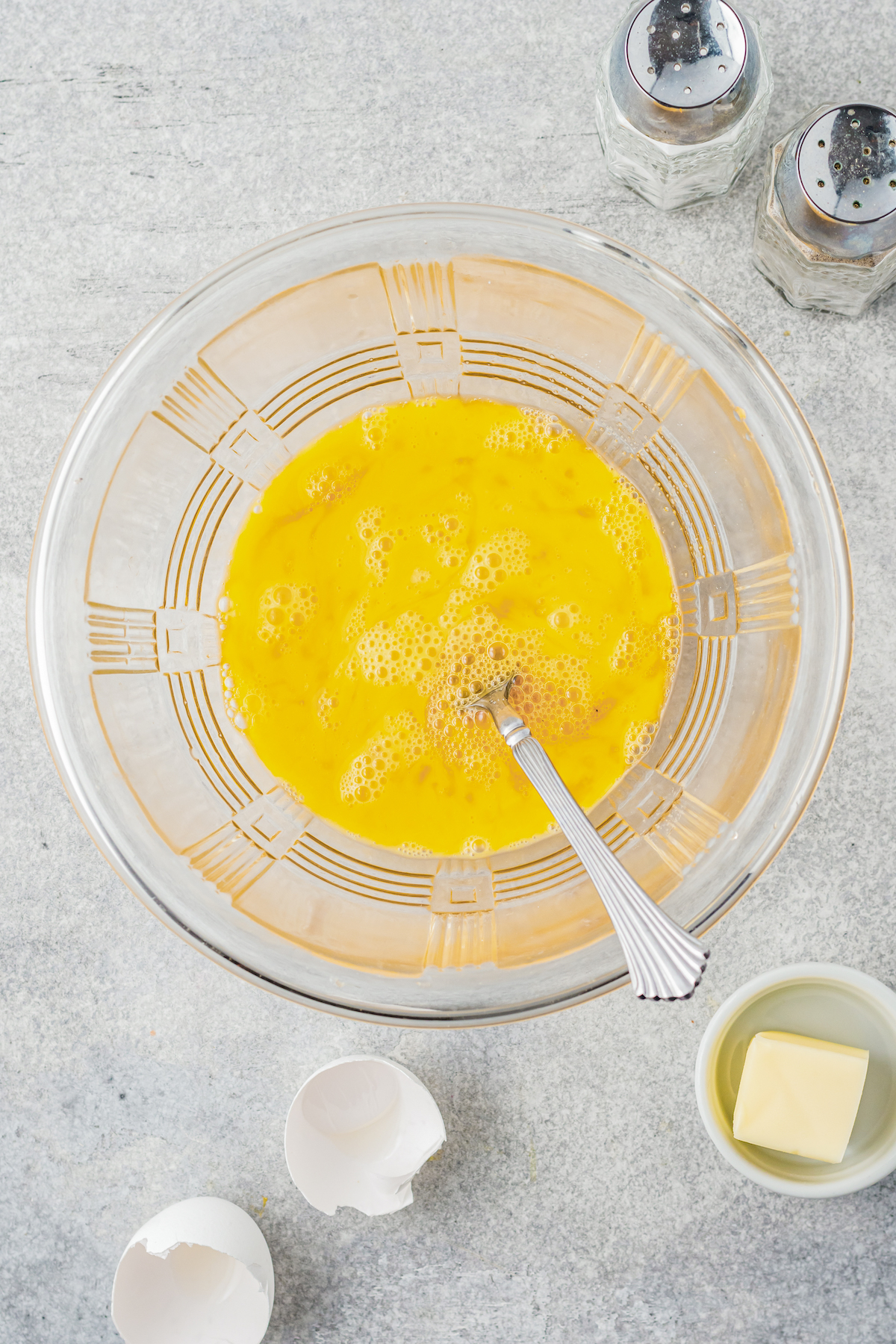 How to Make Scrambled Eggs in the Microwave
You can make microwave scrambled eggs using any microwave-safe dish, such as a ramekin, small bowl, or even a mug! Of course, if you choose to cook more than four eggs, you may need to scale up your dish and cooking time accordingly.
Here's how to make the best and easiest scrambled eggs ever using the microwave method:
Whisk & Combine: Melt the butter in your microwave-safe dish. Next, whisk up the eggs with the seasonings and pour this into the butter.
Cook: Pop the dish into the microwave and cook the eggs on medium-high for about a minute. Give them a stir and then cook them for another 30 seconds at a time, until they're set. Don't worry if your eggs look a little wet, leave them to stand and they'll finish cooking!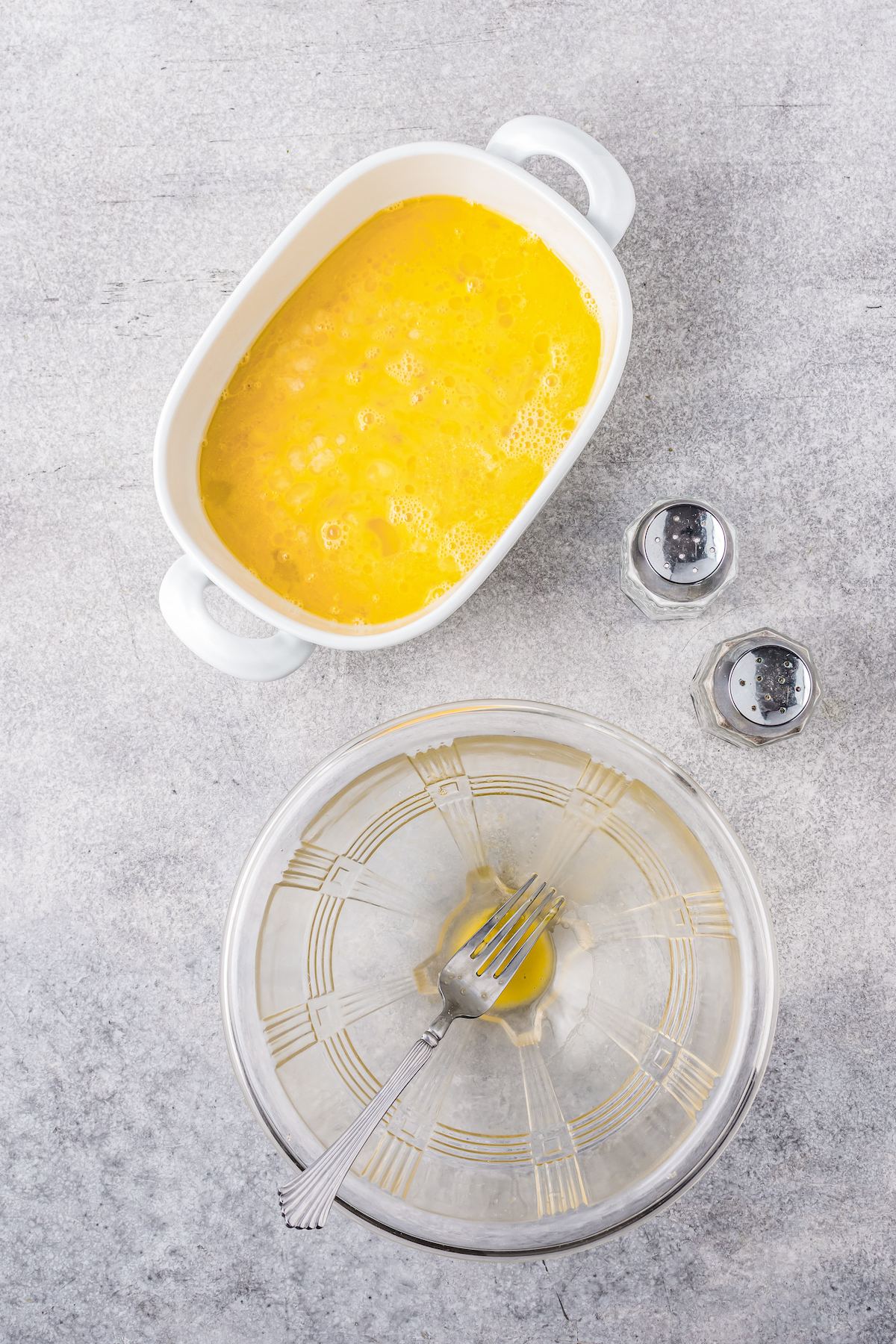 Tips for the Best Results
Microwaves May Vary: Not all microwaves are created equal, and the suggested cook times may vary depending on the model and wattage. If you're not sure, err on the side of caution and adjust the time by 10 second increments.
Two Breakfast Sides, One Microwave: Eggs cook up super quick in the microwave, and won't dry out as easily as with some other methods. If you feel like multitasking, cook a side of bacon on some paper towel at the same time!
Customize With Add-Ins: This recipe makes simple, fuss-free, fluffy scrambled eggs. Of course, feel free to add in any of your favorite mix-in ideas. I've included some of mine in the next section!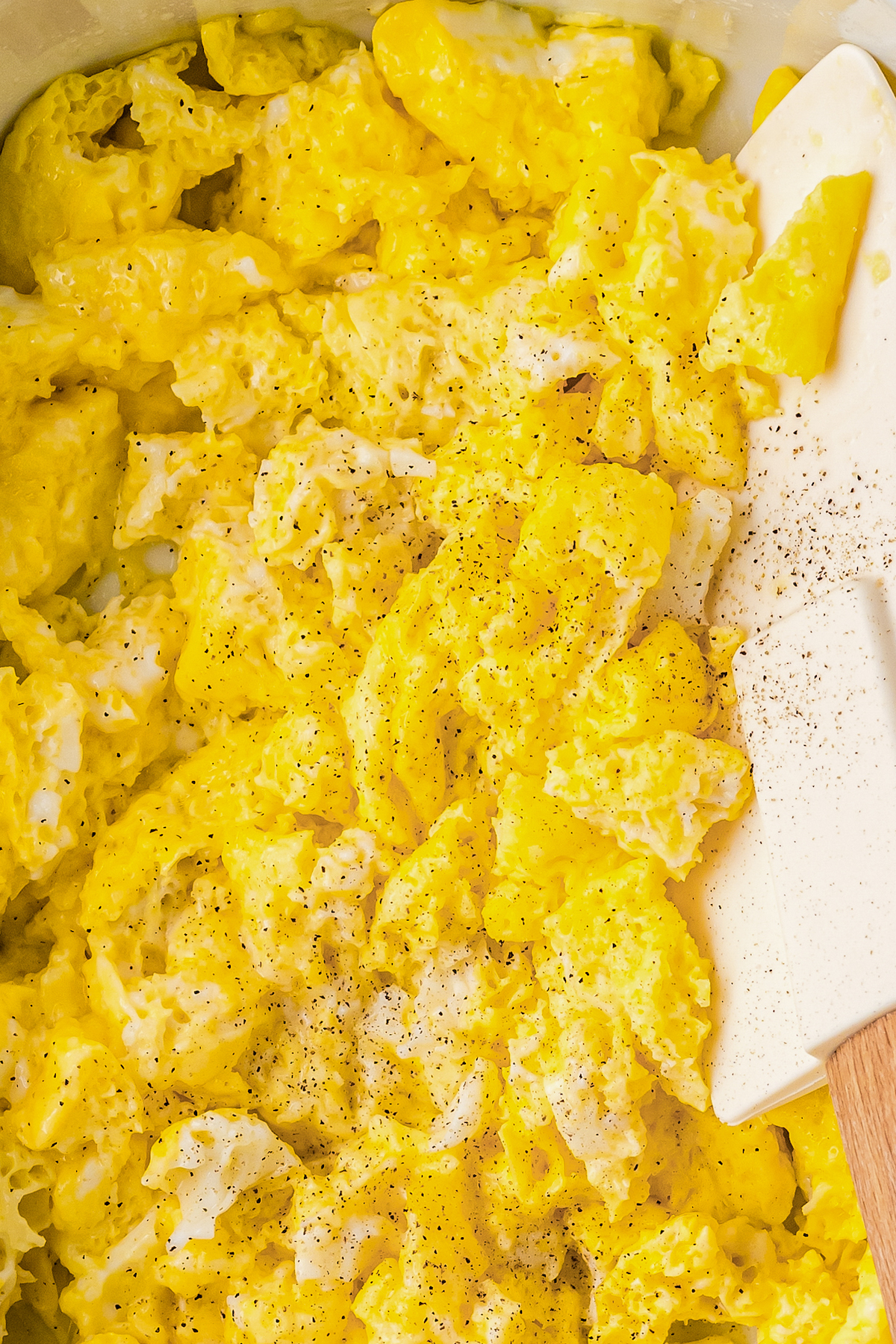 Mix-In Ideas
There is no wrong way when it comes to adding ingredients to scrambled eggs, so add whatever your family likes. My dad's favorite was pork and beans, hot dogs and cheese!
Depending on the mix-ins you use, you may need a little extra cooking time. Here are some of my favorite ideas, and I've also included suggested amounts in the recipe card:
Shredded cheese like cheddar, gouda, or parmesan
Chopped onion or chives
Chopped ham, cooked and crumbled bacon, or spicy sausage
Veggies like spinach, kale, or diced asparagus
Salsa or Homemade Pico De Gallo (a can of Rotel will also work!)
Herbs and spices like dill, thyme, or fresh grated nutmeg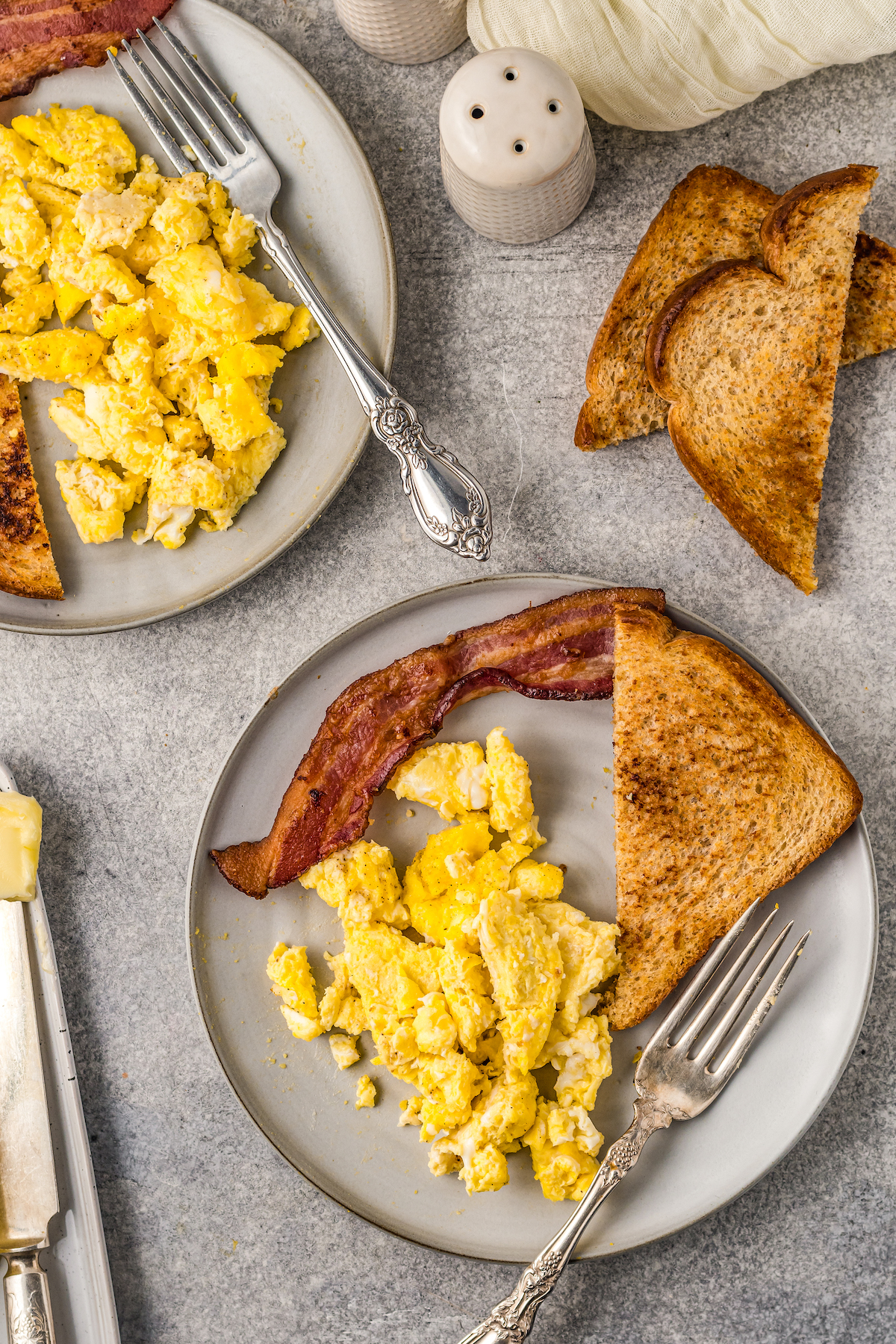 Ways to Serve Scrambled Eggs
Make a full breakfast of scrambled eggs, toast, and fruit with a side of bacon or breakfast sausage.
Serve these eggs in a homemade breakfast sandwich layered with slices of bacon, cheddar, and tomato on a bagel.
Wrap these eggs up in a tortilla or wrap for a delicious and savory breakfast burrito.
Enjoy scrambled eggs as a side to add sorts of breakfast ideas, from Cuban Bread French Toast to Low Carb Keto Pancakes and Cheesy Potato Casserole.
Can I Make These Ahead of Time?
Scrambled eggs always taste the best when served fresh! However, if you're making them ahead you can store them airtight in the refrigerator for up to 5 days.
More Quick-Fix Breakfast Ideas
Microwave Scrambled Eggs
The easiest scrambled eggs ever! Microwave Scrambled Eggs cook up in 2 minutes, perfect whenever you're hungry for a hearty, healthy breakfast in a hurry.
Ingredients
4

large eggs

1-2

tablespoons

butter

¼

teaspoon

salt

Small pinch pepper

,

optional

2

tablespoons

milk

,

optional
Instructions
Melt the butter in a small microwave safe dish.

Whisk the eggs, salt and pepper together and pour into the melted butter.

Place the dish in the microwave and set at medium-high 70% for 1 minute, then stir the eggs. Cook for an additional 30 seconds as needed.

Let it stand for 30 seconds (it will look a little wet) and it will finish cooking.
Notes
Suggestions are for a 1000-watt microwave. Times will vary according to microwave wattage. Increase or decrease by 10 second increments.
Storage: 
Scrambled eggs are best served fresh, but they can be stored in an airtight container in the refrigerator for up to 5 days.
Optional Add-Ins: 
1/4 cup shredded cheese
1 teaspoon chopped chives
2 tablespoons chopped onion
1/4 cup chopped ham
1/4 cup cooked and crumbled bacon
1/4 cup spinach
1/4 cup diced asparagus
1 cup Homemade Pico De Gallo (salsa or a can of rotel (drained) will also work!)
Tips:
These eggs are made simply with eggs, salt, pepper and butter. You may choose to add some milk, but this is not necessary and if you choose to add milk, just 1 ½  teaspoons per egg should be added.
Many wish to add other ingredients to their scrambled eggs, my dad's favorite was pork and beans, hot dogs and cheese. There is no wrong way, so add whatever your family likes. You may need a little extra cooking time.
Eggs cook very fast in the microwave and don't dry out very easily.  You can cook the bacon on a paper towel while the eggs are cooking.
Nutrition
Serving:
1
,
Calories:
253
kcal
,
Carbohydrates:
2
g
,
Protein:
13
g
,
Fat:
21
g
,
Saturated Fat:
11
g
,
Polyunsaturated Fat:
9
g
,
Trans Fat:
1
g
,
Cholesterol:
404
mg
,
Sodium:
505
mg
,
Sugar:
1
g
Categories:
This post may contain affiliate links. Read my disclosure policy.