Easy Instant Pot Hard Boiled Eggs
This method for Instant Pot Hard Boiled Eggs is the quickest and best way to hard boil eggs. Your eggs will be cooked to perfection every single time AND they are beyond easy to peel!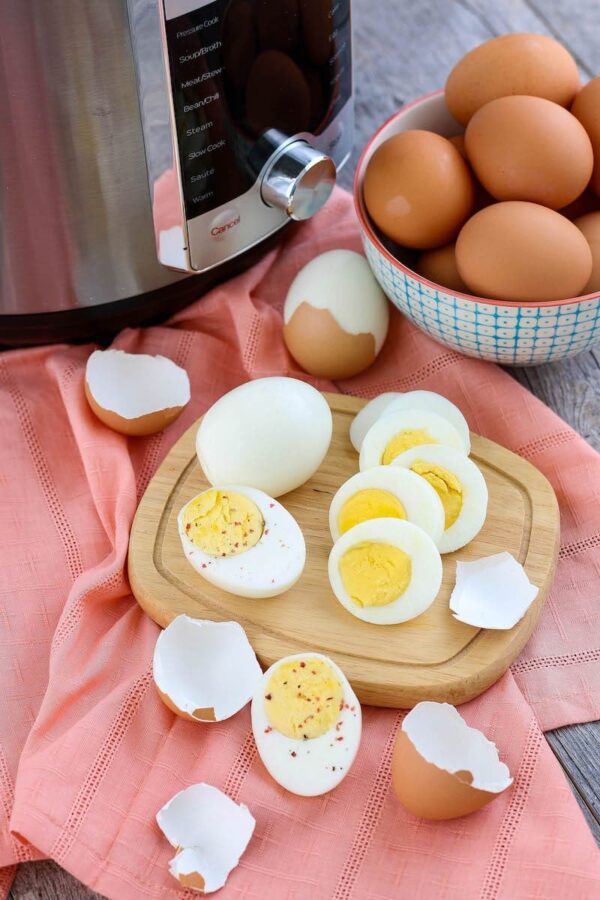 The Best Instant Pot Hard Boiled Eggs
It's hard boiled egg season folks! You're probably already seeing all of the egg decorating kits everywhere you go. Hard boiled eggs can be tricky. They are easy to under cook, over cook, and they are often hard to peel.
But now – NOW – you can hard boil eggs like a pro. And that is thanks to the Instant Pot. Ladies and gents, hard boiling eggs in the Instant Pot is completely foolproof. Try it this year and you'll never look back.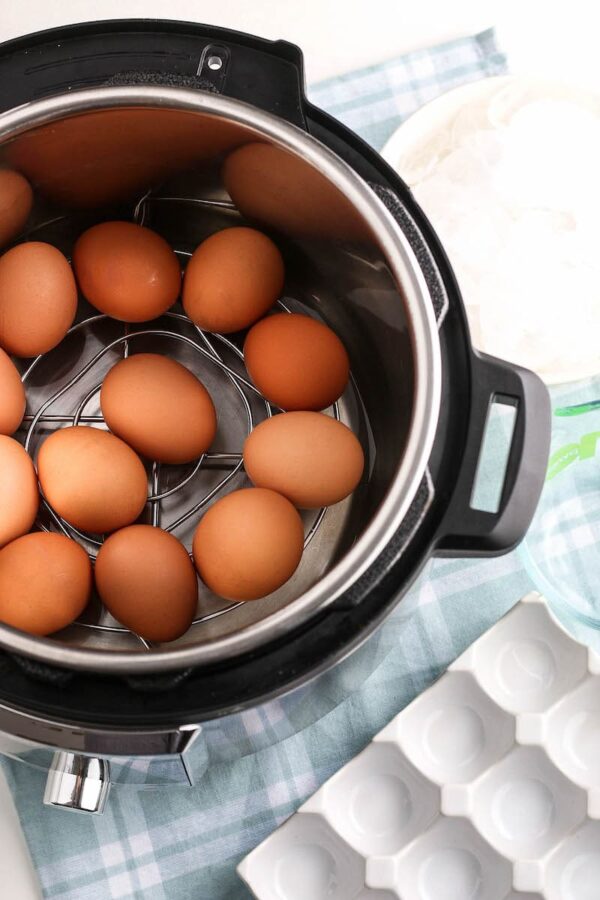 Why Make Eggs in a Pressure Cooker?
Making your hard boiled eggs in the pressure cooker is a breeze. I'm betting, once you try it, you'll never go back to boiling them stove top.
First of all, it's so simple. You just put them in, seal the lid, press a button and walk away. No need to watch or hover.
Then, they're done super quick. Less than 10 minutes to be exact.
Finally, they peel so easily. For specific tips on how to peel Instant Pot hard boiled eggs, see below.
How to Make Hard Boiled Eggs in the Instant Pot
1. You'll Need: 6-12 eggs depend on the size of your Instant Pot, ice, and cold water.
2. Prep: Place the trivet rack in the bottom of the instant pot. Add 1 cup of water. Layer the eggs in a single layer on the trivet.
3. Seal and Set: Seal the pressure cooker. Set the timer for 5 minutes on the manual setting (push the manual button and adjust the timer to 5 minutes cook time).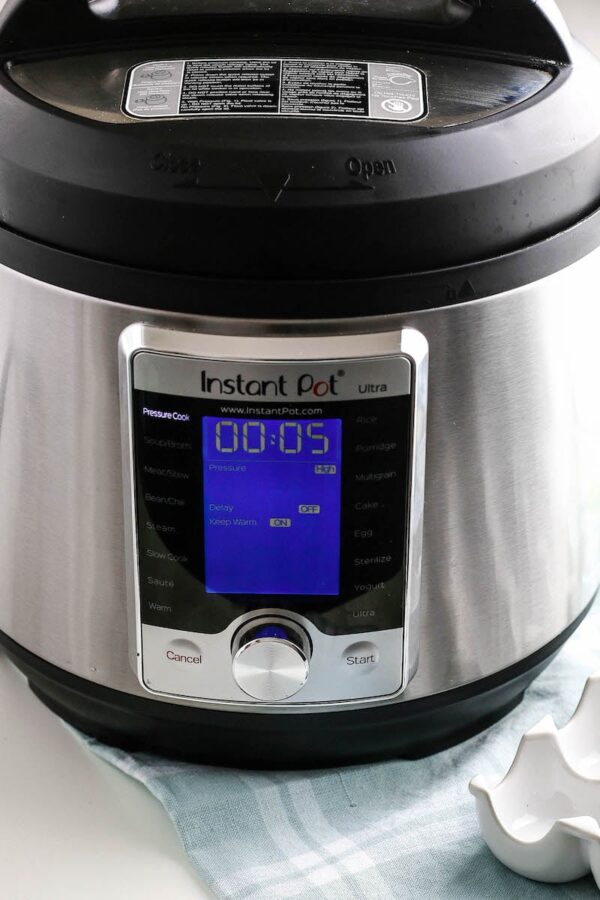 4. Cook: After 5 minutes of cooking, allow the pressure cooker to sit for 5 minutes. Then manually release the pressure.
5. Ice: Prepare an ice bath by adding ice to a large bowl and filling it with cold water. Quickly move your eggs into the ice bath with your kitchen tongs. Let the eggs sit in the ice bath for 5 minutes.
6. Serve: You can peel and serve your instant pot hard boiled eggs warm or let them cool completely and refrigerate!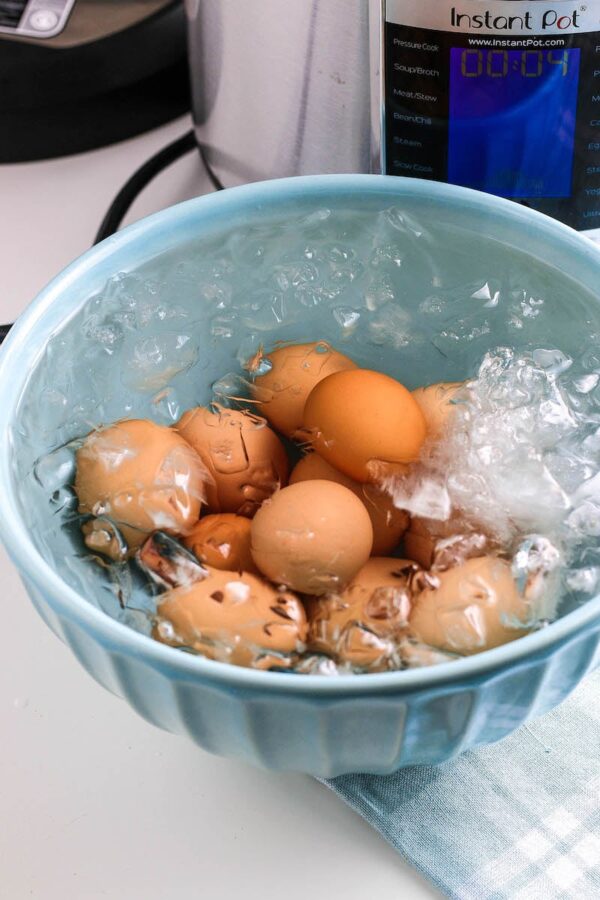 How Long Should You Boil Eggs in a Pressure Cooker?
The cooking time may vary depending on your Instant Pot. However, these are the standard cook times for hard boiled eggs in an Instant Pot:
Medium Hard Boiled Eggs – Cook for 3 minutes
Hard Boiled Eggs – Cook 4-5 minutes
Well Done Hard Boiled Eggs – Cook 6-7 minutes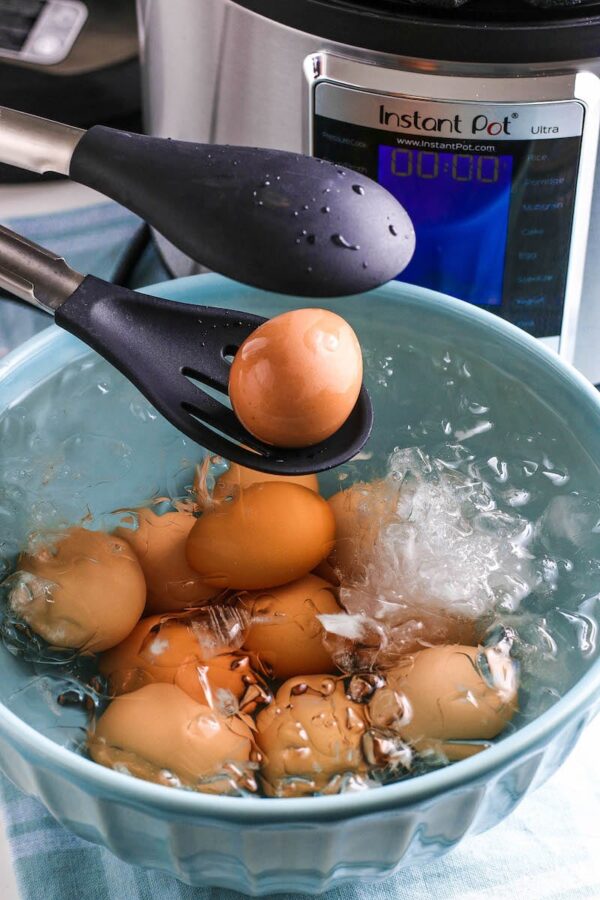 These Hard Boiled Eggs Are So Easy to Peel!
It's absolutely mind boggling how easy it is to peel your Instant Pot Hard Boiled Eggs. Once you've cooked them in the Instant Pot and then let them cool in the ice bath, all you have to do is roll them between your hand and your kitchen counter or table. The shell will peel right off and it won't take any of the egg with it!
Ways to Use Hard Boiled Eggs
This time of year, most of my hard boiled eggs are getting dipped in dye and decorated. They are great to eat with just a simple sprinkling of salt and paprika on top.
Hard boiled eggs are also great sliced and served on top of any salad or in a wrap. They are also tasty used in egg salad or mixed into a potato salad or shrimp salad.
You can even repurpose them into a killer deviled egg recipe and serve them as an Easter luncheon snack.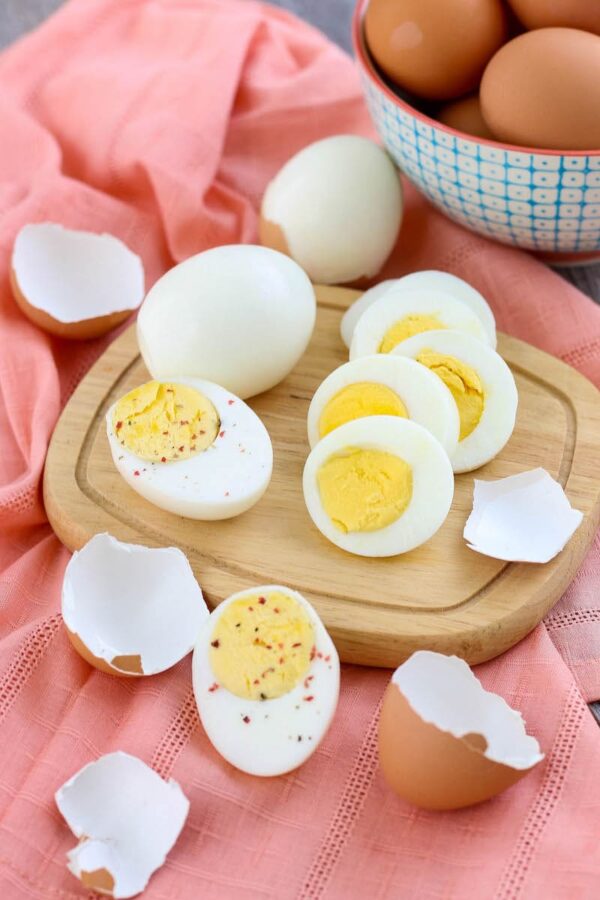 How to Store Hard Boiled Eggs
If you're anything like me, you'll be storing a few (the never found Easter eggs) in your backyard for the next few months! I kid, I kid. I do like to peel my eggs before storing them in the refrigerator, which is no hassle at all since these are so easy to peel. Once my eggs are peeled, I put them in an airtight bag or container and let them hang out in my fridge for about 7 days.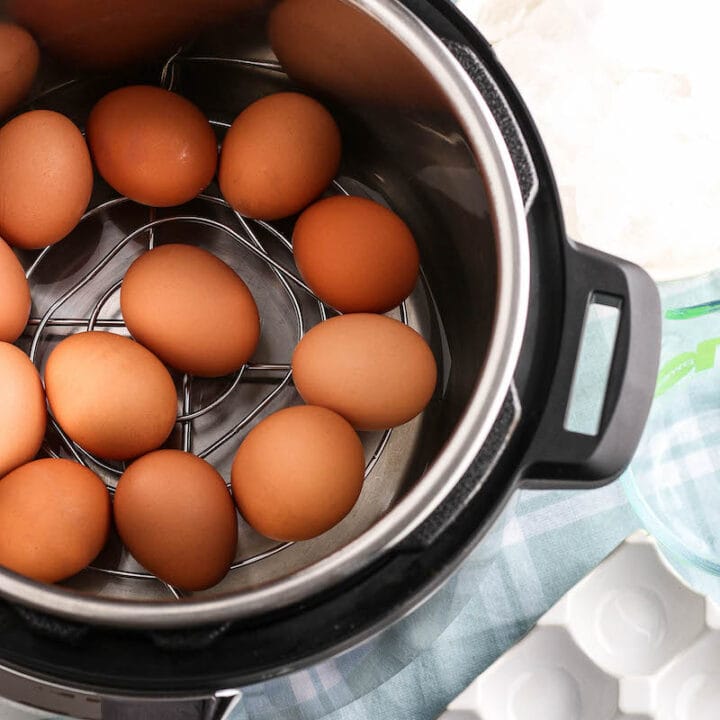 Easy Instant Pot Hard Boiled Eggs
Yield: 12 eggs
Prep Time: 4 minutes
Cook Time: 7 minutes
Total Time: 11 minutes
This method for Instant Pot Hard Boiled Eggs is the quickest and best way to hard boil eggs. Your eggs will be cooked perfectly AND beyond easy to peel!
Ingredients
6-12 Eggs - eggs cook best in a single layer, so this will depend on the size of your Instant Pot
Ice
Cold Water
Instructions
1. Place trivet rack in bottom of instant pot. Add 1 cup of water. Layer eggs in a single layer on trivet.

2. Seal pressure cooker. Set timer for 5 minutes on the manual setting (push the manual button and adjust timer to 5 minutes cook time).

3. After 5 minutes of cooking, allow the pressure cook to sit for 5 minutes. Then manually release the pressure.

4. Prepare an ice bath by adding ice to a large bowl and filling with cold water. Quickly move eggs into ice bath with kitchen tongs.

5. Let eggs sit in ice bath for 5 minutes, then you can peel and serve them warm or let them cool completely and refrigerate!
Notes
Notes
Cooking times may vary depending on your Instant Pot, but the below are standard cook times:
Medium Hard Boiled Eggs - Cook for 3 minutes
Hard Boiled Eggs - Cook 4-5 minutes
Well Done Hard Boiled Eggs - Cook 6-7 minutes
Nutrition Information:
Yield: 12
Serving Size: 1
Amount Per Serving:
Calories: 77
Total Fat: 5g
Saturated Fat: 2g
Trans Fat: 0g
Unsaturated Fat: 3g
Cholesterol: 202mg
Sodium: 78mg
Carbohydrates: 0g
Fiber: 0g
Sugar: 0g
Protein: 7g