Enjoy fluffy, buttery Instant Pot Scrambled Eggs in just 5 minutes! A classic, protein-filled breakfast recipe made fast and easy.
Scrambled Eggs Have Never Tasted Better!
Following the success of making Hard Boiled Eggs in the Instant Pot, paired with my love of all things scrambled eggs, I had a brainwave: Instant Pot scrambled eggs!
Did you know that you can make the most delicious, light, fluffy scrambled eggs using your Instant Pot? Turns out, neither did I – until I tried it. This recipe came out SO GOOD. I don't think you would need a recipe for scrambled eggs in the instant pot every day, but it's good to know you can. We take our instant pot when we go camping and I'm excited to have an easy way to whip up breakfast now.
Protein-packed scrambled eggs are just the best for loading onto toast in the morning, alongside crispy bacon. Eggs are such a staple breakfast recipe in our house, and scrambling them in the Instant Pot couldn't be faster or easier!
Looking for more alternative ways to make scrambled eggs? Try out these Air Fryer Scrambled Eggs or Microwave Scrambled Eggs!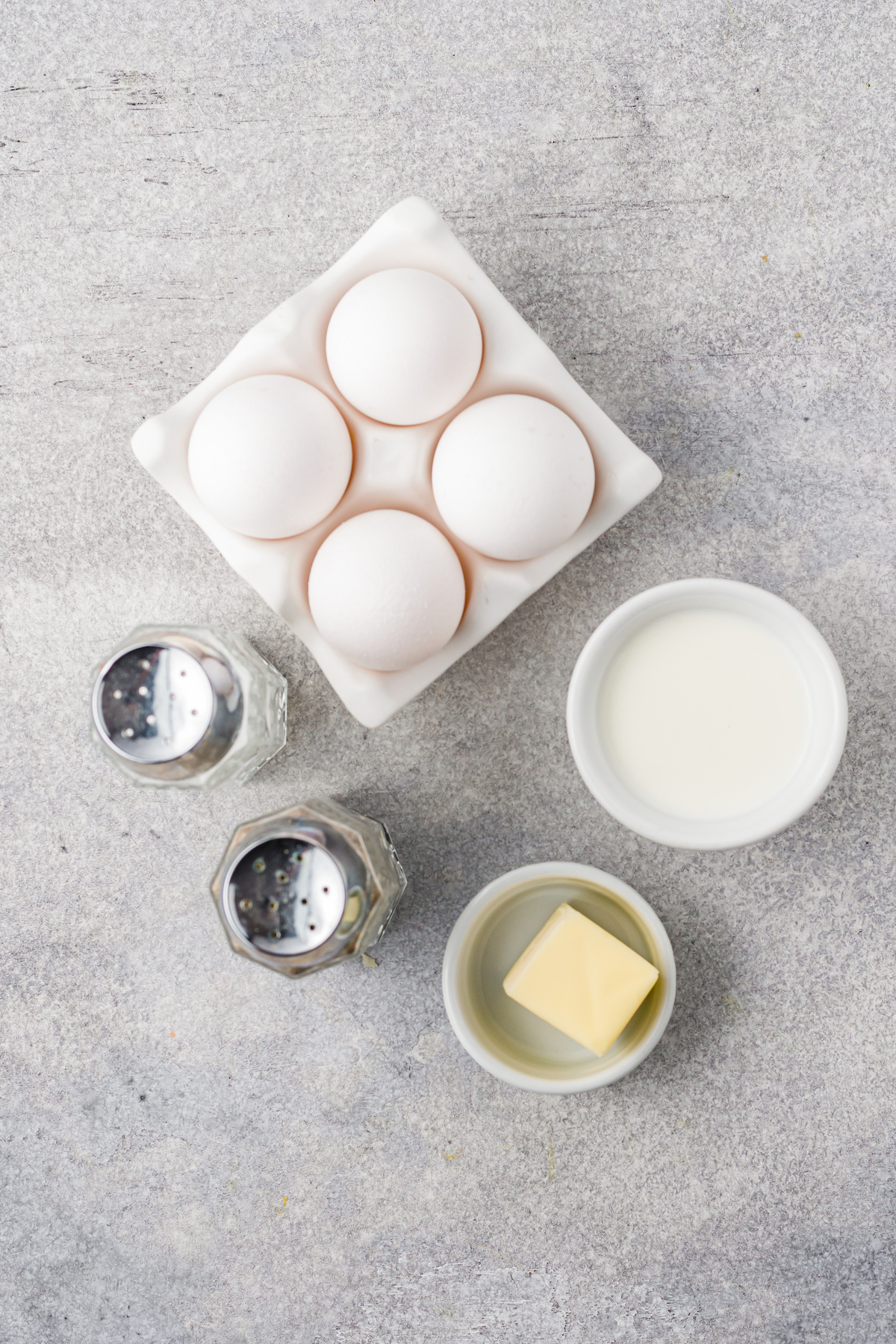 What You'll Need
The ingredients list for scrambled eggs is fuss-free, just like this recipe!
Eggs: First thing's first, you'll need eggs – obviously. I used 4 large ones to make about 2 servings. Free range eggs are always my first choice, but any eggs will do.
Butter: I love indulging in a bit of butter when cooking eggs, since the creamy flavor just takes everything up a notch. However, olive oil is a good alternative if you'd prefer something lighter (and/or dairy free).
Salt & Pepper: A pinch of salt and pepper is a must! Some people are particular about when to add pepper to their eggs – I whisk it right in, but if you're concerned about darkening your eggs, you can always give them a few cracks of pepper afterwards instead.
Milk: Adding milk is optional, and adds a little extra creaminess to the scrambled eggs. Feel free to skip it if you'd prefer.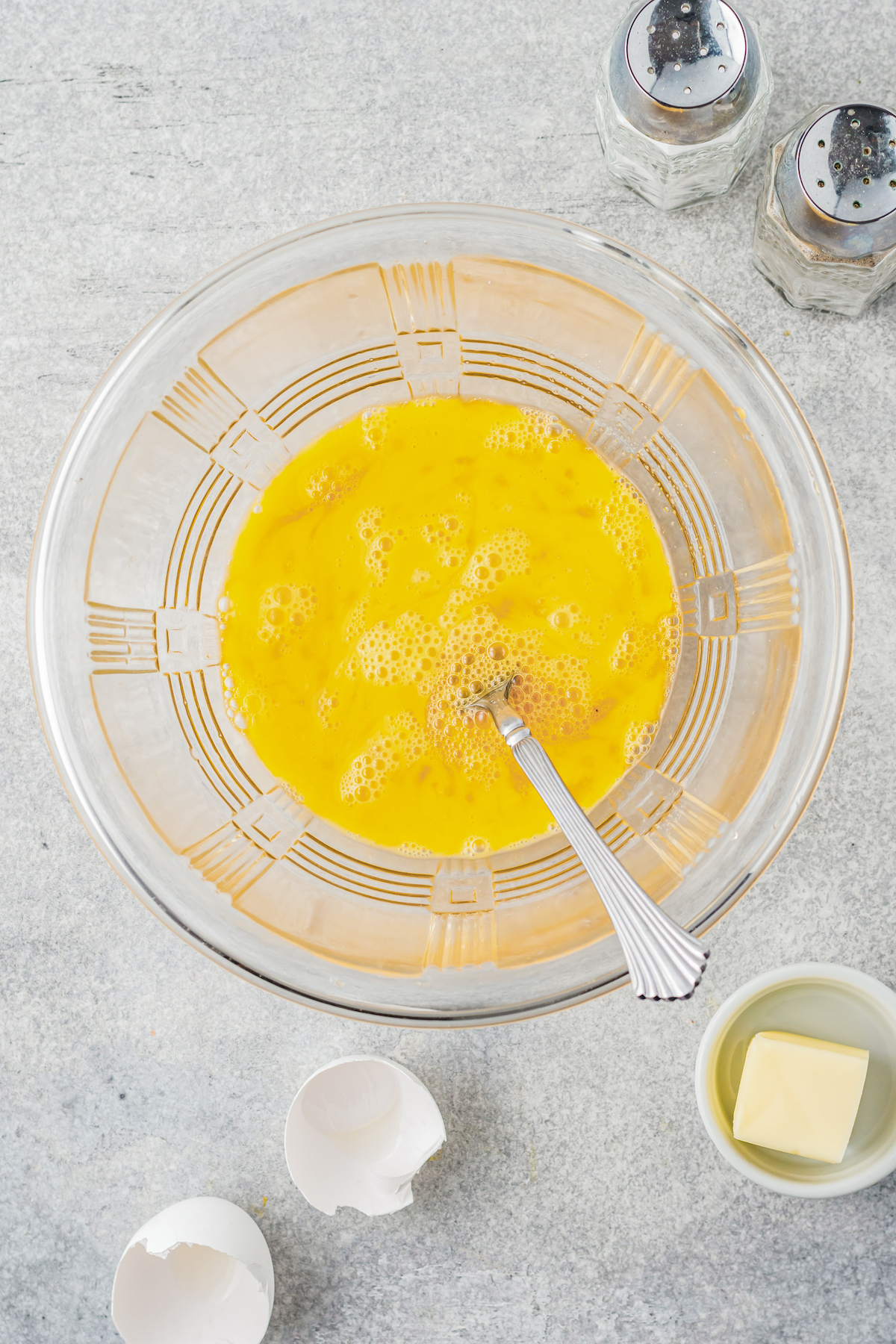 How to Cook Scrambled Eggs in the Instant Pot
These eggs cook so quick, one blink and you might miss it! Here's how to make scrambled eggs in the Instant Pot in 3 steps:
Combine: Set the pot to sauté, then add in the butter. While the butter melts, whisk your eggs in a bowl with salt and pepper. Pour the eggs into the Instant Pot with the hot butter.
Scramble: Use a spatula or wooden spoon to scrape the eggs in a sweeping motion back and forth. Continue to scramble the eggs while they cook for about 2-3 minutes.
Serve: Turn off the Instant Pot and take out the pan to help keep the eggs from overcooking. Serve right away.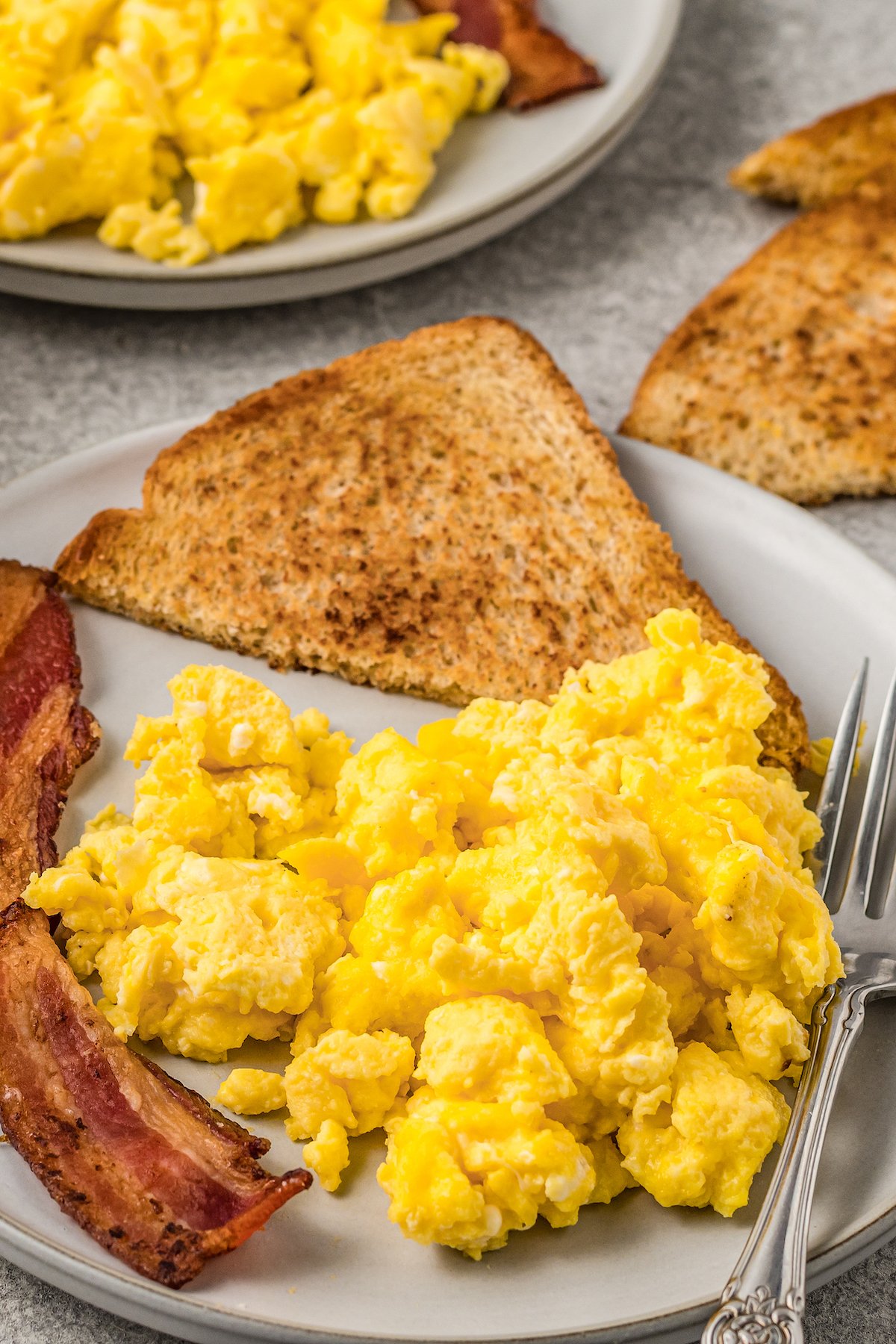 Tips for the Fluffiest Scrambled Eggs
Use Fresh Eggs: The fresher the eggs, the fluffier the scramble! Get your hands on the freshest, good quality eggs you can find for the best possible results. You can skip the milk and let your scrambled eggs shine!
Use the Right Spatula: A wooden spoon/spatula or silicone spatula is the best for scrambling eggs! Not only does it protect the pot from scratches, it's easier to move the eggs around to aerate them.
Avoid Overcooking: Eggs will continue to cook even after they're removed from the heat. Keep this in mind and stop cooking while the eggs are still a little wet.
Why Are My Eggs Sticking?: One caveat of Instant Pot scrambled eggs: they will stick to the pot. I tested with sprays, oils, and butter, to no avail (has anyone succeeded in stick-proofing their Instant Pot when scrambling eggs? Let me know in the comments!). The flavors are still delicious! Just do your best to get your eggs scrambled and outta there quickly, so they don't overcook.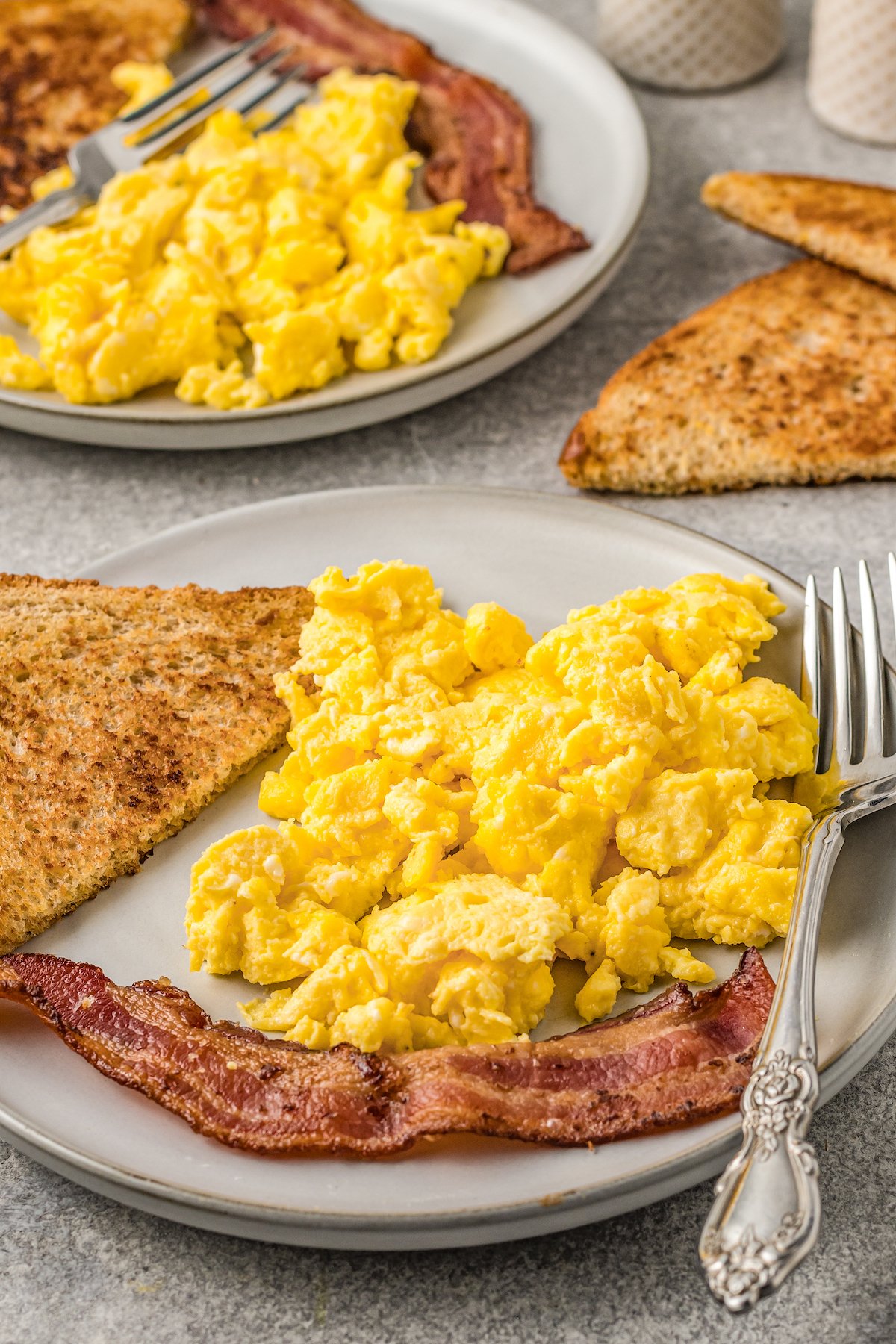 Add-In Ideas
These eggs are fabulous on their own, or you can dress them up with add-ins. Every family has their preference! Here are some of our favorites:
Shredded cheese
Salsa (or a can of drained Rotel will also work)
Chives
Onion
Bacon or Ham
Spinach
Asparagus
A Note About Add-Ins: These Instant Pot scrambled eggs cook up so quickly, I suggest pre-cooking add-ins with longer cooking times. That way they'll be properly cooked through when you add them into the eggs!
Serving Suggestions
I love eating my scrambled eggs with a sprinkle of chives for a light breakfast on-the-go. Weekends with the family are always the full spread: bacon and breakfast sausage, muffins, French toast, Biscuits and Gravy, the works! On occasion, I even turn these into savory and spicy Chorizo Eggs.
You really can serve these alone or as a meal, they're always a winner. Here are more breakfast ideas to serve with these easy scrambled eggs: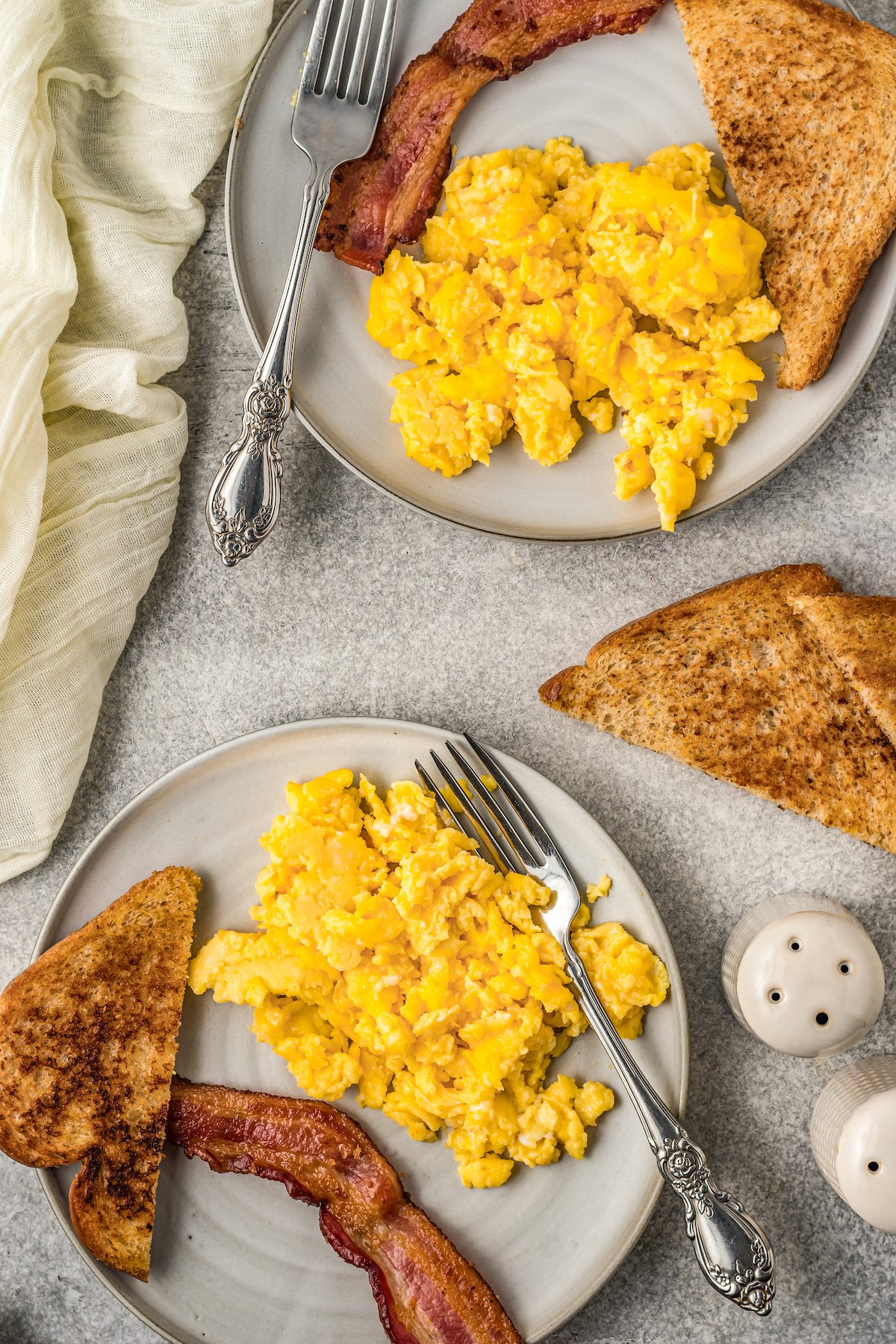 How to Store and Reheat Extras
These scrambled eggs are so fast and easy to make, I always recommend making them fresh. However, if you'd like to store them or make them ahead, you can place your scrambled eggs in an airtight container in the fridge. They'll keep for up to 5 days.
Reheat the eggs in the microwave, covered in a paper towel to retain the moisture. Once they're heated through, drain any liquid and serve!
More Easy Egg Recipes
Yield: 2 servings
Instant Pot Scrambled Eggs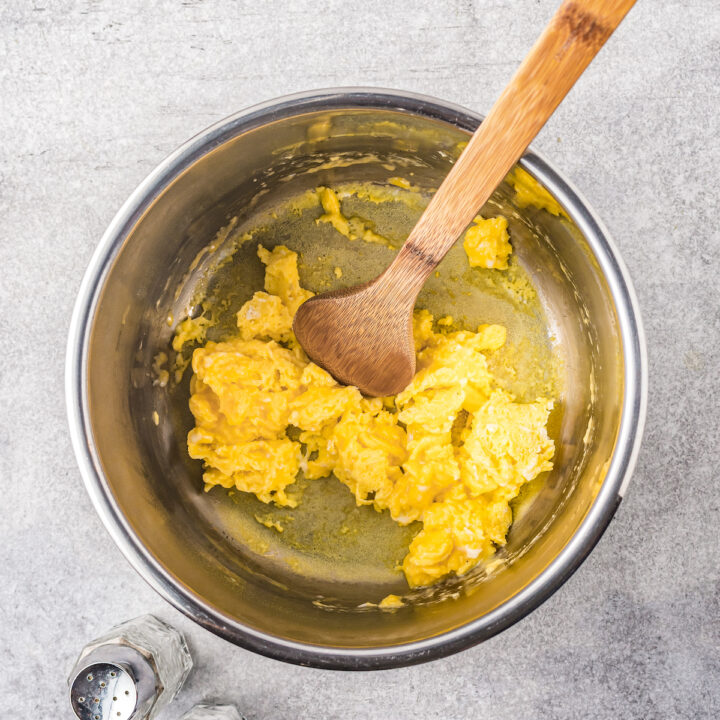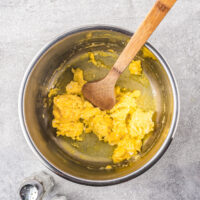 Enjoy fluffy, buttery scrambled eggs in just 5 minutes! A classic breakfast recipe made fast and easy in the Instant Pot.
Ingredients
4 large eggs
1-2 tablespoons butter
1/4 teaspoon salt
Small pinch pepper, optional
2 tablespoons milk, optional
Instructions
Melt the butter on the sauté cycle. Whisk the eggs, salt and pepper together, then pour into the hot butter.
Scrape the eggs back and forth with a spatula. Continue cooking and scraping for 2 to 3 minutes. Turn off the Instant Pot and remove the pan from the instant pot to prevent too much cooking.
Serve the eggs immediately.
Notes
Storage: 
Scrambled eggs are best served fresh, but they can be stored in an airtight container in the refrigerator for up to 5 days.
Optional Add-Ins: 
1/4 cup shredded cheese
1 teaspoon chopped chives
2 tablespoons chopped onion
1/4 cup chopped ham
1/4 cup cooked and crumbled bacon
1/4 cup spinach
1/4 cup diced asparagus
1 cup Homemade Pico De Gallo (salsa or a can of Rotel (drained) will also work!)
Tips:
These eggs are made simply with eggs, salt, pepper and butter.  You may choose to add some milk, but this is not necessary and if you choose to add milk, just 1 ½  teaspoons per egg should be added.
Many wish to add other ingredients to their scrambled eggs. There is no wrong way, so add whatever your family likes. You may need a little extra cooking time, but it shouldn't increase the cook time by much more than a minute or so.
Eggs cooked in the instant pot will stick to the pot. Try as I might, using spray, oil, and butter, it still sticks, so just do your best to get them cooked and removed so they don't overcook.
Nutrition Information:
Yield:
2
Serving Size:
1
Amount Per Serving:
Calories:

253
Total Fat:

21g
Saturated Fat:

11g
Trans Fat:

1g
Unsaturated Fat:

9g
Cholesterol:

404mg
Sodium:

505mg
Carbohydrates:

2g
Fiber:

0g
Sugar:

1g
Protein:

13g
Categories
This post may contain affiliate links. Read my disclosure policy.