The Best Low Carb Bagels: you would never guess these amazing everything bagels are low carb when made with mozzarella cheese, cream cheese and almond flour.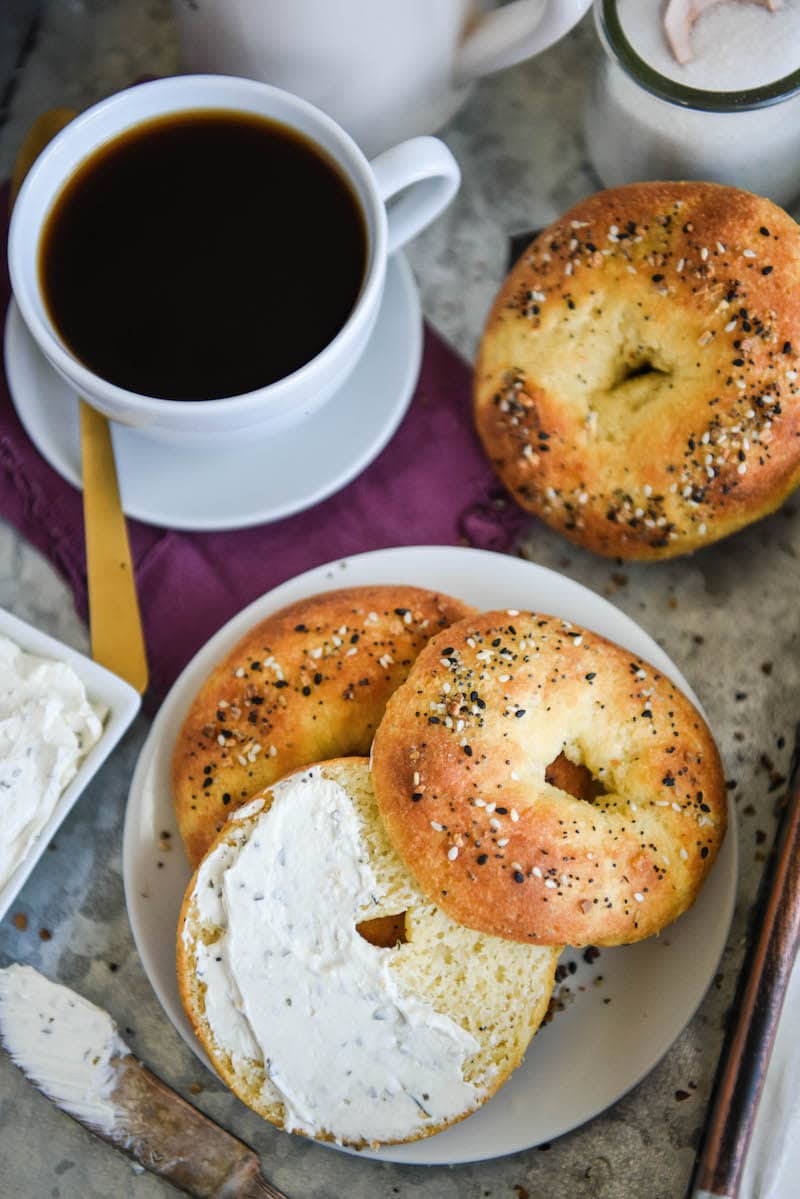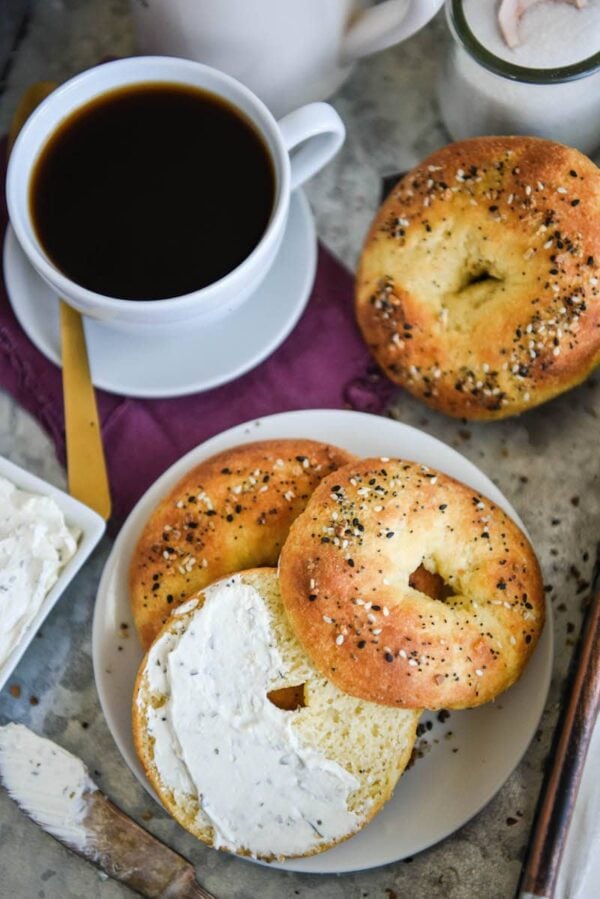 Hi there fellow low carb dieter that is missing all the bread like things!
It's me, fellow carb lover Jessica! And I have been missing my morning bagel more than anything in the world.
Seriously, I wake up imaging myself eating all the carbs and then their carb friends and carb sisters.
Breakfast is by far my HARDEST meal of the day to stay low carb. If I can make it through breakfast, the rest of the day is ok.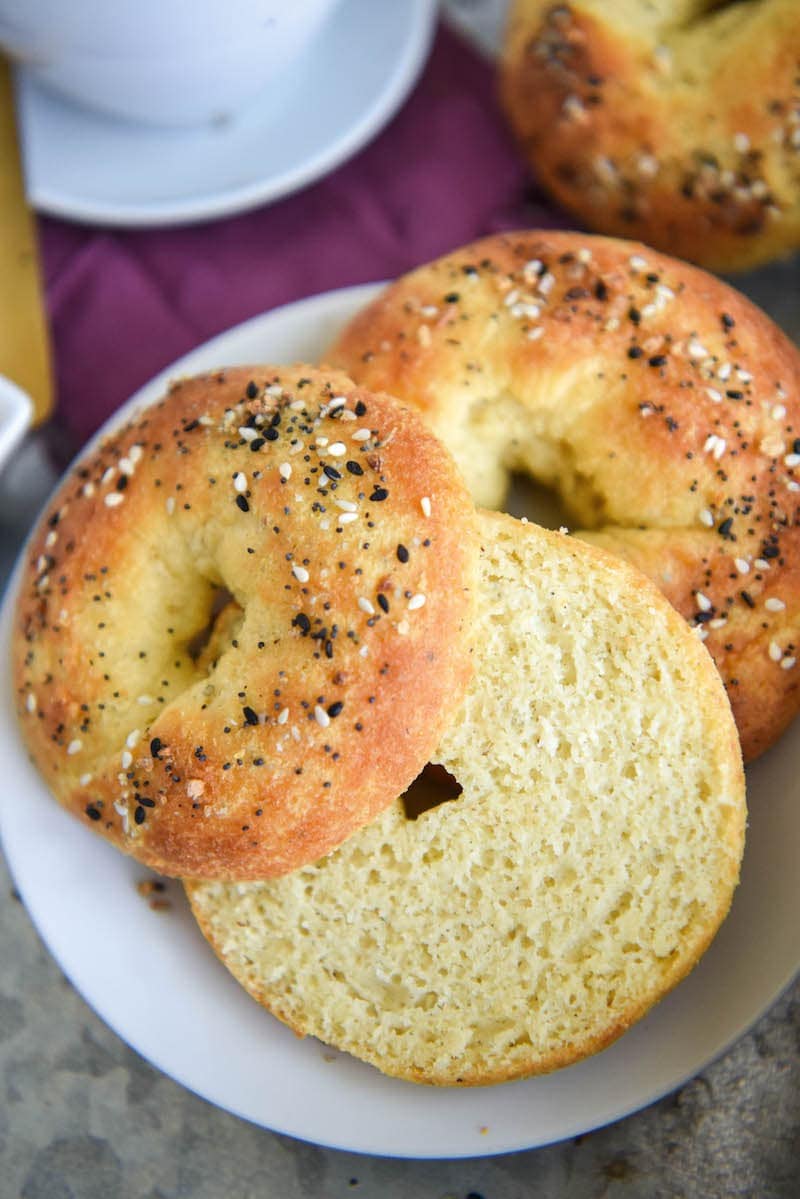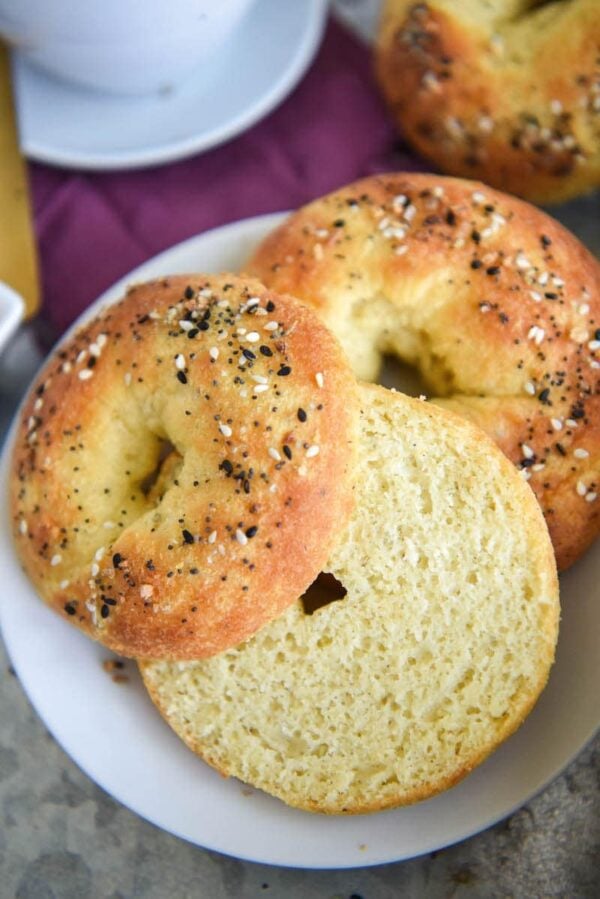 I miss toast. Bagels. Cereal. Oatmeal. Pancakes. Literally everything.
So, I have been on a mission to find ways to make breakfast a meal I enjoy again when I am eating low carb.
It took me a lot of tries, but I finally nailed the recipe for the best Low Carb Pancakes.
Just read the comments and read ALL of those positive reviews! Those pancakes are THE holy grail of low carb pancakes.
And now, I bring to you, the best ever Low Carb Bagels. Just look at that perfect texture in that picture above!
That came from almond flour, mozzarella cheese, cream cheese, eggs and a little baking powder. Shocking right??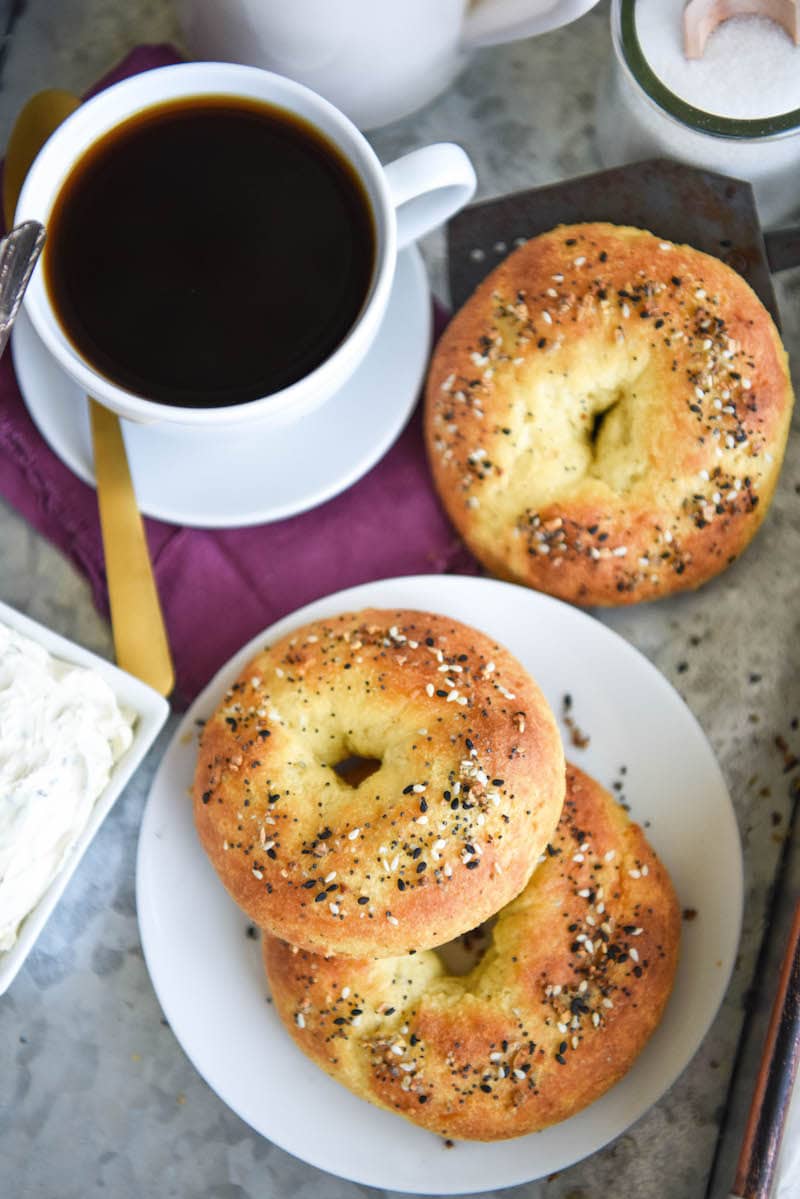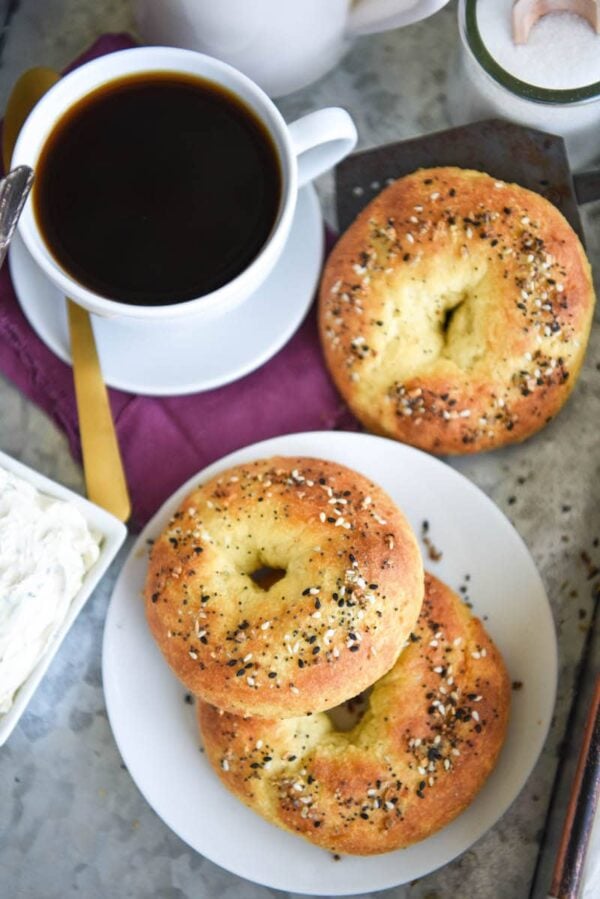 I have made these Low Carb Everything Bagels for so many people over the holidays and everyone (whether low carb or not) has loved them.
Bonus: you are serving them fresh and hot out of the oven in just 17 minutes!
You do not need to toast these bagels, just slice them in half and top with your favorite bagel toppings.
While they are a little softer than a toasted bagel, they taste like pure carby bagel heaven.
They have all the flavors you expect of a traditional everything bagel, but clock in at just 5 net carbs and are missing all the gluten!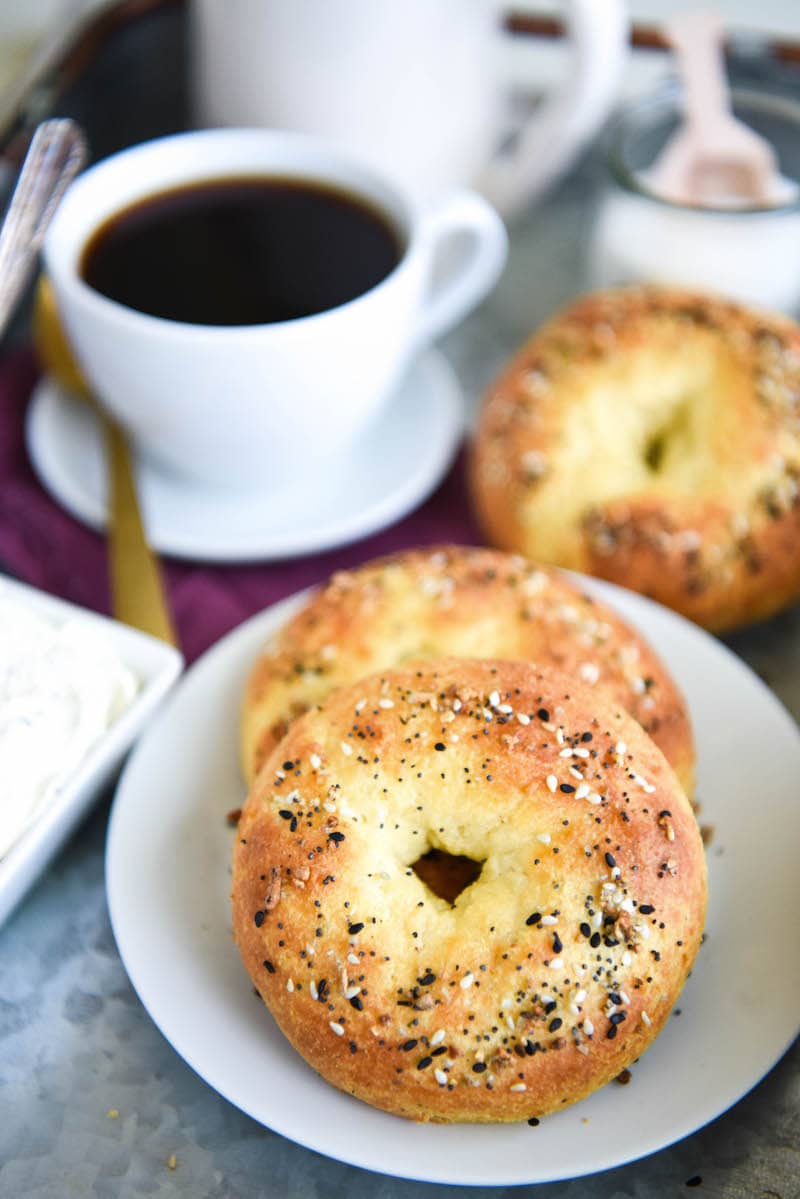 These low carb bagels are best fresh directly after baking.
I like to top them with chive cream cheese, but you can use whatever cream cheese flavor you like best.
You can wrap the leftovers individually and store them on the counter, however they will not be as fluffy as they are hot out of the oven.
But, I still think they taste pretty good once toasted and topped with cream cheese.
Watch the video below to see how I form the dough! It's helpful to see what to expect since it is a little different than they type of dough most of us are used to.
You also REALLY want to use everything bagel seasoning to give these bagels flavor. I buy mine from Trader Joes since it's super cheap in store.
If you do not like everything bagel seasoning, or do not have it, you can use things like rosemary, garlic salt and pepper or whatever has a good strong flavor.
I can not wait for you all to try these Low Carb Everything Bagels! I know you are going to love them!!
RECIPE NOTE: Make sure you are using almond flour, not almond meal. It makes a world of difference to the final texture. Almond meal is grainy and you can see flecks of brown from the almond skins. Almond flour is very fine, like traditional flour, and one solid color.
Yield: 6 bagels
The Best Low Carb Bagels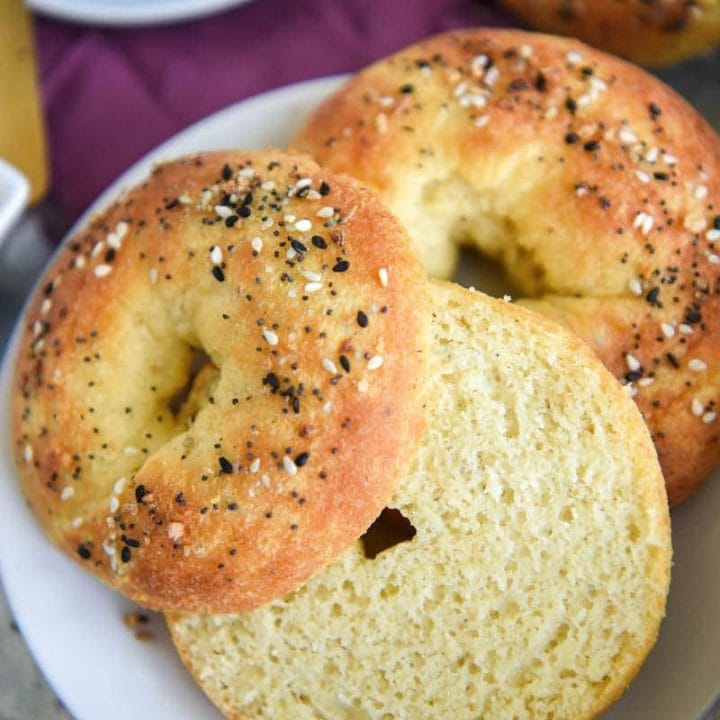 THE BEST LOW CARB BAGELS: YOU WOULD NEVER GUESS THESE AMAZING EVERYTHING BAGELS ARE LOW CARB WHEN MADE WITH MOZZARELLA CHEESE, CREAM CHEESE AND ALMOND FLOUR.
Ingredients
1 1/2 cups almond flour
1 tablespoon baking powder
1/2 teaspoon garlic salt
1/2 teaspoon fresh cracked pepper
2 1/2 cup shredded Mozzarella cheese
3 oz cream cheese, cubed
2 large eggs
everything bagel seasoning, to taste
cream cheese, optional topping
Instructions
Preheat the oven to 425°F. Line a baking sheet with parchment paper, set aside.
Stir together the almond flour, baking powder, garlic salt and pepper. Set aside.
Place mozzarella and cubed cream cheese in a large bowl. Microwave for 2 minutes, stirring halfway through. Stir again at the end until well incorporated. Let the mixture cool just until you can handle touching it (for me that's about 1 minute).
Add the flour mixture and two eggs to the melted cheese mixture. Quickly knead with your hands until a dough forms. The dough will be very sticky and it will take a few minutes for the dough to form, but just keep kneading, it will come together as the cheese cools. Watch the video posted above for extra tips and to see what the dough looks like. (If the dough becomes hard before fully mixed, or is too difficult to mix, you can microwave for 15-20 seconds to soften it.)
Divide the dough into 6 parts. Form a long log with each piece, then press the ends together to make a bagel shape on the lined baking sheet. Repeat with the remaining dough.
Sprinkle everything bagel seasoning over the bagels and gently press into the dough. Bake for 12-14 minutes, until the bagels are firm and golden.
Serve fresh out of the oven, sliced in half and smeared with cream cheese. You can store leftovers (they are best fresh) in an airtight container on the counter. To reheat, lightly toast in toaster.
Nutrition Information:
Yield:
6
Serving Size:
1
Amount Per Serving:
Calories:

410
Total Fat:

29g
Saturated Fat:

10g
Trans Fat:

0g
Unsaturated Fat:

17g
Cholesterol:

104mg
Sodium:

841mg
Carbohydrates:

20g
Fiber:

4g
Sugar:

4g
Protein:

20g
Want to Save This Recipe?
Disclaimer: There are a couple of general affiliate links above. Thank you for any purchases through them as I may receive a small percentage back for recommending the products I like to use at home!
SaveSave
This post may contain affiliate links. Read my disclosure policy.