The Queen of Brunch Cocktails! This recipe for the Ultimate Loaded Bloody Mary is a choose-your-own-adventure beginning with spicy homemade Bloody Mary mix and vodka, then loaded with trimmings and a sticky BBQ pork rib! It's the perfect interactive cocktail for your next party or gathering, and just as good enjoyed over brunch!
The Only Bloody Mary Recipe You'll Ever Need
When it comes to the Court of Cocktails, there is only one true Queen: The Loaded Bloody Mary! This is my favorite homemade version of the classic "breakfast in a glass" that sees flavorful tomato juice spiced and mixed with vodka, then garnished with just about any ingredient under the sun.
This recipe in particular is the only one you'll ever need: fresh and savory tomato cocktail charged with a good dose of hot sauce and vodka, seasoned with horseradish and cajun spice, and loaded up with trimmings of celery, olives, pickled okra and the crown jewel: a sticky pork rib!
If you haven't yet experienced a fully loaded Bloody Mary, you'll soon see why this is a favorite brunch cocktail for so many. Get ready to dive into a glass – or pitcher – of these at your next weekend brunch or get-together! They make an excellent "build-your-own" cocktail for parties, as they're endlessly customizable for a refreshing drink and snack all in one glass.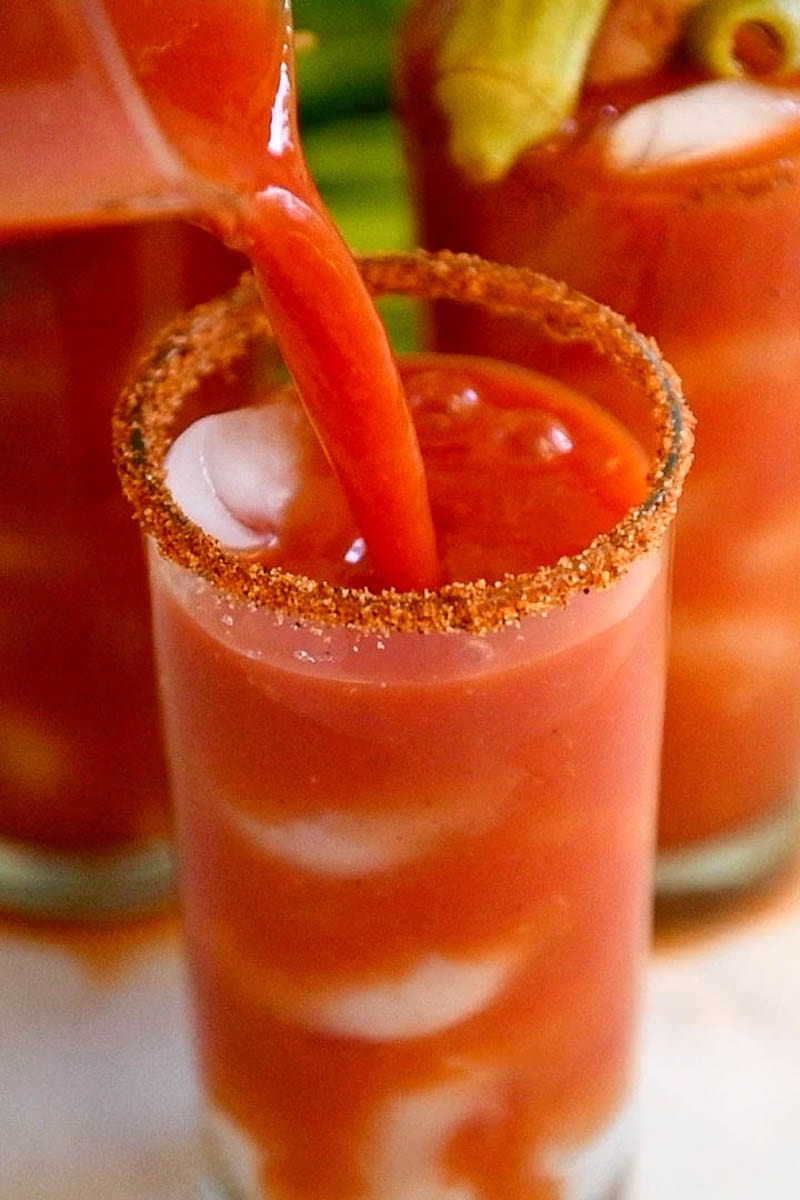 What is a Bloody Mary?
A classic Bloody Mary recipe starts with a combination of tomato juice or cocktail, Worcestershire sauce, vodka, and spices. From there the options for both ingredients and garnishing are endless!
The Bloody Mary is famous for being both a beloved breakfast/brunch cocktail and "meal in a glass", thanks to its vitamin-rich tomato base and all the fresh fixings that can be added: celery, olives, and a lemon wedge are most common, but the list goes on forever!
Bloody Mary Bars have grown in popularity also, where a glass of prepared tomato mix can be topped from a buffet stocked with garnishes and trimmings. See my suggestions for setting up your own self-serve cocktail spread later on in this post!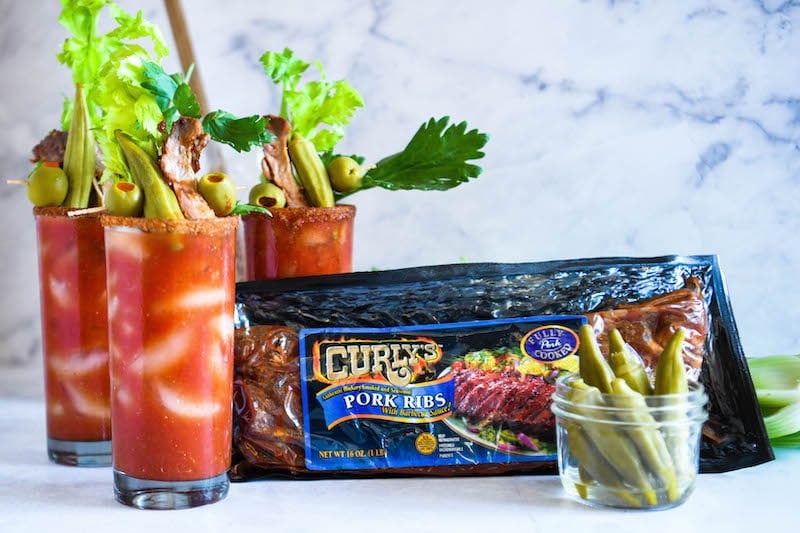 Recipe Ingredients
Depending on who you ask, the Bloody Mary is a textbook case of a combination that sounds a little crazy, but somehow just works. Tomato juice in an alcoholic cocktail? With hot sauce? The audacity!
And yet, the perfect Bloody Mary mix has three qualities: a little salt, a little sweet, and a little or a lot of heat (by preference, of course!). Everyone has their own ratios and preferences as to what makes the perfect mix, but one thing we can all agree on is that fresh is best!
Here are the ingredients you'll need for a dynamite Bloody Mary mix made from scratch:
Tomato Juice: I use regular tomato juice in my recipe and spice it to my liking. Alternatively, you can use a tomato cocktail like V8 or Clamato for something with a bit of extra flavor.
Horseradish: This recipe uses creamy horseradish. Regular prepared horseradish also works, creating a sort of "pulp" in the tomato juice that adds a layer of texture.
Fresh Lemon Juice: A splash of acidity that enhances the flavors.
Worcestershire Sauce: A key ingredient for its unbeatable umami taste. Almost more important than the vodka (I said what I said!)
Hot Sauce: A common choice is Tabasco or a cayenne hot sauce, however your sauce's flavor and heat level are subject to personal taste! A chili sauce like Sriracha gives a sweeter heat for a nice contrast in flavor.
Vodka: You don't have to raid the top shelf liquor for a Bloody Mary; classic vodkas like Smirnoff, Ketel One, or Titos are all suitable. You can also get creative with other types of alcohol that will bring different flavor profiles to your mix. See my Tips for Success section for suggestions!
Cajun Seasoning: An ode to my Southern roots. I add a dash to season the mix and also use it to rim the glasses.
Salt & Pepper: For extra seasoning.
Optional: One garlic clove, finely minced for even more flavor!
For the Garnish
Olives
Pickled Okra
Celery
Sticky Pork Rib (I really can't resist a Southern twist!)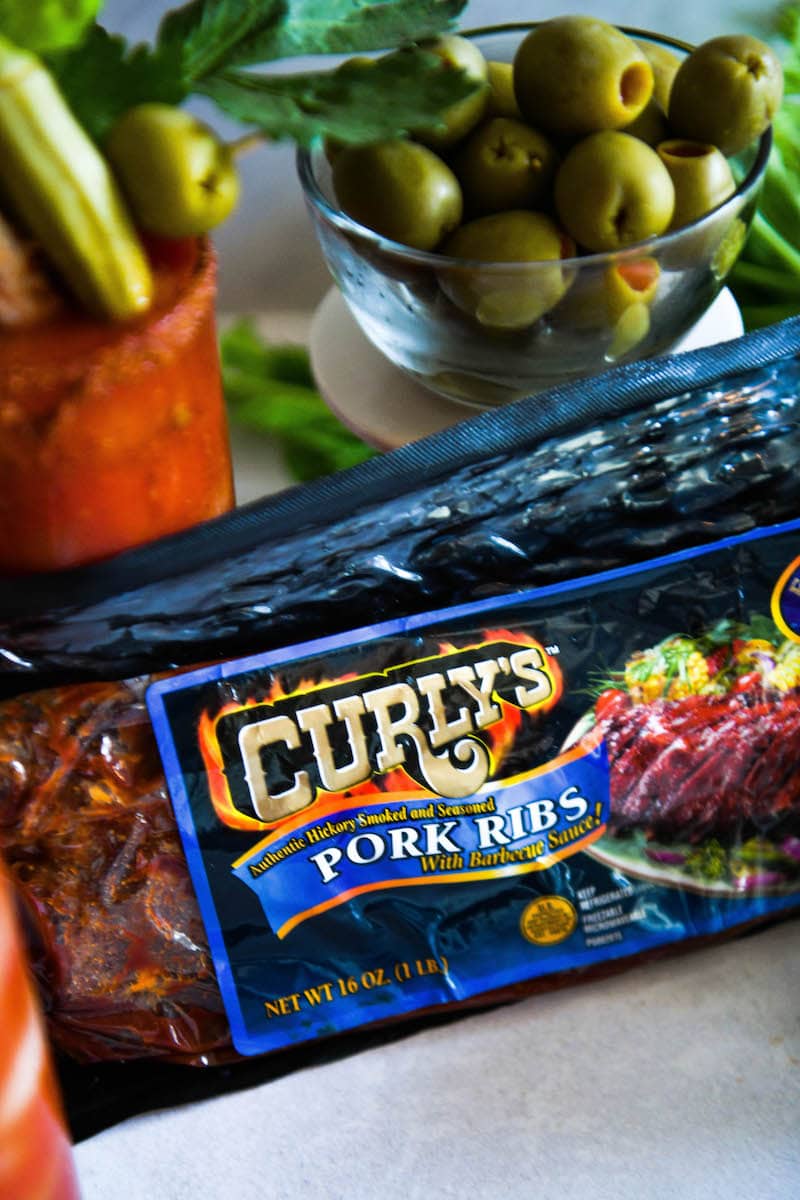 How to Make a Bloody Mary
First, I always recommend starting with a plain tomato juice and seasoning it yourself to your personal tastes. Spicy or mild, it's up to you! The key to a good Bloody Mary mix though is the fresher, the better.
Make the Bloody Mary Mix: Since this recipe will serve a group, begin by filling a large pitcher with your tomato juice or tomato cocktail of choice. Next, get mixing! I season this homemade Bloody Mary mix with a combination of fresh lemon juice, Worcestershire sauce, horseradish, hot sauce, garlic, cajun seasoning, black pepper and salt. Pop the mix in the refrigerator for about an hour, until chilled.
Rim the Glasses: Dip the rim of a glass in a dish of water or lemon juice and then coat the rim with Cajun seasoning.
Prepare your Cocktail: Fill a glass with ice and add a couple ounces of the vodka of your choosing. Next, fill the remainder of the glass with the prepared Bloody Mary mix.
Garnish: Fix up your cocktail with olives, pickled okra, a crispy celery stalk and a sweet pork rib, or your favorite trimmings. Add an extra kick of hot sauce if desired!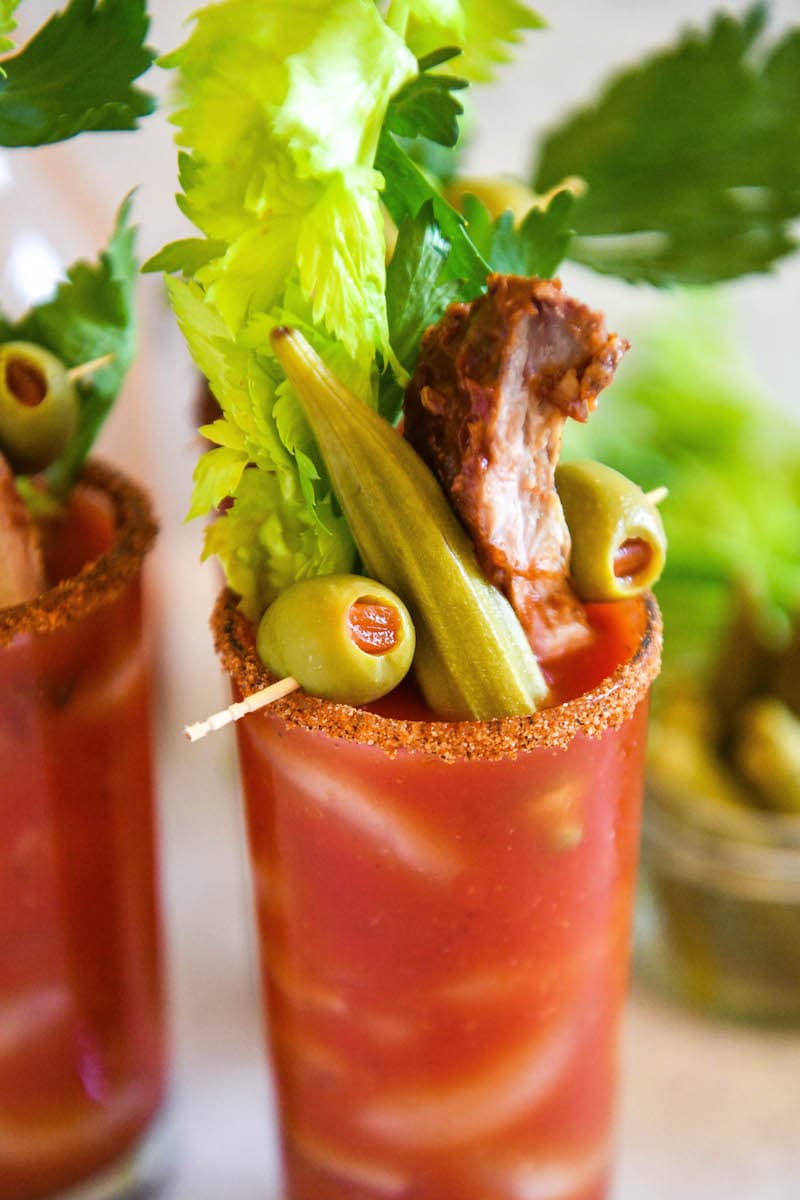 Tips for Success
Add Pickle Juice to the Bloody Mary Mix. Trust me, a splash of the juice or brine from the pickled garnish of choice – pickles, jalapenos, cocktail onions, olives, etc. – will add just one more boost of flavor to your tomato cocktail!
Don't Be Modest With Worcestershire Sauce. Even if you think you may have added too much, you likely haven't. Give an extra dash anyway.
Try Different Alcohol Variations. Technically vodka is what makes a classic Bloody Mary, but don't let technicalities hold you back! Mix yours with any of the following for something a little different:
Tequila for a South-of-the-border twist
Gin for an aromatic option
Bourbon for a hint of sweetness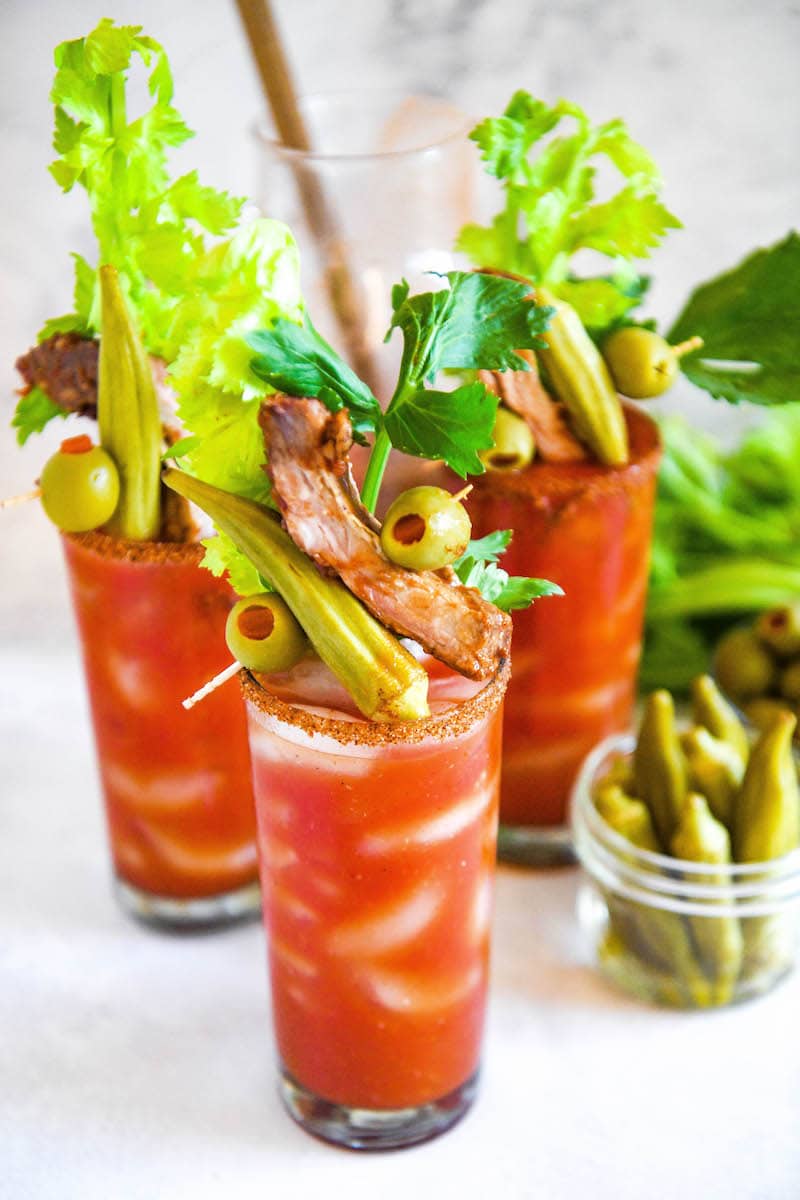 Creating a Bloody Mary Bar
Move over, punch bowl – if you are having a party or serving a lot of people, a Bloody Mary Bar is the latest trend that I'm totally on board for. The concept of a DIY cocktail and toppings arrangement gives everyone the chance to make their own personal Ultimate Loaded Bloody Mary, complete with all the fixings!
To set up your own Bloody Mary Bar, prepare the homemade Bloody Mary mix ahead and refrigerate it until needed. Set out the glasses, ice, vodka and, once ready, the chilled mix.
Lastly, stock your bar with an assortment of toppings and garnishes that guests can use to "load" their cocktails. I like to have appetizer skewers available that can be loaded with more than one ingredient! Below are some of my favorite garnishes.
Garnish Ideas
Celery Stalks

Olives (Plain or Pimento/Blue Cheese Stuffed)
Spicy Pickled Green Beans
Pickles (Dill, Spicy, or Butter Pickles)
Carrots, Radishes, Snap Peas
Pickled Okra, Pickled Asparagus, Pickled Jalapeños
Cocktail Onions
Lemon or Lime Wedges
Battered Onion Rings
Cocktail Shrimp
Cheese Cubes
Pork Ribs
Crispy Bacon Strips
Can I Make this in Advance?
Prepare your seasoned mix in advance and store it airtight for up to 5 days in the refrigerator. You can even freeze Bloody Mary mix for a few months! Simply thaw it in the fridge and then top it up with ice and vodka.
Be sure to give the mix a shake before serving, to blend in all the seasoning that may have settled at the bottom.
More Cocktail Recipes to Try
Looking for more easy cocktails? Try these deliciously boozy recipes:
Bloody Mary Recipe
The ultimate brunch cocktail! This Loaded Bloody Mary is made with a spicy homemade Bloody Mary mix, piled with garnishes and a sticky BBQ pork rib.
Ingredients
6

cups

tomato juice

2

tablespoons

creamy horseradish

2

tablespoons

fresh lemon juice

1

tablespoon

Worcestershire sauce

1

tablespoon

hot sauce

1

garlic clove

,

minced extra fine (optional)

1

teaspoon

cajun seasoning

½

teaspoon

black pepper

¼

teaspoon

salt

12

oz

vodka
Garnish:
Curly's Pork Ribs

Olives

Pickled Okra

Celery

Cajun Seasoning

,

for rim of glass
Instructions
In a large pitcher, whisk together tomato juice, horseradish, lemon juice, worcestershire sauce, hot sauce, garlic, cajun seasoning, salt and pepper.

Refrigerate until chilled, about 1 hour. (Store for up to 5 days in an airtight container in the refrigerator.)

To serve: Place cajun seasoning on a small plate. Dip the rim of glass in a shallow amount of water (or run a lemon slice around the rim) and then quickly dip into the seasoning.

Fill glass with ice and add 2 oz of vodka and then fill with the Bloody Mary mix. Garnish with a Curly's Pork Rib, olives, pickled okra and celery!
Nutrition
Serving:
1
,
Calories:
214
kcal
,
Carbohydrates:
18
g
,
Protein:
5
g
,
Fat:
3
g
,
Saturated Fat:
1
g
,
Polyunsaturated Fat:
1
g
,
Cholesterol:
6
mg
,
Sodium:
579
mg
,
Fiber:
4
g
,
Sugar:
8
g
Categories:
This post may contain affiliate links. Read my disclosure policy.