This frozen Peach Bellini recipe is an upgrade on the classic Italian cocktail made with just three ingredients: sweet peaches, prosecco and peach schnapps!
I have a plan. Let's make these Peach Bellinis, close our eyes and pretend we are on vacation.
I did it just last weekend. And it worked great, until the kids found me hiding on the front porch. ;-)
Peach Bellinis are fruity perfection in a glass and this frozen version is no exception.
The refreshingly light peach flavor and cool frozen slushy texture make these the perfect Summer cocktail.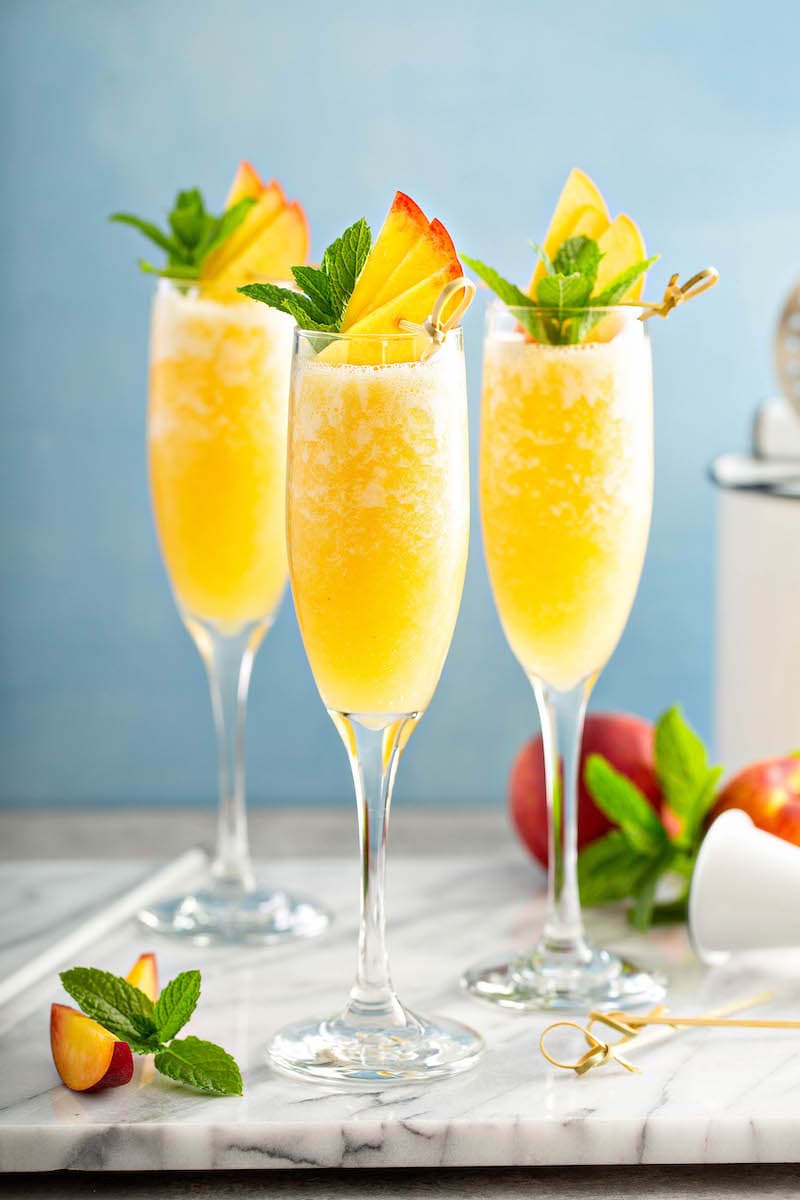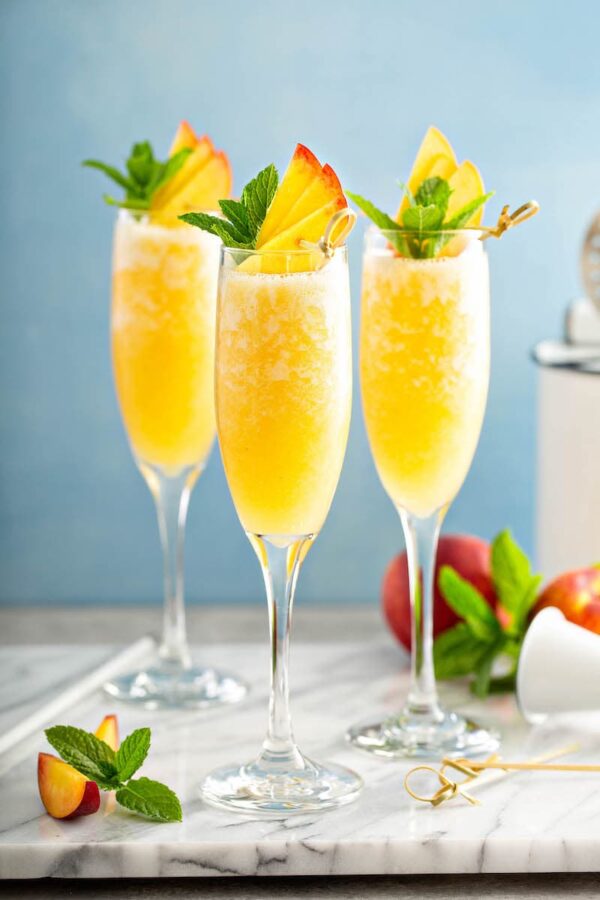 Traditional Peach Bellini
A traditional Bellini is a little different than what we have here. The biggest difference – white peaches.
The original Bellini, created in Italy, was made with white peaches and had a pink hue to it.
White peaches are not commonly available in the U.S., at least not in Florida, so instead we use traditional peaches giving our Bellinis a brighter orange color.
Traditional Italian Peach Bellinis are also made with fresh peach puree, not frozen peaches.
If you prefer that style, follow the recipe below, just use fresh peeled peaches instead of frozen!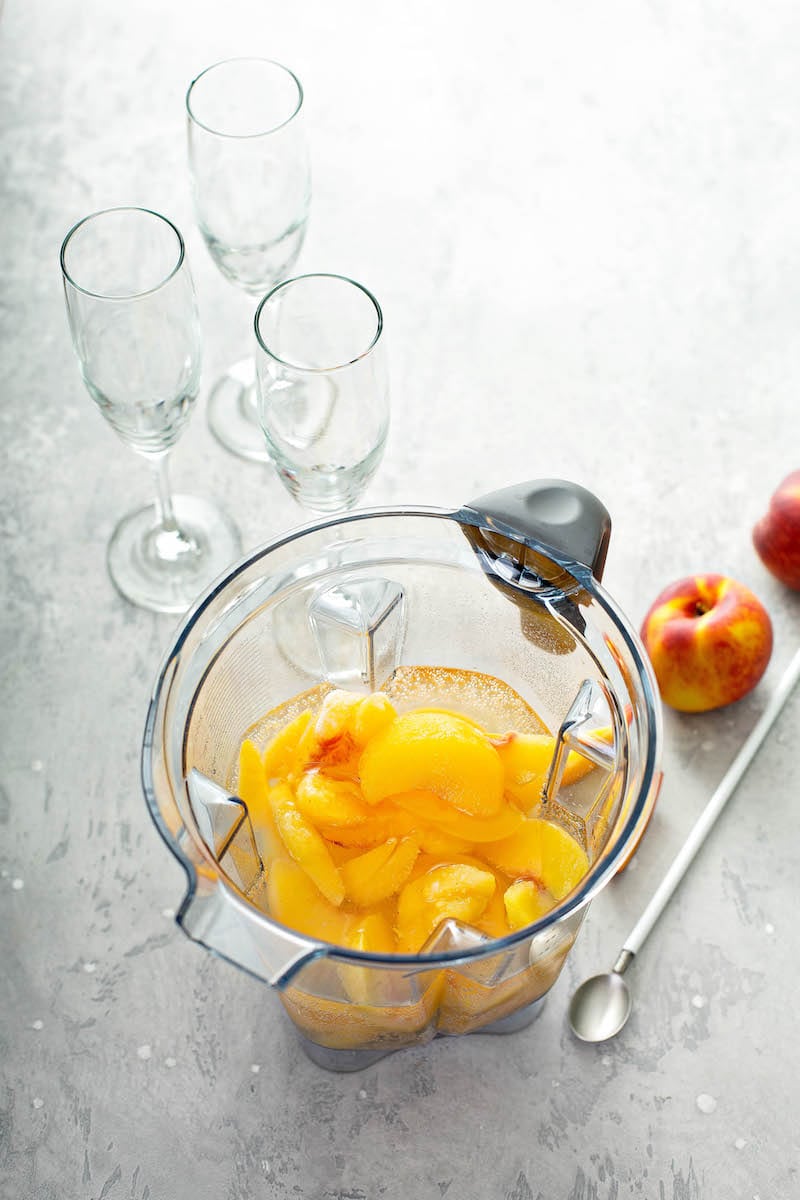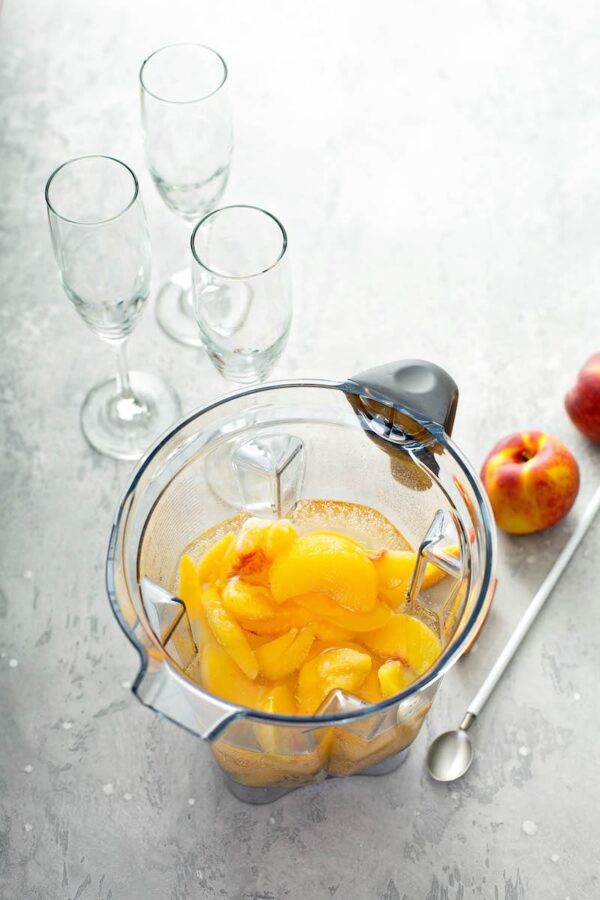 Peaches
To make this Peach Bellini nice and frosty like in the photos, you will want to use frozen peaches.
However, that doesn't mean you can't use fresh peaches if you are lucky and found a great deal on peaches or have a peach tree!
Just peel and freeze your fresh peaches and then you will have frozen peaches to make bellinis with!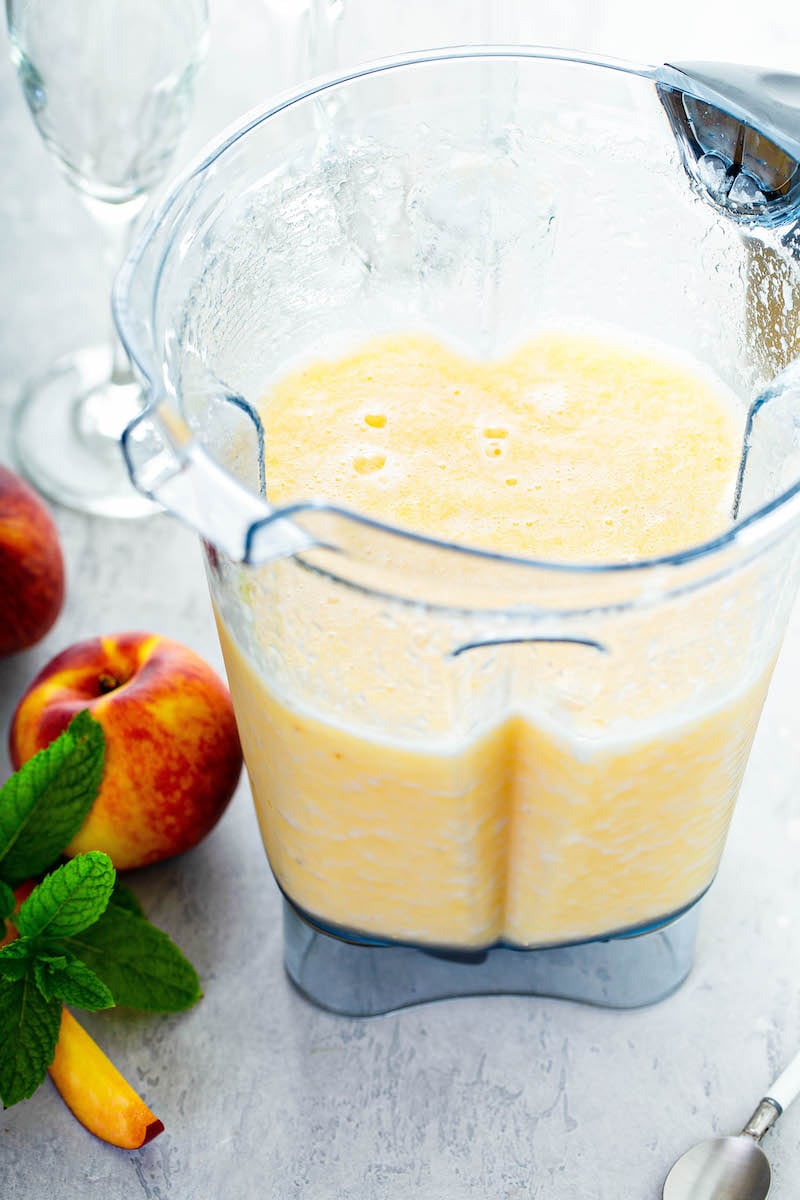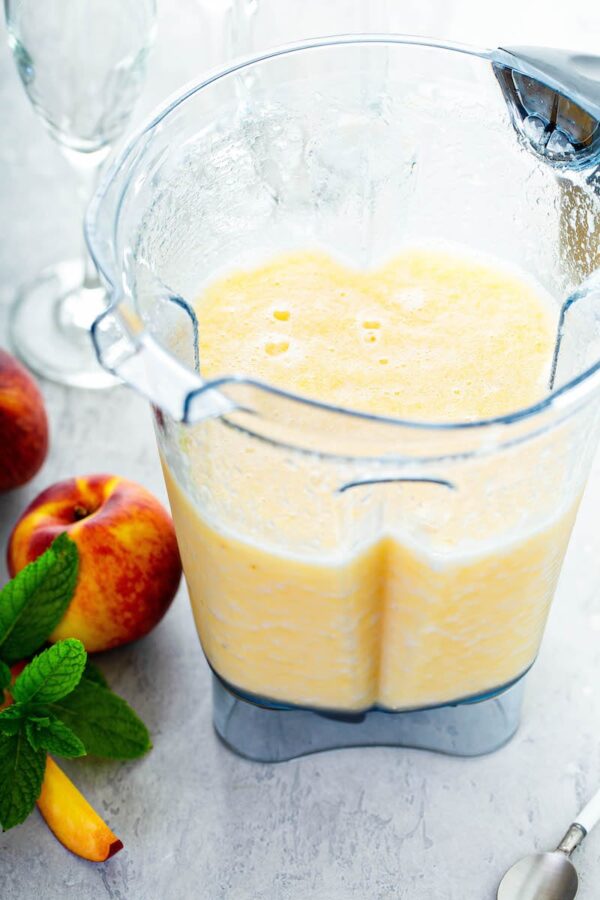 Prosecco & Peach Schnapps
While the traditional, old school version of a bellini was made with just peaches and Prosecco, a little Peach Schnapps takes it to the next level.
It's optional and not necessary, but it gives it the perfect added flavor punch!
Also, in the recipe you will see that it lists 2 tablespoons of sugar as an optional ingredient.
I usually do not need the added sugar, however if the peaches you use are not as sweet, you may want to add a little sugar.
My best advice is to make your Peach Bellinis and give them a try. If they aren't sweet enough for you, add the sugar and puree one more time!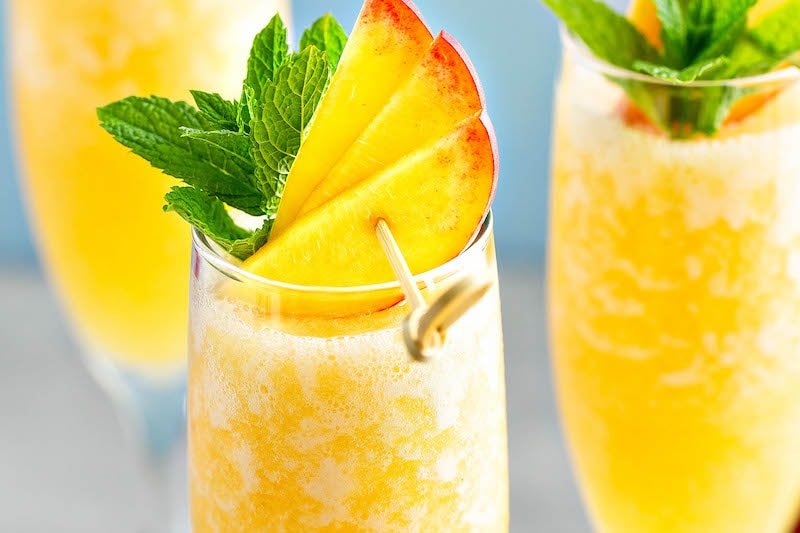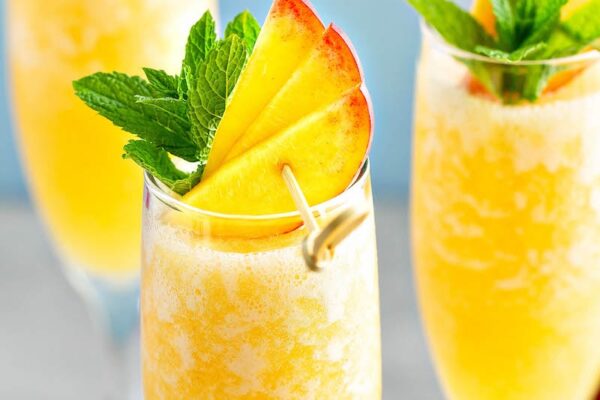 Can I make these ahead?
Yup, I knew you were wondering that. And while my answer is usually yes, sadly, my answer this time is no.
There are a couple of reasons why you can't:
First, your frozen peaches will make it so perfectly slushy and a great texture. If you make these Peach Bellinis ahead of time, by the time you go to serve them, they will be melted.
Second, the Prosecco is bubbly and needs to be added fresh as well. If not, it goes flat fast.
So while that's not great news, I do have good news. They only take 5 minutes to make fresh!
That's right, just 5 minutes. So grab that blender and get busy.
However, if you really need a fun fruity cocktail you can make ahead, I recommenced these two instead: Pineapple Coconut Mojito and this Blackberry Smash.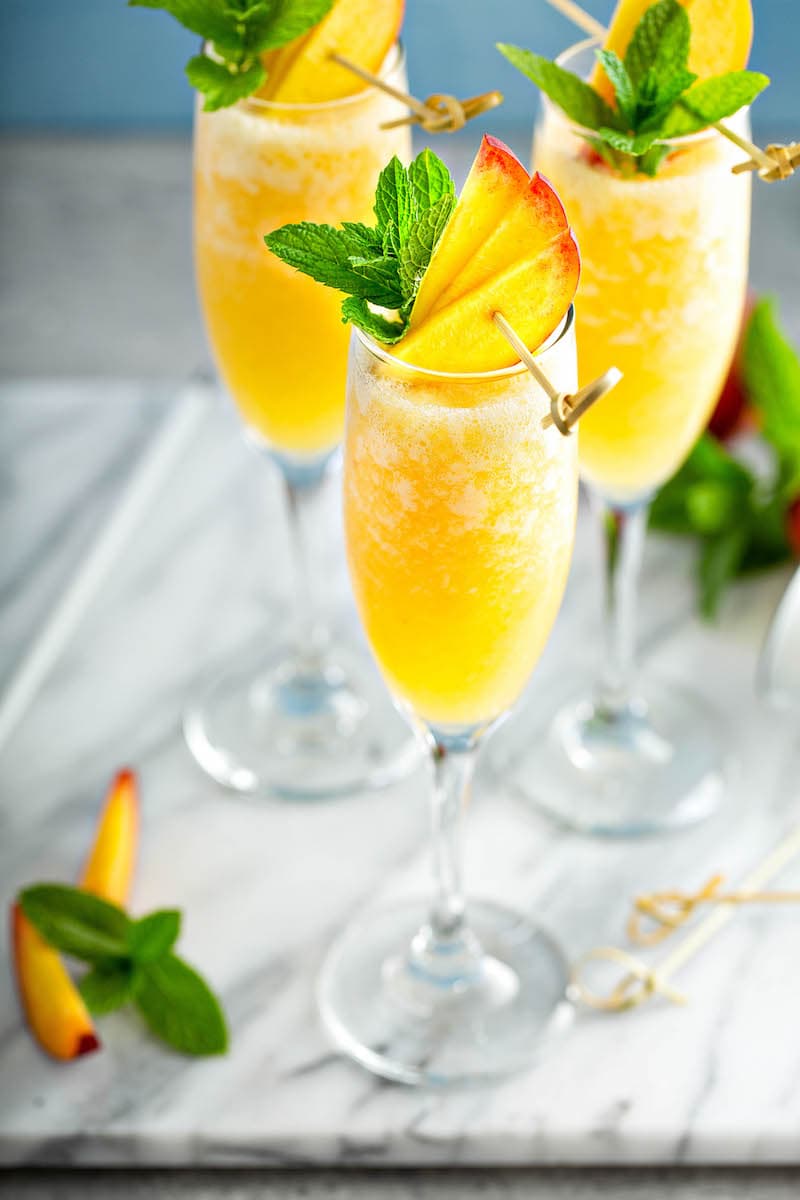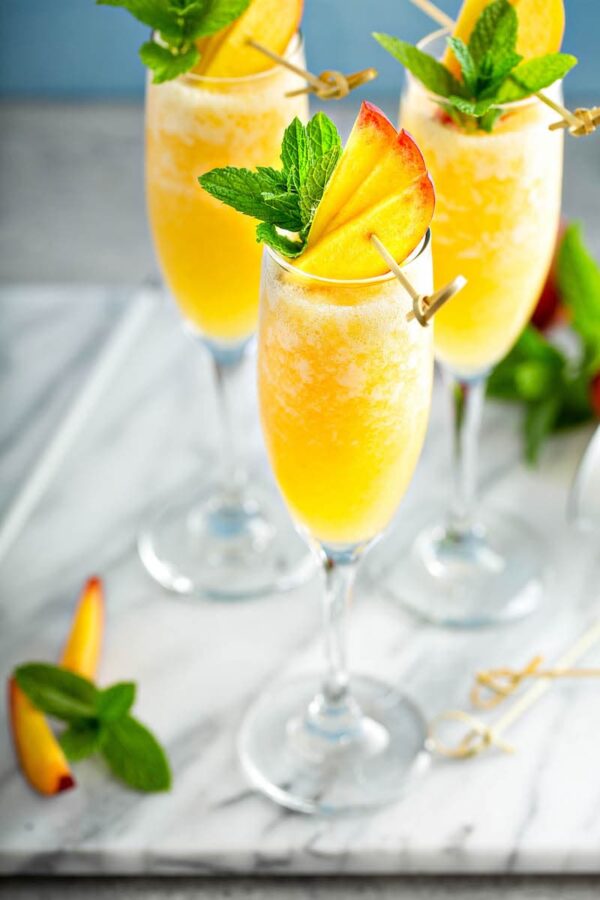 I hope you are going to love this easy Peach Bellini recipe just as much as I do!
If you love this Peach Bellini recipe, make sure and also check out my Peaches & Cream Streusel Muffins!
Make sure and leave a review when you make them below in the comments and let me know how they turn out.
For garnish, adding slices of fresh peaches and a few sprigs of mint can really dress up your Bellini!
Yield: 6 cocktails
Peach Bellini Recipe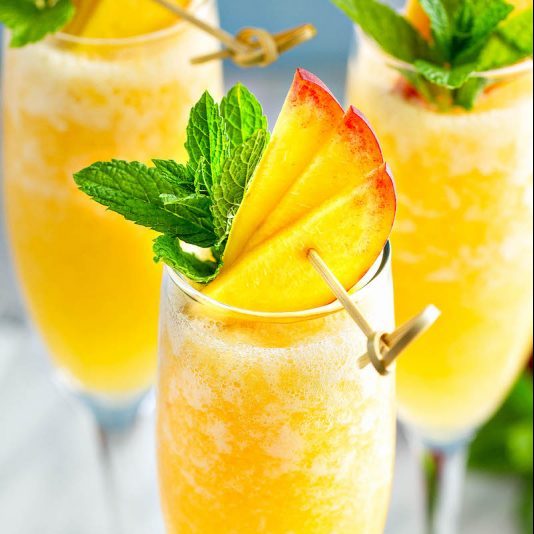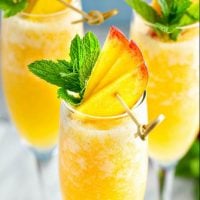 This frozen Peach Bellini recipe is an upgrade on the classic Italian cocktail made with just three ingredients: sweet peaches, prosecco and peach schnapps!
Ingredients
1 lb frozen peaches (chunks or slices)
3 cups Prosecco
1/3 cup Peach Schnapps (or peach vodka)
2 tablespoons sugar, optional
Optional garnishes:
fresh peach slices
mint leaves
Instructions
Place all ingredients in a blender, puree until smooth. Serve immediately and garnish as desired.
Recommended Products
I am an Amazon affiliate member and I earn a small percentage from qualifying purchases. Thank you!
Nutrition Information:
Yield:
6 servings
Serving Size:
1 serving
Amount Per Serving:
Calories:

164
Total Fat:

0g
Saturated Fat:

0g
Trans Fat:

0g
Unsaturated Fat:

0g
Cholesterol:

0mg
Sodium:

6mg
Carbohydrates:

20g
Fiber:

2g
Sugar:

17g
Protein:

1g
Categories
This post may contain affiliate links. Read my disclosure policy.