This frozen Peach Bellini recipe is an upgrade on the classic Italian cocktail, made with just three ingredients: sweet peaches, prosecco, and peach schnapps! Move over, margaritas – this might just be your new favorite drink!
A Peach Bellini Might Just Be the Ultimate Summer Drink!
When the sun is shining and the temperature rises, there's no better way to cool down than with a frozen Peach Bellini. Yes, frozen! This summery drink is icy, fruity, and easy to make. You will love the perfect blend of fruity sweetness and sparkling bubbles. It's like a vacation in a glass.
If you're not familiar with how to make a peach Bellini, this post will show you the ropes – and no worries, it is so simple and super fast. You'll be sipping poolside in just minutes.
If you love a good peach flavored cocktail, make sure to also check out my favorite White Peach Sangria and my easy recipe for Sweet Peach Moscow Mules.
Watch How To Make It
Want to see how to make this easy steak sauce from start to finish? Here's a step-by-step video:
This Easy Frozen Cocktail Is…
Slightly Untraditional. A traditional Bellini is made with white peaches, which gives the drink a pink hue. Since white peaches aren't widely available where I live, I use regular peaches instead, giving these Bellinis a brighter orange color.
Slushy and Refreshing. Using frozen peaches instead of peach puree makes this a slushy, frozen cocktail for an extra-refreshing vibe.
Boldly Flavorful: While the old-school version of a Bellini was made with just peaches and prosecco, I add a little peach schnapps to take it to the next level with a little extra peach flavor.
Quick: You can make this in about five minutes flat, so it's a hassle-free drink!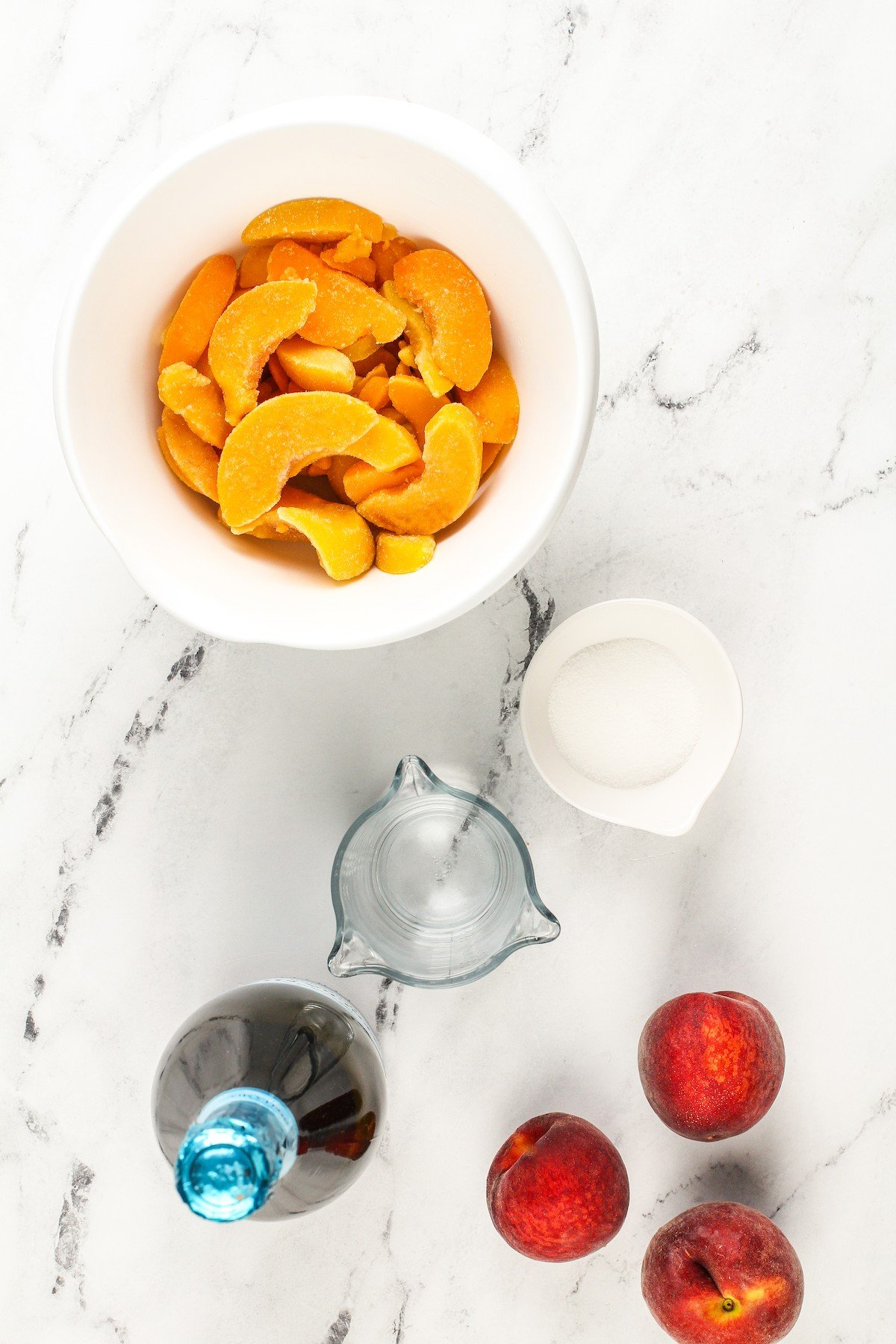 What's a Peach Bellini Made Of?
To make this recipe, you will need just a few simple ingredients. Sparkling wine is a must – you can use prosecco or champagne – to give the Bellini its signature bubbly finish. I personally like to use prosecco.
For the Cocktail
Frozen Peaches: Chunks or slices. See the "Bartender's Tips" section for more options!
Prosecco: You will need one standard-sized bottle of prosecco, or you can use dry champagne instead.
Peach Schnapps: Or peach vodka.
Sugar: A little sugar is optional – I recommend it if you feel that your peaches are too tart. You can make the Bellini mixture, taste it with a spoon, and then blend in a little sugar, or simple syrup, if it needs more sweetness, before pouring the drinks.
Optional Garnishes
Fresh Peach Slices
Mint Leaves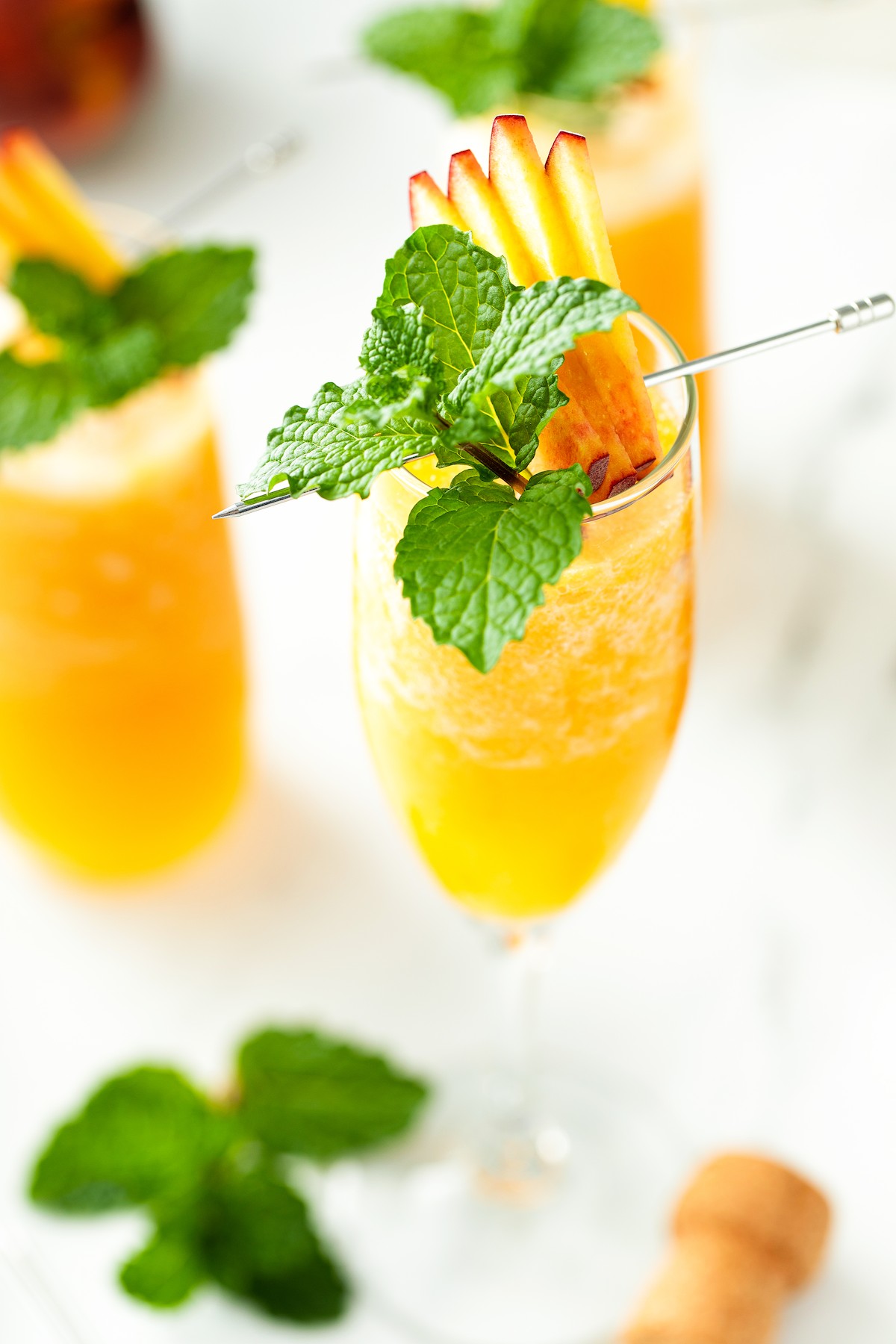 Is Prosecco Dry or Sweet?
Most prosecco is actually a dry sparkling wine, but since it has a noticeably fruity taste, it can sometimes seem on the sweet side. For this recipe, you definitely need dry prosecco so that the taste of the peaches and schnapps doesn't make the drink too sweet.
How Much Alcohol Is in a Peach Bellini?
The alcohol content in a peach Bellini can vary depending on how you make it. Typically, the drink is made with equal parts sparkling wine and peach puree, so the alcohol content is fairly low.
Since my version includes schnapps, these are slightly more alcoholic – each serving will include just under half an ounce of schnapps, as well as the prosecco. Of course, you can play with the amounts to get a balance that is right for you!
If you want them to be more boozy – you can add a hearty splash of vodka!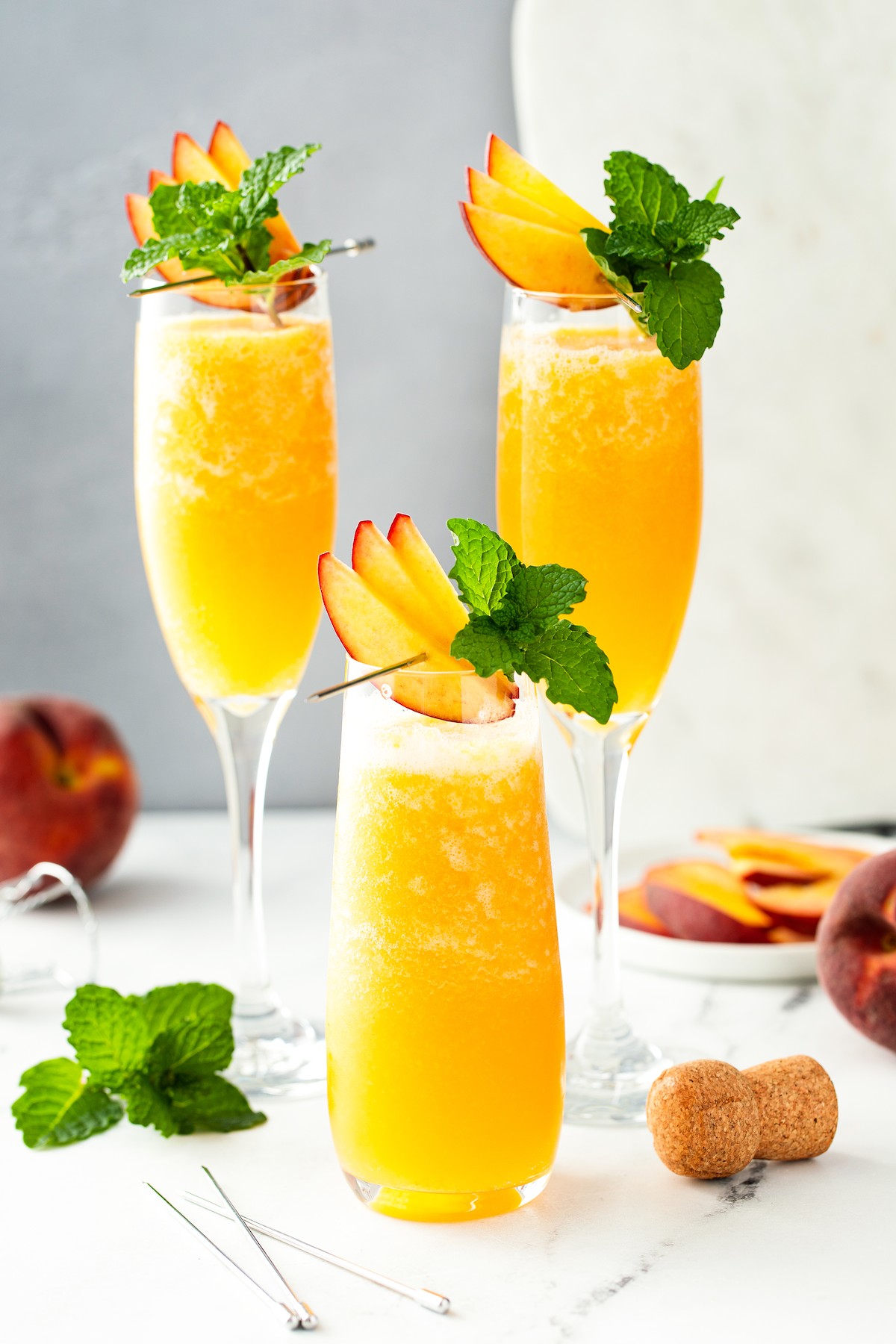 How to Make a Peach Bellini
There's nothing fussy about this recipe! You literally just add the ingredients to a blender, and blend them into a fabulous frozen mixture, like so: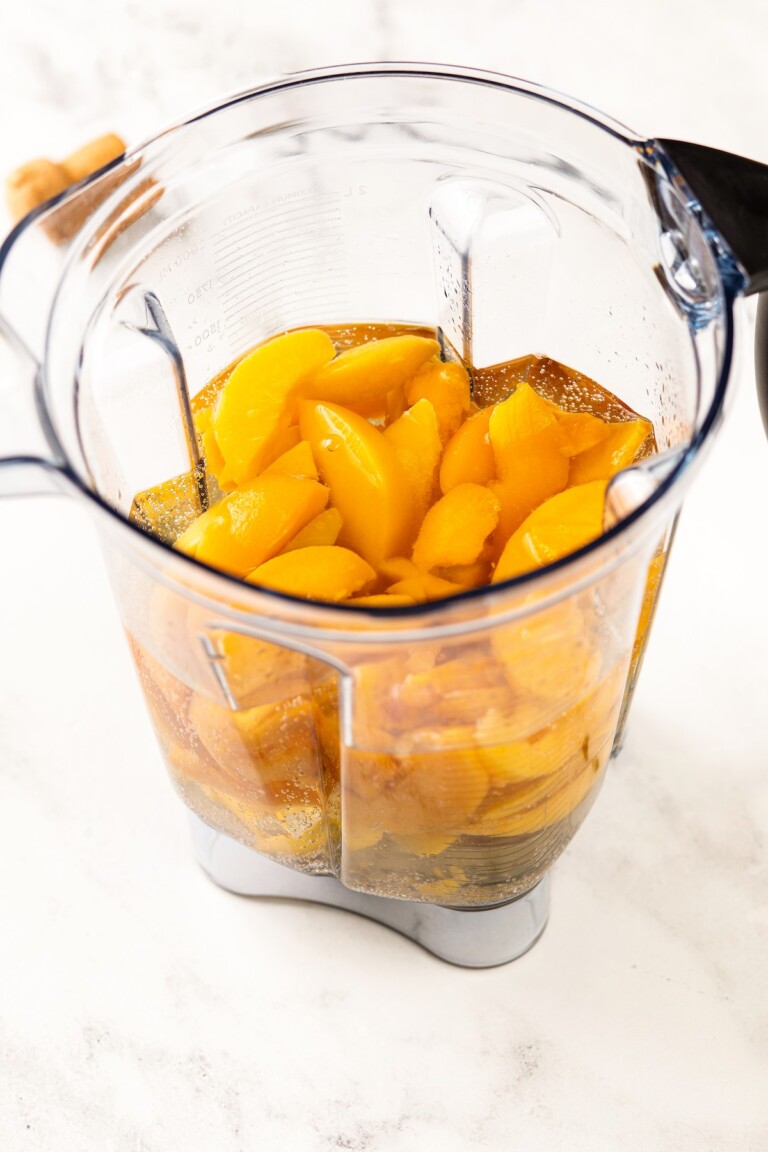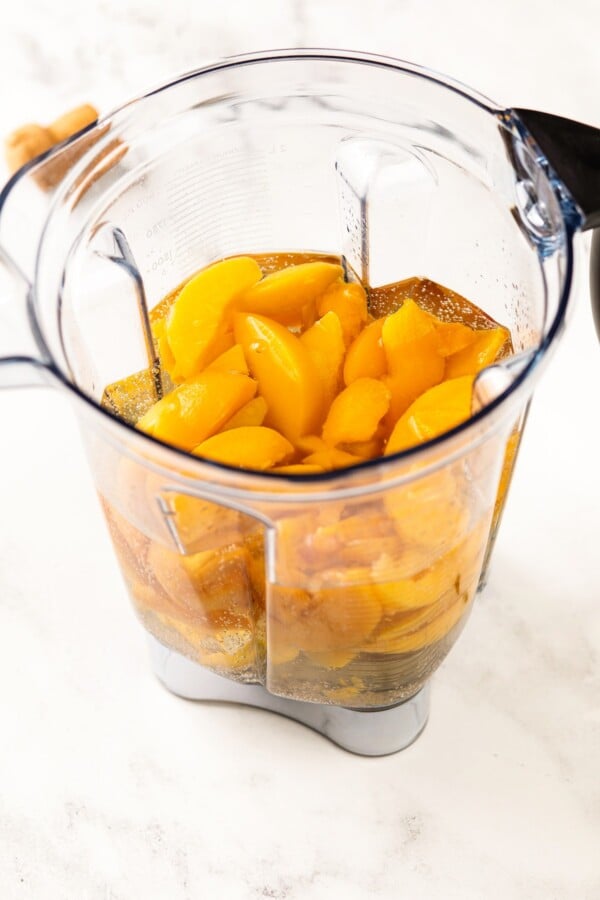 And, done! This icy, peachy perfection is ready to pour. It's five o'clock somewhere, right?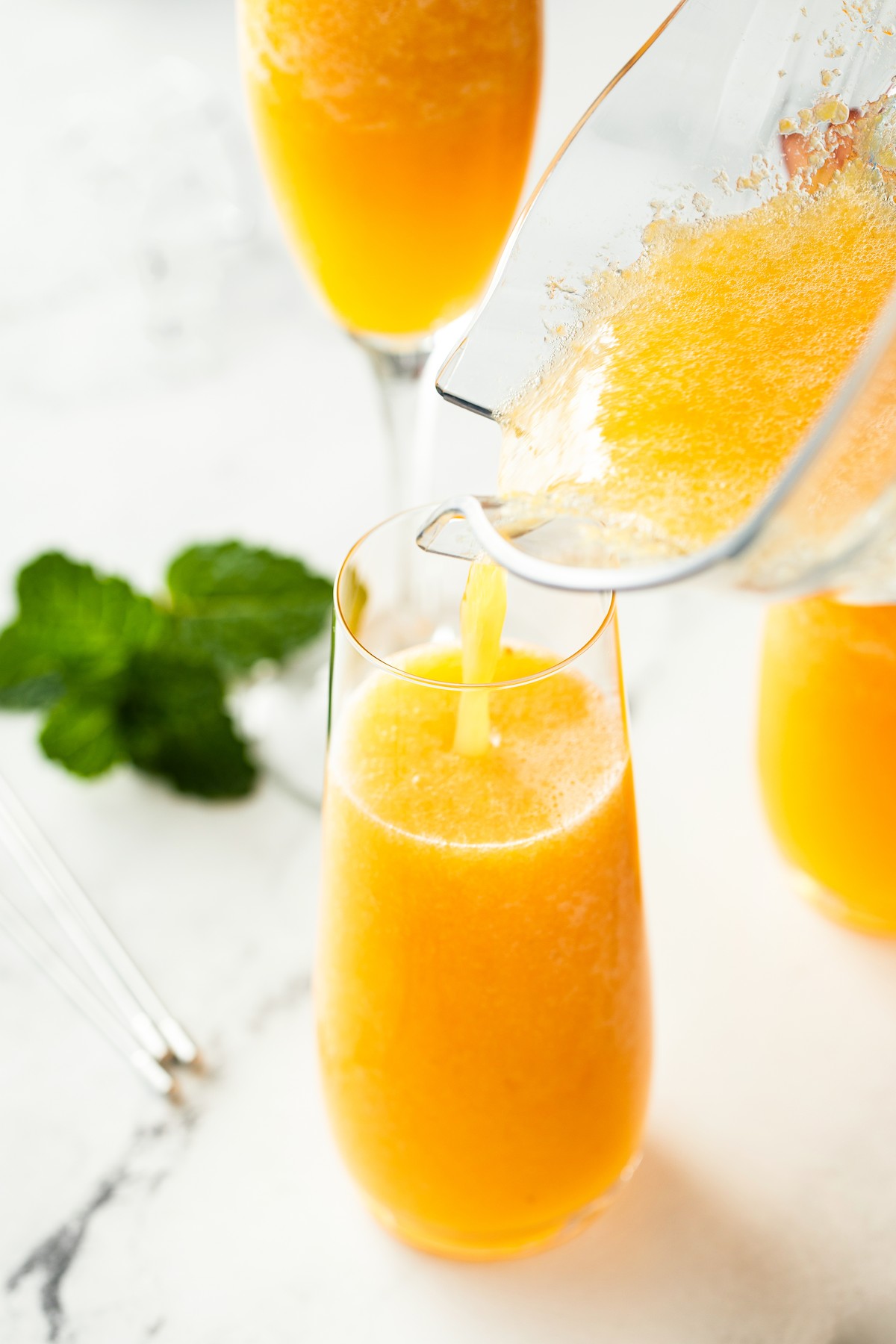 Bartender's Tips
Okay, so I'm not exactly a real bartender – but I do like mixing up a fun cocktail now and then! To enhance your peach Bellini experience, here are a few (semi) pro tips:
Fresh Peaches: Traditional Italian Peach Bellinis are also made with fresh peach puree, not frozen peaches. If you prefer that style, follow the recipe below, but use fresh, peeled peaches instead of frozen. Your cocktail will be less slush-y.
Freeze Your Own: You can also take fresh peaches and freeze them yourself, to make the slushy version and still use up your fresh produce. Just peel, pit, and cut the peaches into chunks or slices. Then place on a baking sheet, freeze until firm, and you're good to go.
White Peaches: Feel free to use white peaches if you have them!
Chill the Prosecco. Use chilled sparkling wine to ensure a crisp, un-melty Bellini. Pop the bottle in the refrigerator for a couple of hours before making the drink.
Add Flavors: Experiment with different variations by adding additional fruits like raspberry, strawberry, lime, etc. Is a mango-peach Bellini in your future? Maybe!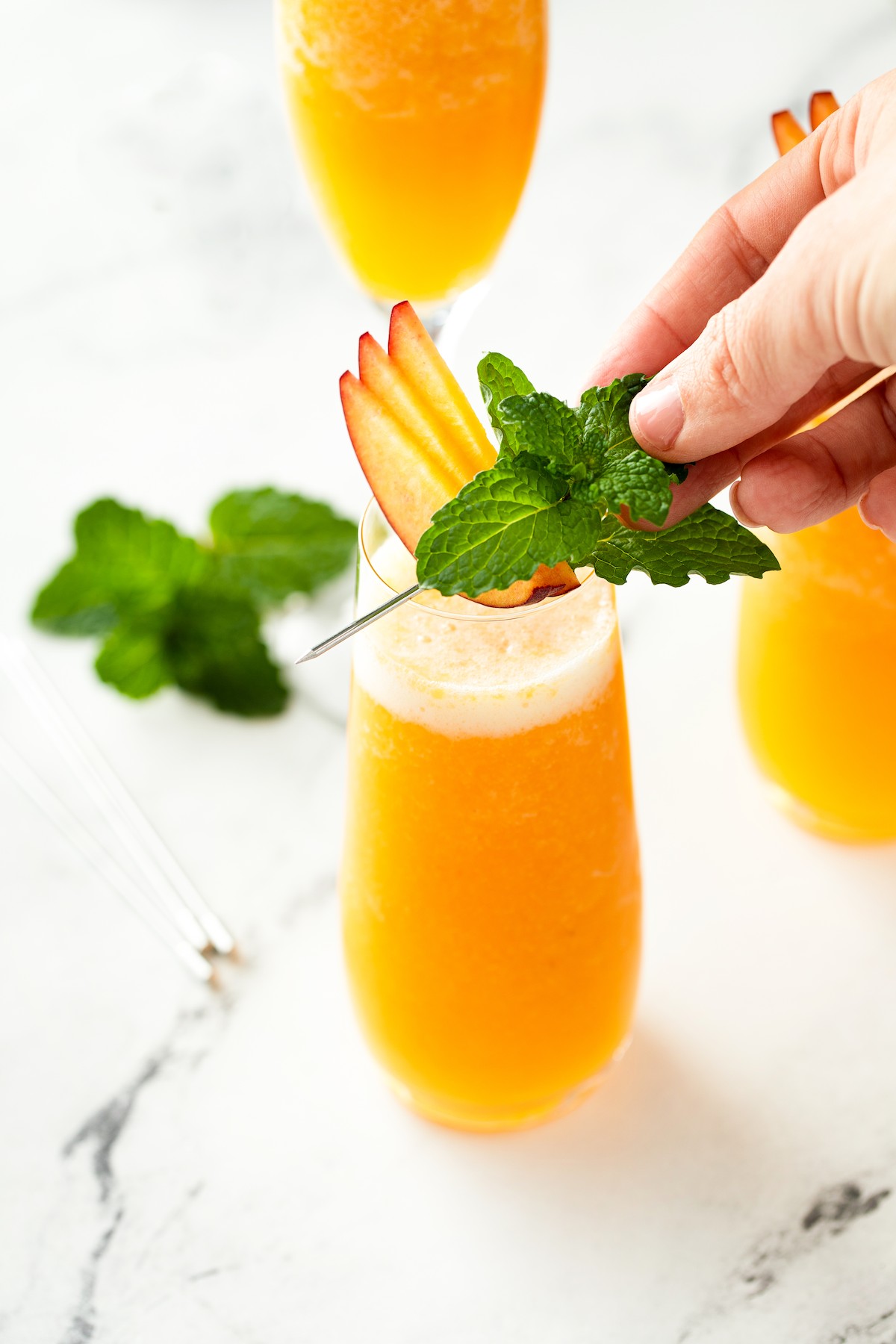 What to Serve with Peach Bellinis
If you want to serve this drink with an appetizer, the world is your oyster! (And actually, oysters might not be a bad idea, if they're in season).
Shrimp: For a savory option, shrimp is one of my all-time favorite summer appetizer options. These Air Fryer Coconut Shrimp would be amazing!
Bruschetta: Italian Bellini? Italian bruschetta? Oh yes! Make a batch of classic bruschetta with tomato and basil. You can also make them with hummus or guacamole. So yummy.
Sweet: If you're in the mood for something sweet, Strawberry Watermelon Salsa will keep that fresh, fruity vibe going.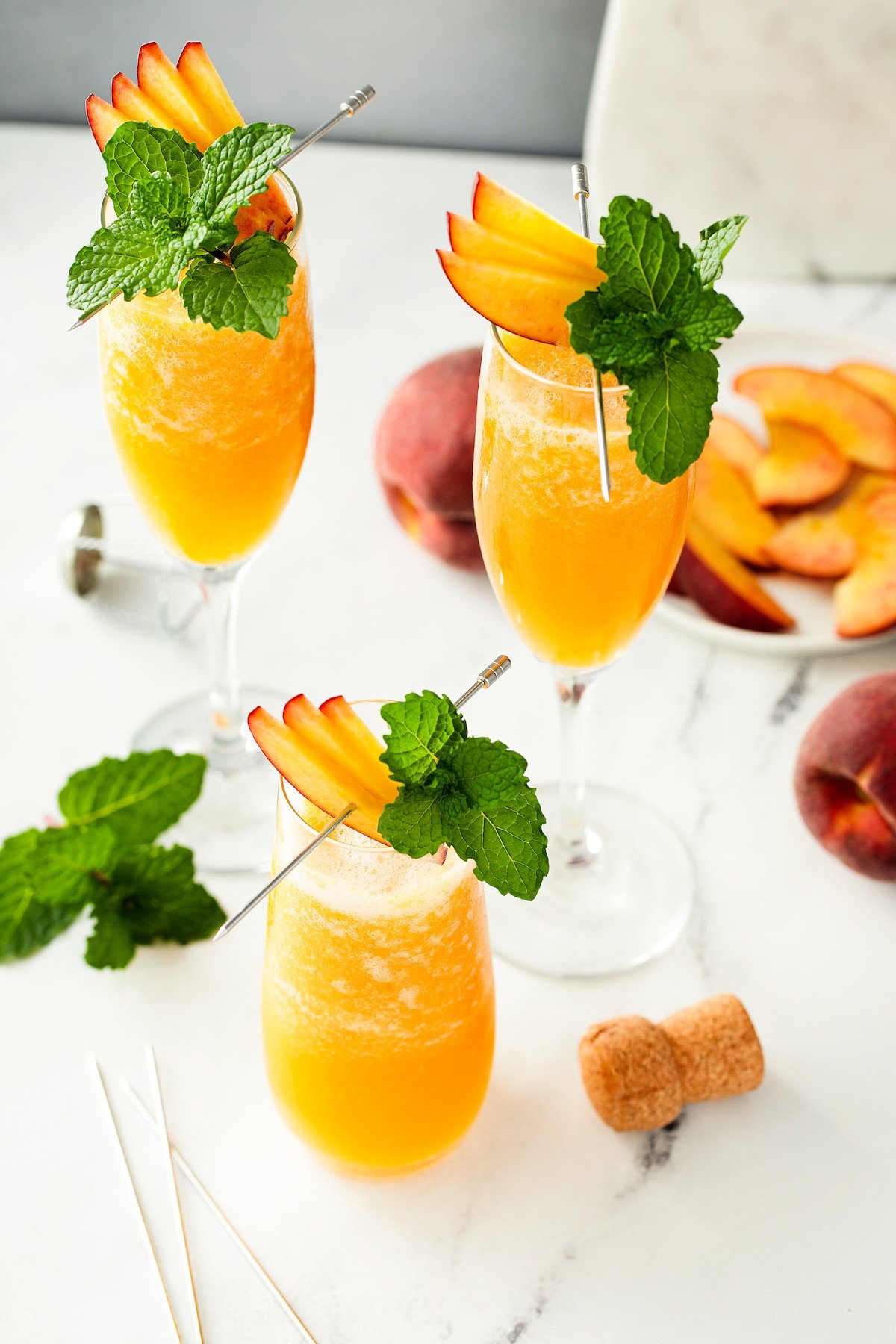 Can I Make This Ahead?
Sadly, no – this frozen drink isn't a very good make-ahead recipe for a couple of reasons:
First, the frozen peaches. Frozen peaches make the Bellinis so perfectly slushy, but if you make them ahead of time, the slush will melt and you'll be left with just… liquid.
Second, the prosecco. Fresh, bubbly prosecco turns flat quickly, so you can only add it right before you intend to serve.
So while that's not great news, I do have good news. Frozen peach Bellinis only take 5 minutes to make fresh!
Peach Bellini Recipe
This frozen Peach Bellini recipe is an upgrade on the classic Italian cocktail made with just three ingredients: sweet peaches, prosecco and peach schnapps!
Ingredients
1

lb

frozen peaches

,

chunks or slices

3

cups

Prosecco

⅓

cup

Peach Schnapps

,

or peach vodka

2

tablespoons

simple syrup,

or granulated sugar, optional
Optional garnishes:
fresh peach slices

mint leaves
Instructions
Place all ingredients in a blender, puree until smooth. Serve immediately and garnish as desired.
Nutrition
Serving:
1
serving
,
Calories:
164
kcal
,
Carbohydrates:
20
g
,
Protein:
1
g
,
Sodium:
6
mg
,
Fiber:
2
g
,
Sugar:
17
g
Categories:
More Fruity Cocktail Recipes
This post may contain affiliate links. Read my disclosure policy.