Served in a traditional clay jug, these fruity cantaritos are as boozy and authentic as those you'd find by the beach in Mexico. Packed with citrusy goodness, soda, and tequila, every sip is a refreshing, well-deserved vacation.
Easy Homemade Cantaritos Drink
Summer vacation isn't here yet, but you can still enjoy these refreshing cantaritos at home that taste just like those you'd find on a trip to Mexico. Served in Cantaritos de Barro, an earthen clay glass, it's an authentic boozy drink filled with lots of citrus.
Filled with lime, grapefruit, and orange juice, every sip is ultra tangy and fruity. To make things extra Mexican, a bit of tequila reposado! You can also use white tequila if you want to. Topped with grapefruit soda for a bit of fizzy sweetness, it's like a taste of paradise.
With or without a chili-rim, it's the perfect easy recipe to beat the heat and start a party of one or two (or more.) Garnished with lime and orange wedges for a pop of color, cantaritos will be your new favorite summer cocktail.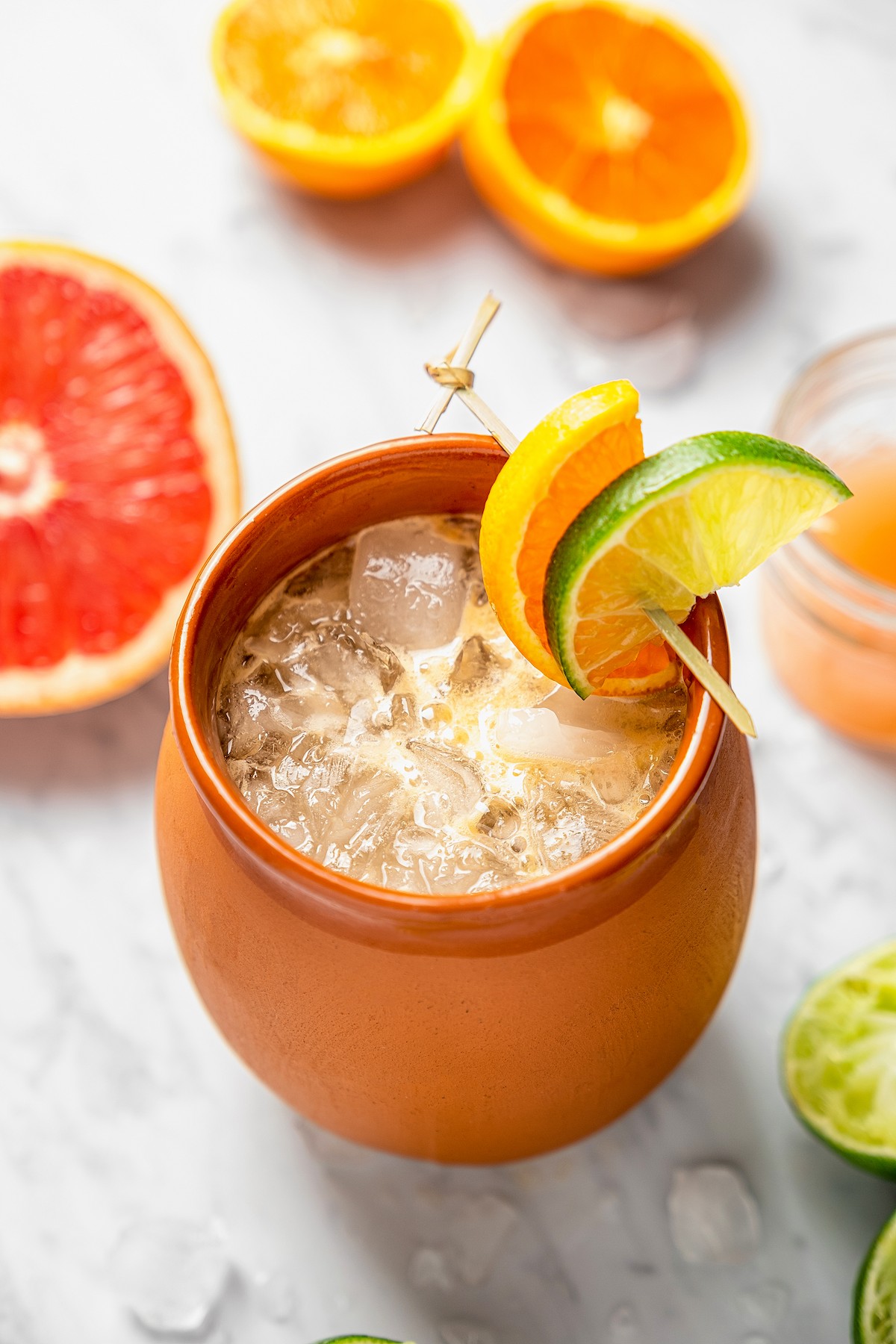 What is a Cantarito?
Cantaritos are a citrusy tequila-based drinks served in traditional clay jugs. They come from the state of Jalisco, where tequila is made. They're made with a mixture of fruit juices (mostly orange, grapefruit, and lime), soda, and alcohol for a refreshing cocktail that's often enjoyed by the beach or in Mexican restaurants.
Cantarito vs Paloma vs Margarita
Cantaritos, palomas, and margaritas are tequila-based cocktails with hints of citrus. However, there are a few minor differences between them.
Palomas only use tequila, grapefruit soda, and lime juice. Cantaritos use a combination of lime, orange, and grapefruit juice in addition to the grapefruit soda and tequila.
Margaritas, on the other hand, are more boozy than they are citrusy. Aside from tequila, they use triple sec or cointreau. It also has no soda, only lime juice.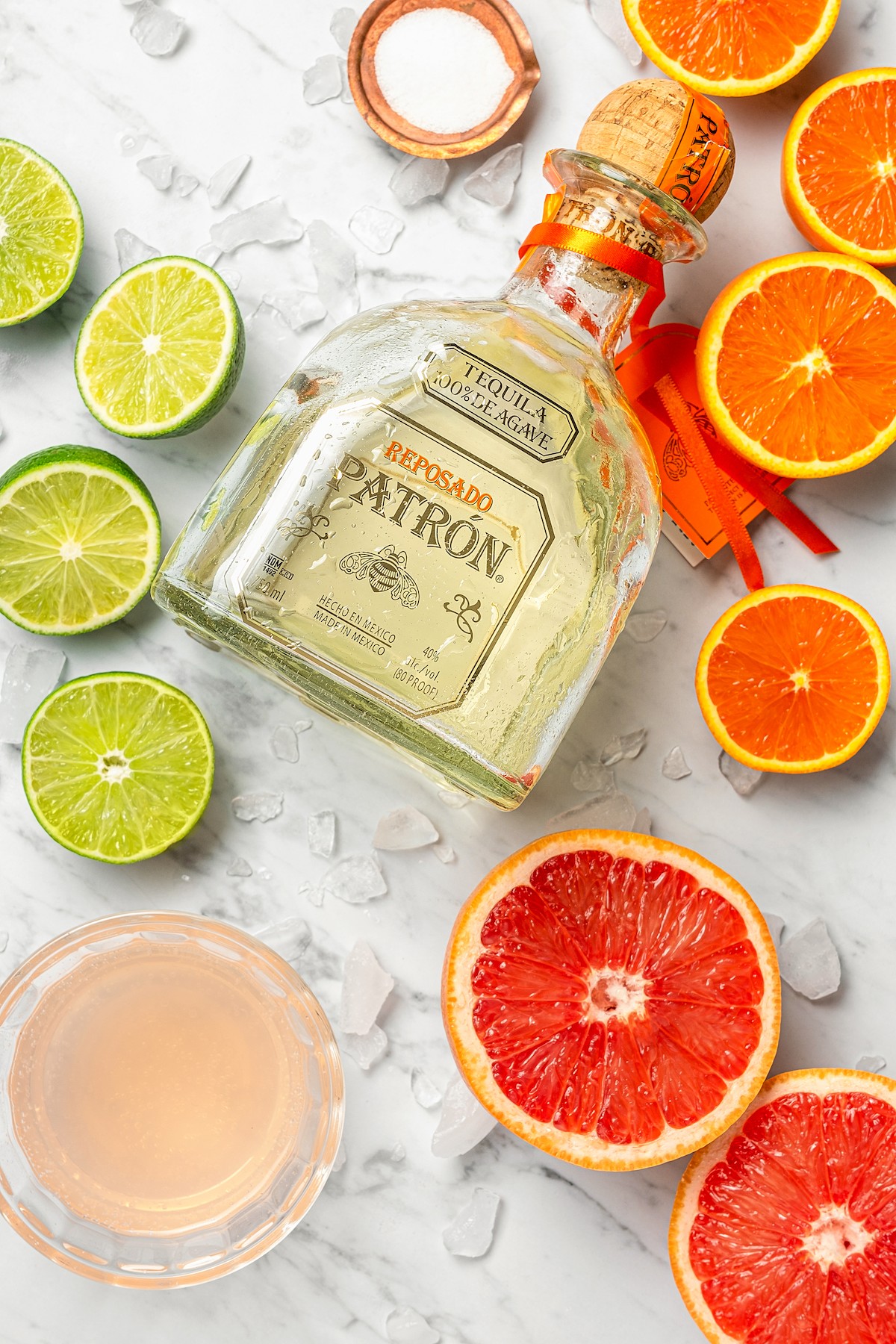 Recipe Ingredients
Cantaritos are all about fruity flavors like orange, grapefruit, and lime. Check the recipe card at the bottom of the post for full ingredient amounts.
Tequila – I used Patron Reposado.
Orange juice – Freshly squeezed is always best.
Lime juice – This adds lots of tartness, but lemon juice works too.
Pink grapefruit juice – Don't leave it out.
Salt
Pink grapefruit soda – You can also substitute it for lime soda.
Lemon and lime wedges
Ice
What's The Best Tequila for Cantaritos?
Reposado tequila is best for making cantaritos because it has a mild flavor and is easier on the palate than other tequilas. It has hints of vanilla and oak from the barrel it ages in for 2-11 months. Because the flavor isn't overpowering, it allows the citrus to be the star of the drink.
If possible, avoid tequila añejo and extra añejo. They have strong notes of caramel and a bourbon-like taste that won't pair so well with the fruit juice and soda.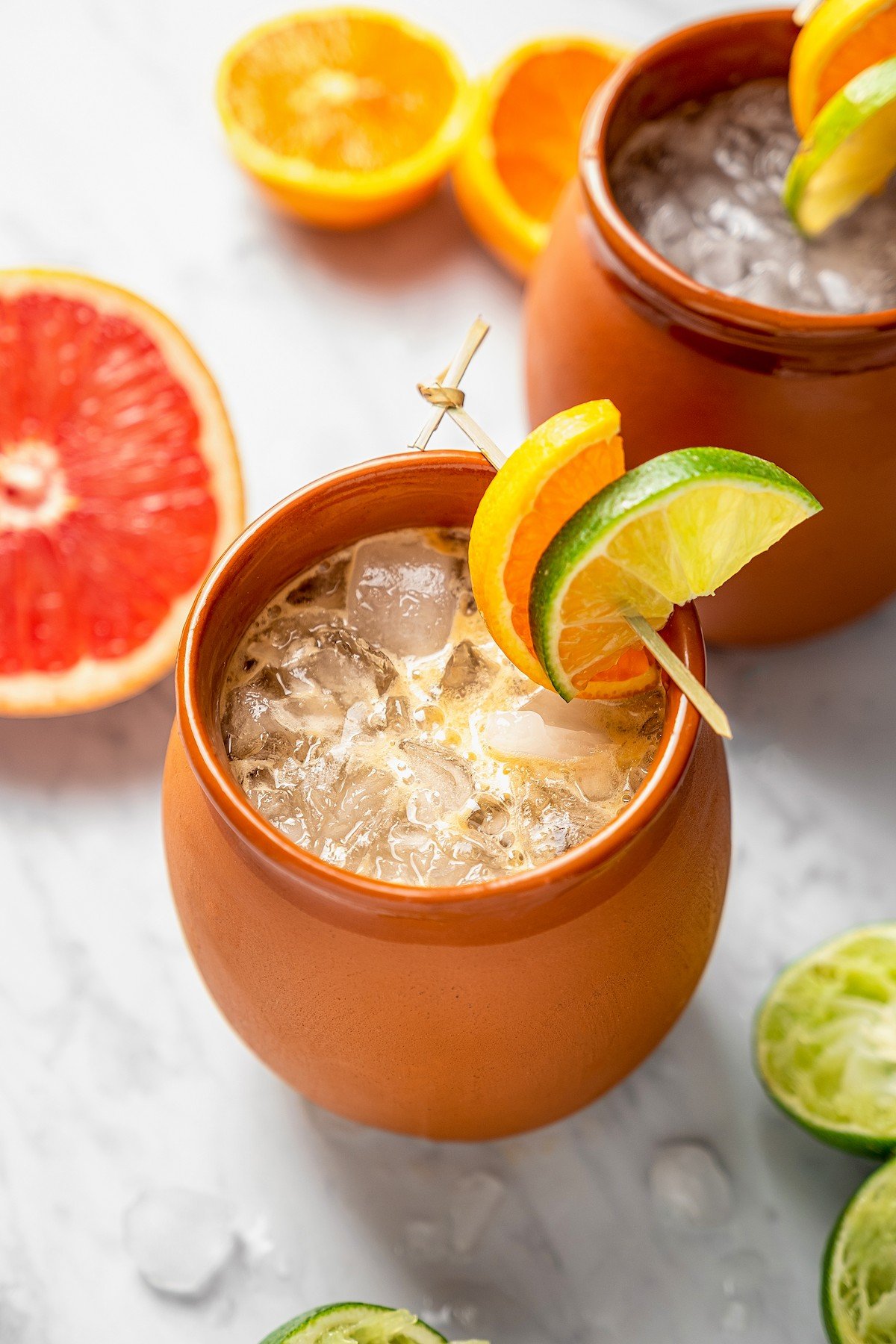 How to Make Cantaritos
You don't need to be a bar-tender to successfully make these cantaritos. They only require 4 steps!
Add the tequila. Add ice to a cocktail shaker until it's 1/3 full. Pour in the orange juice.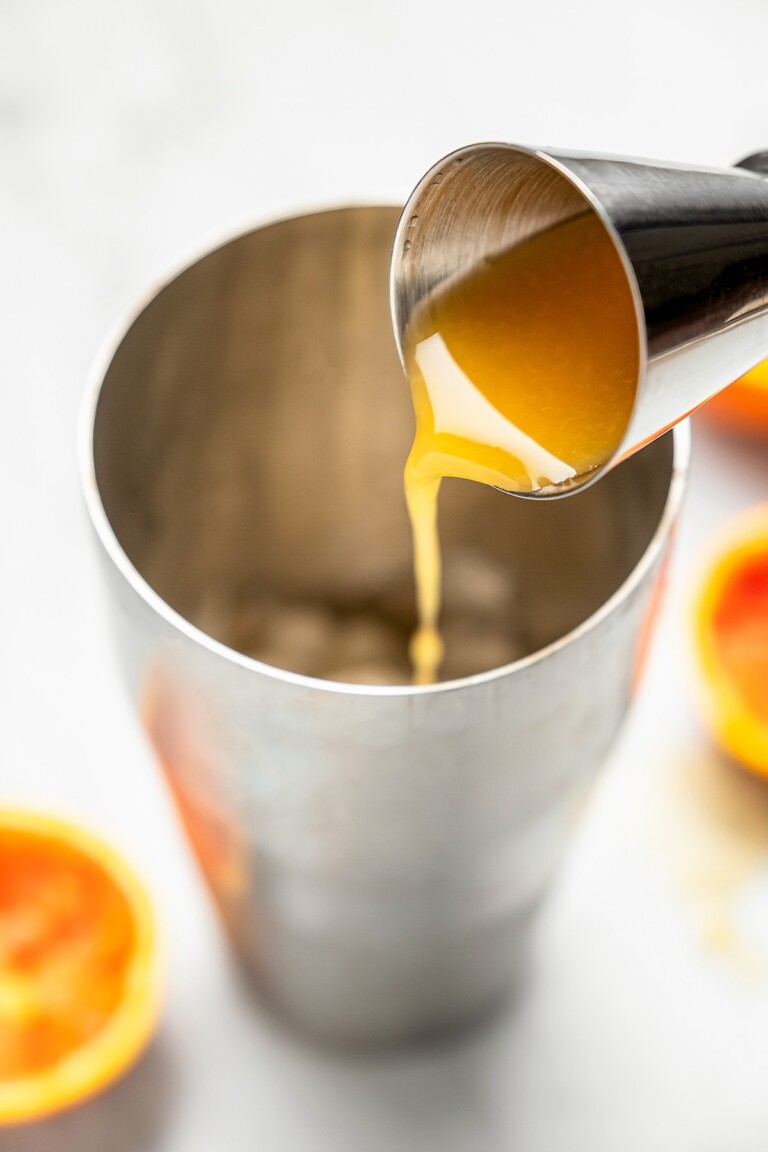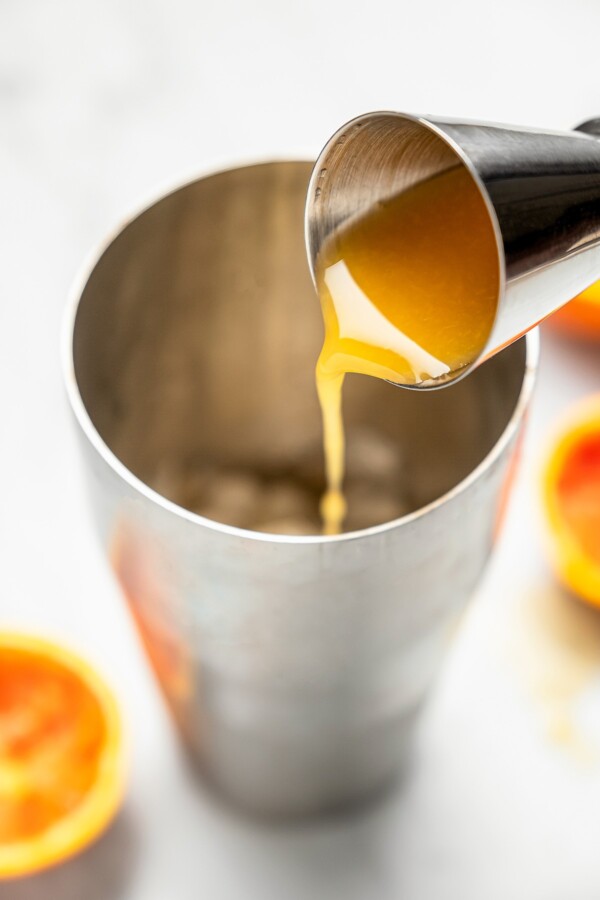 Add the lime juice. Pour in the lime and grapefruit juices. Add the salt.
Shake. Secure the lid and shake vigorously for 20 seconds or until the contents are chilled. While this yields the best results, just skip the ice and stir the ingredients until well combined if you don't have a cocktail shaker.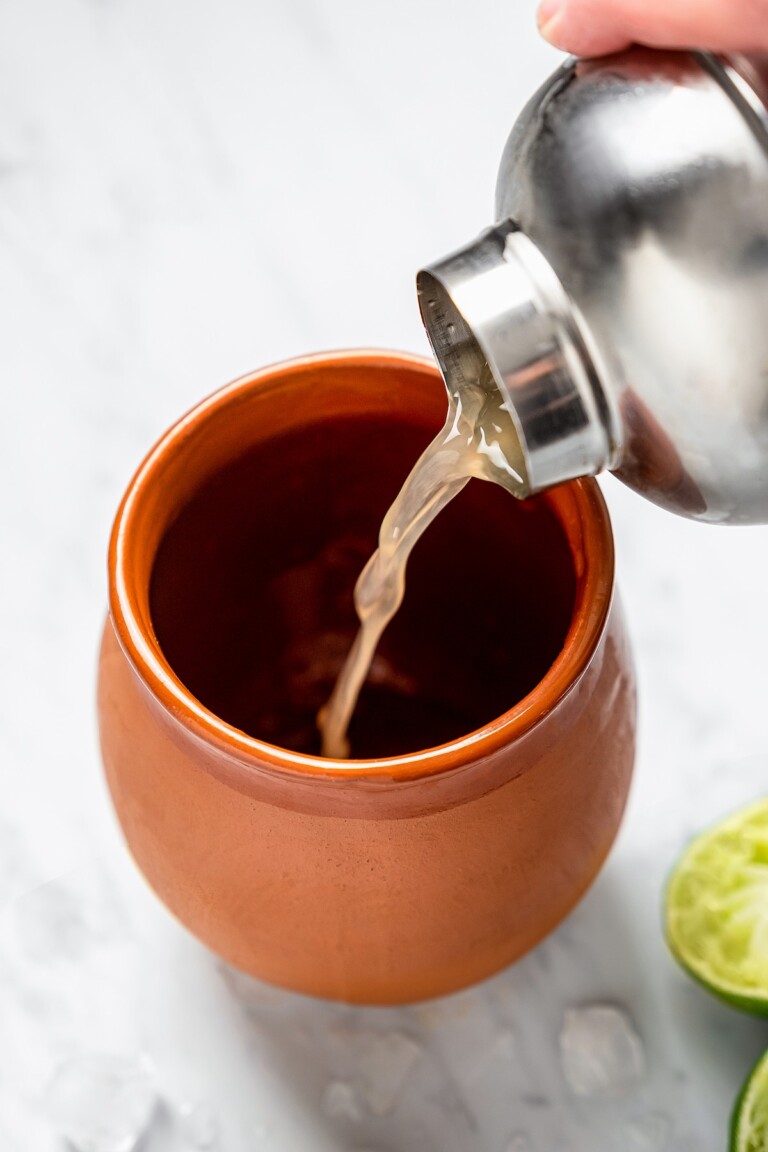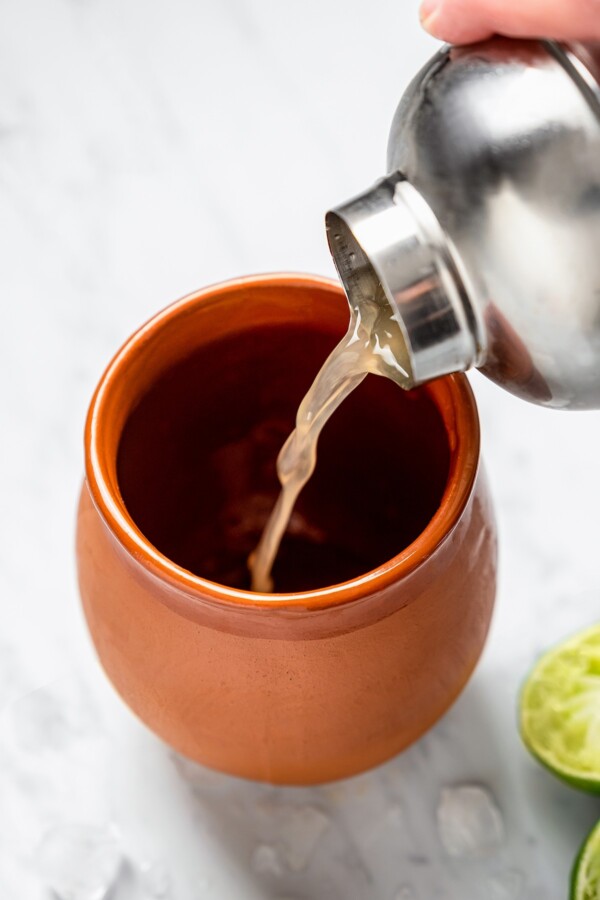 Add soda. Add ice to your serving glass. Pour in the cocktail and top it off with the soda. Don't add ice to your glass if you're not drinking it right away to keep it from watering down.
Serve. Garnish with citrus wedges and serve.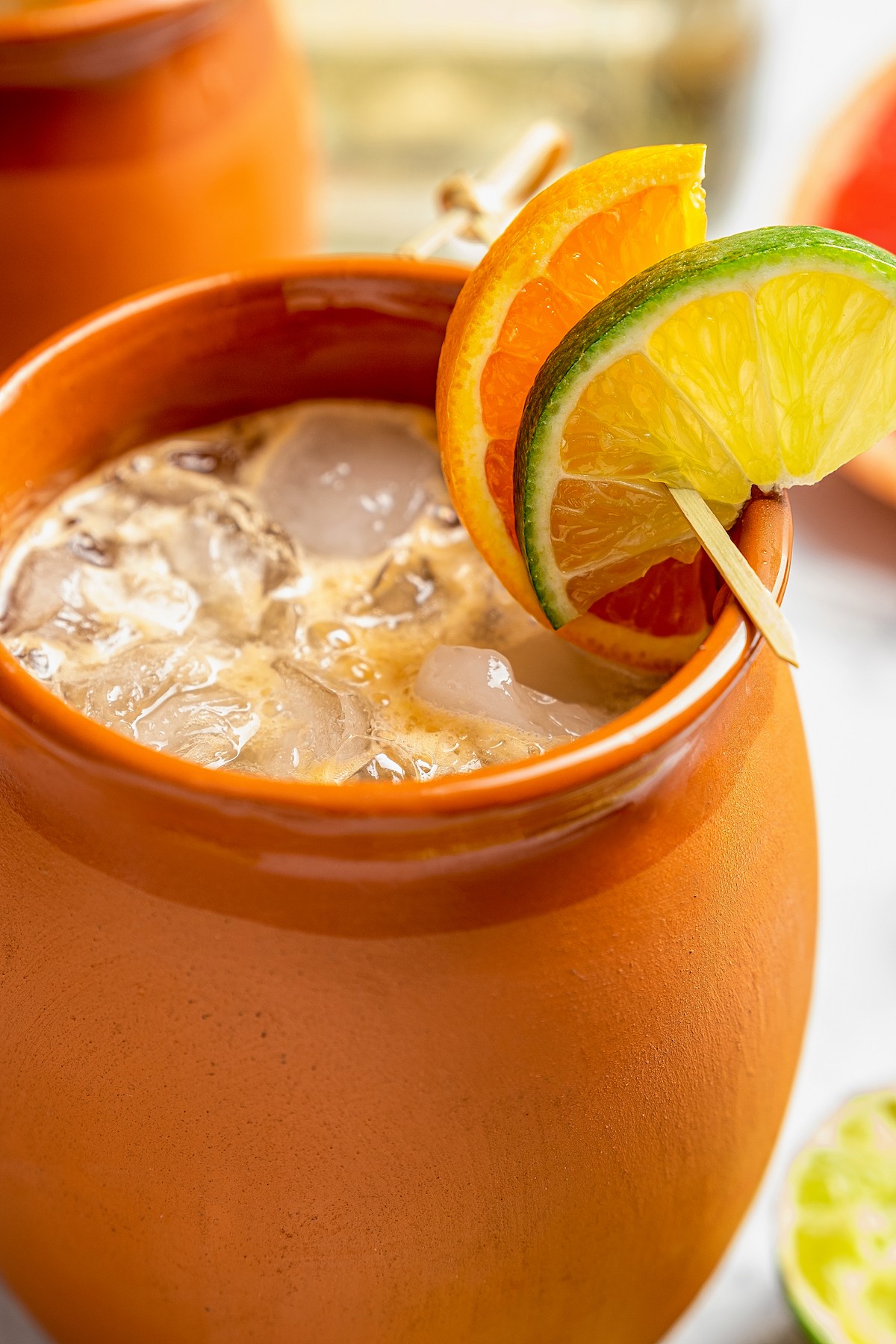 Cocktail Tips & Variations
Swapping the tequila, chilling the glass, adding a rim, and using a stirrer will take these cocktails over the top.
Chill it. If you're serving your cocktail in the traditional clay mug, soak it in cold water for 10 minutes before serving.
Use white/silver tequila. Substitute tequila reposado for the silver kind and give your drink a sharper, spicier finish.
Add a rim. Dip the rim of your glass with lime juice and then dip it into Tajín or another Mexican chili powder. Let the glass air dry for 5-10 minute
Use a stirrer. Adding a tamarind straw to your cantarito will release a bit of spiciness in your drink, give it more tang, and give you something to stir with.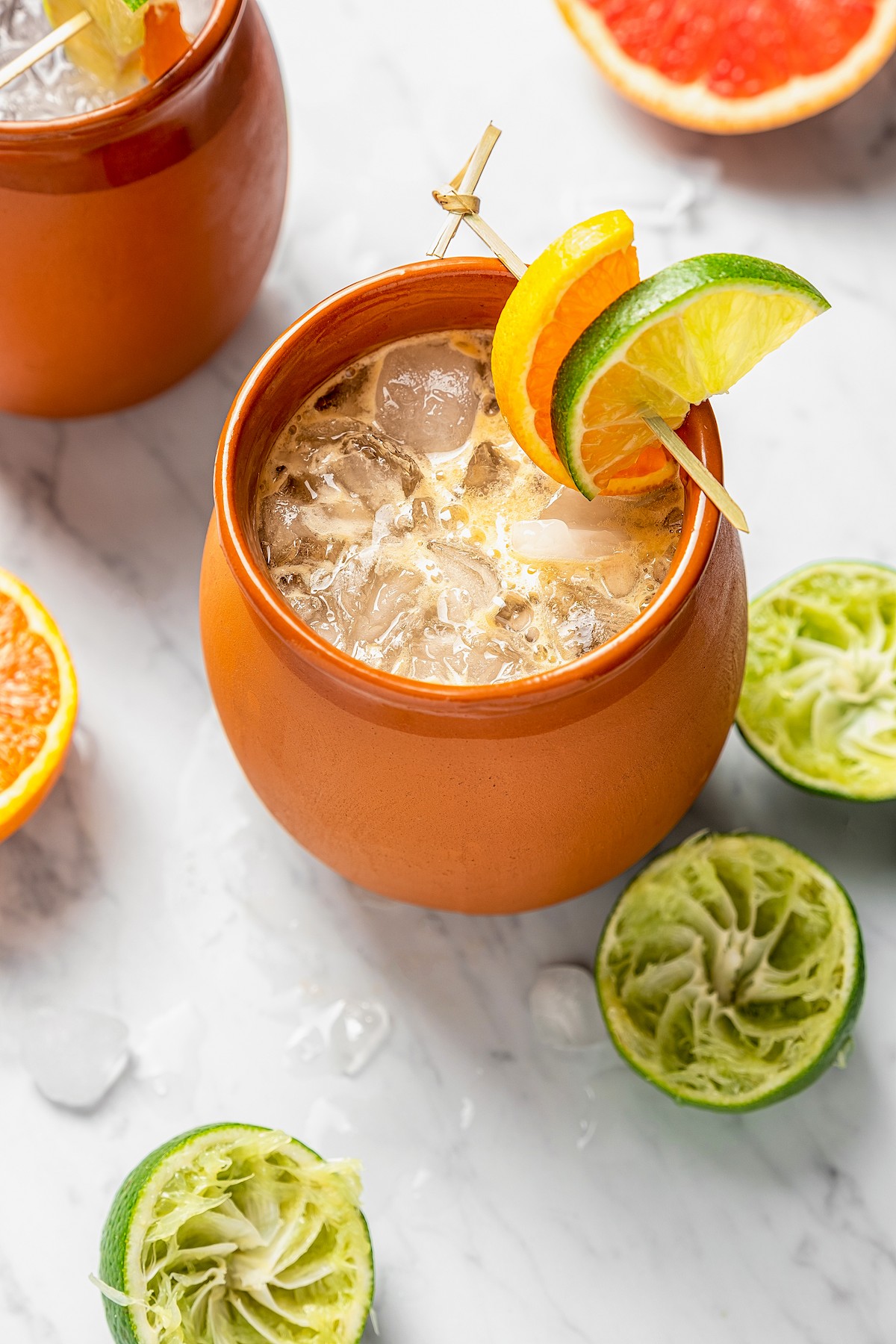 What Glass Should You Use To Serve Cantaritos?
You can serve this cocktail in "jarritos" (also called cantaritos de barro) which are traditional earthen clay jugs. This is the most authentic way to enjoy them, but you can use highball glasses instead.
Can I Make This For A Crowd?
Absolutely! Just double or triple the recipe as many times as needed so that everyone gets a drink! If you can, skip the ice until right before serving. That way you can prepare the cocktail in advance and then people can add ice to their own serving glasses.
More Easy Cocktail Recipes
Cantaritos
These cantaritos are packed with lot of citrus juice, grapefruit soda, and tequila for a boozy, tangy Mexican cocktail you'll love.  
Ingredients
2

ounces

Patron Reposado tequila

1 ½

ounce

orange juice

,

freshly squeezed

½

ounce

lime juice

,

freshly squeezed

½

ounce

pink grapefruit juice

1

pinch

of kosher salt

4

ounces

pink grapefruit soda

Lemon and lime wedges

,

for garnish

Ice

,

for serving
Instructions
Fill a cocktail shaker 1/3 with ice. Add the tequila, orange juice, lime juice, grapefruit juice and salt. Shake for about 20 seconds until the contents are chilled.

Pour into your glass (or a

clay mug

for authenticity!) and top off with the soda. Add some cubed ice.

Garnish with citrus wedges and serve.
Notes
Tajin Rim: If you love a spicy kick, try riming your glass with tajin!
Nutrition
Serving:
1
,
Calories:
407
kcal
,
Carbohydrates:
73
g
,
Protein:
3
g
,
Fat:
2
g
,
Sodium:
95
mg
,
Fiber:
6
g
,
Sugar:
52
g
Categories:
This post may contain affiliate links. Read my disclosure policy.